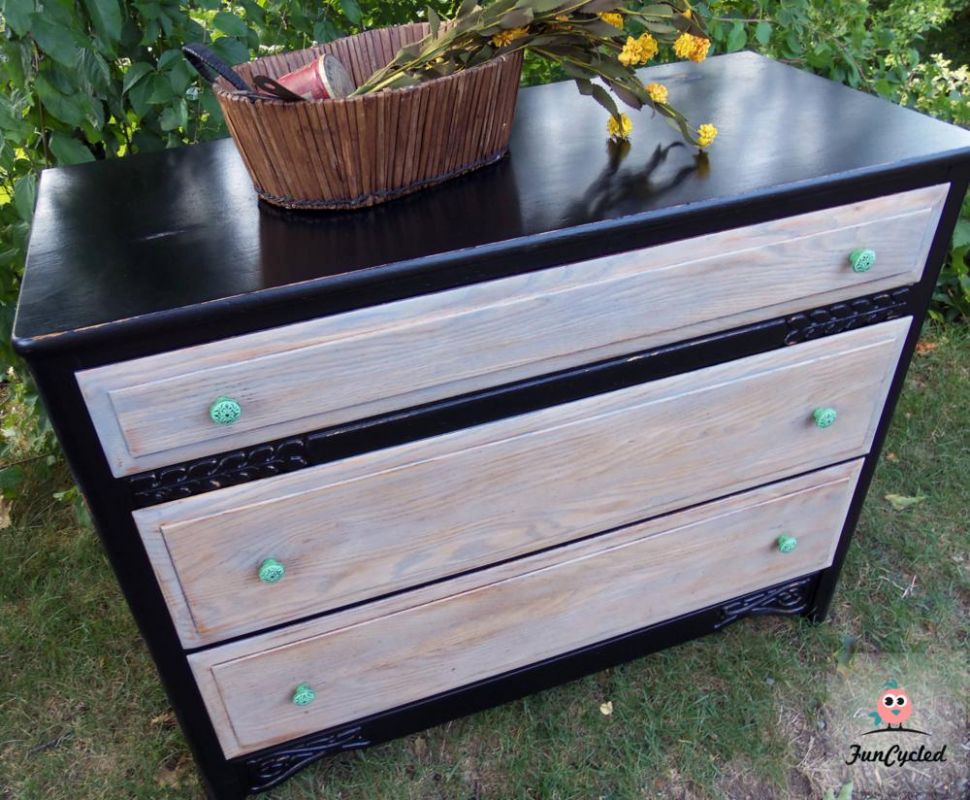 Happy Tuesday everyone! Before I get to the coveted before and after pictures for all the pieces on display this month, I have to share the exciting news of this week. We were featured on Domino Magazine's facebook page this week and Life at Home magazine interviewed us. We going to be featured in their November issue. We are so blessed and humbled by both opportunities.
Ok, enough of that… my head will get big. ;) As promised when I announced all the new pieces that we brought down to Anchor No 5, this Tuesday's Treasures will be a quick recap of each piece and the before and after shots.
Antique White and Raw Wood Buffet 
Before: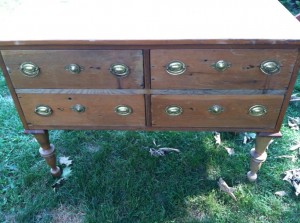 Let's start with this beautiful raw wood and white buffet. I bought this from a barn sale where all of the proceeds went to help support a local  home for orphaned children.  As I was looking around, this piece was caught my eye. I loved the thick wood and drawer faces. It had a lot of bumps and bruises but for some reason I fell in love with those bumps and bruises. :) I worked with them and incorporated it into the design. I've been craving for months now to use raw wood in a piece. This was it baby! I actually used spray paint for the exterior and painted it all white, then I heavily distressed it by using 80 grit sand paper. I took the drawers out, sanded them well with an orbital sander and then waxed the drawers to seal the raw wood. No stain here my friends. Then, I applied poly to the top to seal it up.
Black Distressed Dresser with grey washed drawers and Kelley green knobs
Before: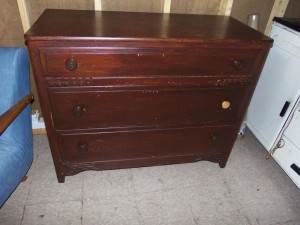 This dresser is solid wood and surprisingly heavy for it's size. I bought this and was doing my  best to put it in the van by myself. Yeah, that was fun. :) Thankfully and older gentleman saw my struggle and came to my rescue. We popped it in the van with no problem – nothing like team work!!!
I used my favorite black paint – Benjamin Moore Black Low Lustre Enamel. It's amazing. Then I gave it a medium distressing.
Then it was time to sand down all of the drawers and I wanted to use a very light grey wash on them. I played with grey paint while mixing it with water until I got the color I was looking for. I tested it on a spare board first and once I found what looked good, I painted the drawers. The pulls on this piece are a stunning Kelly Blue. Love, Love!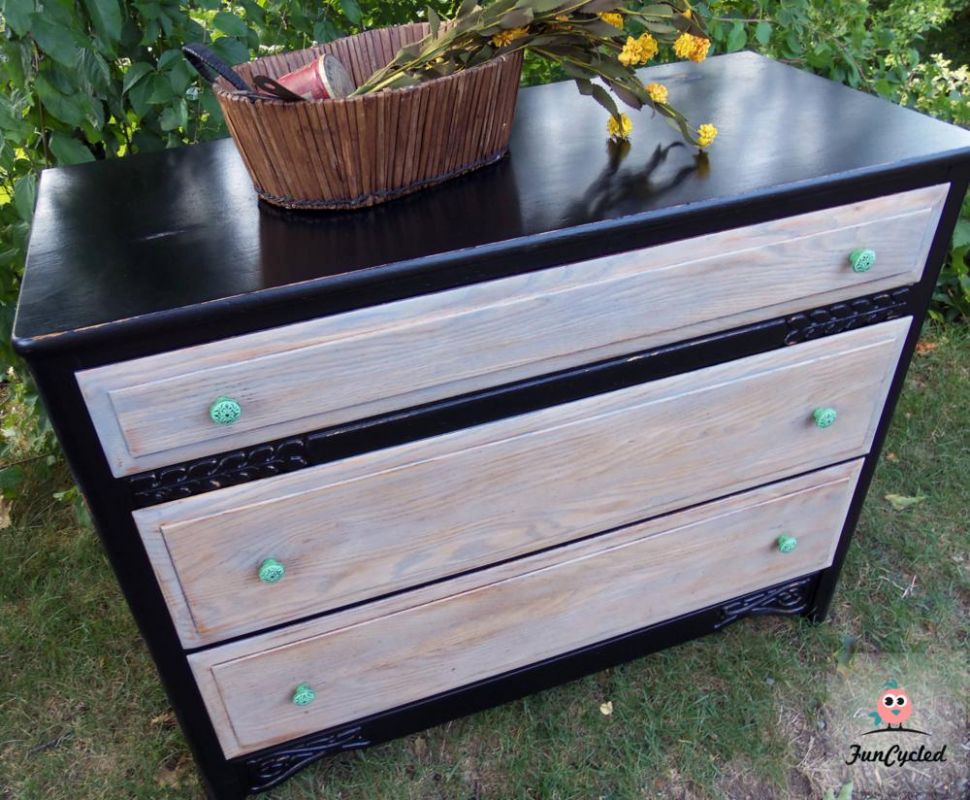 White and Grey Chevron Dresser with yellow knobs
To see how we painted chevron stripes, please see this post.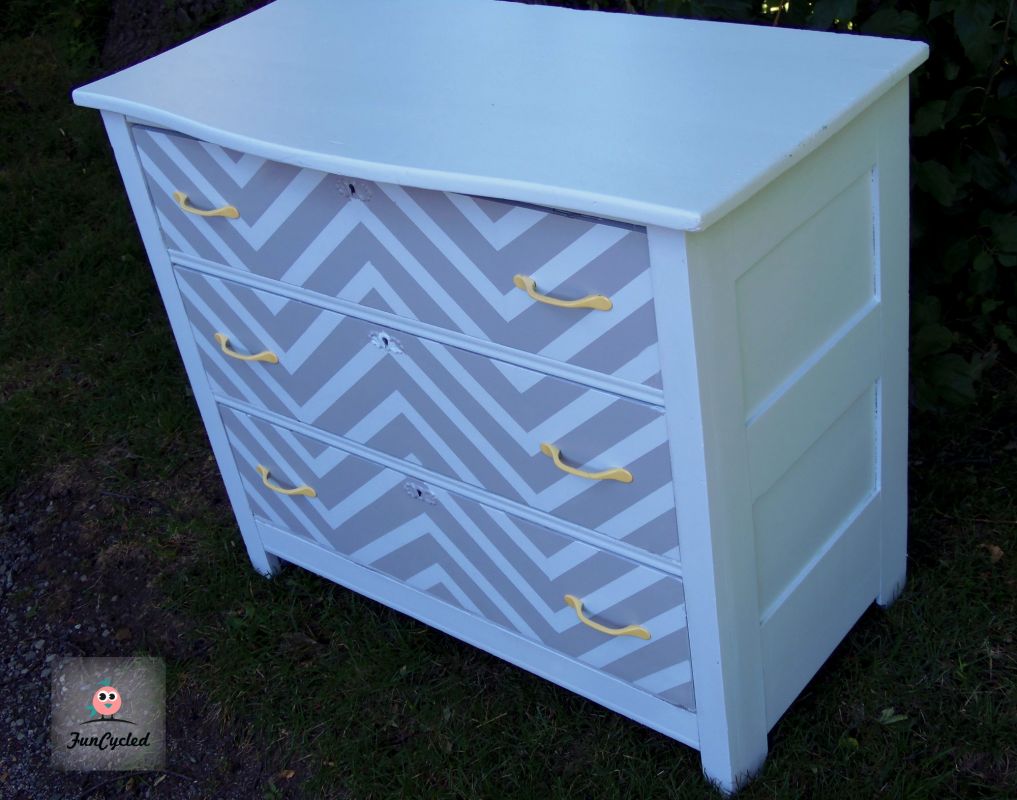 And last but most certainly not least… this Chevron and Eiffel Tower Chair Set.
I was at the Habitat for Humanity Restore and came across these beauties. They literally made me make that gasping for breath noise. You know what I mean… right in the middle of the store. I LOVE them. I knew my mom's amazing upholstery skills would make these outdated chairs scream modern, with a coveted design. I am actually planning to keep these chairs for my new dining room set. Don't worry, I'll share pictures of that soon. :)
After: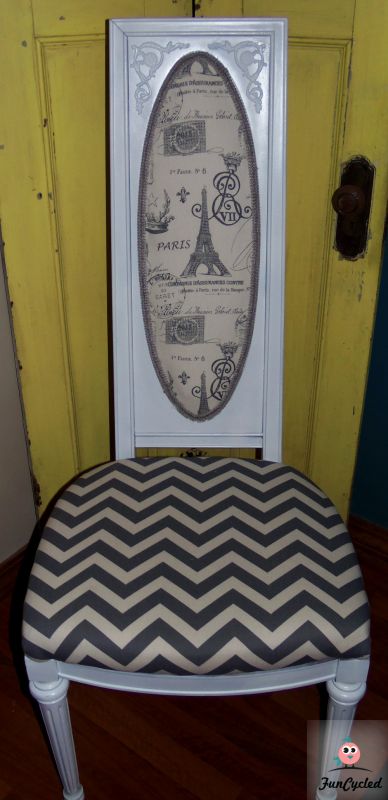 Please make sure you check out our For Sale page to see the pricing and availability of these pieces.
Remember… If you like what we're doing, please like us on Facebook at: www.facebook.com/funcycled or share this on Pinterest! Also, you can now get each of our new projects emailed to you when you enter your email address in the box at the top right side of this page.