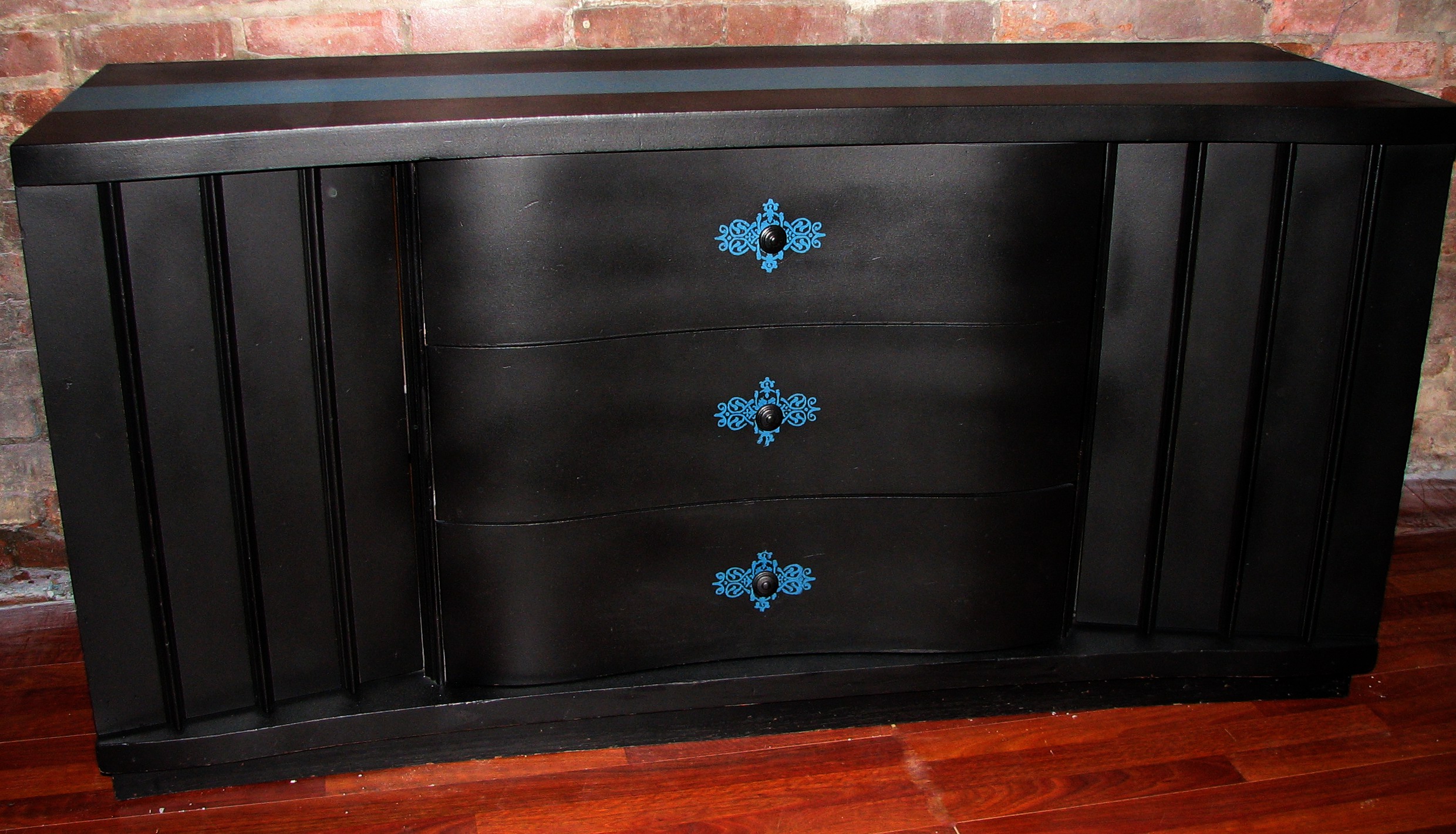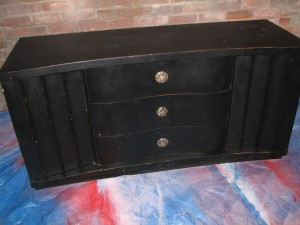 This buffet is actually the first piece of furniture John and I ever worked on together. When we first got married we had VERY little money  so our friends John and Devon gave us this buffet. It was almost that orange yellow wood color… not my idea of pretty. So we lugged it down the stairs of our 2nd floor barn apartment and bought a couple cans of spray paint and painted it black. Then headed off to the hardware store to grab new handles. It's been almost 9 years now and it's held up well. Thanks John and Devon! :)
Remember the beautiful California Poppy Red Hutch that we just finished??  Well, that took this oldies place in our dining room. As I was lugging it around to make room for the new hutch, I just couldn't bare to get rid of it. I still love the look of it and it's a solid piece of furniture. Ok, insert sentimental comment here. :) Anyway, we decided to give it a quick face lift instead and make it our entertainment center. It's a simple, makeover that really gave our living room a unique look.
First, we sprayed the whole thing with a couple coats of black.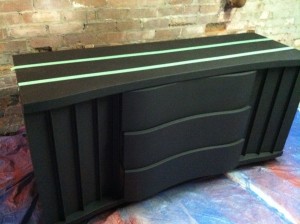 Then I decided I wanted teal, you know how I love teal! So, I put two strips of painters tape across the top (once I knew the black had time to really dry and set). I hand painted the teal with the same color teal I had hand mixed from the Pine Dresser. Trying to be thrifty and I LOVE the color. Have I mentioned that already?
I wanted to try out using stencils on this piece, as you know I like to try new things on my own pieces first. I bought a $2.99 stencil from Hobby Lobby and taped it on using the painters tape. I am not sure if this is the best way, but it seemed to do the trick for me. I just centered the stencil to the hole where the knob was going to go. I should have used a sponge to dab the paint on, but I used a paintbrush. It made it a bit of a pain, but it still turned out well. I'll just remember that for next time.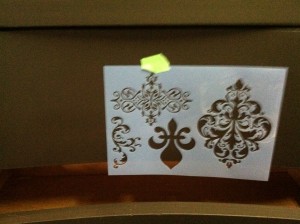 And voila, the pop of color I was looking for!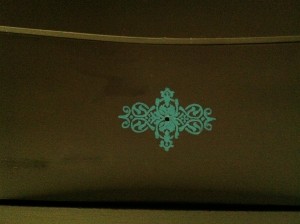 Ok, time to seal it twice (three times on top because I know my kids will beat it up with swords, etc). Here's the finished project.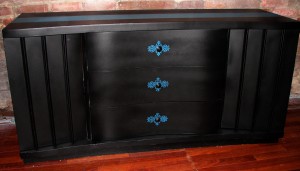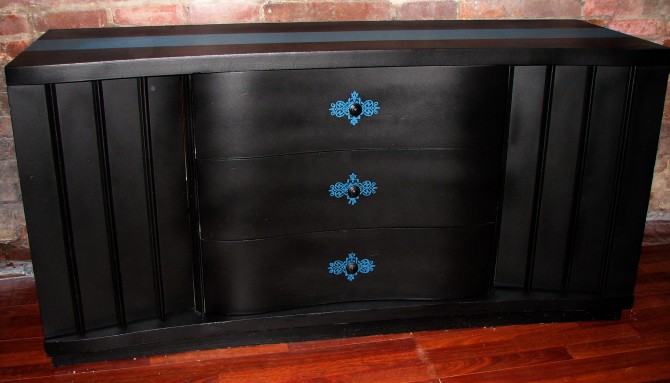 Oh, and another thing I was reminded of while doing this project. It's REALLY hard to get good pictures of black furniture. I'm not sure why, but it's true…. this is so much cuter in person.
Once I have my new TV and everything looking pretty, I'll post a picture of it in my living room. Now, time for you to go make something old look like something new for less than $10. Enjoy!
If you like what we're doing, please like us on Facebook at: www.facebook.com/funcycled or share this on Pinterest!
Hope your enjoying a restful Sunday!
Sarah