Repurposed Designs for the Capital District! Adoring the old while making it feel new!
If you would like to reserve time with us, please us our contact us form or email sarah@funcycled.com
Feeling overwhelmed or just need someone to run an idea past? We can help!
How does it all work? Simply email me to ask about booking a design consult. We can help with everything from designing a gallery wall, to redecorating one bedroom, to starting from scratch on an entire home. For me, achieving the right design is the result of asking questions, listening, understanding what you want, planning, experience and your budget. I structure the design and cost by scaling it to your needs and resources. I charge per hour while I'm at a your house and at a reduced hourly rate when I'm at home doing research and making a design plan. Typically the initial consult takes about 1 1/2 hours for a 1-2 rooms. We can also do much of the interior work if you'd like those services, too. Kitchen cabinet painting, interior painting, installations, lighting, etc.
Before I go to your home for the consult, I will ask for pictures of the house, find out who lives there and the purpose of the room(s) I will be designing. This give me time to plan some ideas before getting there – saving you time.
After I've reviewed the initial information, I will schedule a visit (the initial consult).  I'll ask for your vision of the room, identify the furniture or decor pieces available (as is, or to be re-purposed) and what was on your wish list to be purchased.  Typically, I'm overflowing with ideas so I may start to make preliminary suggestions on the layout, possible furniture and decor items, choice of colors, etc.  We also have to talk budget and timeline; based on the scope of the project, what could reasonably be accomplished and how best to utilize the money to obtain the desired results. This visit can be the end of the consult if you'd like it to be, leaving you with a new layout plan, wall colors, furniture colors, etc.
Or… you can choose to have me go home and work on room(s) designs. Usually a room takes 2-3 hours for me to complete the preliminary design  –  choosing colors, rug, lighting and furniture choices. As I create the space, I like to make a Mood Board to show how everything is going to look together. Here's an example of the mood board that I made for a recent mid century modern sitting room.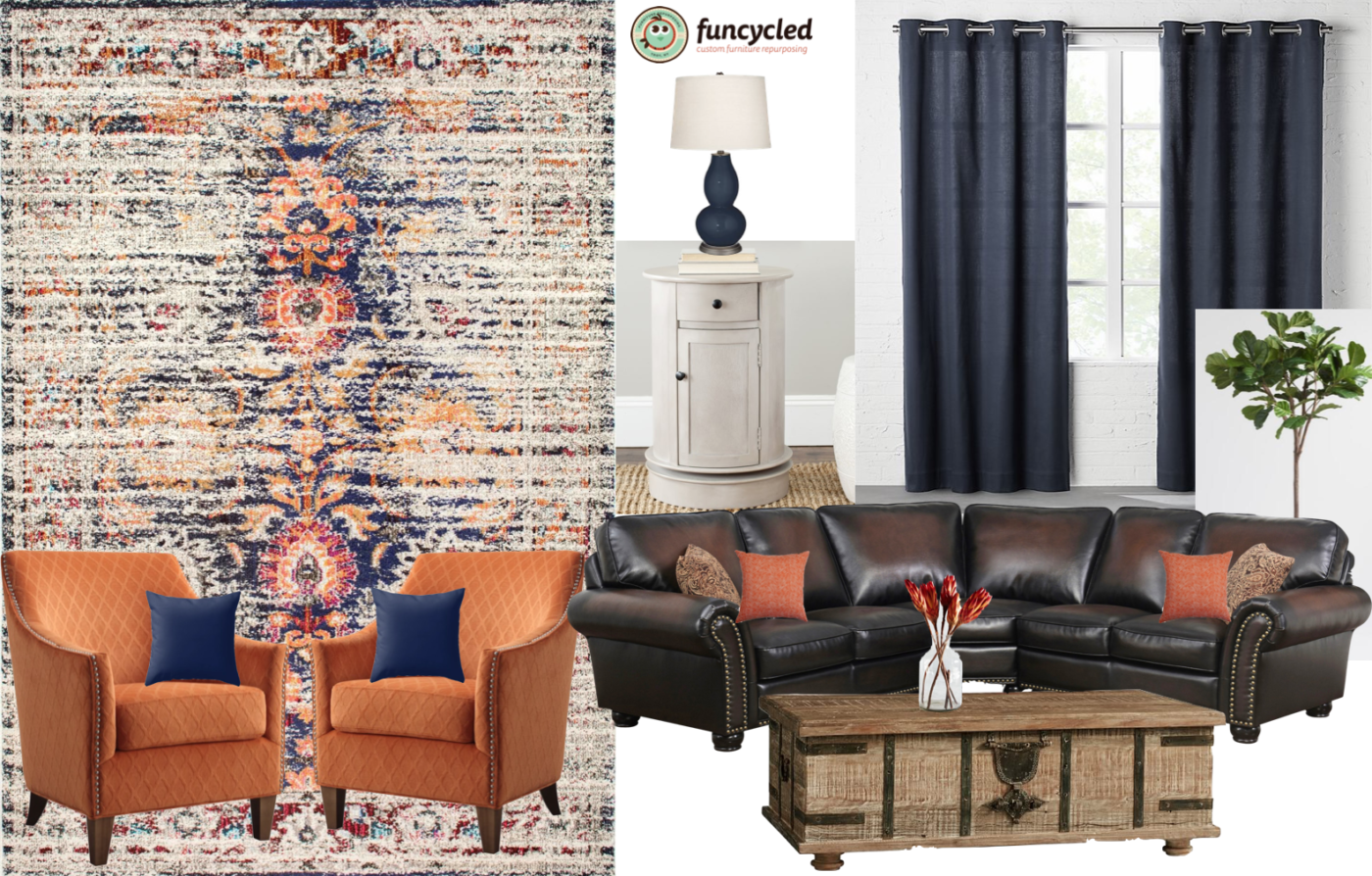 This allowes you to "picture" the room before final design decisions are made. There are always follow up discussions, questions and texts about the plan, and, while I'm looking for furniture/decor ideas. Along with the mood board, I create a resource list of furniture/decor for you. You can order whatever they would like or I can order it and bill you.
After review of the design board, and the back and forth discussions, I may also need to come to your house one more time to measure out each piece and make sure it feels right in the space before hitting the order now button. Also, sometimes clients need to make changes to the designs because the rug doesn't come in the size they wanted, etc.
At the end we want our clients to have rooms that reflect their style and make them feel relaxed, as well as rooms that will be welcoming for family and friends for years to come! If you would like help with your next room or even the whole house, please use our Contact Us form to set up an appointment. I'm here to help come up with a plan that works in your budget, create beautiful designs, and make the process fun,  not stressful!
Here's some examples of some of our past projects:
---
Modern Farmhouse Dining Room
When we purchased our home it had a more primitive design and we wanted to give it a modern style. We incorporated shiplap, installed an antique mantel and new sputnik chandelier. We also custom built a 9 foot table combining rustic barn board with a modern, sophisticated side.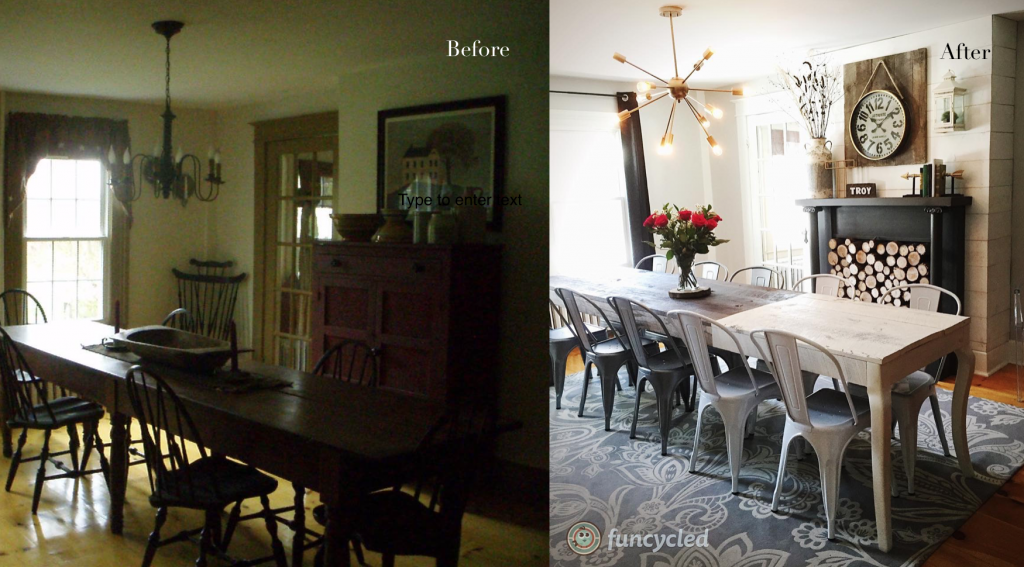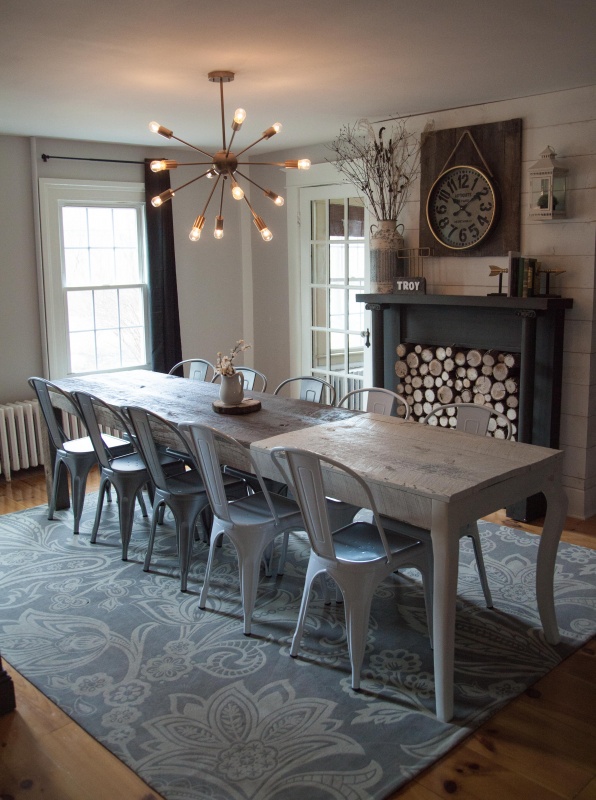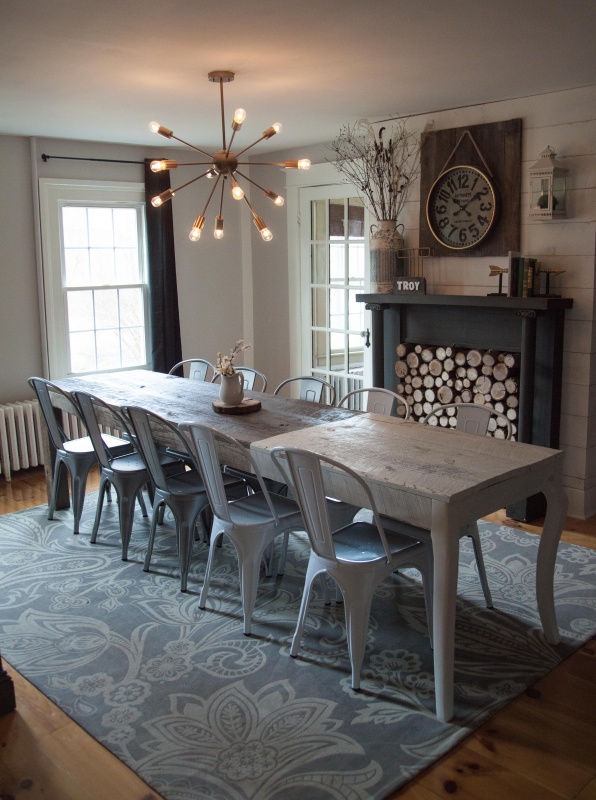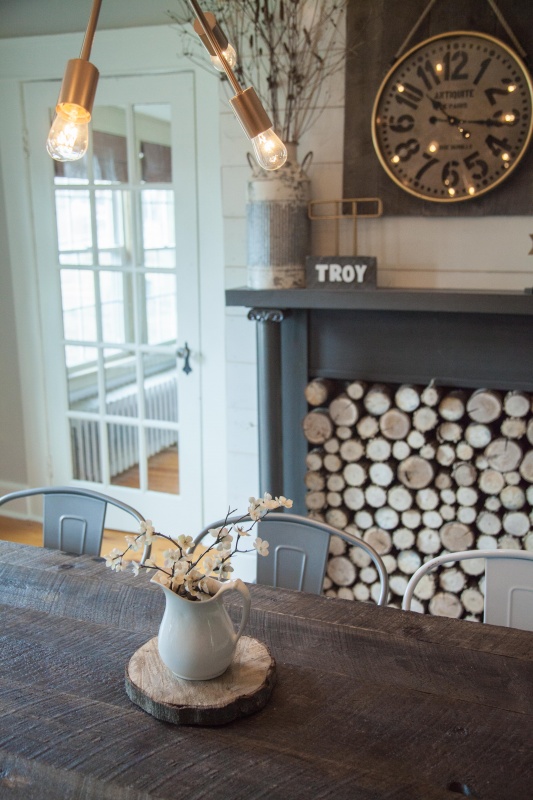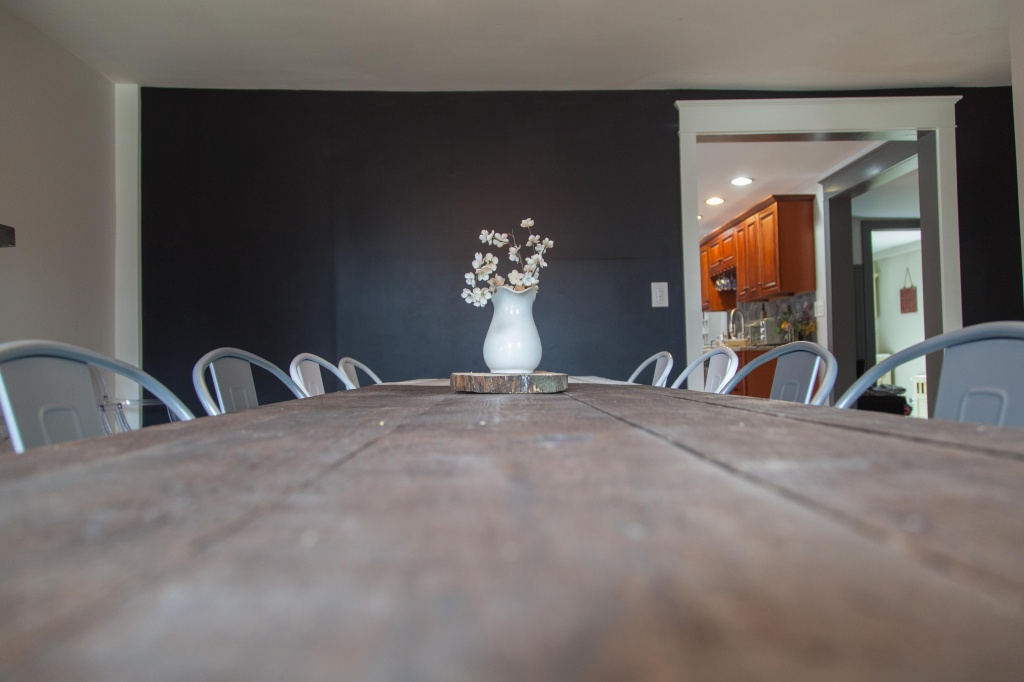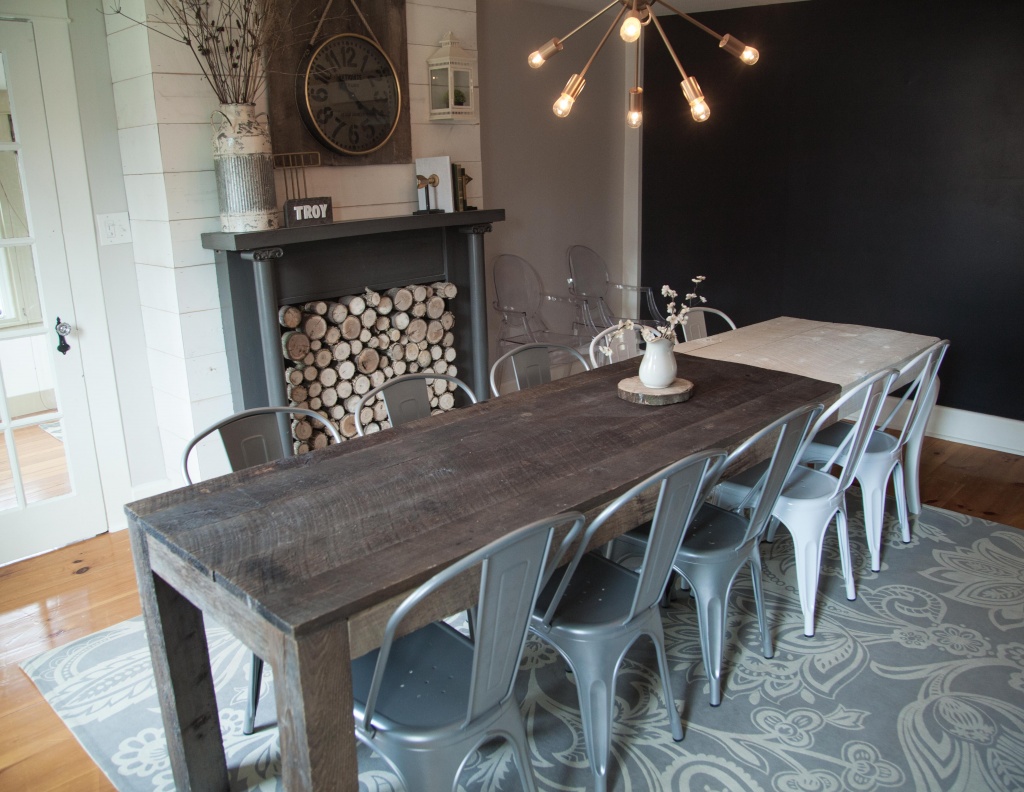 ---
Retro Farmhouse Kitchen Makeover
Our client wanted to keep the same size and shape of her kitchen, but give it a whole new look. We did all of the work on this remodel. Repurposed the kitchen cabinet doors, built new solid  maple counter tops, added shiplap to the wall, painted everything, installed new lighting and appliances. You can check out the whole story here.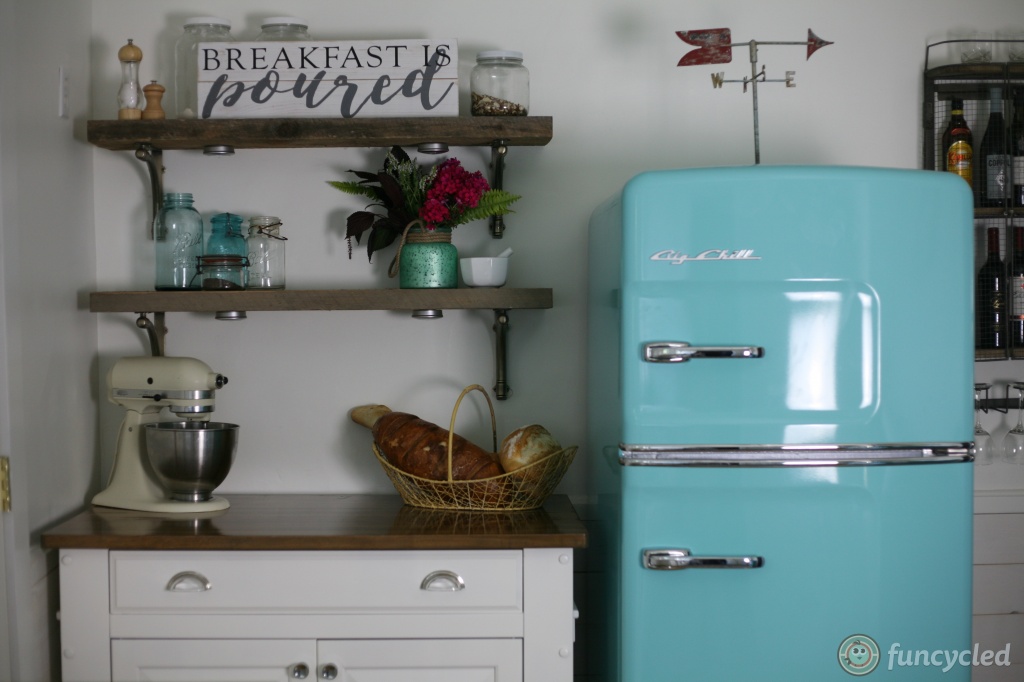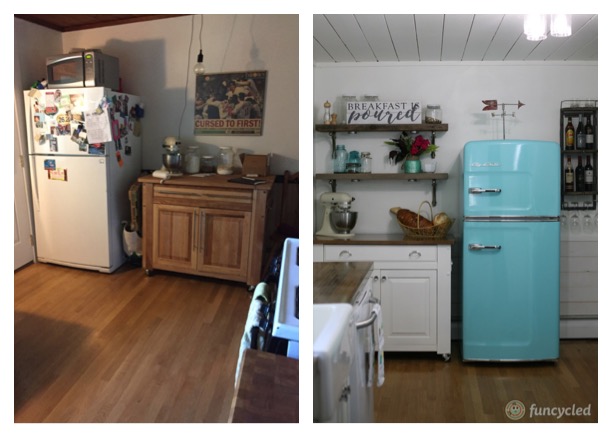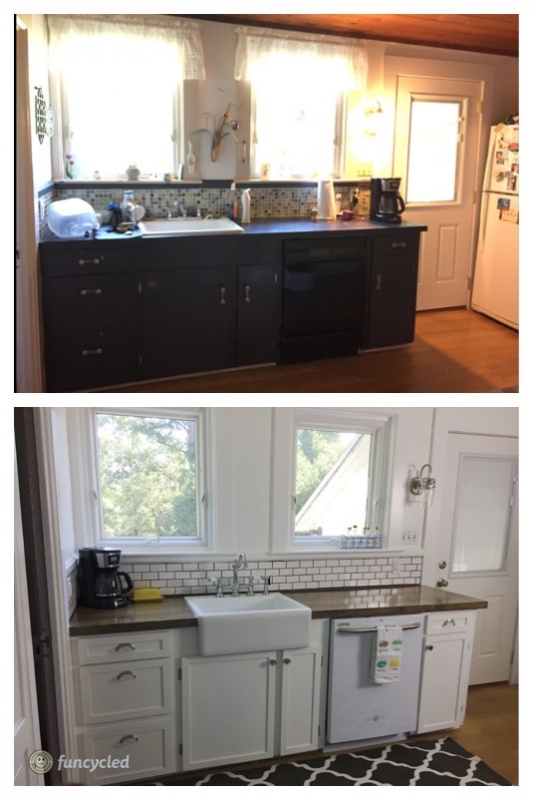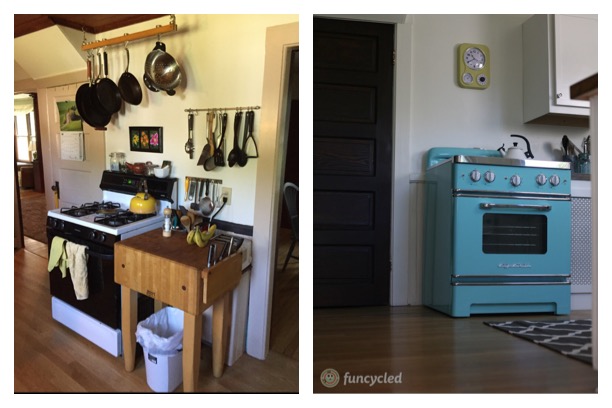 ---
Office Design
The Troy Innovation Garage asked us to design an office for their new location. We wanted to create a bold design with a space that would inspire others to take risks, work hard and enjoy Troy!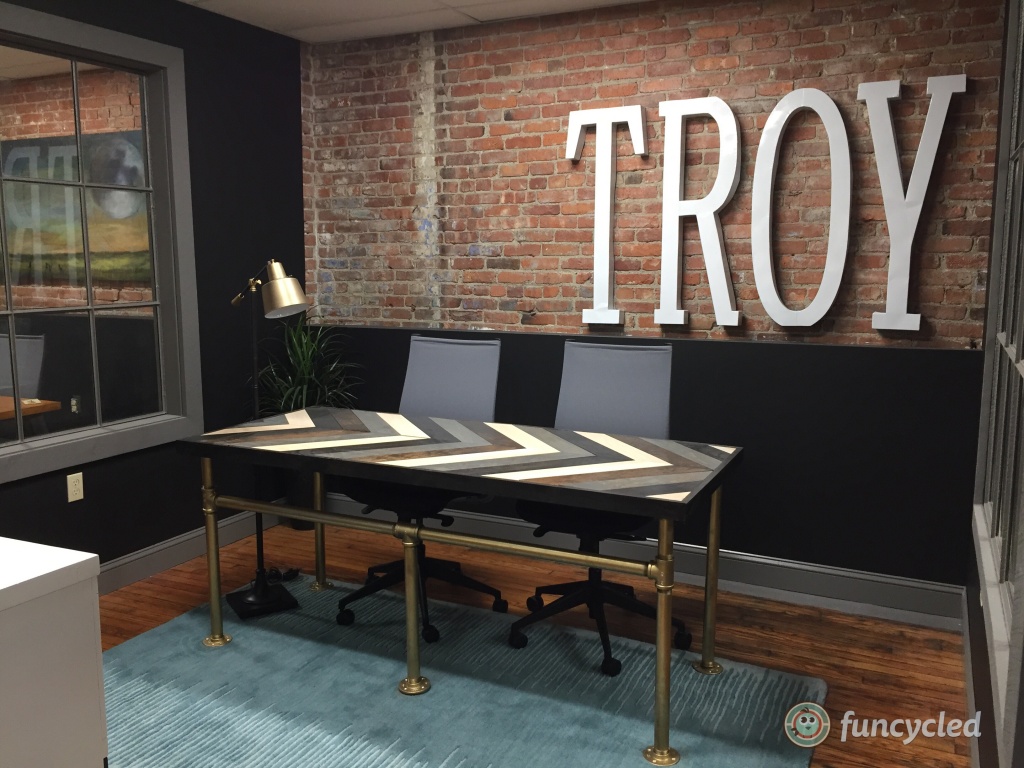 ---
Quick Guest Bedroom Update
Our clients didn't have a lot of time or want to spend much money on their guest bedroom. We updated an old bed with a bright pop of color, pulled in end stands from others we found in the house where they weren't being used, and painted the walls a soft gray. Additionally we gave it an accent wall using a darker gray.  The room became a special oasis for visiting friends and family.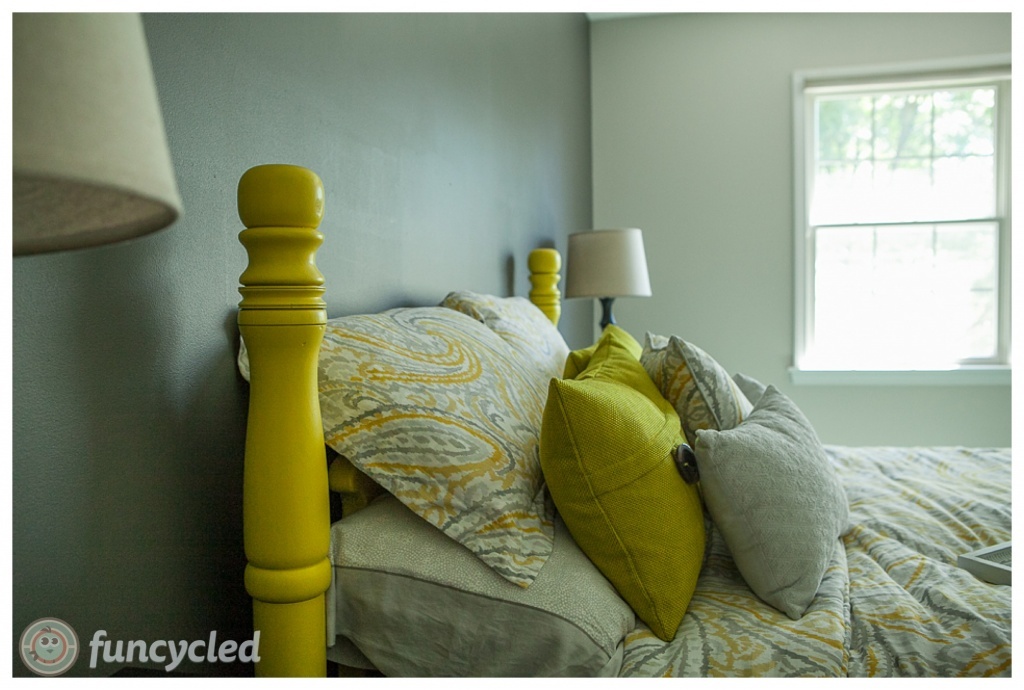 ---
Repurposed Porch Project
This was an exterior design project where our goal was to update an outdated porch with as much repurposed furniture as possible. The table was made from and old door and pillars from a home in Albany that was torn down to expand Albany Medical Center. The coffee table was made from an old cable spool! The love seat was an antique wicker set that we redid as well!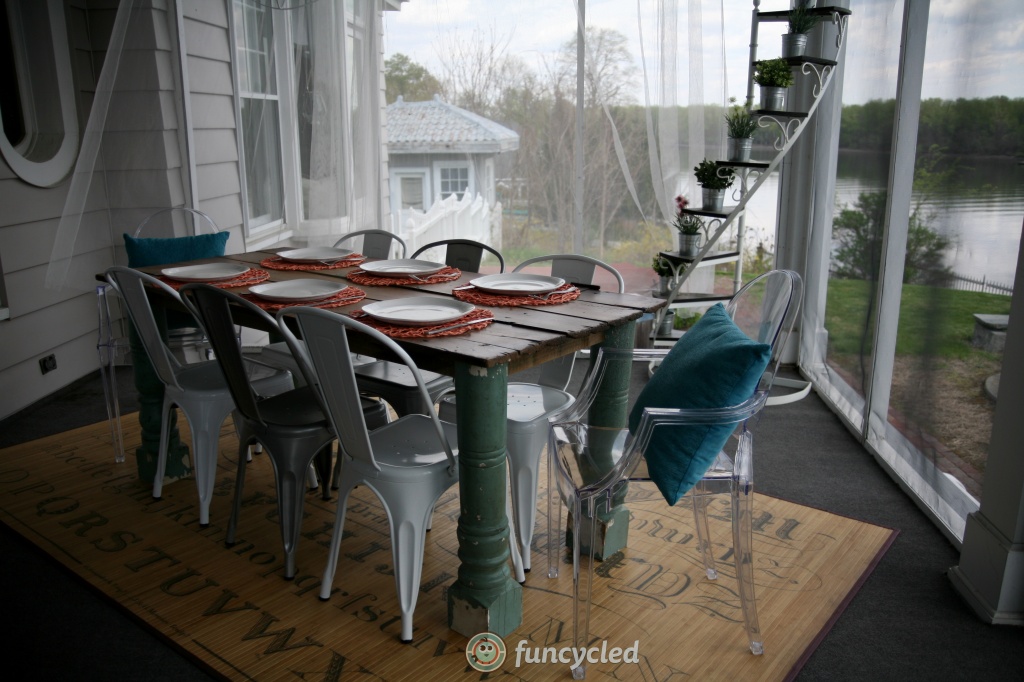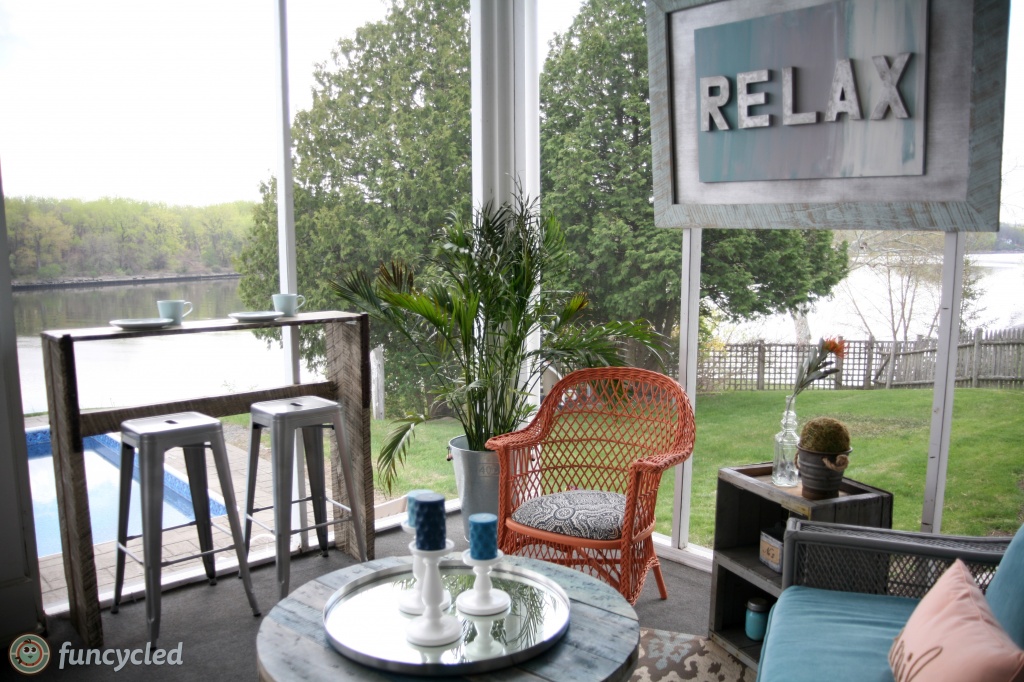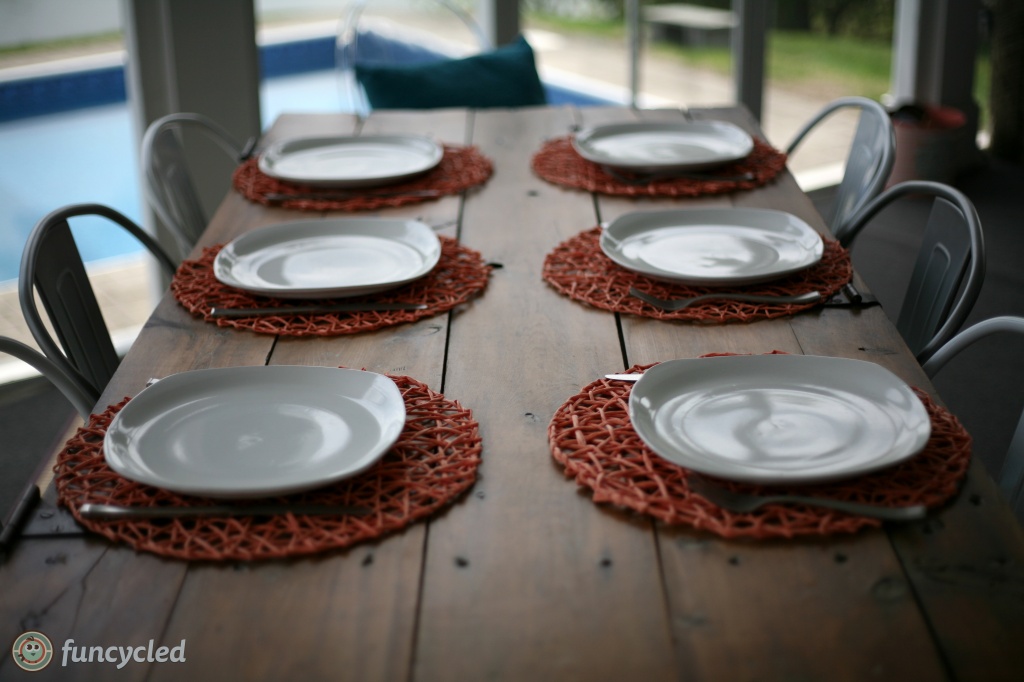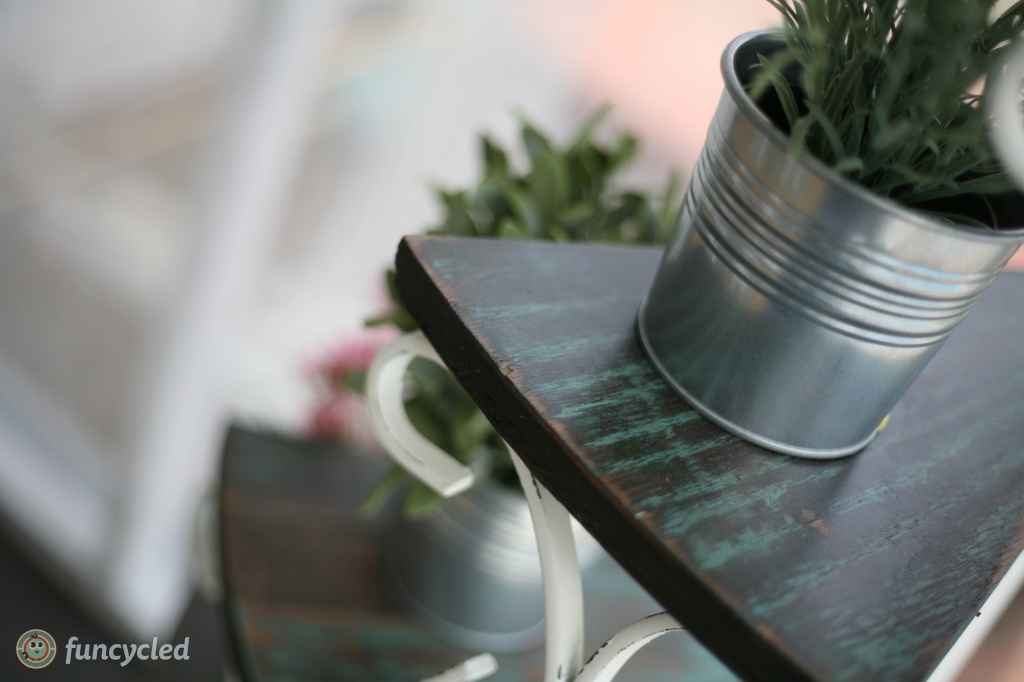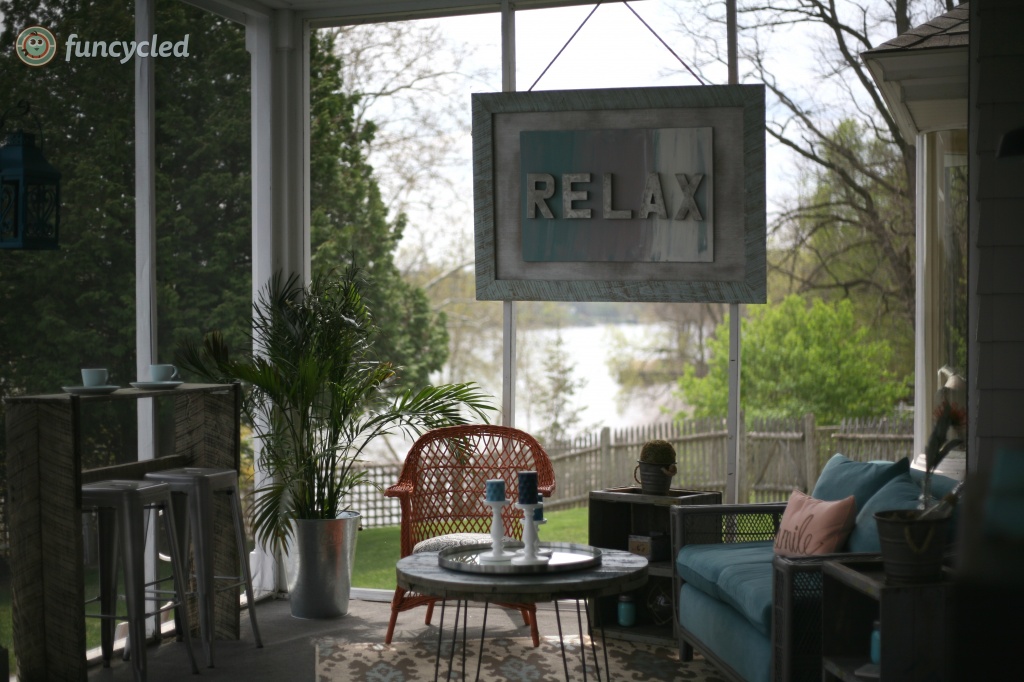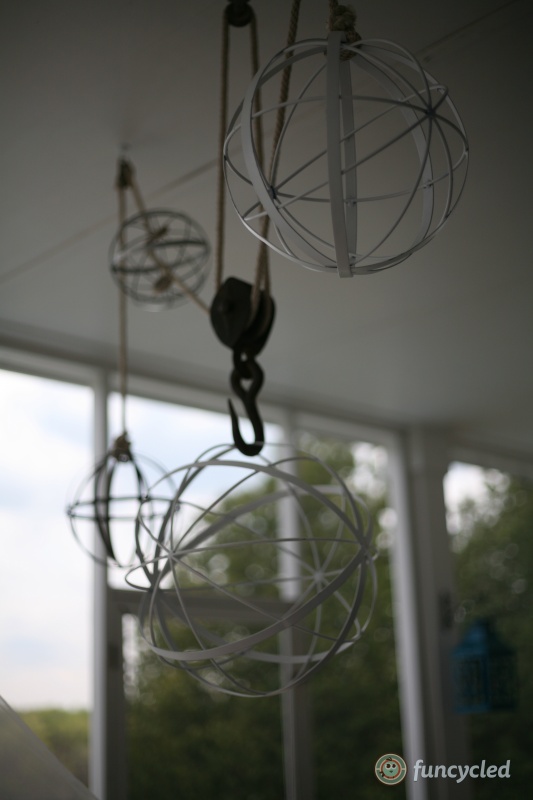 ---
My Serene Sitting Room
Again, a more primitive design that I wanted to transform into a natural, relaxing space for our company.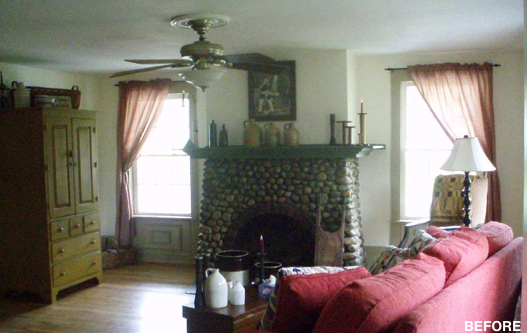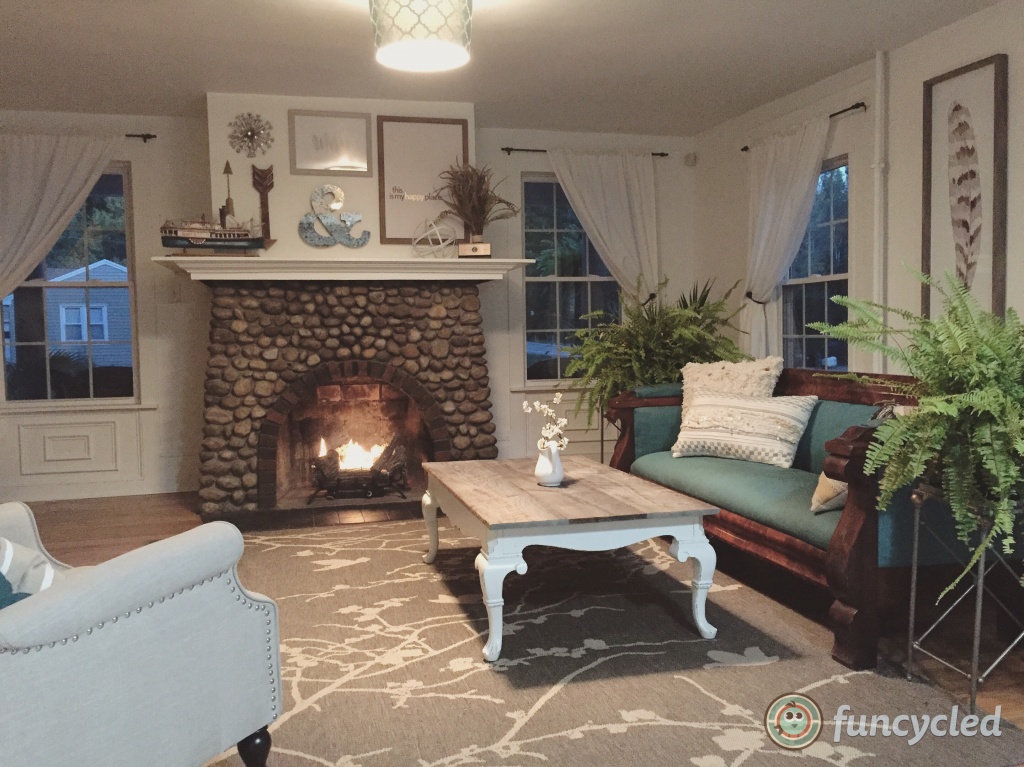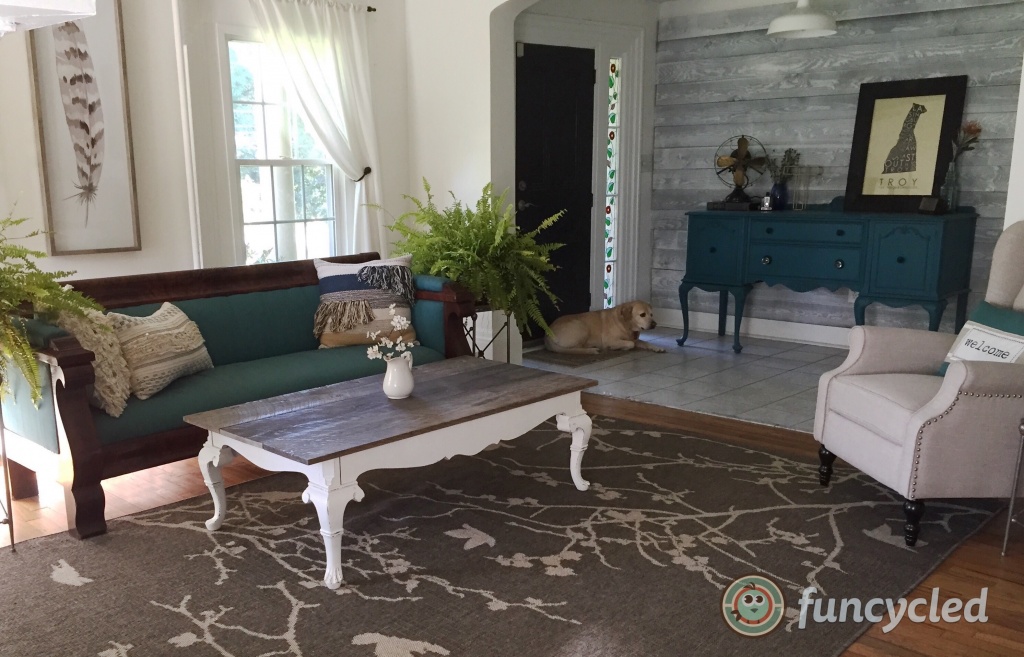 ---
Modern and Bold Living Room
This design was for a client who loved Jonathan Adler's style and wasn't afraid to incorporate layers of color with bold, bright furniture. We did all the interior painting, helped pick the fabric for the window treatments, found and designed the library hutch, and picked out the color and fabric for the couch and ottomans.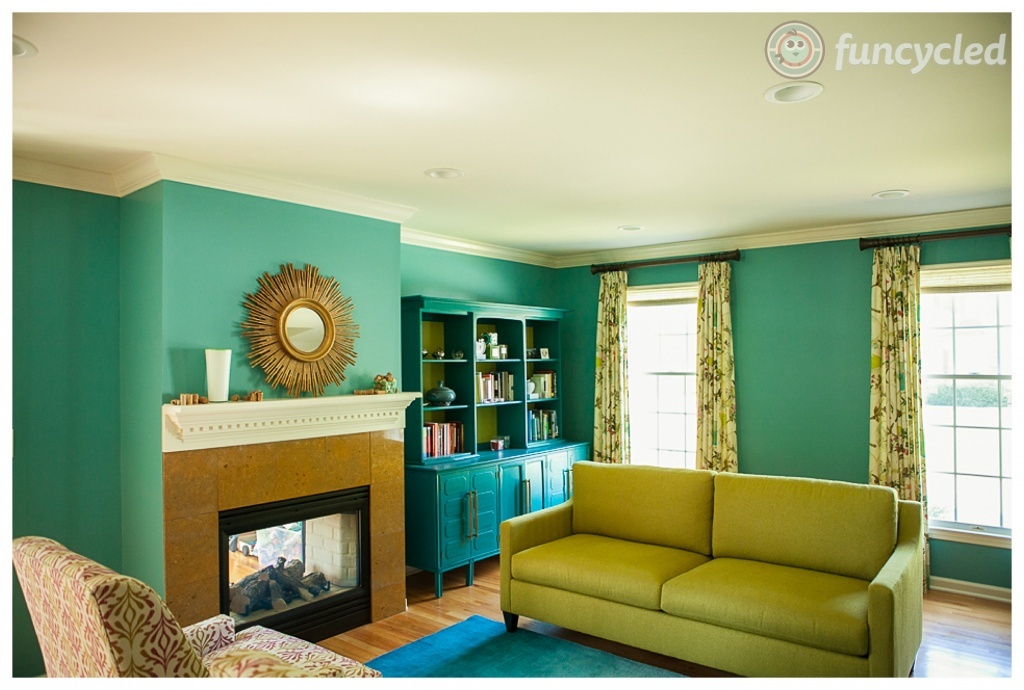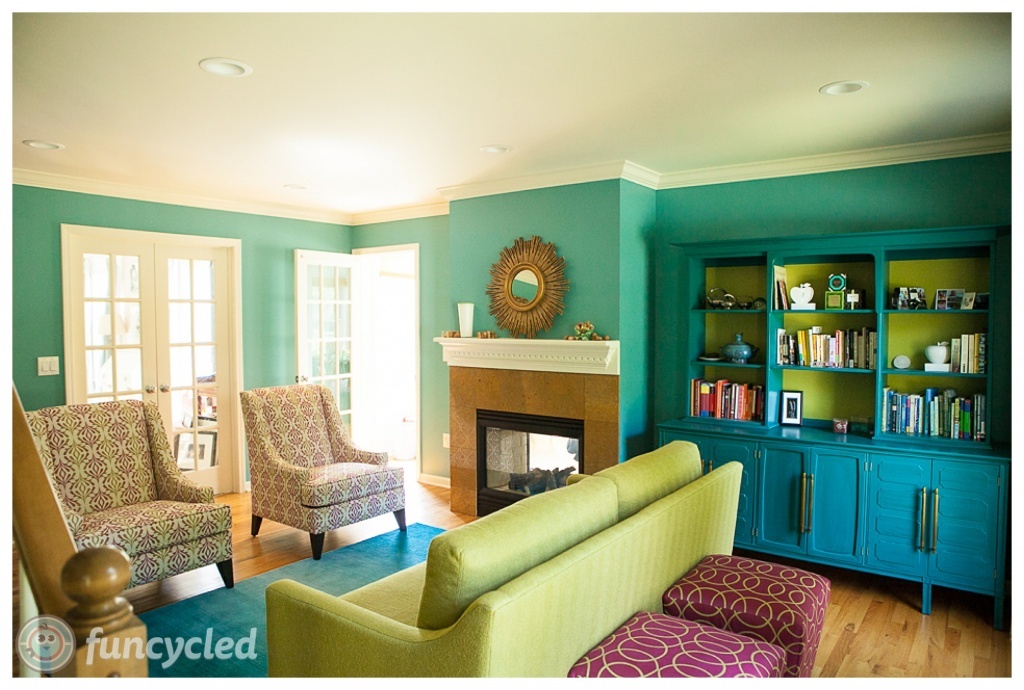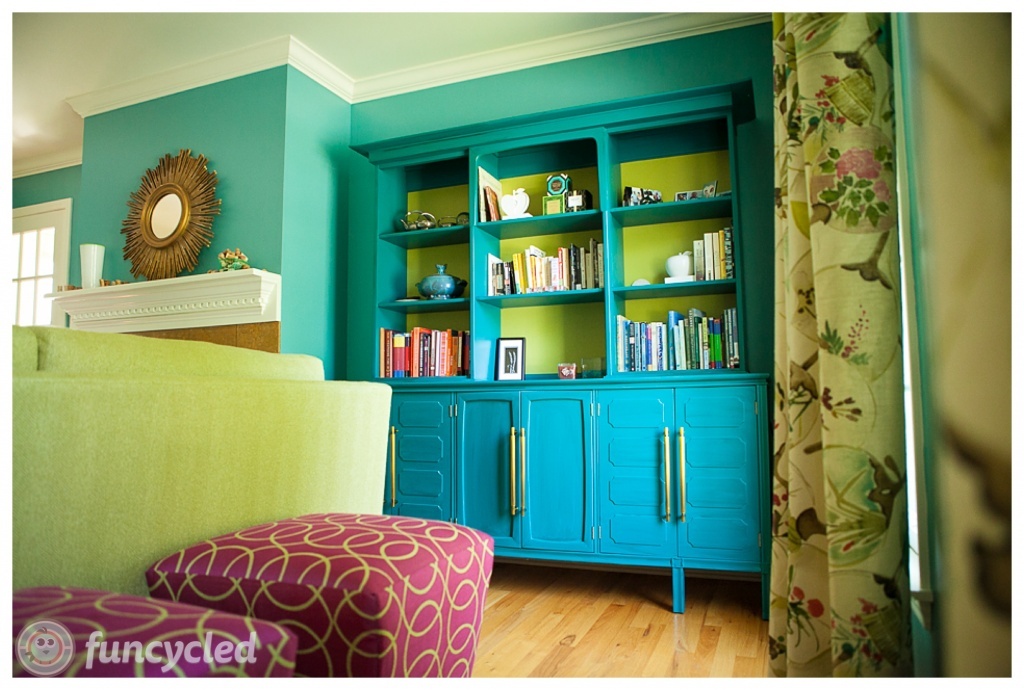 ---
Country Chic Dining Room
We were able to keep the original wallpaper, build a table, paint our client's chairs 4 different colors, find a buffet that would work in the space and paint it to match. We also painted her chandelier from gold to white and help to stage the built in hutch.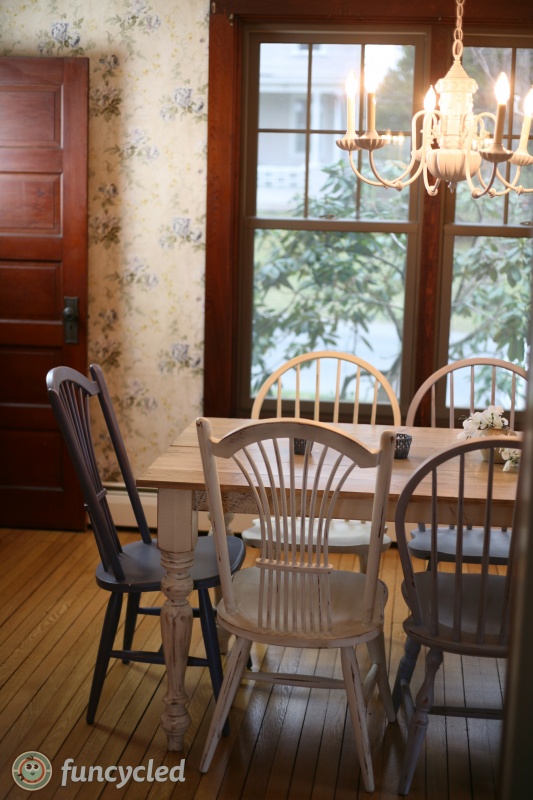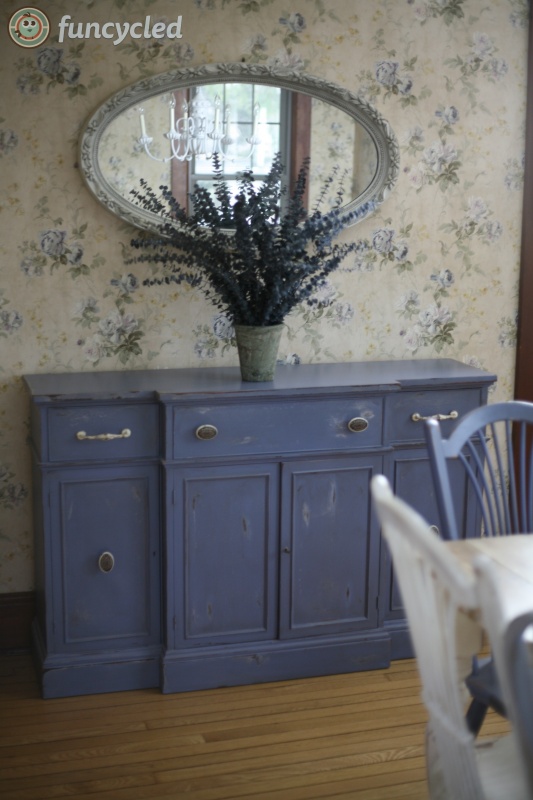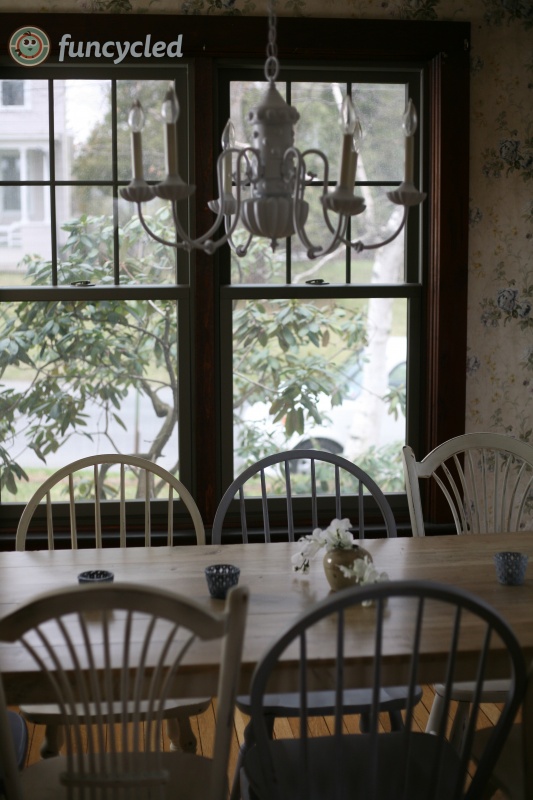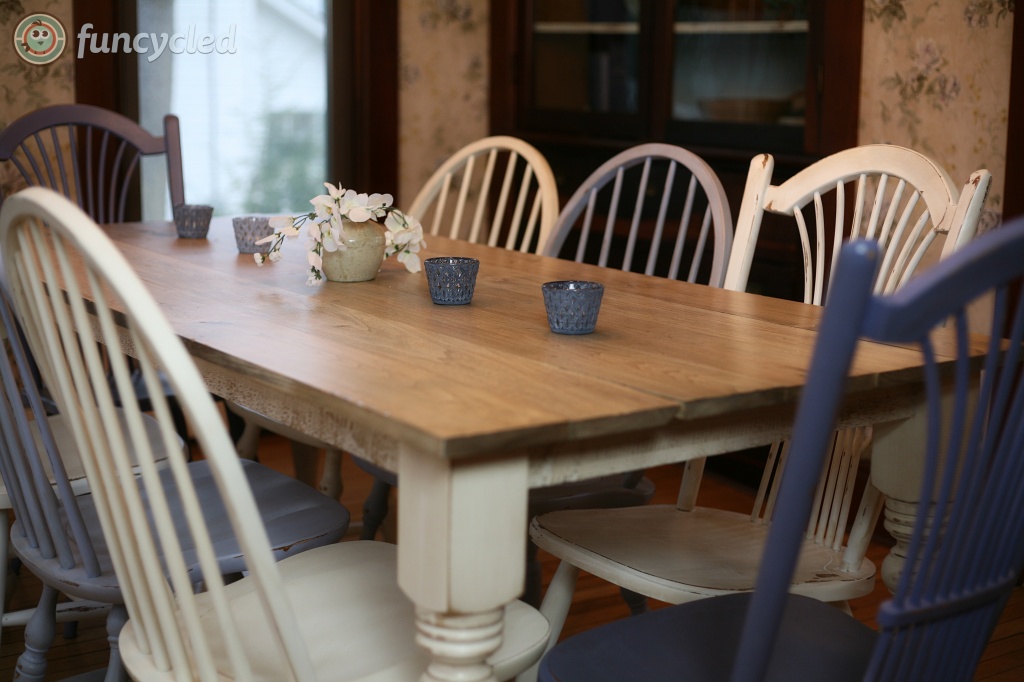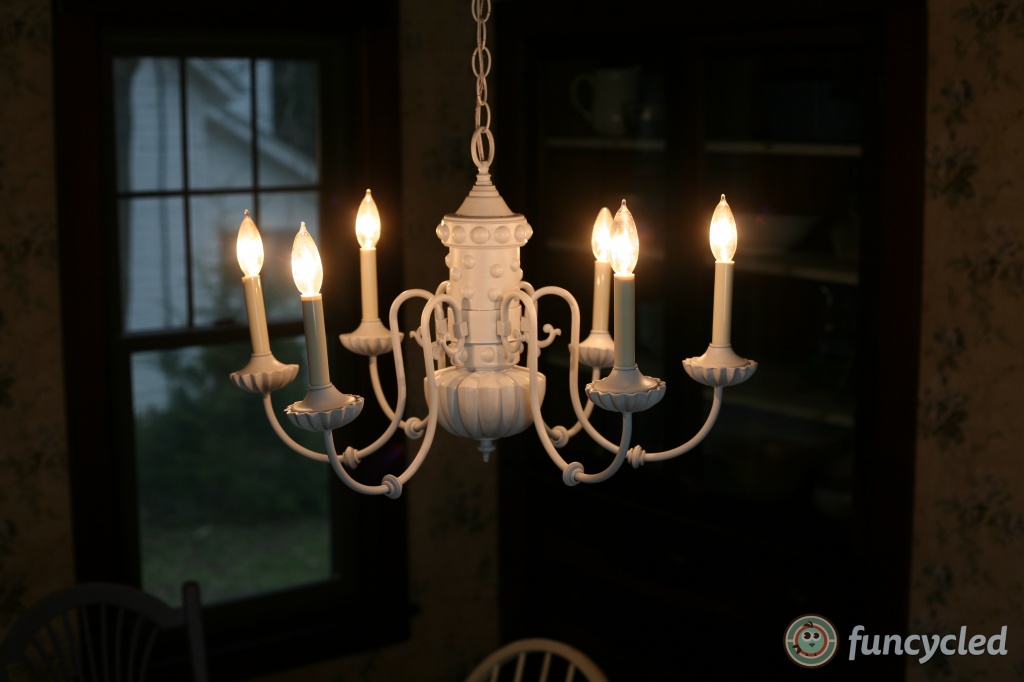 ---
Dainty Bright Girls Room
This room was for the happiest little girl!! She never stopped smiling! Her mom didn't want the typical pink and purple but still wanted it to have a feminine feel. We incorporated grays, oranges, and bright pops of color!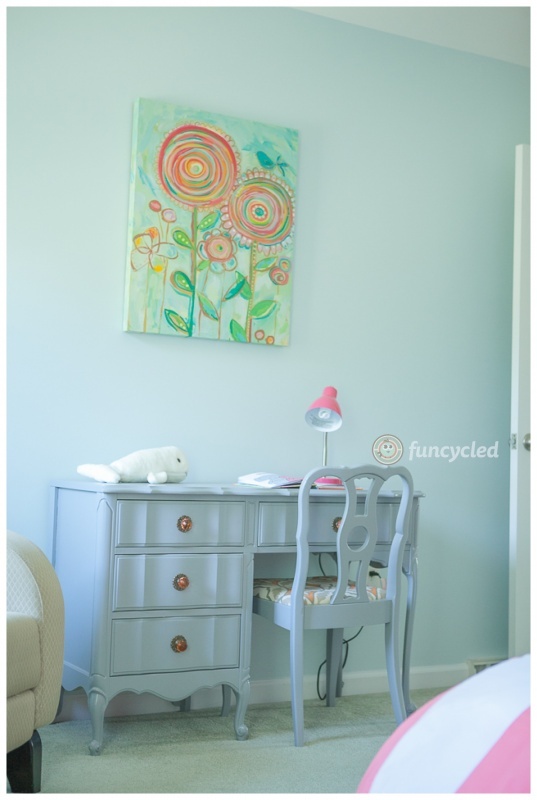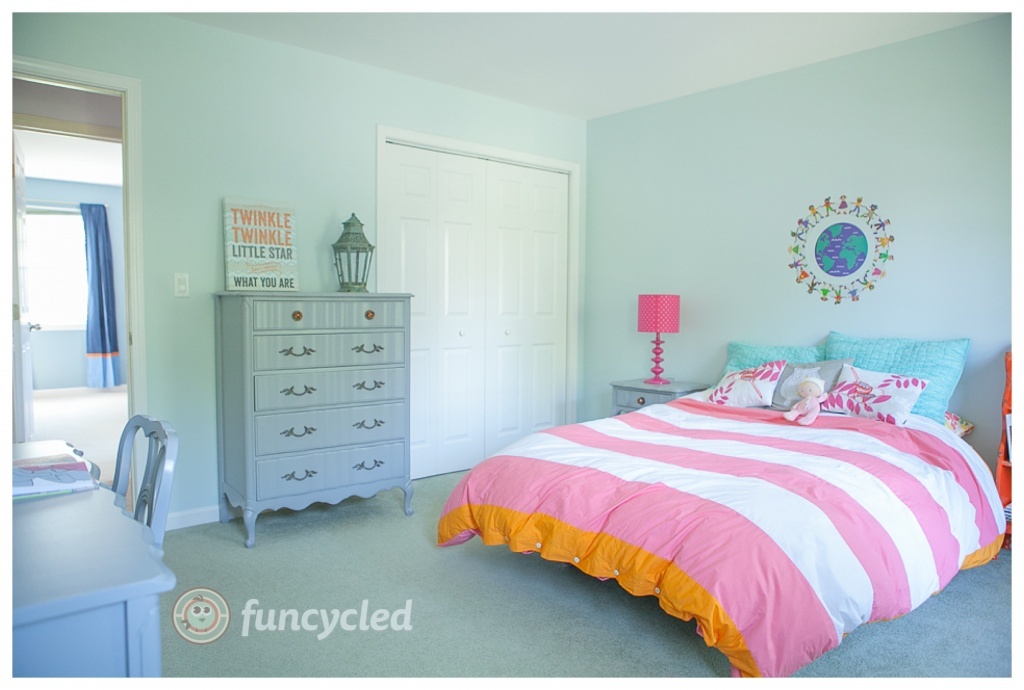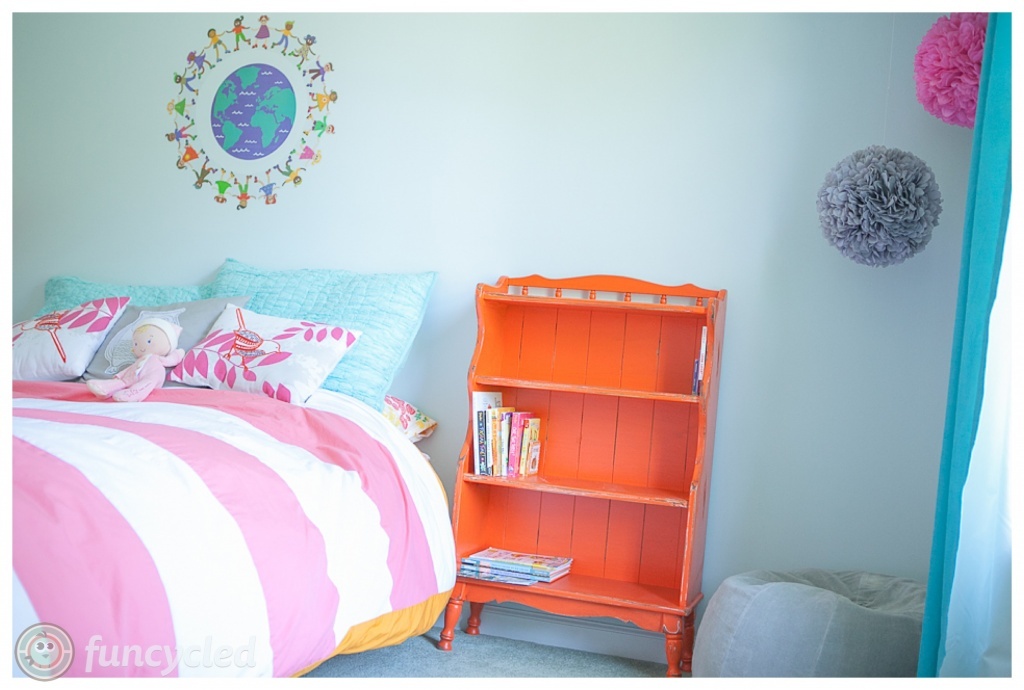 ---
Orange and Blue Boy's Room
We let our client's son pick out his two favorite colors – orange and blue – then created a space around those colors that would make him happy to spend the day creating and playing in his space. We used drapes they already had, found and designed a mid century desk, picked out new bedding, and went shopping for the pictures!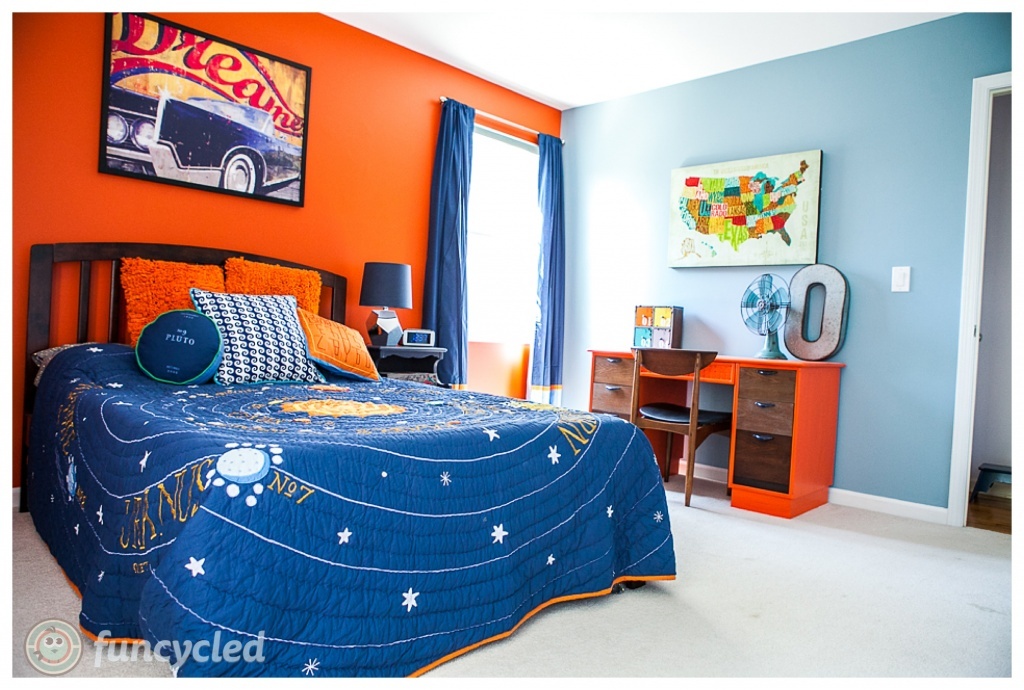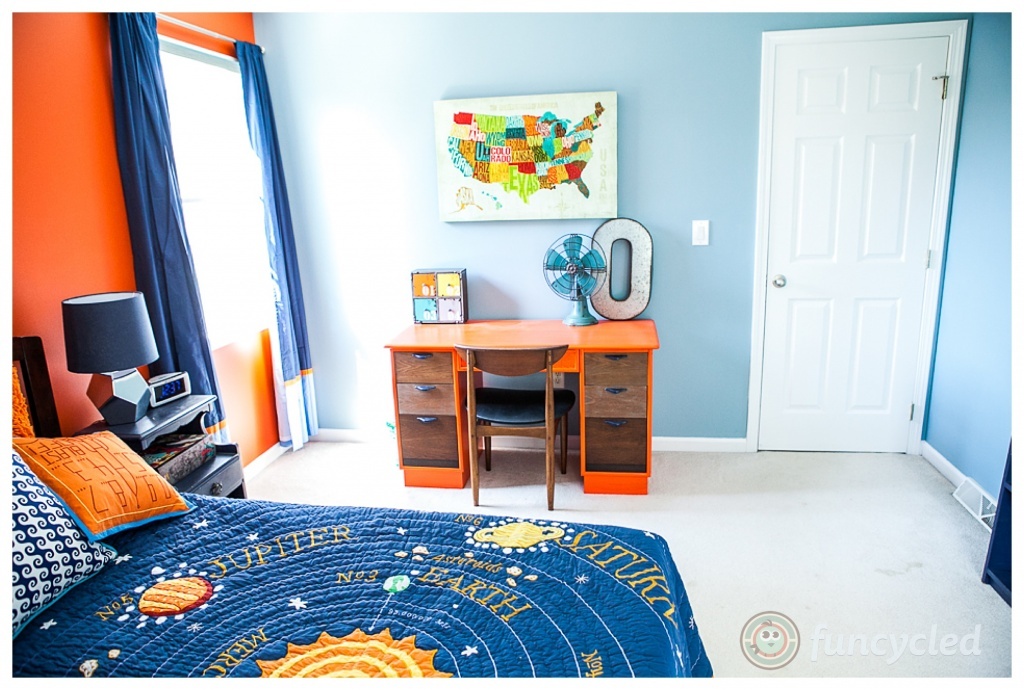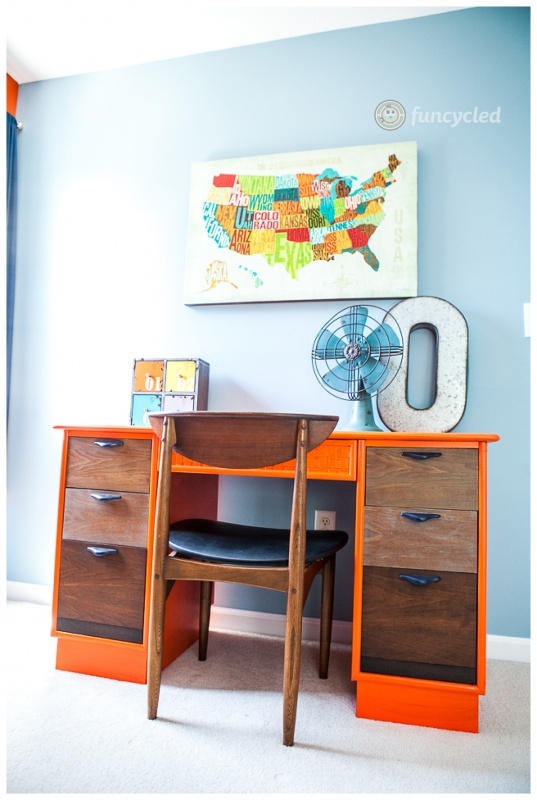 ---
Entry  Way Update
Our clients entry way was a funky shape and felt outdated! We made coming home feel fun and inviting with pops of magenta, navy and soft gray walls!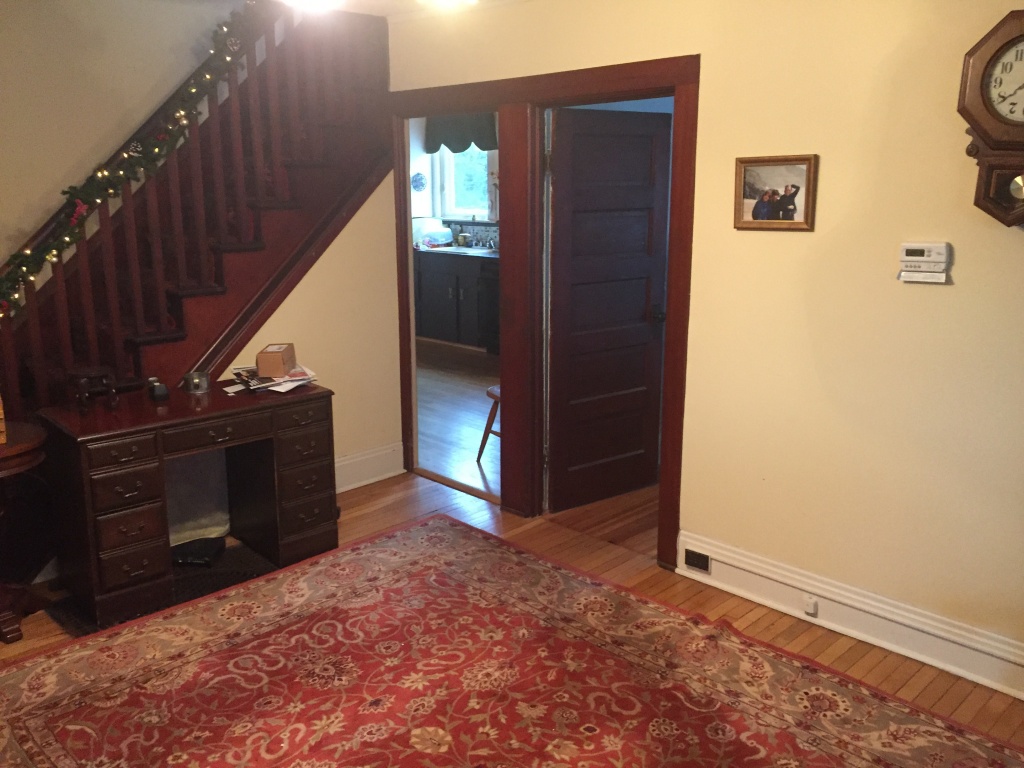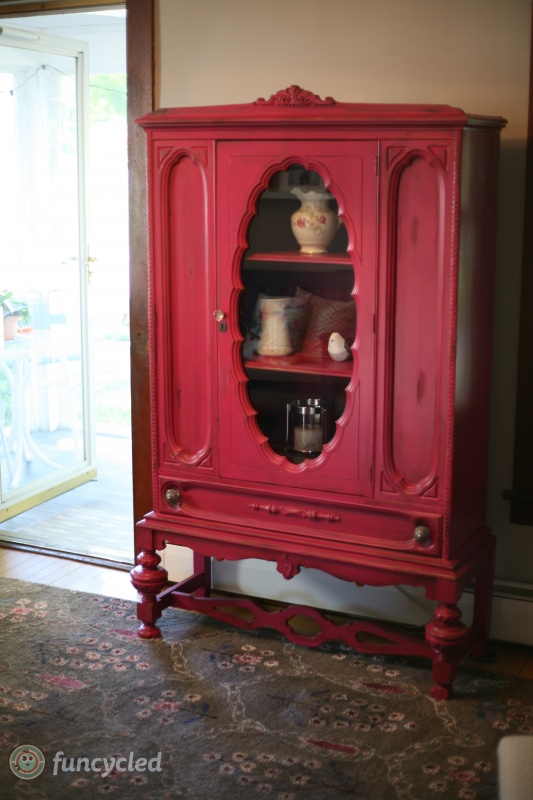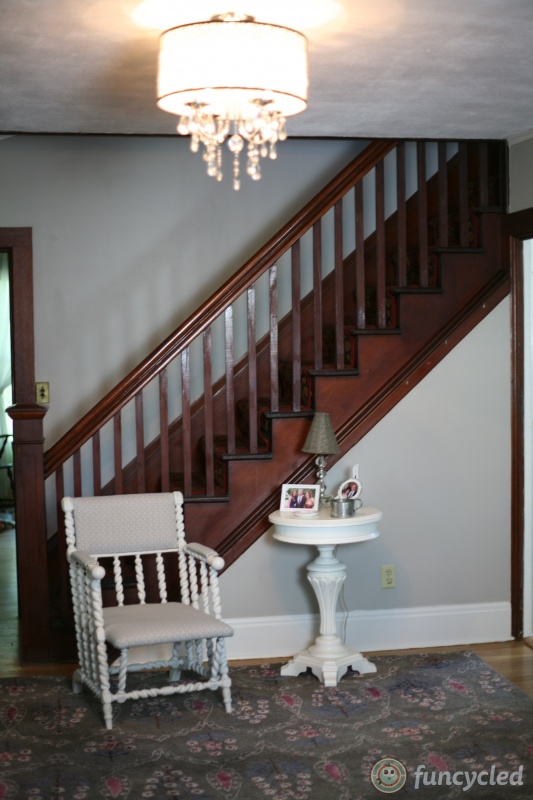 ---
Gallery Wall
Our client wanted us to help her create a gallery wall for her living room. We made the cable spool clock, the arrow, and found the E for the wall. Then we recommended framing family photos and ordered the feather picture on Etsy. Once she had it all, we came back and helped her hang everything