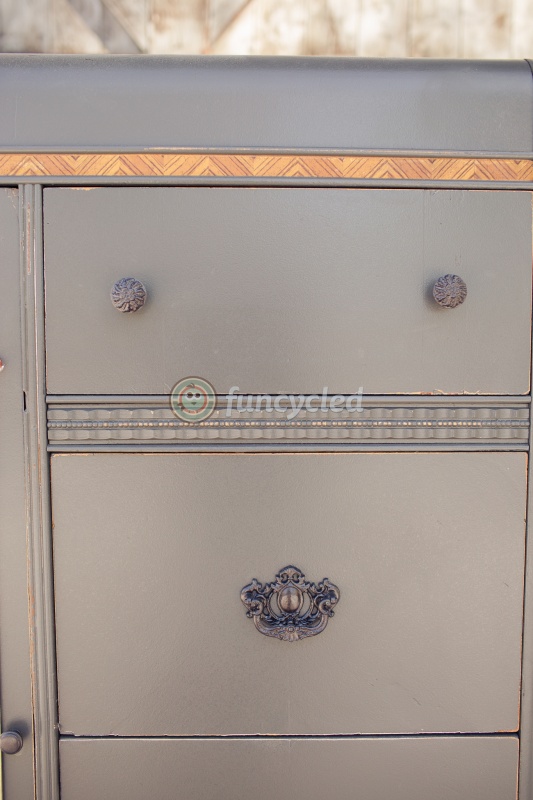 Hi friends!
If you read our blog first thing Tuesday morning, I'll be at the hospital with my little sweetie. She's having some minor testing done, but she'll be sedated for the first time. I'm sure all will be well but if you think of us and would like to say a prayer… I'd love that. ;)
We've made it through another snow storm and man oh man am I hoping it's the last one of this winter. A little behind the scenes info about how we do what we do… our barn is about 250 feet behind our house. What that means is we have to carry furniture in the snow once the snow gets too deep to drive it back to the barn. We already had some snow from the snow storm a couple of weeks ago and tried to drive through it. Well… we started sliding down the very steep hill in our back yard. John told me to try to drive it in reverse while he lifted on the front to help the back tire touch the ground. I could just picture hitting the gas and it sliding down more and you know… squishing him. He was SURE it wouldn't so I gave it a go. It didn't squish him… he's still around. It also didn't work. Dang it. So we had to call AAA to tow us out of our own back yard. lol That's a tiny bit embarrassing to have the neighbors watch.
Now for some exciting news of the week!! The episode of Flea Market Flip that we are on should be airing on March 1st at 8pm on the GAC network. I'm soo eager to watch it! I can't wait to see how everything turned out with the editing and I can't wait to tell you all about the experience. So tune in if you have cable, and if you don't let me know and maybe we'll host a FunCycled show watching party!
As for furniture, I'm excited to show you this cedar armoire makeover. This was FALLING apart. John had to rebuild so much of it to make it sturdy again. Here it is before.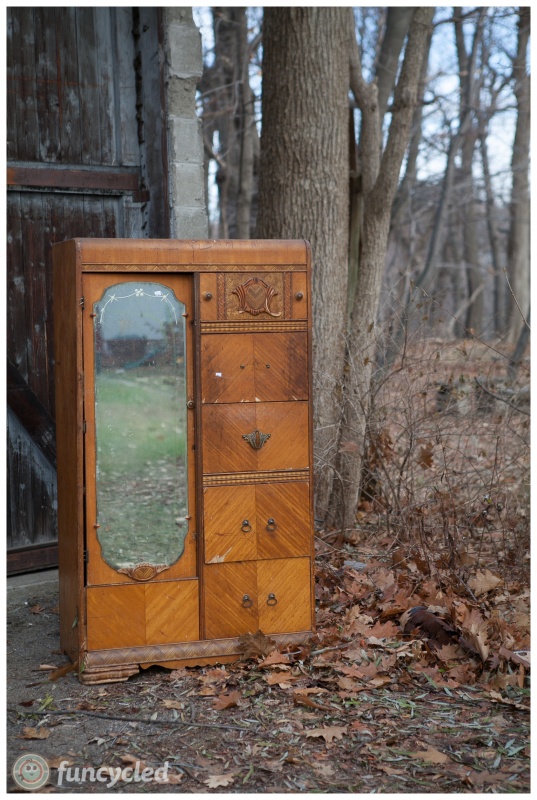 We taped off the top and bottom to keep some of the fun wood designs and then painted the rest using Benjamin Moore's color Dragon's Breath. If you'd like to see how we paint furniture, check out our How to Paint Furniture post. Then we lightly distressed it, added new hardware and did a protective clear coat.
This beauty was a custom order and I'm so in love with how it turned out. Thank you so much for the business Melissa!
Happy funcycling friends!
Sarah ;)
If you like what you see, please like FunCycled's Facebook page to keep up to date on the newest finds, vote on colors and give your input on our creativity. There is a box at the top right of this page to enter your email address in to receive notifications by email when I post something new on this blog.
Please sign up today! Last but not least, let us customize a furniture piece for you. We create custom furniture and will deliver for customers in upstate NY and will also ship throughout the US. Send us a note with what you would like using our contact page. Or buy something that we've already designed from our furniture for sale page.