This was a really fun coffee table redesign! I wanted to push myself to try something new. We got this at a yard sale two summers ago. Sad, I know, that it sat for so long. Let's get right to it, shall we? Here's the before picture.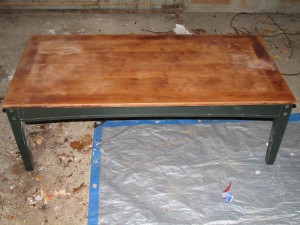 I didn't mind the color and I liked the style, but I wanted to give it a modern feel. I forgot to take a picture of the underneath, but the whole thig was colored with markers and crayons. Believe it or not even primer wouldn't cover it! So, I had to paint the underneath black as well. I was toying with the idea of making the picture on a piece of furniture by having the wood be the image color; kindof like backwards stenciling. I wanted to make a tree that had a modern feel, but I also wanted to add a bird. Just in the mood. So, I went to Hobby Lobby and bought contact paper and a swiveling X-acto knife.
I originally wanted to keep the outside edges brown so I put duct tape down in a square. I know, don't use duct tape. John took the painters tape to work on the apartment so I didn't have it. Hence, I gave duct tape a try. Believe it or not, it worked well (not that I'm officially recommending it). It would take paint off if you tried to use it on something painted.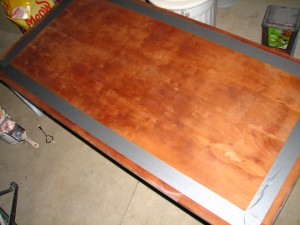 Ok, this is a really bad picture, but I could not get it to come out well. I laid the contact paper down on the table and hand drew how I wanted the tree to look.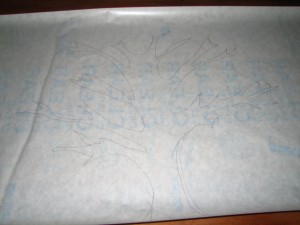 Once it was the right size and I liked it, I moved it to another table and put an old piece of Sheetrock underneath it, and got my cutting on. Then, I placed it onto the table very carefully. This took four hands, thanks Johnny. ;) Then I pressed all the edges down to make sure there were no air bubbles. I painted over the whole thing with a cream color.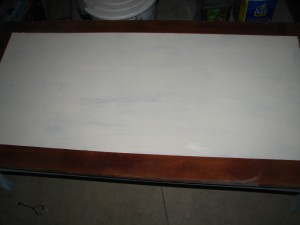 I waited about 15 minutes until the paint was tacky and pulled the contact paper off. Are you ready for it??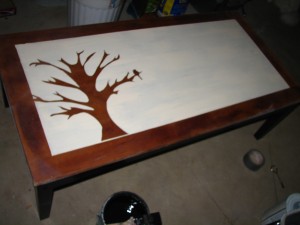 Cool right?? Then, I wanted to add black around the border. So, this time I made another trip to Hobby Lobby and bought actual painters tape that was thinner. Then I painted the rest of the edges black. All of the painting on this piece was done by hand using a regular paint brush.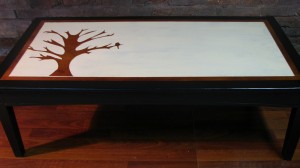 Then, I sprayed it three times with Polyacrilic just to make sure it was sealed well.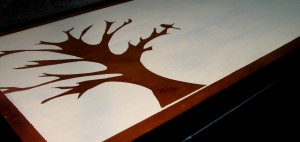 So, as my three year old son would say… How you think?? Oh, and this one sold in less than a day on craigslist. Thank you for buying it, Angela!!
If you like what we're doing, please like us on Facebook at: www.facebook.com/funcycled or share this on Pinterest!
Sarah