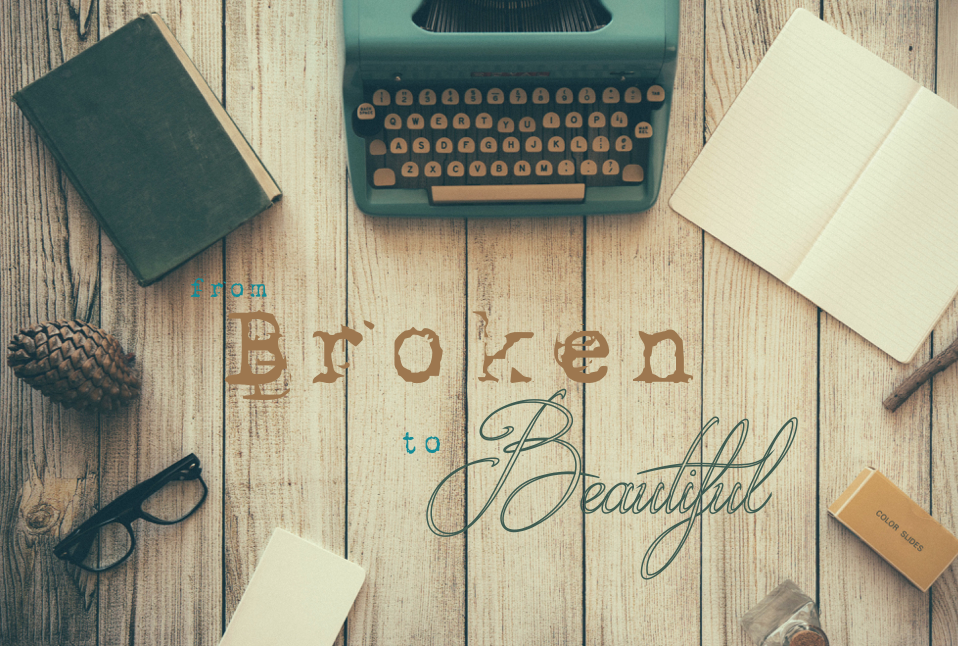 On my 32nd birthday in October, I was in the middle of several life changes… selling and buying a house, changing our church home, amidst a busy retail season.  All of those changes caused me to announce From Broken to Beautiful, my birthday post,  a little later than what I normally would. It couldn't be a better day than Give Back Tuesday though, right?
Each year I like to give myself a birthday challenge, something to help me think outside of myself and look for ways to be a blessing to others. It started with the 30 Random Acts of Kindness for my 30th birthday. That was my favorite so far… such great memories! Then for my 31st birthday, we undertook 31 Dreams . We auctioned off a piece of furniture every month that had 31 days and all the money went to help others in need around the world through Hope International.
This idea has been on my heart since I attended the Capital City Rescue Mission's annual banquet. Their theme this year was showing how God takes broken lives… permeated by drug and alcohol addiction, homelessness or other vulnerabilities, and makes them beautiful through the power of the forgiveness and grace of Christ. Hearing their stories and listening to those affected speak brought me back to the basics. It reminded me that without Christ I am broken but His death, burial and resurrection makes me beautiful in God's eyes. All of my sins have been wiped clean by Christ's victory over death on the cross. (2 Timothy 1:9)

I was also challenged in the past year when Kathie Lee Gifford spoke about her husband's death and shared about his love for the Lord. Kathie challenged people listening to take whatever gift God has given them and use it well to further the kingdom of God. You can watch her video here. God has blessed us with the talent of redoing broken down furniture. We repair it, redesign it and it's given new life. One of the things I love about my job is that ever project reminds me of the most important work… the work God does in my heart.  He's taken the old, damaged, broken down me and has given me a new life in Christ.
Often times so many people give me free furniture. They just want to see it be loved again by someone else. Not just resold as is, but made new to be loved like they once loved it. This plan is also a give back of sort, as a thank you to all of you out there who are always finding free furniture for me or calling me before you throw furniture out to see if we'd like. Thank you for that!
That being said, I would like to make another challenge for 2016 – From Broken to Beautiful. During 2016, we will redesign at least six furniture pieces or upcylcing projects for free. From our hearts to yours and here's how you can be a part of it!
-Send an email to beautiful@funcycled.com explaining what furniture piece or project you would love to have given new life.  Please include your full name, address, phone number and the best way to reach you.  Or submit a project for someone you know who can't afford a furniture makeover. We would love to hear about the history behind what makes you want to keep the piece or the fun story about how you rescued the furniture piece.
-Attach a picture of the piece you would like redone.
-We will send you a consent form to sign allowing FunCycled to make any and all alterations to the piece. You will need to sign that and give FunCycled all rights to make changes and creative freedom to redo it however we determine. (You can make suggestions, but we will not guarantee any specific design)
-If you have a picture of the room it will be going in, send a picture of that as well.
-We will select the projects at any point during 2016, so please notify us if for some reason you don't have the furniture any longer.
-We will notify each winner by email or phone.
The more information you provide us about the history of the piece or the story behind why you would like it saved, the better. It will help us decide who the winners will be! Thank you for sharing this with your friends and for wanting to repurpose along side of us! You can start submitting for the giveaway now and we will announce the winners throughout 2016!
Some examples of our past furniture projects for inspiration!

We look forward to hearing from you! 
There is a box at the top right of this page to enter your email address to receive notifications by email when I post something new on this blog. Please sign up today!
Happy FunCycling Friends,
Sarah ;)
If you like what you see, please like FunCycled's Facebook page to keep up to date on the newest finds, vote on colors and give your input on our creativity. Last but not least, let us customize a furniture piece for you. We create custom furniture and will deliver for customers in upstate NY and also ship throughout the US. Send us a note with what you would like using our contact page. Or buy something that we've already designed from our furniture for sale page.