Hi Everyone!!!
We were on HGTV's Flea Market Flip competition and the show aired on March 1st showing that WE WON! If you missed it you can download it from iTunes here: Happy Flipping Anniversary Or you can watch it on Amazon Prime here: Happy Flipping Anniversary
Fun isn't even a good enough word to describe what it was like being on the show. It was a dream come true for me. I'd been watching the show for years with my friend, Marcie. We would eat ice cream and drink coffee until all hours of the night watching one DVR'd episode after episode. Marcie urged me to try to get on the show. I really thought there would be no chance at all. We emailed the casting crew and didn't hear anything back for about 4-5 months. Then they emailed us back and asked us to do a Skype interview. That was AWKWARD at best. Holy cow, I thought for sure there was no way we would be chosen. Have you ever had a Skype interview? Well, then you understand. ;)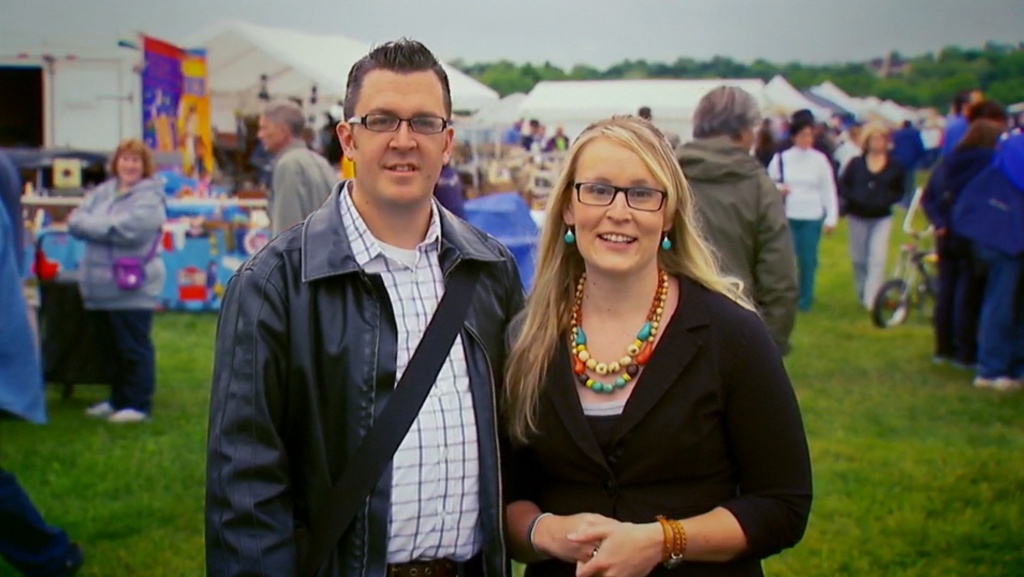 When John and I got to the hotel late the night before, I realized I forgot my bathroom bag. Good thing I wasn't going on TV the next day because I had no hair straightener, shampoo, blow dryer, tooth paste, or deodorant. And I forgot my phone charger and iPad. Oh wait! I WAS going on TV the next day. Do you think I was stressed or nervous? Maybe, just a touch :).  I totally begged the front desk for the necessities and made it work.  To bed we went and it was one of those night's when you wake up 100 times to make sure you didn't miss the ungodly early alarm that was set. A girl must not be late her first time meeting Lara Spencer and miss being on Flea Market Flip. I woke up early and forgot to ask for shampoo so I had to walk to the front desk looking like poop. Who did I  meet in the hall while looking like poop? One of the guys working for Flea Market Flip… the sound tech. I found out that was him later when we met at the filming. Oh hi… yeah, you're the guy in the hall this morning. lol
The first day of filming was a brisk, misty day. We had to be there bright and early (about 6am) to meet our producers and get set for the day.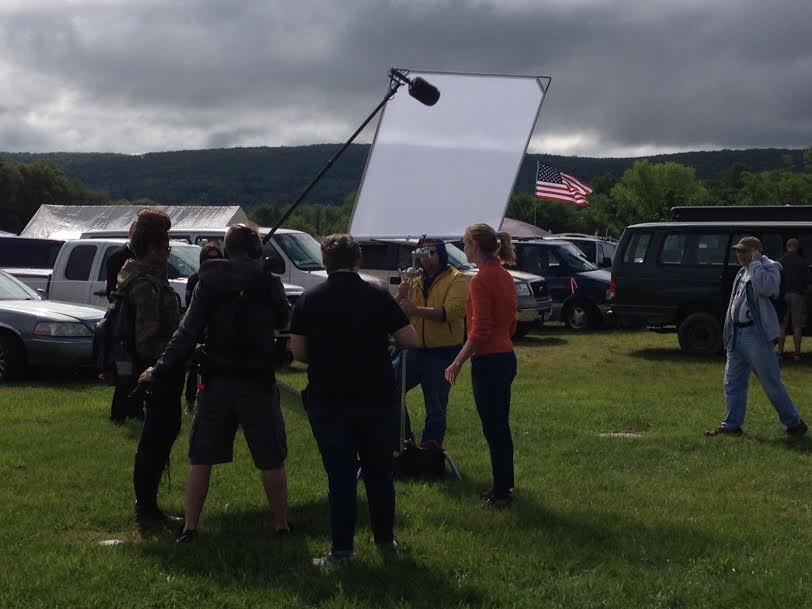 When we got the the flea market, they wired us with our microphones and we met our producer (each team gets one). There are usually multiple teams being filmed at the same time. I had read on other blogs that you usually get time to look through the flea market to get an idea of what pieces you would like to buy before filming starts. That morning we found out we were the first team up for filming so had no time to check out the flea market. We had never been to the Stormville Flea Market and it's HUGE. That being said, it was overwhelming! I asked the producer if we could run it for like 10 minutes to get an idea of which direction even had furniture. Every other team would have time to look as they waited for their turn to be recorded. They gave us 10 minutes and we ran! I found a couple things I liked, but you can't talk to any vendor for any reason. Just look!Then we were given our flip list.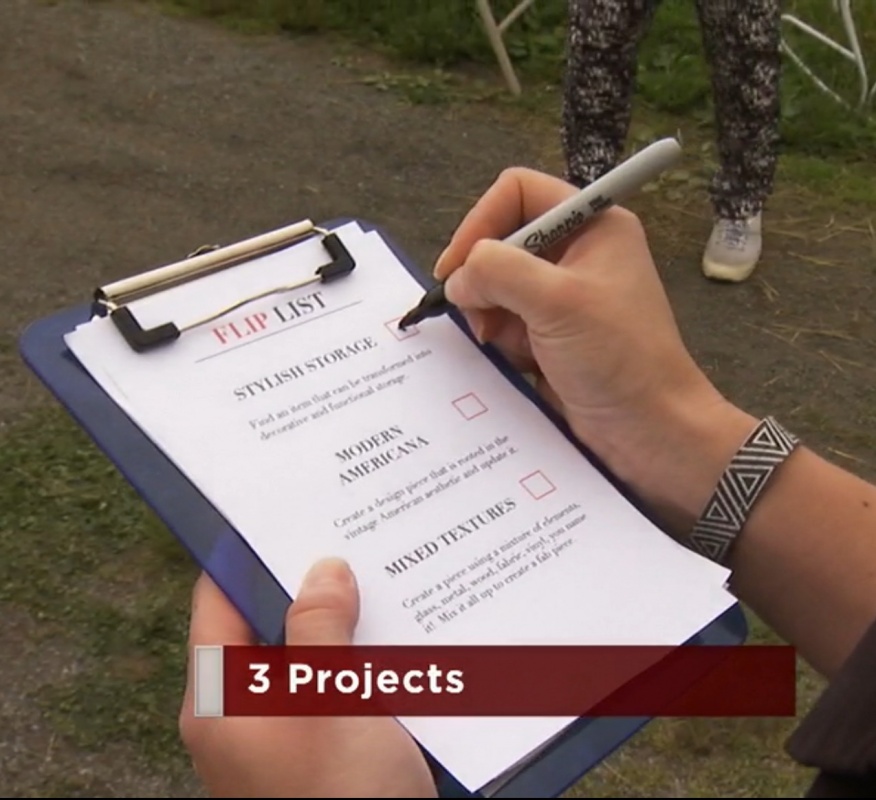 Modern Americana was the trickiest one for us. We took it as meaning we should do something that was a vintage American made piece and make it have more modern lines.
We had 1 hour of live time to find and purchase all the furniture. That was extremely difficult just because it was such a large flea market and we lost our bearings and couldn't find the pieces we had run by for 10 minutes. Everything takes much longer while filming so the 1 hour felt like 10 minutes. They have to stop to have the people selling at the flea sign waivers saying they would be on TV and stop to film from different angles and have us explain why we bought what we did. By the end, we were running just to find something what would work with the tractor gear to turn into a coffee table.
By the end of the hour, this is what we bought.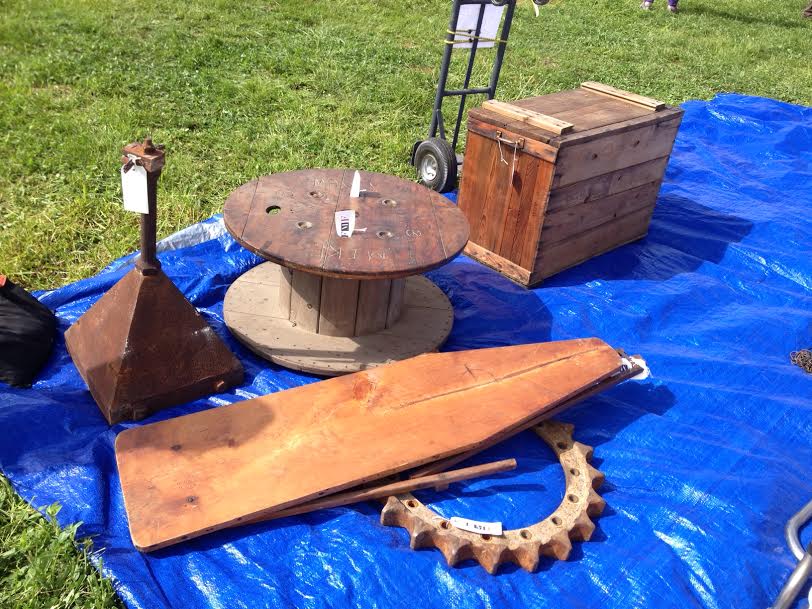 I was worried that the ironing board wouldn't work right with the tractor wheel. I loved the cable spool and what we could make it into. I was a little disappointed in the trunk. I didn't want to buy a trunk  because I feel like that's so cliche. We were running out of time and HAD to buy something.  I was thinking of turning it into a coffee table, but decided later it had to be more. I wouldn't settle for a coffee table.
This is what our competition bought.
At the end of the day, I was thinking… how would they make this into style storage? Would the couch be too big for a NYC apartment? I was a little worried about the chairs mostly because seating can make a huge profit if it was done right. The lamp had potential depending on how they redid it.
The next day of filming was the workshop day and my favorite of all the days!
Stay tuned because I'll be posting more about day 2 and 3 of filming days on Flea Market Flip soon!
We have furniture for sale on our Furniture For Sale Page or we can custom build dining room tables, coffee tables or buffets for you.

Don't see anything there you like? You can also check out our Upcoming Projects page. We can paint anything there however you would like or paint furniture that you already own.
Last but not least, you can fill out our Furniture Wish List and I'll try to find a furniture piece you're looking for.
Ahhhhh so excited!!! Happy funcycling friends!
Sarah ;)
If you like what you see, please like FunCycled's Facebook page to keep up to date on the newest finds, vote on colors and give your input on our creativity. There is a box at the top right of this page to enter your email address in to receive notifications by email when I post something new on this blog.
Please sign up today! Last but not least, let us customize a furniture piece for you. We create custom furniture and will deliver for customers in upstate NY and will also ship throughout the US. Send us a note with what you would like using our contact page. Or buy something that we've already designed from our furniture for sale page.