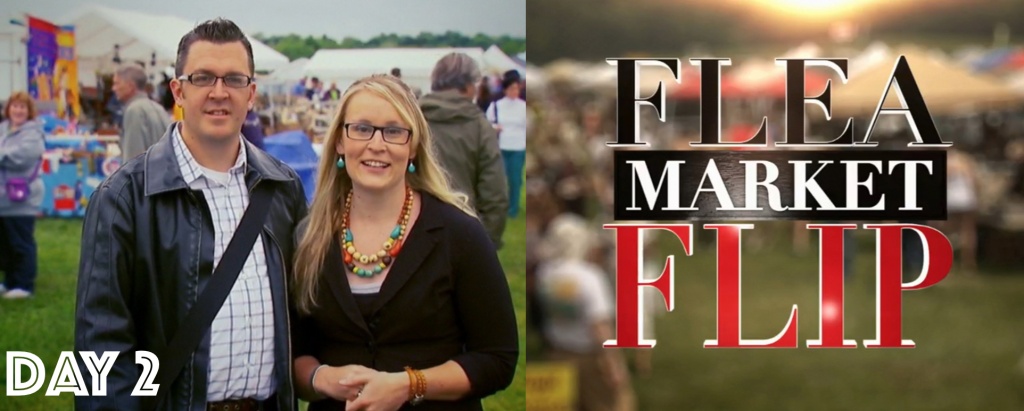 Today we head to day two of filming – Build Day!!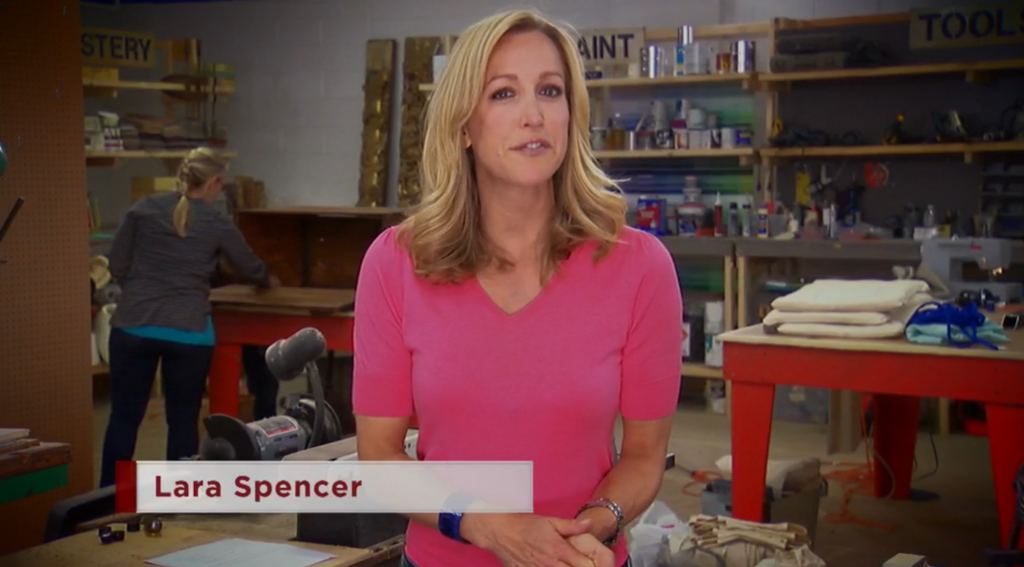 On the build day, we went to Stamford, Connecticut and the show staff brought all of the flea market items that we bought on day 1 to a large garage/warehouse type building. We were assigned a team of 2-3 people (depending on what we were working on sometimes people on our team helped the other team). Here's what we started with: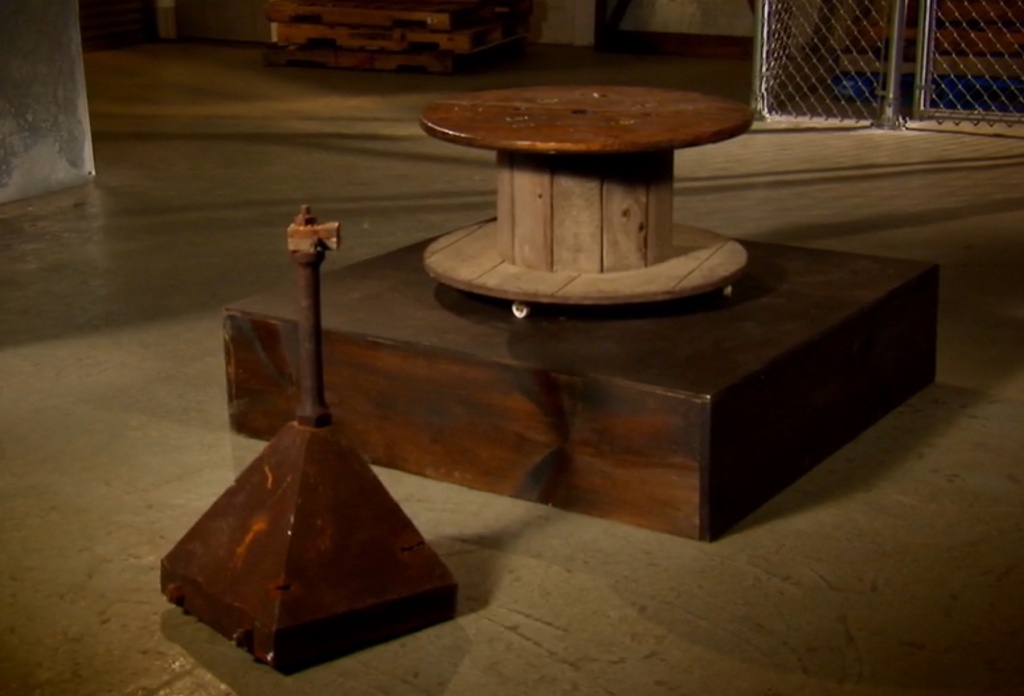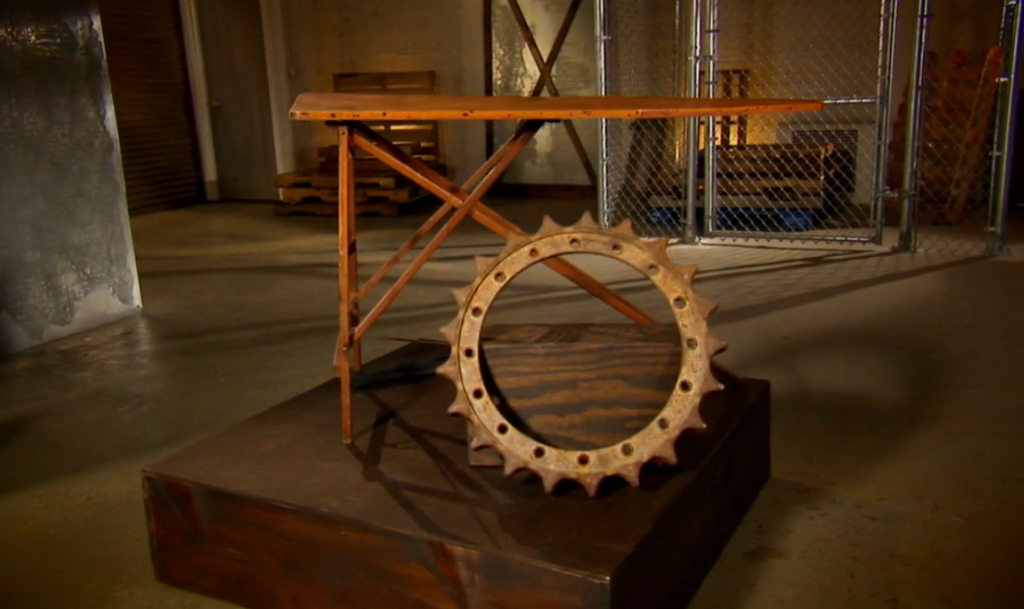 This was my favorite day by FAR! The designer in me absolutely loved having the freedom to think up any design and then have a team of experts there to help us make it happen. We had a master carpenter and a welder/builder that helped us most of the day. You're given a $100 budget to buy things to help complete your project. We used that $100 to buy 2 legs for our coffee table, old legs for our "Stylish Storage" project and an old burlap sack for our "Mixed Texture" project. You have about 12 hours to finish the projects. We arrived at the workshop at 9am and worked straight until 9pm with only a quick break to scarf down lunch and no dinner.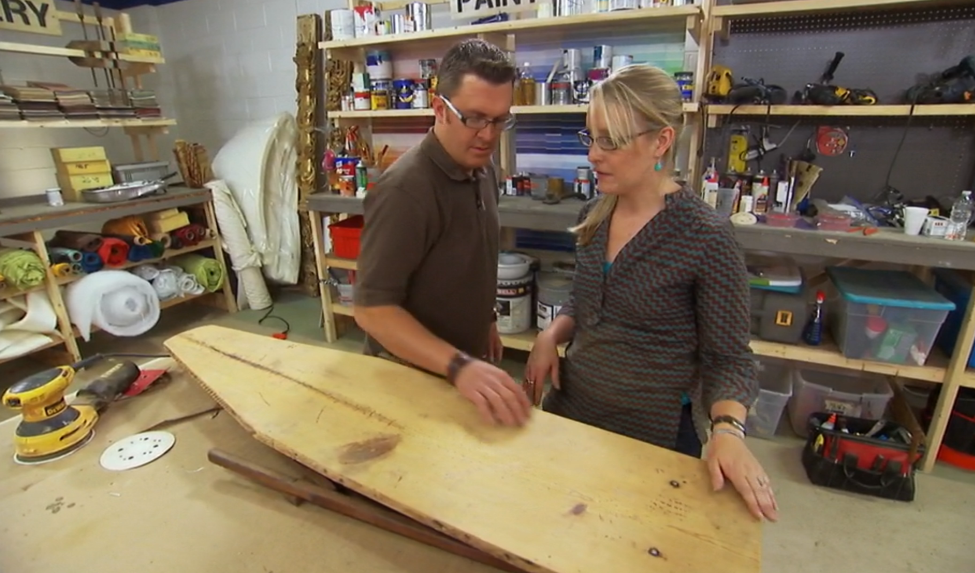 I started working on the ironing board that would become a coffee table which was our "Modern Americana" challenge. I sanded the ironing board and stained it a new color so the mid century legs we purchased could be stained to match. I've never welded before and was able to give it a try as we needed to weld a base plate on the old tractor gear for one side of the coffee table. It was so much fun!! I only did a little bit of it, our welder did the rest.
While I was working on the "Modern Americana" project, John started prepping the cable spool that we would be turning into a bar which was our "Mixed Texture" project. We welded a metal plate on the top of the industrial light post to attached the cable spool. John had to figure out how to drill the holes for the neck of the wine bottles to make them all sit at the same angle. He practiced quite a few times on a separate board. Then he brought the cable spool wood back to life by using shellac and sanded down the metal base a bit to make it smoother. I came in to do the finishing touches using the burlap sack and metal detailing.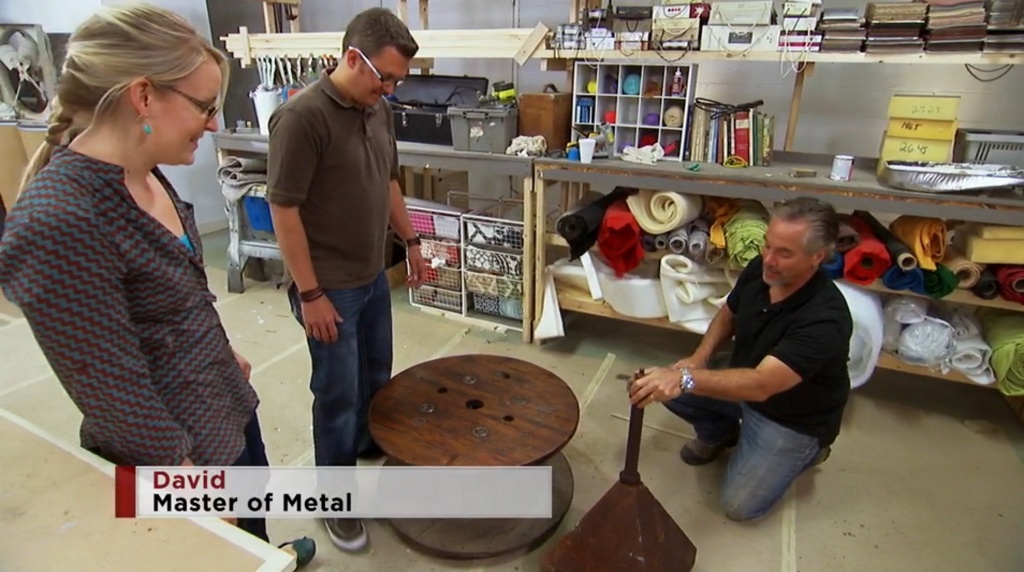 Our master carpenter did most of the work on the "Stylish Storage" project! We wouldn't have had time to finish them all if he hadn't done the majority of the work for that project. He built the base out of the old dining room table legs we had bought. He and John worked on the dividers that would go inside of the desk. I shellacked the wood on the trunk to make it shine again. We cut it close on this project. At the end of the day the latch to hold it closed wasn't working right and our master carpenter really pushed to make it happen for us. He was so amazing!!
The behind the scenes of filming was interesting on this day. I had a hard time initially speaking my mind! I came with all my design plans but then I had amazing people suggesting changes. I didn't have the heart to say no. The whole time we were filming each team had their own producer and then there is a producer in the back that is watching everything on TV's. I called her that "phantom producer".  Lol! At one point, we were filming and the staff suggested a change to our Modern Americana project that I thought would look horrible but I said OK. The "phantom producer" stopped everything and came out to me. She said, "Sarah, you're thinking things you're not saying, right?" I told her she was right. Then she goes on to say, "You are much more fun and interesting in real life, you need to speak up and say what you want. These are your designs and if you don't stand up for them, no one will." That was the moment that the show became really fun for me. She gave me the freedom to be me and be open about my thoughts. So we rerecorded and I kept to my original plan for the piece! Yay!
It felt a little weird having the team we were competing against working right next to you. The longer I watched them the less I was concerned about whether we would win. I was confident in our designs and the functionality of each piece in a NYC apartment. The producers definitely encouraged us to be playful and pick on our opponents work which John was game for but I just couldn't do it. I didn't sound genuine at all. Lol! It was a good balance between us I think though. :)
One thing that is interesting about day 2 is that you only have that day, if your makeovers aren't done, you have to stop. So it is very fast pace, but the staff was so amazing and helped make it happen. Next week, I'll share about the final day of being on Flea Market Flip and show you how the transformations turned out!
Stay tuned because I'll be posting about day 3 of filming on Flea Market Flip soon!
We have furniture for sale on our Furniture For Sale Page or we can custom build dining room tables, coffee tables or buffets for you.

Don't see anything there you like? You can also check out our Upcoming Projects page. We can paint anything there however you would like or paint furniture that you already own.
Last but not least, you can fill out our Furniture Wish List and I'll try to find a furniture piece you're looking for.
Ahhhhh so excited!!! Happy funcycling friends!
Sarah ;)
If you like what you see, please like FunCycled's Facebook page to keep up to date on the newest finds, vote on colors and give your input on our creativity. There is a box at the top right of this page to enter your email address in to receive notifications by email when I post something new on this blog.
Please sign up today! Last but not least, let us customize a furniture piece for you. We create custom furniture and will deliver for customers in upstate NY and will also ship throughout the US. Send us a note with what you would like using our contact page. Or buy something that we've already designed from our furniture for sale page.