Often when we go to clients'  homes to deliver furniture or when we meet new people, they will ask what our business is. When we tell them refinishing and painting furniture, color consults, design and interior painting. They are usually surprised, especially about the interior painting and design. Most people know about the furniture, but I don't often get to share the "afters" of our interior painting projects.
Well, here is one of the interior painting and design projects that we did for our church a few months ago. I'm glad I finally took time to post about it because it was a fun project and shows how "funcycling" can be so much more than furniture makeovers!  We worked with my friend Kim (who goes to my church and was given the design job) to pick out decor, paint colors, furniture finishes, and room design/layout. We also ordered furniture that we didn't have – like couches and chairs, and rugs. It was sooo much fun to turn empty. lackluster rooms into beautiful, welcoming places for visitors and church members alike.
First we picked out the paint colors for the family room. It's called a family room because it is a place for families to go sit with their kids and listen to the sermon. Sometimes when parents aren't comfortable  putting their toddlers/babies in nursery yet, or they have a talker or crier who might distract other people – it is a great room to retreat to. The sermon is played live in that room so people can hear the whole thing.
We wanted the seating to be comfortable but easy to clean. So we went with leather chairs and a couch from Overstock.com. Very cost effective and surprisingly comfortable. We painted the one large wall Benjamin Moore's Majestic Blue and the other three walls Benjamin Moore's Carlisle Cream.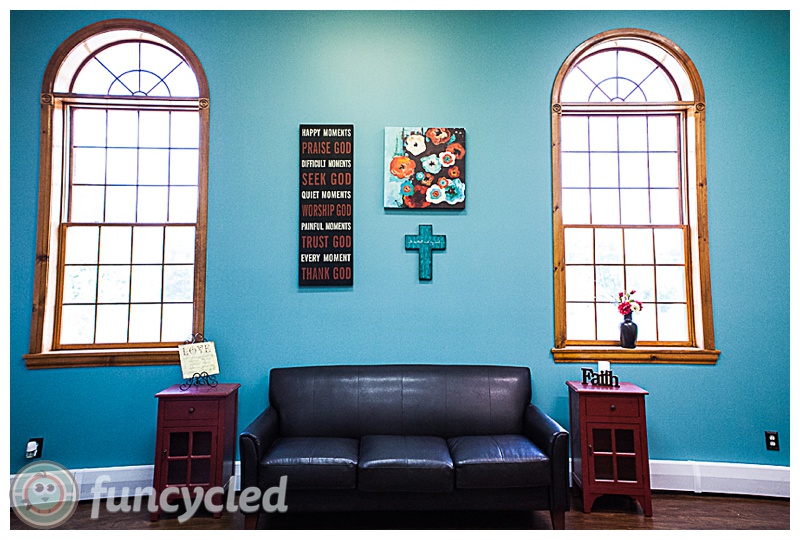 We painted this cabinet with the same color Majestic Blue. When you paint furniture with the same paint that you use on the wall, it almost always looks one hue lighter which makes it blend well in the room without being too matchy matchy.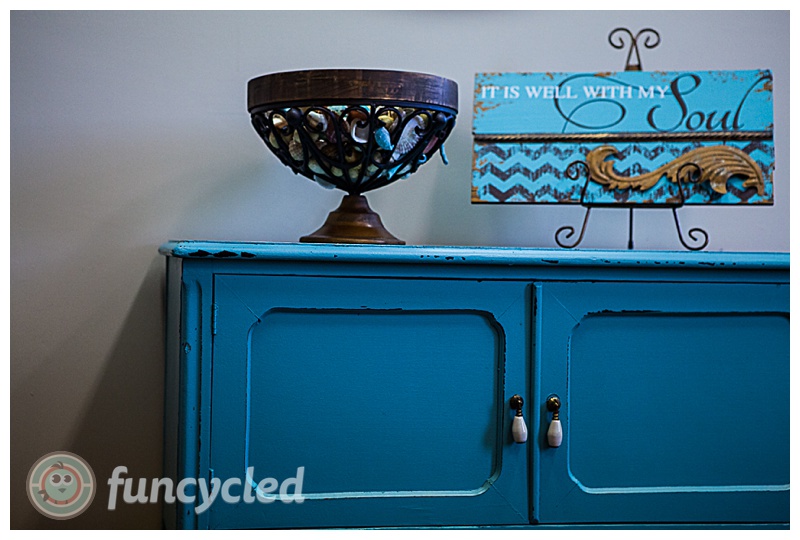 Next room – the nursing mothers' room. It's just that… a room to nurse your baby where you can also listen to the sermon but with privacy, if you choose to. This may be the busiest room in our church!! For some reasons babies always want to eat RIGHT when their mommas get to church. lol
The same wall colors were used in this room, but we also painted the rocking chair black and painted all of the cabinets black and lightly distressed them. (We re-purposed old kitchen cabinets!)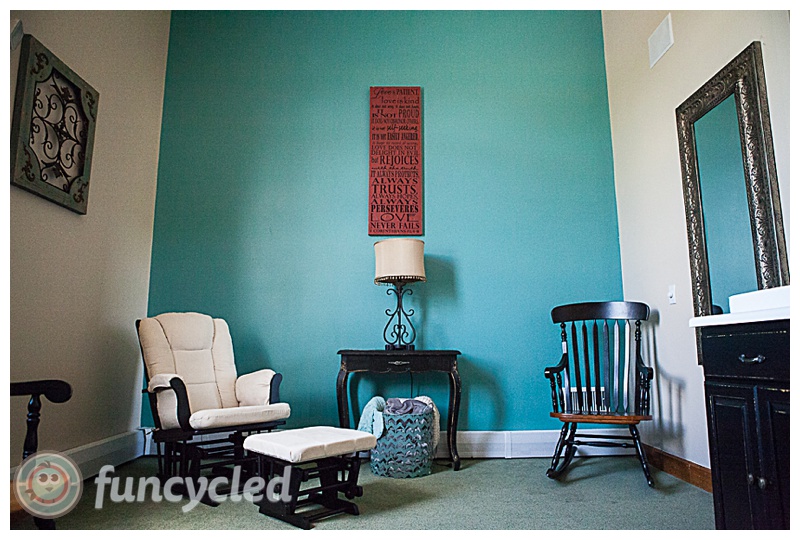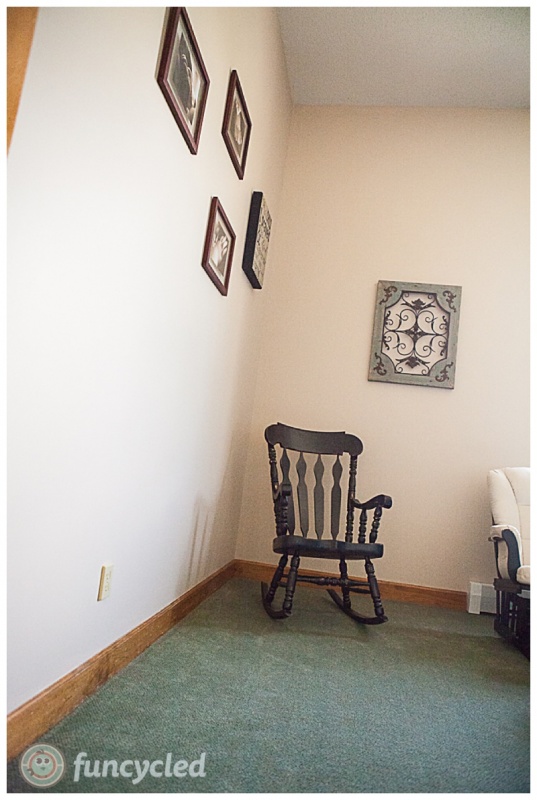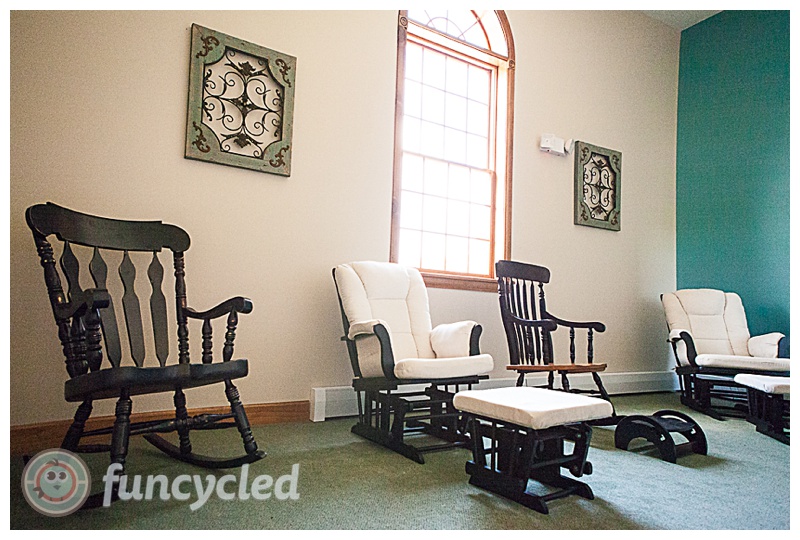 The last room that we redid was the Welcome Center.  This is a place for people to come to meet the pastors to find ways to connect, grow and serve here at church.  There needed to be a place to store a ton of information that would be accessible for sharing. The church had old light wood bookshelves that we painted a dark brown, and brochures, event flyers, etc. can be easily displayed.
We ordered a vinyl tree from Etsy and Kim framed a picture of all of our pastor's families and elders so everyone could recognize them in a crowd – if visitors or new members have a question. The end stand was painted majestic blue by Benjamin Moore as well.
This was a really  fun project for us!! We loved working at church, using our talents to make people feel at home, and planning everything with my friend Kim. It was a win, win all around!!
 The photos are done by Chelsea Bos Photography. Thank you for the beautiful pictures!
If you are interested in having us do interior painting, design or color consults, please use our Contact Us form. 
Thanks so much for stopping by!
Sarah
If you like what you see, please like FunCycled's  Facebook page to keep up to date on the newest finds, vote on colors and give your input on our creativity. There is a box at the top right of this page to enter your email address in to receive notifications by email when I post something new on this blog.
Please sign up today! Last but not least, let us customize a furniture piece for you. We create custom furniture and will deliver for customers in upstate NY and will also ship throughout the US. Send us a note with what you would like using our contact page. Or buy something that we've already designed from our furniture for sale page.