Hi All! Thanks to Petra over at Anchor No. 5 Boutique in downtown Troy, we are now featuring new furniture pieces each month at her shop.  I thought it would be fun to post each month letting you know which pieces will be available there. We will still continue to sell other pieces at our home and do custom work for you as well. Please see our For Sale Page for a complete listing of items available.
Let me give you a quick glimpse of  what you can expect to see at Anchor No. 5. So… when you walk in the door, the first thing you'll see is the super personable, grinning face of Petra.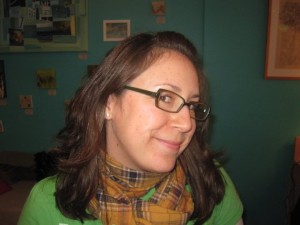 Yeah, she cracks me up EVERY time we talk. If I could pick a person to talk about our furniture, it would be Petra. She's so fun and exciting to be around. Go visit her, it's true, you'll see. :) Then you'll look around and simply melt looking at all the unique items for sale. She has everything from paintings, jewelry, and wallets to handbags, baby clothes, aprons, bottle openers and headbands. The best part is!!! Everything for sale has been hand made by someone local.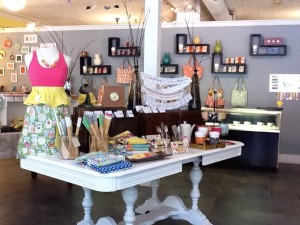 Petra can tell you the story behind any of the artists or pieces. Ask her about a piece, it makes a purchase come alive when you know the maker and story behind it. Petra designs many of the items herself, but here's a quick look at some of my favorites.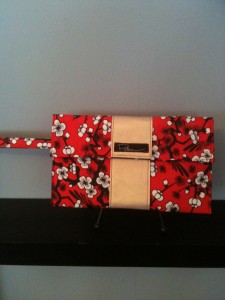 Kelsey Rose Wristlet – $32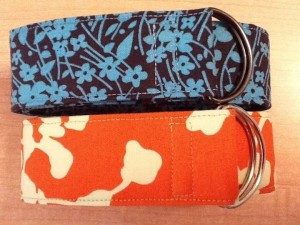 Wendy Belts – $22 each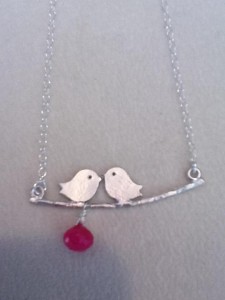 And of course, her Love Birds Necklace.
On the last Friday night of each month, Troy has Troy's Night Out where the restaurants and small business stay open late (usually they close between 9 and 10pm). Petra chooses one artists to be displayed in her window (288 River Street, Troy, NY) and they are featured for the entire month starting every Troy's Night Out. This month, FunCycled is going to be the featured artist of the month. A huge thanks to Kristin who is one of the artist at  Anchor No. 5 for featuring each new artist on her Artist of the Month blog. Here's a quick overview of what FunCycled has available at Anchor No. 5 starting today through the month of August.
Sizes, prices and close ups can be seen on our For Sale Page. This Friday Night, July 27th, I will be in Anchor No. 5 from 7-8pm to meet anyone who would like to stop in and say hi or talk to you about customizing pieces for your home. I'd love to put a face to the names I see on our Facebook Page.
So, if you don't already have plans for tomorrow night, you should come to downtown Troy and enjoy dinner at one of our amazing restaurants, then walk River Street after dinner to come see us at Anchor No. 5, and maybe even grab a caramel apple at Sticky Fingers Apples  right down the block to eat in the car on your way home. :) Or bring me one when you come say hi… lol. No, you don't really have to do that. Ok, you can. No, you don't have to. :) Ok, you can.
Thank you all for your support of local business and for everything who has been more than generous to John and me! Hope to see you soon.
-Sarah