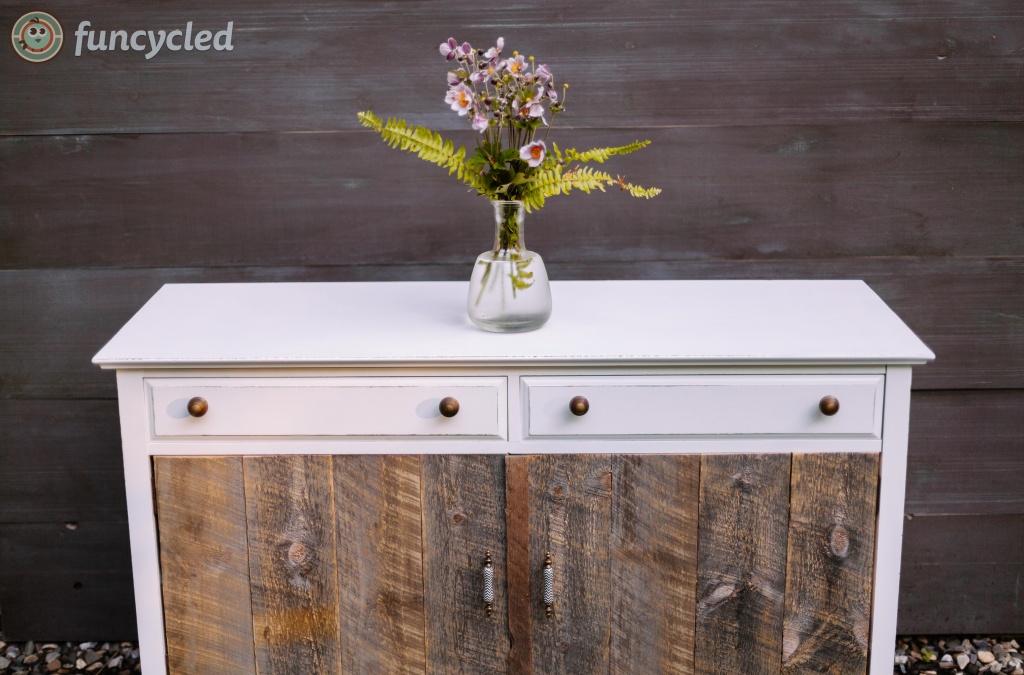 Hi Friends,
How was your week? We have been busier and busier with interior design (which I love by the way)! Two weeks ago we set the upcoming 5 weeks aside for interior design jobs. Starting with designing offices for the Troy Innovation Garage, then to kitchen cabinet painting, and ending with a whole kitchen renovation project. We are mid way through those five weeks! Pushing myself into new fields and designs can feel risky but it's wonderful all at the same time. Focusing on the bigger projects has also given me time to focus even more on the design of the furniture in our store. I've been really giving it my all and I just want to say thanks to all of you who have purchased so many pieces in the last few weeks. I don't say thank you enough. You are letting me create, supporting your local community and rescuing old treasures. It means more than I can even say!
One of the many new pieces that I wanted to share was this buffet. As soon as I laid eyes on it, I knew exactly how I wanted it redone. When I told my husband I loved it, he said "that one"? Lol! Yes, THAT ONE! I replied with a big smile on my face. Here it was before: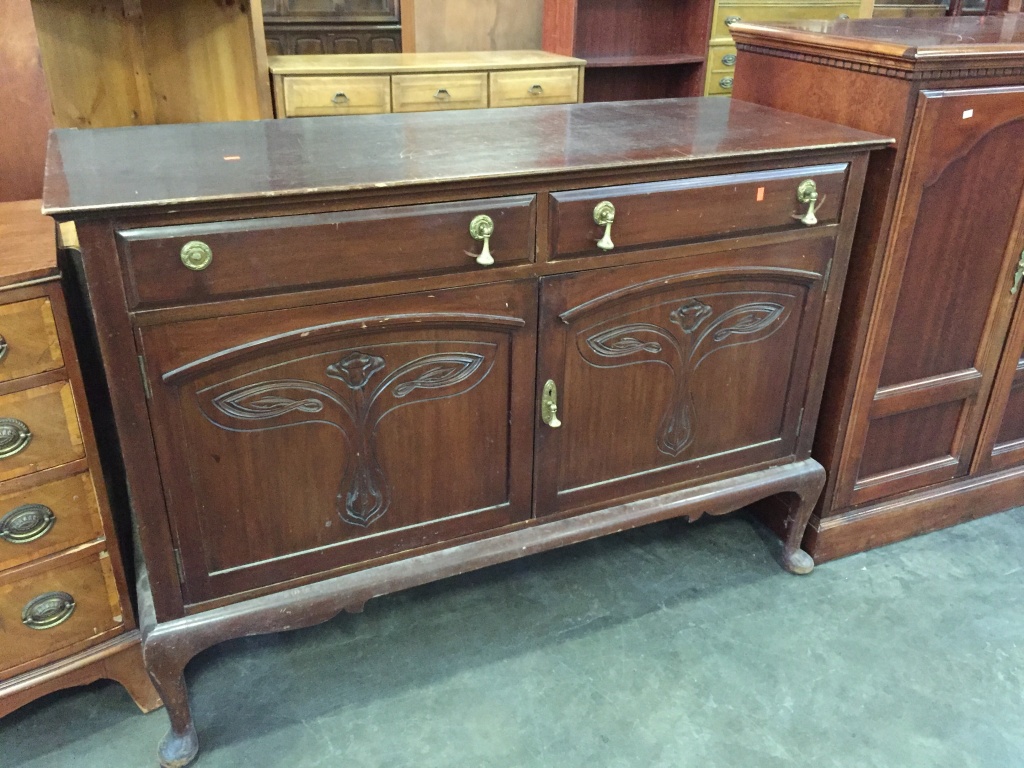 At first glance, I loved the legs and I hated the doors. I knew I could make both so much better. People often ask me what I love to do with furniture, I love to take something fancy or modern and add a little bit rustic texture. That's just what we did with this piece.
We painted it all with Benjamin Moore's color Simply White (my favorite white), lightly distressed it and finished it with a semi-gloss clear coat to give it a more modern finish. John built the door fronts using barn board and a Kreg jig. If you want to see how we paint furniture, check out our How to Paint Furniture post.
Ready for the after?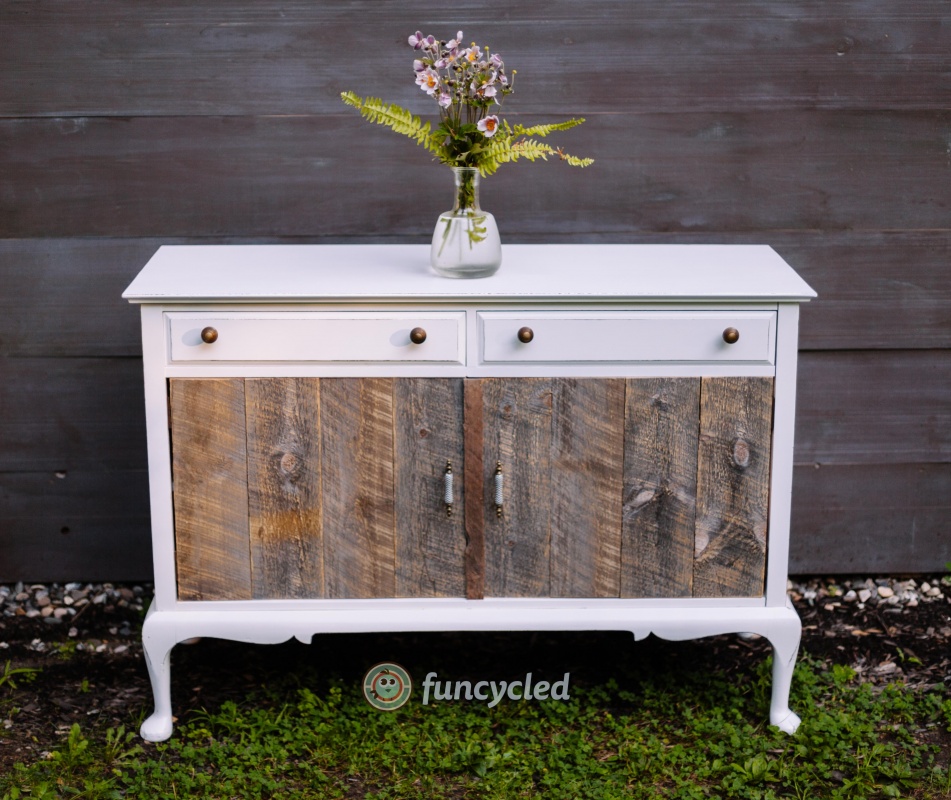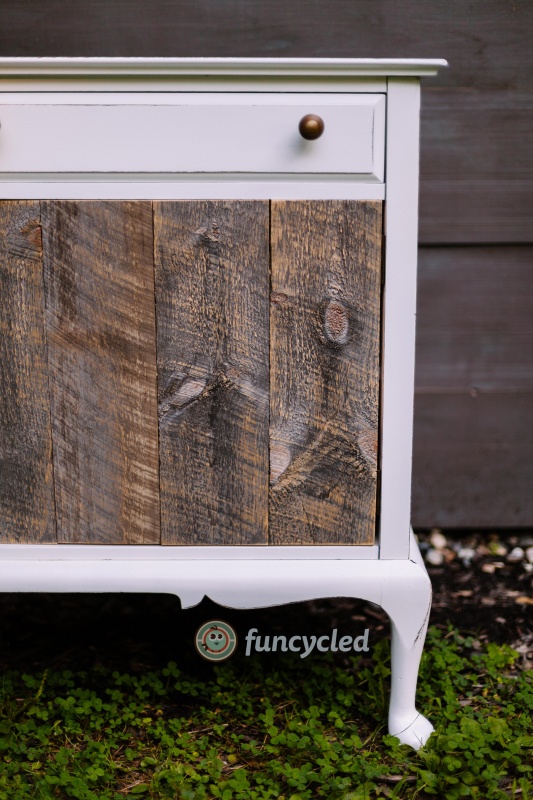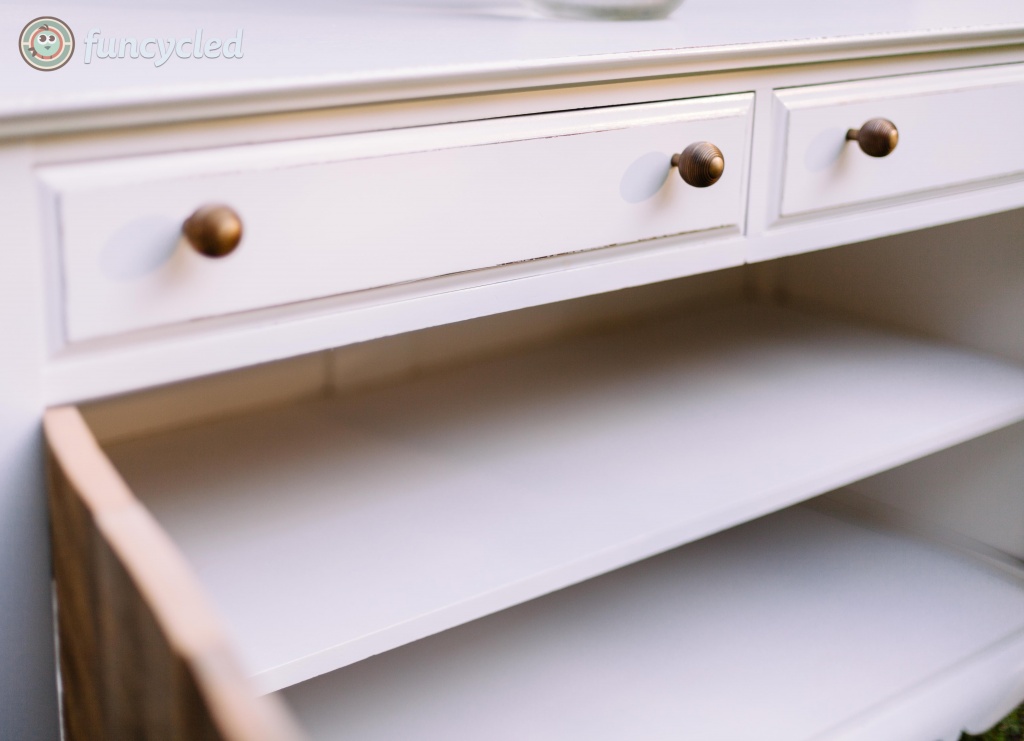 A beautiful part of this buffet's story; it sold within 1 hour of me posting about it online. That makes me feel soon good! I hope it's loved forever in its new home.
We also just added a ton of new pieces to our for sale page! Snatch them up because it's summer and things don't stick around here long in the summer! See all the new pieces on our Furniture For Sale page.
There is a box at the top right of this page to enter your email address to receive notifications by email when I post something new on this blog. Please sign up today!
Happy FunCycling Friends,
Sarah ;)
If you like what you see, please like FunCycled's Facebook page to keep up to date on the newest finds, vote on colors and give your input on our creativity. Last but not least, let us customize a furniture piece for you. We create custom furniture and will deliver for customers in upstate NY and also ship throughout the US. Send us a note with what you would like using our contact page. Or buy something that we've already designed from our furniture for sale page.