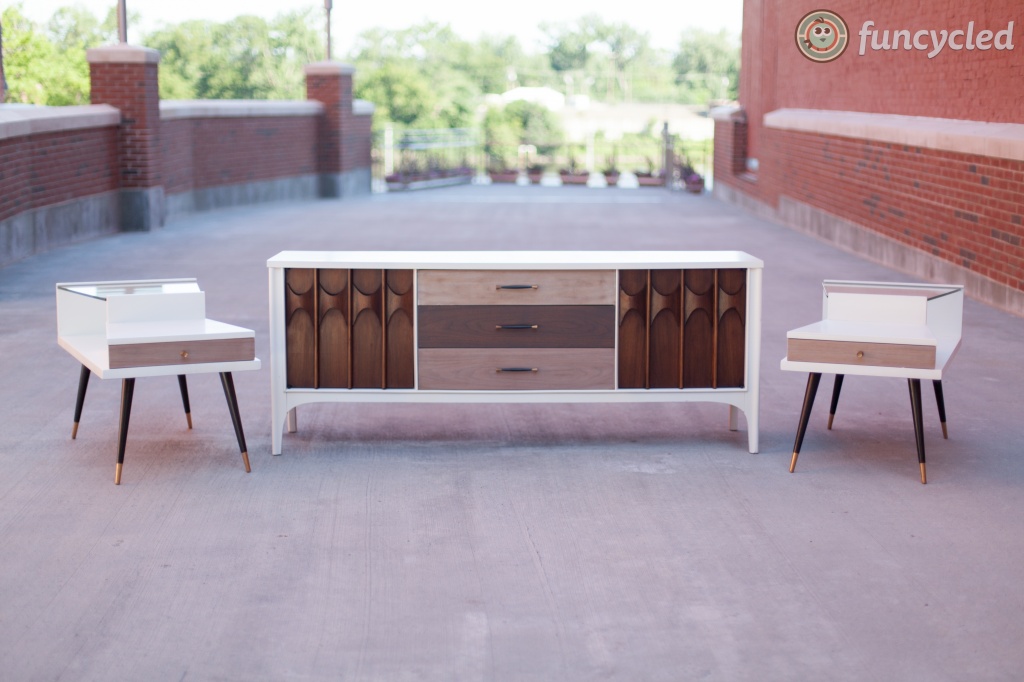 Hi Friends!!
How are you?? We have been INSANELY busy and if I haven't said it in a while; thank you ALL so much for this job. You make it possible and we love it. Last week more than half of our store sold which is great!! I will have tons of new furniture in the store by this weekend so be sure to come see everything. The best part? They are some of my all time favorite designs. Just you wait!! ;)
Last week, I thought I'd take the kids on a bike ride with just me for the first time. Harmony can now ride two wheels so I thought it was time. Well… when I left the house and started going, I thought the road was straight and flat… I was wrong. It had a slight steady decline. Harmony has NOT mastered the art of breaking so she kept getting faster and faster. I tried to tell her how to slow down but it didn't work. She took quite the crash and screamed like she was quickly approaching the pearly gates. While  I'm picking up the little bloodied girl, my son decides this is a good time to head home without me. Crossing streets alone, where I can't see him. Yeah. Just wonderful. So I had to make Harmony get back on the bike and ride it home. There was no way to carry her and push two bikes. I even left my cell phone home to be an "unplugged" mom. That'll teach me. So off she went dripping blood and screaming her way, peddling home while I'm sure neighbors looked on with judgmental thoughts. lol So… some moments are just that way. We try to be good moms and make memories… instead we almost lose a kids, make the other bike with blood dripping down her and leave any way of getting help at home. I just have to look back and laugh at it now, but at the time it was QUITE the day. ;)
On a happier note, I LOVE going to the Cohoes waterfalls. If you live nearby, you should really check them out. We went on Saturday night and packed a picnic with our friends, the Fischers. It was SO MUCH fun! Also, grab some ice cream at LePage's Market just up the road and go upstairs to their balcony. You can see the falls from the balcony and it's gorgeous.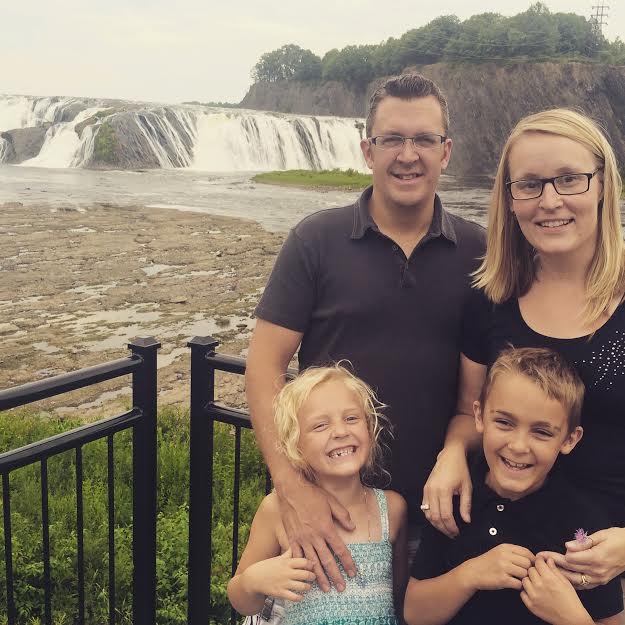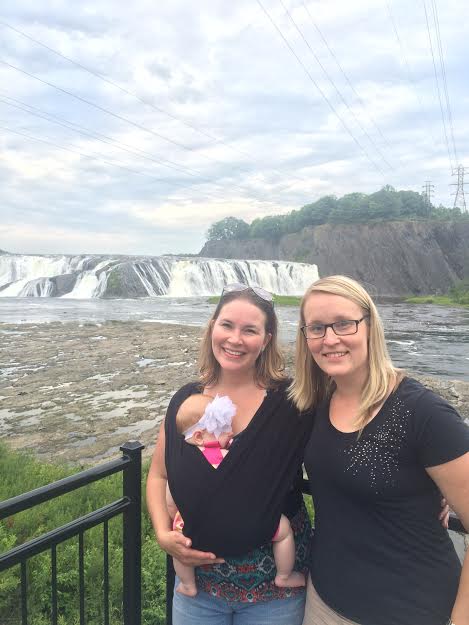 Ok, ok. On to the furniture. You all know I am a sucker for stained drawers and paint on a mid century dresser, right? It's a way to bring some modern to an old, ugly piece of furniture. John stopped by Salvation Army and saw this dresser. He sent me a picture of it. I wanted it so  badly!! Right away I snatched that up (the drawers weren't in it yet, but I didn't get a picture of it with the drawers in it).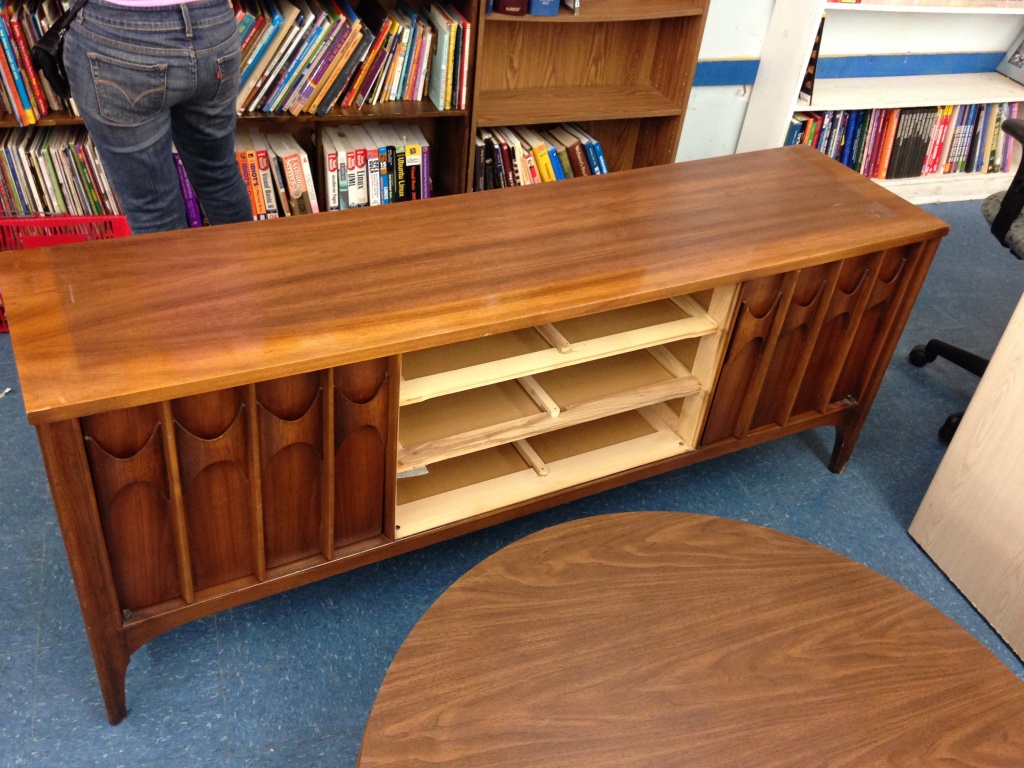 We also bought these end stands on craigslist that I thought would be a great match with this credenza.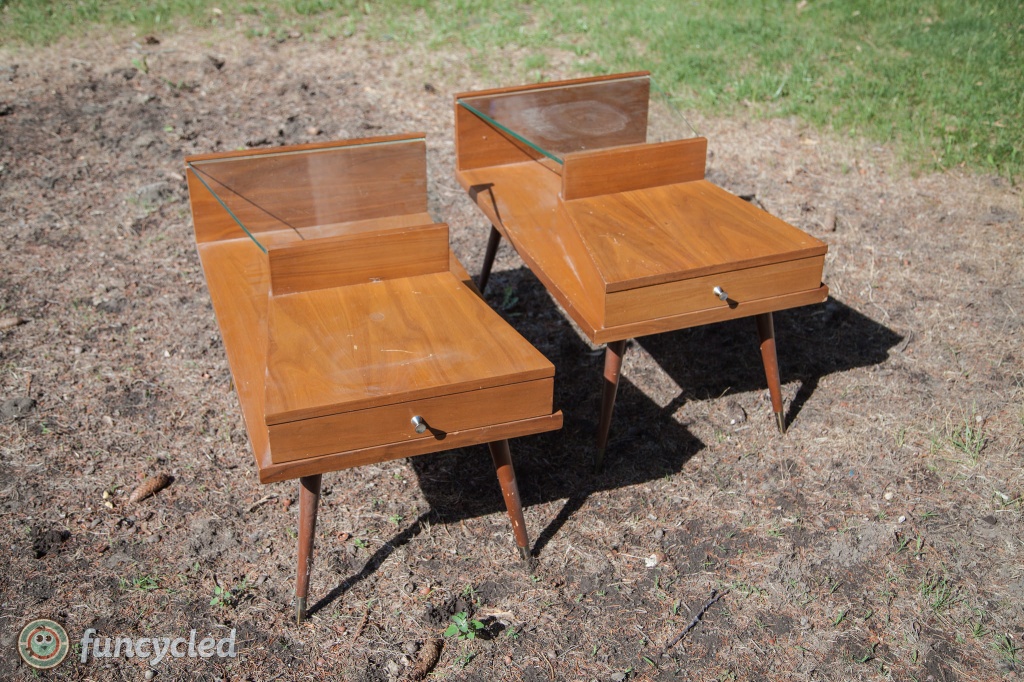 We painted the box with Benjamin Moore's Simply White. We kept the color of the doors and just freshened them up with stain. If you'd like to see how we paint furniture, check out our How to Paint Furniture post.
We sanded the drawer fronts down and stained them with watered down paint and stain. I don't have just one color to tell you how, but I would say pick a stain color you like to be safe on the drawers. Here are the after's: You may want to sit down before you look at them. ;)
---
Beautiful, right?? Remember to stay tuned because we have so many new amazing pieces coming to the store and online by the end of this week!! 
There is a box at the top right of this page to enter your email address to receive notifications by email when I post something new on this blog. Please sign up today!
Happy FunCycling Friends,
Sarah ;)
If you like what you see, please like FunCycled's Facebook page to keep up to date on the newest finds, vote on colors and give your input on our creativity. Last but not least, let us customize a furniture piece for you. We create custom furniture and will deliver for customers in upstate NY and also ship throughout the US. Send us a note with what you would like using our contact page. Or buy something that we've already designed from our furniture for sale page.