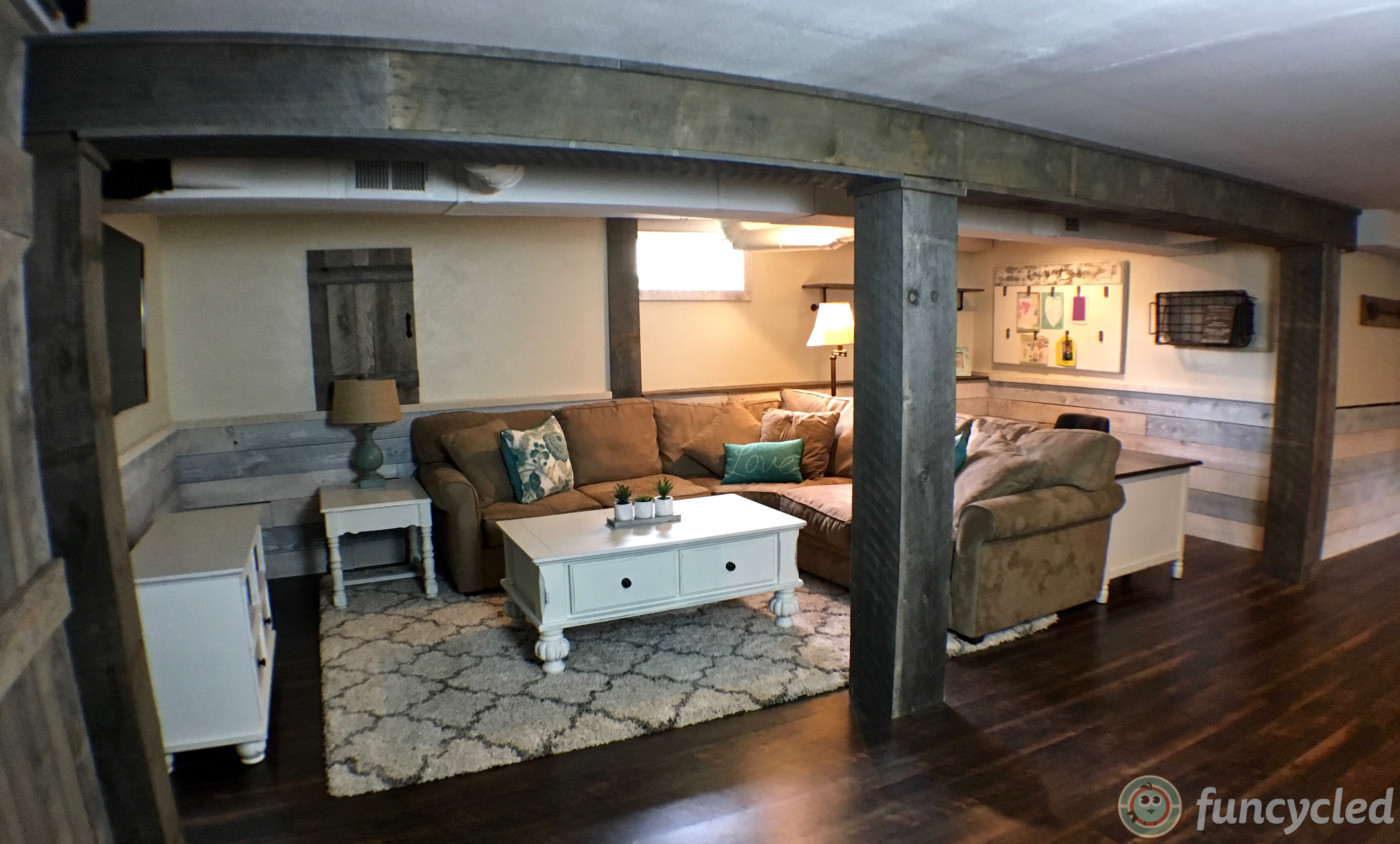 Hi friends!
This week's basement makeover has a very special place in my heart. Not only was it our first ever basement renovation, but it also has a wonderful backstory. Will and Jaimie called me in February asking me to come for a design consult. When I got to their house, I asked what their budget was and they said $0. Why would someone hire me when they have no money to redo the space? Well, they wanted a design goal to know how to save. That is actually really smart! People often purchase things within their budget that don't work for their space to save money. Jaimie and Will were doing the opposite, they wanted to know what would be good and right as the first step so they didn't waste any time or money. I came up with a design and they came back loving it and letting me know they would save monthly until they could do it one piece and one project at a time. Here's the basement before: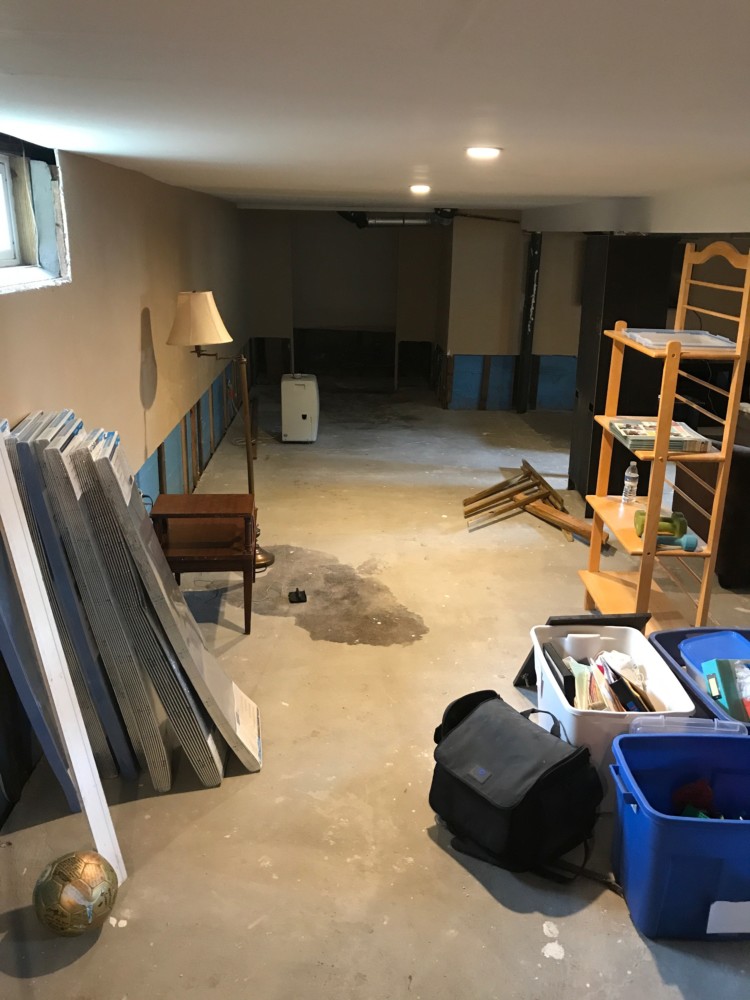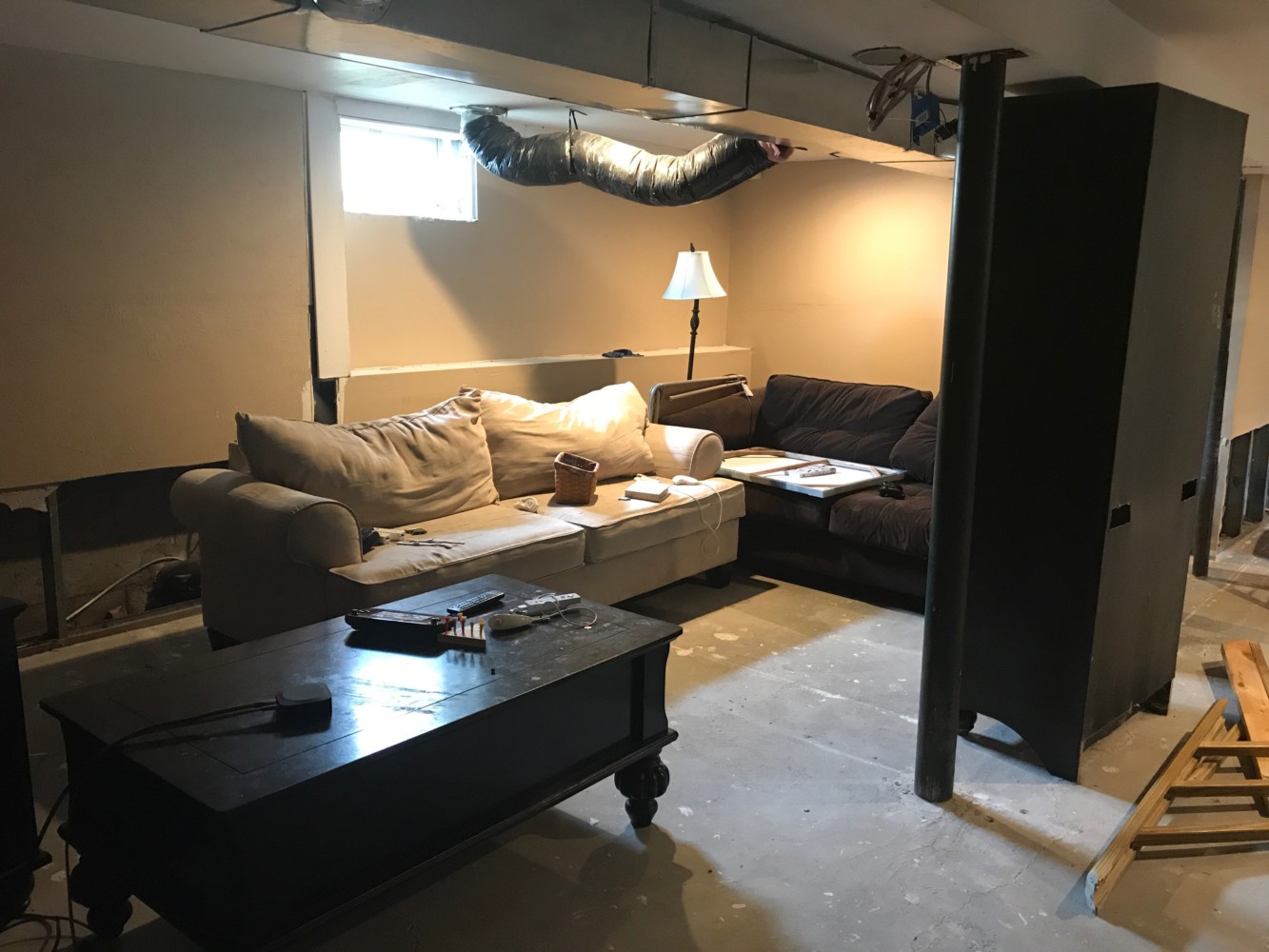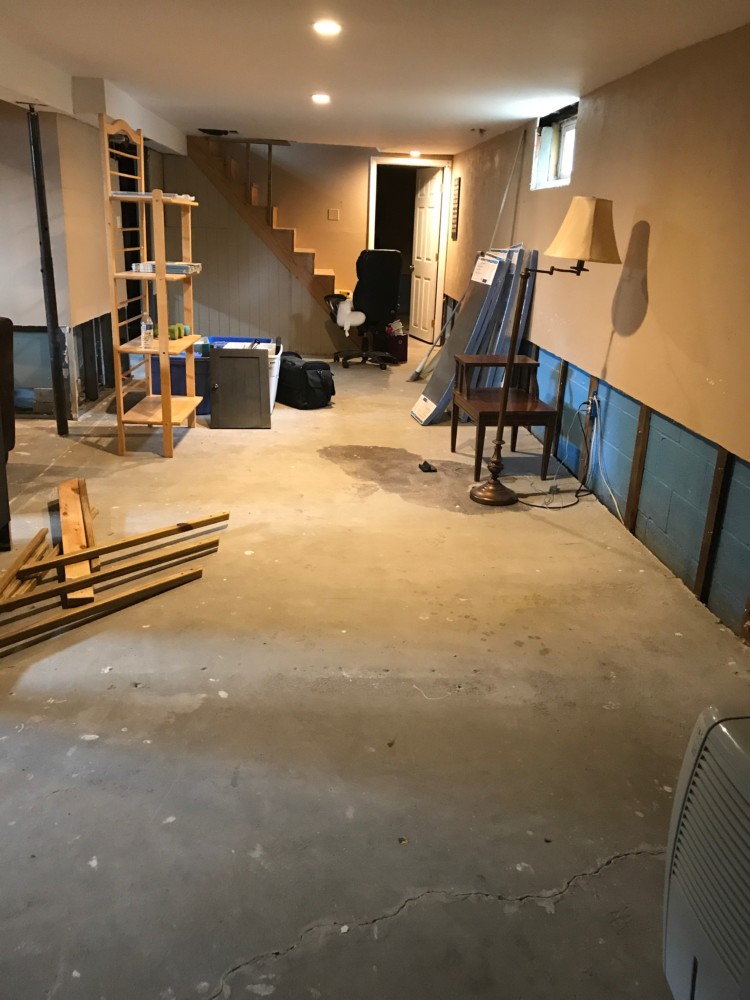 That sounded like a sensible and smart plan to me and I was thrilled that they liked the design. Fast forward about a month… their sub pump somehow got unplugged and their basement completely flooded. Up to where the sheetrock was cut in the pictures above. I felt so bad for them because insurance covered nothing!!
About a week after they told me about the flooding, someone asked to speak with me because they had heard we had done a design plan for Jaimie and Will. They told us that they wanted to pay to have their basement redone under two conditions: 1) it remained anonymous 2) we did all the work. WOW!!! Big big WOW! I couldn't even believe what my ears were hearing. To do something so kind and so expensive without wanting any recognition at all and wanting to support a small business… it was the knock-my-socks-off kind of amazing. They said God blessed them and they wanted to bless others! Little did they know that the day before they told me this, I had hired an assistant and was asking God how we were going to swing it financially. This moment for me spoke truth. He will provide if it's what He wants. Nothing is too hard or too much for God if He's directing. It gave me such encouragement and strengthened my faith in so many ways.
We went to work! First things first… make a mess!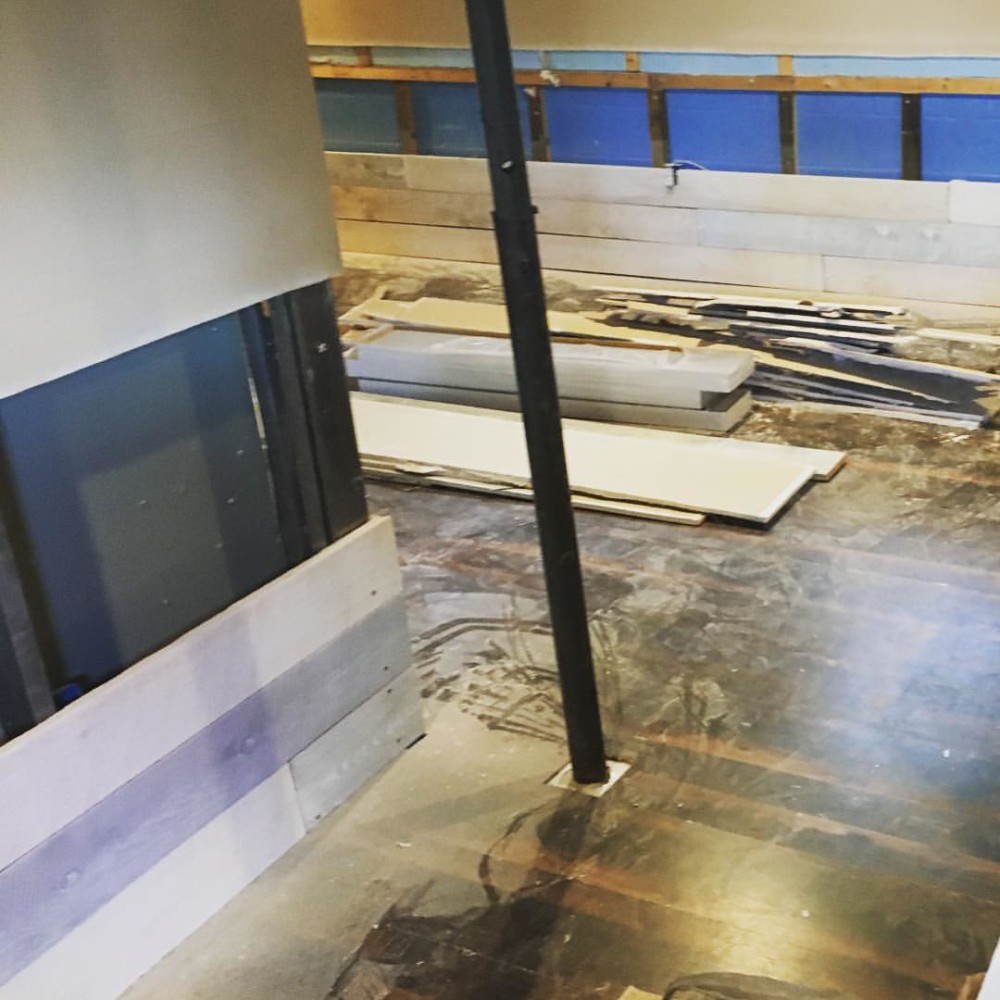 I helped pick out the flooring color but Jaimie and Will did the installation of the laminate flooring. Originally, we were going to paint the concrete to save money, but a family member donated the flooring so Jaimie could get the flooring she so badly wanted!!
We ripped more of the sheetrock up so we could install the wood on the bottom half of the walls. We used rough cut wood that we lightly sanded and sprayed with grays and whites to give different tones throughout the space.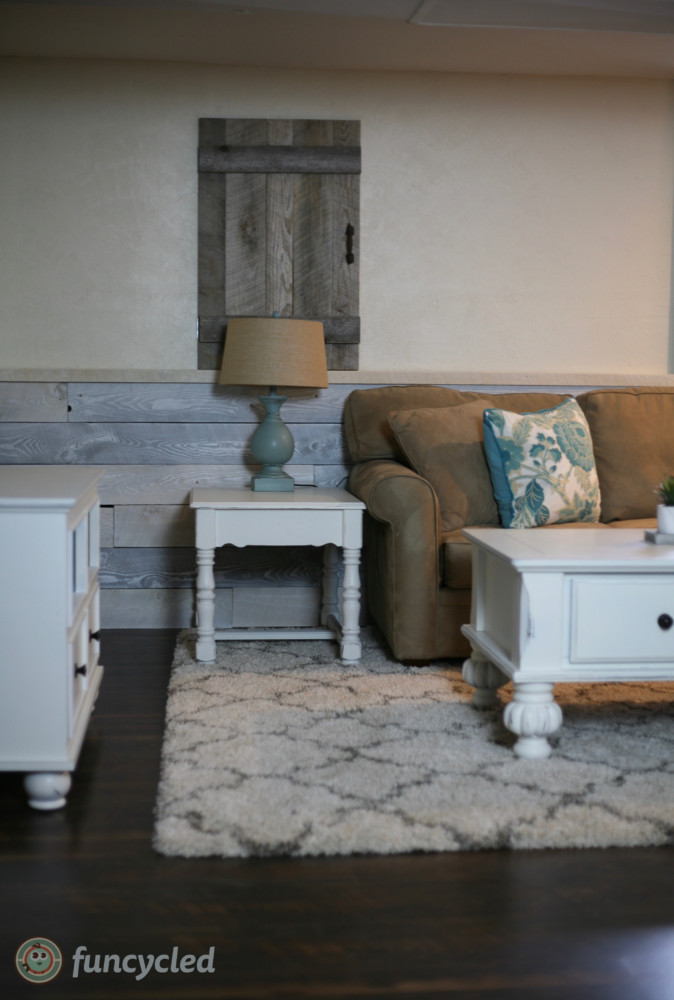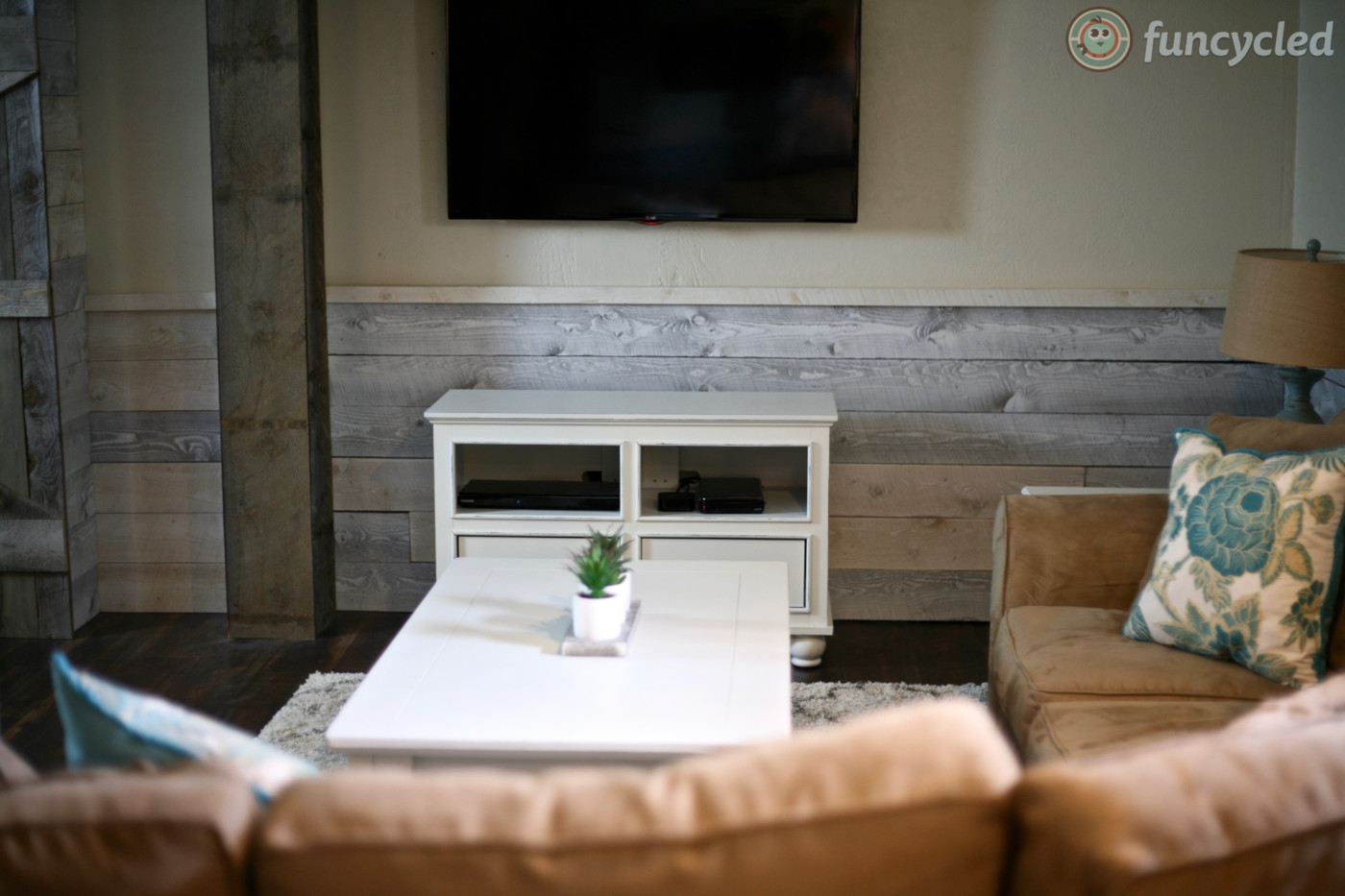 They already owned the entertainment center and coffee table but we painted them white and added an end stand to the design. Then we used barn board to encase the poles and beam in the basement to add texture and age to the room.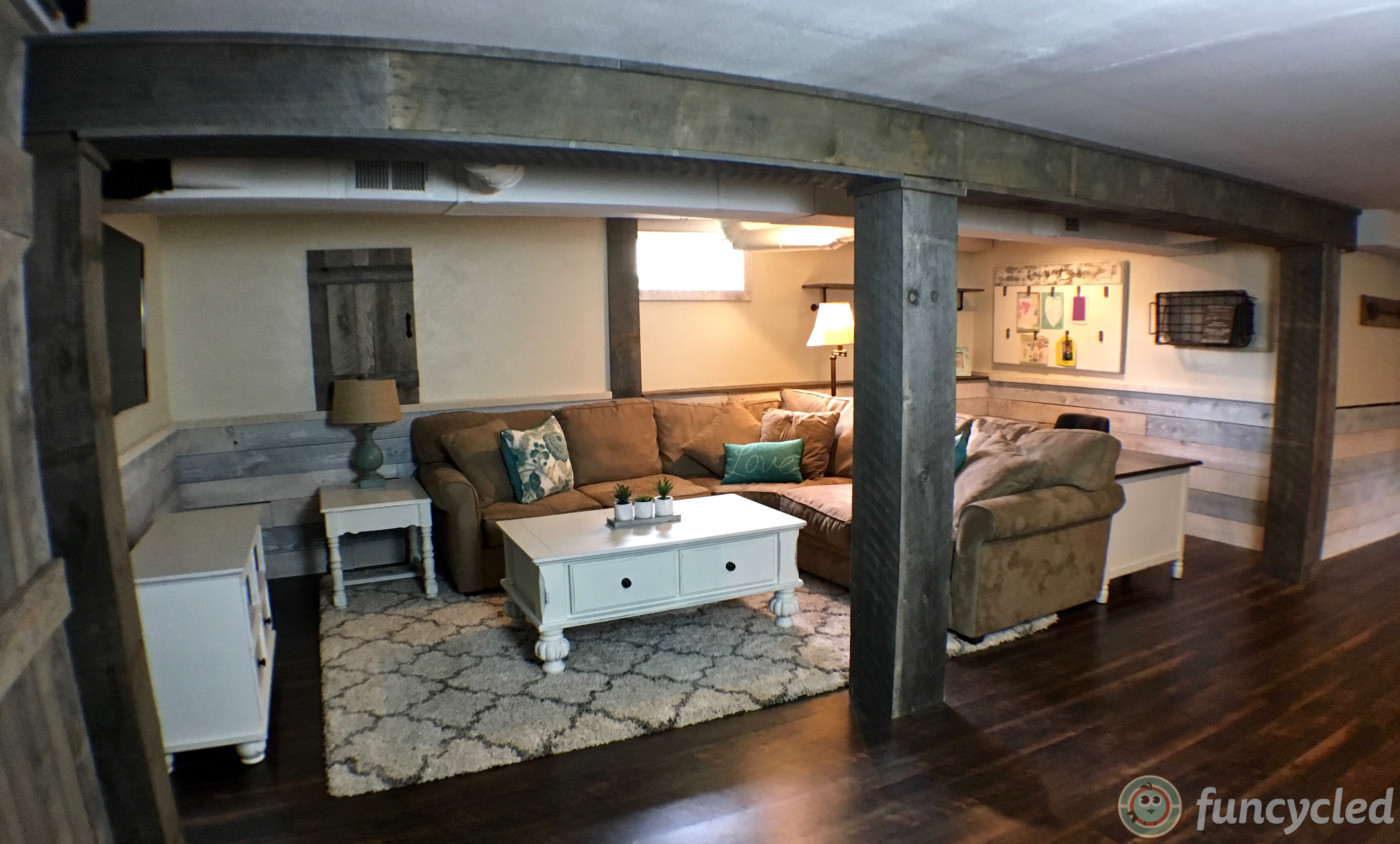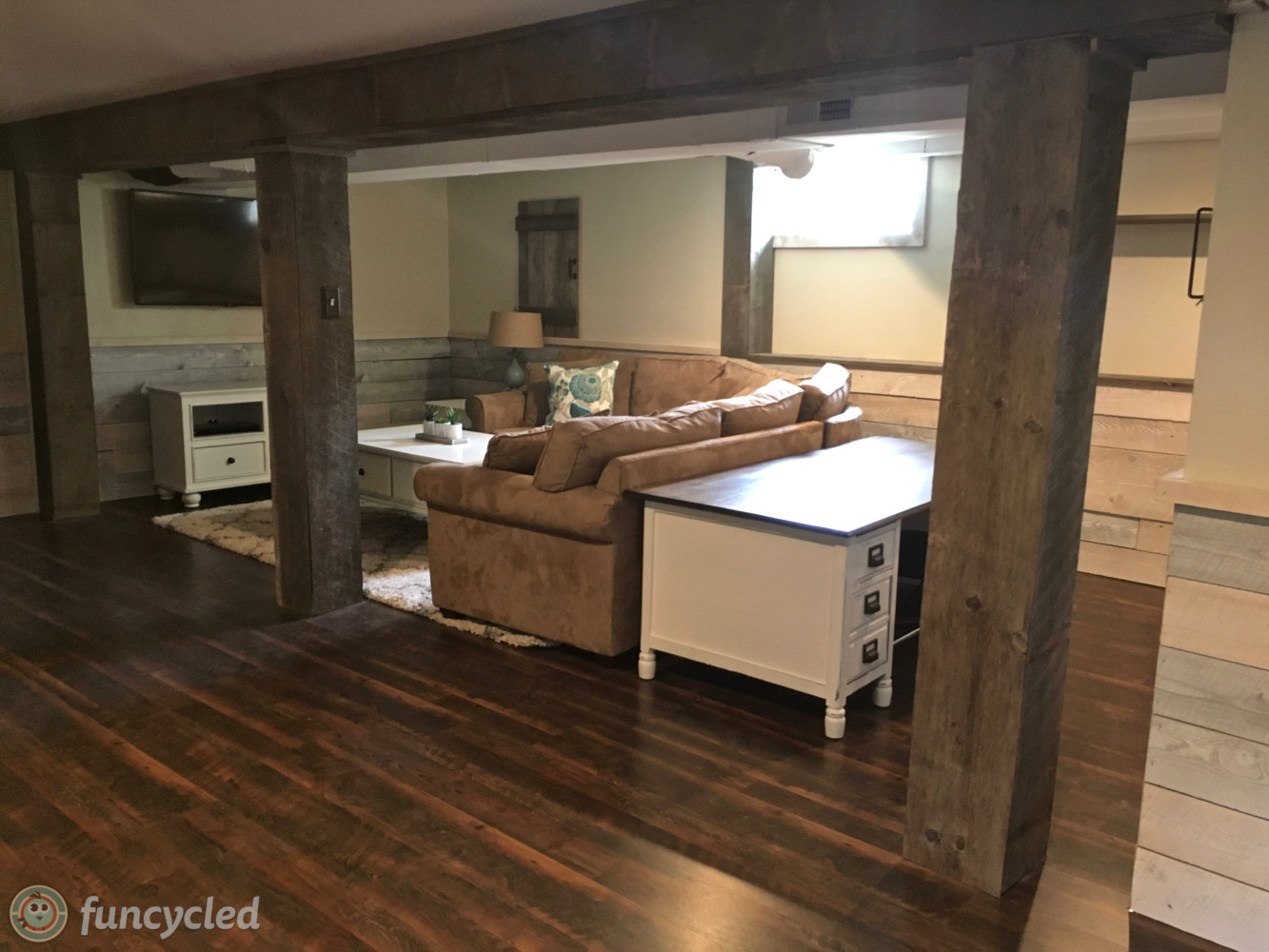 They have limited storage in their house so they wanted to add as much hidden storage as possible. We closed off one closet with a single sliding door.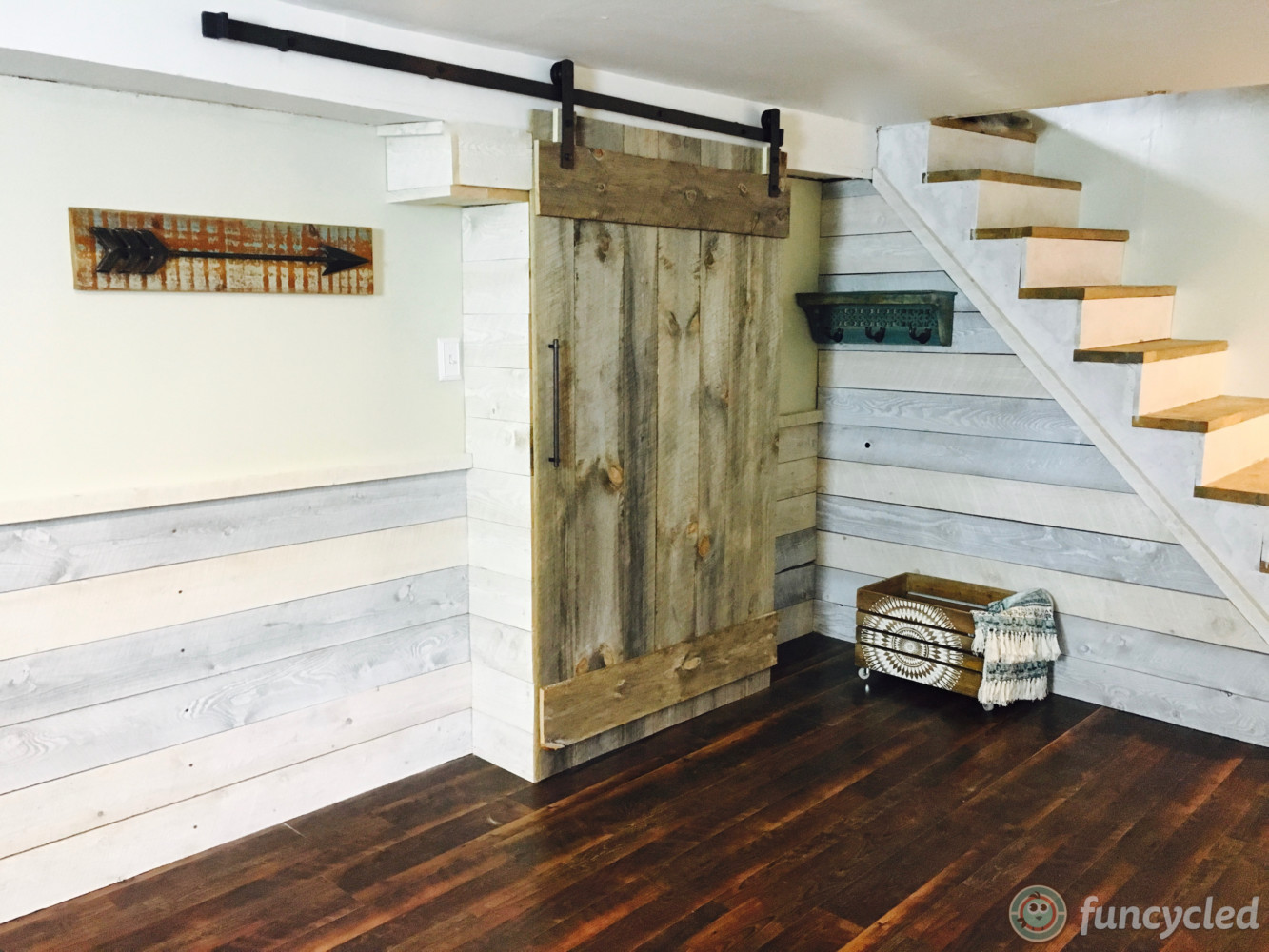 Then we turned the whole back section into a closet. The right barn door is stationary, just working as a wall but looks like a sliding barn door. The second barn door slides in front of the stationary door to get into the closest. Swoon!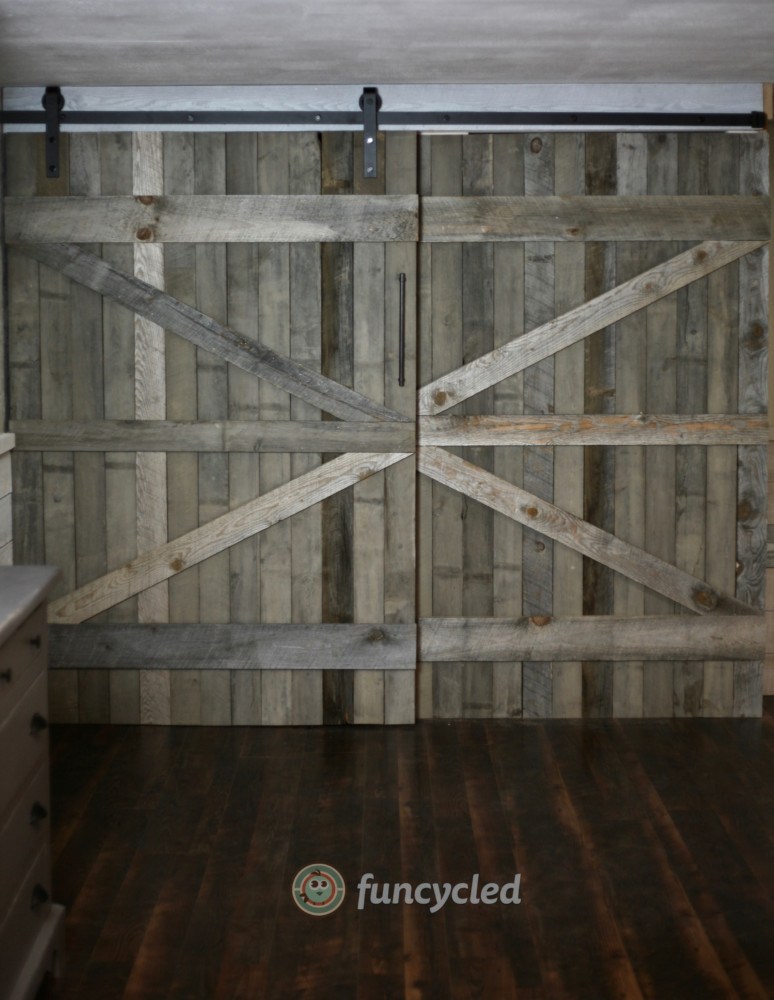 We also repurposed a hutch for the space! You can read all about that transformation here.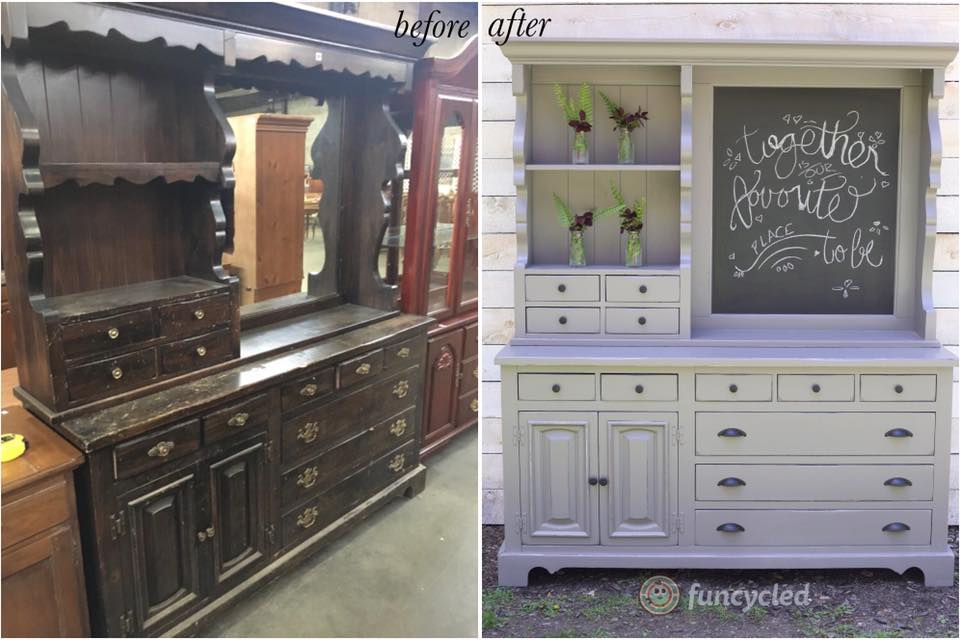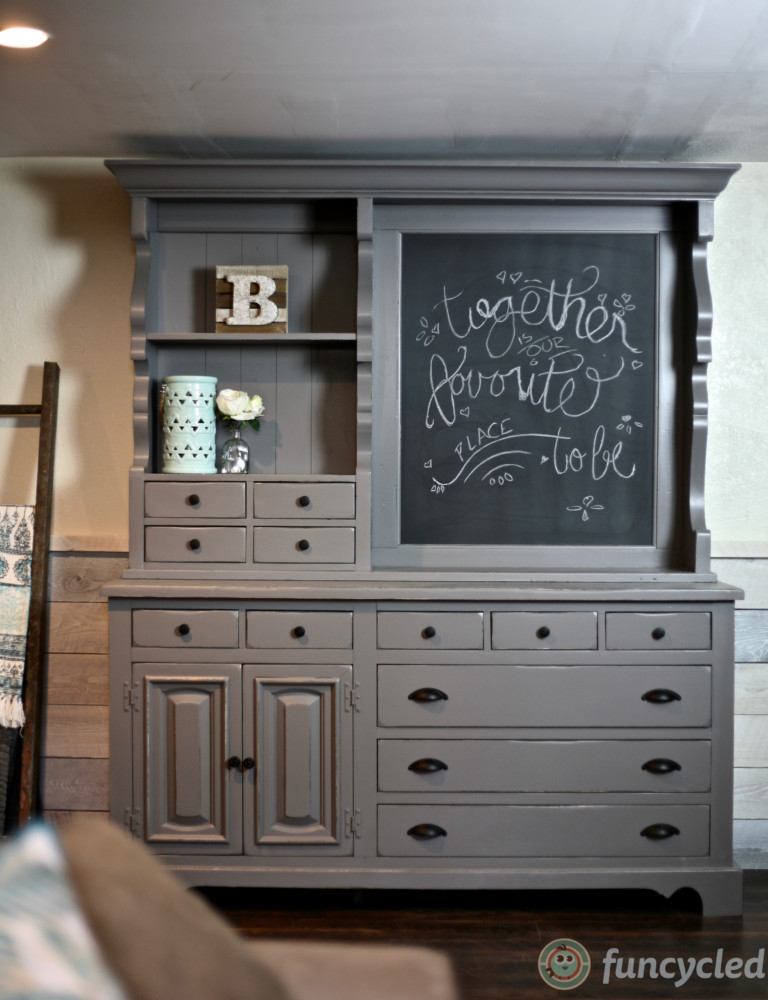 Also, Jaimie is short and adorable! For her job, she needs to use a pedal with her computer. She hasn't had a work set up so where she can touch the floor. She needed to sit at the end of her couch and have a laptop on her lap so she could reach the pedal. Oh no no! That just won't do!!! Not in my opinion at least! After 2 hours of searching, I found a chair that would fit the length of her legs. Then we customized this desk for her: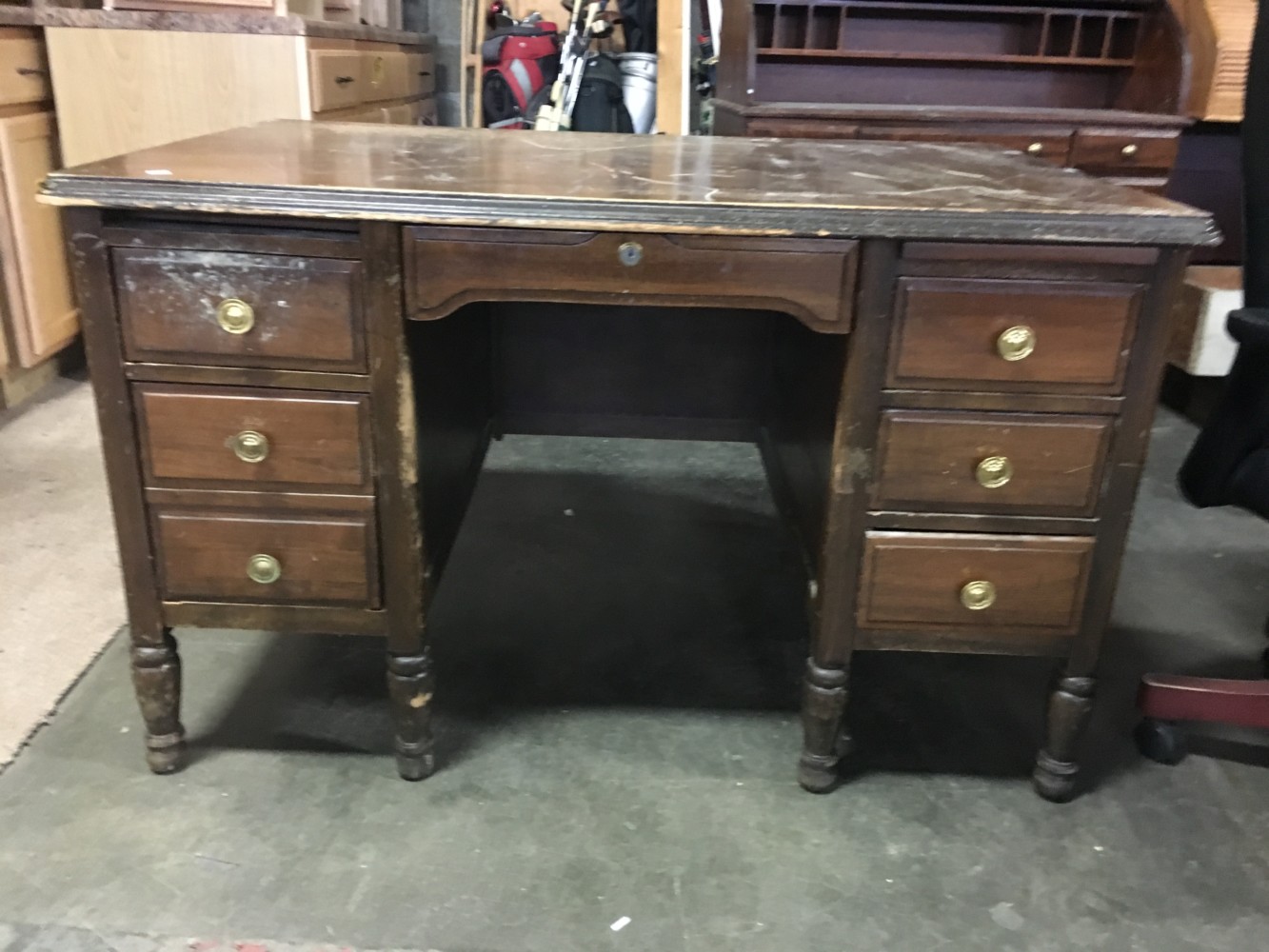 We cut the sides off and extended it out to 6 feet so she had enough room to work on the top but also had storage space on either side. I didn't get a good "after" picture of this piece but you can see it here: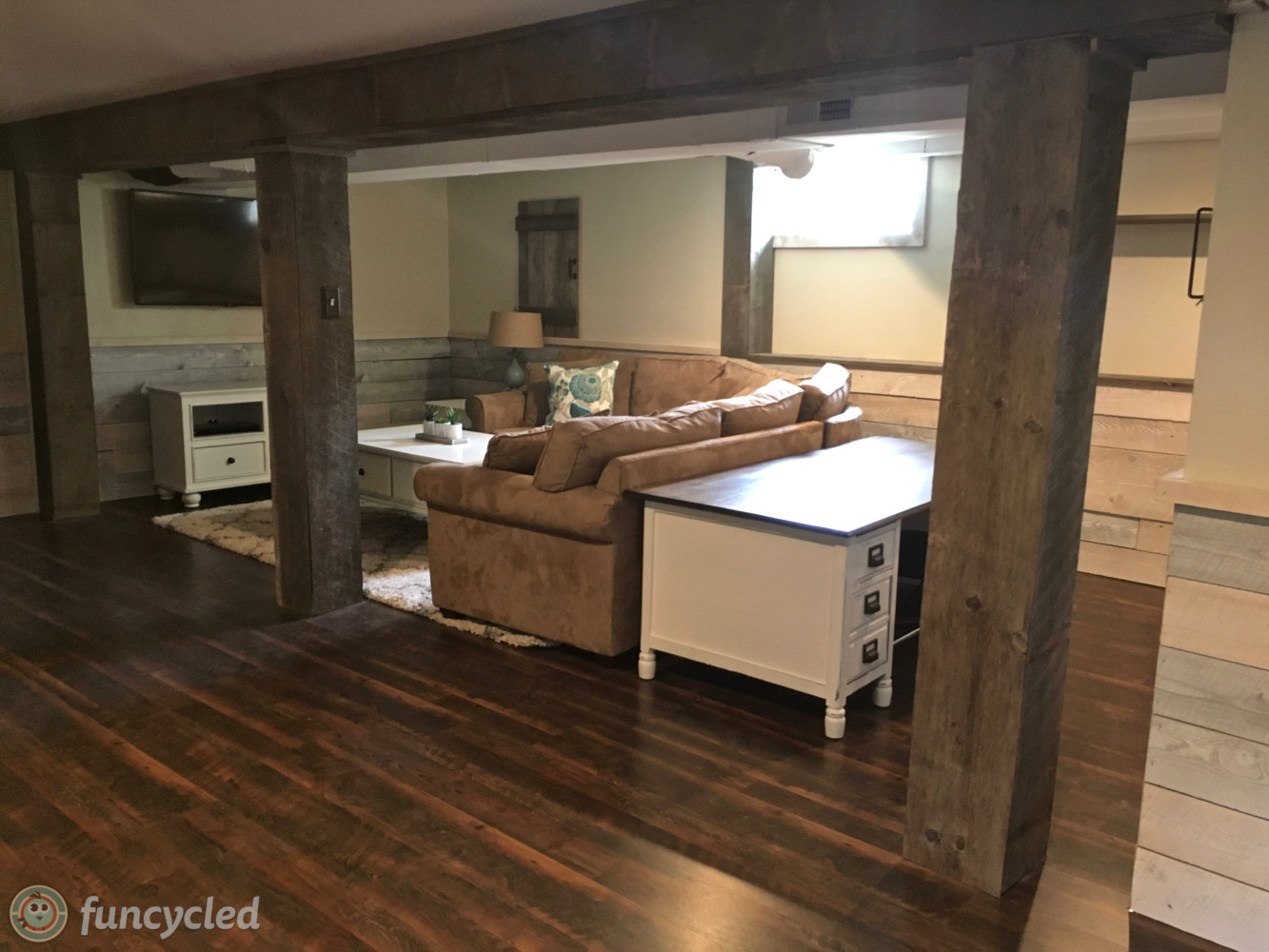 I didn't want to waste the old desk top so I repurposed it into an art display station for her kids artwork. Can you see it in the back left of this picture?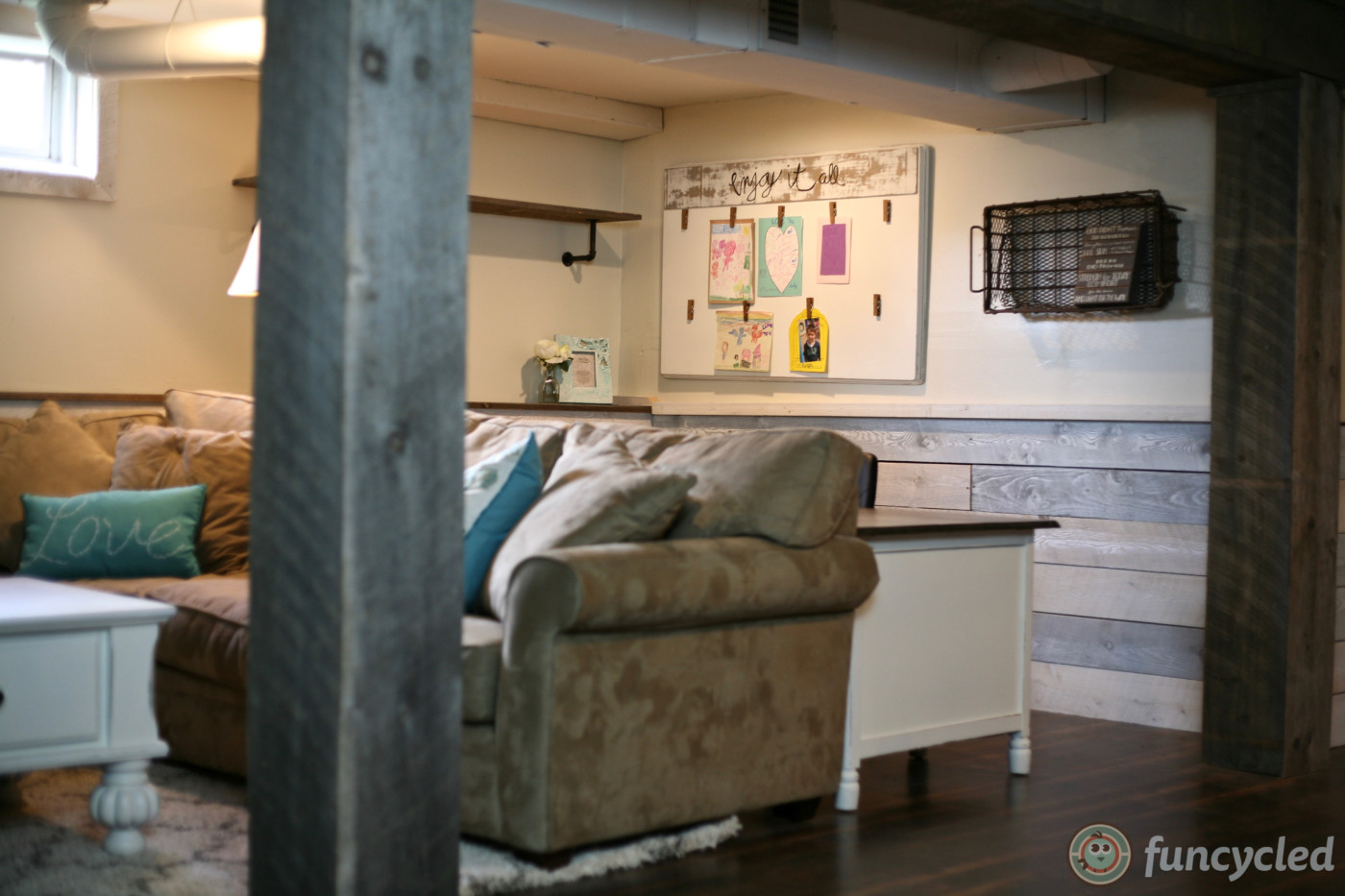 Let's not forget about the cute little electrical outlet door that we made to look like a tiny barn door. Awwwweee!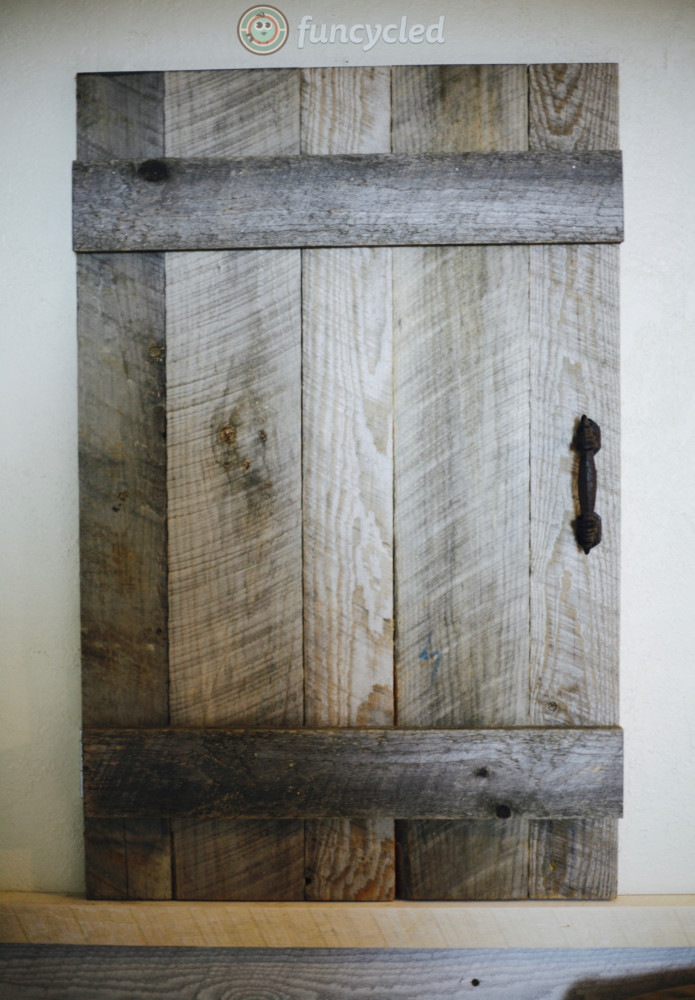 Then a friend from church heard about the project we were working on and asked to go with me to help pick out decorations for the space and she paid for it all! Talk about blessing after blessing!
Here are some before and after side by side shots for you: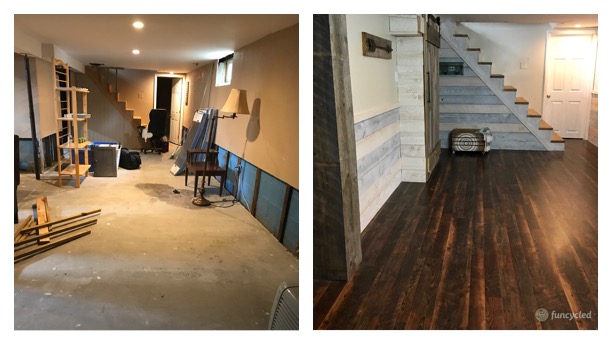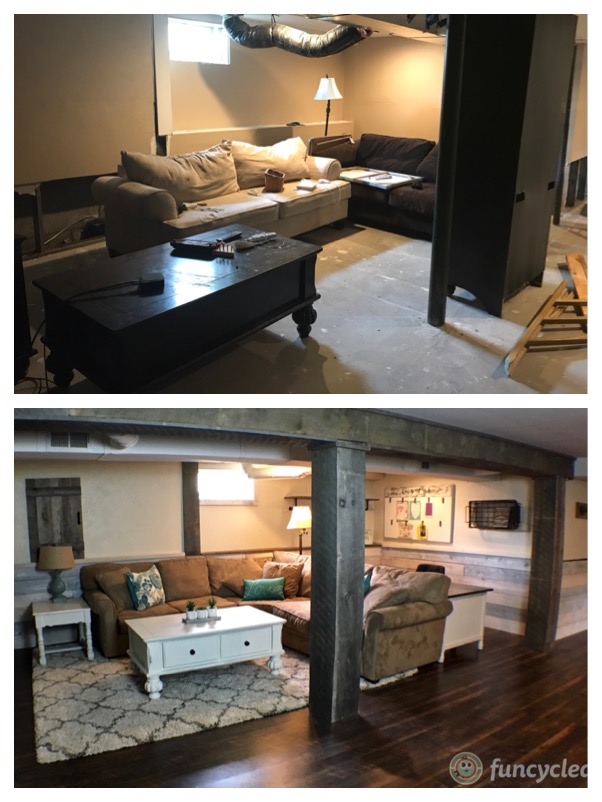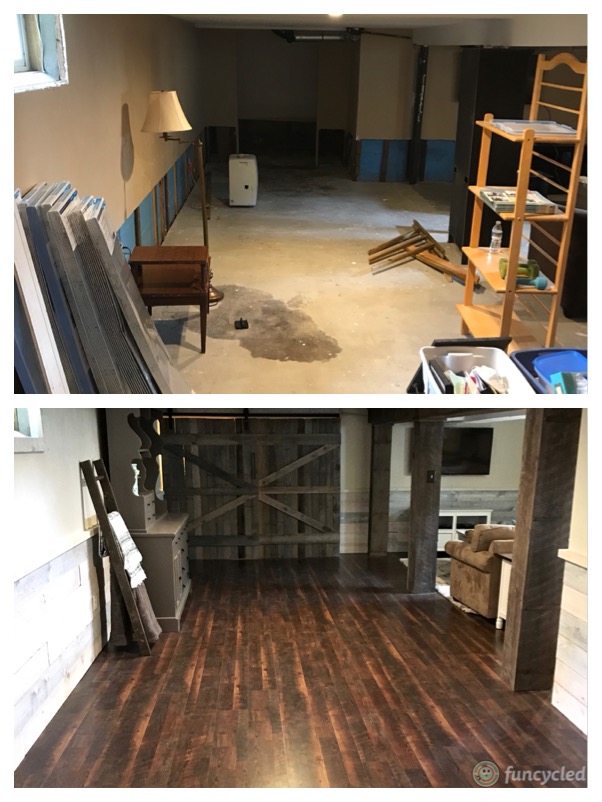 If you love today's makeover, reach out to us using our Contact Us form to ask us to help you reinvent your space! You can also check out new furniture for sale on our website here! If you'd like to purchase it, please use our Contact Us form or stop by our store at 272 River Street, Troy, NY. I've also added quite a few other new pieces to the store!
There is a box at the top right of this page to enter your email address to receive notifications by email when I post something new on this blog. Please sign up today!
Happy FunCycling Friends,
Sarah ;)
If you like what you see, please like FunCycled's Facebook page to keep up to date on the newest finds, vote on colors and give your input on our creativity. Last but not least, let us customize a furniture piece for you. We create custom furniture and will deliver for customers in upstate NY and also ship throughout the US. Send us a note with what you would like using our contact page. Or buy something that we've already designed from our furniture for sale page.