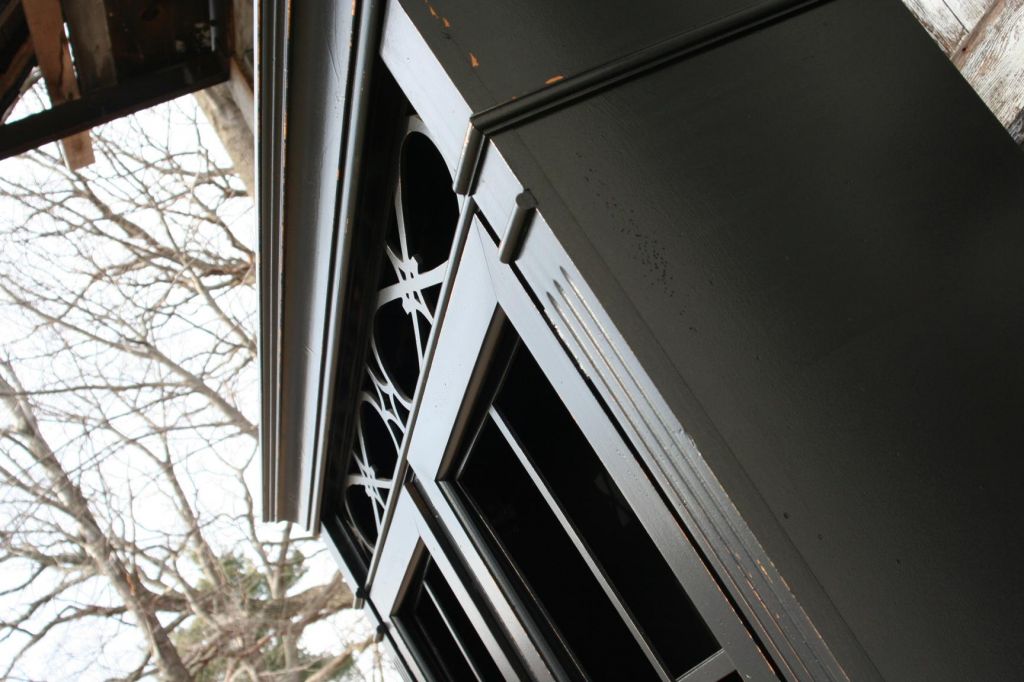 What could be better than a lighted hutch -a huge lighted hutch painted black and distressed to give it just the right feel? Yes indeed, you're right! This is my first ever black hutch. This hutch may look average size, but it is about 7 feet tall, no small task! I stopped by Joe and Sarah's house to see how their other black furniture looked so I could make this fit right in. They had the perfect wall for it and in the end it all came together so perfectly.
So here she is before: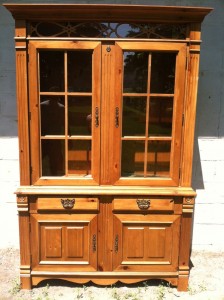 We did this one a little differently because the other furniture that they had didn't have any primer underneath. Just black paint distressed to show the wood. We sanded this hutch down really well and painted it black right onto the wood using our air sprayer. Then, I distressed all of the black to show through the wood. Oh, and a word to the wise… take the glass shelves out when you transport a hutch. We didn't and both shelves shattered… to replace them was almost $100. Now that'll hurt the pocket. I didn't anticipate that it would be so expensive to replace the two shelves. Live and learn. ;)
Also, I repainted the knobs with Rustoleum's Hammered Bronze spray paint, but I didn't really like them so I repainted using Hammered Black and I LOVED them.
Are you ready for the after pictures?? Oh did you know how hard it is to get good pictures of black furniture? Thanks to my amazing brother Jesse, I have a new camera. It makes photoing black furniture much easier. You're the best, Jesse!!! Thank you so much!!
Here's a close up of the bottom half.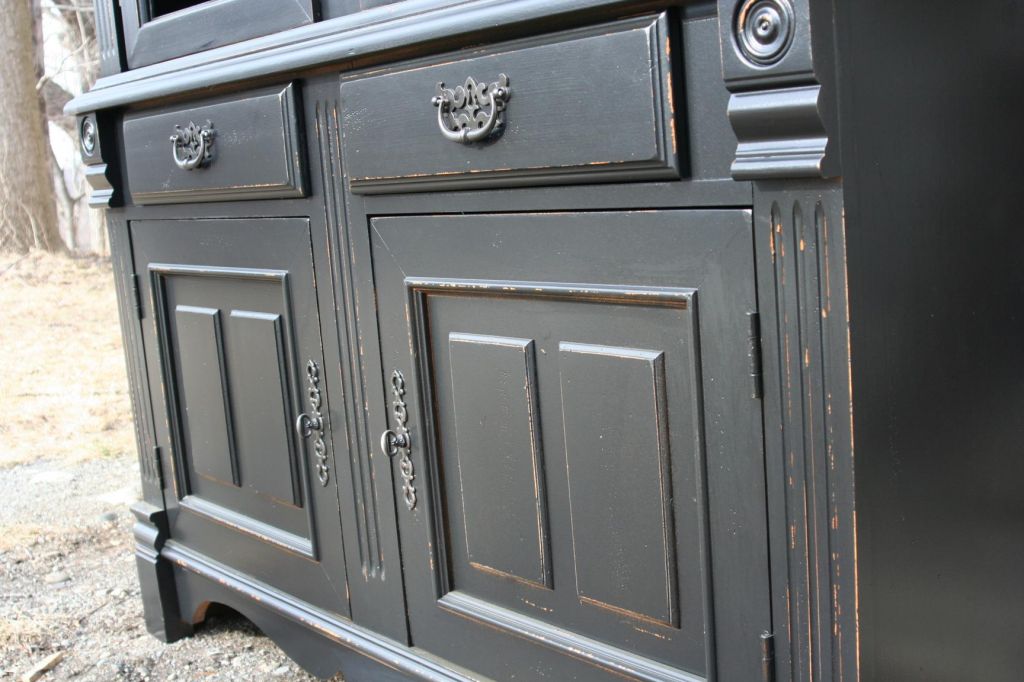 Here's a close up of the detailing on the top…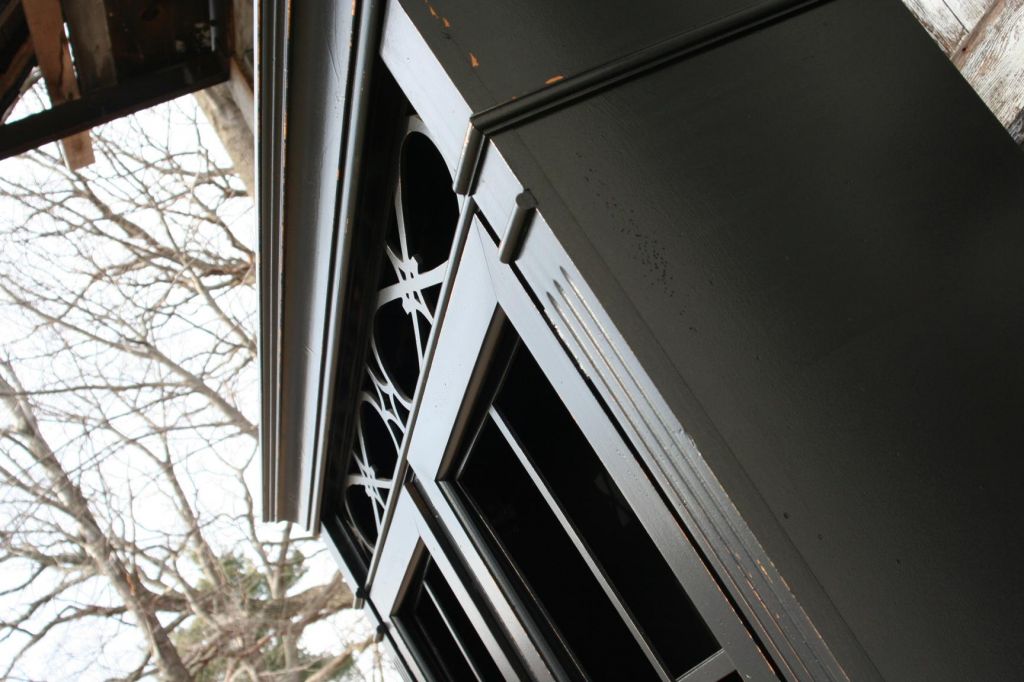 And the whole thing together!!! Oh the yummy goodness!!!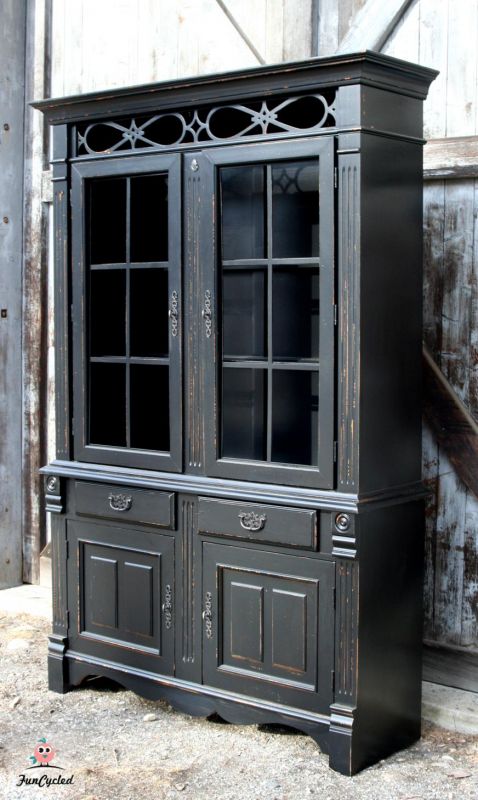 If you're interested in a custom hutch, please let me know! You can also check our Upcoming Projects page to see if their is any available for customization or we can find one for you.  
Happy Redesigns Everyone,
Sarah
If you like what you see, please like our face book page to keep up to date on the newest finds, vote on colors and give your input on our creativity.
There is a box at the top right of this page to enter your email address in to receive notifications by email when I post something new on this blog. Please sign up today!
Last but not least, let us customize a furniture piece for you. We create custom furniture for customers in upstate NY and ship throughout the US.  Send us a note with what you would like using our contact page. Or buy something that we've already designed from our furniture for sale page.