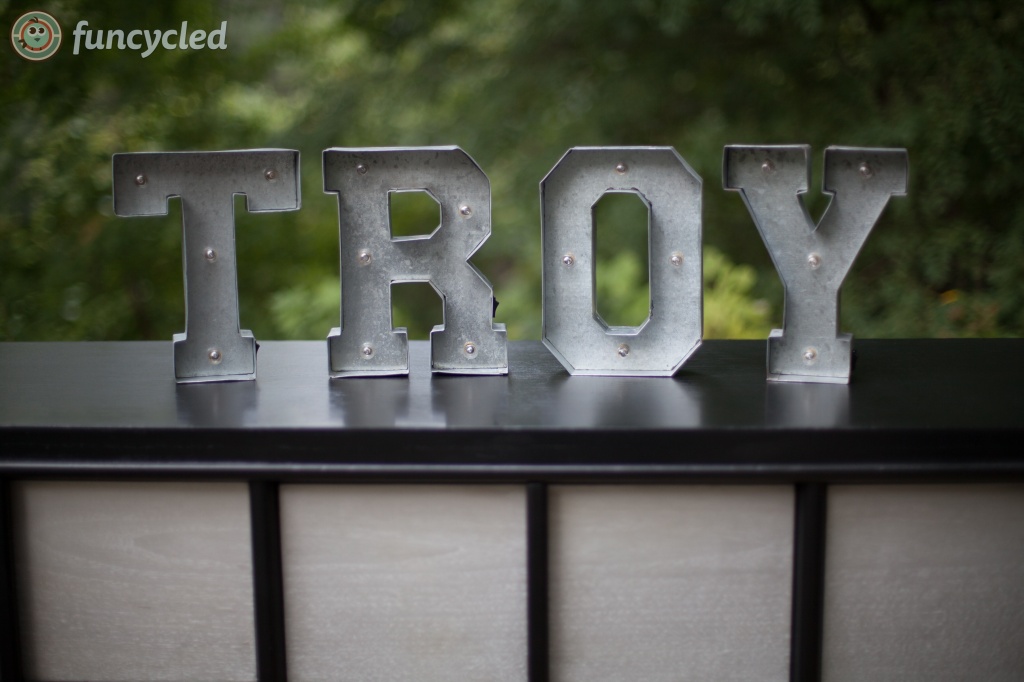 Hi Friends!
I hope you're having a great week! We have had quite the week. ;) Nothing is 100% until all the paperwork is signed and a closing has happened, but so far it looks like we'll be moving. Not the FunCycled store, our home! I'll share more details as everything comes together, but man am I excited about what's to come. Why am I telling you this before it's all done? Well, we are going to have a barn sale to sell much of the furniture that I've had for a couple years but haven't had a chance to re-purpose yet. Mostly because if I haven't gotten to it in two years, I probably never will and because I REALLY don't want to move it, ;) The prices will be amazing! I may have some personal items and I will definitely have lots of left over paint so plan to come by! We'll be having it on October 9th and 10th from 9am-2pm! Please plan to swing by and tell all of your friends, ok?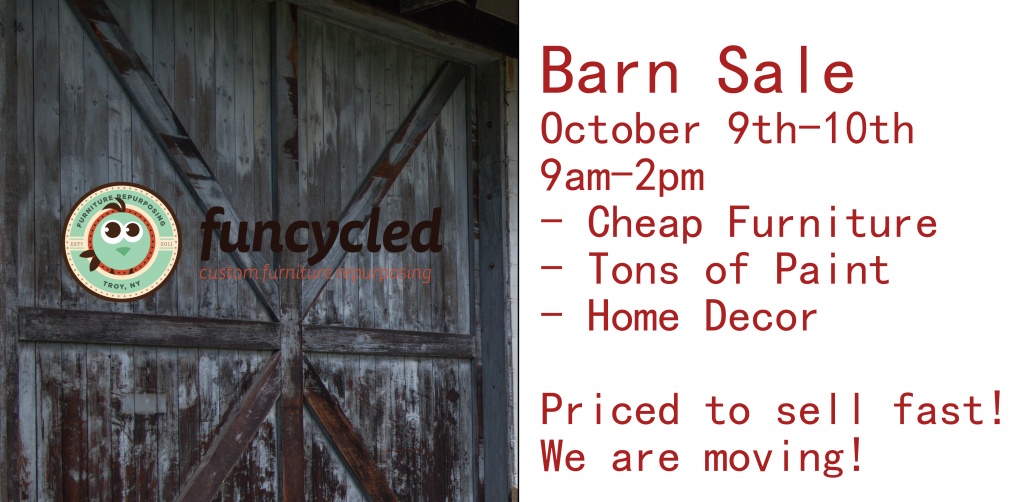 This week's transformation is pretty cool if I do say so myself. We bought this dresser at a barn sale that raises money to help orphans in need.  It's my favorite reason to buy furniture… to help others. Here it is before: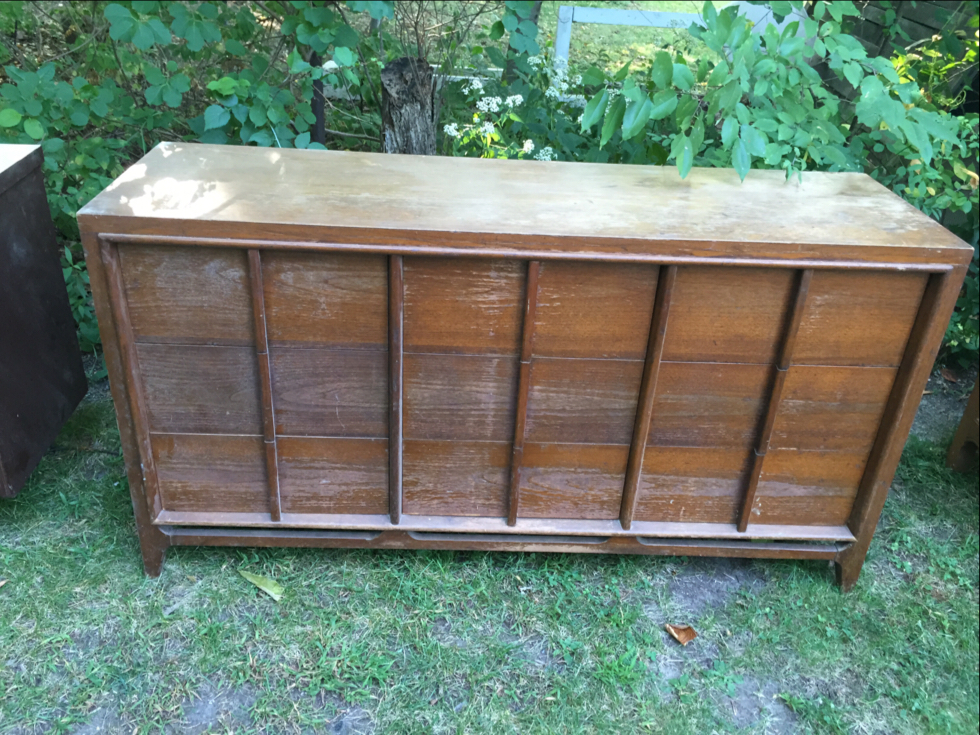 It needed quite a bit of veneer repair, but we took care of that and sanded down the drawer fronts. We painted this dresser with black enamel paint. If you'd like to see how we paint furniture, check out our How to Paint Furniture post.  I used ACE hardware's Metallic Silver Finish for the drawer fronts.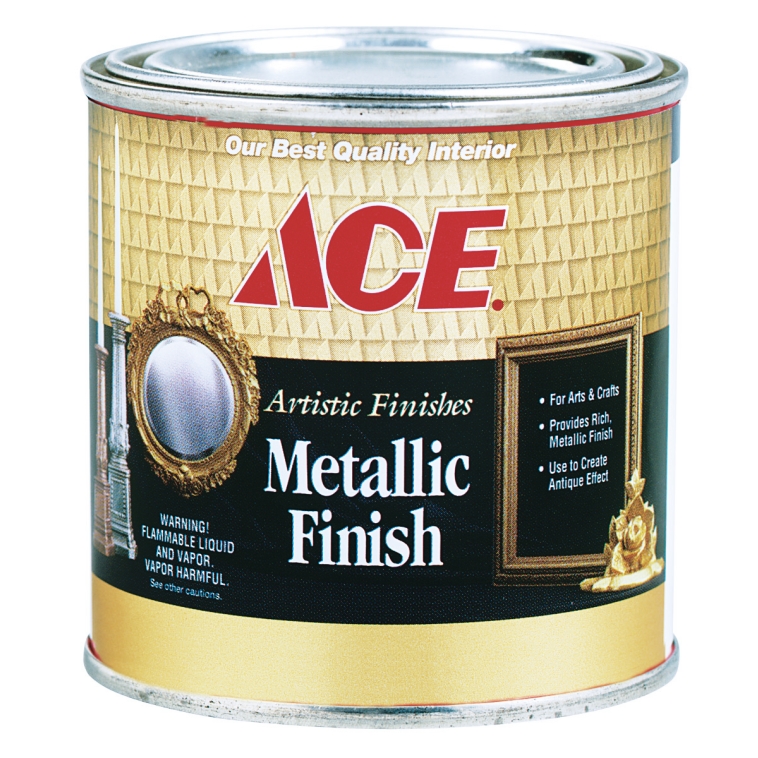 Here's a quick before and after for Pinterest!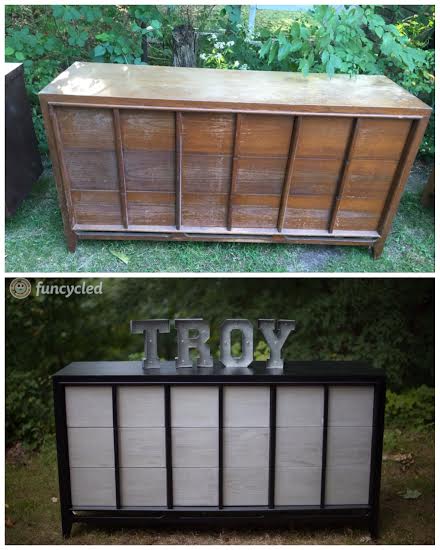 This dresser is for sale right now! We just brought it into the store last week. If you'd like to purchase it, please use our Contact Us form or stop by our store at 272 River Street, Troy, NY. I also added quite a few other new pieces to the store!
There is a box at the top right of this page to enter your email address to receive notifications by email when I post something new on this blog. Please sign up today!
Happy FunCycling Friends,
Sarah ;)
If you like what you see, please like FunCycled's Facebook page to keep up to date on the newest finds, vote on colors and give your input on our creativity. Last but not least, let us customize a furniture piece for you. We create custom furniture and will deliver for customers in upstate NY and also ship throughout the US. Send us a note with what you would like using our contact page. Or buy something that we've already designed from our furniture for sale page.