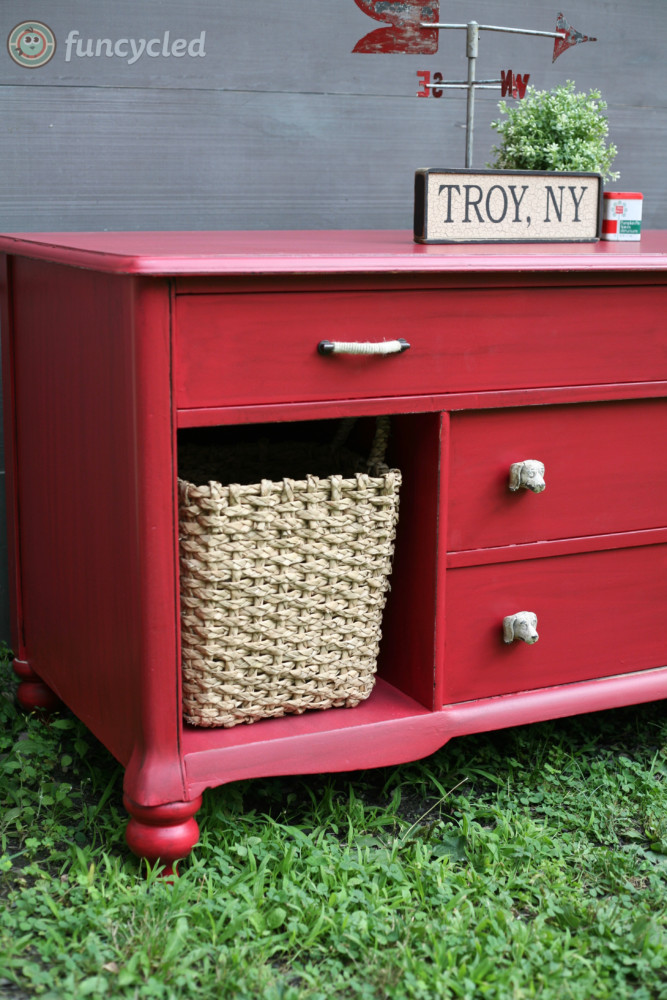 Hi Friends!
How are you? Many of you have started school already but we are now in crunch time trying to get everything ready for school. My amazing friend, Jo Ann, has helped me out more than I can even explain by taking our kiddos one day a week this summer so I could work (this helps me so much!) and she came to save the day by school clothes shopping for me! A big thank you to her for always looking for ways to make my life easier. We are ready for school and to be honest, I'm ready to get back to a normal work schedule.
The last two weeks of summer always feel like the worst because I'm at the point of barely keeping up and not getting back to people in the time that I  normally would and that I always want to. I also wanted to say thank you to all of you who have been patient and gracious with me. So many customers have been so kind and understanding through kidney stones and crazy summer schedules. I'm crazy thankful for all of you and for being able to do what we love every day!!
This week's furniture project is one of those projects that I kept hanging around in our storage unit forever! John wanted me to throw it away a looonggg time ago, but I knew it could be something beautiful one day. He graciously kept lugging it different places for me until I finally had a design plan for it.
Here it is before: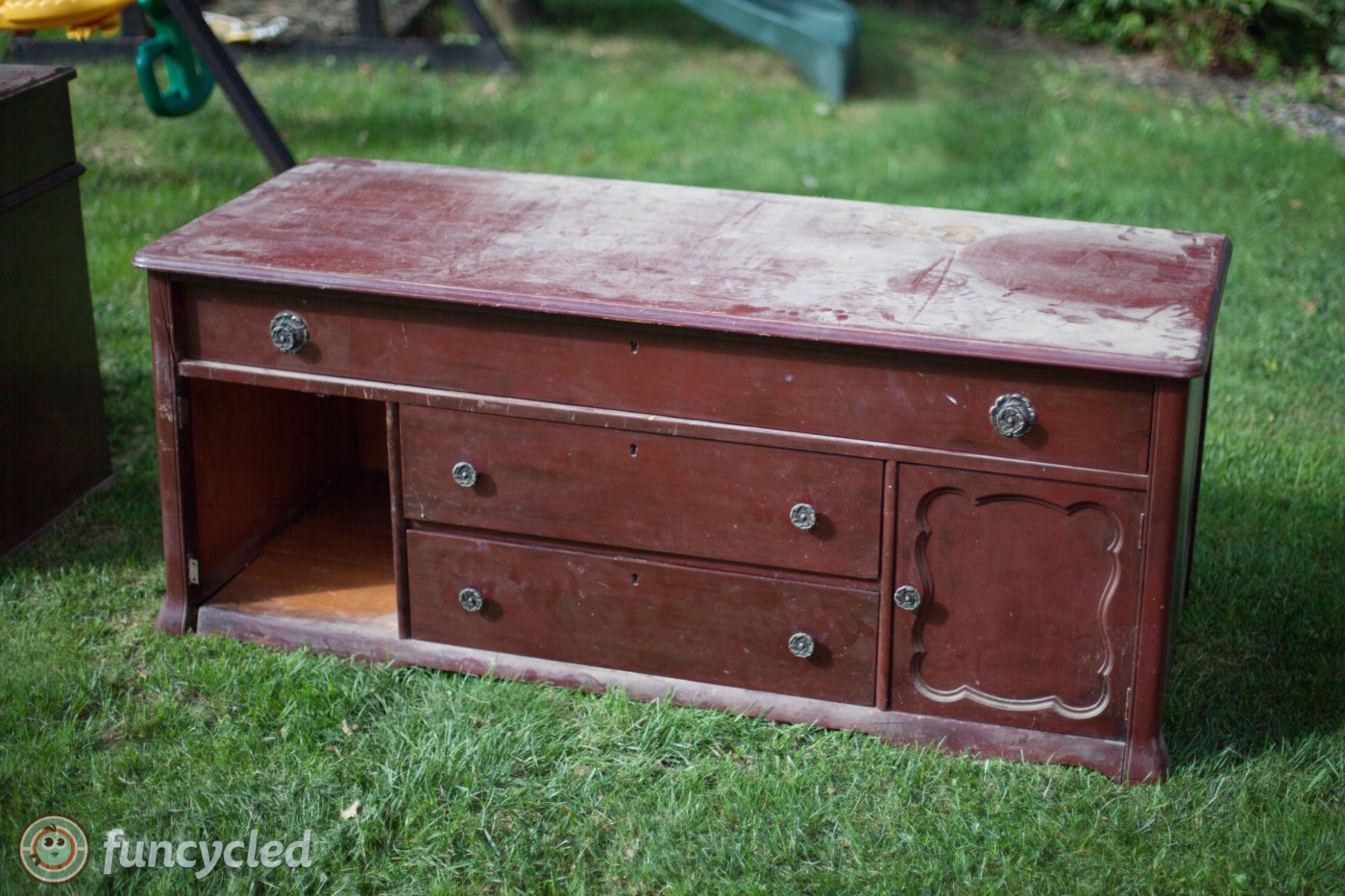 A buffet with no legs, one missing door, peeling veneer… hmmm… what to do with this? I knew right away that I wanted to remove the other door and use baskets on either side. I thought it would be nice to add small legs to make this a lower buffet or an entertainment center.
I really wanted to make this piece pop with color so we painted it Divine Red by Benjamin Moore, glazed it to deepen the color, and added a protective clear coat. It also has dovetail drawers! If you want to see how we paint furniture, check out our How to Paint Furniture post.
We added furniture legs from Lowes. Then I found dog knobs and loved that they matched the baskets. I was a little nervous about going with dog knobs, but decided to go for it! Why not? People can choose to change out the knobs if they don't like it, right??
Well guess what, thanks to Katie and Dan, this piece sold before we could even get it into the store. They were looking for a buffet when they stopped by our store and asked if we had anything coming in soon. Once we showed them this buffet, they were sold…. Guess what sold them on it? The DOG knobs!!
Ready for the afters?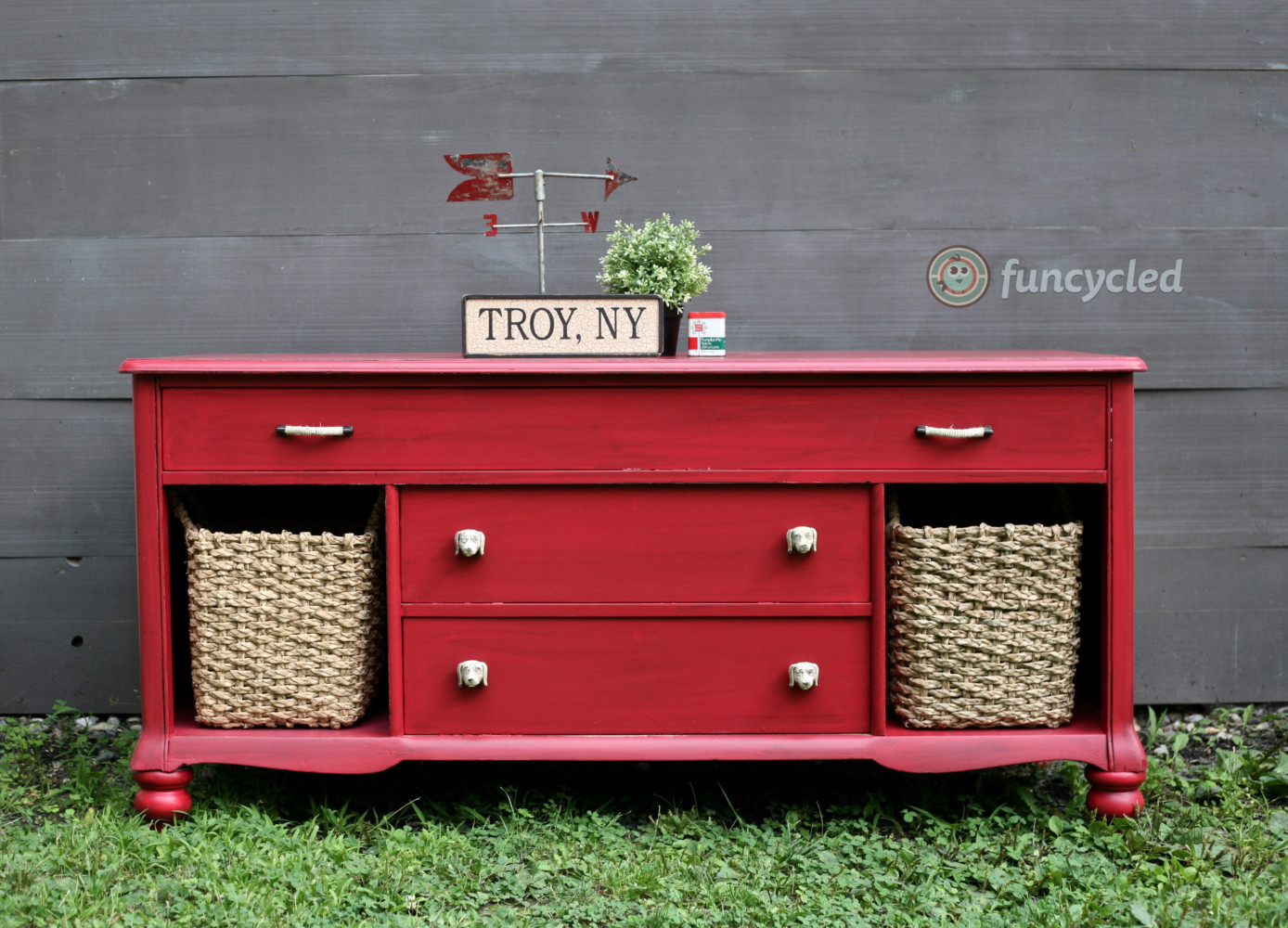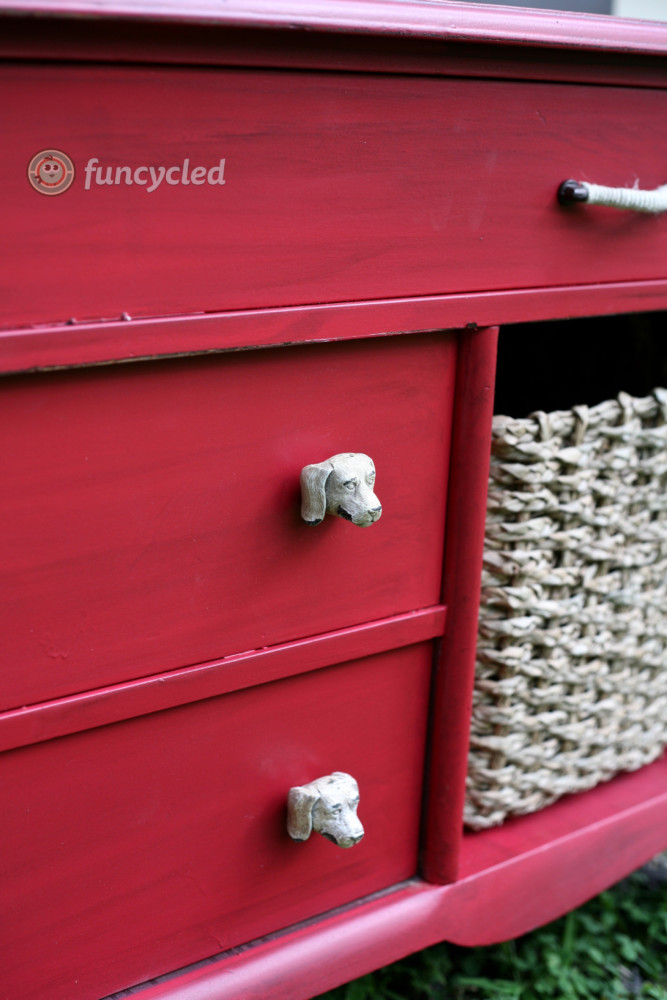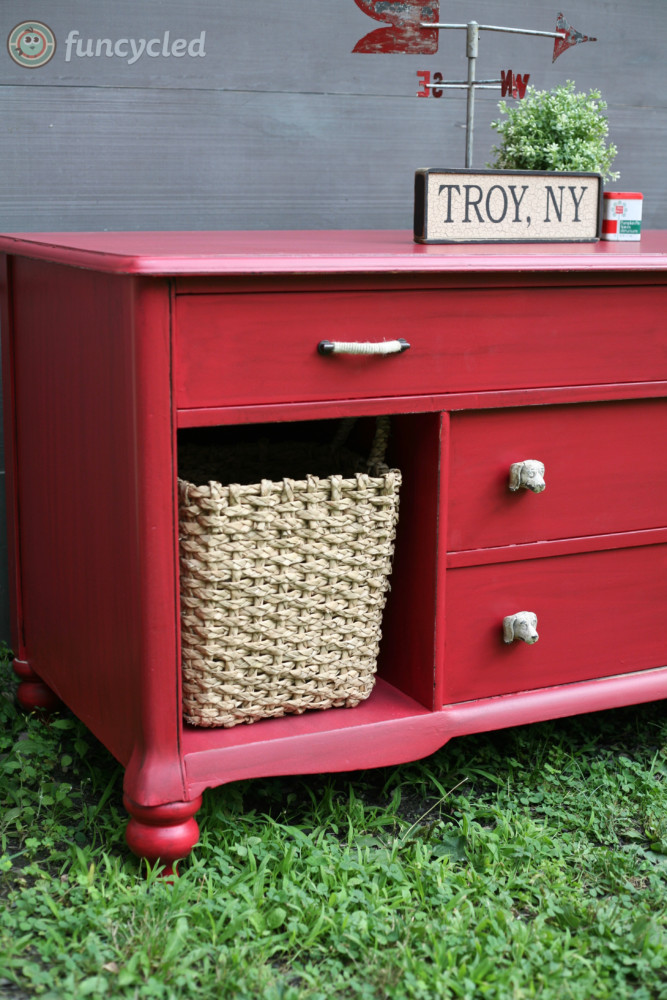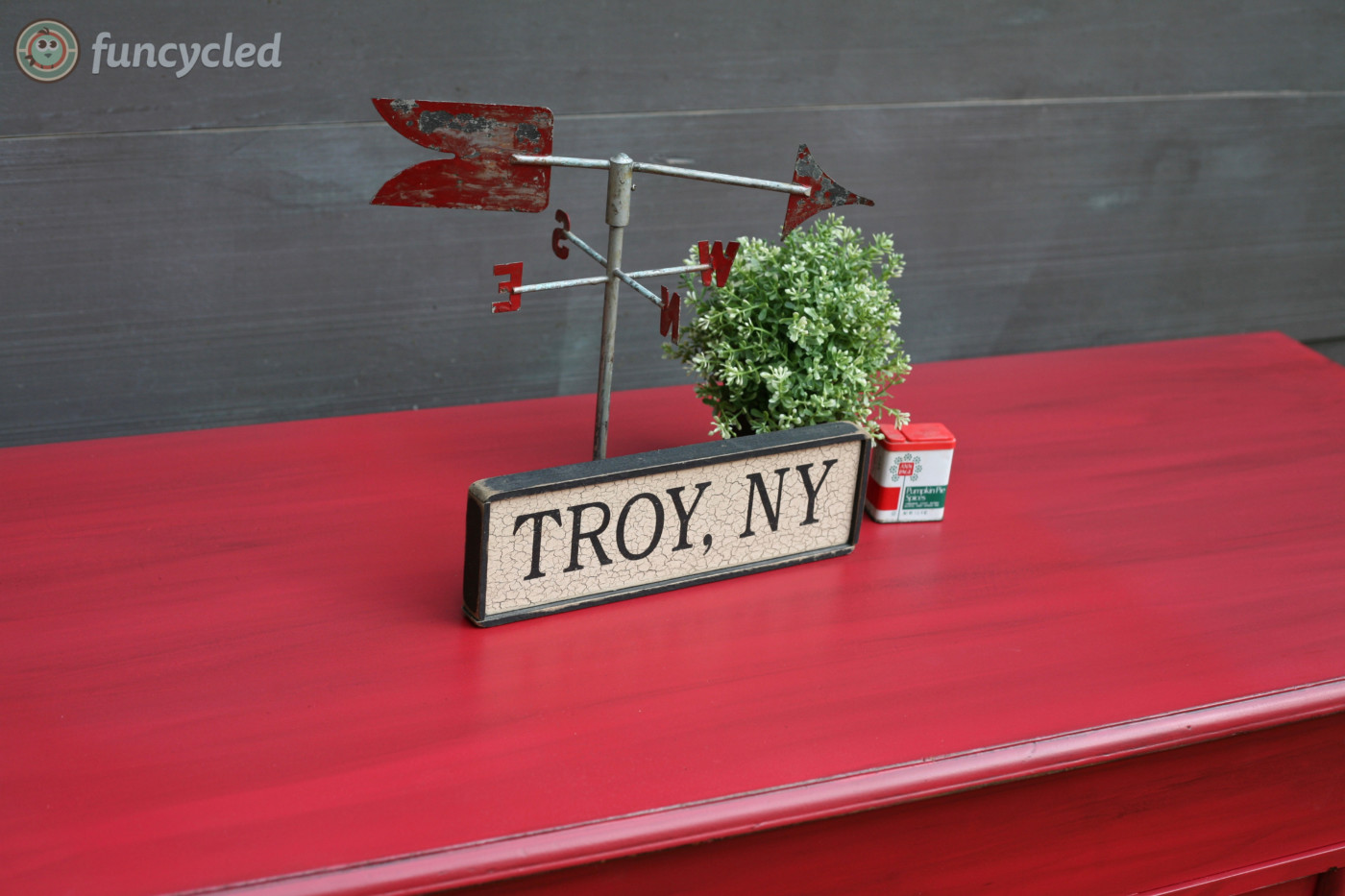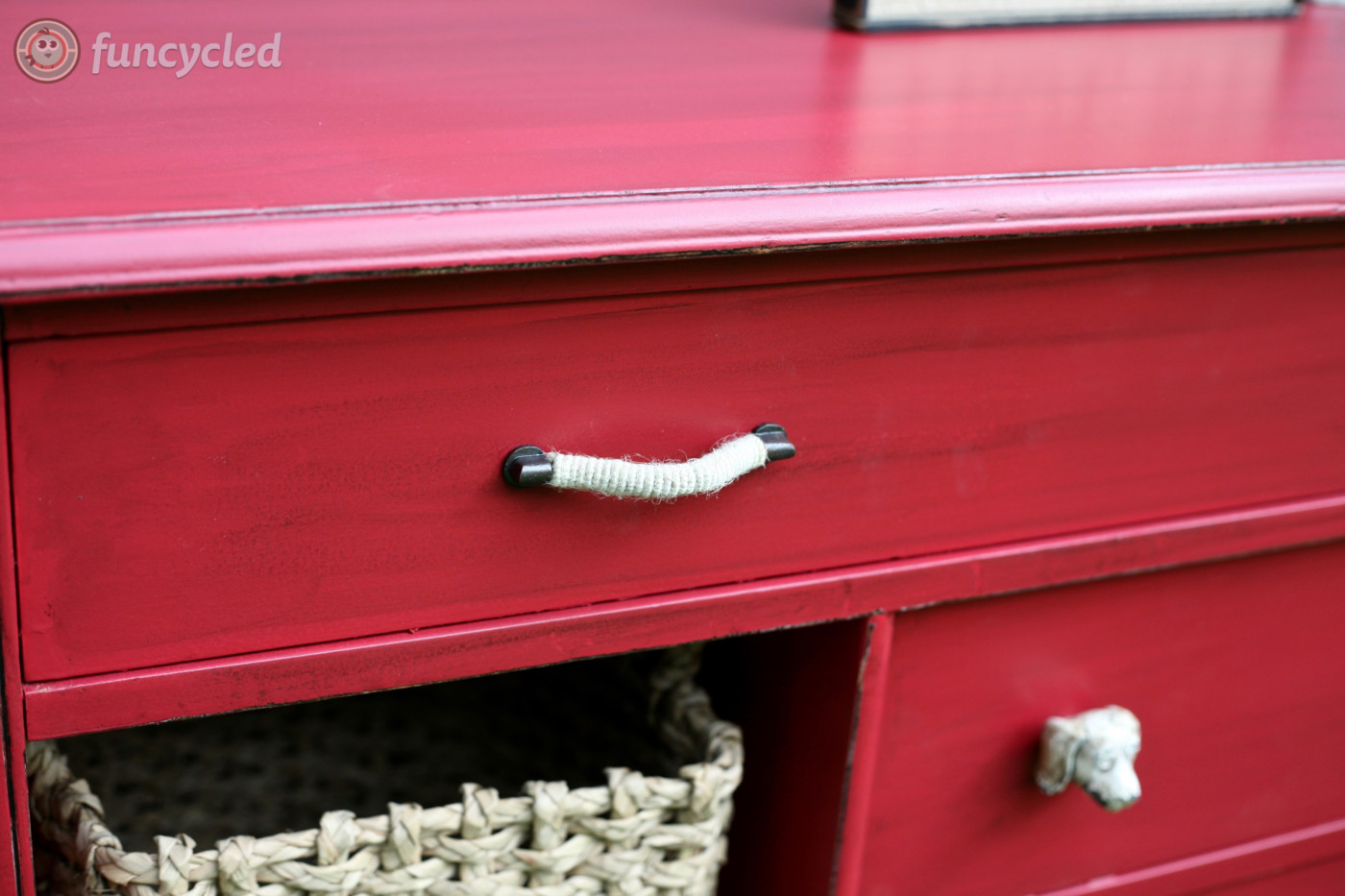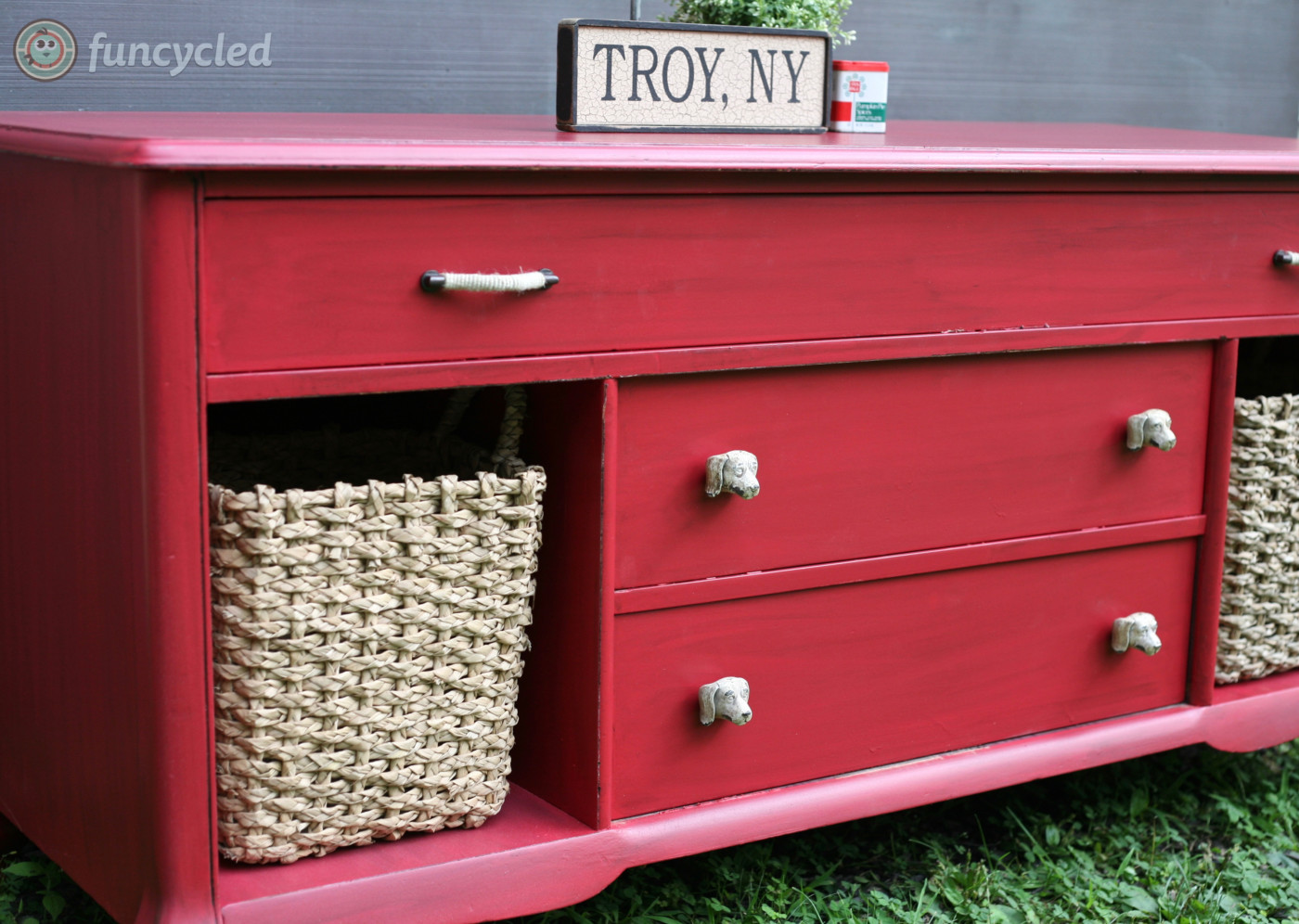 Worth saving, right?? This buffet is not available to purchase but you can check out other new furniture for sale on our website here! If you'd like to purchase anything, please use our Contact Us form or stop by our store at 272 River Street, Troy, NY. I also added quite a few other new pieces to the store!
There is a box at the top right of this page to enter your email address to receive notifications by email when I post something new on this blog. Please sign up today!
Happy FunCycling Friends,
Sarah ;)
If you like what you see, please like FunCycled's Facebook page to keep up to date on the newest finds, vote on colors and give your input on our creativity. Last but not least, let us customize a furniture piece for you. We create custom furniture and will deliver for customers in upstate NY and also ship throughout the US. Send us a note with what you would like using our contact page. Or buy something that we've already designed from our furniture for sale page.