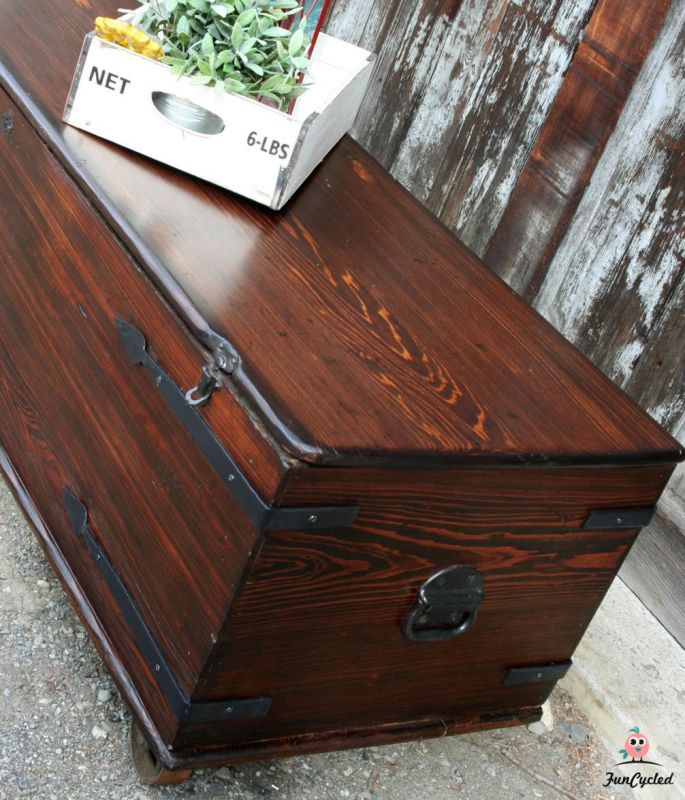 OK, OK, it's not really a coffin… it's just a HUGE beat up old trunk!!! It's so big that I probably could bury my little sister in it (of course I wouldn't – you know that, right, Lee Lee?).
Happy Tuesday's Treasures! Has another month nearly gone by?? How can this be? Between custom orders, life changes and the dishes…  I feel like I blinked and this month is about gone. I've shown you so many pinks and reds during this month of love, so today I'm sharing a love of wood that I also enjoy. Sometimes I get comments on Facebook or on my website about how I should have refinished a piece instead of repainting it. I respect their opinions, but usually disagree. lol  I just like the painted look much more on most furniture pieces… except ones like this. ;)
Here's the before picture… an over 5 foot long wooden box. We bought it from a man  who said it came from a farmhouse in Connecticut. It was in really rough shape… scratches and abuse all over it. I could see past it's ugliness and thankfully have a hubby who trusts my gut by now. He carried this coffin turned coffee table in and out of my work space for me and that was no easy(or light) task.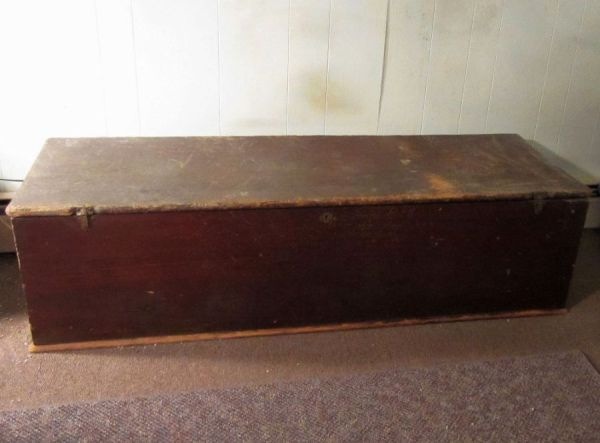 After 4 hours of sanding, it was finally ready to be beat up by yours truly. Yes, you have to make it look perfect before it can be beat up or "distressed" in the right way. So, I went at it with a hammer, screws, and a 5 in one tool to give it the distressed look that I wanted. After you beat it up, you have to hit it again with a 220 grit  sanding to smooth out what you've just distressed.
Then I stained it with Minwax's Jacobean 2750 to give it a nice deep, dark base and for the second coat of stain, I used Minwax Red Mahogany 225 because I wanted it to have a red hue without screaming redness at me!
We custom ordered corner brackets from an iron smith. They were one of the hardest parts to find. I wanted something that would wrap around the corners of the trunk, but something that was also long enough to be the right size for a 5 foot trunk. I looked everywhere online to find something, checked local hardware stores, called trunk makers from California to New England and no one had what I wanted. Finally, I found the right shape online and then I asked an iron worker if he could make the right length and style for me. He was awesome and put the 90 degree corner in it and hand hammered each arrow head a the end. I loved that they are not exactly the same and it gave the trunk a more authentically rustic feel because that's how it would have been done 100 years ago.
I also added antique caster wheels from old engine carts to the base. They look so tiny on this trunk because it's huge. I LOVE the whole look and definitely didn't want to hand this one over to our customer Jen. Jen let me go with my gut for everything with this trunk and was so sweet. When we finished it, John said, let's just keep this one. I had to break the news that it was a custom job. He was a sad puppy! lol 
Are you ready for the after pictures?? I know I am and I've already seen it!! Oh, and I think it looks a little murky in the pictures, but it didn't look that way in person at all. The photo of the top gives you a better indication of the finish. As Jen said when she picked it up, "It looks even better than in the pictures!" Yay!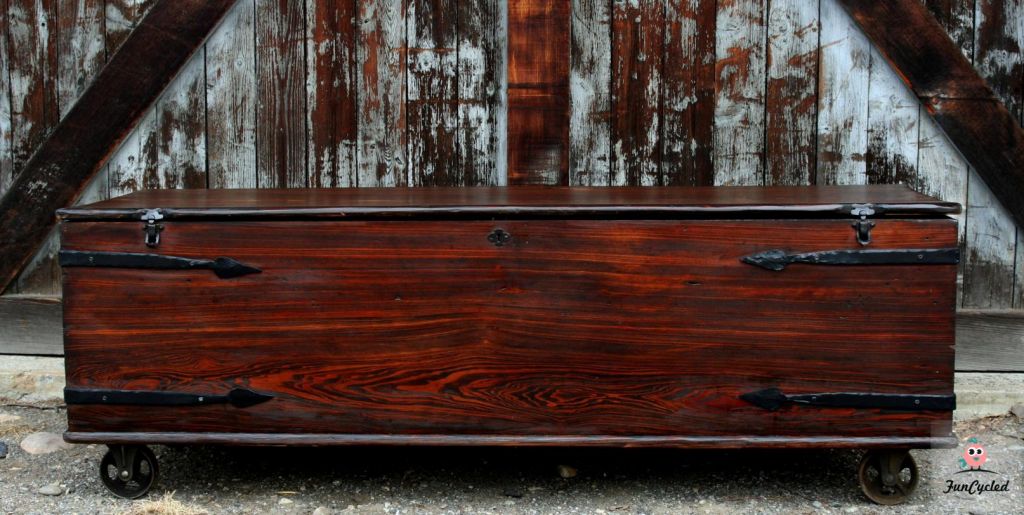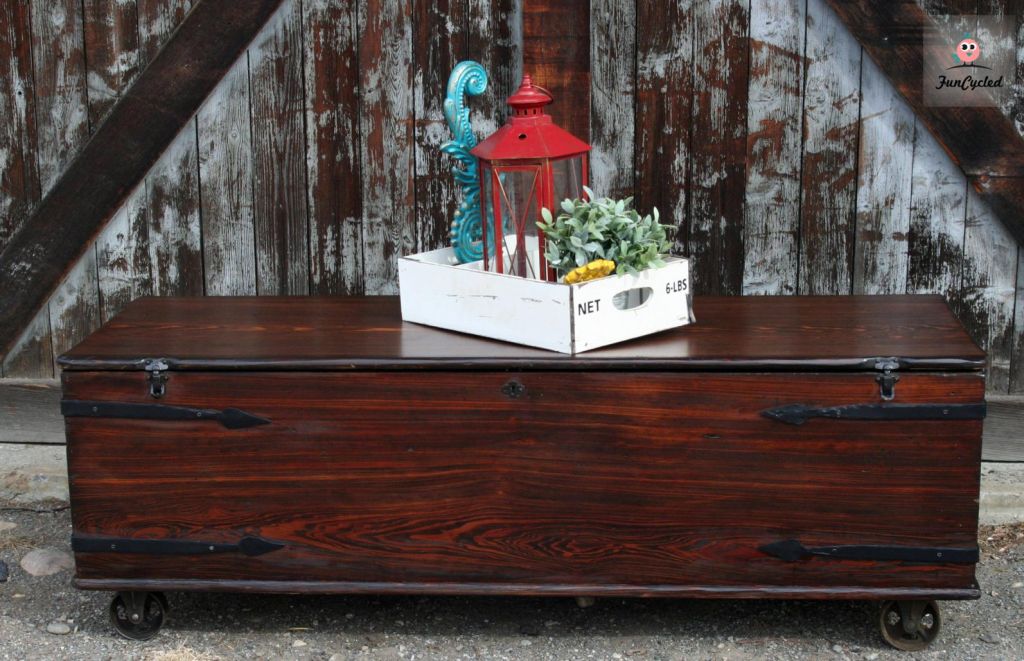 Look at the grain on top!!! Ahh… sooooo pretty!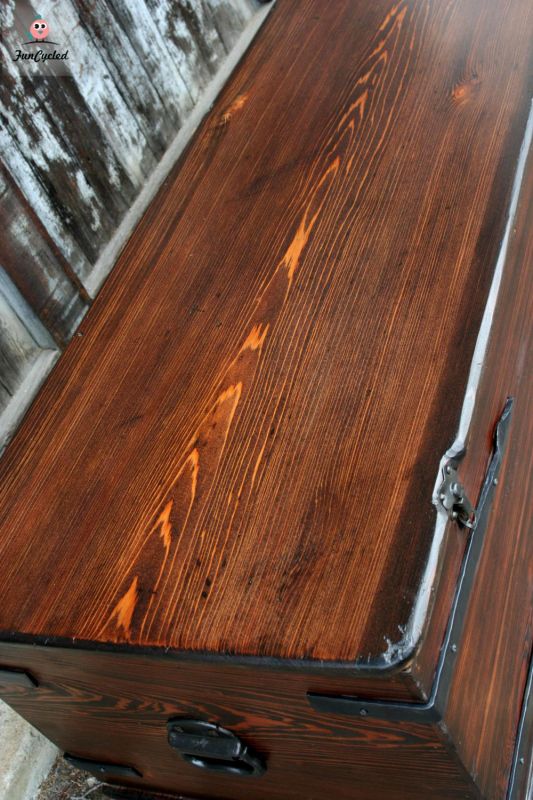 And a close up of those amazing corner brackets! Thank you Will!!!
Happy Redesigns Everyone,
Sarah
If you like what you see, please like our face book page to keep up to date on the newest finds, vote on colors and give your input on our creativity.
There is a box at the top right of this page to enter your email address in to receive notifications by email when I post something new on this blog. Please sign up today!
Last but not least, let us customize a furniture piece for you. We create custom furniture for customers in upstate NY and ship throughout the US.  Send us a note with what you would like using our contact page. Or buy something that we've already designed from our furniture for sale page.