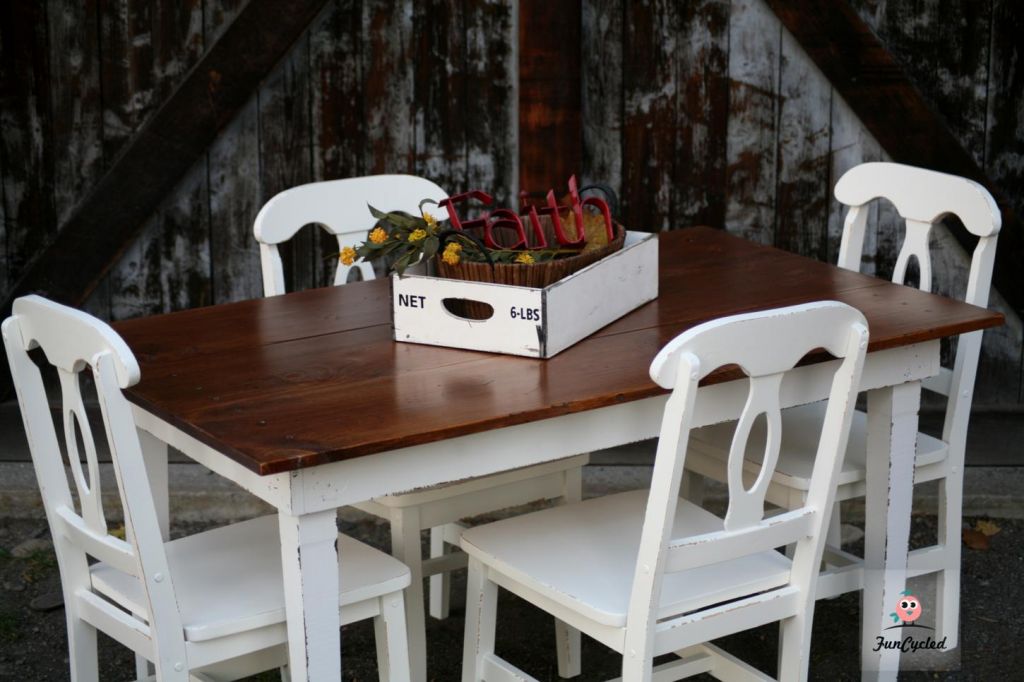 Happy almost half way point through November! I can't believe it's almost Thanksgiving!! Time and furniture designs are flying by (in a very fun filled way). We've been getting into a good groove around here -it's so nice to feel momentum and progress. Pushing out the custom orders and actually getting to create some new pieces for our Furniture for Sale page. If you haven't checked it out in the last week, you simply must! There are quite a few new pieces and we'll be adding even more this week.
John and I loved the shape of this table when we saw it for sale. We bought it right away! It has such a rustic charm about it! Well, here's the table before.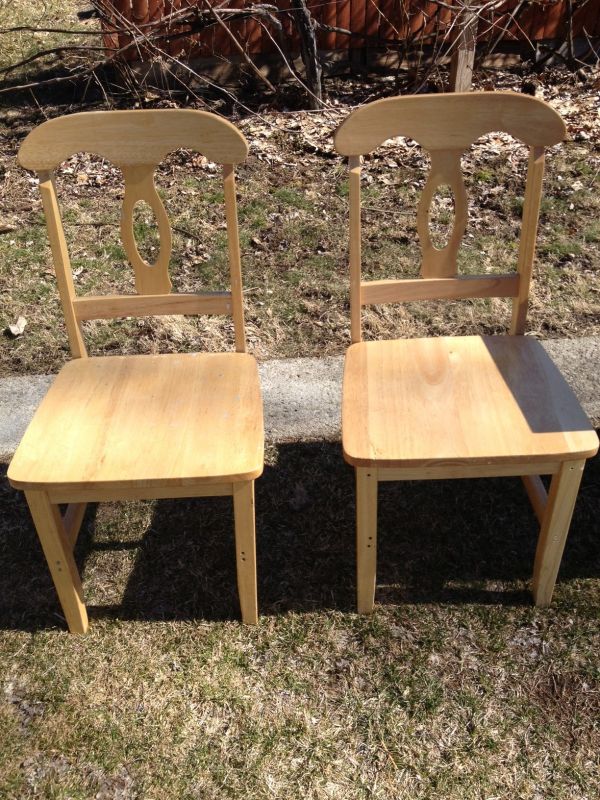 We went to sand the top of the table back to the original wood, but it did not go well!! It had a sticky substance all over the top that not only wouldn't come off with cleaner, but also clogged our sander every time. So, John decided to go ahead and remove all of the top boards and add new boards. I'm really glad he did! He was able to take out pent up aggression on the table top while distressing it ;). Here's a little insiders info… I usually do all the finishing work – the glazing and distressing. John does all the painting now that he's working full time at home. Home… where love is. Someone at church said that the other day and I loved the ring of it. Rabbit trail. lol
Anyway, he beat up the top using a hammer, screws and nails, then stained it with Minwax Early American color. We also painted the table legs and chairs with Benjamin Moore's mascarpone AF-20 and distressed the chairs slightly.  One little detail I loved is that we used antique square head nails from my great aunt to attach the table top to the base.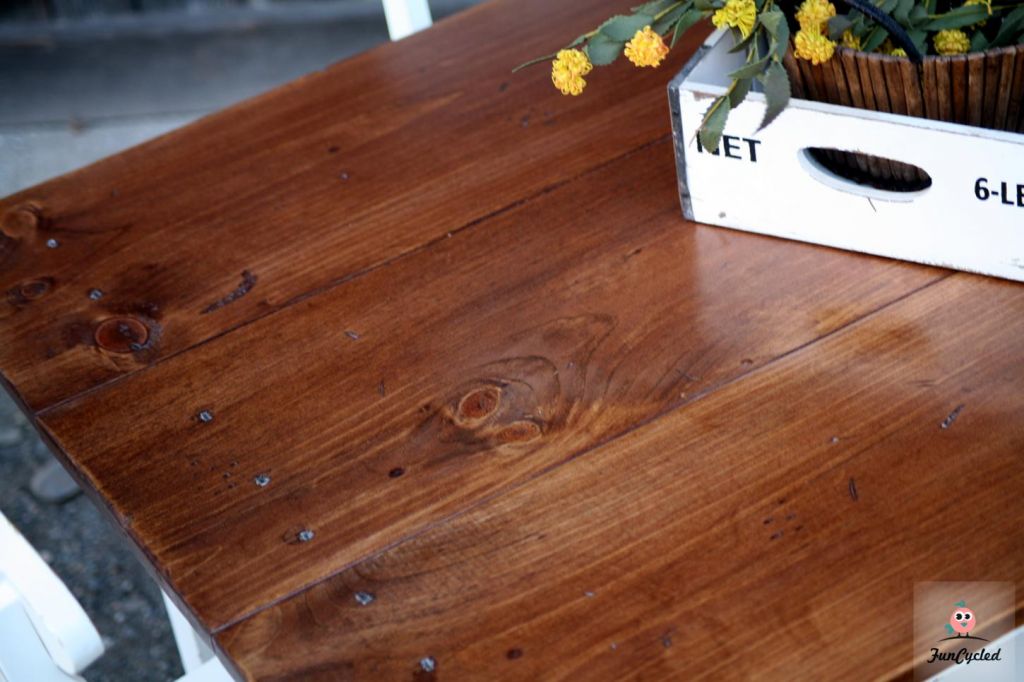 Are you ready for the rest of the pictures??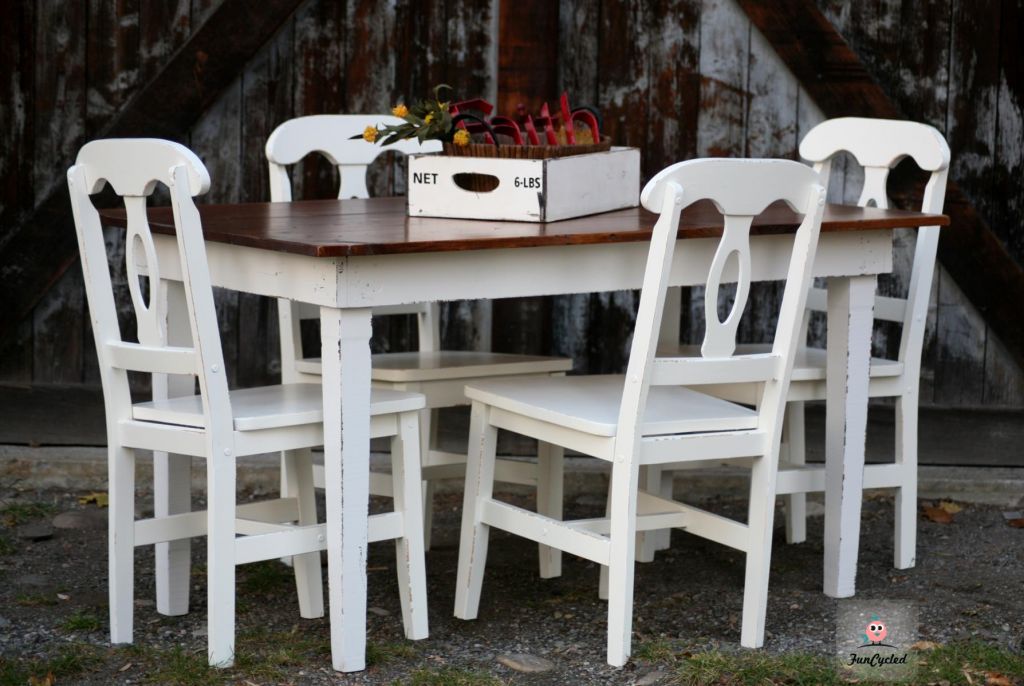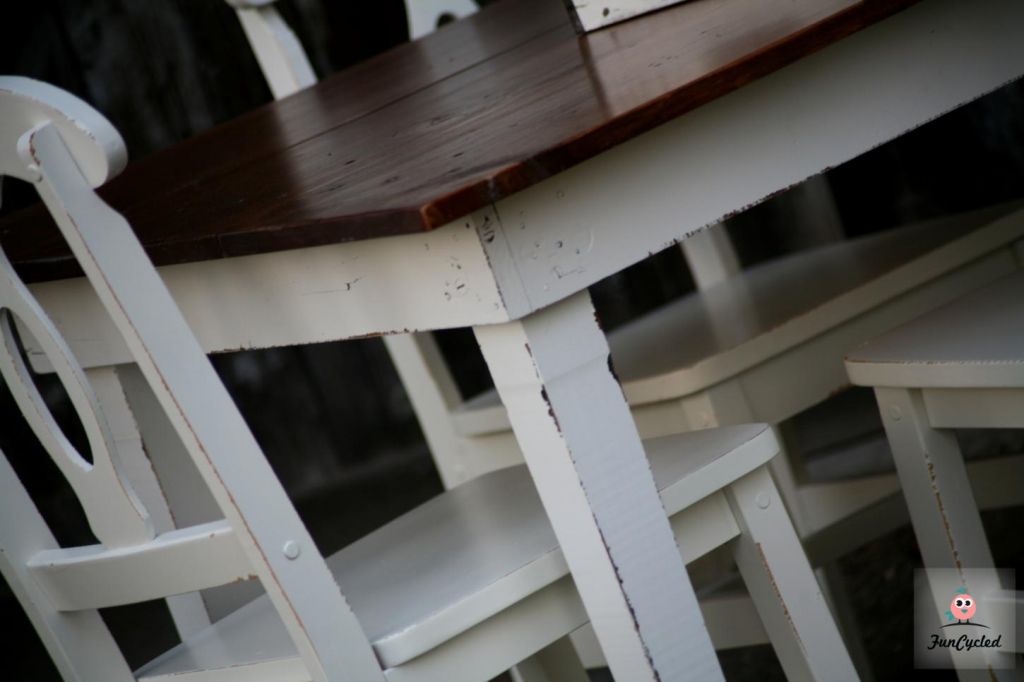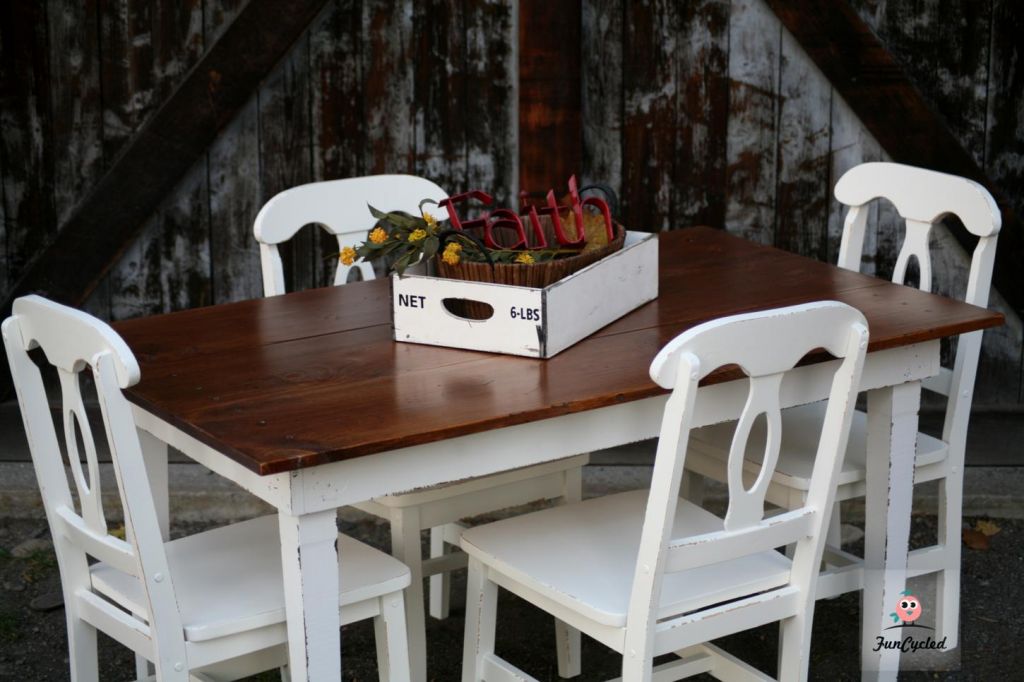 The best part is, this set is FOR SALE! Check it out on our Furniture For Sale page. Just in time for the holiday's!!
Have a wonderful week and we'll see you again soon!!
Happy redesigns everyone,
Sarah
If you like what you see, please like FunCycled's Facebook page to keep up to date on the newest finds, vote on colors and give your input on our creativity. There is a box at the top right of this page to enter your email address in to receive notifications by email when I post something new on this blog. Please sign up today!
Last but not least, let us customize a furniture piece for you. We create custom furniture and will deliver for customers in upstate NY and will also ship throughout the US. Send us a note with what you would like using our contact page. Or buy something that we've already designed from our furniture for sale page.