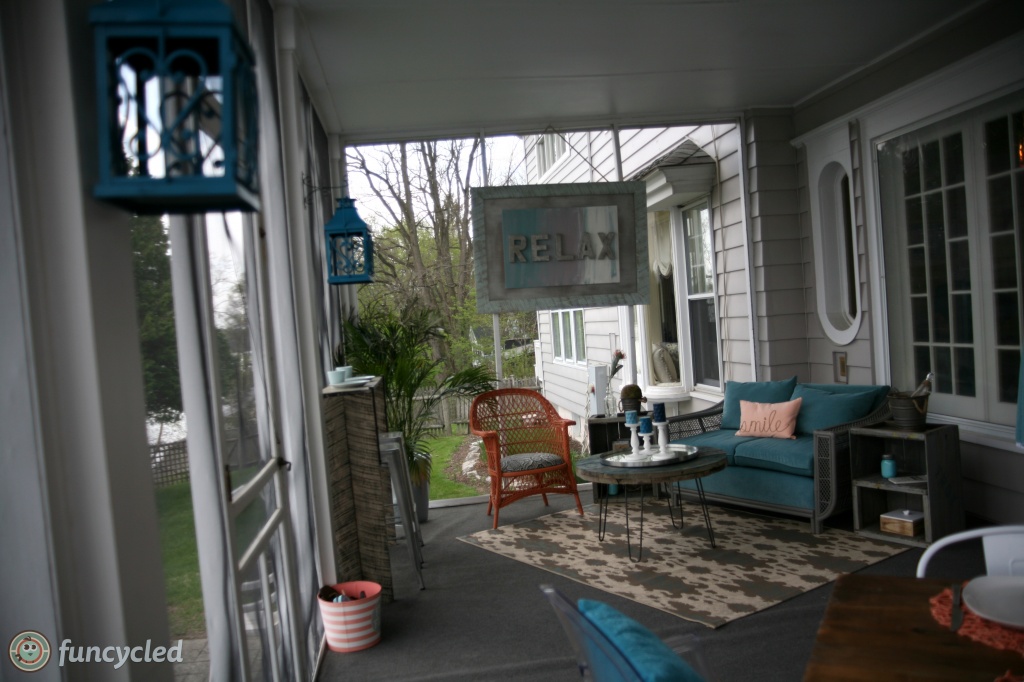 What is the Vanguard Show House? The Vanguard is an organization that raises money to help support the Albany Symphony Orchestra. You can see the Vanguard's website for pertinent details such as the hours the house is open. This year's home is at Rockledge at 158 Van Wies Point in Glenmont.  This historic home, started in 1904 as a summer retreat on the Hudson River, was refurbished and decorated by fourteen designers representing twelve Capital Region businesses. It's easy to get to, all you need to do is park at the Glenmont Price Chopper (the intersection of Route 9W and Glenmont Rd.) and they will shuttle you to the house.
The show house is open to the public.  Visitors pay to tour the home and the money raised goes to support the Albany Symphony Orchestra. This year they asked us to consider taking on the screened porch area. We gladly accepted! My vision for the space was for it to have a relaxed feel, with plenty of seating, offering indoor comforts with outdoor style – creating plenty of reasons to spend as much time outside as possible. I also wanted the furniture that we made to be rich in history and full of charm.
You'll definitely want to go see the house because all of the designers did amazing jobs! You will find something(s) to love about every room. Here's a tour of our porch design. (And FYI – almost everything you see in these pictures will be for sale in our store on May 23rd or you can pre-purchase anything starting May 18th).
The dining area was designed for plenty of seating and visual impact. We built the table using parts from historic homes in Albany. The indoor/outdoor table was built using a door from an old home that was torn down when Albany Medical Center expanded and the pillars (table legs) are from an historic Albany home as well.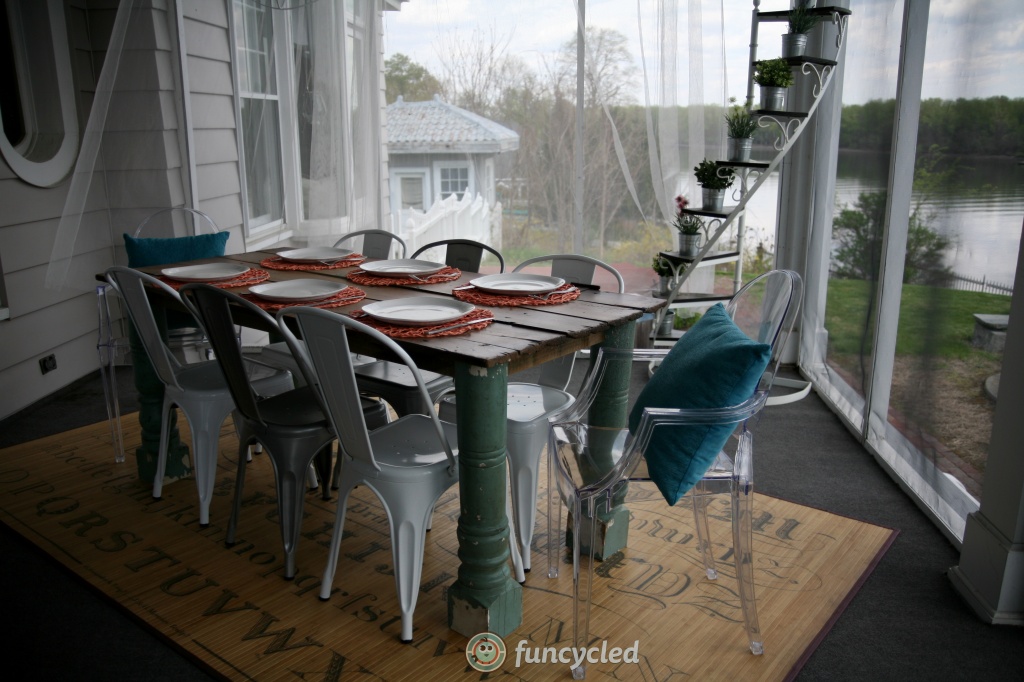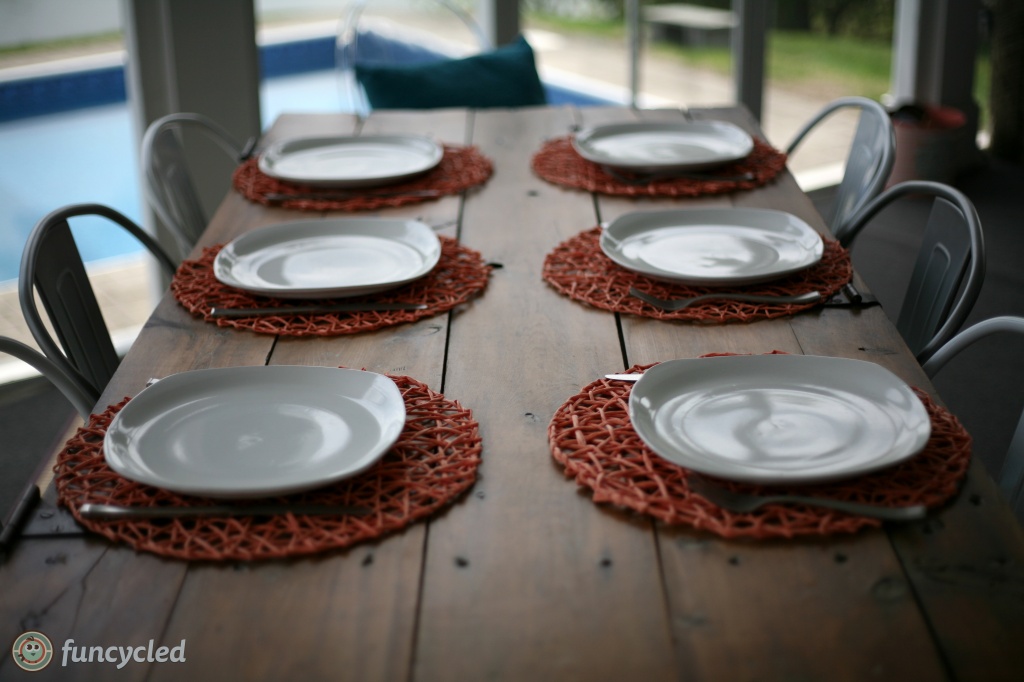 The spiral staircase plant stand is one of a kind. I've never had one like it to work with. We sanded, painted and added a pop of color on the steps.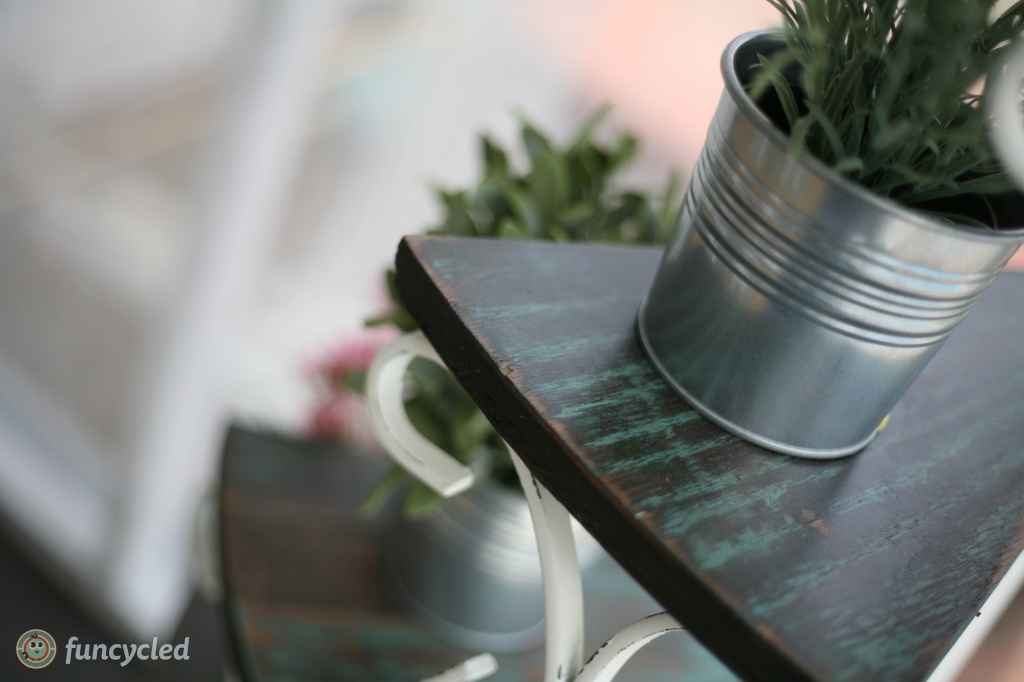 We included additional storage with this shelving unit that came from an old home in Saratoga that we added legs to.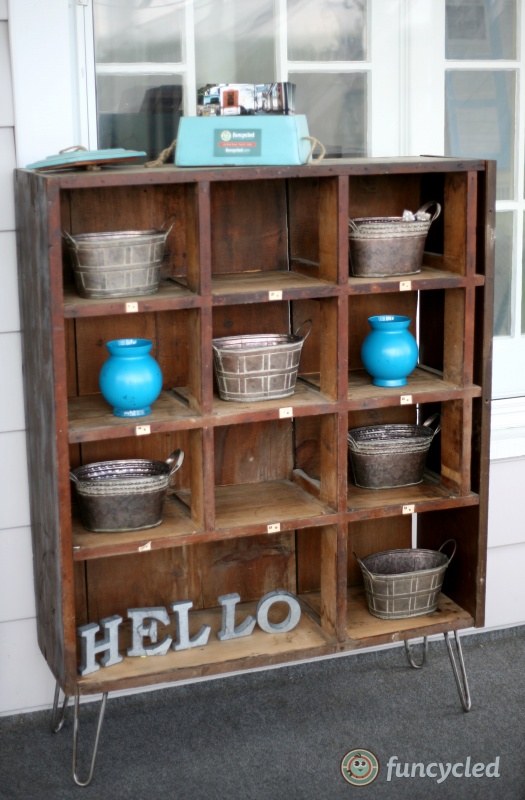 The orb pendant above the table was created to bring your eyes up a bit when you walk in the room. We may end up adding lighting to it, but for this room there was no electricity run to the ceiling so it couldn't be lit.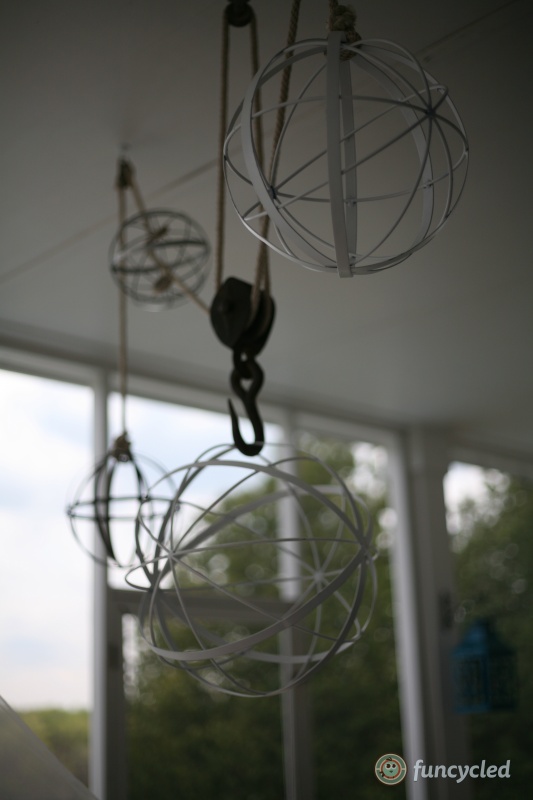 The seating area was so fun! We painted wicker furniture to compliment each other. The love seat and chair have been reupholstered and are ridiculously comfortable.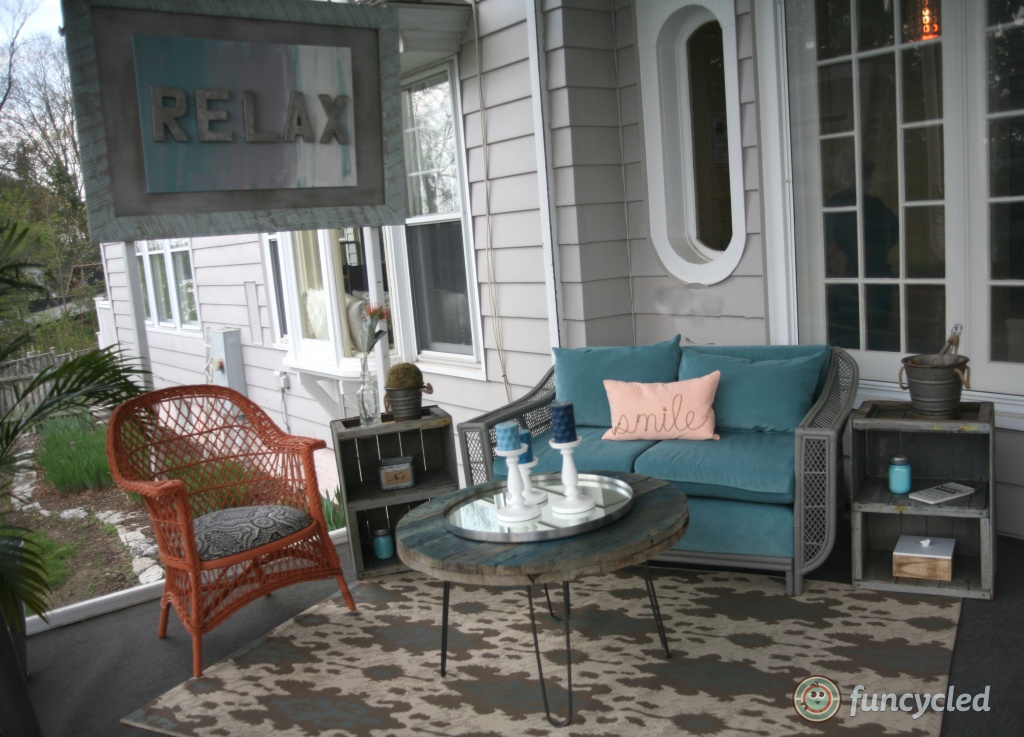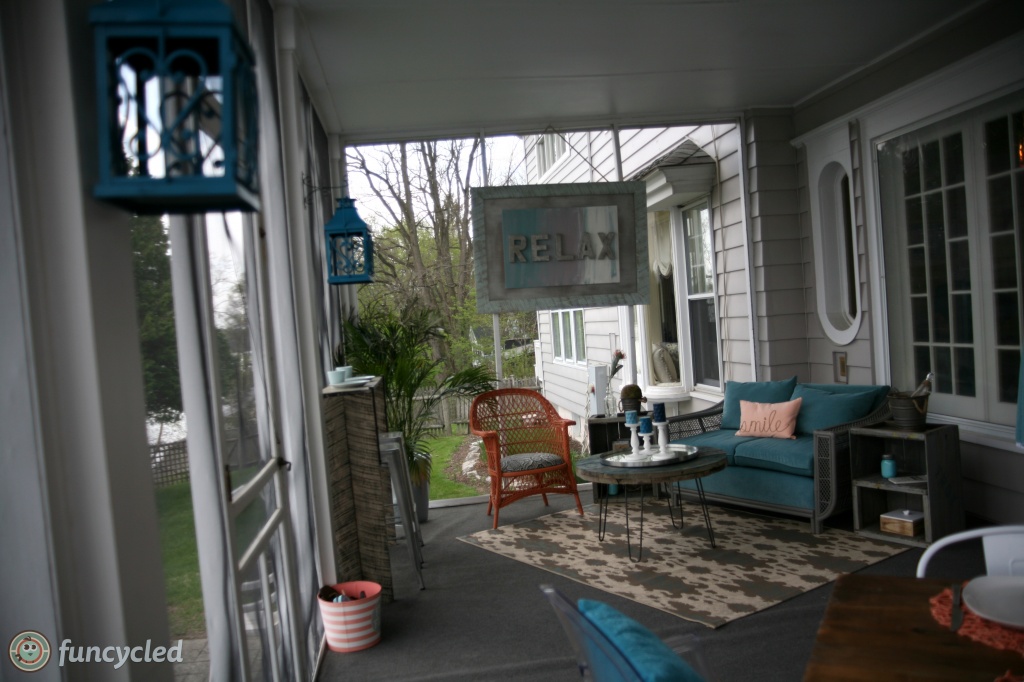 We made the coffee table from an old cable spool and added legs. We have more cable spools available if you would like to custom order a table. The bar was custom built as well and we used metal from an old yoke to give some fun detailing to the front of the piece.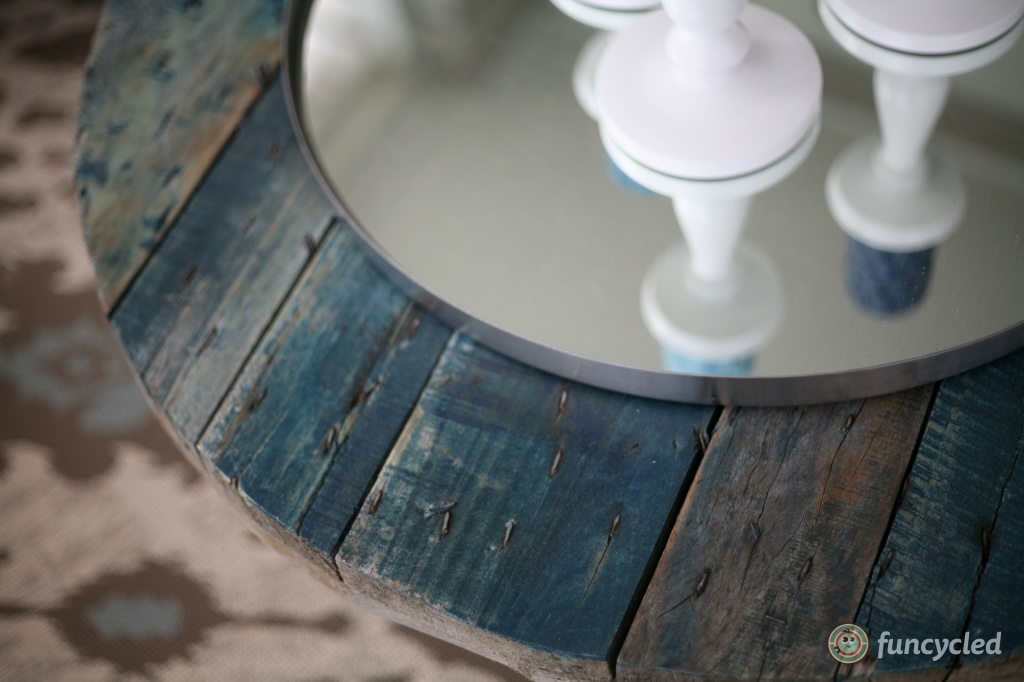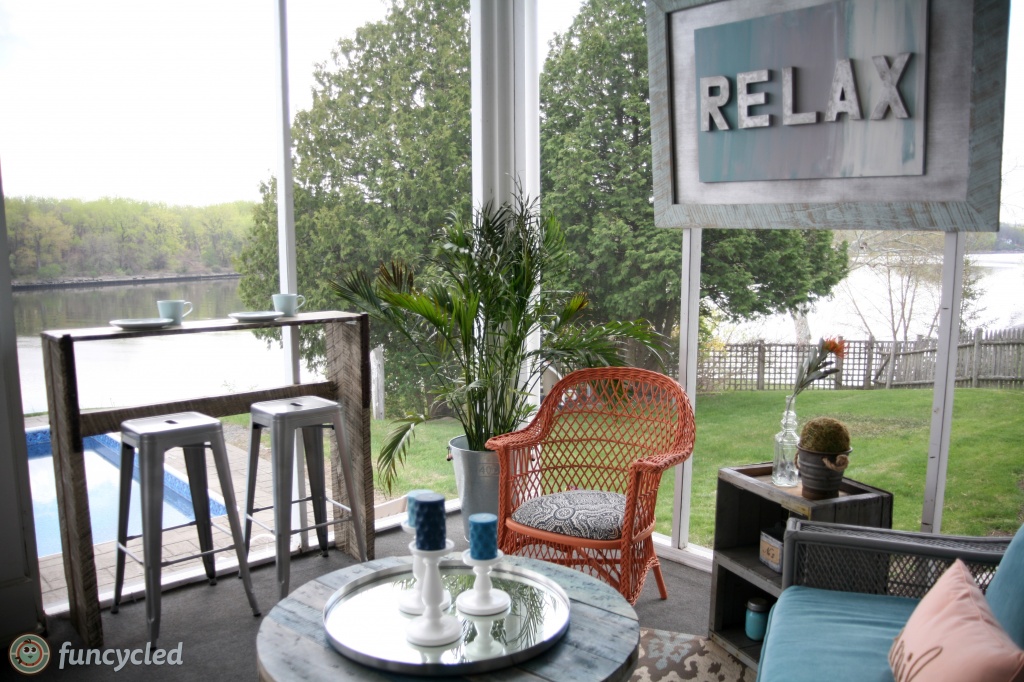 I painted and designed a large art piece saying RELAX. Just what I wanted the space to be… a place to relax.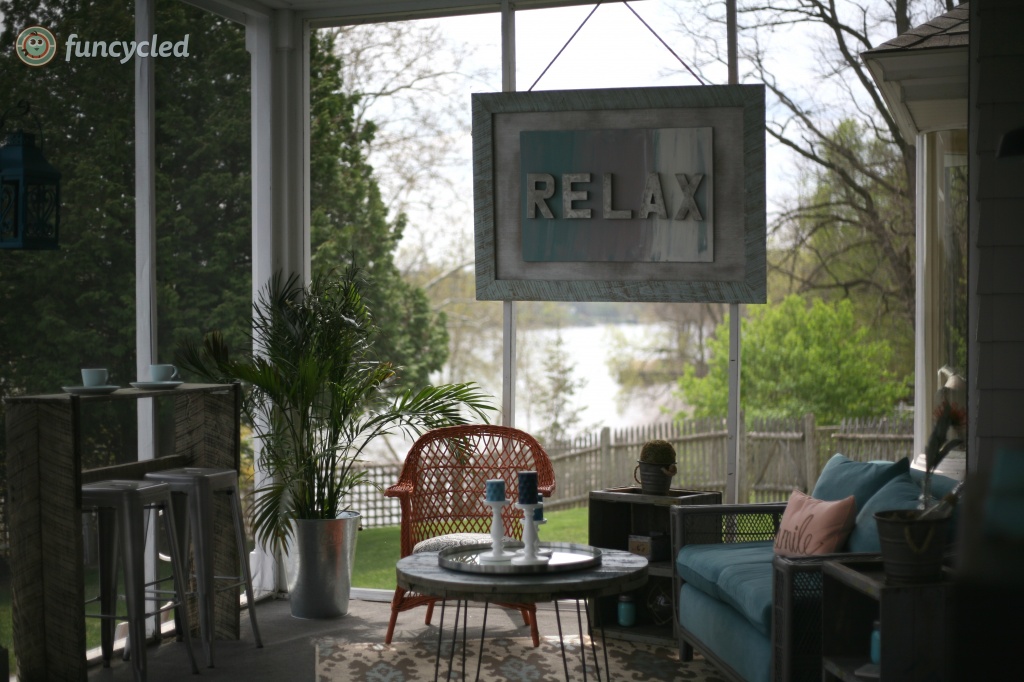 Thank you to the Vanguard for asking us to be part of this design and to all the designers who treated me like family from day one! We had a blast and hope to do it again next year. Also, a big welcome to all of our new customer, friends and followers who learned about us while touring the Vanguard house. We would love to create custom furniture, paint furniture you already have, or have you buy one of our own designs!
If you like our Facebook page, we will be giving away 2 tickets to tour the house on Saturday or Sunday (May 16th or 17th), The  show house closes on May 17th at 5PM. Also, there is a box at the top right of this page to enter your email address to receive notifications by email when I post something new on this blog. Please sign up today!
Happy FunCycling Friends,
Sarah ;)
If you like what you see, please like FunCycled's Facebook page to keep up to date on the newest finds, vote on colors and give your input on our creativity. Last but not least, let us customize a furniture piece for you. We create custom furniture and will deliver for customers in upstate NY and also ship throughout the US. Send us a note with what you would like using our contact page. Or buy something that we've already designed from our furniture for sale page.