Putting together a list of the top ten posts this year brings back so many memories. Thank you to all of our customers and blog followers this year.  I can't believe it's only been a year since we've started all of this and I am so thankful for being given the gift of doing what I love every day. Sometimes I want to pinch myself to make sure this is real. God is a good!
Also, I wanted to say thank you to some special people that were an integral part in the success of FunCycled. A huge thanks to my mom for helping me so much with the kids to give me time to meet with you, paint for you and write away on this blog. Thanks to my amazing brother Jesse for designing this website for me and always challenging me to take risks, be better than the rest and open myself up to the world. Thanks to my dear friend, Jo Ann, who reads all of these posts before I hit "post" to keep me from looking like too much of an idiot. lol Thanks to my "posse" of friends, family and customers-turned-friends who get my texts and always encourage me.
So, here is a this list of best furniture projects in 2012 based on how many people viewed the pages on our website. With no surprise at all, coming in first by far…
1st Place – Vintage Teal Hutch
You can see the story behind it and how we redid it here. A huge thanks to my friend Tiffany for filling your first home with our furniture and being bold enough to order a teal hutch… which I'm completely in love with by the way. :) This hutch was also featured on Domino magazine's facebook page.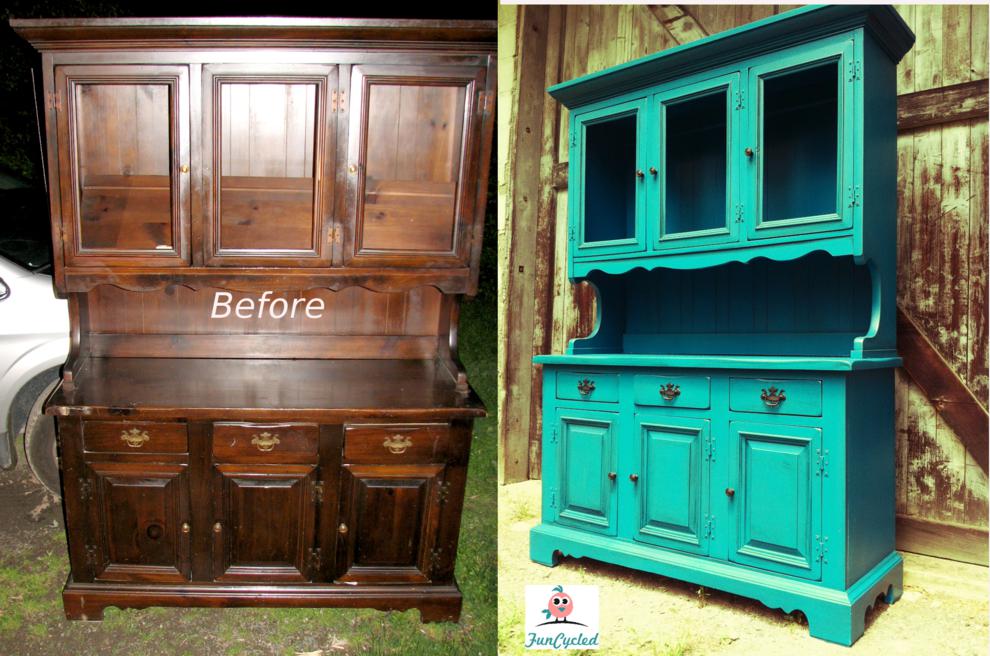 2nd Place – Aqua and Milk Chocolate Desk 
This was actually purchased by one of our fans named Jane. Then another fan from Boston called me and asked if they could buy it from Jane. Now Kevin and Rebecca are the happy owners of this beauty. How funny, right? This desk was also featured on the Better After Blog and a blog in Iceland. Woot Woot!! You can see the story behind this piece here.
See before and after pictures here.

3rd Place – Kelly Green Dresser / Antique Red Dresser Turned Entertainment Center
They shared the same post so they have to share the same place… two in one. Both of these pieces were featured on the Better After Bog. The entertainment center was on the top of my favorites list this year. If you had seen it in person, you would think it was ready for the curb, but bringing it back to life was so much fun. Not to mention, I gained a friend named Nancy who has helped me in so many ways by giving advice and being a listening ear. Thank you Nancy for the business and friendship! Find out the story behind these pieces here.
Before: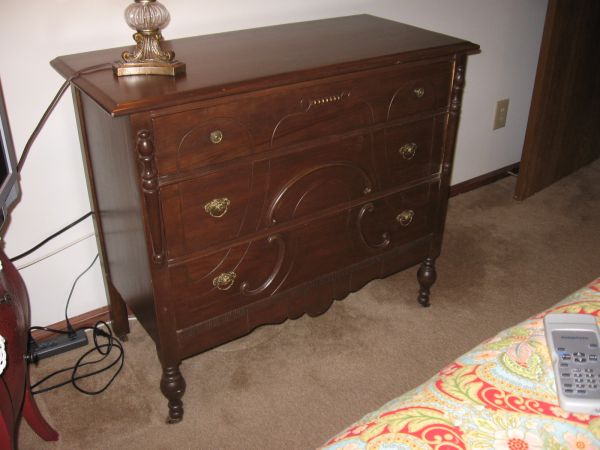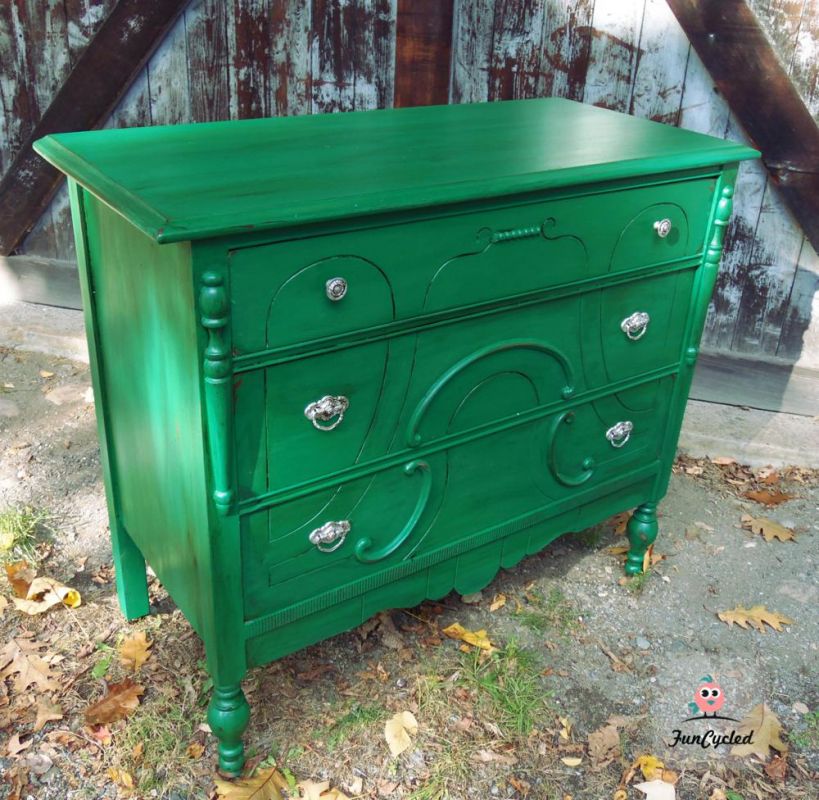 Before: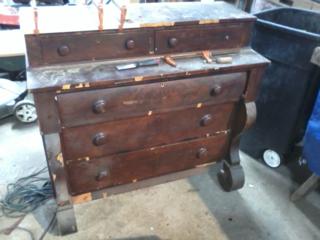 After: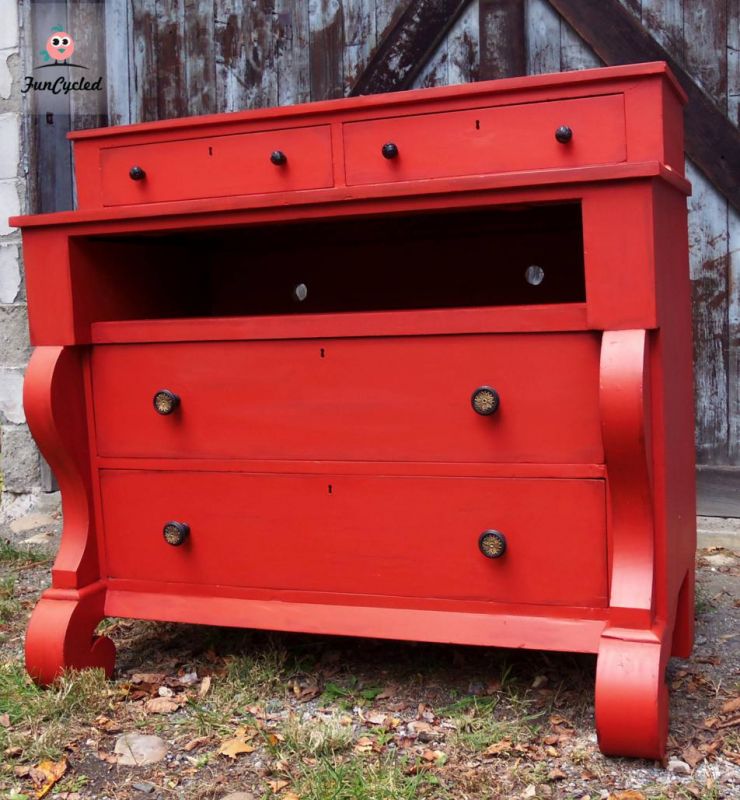 4th Place – Oh Baby! Chevron Dresser
This was my favorite chevron dresser of all the chevron pieces this year and I was thrilled to see that you all agreed! Theresa (who bought this dresser) is one sweet lady and baby CJ ;) was born in December. This dresser was waiting for him in the nursery and I'm sure it's one of the first things he noticed when he came home from the hospital. lol Theresa is definitely a customer turned friend as well. ;) See the story behind this piece here.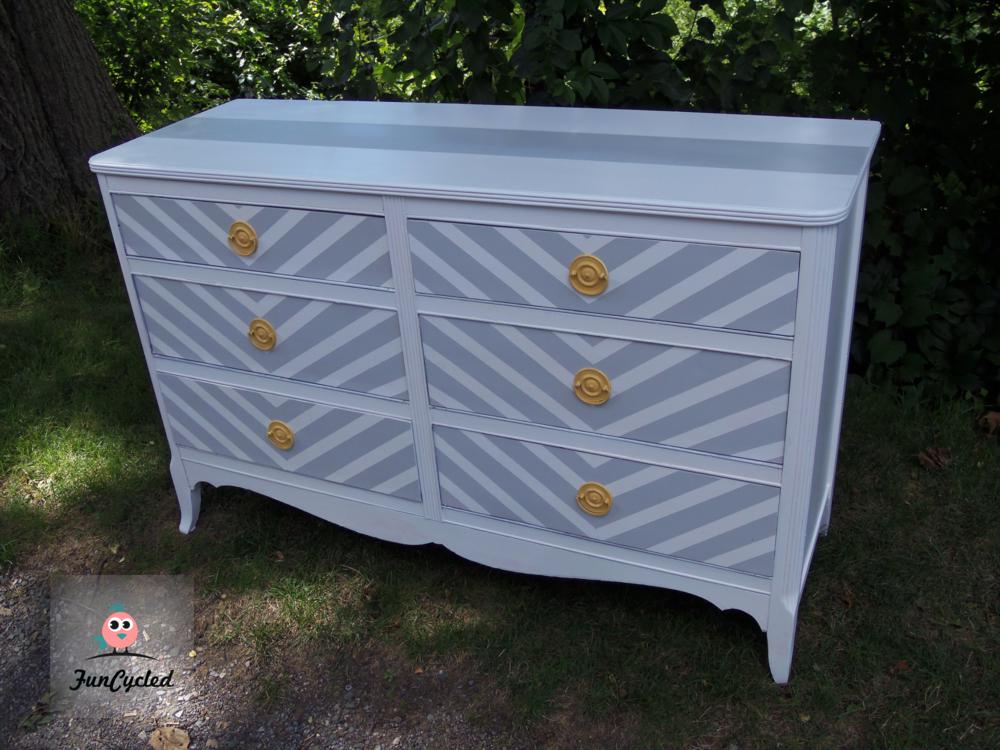 5th Place – Ombre Robot Dresser
This dresser was a Christmas gift for my amazing sister Sarah… Yup, we both have the same name. Don't judge… my parents lack creativity. ;) Just kidding! She came to live with us when she was 4 and is now all grown up. She let me do whatever I wanted as long as it included a robot for her son Calvin's room. Some ombre, metal gears and the cutest robot on earth. Who could not love that?? This piece was also featured on the Better After blog. See the story behind this piece here.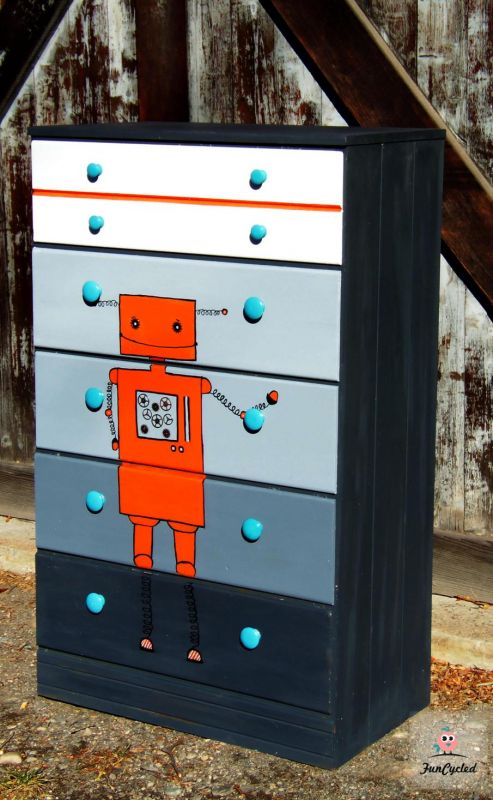 6th Place – Orange Love Birds Cedar Chest
This surprise Christmas gift for Allie squeaked in  right before the new year, but has already made it to the top 10! Orange birds… um… who can say no to that? Demian was a delight to work with and I'm sure Allie has to be one special lady for her husband to order this from North Carolina for her. Thanks to you both! See her story here.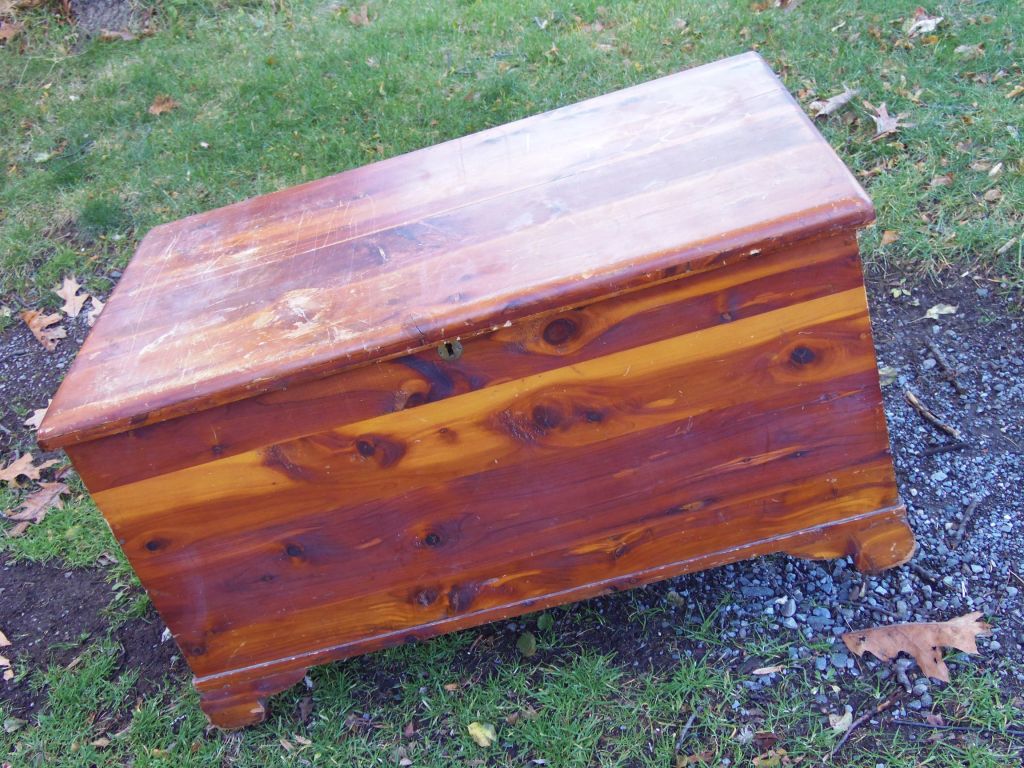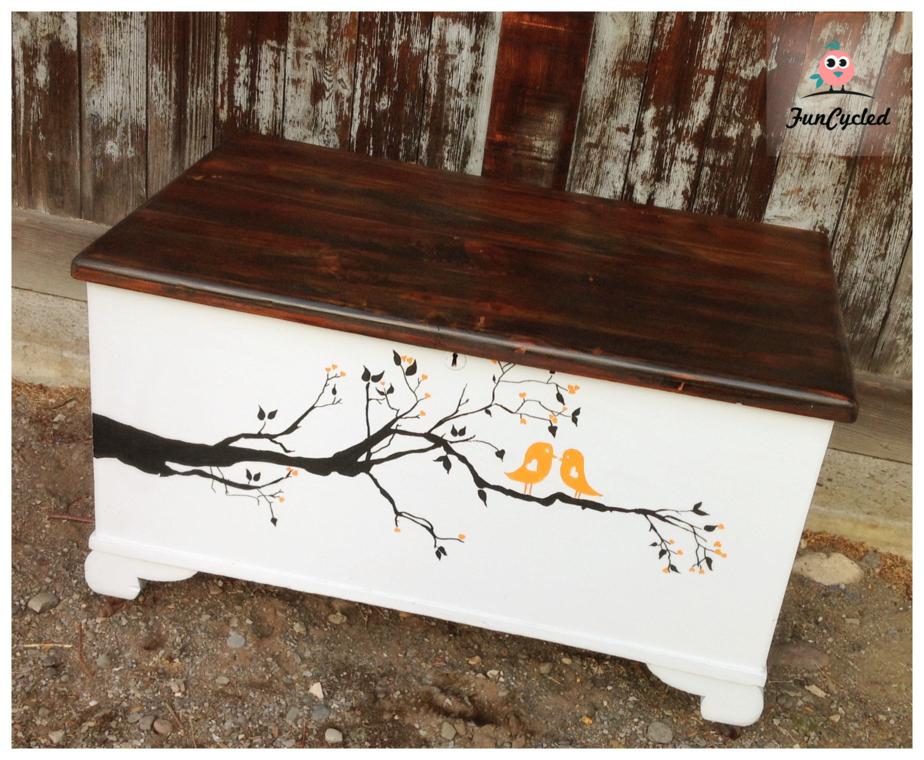 7th Place – Tree and a Bird Antique White and Black Dresser
I would call this one of our signature pieces… one that we were first known for. I loved this design and doing the first of many hand painted pieces. Many birds and trees later, I'm still loving this and am thrilled it made it's way into the top 10. See her story here.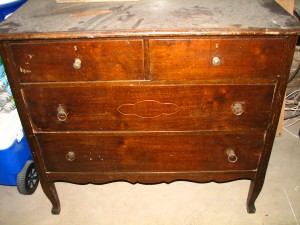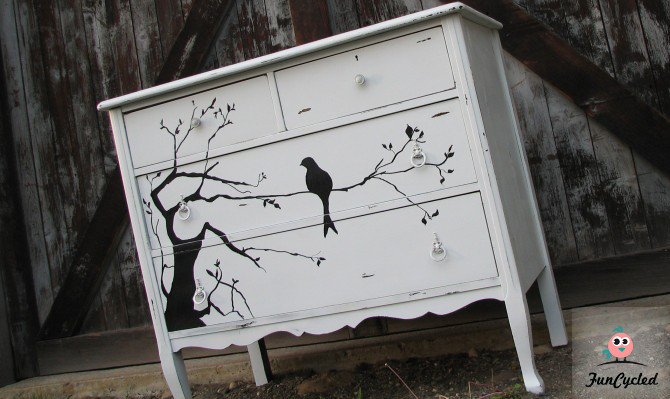 8th Place – Elegant Black Dresser
This was one of the first really beautiful pieces that I was able to work on. Before this piece, almost everything had a lot of damage or needed a ton of "love" as I would put it. This went with the bird dresser to the home of Emily and Jason. Another couple that we are happy to call friends. They have been more than kind to us and their home is beautiful… it could be in a magazine for sure! See the how-to on this makeover here.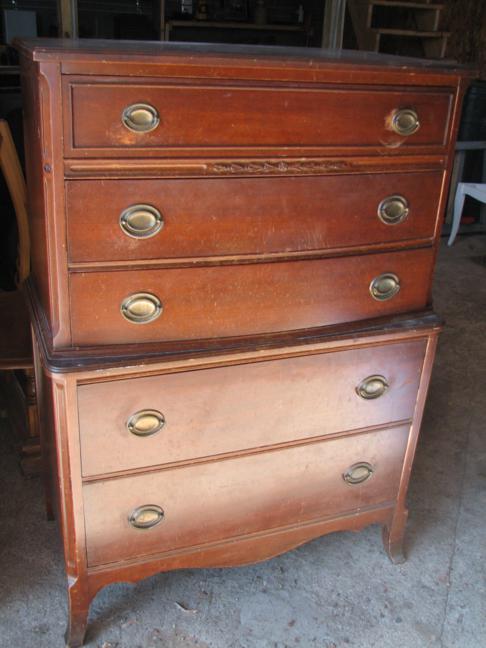 After: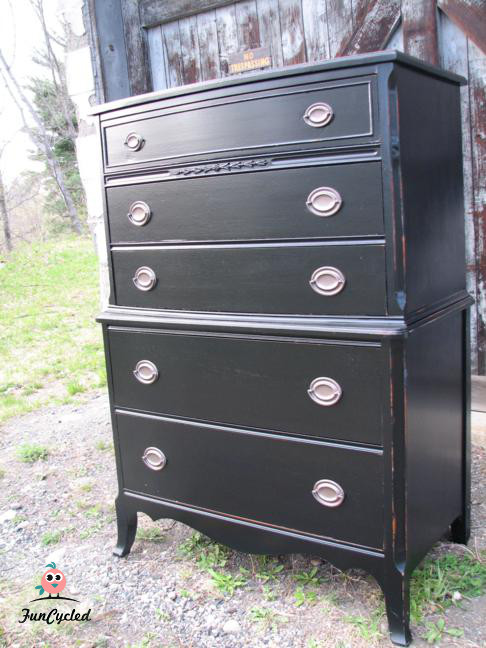 9th Place – Yellow Dresser Makeover
I was really surprised to see this piece on the list. Not because I didn't love it, but because I did it so long ago that I almost forgot about it. You should have seen us trying to carry this beast. Lol! It came out really beautifully and it was our first furniture delivery. See more pictures here.
Before and After pictures: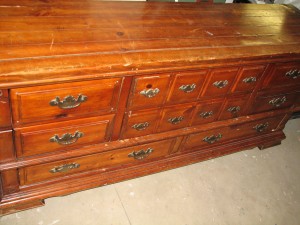 After: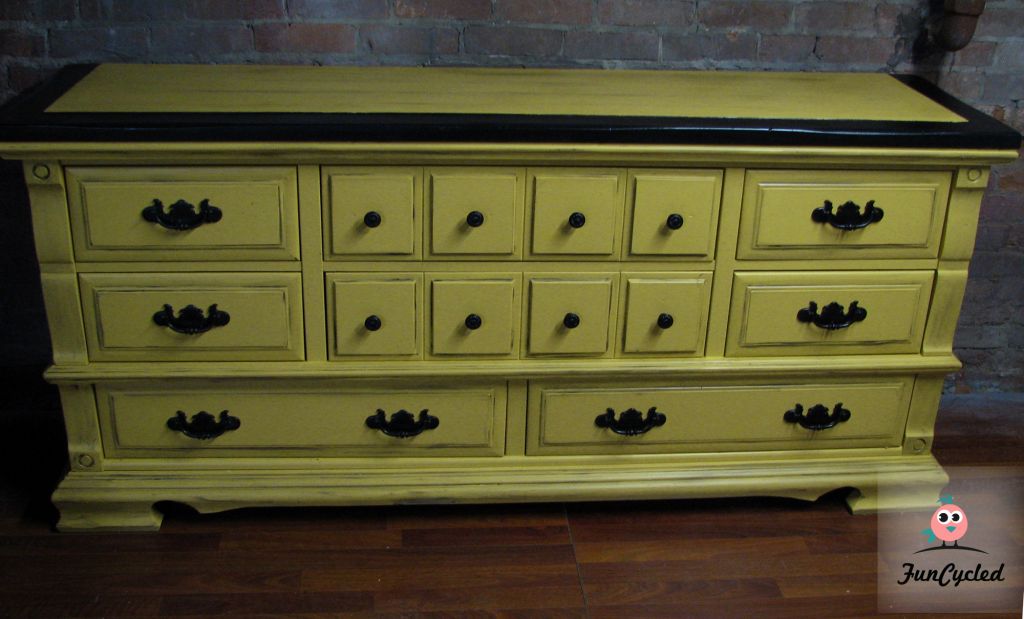 10th place – California Poppy Red Hutch
Last but certainly not least.
Since this hutch is still in my dining room, I'm happy to see it made it's way into your top favorites, too. A huge thanks to my friend Lara for this piece. I love looking at it every day; it makes me want to design furniture for your home that will brighten your day, too. See the story behind this piece here.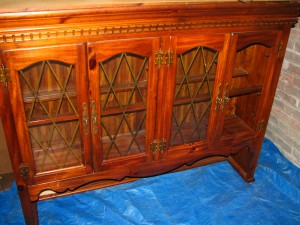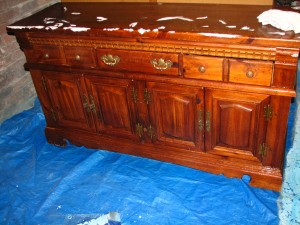 After: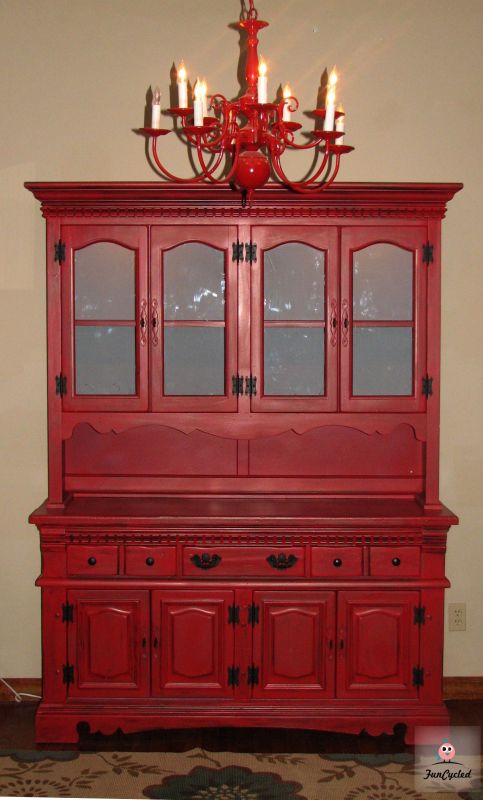 Thanks again to everyone for an amazing 2012. Here's to 2013 with more inspiration, custom pieces for you and new friends along the way.
Sarah
Check out our furniture portfolio page for other pieces that ALMOST made it on this list.
If you like what you see, please like our facebook page to keep up to date on the newest finds, vote on colors and give your input on our creativity.
Last but not least, let us customize a furniture piece for you. We create custom furniture for customers in upstate NY and ship throughout the US.  Send us a note with with you would like using our contact page. Or buy something that we've already designed from our furniture for sale page.