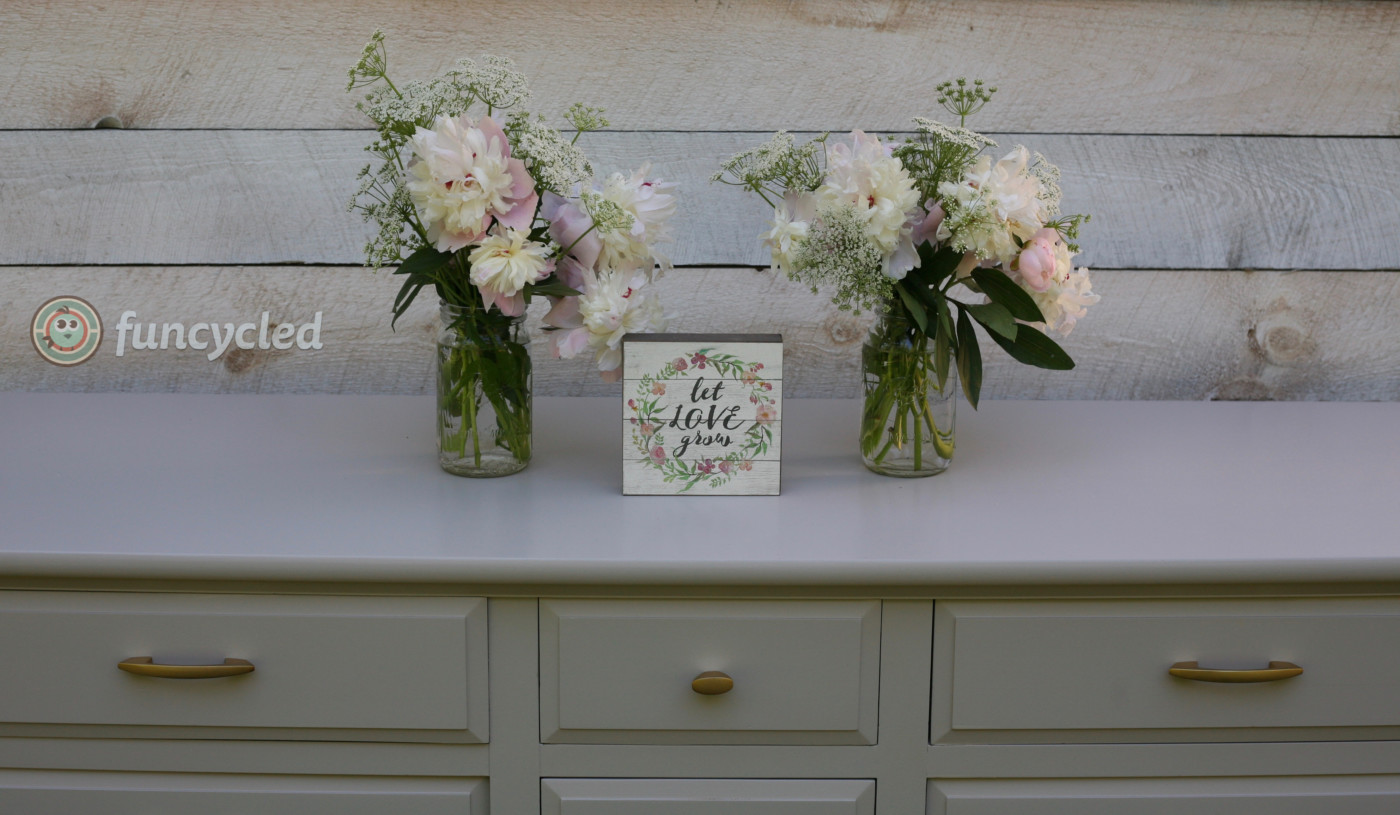 Hi Friends!
How was your week? The school year is wrapping up! I love being able to turn the alarm clock off, but I get scared to death that I won't juggle working, being a good mom, and all other facets of life well during the summer. If you're like me and are juggling it all during the summer, here are some helpful tips!
1. Plan to work at night. 
Not in every house, but in many houses like mine with little kids, the kiddos are in bed by 8 or 9. That's why I plan to work late most nights. Then I sleep in a little more than normal to keep myself sane. For me it's easier to stay up to work for 2-3 hours than get up at 5-6.
2. Make a summer plan. 
My every day goal is to work in the morning and make myself stop at about noon to spend time with the kids. I try to make the second half of the day fun and the focus so we have something to look forward to and a reason to stop. If I cut out at noon, I'm only loosing 3 hours of work time and I made a plan to catch up on that at night.
3. Get out of the house. 
If you're juggling work and kids, that might mean you work from home. To really be present and enjoy, leave the house so work stays there and leave your cell phone in the car while you're at the park. Try to really invest in quality time if you don't have a large amount of quantity time. Do you use your phone as a camera so you really want to bring it along? Well, turn it on silent and put it out of site for any time you don't need a picture. It helps me focus and enjoy.
4. Work in the morning. 
What? Didn't I just say work at night? Well, that's true but if you have to get 8 hours of work done, you can't do that all at night, right? It's been helpful for me to bring my laptop to bed so when I wake up, I can get a few hours in before the kids even wake up. Or let them watch their favorite show while I'm sitting next to them getting some work done. They tend to be more chill and ok with lounging in the morning so it's a good time to get work done.
5. Go on dates. 
If you have a significant other, summer can be the hardest time to "feel the love". I know that on my first day of summer, I felt overwhelmed at best. Then I expected my hubby to read my mind, make plans to lighten my load, and be the hero… even though he didn't even know I was stressed. Taking time to make weekly plans, chat about the kids, enjoy each other without kids, and RELAX is worth every penny for a babysitter!
Hope these thoughts help you friends! If you have any other tips that have helped you, please share in the comments below. I'd love to hear them!
For this week's furniture makeover, I wanted to share a dresser set makeover. Clients came to us with furniture that has been in their family for generations! They wanted to use it in their new home, but didn't love the look anymore. We did some simple updates and it looks so amazing!
Here they are before: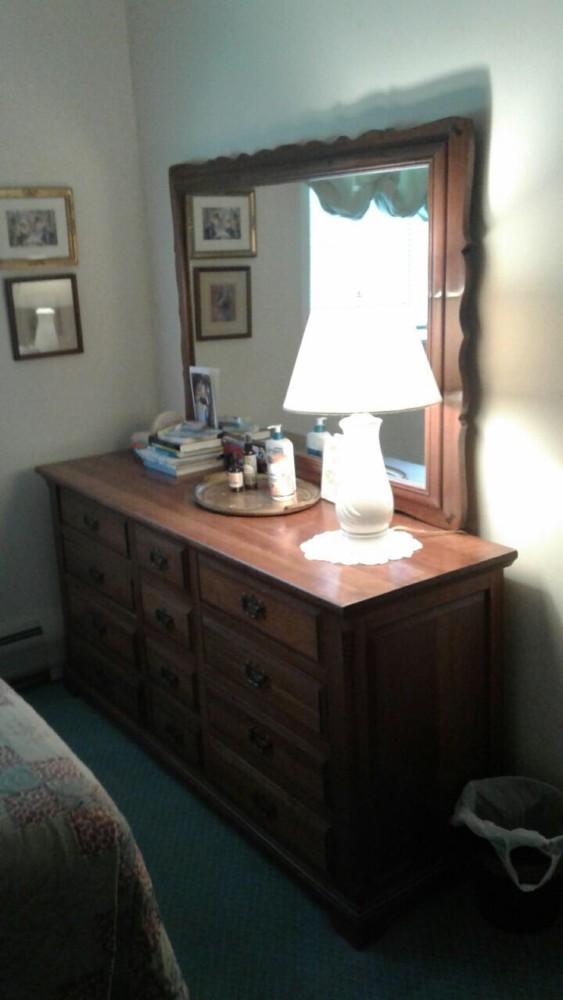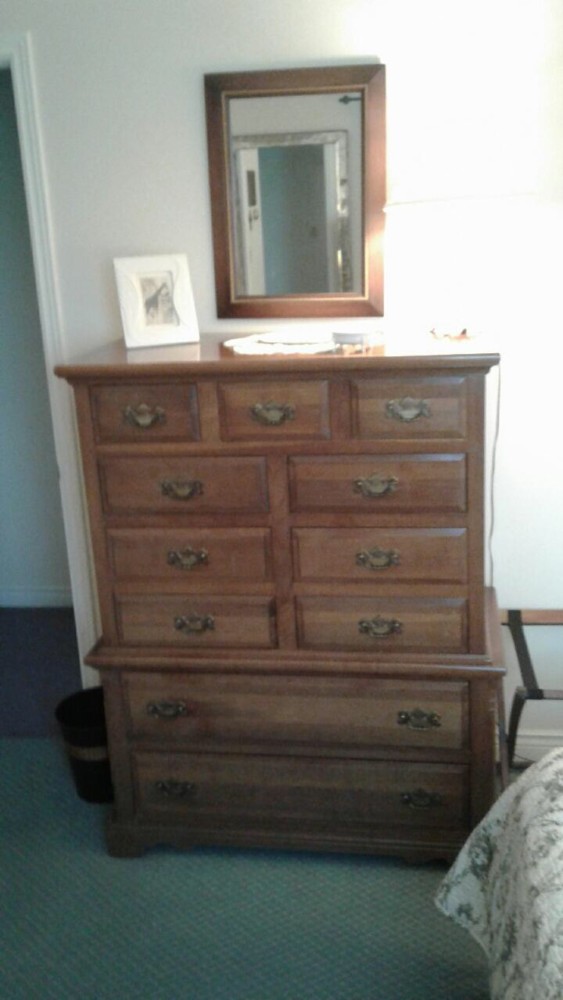 We painted it using the color Silver Fox by Benjamin Moore and added a protective clear coat over the top.  If you'd like to see how we paint furniture, check out our How to Paint Furniture post. We also added new hardware!
Are you ready for the after? Here you go!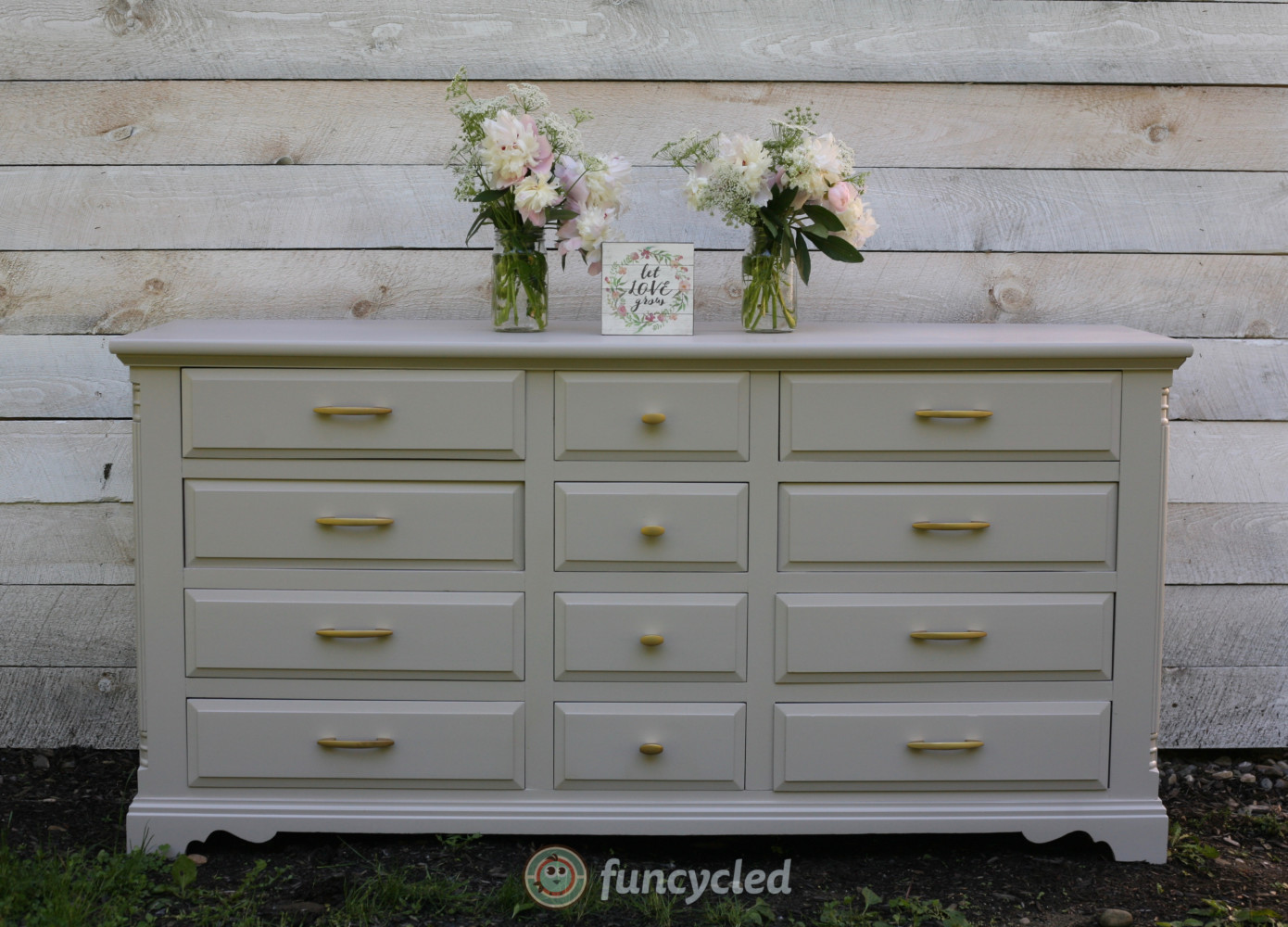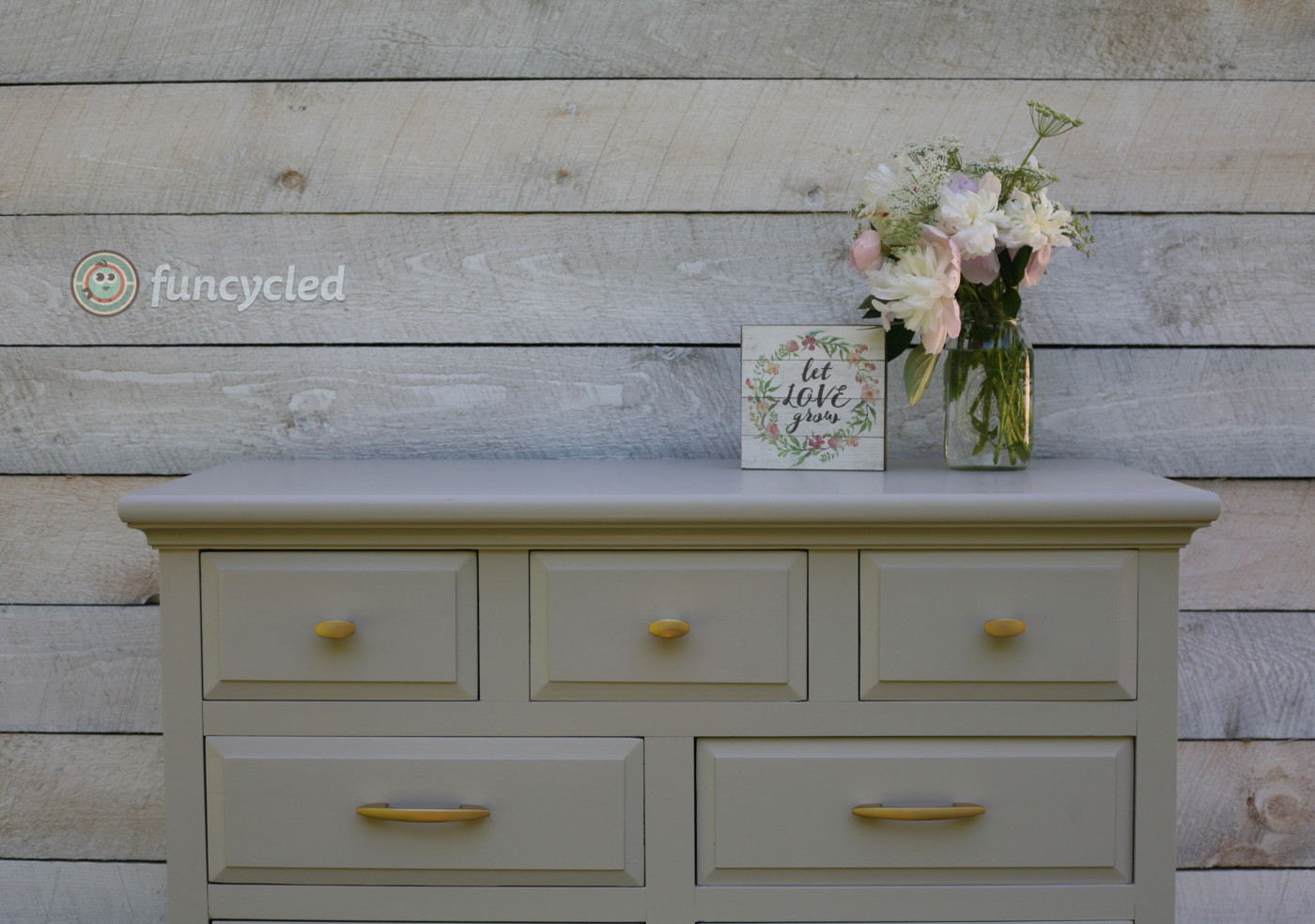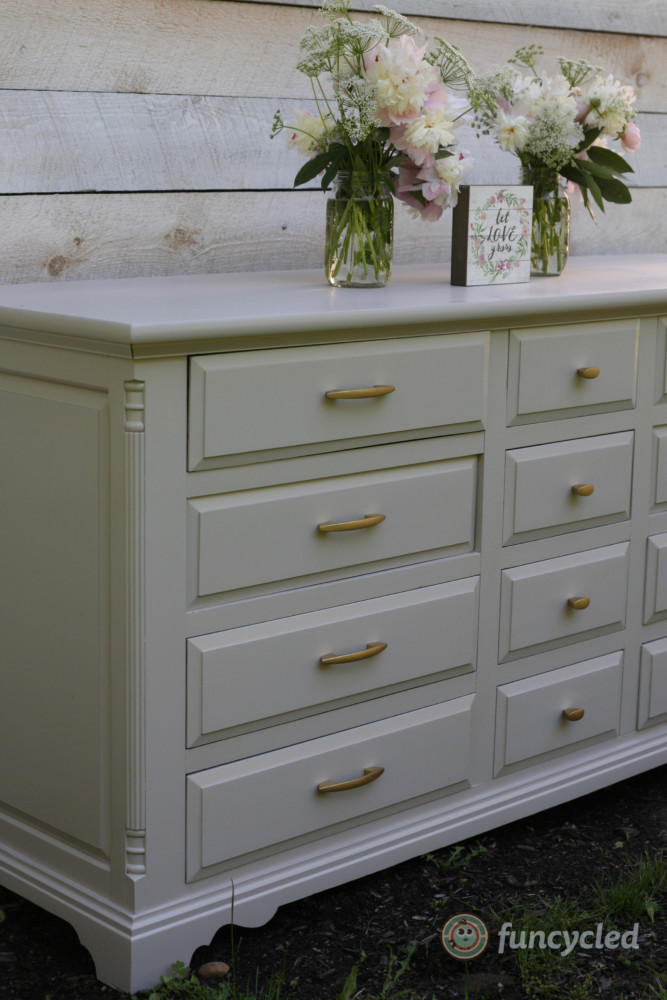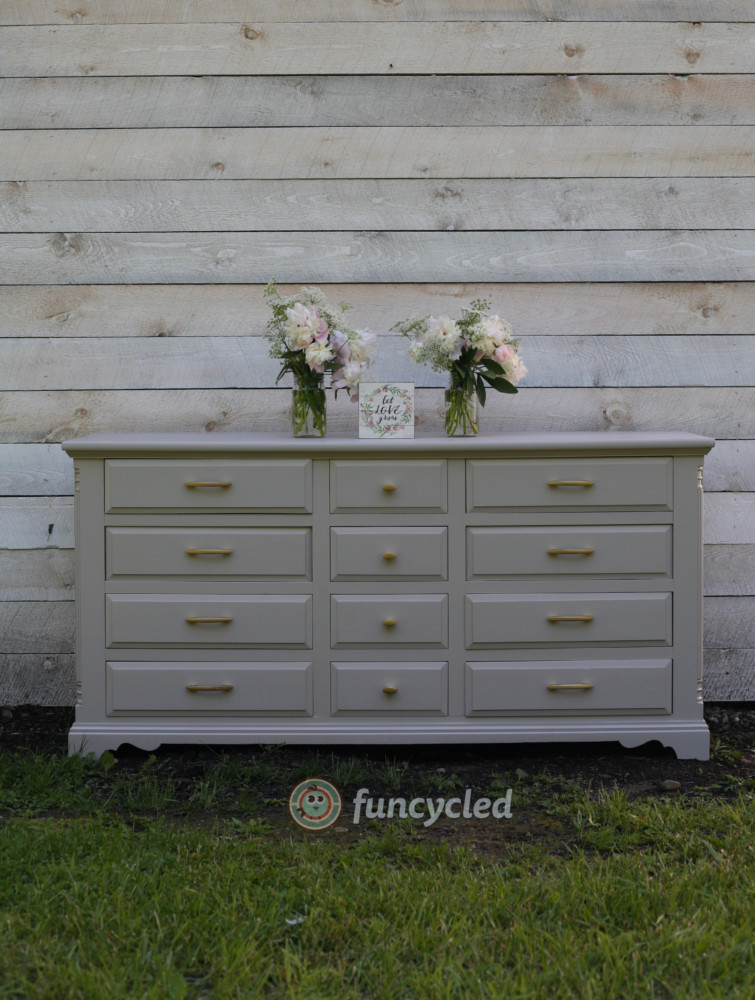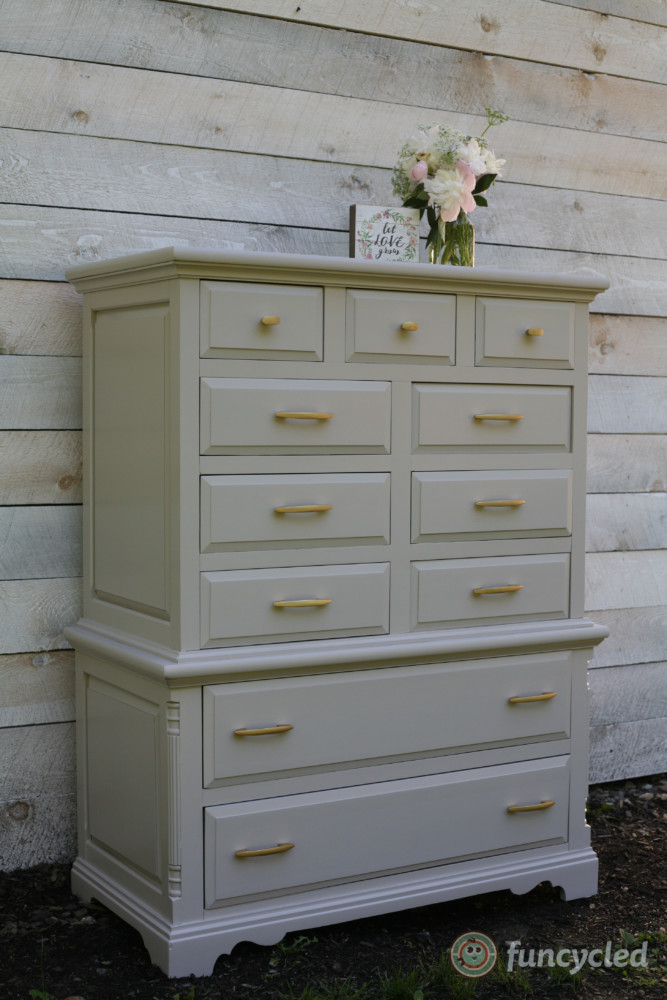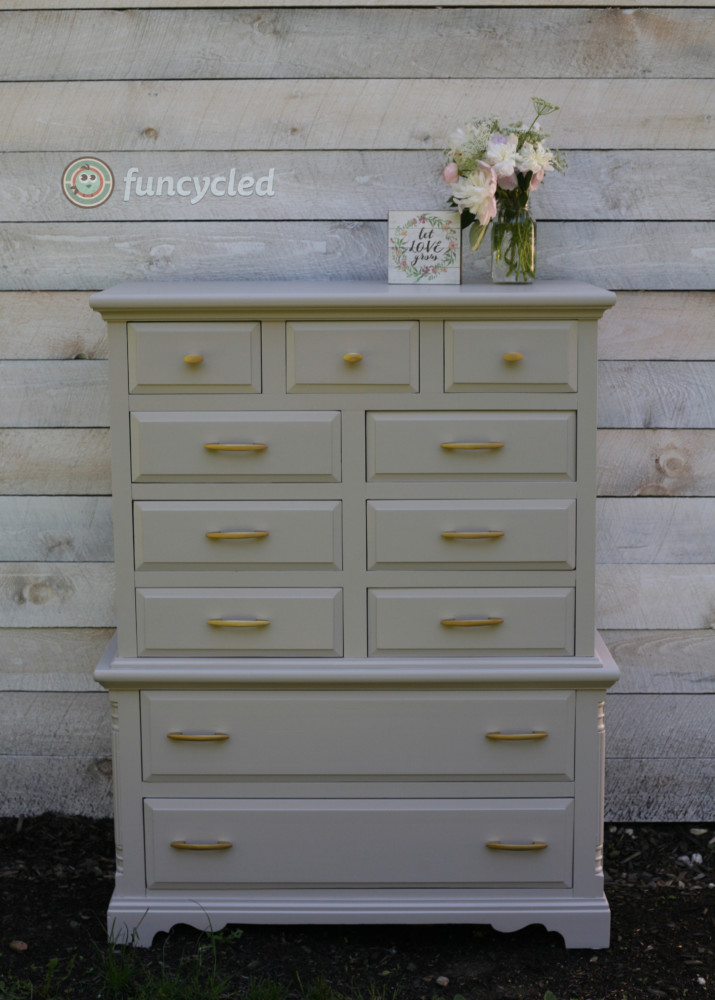 Such an amazing transformation, right?
Do you have a piece of furniture that could use a face lift?? Let us make it beautiful for you to love for years to come!! You can also check out other new furniture for sale on our website here! If you'd like to purchase it, please use our Contact Us form or stop by our store at 272 River Street, Troy, NY. I also added quite a few other new pieces to the store!
There is a box at the top right of this page to enter your email address to receive notifications by email when I post something new on this blog. Please sign up today!
Happy FunCycling Friends,
Sarah ;)
If you like what you see, please like FunCycled's Facebook page to keep up to date on the newest finds, vote on colors and give your input on our creativity. Last but not least, let us customize a furniture piece for you. We create custom furniture and will deliver for customers in upstate NY and also ship throughout the US. Send us a note with what you would like using our contact page. Or buy something that we've already designed from our furniture for sale page.