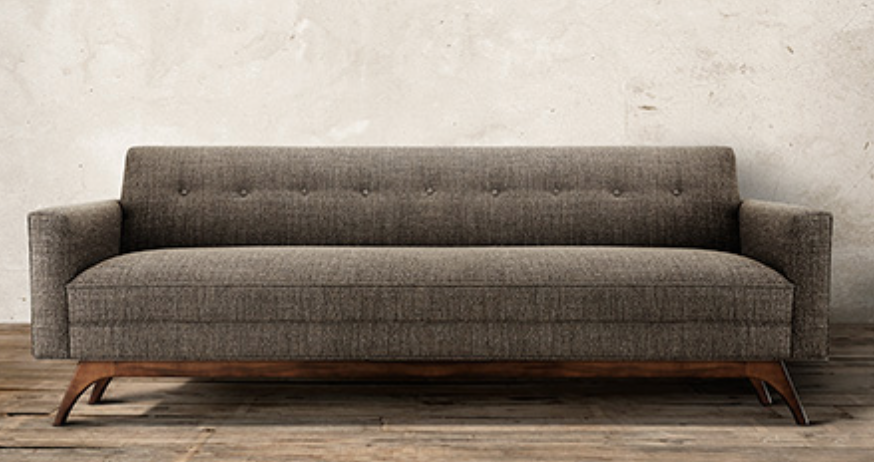 Hi Friends!
Thank you to everyone who's been keeping me so busy with interior design work!! We started to officially offer interior design in May and have been busy with it ever since. Getting the right design is the result of asking questions, listening, understanding what you want, planning, experience and your budget. How I structure the design and cost is by scaling it to the your needs and resources. I charge per hour while I'm at a client's house and a reduced per hour rate when I'm at home doing research and making a design plan. Typically the initial consult takes about 1 1/2 hours for a couple of rooms.
I've gotten many questions about how the process works so I thought I'd step you through a recent design for a client in Saratoga. Kirsten emailed me to ask about booking a design consult with us. She and her husband had recently bought a home and wanted help with each room in the house. It doesn't have to be the whole house – I've done everything from a gallery wall layout, to redecorating one bedroom, to starting from scratch on an entire home.
Before I go to your home for the consult, I will ask for pictures of the house, find out who lives there and the purpose of the room(s) I will be designing. This give me time to plan some ideas before getting there – saving you time.
In this case, after I reviewed the initial information, I scheduled a visit (the initial consult).  I asked Kirsten for her vision of the rooms/her home, identified the furniture or decor pieces available (as is, or to be re-purposed) and what was on the wish list to be purchased.  Typically, and as was the case during this consult, my head was already over flowing with ideas so I started to make preliminary suggestions on the layout, possible furniture and decor items, choice of colors, etc.  And we had to talk budget and timeline, based on the scope of the project, what could reasonably be accomplished and how best to utilize the money to obtain the desired results.  Letting me know how much your budget is one of the first questions I ask!
So I went home and worked room by room on designs, starting with the first room that she needed to have done. Usually a room takes 2-3 hours for me to complete the preliminary design  – with wall color, rug, lighting and furniture choices. As I create the space I like to make a Mood Board to show how everything is going to look together. Here's an example of the mood board that I made for the mid century modern sitting room.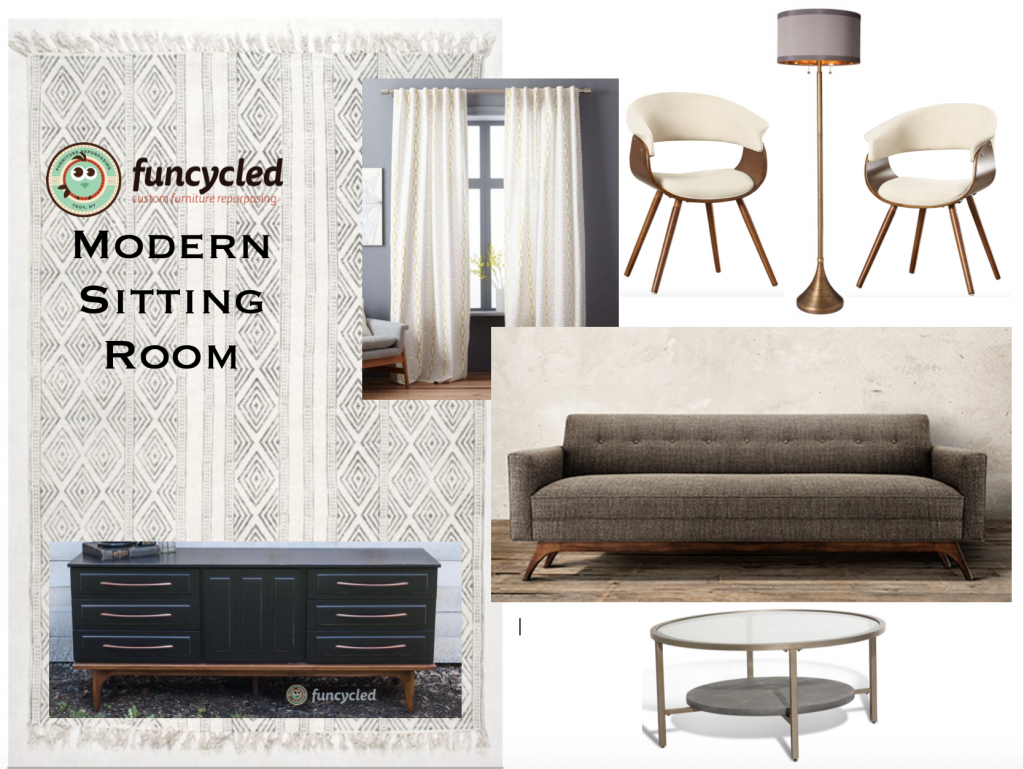 This allowed Kirsten to "picture" the room before final design decisions are made. There are always follow up discussions, questions and texts about the plan, and while I'm looking for furniture/decor ideas. Along with the mood board, I create a resource list for the client to order whatever they would like.  I also can order it and bill you. For this mid century room the resource list consisted of:
Rug – Joss and Main
Brekan Tribeca Pewter Sofa
Finley Accent Chairs – Joss and Main
Mid Century Credenza – FunCycled
Cotton Canvas Diamond Stripe Curtains – West Elm
Heavenly Round Cocktail Table – Overstock
Gold Floor Lamp – Target 
After review of the mood board, and the back and forth discussions with the client, I may also need to go back one more time to measure out each piece and make sure it feels right in the space before hitting the order now button. Also, sometimes clients need to make changes to the designs because the rug doesn't come in the size they wanted, etc.
At the end we hope our customers have rooms that reflect their style, make them feel relaxed and will be welcoming for family and friends for years to come! If you would like help with your next room or even the whole house, please use our Contact Us form to set up an appointment. I'm here to help come up with a plan that works in your budget, create beautiful designs, and make the process fun,  not stressful!
In addition to  beautiful rooms, remember we make beautiful furniture. Here are a few of many on our Furniture For Sale page:
There is a box at the top right of this page to enter your email address to receive notifications by email when I post something new on this blog. Please sign up today!
Happy FunCycling Friends,
Sarah ;)
If you like what you see, please like FunCycled's Facebook page to keep up to date on the newest finds, vote on colors and give your input on our creativity. Last but not least, let us customize a furniture piece for you. We create custom furniture and will deliver for customers in upstate NY and also ship throughout the US. Send us a note with what you would like using our contact page. Or buy something that we've already designed from our furniture for sale page.