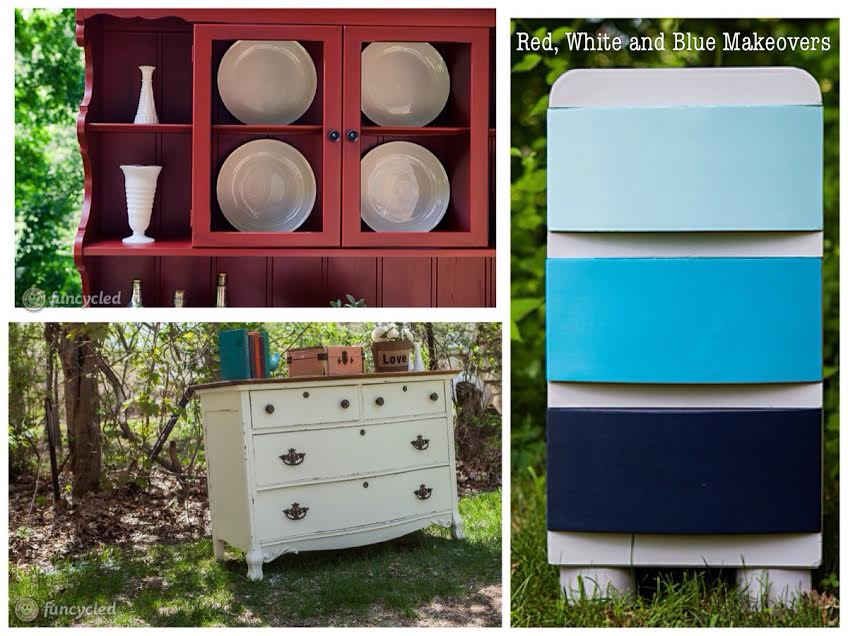 Hi Friends!!
Around this time last year, I did a post about Red, White and Blue Furniture. So I thought today might be a good day to do another Red, White and Blue post – take 2! It's fun looking back to see similar pieces that we've done and also notice how things have changed a bit. First off, my pictures are now done by Chelsea Bos Photography and man you can see the difference. Secondly, I love vintage, rustic and chic but I also have part of me that craves modern designs. I think you've all seen that more this year with our West Elm Inspired Patchwork Dresser and our Aqua and Ombre Mid Century Desk.
I hope you all had a great 4th!! We had a super busy day with deliveries, pick ups, and customers stopping by because they had the day off with no parties to go to until the evening. Then we hosted a party at our house with about 25 of our closest friends and family. Usually when I have a party at my house, I feel this pressure to make sure everyone is having a good time and end the day totally bummed that I talked to everyone for 30 seconds and had no good conversation. Do you ever feel that way? Well, not this year. This year was marvelous. I chilled, let everyone chat naturally. It was so relaxing and I left the house that night feeling so thankful for all of the friends and family God has blessed us with and for the many freedoms we enjoy as American's.
John decided that he wanted to do a smoked turkey on the grill for the 4th. I was on the front porch trying to make everything look pretty for our soon to be arriving guests. John came  out front with a look of fear in his eyes and says "the turkey is on fire". To which I laughed and said sarcastically, "isn't is suppose to be? it's on the grill". "Yeah, but I can't get the fire out". Oh man! A grease fire and all the meat for our large party was now destroyed 2 1/2 hours before party time. I actually laughed. What can you do in those moments?? Off to the store I went to make pulled chicken then all was right with the world. lol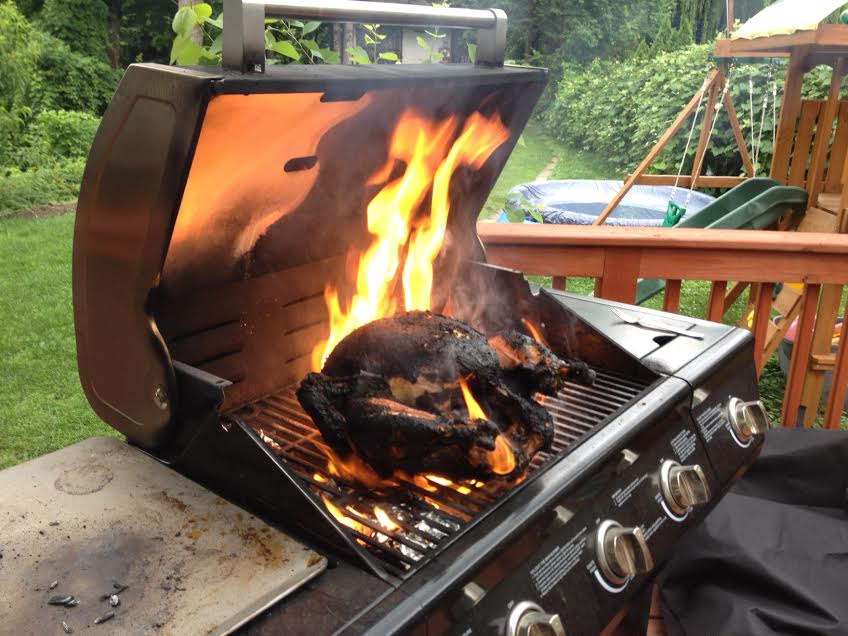 Onto furniture! Before I start the before and afters, remember if you'd like to see how we paint furniture, check out our How to Paint Furniture post.
A red hutch for Susan from Troy. I loved working with Susan because she has a good eye for design and totally gets upcycling. She's upcycled most of her downtown Troy home. Coming from someone who had a downtown Troy home and loved it's historic charm and beauty, I appreciate so much when people bring the original beauty back to a home that really needs it. Oh, and she has a cool doorbell ring. I know that's random, but I like it.
Here's the hutch before: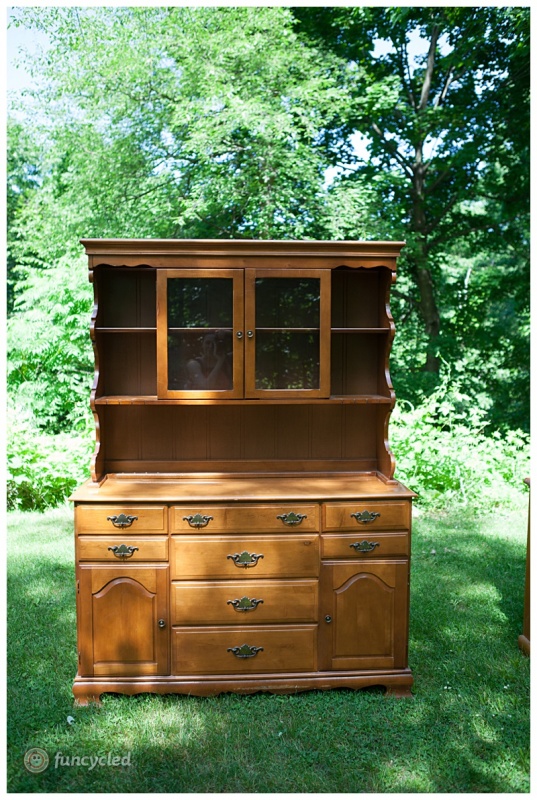 After with a custom paint color from Sherman Williams, hardware from Home Depot and glazing with Vaspar's Antiquing glaze from Lowes… Here is the label for the color of this hutch from Sherman Williams so you can ask them to duplicate it if you'd like.
White… This is Hannah's dresser that she bought at an auction. I know there will be some that say don't paint this wood. It did have veneer damage that you can't see well in the picture and the style just didn't fit the look that Hannah wanted. What I love about Hannah, she was raised on a dairy farm like my mom. She has this hard working, genuine heart and she understands and appreciates what it takes to own a small business and work hard to make ends meet. Not to mention… she trusted me with the design. Thank you, Hannah!
Before: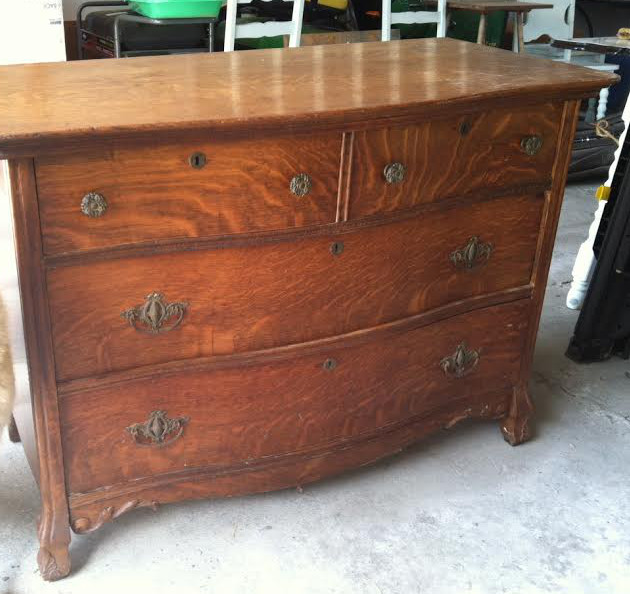 We painted the bottom using Benjamin Moore's Navajo white and distressed it. Kept all the original hardware because it was so pretty. No need to change it out if it's as beautiful as these were… we just cleaned them up.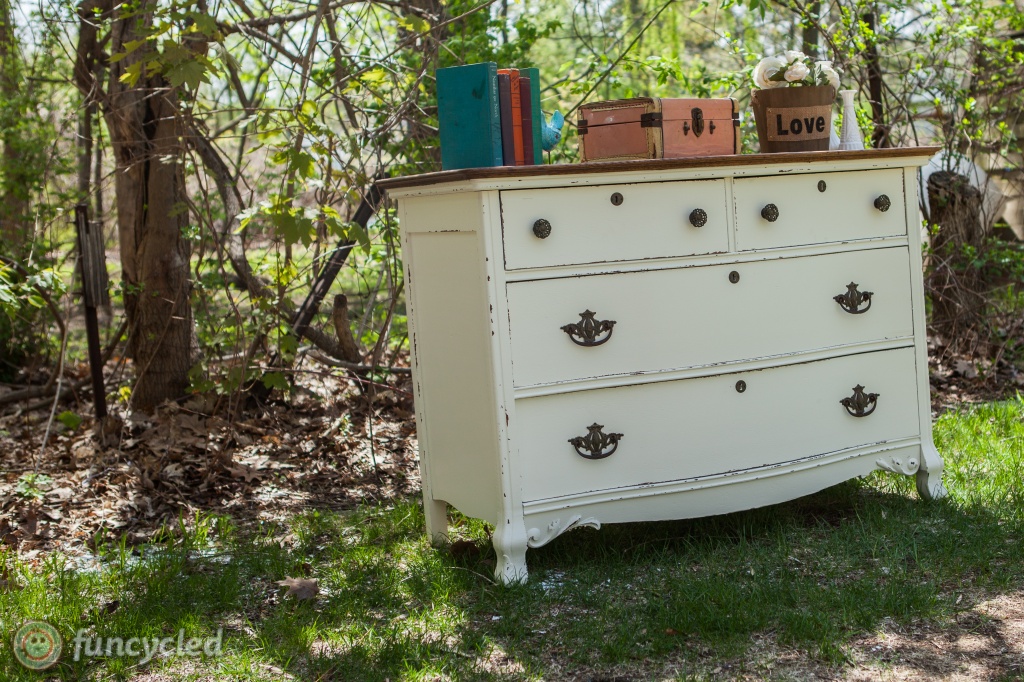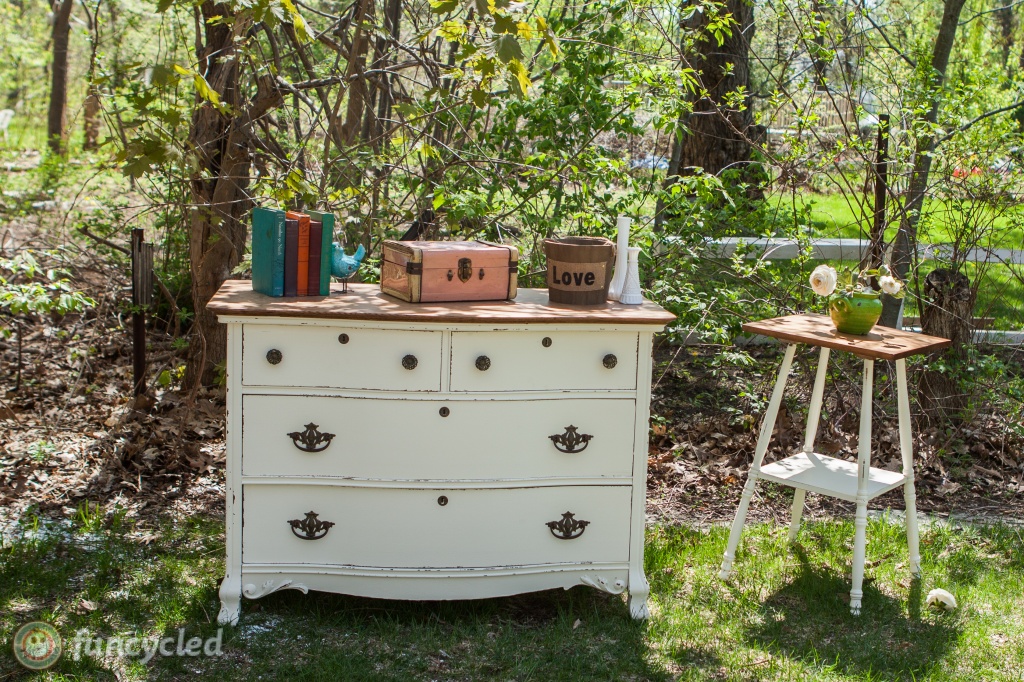 On to the blue… I love how this one came out, but to be honest, it wasn't worth the work it took to make it this beautiful. We got it on garbage day in a pile along side the road. It needed a lot of veneer repair. John built most of the back up and repaired the top. Then he primed it and when he did all the veneer bubbled. That means somehow the moisture was getting to the under side of the veneer so we had to rip more veneer off and more off and more off. It took John hours and hours to redo this. So, to the novice or even semi experienced DIYer, let me say steer clear of furniture with veneer damage. It can be tricky! Unless your up for an adventure, then go right ahead. ;)
Here it is before.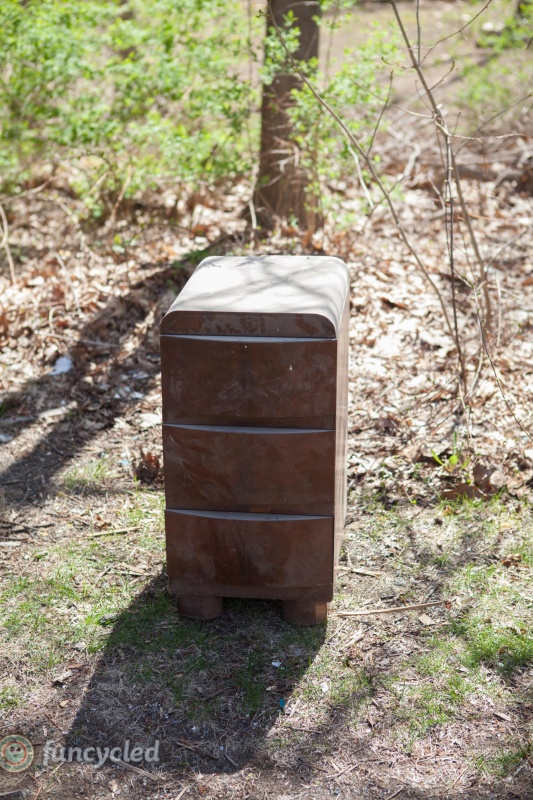 We painted the outside Benjamin Moore's Silver Fox, the 1st drawer is Spirit in the Sky by BM, 2nd drawer is Meridian Blue by BM and 3rd drawer is Navy.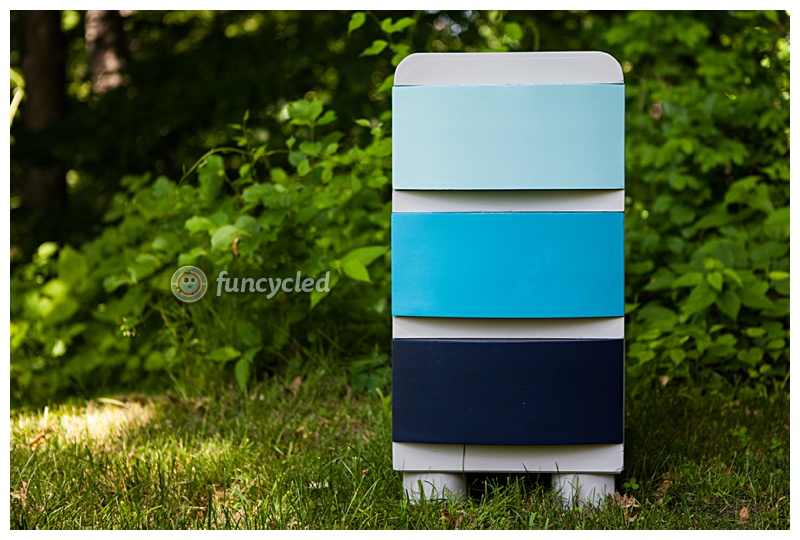 Thanks so much for stopping by and thanks to all those who serve our country or support those who do! 
Having fun upcycling!
Sarah ;)
If you like what you see, please like FunCycled's  Facebook page to keep up to date on the newest finds, vote on colors and give your input on our creativity. There is a box at the top right of this page to enter your email address in to receive notifications by email when I post something new on this blog.
Please sign up today! Last but not least, let us customize a furniture piece for you. We create custom furniture and will deliver for customers in upstate NY and will also ship throughout the US. Send us a note with what you would like using our contact page. Or buy something that we've already designed from our furniture for sale page.