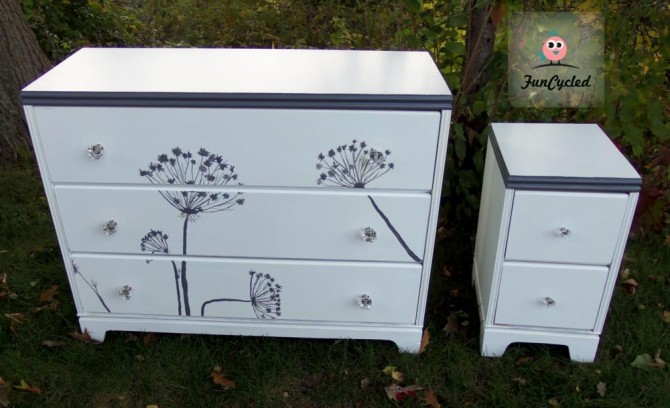 Hello All!  Do you remember this boring old bedroom set on our Upcoming Projects page?? You don't? I don't see how you could have forgotten about it. ;) Well, my mom and I went to pick this set up and we somehow fit all three pieces, another headboard, and two more nightstands into my van WITH both of my kids. My mom is the miracle worker when it comes to packing lots of things into a small spot. I couldn't believe it.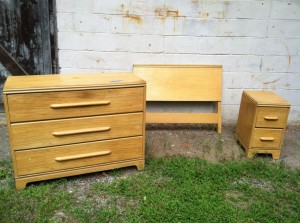 I know I've been talking about Krista and Keith a lot, but this is another set for their house that I just had to share! In case your keeping track, here are the stories about her Red and Black Buffets and her Cream Living Room Set. Krista saw the bedroom set and we talked about  doing it chevron or with the bird and tree design, but decided on this Queen Anne's lace design idea. She was a good sport (as usual) and let me give it a try. Have I mentioned how much I love that she lets me give new ideas a go? We started with filling all of the holes for the knobs because I knew those handles had to go! We sanded down the whole piece because it had a really shiny finish. We painted it with a standard Behr white. If you want to see step by step instructions on how we paint furniture, see this page.
Krista's big request was crystal knobs! She had to have crystal knobs. I don't know why, but I am super picky about the kinds of crystal knobs that I use. I probably looked at 10 different styles, and these won me over by far. I love how big and glam the dresser's knobs are and how the night stand's knobs are just a little smaller but still match. So cute!!
Then, I hand drew out the flowers and painted them using grey paint from Benjamin Moore. It came out nice, but I felt like it needed something more.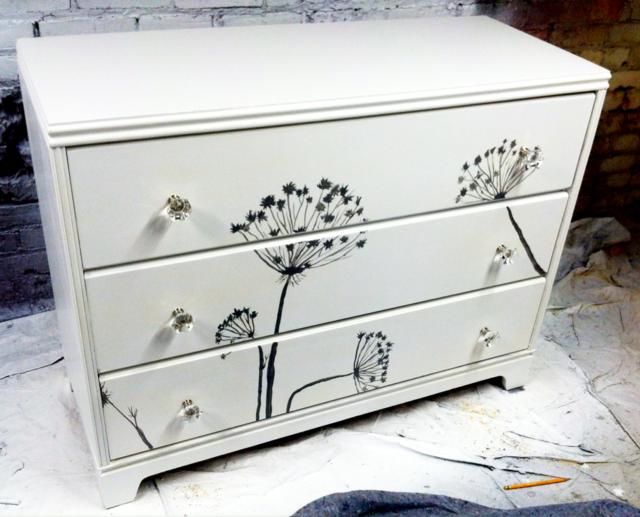 I was thinking something grey on top and genius Krista said, how about we try just the trim. I really couldn't be happier. It was just the right pop of color that each piece needed. I painted the headboard a similar style, too. All white and grey along the top.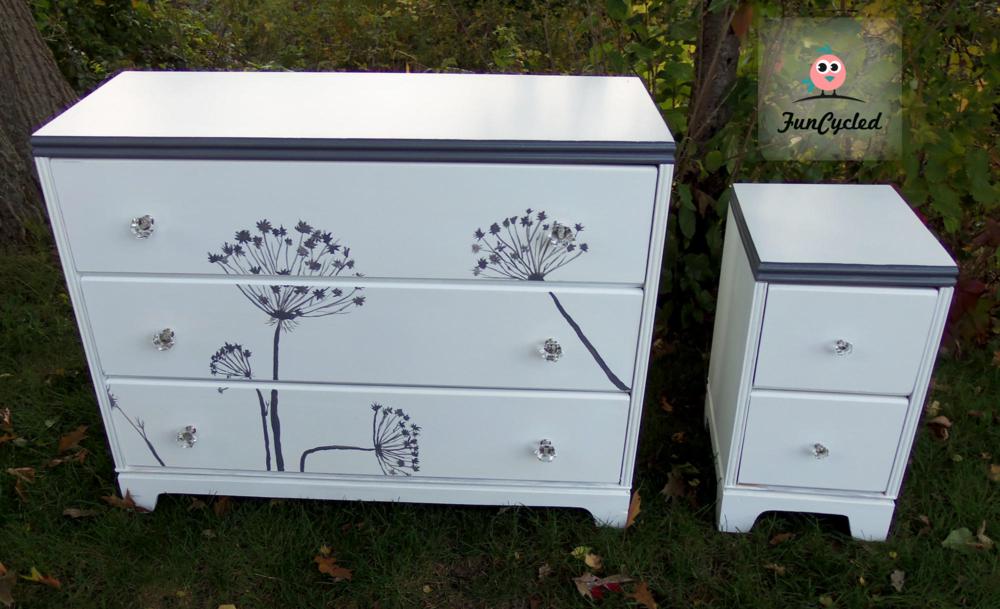 Happy Redesigns,
Sarah
PS- Please like our Facebook page: https://www.facebook.com/funcycled You'll see designs from the people who inspire me, be the first to know when new pieces are available, and just enjoy life with us! Also, you can get each of our new projects emailed to you when you enter your email address in the box at the top right side of this page.