Hi Friends!
It's been such an awesome week here! We were just given the a-ok to fill you in on a little bit of the excitement around here.
Back in the spring, we were selected to be on the HGTV show Flea Market Flip. I have been watching FMF for years. I don't have cable, but my friend Marcie does. She would DVR all of the episodes and we would sit up late watching the show while eating ice cream, brownies and drinking coffee. Marcie told me I should try to get on the show because I love it so much and I laughed and thought… are you kidding me?? No one normal actually gets to be on TV. Well, I guess I was wrong because this normal girl was on TV!!! Woot Woot!! :) I can't share the details or anything about the results until it airs (which won't be for a while). I'll keep you all posted once I know when it will air so stay tuned. :)
One of the many highlights of this experience was meeting Lara Spencer. I've had her book I Brake For Yard Sales for years. Her book helped me understand so many different design styles and it was really an honor just meeting her. She even signed my book!!! Ahhh!! God's blessings have humbled us every step of this FunCycled way. Truly more than I ever dreamed.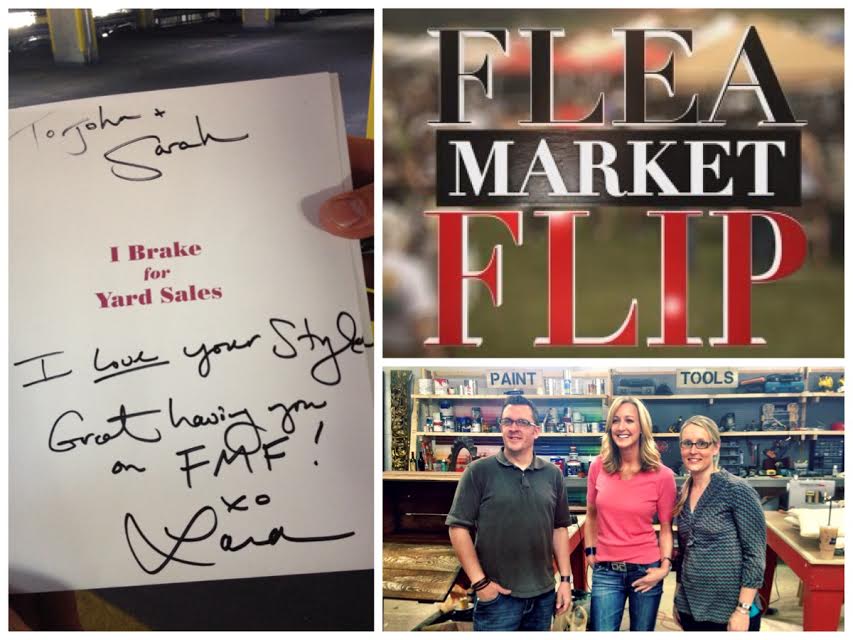 Sooooo exciting!!! Also this weekend John and I celebrated our 11th anniversary NYC style. I lalalove NYC if you haven't already noticed that about me by now. We went to Chelsea Market and tried all different types of food. From Fig and Ricotta caramel candy to vegan sushi… it all made me want to convert into a food snob. John had never been to Chelsea Market which seems like an injustice for sure given his culinary degree. ;) He loved it! Then we headed up to Central Park for a walk through the park. The weather was beautiful and the walk was perfect!! We rented a row boat and rowed on the little lake in the park. Then had dinner on the water.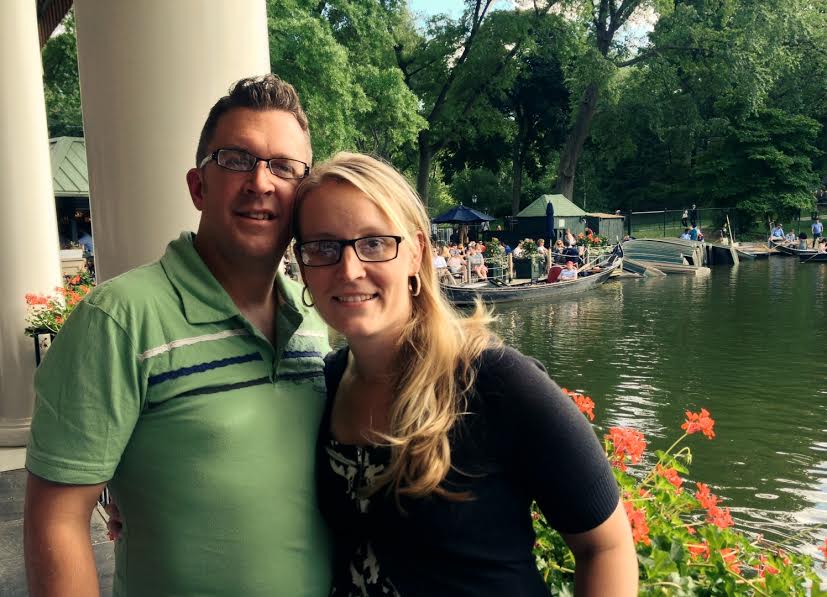 You're not here to see a furniture makeover are you? Ok, ok… on to that. We've had this oak desk and I've had a certain look in mind for it, but had to get time to work the magic on this piece! :) Here it is before.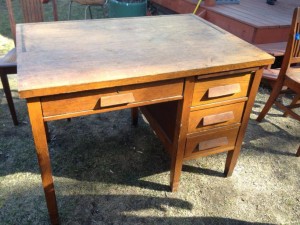 We sanded and painted this piece using Benjamin Moore's Silver Fox on the outside and Current Red on the drawer fronts. The hardware is from Lowes and we glazed it using Valspar's Antiquing Glaze. If you want to see how we redo furniture, please check out our How To Paint Furniture post.
Here are the after pictures… and best of all THIS PIECE IS FOR SALE! Check it out on our Furniture For Sale page.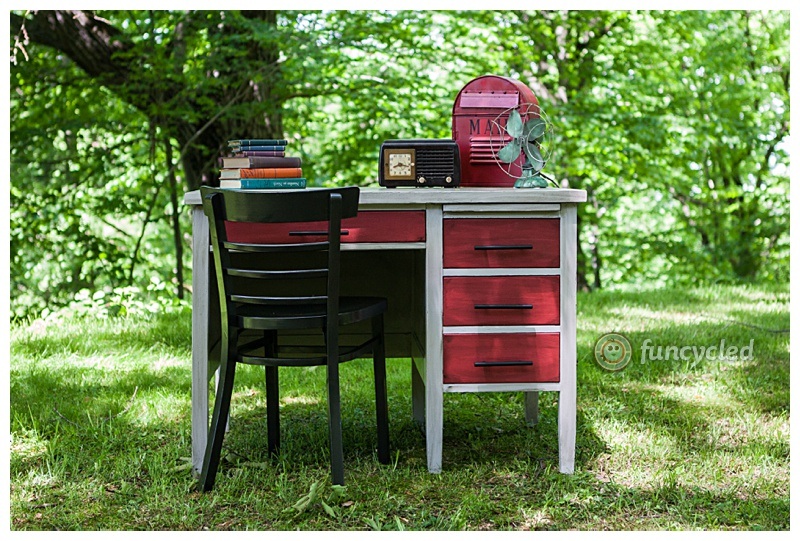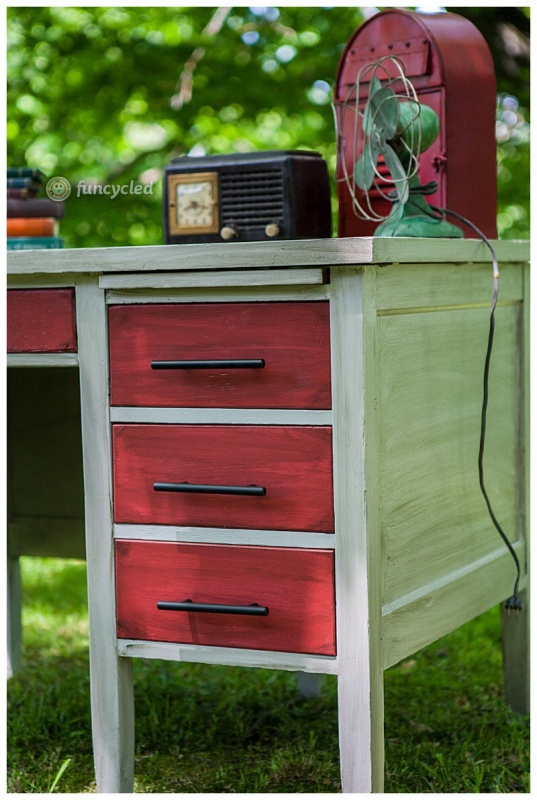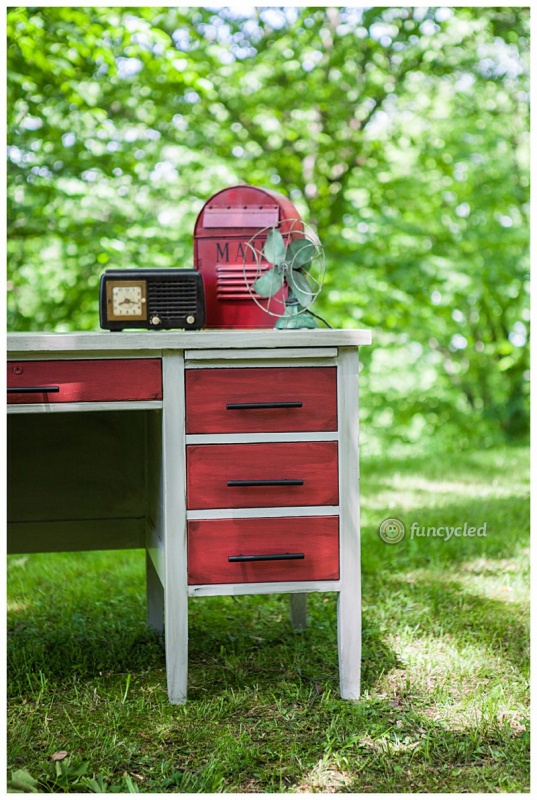 The after pictures are done by Chelsea Bos Photography. I hope you all have a great week! Thanks so much for stopping by!
Having fun upcycling!
Sarah ;)
If you like what you see, please like FunCycled's  Facebook page to keep up to date on the newest finds, vote on colors and give your input on our creativity. There is a box at the top right of this page to enter your email address in to receive notifications by email when I post something new on this blog.
Please sign up today! Last but not least, let us customize a furniture piece for you. We create custom furniture and will deliver for customers in upstate NY and will also ship throughout the US. Send us a note with what you would like using our contact page. Or buy something that we've already designed from our furniture for sale page.