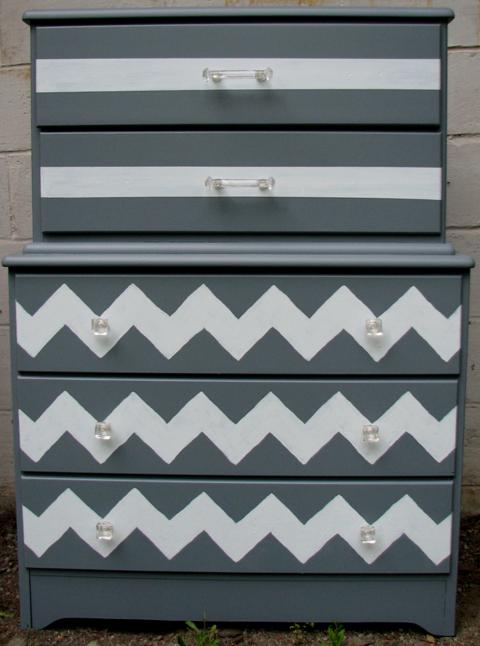 I've been wanting to do something with a chevron design for what feels like a bazillion years. OK – maybe 4-5 months and here it was, finally – this dresser screamed "give me chevron!". My mom called me because she was at a yard sale and found this dresser.  She said it was a high boy and I asked how tall it was, she said it came to her chin… and since my mom and I are about the same height, I got the idea of the size.  I went to pick it up and stood next to it only to find that it came about 7-8 inches below my chin. I think in pictures so I could only imagine my mom's chin drooping 7-8 inches. John commented,"wow, I didn't know your mom's chin went that low".  I couldn't stop laughing.
So, here she is to begin with. This one didn't need any work as far as the wood goes, but it definitely needed  an updated color and style.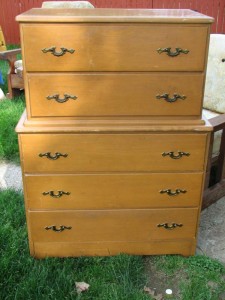 I did all the typical steps and painted it a medium grey using Behr paint. To see the step by step instructions on how to paint furniture see my post on How to Repaint Furniture.
Here it is after two coats of a warm grey satin finish paint.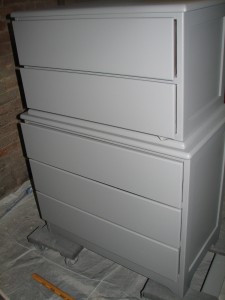 I read up on all different ways to paint Chevron. I tend to be impatient and really didn't want to measure all of the angels and draw the lines of each zig zag. I found this pattern, cut out the grey larger sections and used it to trace my lines along the dresser drawers.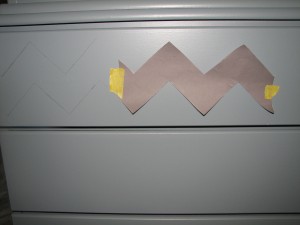 I then hand painted staying in the lines using a satin white paint. Looking back, I think it would have been better to use painters tape because the lines would have been much  crisper.
Here's one drawer after the first coat.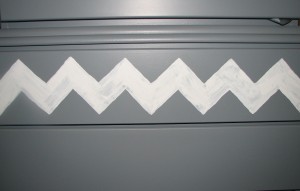 I also didn't like the handles that were originally on it so I bought matching glass knobs and pulls.
Here's the finished product (click on any picture to make it larger)!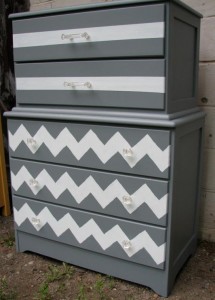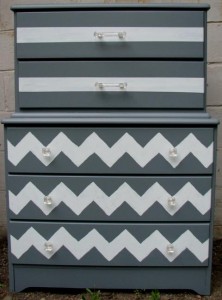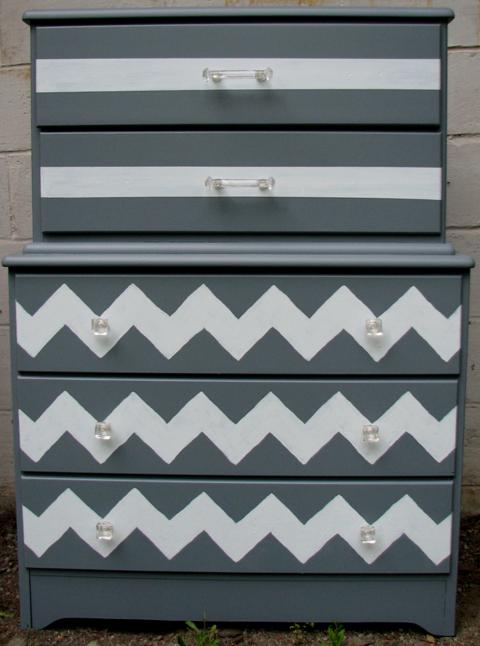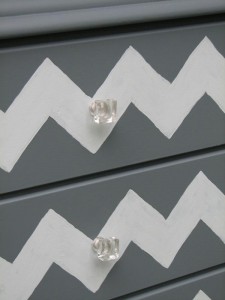 Oh, and here's a teaser of some of the other retro dressers I will be posting tutorials for in the next few weeks.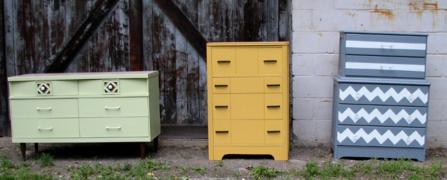 Happy Redesigns,
Sarah
PS- If you like what we're doing, please like us on Facebook at: www.facebook.com/funcycled or share this on Pinterest! Also, you can now get each of our new projects emailed to you when you enter your email address in the box at the top right side of this page.