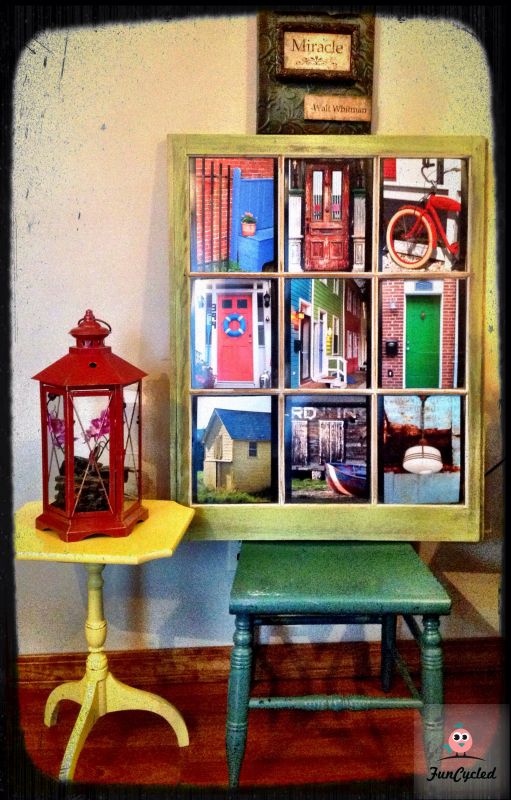 Hi All! I'm so excited to share this new, fun home decor item that we have for sale. We now offer Home Decor items on our website using reclaimed woods, natural fabrics and OF COURSE fun color. You can check them out here.
When John and I were vendors at the Waterford Canal Festival this summer, I found out that Sandy Pratt(who I knew was the manager of the Fossil store) is also an amazing photographer. Fossil watches are my weakness! ;) Don't judge me. lol We chatted that day and I really loved her eye for seeing the beauty in the shambles, finding bright colors mixed worn textures, and of course the rustic "feel" of her photography. You can see all of her photography on her website woodsandwhimsy.com.
A Facebook friend, Joyce, reached out to us because she had some old windows from her cabin on Cossayuna Lake. Thank you, Joyce!! We gladly said that we would love to get them from her. I couldn't help but think that Sandy's photos would work perfectly with these windows. Here it is!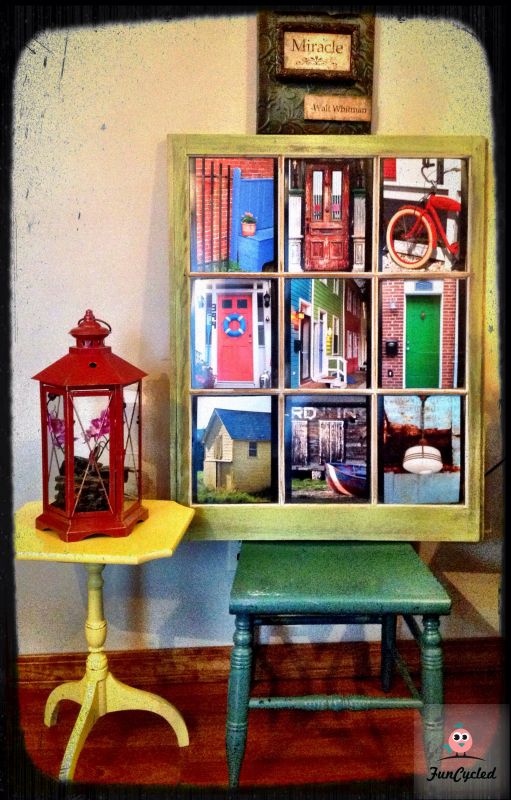 Each window pane is 8×10 inches! Sandy worked with me every so graciously to offer you these photos at a great price. Her  8×10 prints are usually $20 unframed and between $50-$75 framed!! This set is only $195. We used a cardboard backing that is screwed into the back of the window so it can be easily unscrewed to update with new photos from Sandy in years to come or any photos for that matter (family pictures??). There are large 50lb hangers on the back to easily hang it on the wall.
We currently have 4 of these available and can make the window frame any color you would prefer. The one in the picture above is painted a light Spanish olive green and has been lightly distressed. Since that picture doesn't do Sandy's photos justice, here are some close ups of the picture. You can click on any of them to enlarge it. They can all be viewed on her website Woods and Whimsy. Or you can order other prints on her Etsy page: http://www.etsy.com/shop/WOODSandWHIMSY
I can't thank Sandy enough for letting me add her photos to our pieces. They are perfect!! If you would like to order one of our window frames, please email me at sarah@funcycled.com or use our Contact Us page. If you haven't already checked it out, make sure you take a peak at our Home Decor page, too!!
Have a great week and remember that we will be at the Troy Victorian Stroll on Sunday, December 2nd,  from 11am to 5pm. Look forward to seeing you there!
Remember… if you want to stay "in the know" please like our Facebook page: https://www.facebook.com/funcycled You'll see designs from the people who inspire me, be the first to know when new pieces are available, and just enjoy life with us! Get each of our new projects emailed to you when you enter your email address in the box at the top right side of this page.
Happy Redesigns!
Sarah
Psalm 119:105  Your word is a lamp for my feet, a light on my path.