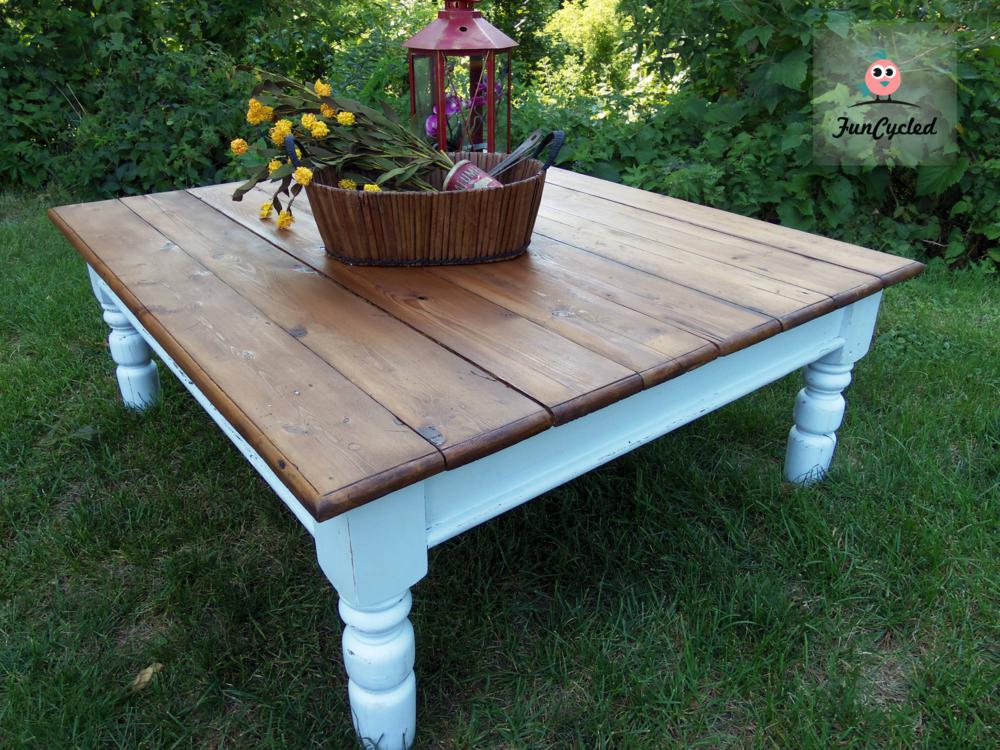 Happy Tuesday everyone! My little sweetie will turn 3 before I say Happy Tuesday's Treasures again. So sad! I can't believe how fast she's growing up.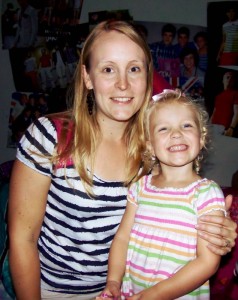 This week, I thought I would show you two before and after's of recently finished coffee tables. A coffee table is one of the first things you see when you walk into a living room so it can be an easy update to transform a room!  After finishing my friend Jo Ann's Light Sage Coffee Table , Moe sent me a note on our facebook page saying… if you get another cedar chest, I place dibs on it. Right after I found one, I let her know and she gave me free reign to do what I wanted with only one request. Can you put the bird on it? Gladly my dear, gladly! Thanks Moe for being so much fun to work with and get to know!! :)
Here it is before…. definitely in need of some love. It is solid cedar, not a cedar veneer and it's very old. The top was cracked so we had to replace it as well with a new top.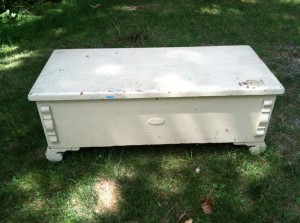 I wanted to go with a dark top because the living room and dining room in Moe's house is an open concept room. Her dining room table is an ebony so ebony it was for this coffee table top. We removed the outside edge of the original top (which was damaged, too). Then we sanded the whole piece to make it ready for new paint. Painted and primed it with white latex satin paint.
After we stained the top ebony, we covered it 2 times with a polyacrilic for protection. Are you ready for the after?? You'll hardly recognize it!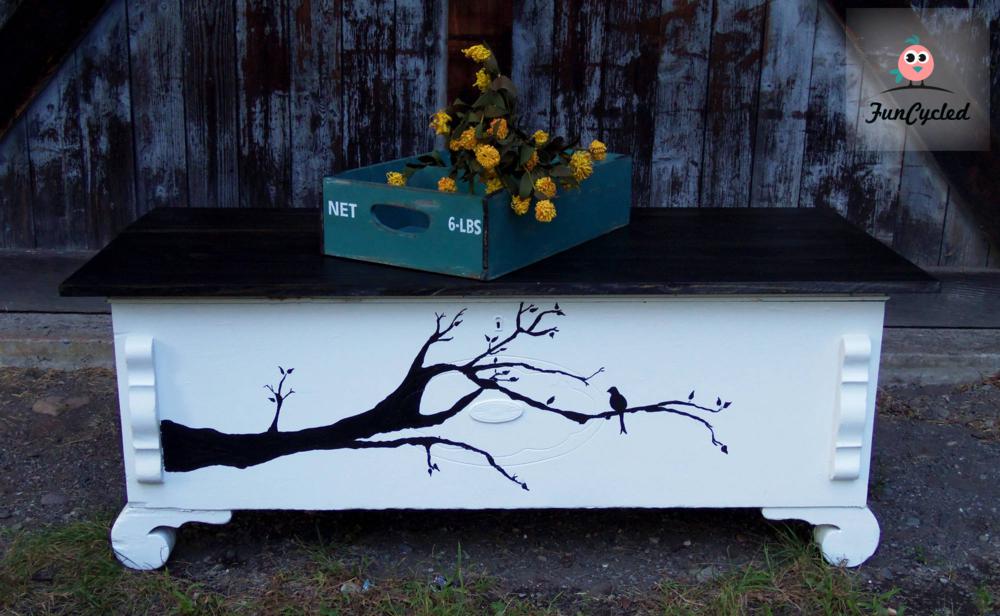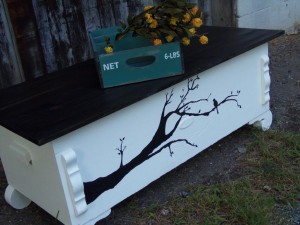 The second table has a fun story. A newly found friend, Theresa, called me up and said, can you do a table make over for me in less than a week?? My husband is going out of town and I want him to think I redid it. Lol! But of course, my dear, but of course. This is an antique table from her grandparents and her house is very pottery barn-ish. She had seen a picture with a similar table, but with white legs.
Here's the before.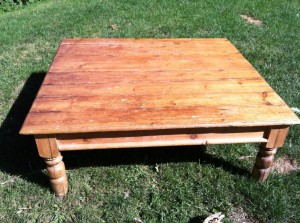 I stripped it naked with 80, 180, and 220 grit sand paper. In that order.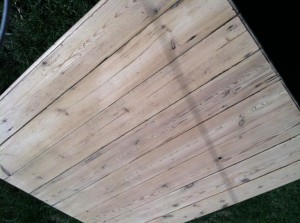 I love the grain… so beautiful!
Then I stained the top using Minwax Special Walnut stain. To seal the top, we used Minwax Finishing Wax instead of Poly and I've got to say, I'm in love with it. It gave it a smooth buttery finish. Are you ready for the after?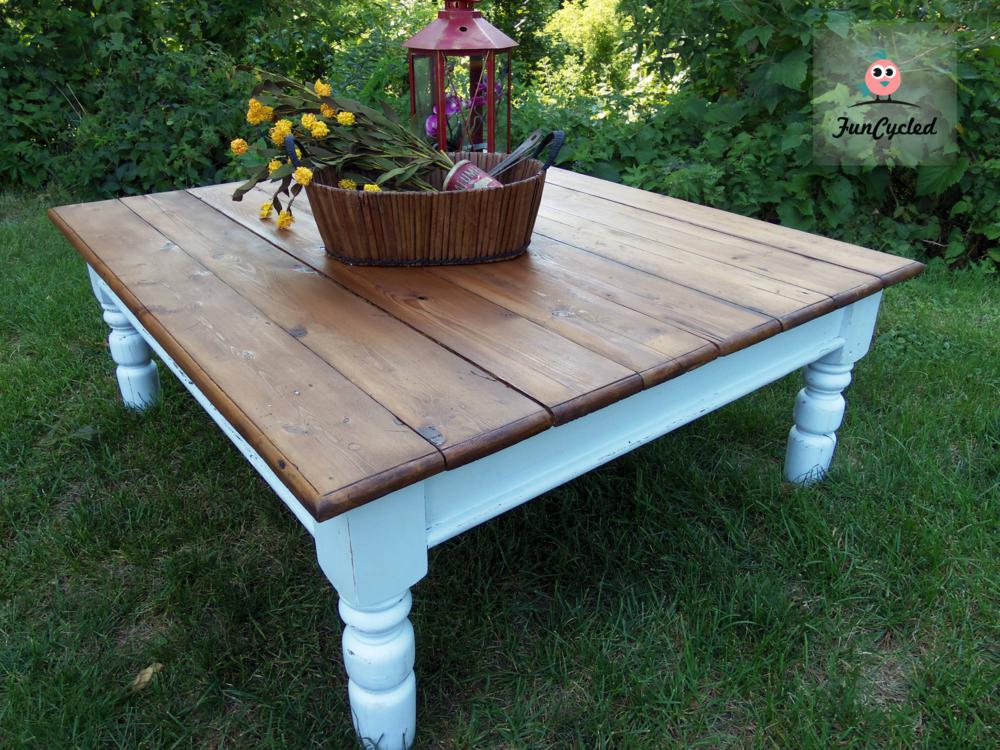 I also distressed the bottom to give it a more "antiqued look". Oh, and fear not… she told her husband she didn't do it. Lol! It was a fun challenge either way and I loved every minute of this redo!
Have an awesome week and happy redesigns,
Sarah
Remember… If you like what we're doing, please like us on Facebook at: www.facebook.com/funcycled or share this on Pinterest! Also, you can now get each of our new projects emailed to you when you enter your email address in the box at the top right side of this page.