So, this dining room set was purchased from a man on craigslist who was moving into a smaller house. He and his wife wouldn't have room for this set and their loss was our gain. I believe he told me it was his wife's grandmothers and about 100 years old. Here's the before shot.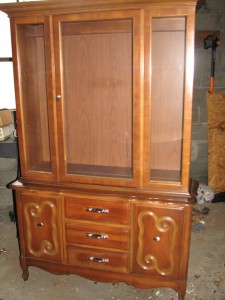 Since this was going to be part of a dining room set, we went back and forth on the color. I didn't want to be same ole same ole and do red like I've already done, but I thought red would look really nice and tie in well with the chairs and table we are already working on. So, red it is! First, clean all parts of the hutch really well with a cleaner. Then, use a primer that doesn't require sanding. Ok, sprayed it with a grey primer.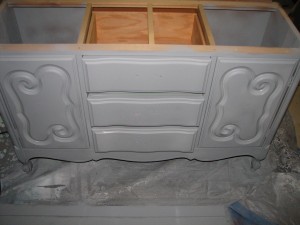 Before I primed everything, I put duct tape around each drawer so I could leave it in place and paint it.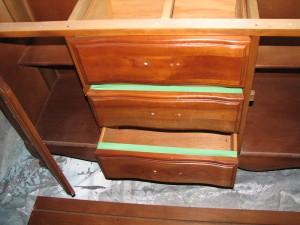 When I was getting everything cleaned out, I found that they had left the original handles to the piece. I was almost as excited as on Christmas morning! I had bought new hardware for the hutch, but these were AMAZING. All I had to do was spray paint them black.
While we were carrying the top piece from the barn, the bottom section broke off. John quickly laughed and said, "Glad we're fixing that". I am sure our neighbor Tom must laugh at us as he watches us lug everything around. I know he laughed at John with that comment. Anyway, he had to glue the parts together with wood glue and clamp it back together.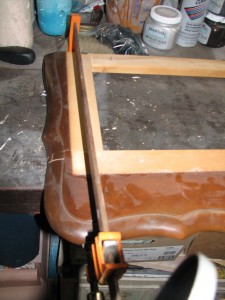 Ok, now time to paint it all that beautiful Behr California Poppy Red! Two coats please.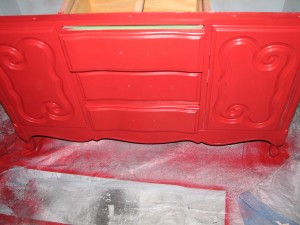 After that, John painted the inside of the hutch a Swiss Coffee White Behr paint. We actually had to do three coats of white to get it to look smooth.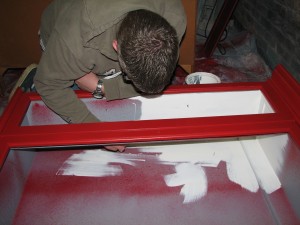 Let it dry for a couple days and then time to apply the Martha Stewart glazing that I love so much! I put it all over the detailing on the wood, waited 10 minutes, and rubbed it off with a damp rag until it had the look I wanted.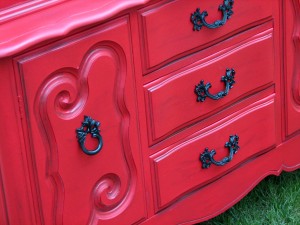 Are you ready for the finished product? Here it is… exquisite!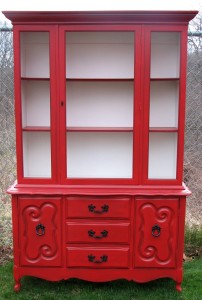 The before and after!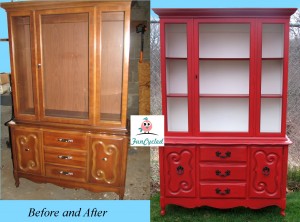 Thank you for featuring us on your blog, Heather!