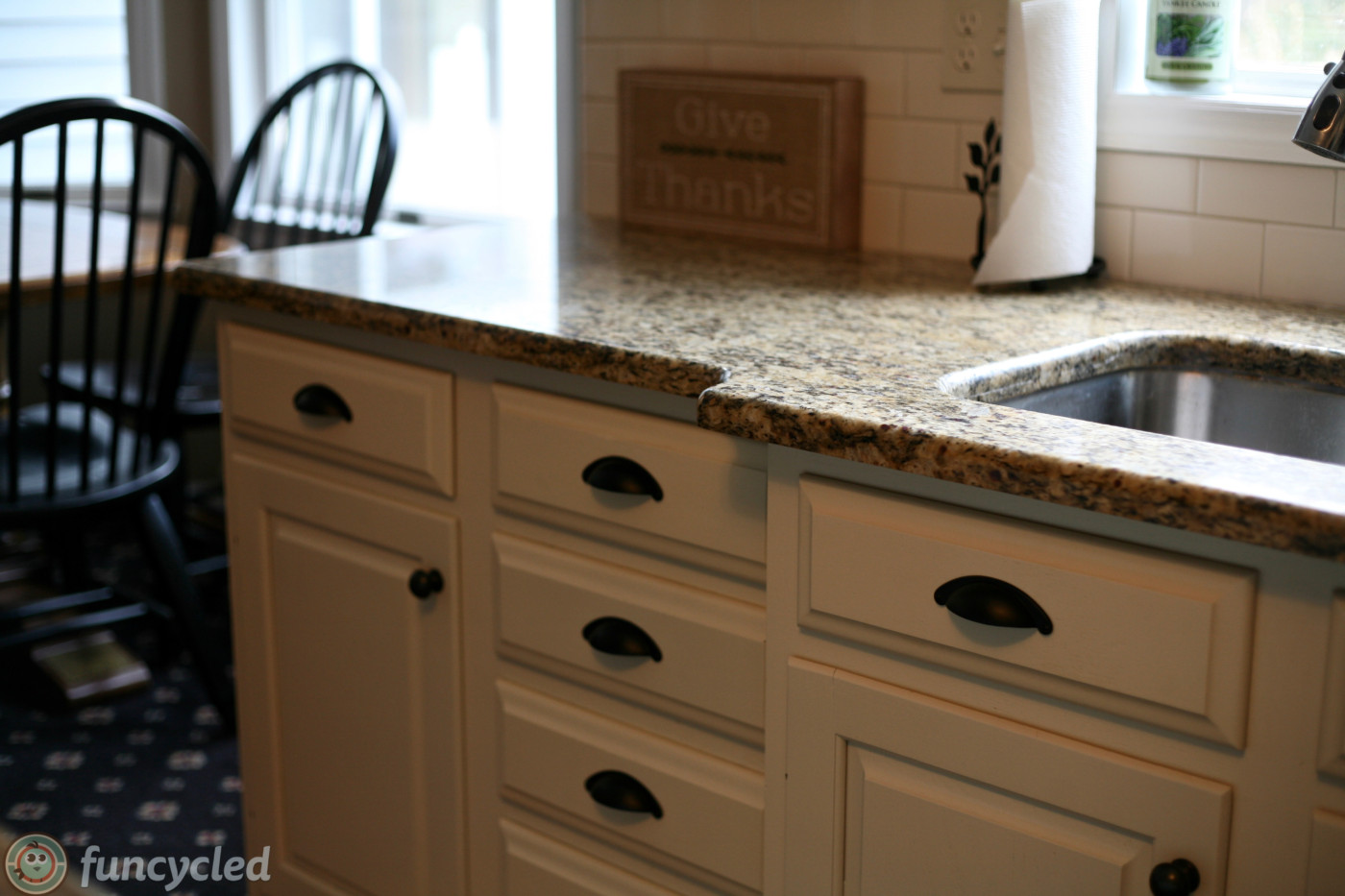 Hi Friends,
How are you? I hope you had a nice Thanksgiving weekend! Thank you to all who came out to shop small this Saturday. Those of you who support us are a gift – stopping by FunCycled to shop, to say thank you, and to reminisce on projects past. If you had only seen the morning we had when a "quick" project at the store at 9am turned into one disaster after another with kids in tow for over 3 hours. One kid was sick, sleeping on my coat behind the counter, our dog ran out of the store and almost got hit by a car, and I felt not so great myself. I looked around at all the chaos happening on one of the biggest sales days of the year for us and I actually found it so symbolic of this thing called small business. It's working on the sick days, it's bringing the whole family – even the dog, and it's finding a way to succeed! I didn't get annoyed actually; I just thought how will we make this work?. That's one of many things that owning a small business teaches you; how not to freak out. You learn that it only makes things worse. Embrace the challenge and kick its butt… and that's what happened Saturday. You all were gracious as my husband was drilling a barn door in the middle of the check out area, you were kind to my kids, you were encouraging to me, and you sent business our way to help us live our dream. Because even on the tough days, we are so very thankful to be doing this every day. We love watching things go from broken to beautiful, we love creating, and we love helping you love your home so it feels welcome to everyone who walks in. Thank you, thank you, from the bottom of our hearts.
For this week's Tuesday's Treasures, I wanted to share another kitchen project that we recently wrapped up. This is a set of kitchen cabinets are all oak!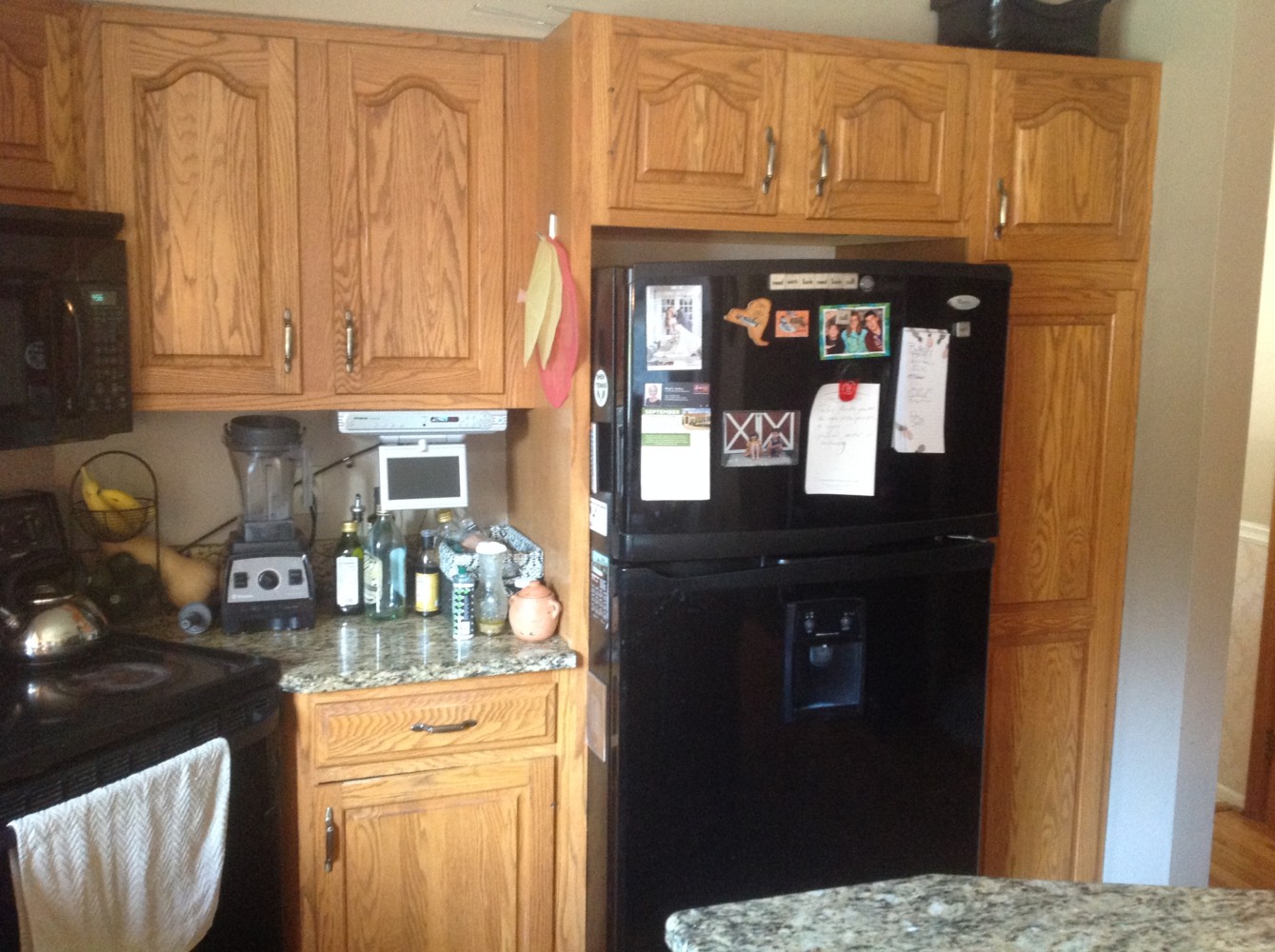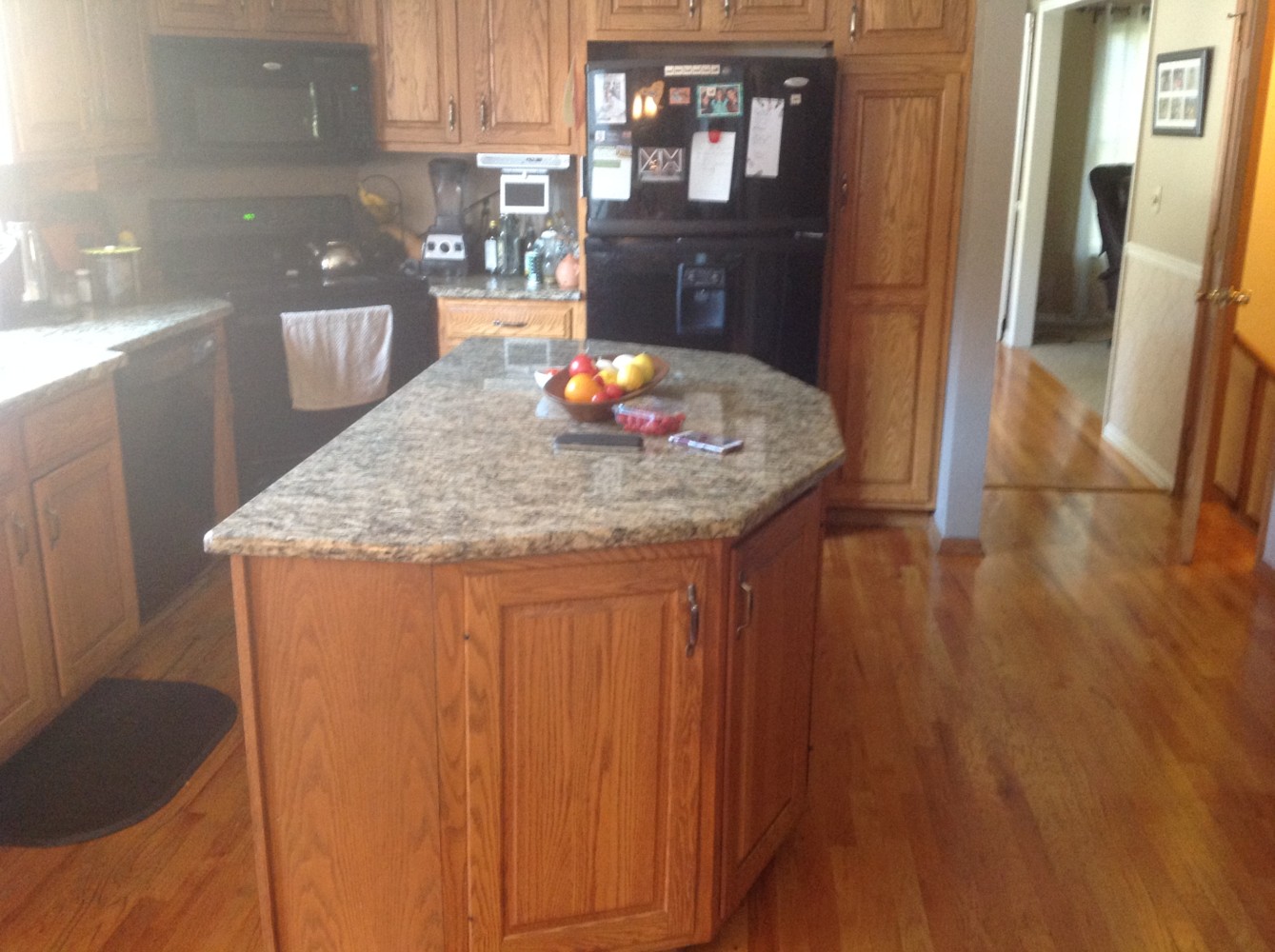 This is probably the most common kitchen style that I see and this one had quite the transformation with a coat of paint and a new backsplash. Here's a couple of tips for redoing oak cabinets.
1) Don't sand too deeply into the wood when you're prepping it because it will make the already deep grain stand out more. Just lightly scuff it with 150 grit sand paper.
2) Don't go with a gloss sheen; go with satin. Gloss makes the grain stand out even more.
3) Paint them – trust us, it looks better and increases the value of your home. I know it's ok, it's ok. Just let us paint them.
For this kitchen, we painted the main cabinets Manchester Tan HC-81 and the island Dry Sage 2142-40 by Benjamin Moore. We also changed out all of the hardware and that helped significantly with this transformation. Ready for the afters?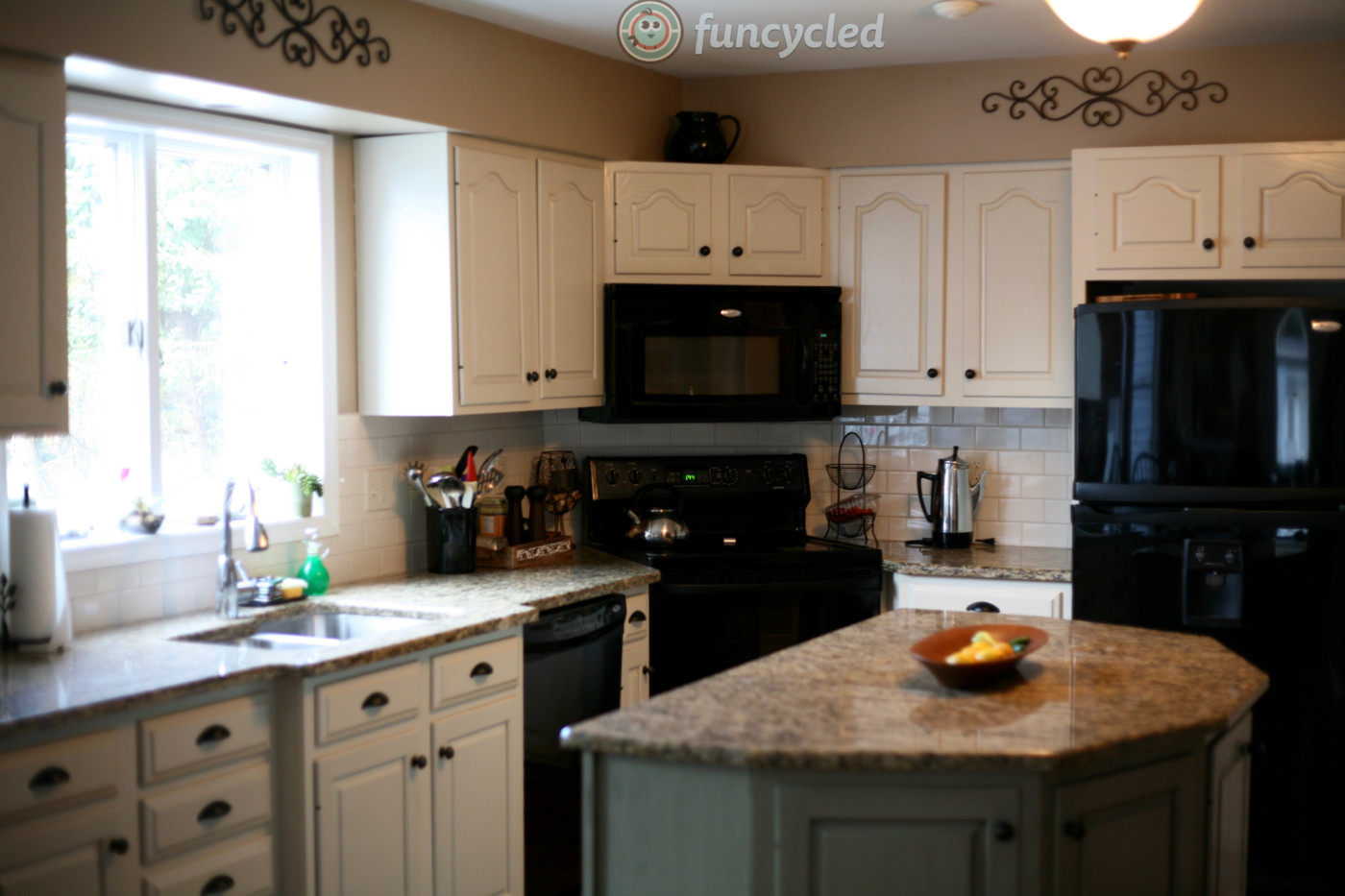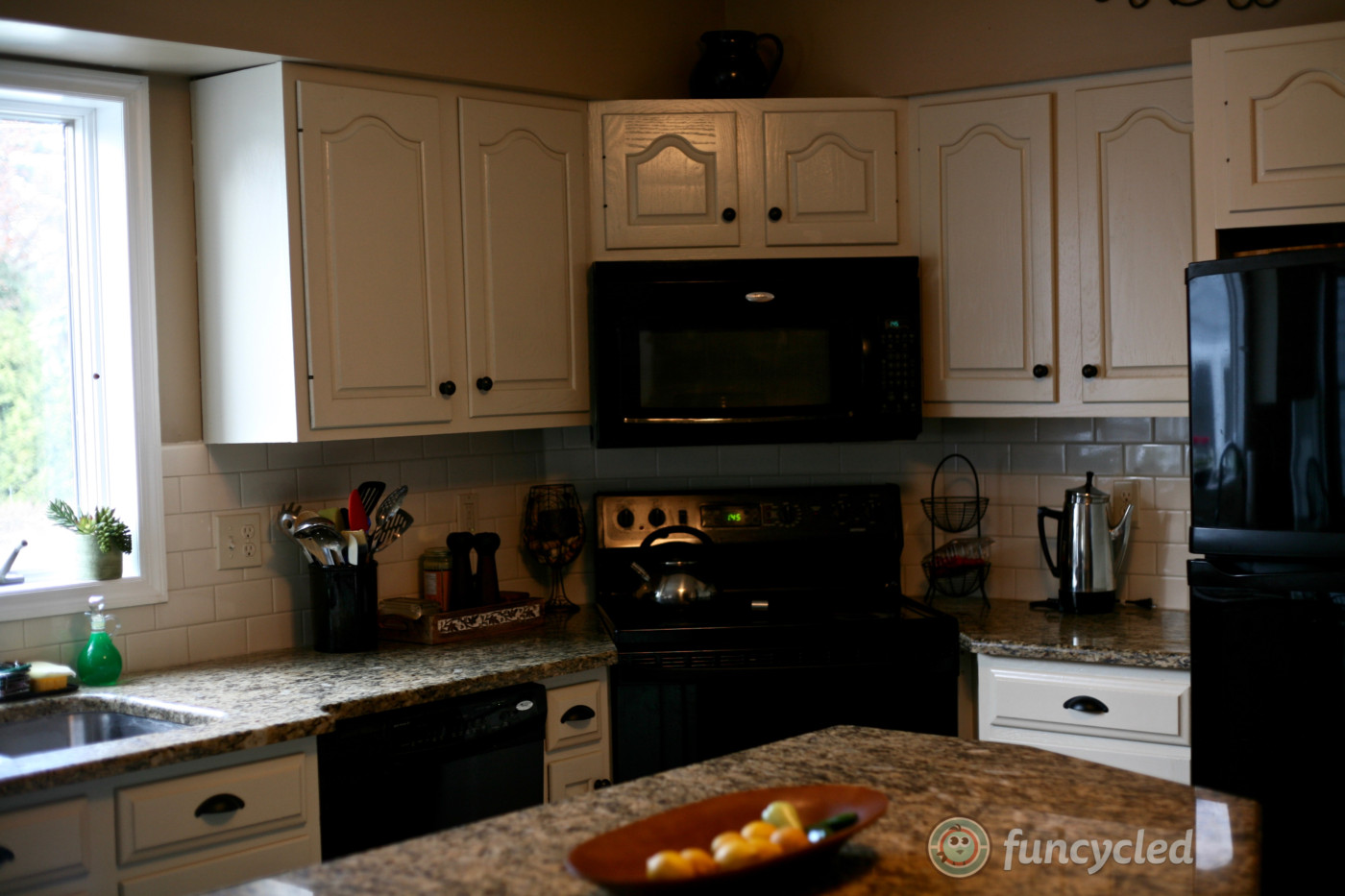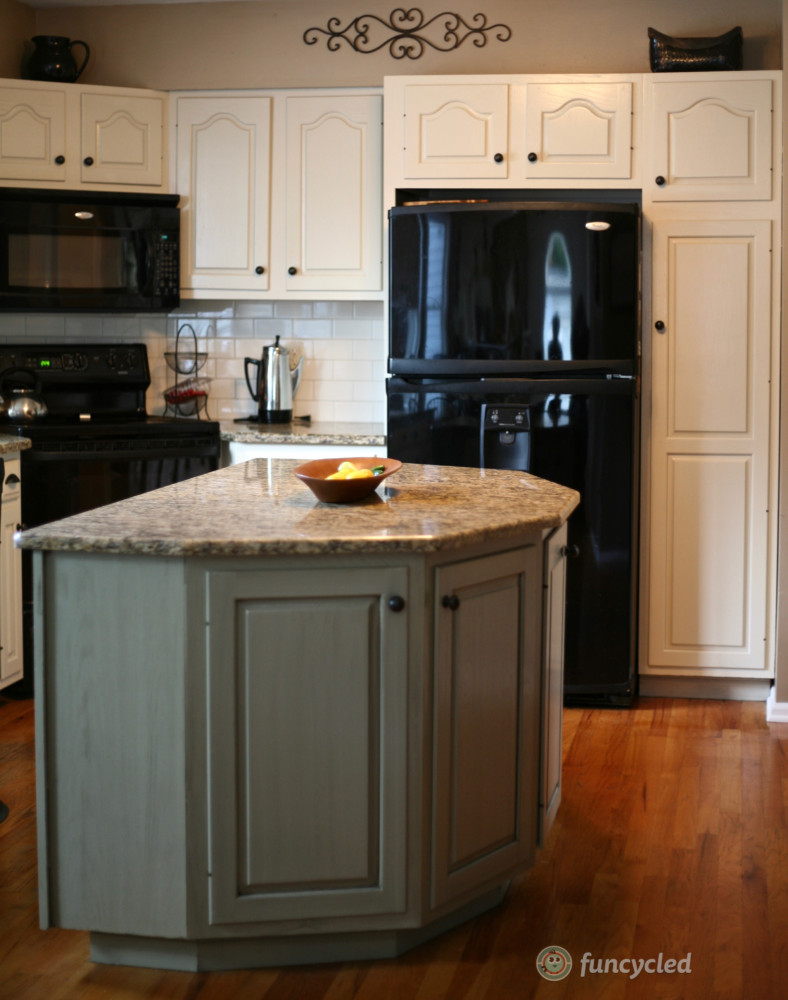 What a transformation, right? If you'd like us to create this transformation for your kitchen, use our Contact Us form or check out other kitchen projects on our For Sale page. We'll need to see a picture of your kitchen, a list of how many doors and drawers there are, and were you are located to email you an estimate. This change ups the value of your home and gives you a whole new look at a fraction of the cost of new kitchen cabinets!
Also, check out our store for new furniture available this week:
There is a box at the top right of this page to enter your email address to receive notifications by email when I post something new on this blog. Please sign up today!
Happy FunCycling Friends,
Sarah ;)
If you like what you see, please like FunCycled's Facebook page to keep up to date on the newest finds, vote on colors and give your input on our creativity. Last but not least, let us customize a furniture piece for you. We create custom furniture and will deliver for customers in upstate NY and also ship throughout the US. Send us a note with what you would like using our contact page. Or buy something that we've already designed from our furniture for sale page.