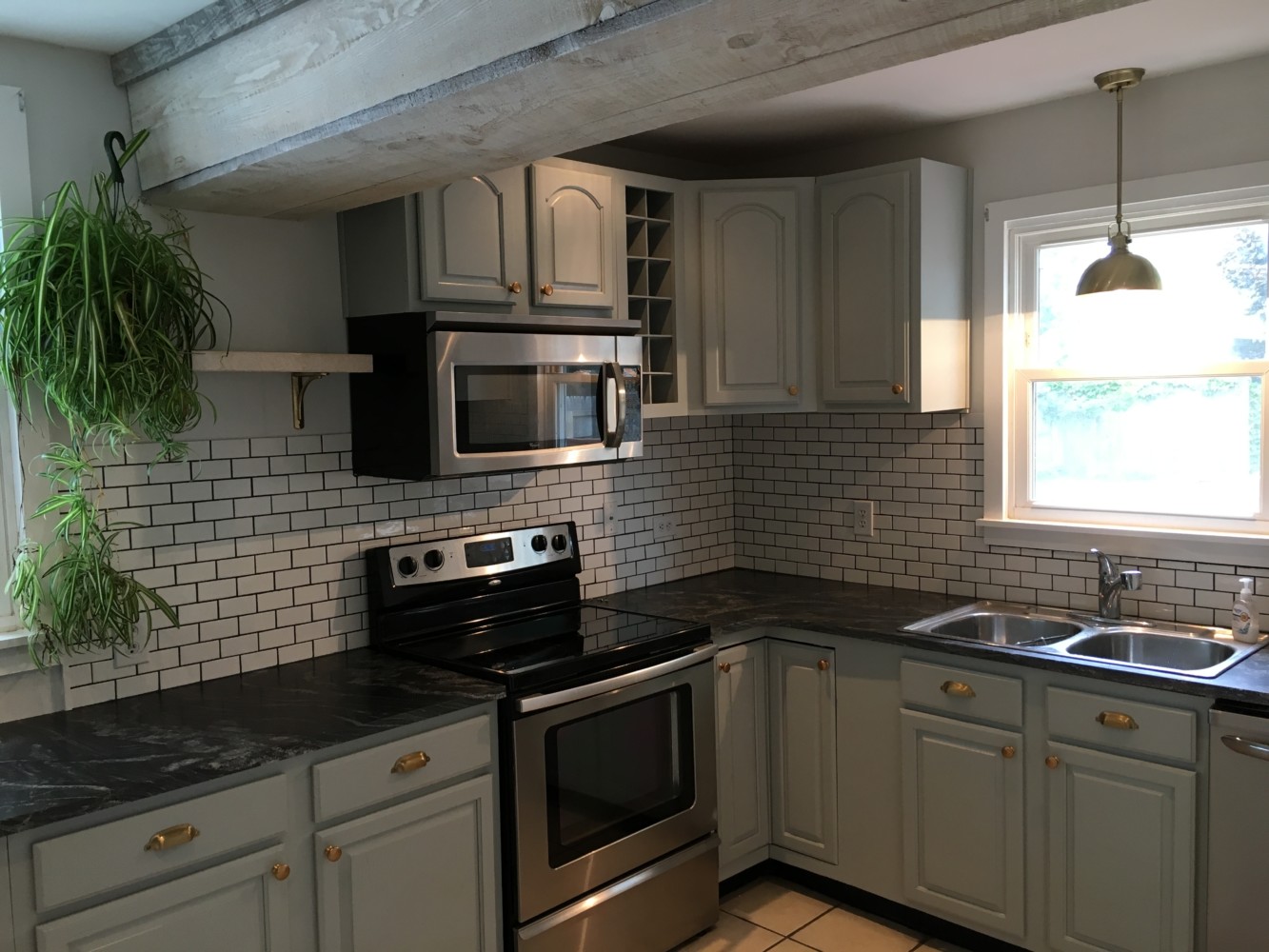 Hi Friends,
If you've followed us on Facebook or Instagram during the last few weeks, you've seen that we have been renovating our kitchen. We've been painting our clients kitchen cabinets for 5 years and even helped with some tiling, customizing with shiplap and other accent work. The question that I get asked the most related to kitchen projects is this: In what order should I redo my kitchen?
This isn't always a cut and dry answer because often budget gets in the way and people have to do projects in phases. If you'd like the most dramatic change up front, I always say start with the kitchen cabinets because it will have the most impact to transform your room fast and fairly inexpensively compared to the other projects. If your budget allows you to do everything at once, here's the steps we recommend:
1) Start with new flooring (if need be) – this is a messy job and can easily scratch the cabinets if you have to sand the current floor or lay new flooring so it make sense to start there.
2) Remove the old backsplash – this is another messy job and it will most likely need to be removed if you are replacing your countertop.
3) Remove the counter and get a template made for your new counter; if you're installing a apron front sink or undercount sink you may need to adjust the cabinet doors and build a new support inside the cabinets for the new sink. This is an important thing to decide before painting the cabinets.
4). Install your new backsplash – this can be a messy job depending on what color grout you pick so often it's nice to have that installed before we paint the kitchen cabinets for you. Backsplash can definitely be installed after without a problem if that's easier for you, too.
5) Have your kitchen cabinets painted – this will not only brighten up your kitchen, update your house dramatically, but it also ups the value of your home. Pro Tip – ordering new hardware when you're having the cabinets painted is a smart idea. You can change the size or style to whatever you'd like and new hardware is worth the investment!
6) Install new lighting and accessories. I like install lighting last because sometimes after I see all of the colors and textures come together, I want a different light and/or accessories.
7) Appliances – they can be purchased at any point in the process (unless the size of the appliance would change the layout of the room or cabinets.
Here's a kitchen that we redid in July! We painted the cabinets Coventry Gray by Benjamin Moore, added new gold hardware, installed subway tile, Klassic Stone installed this beautiful black forest honed granite counter, and we covered the ceiling joist with rough cut wood to make it a focal point instead of an eye sore. Another great idea for an awkwardly empty spot in your kitchen? Add a shelf for more display and storage.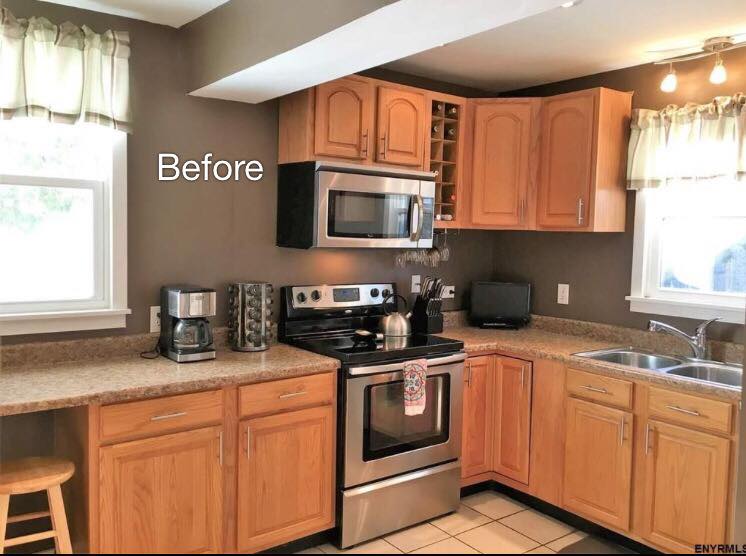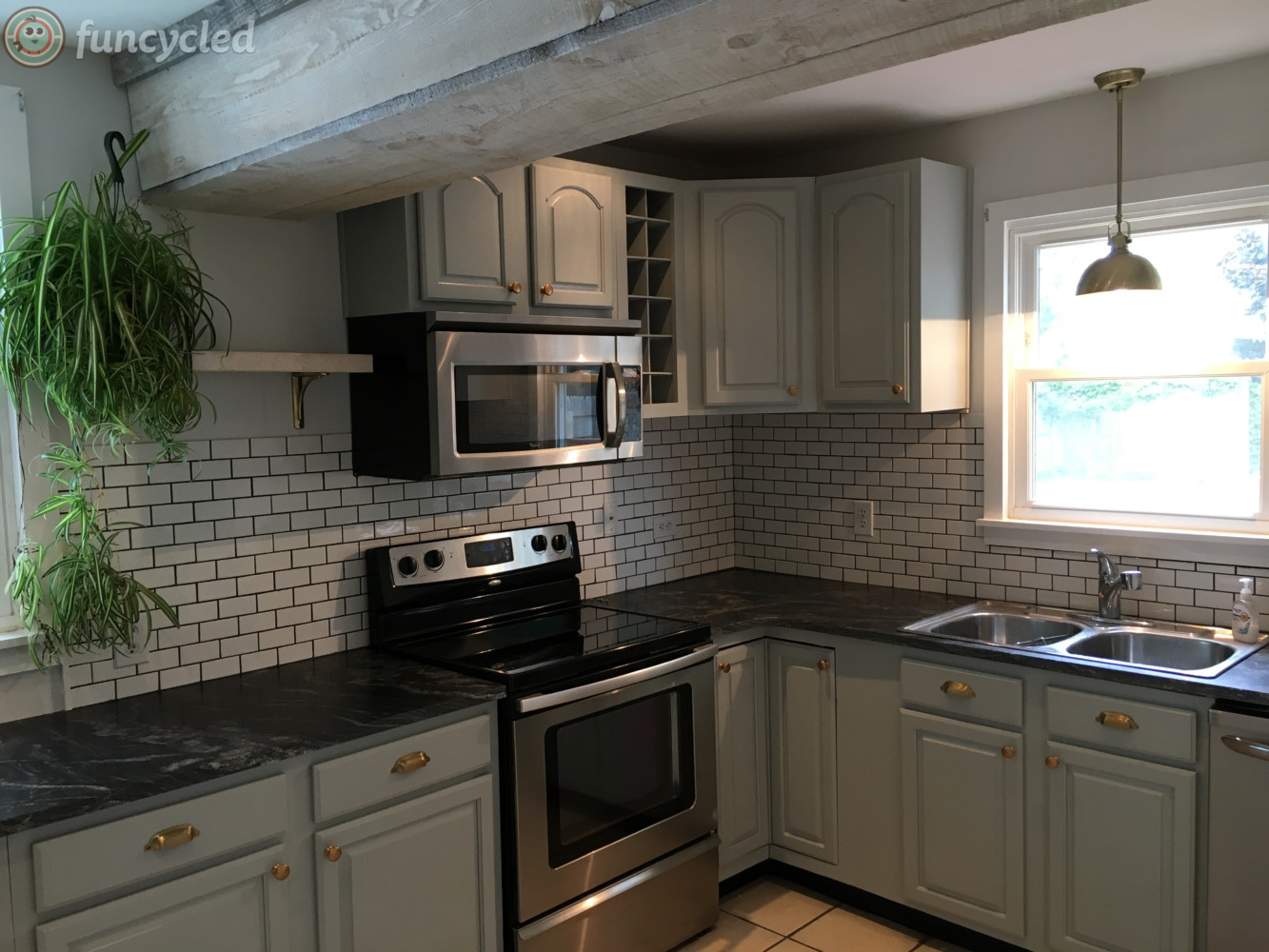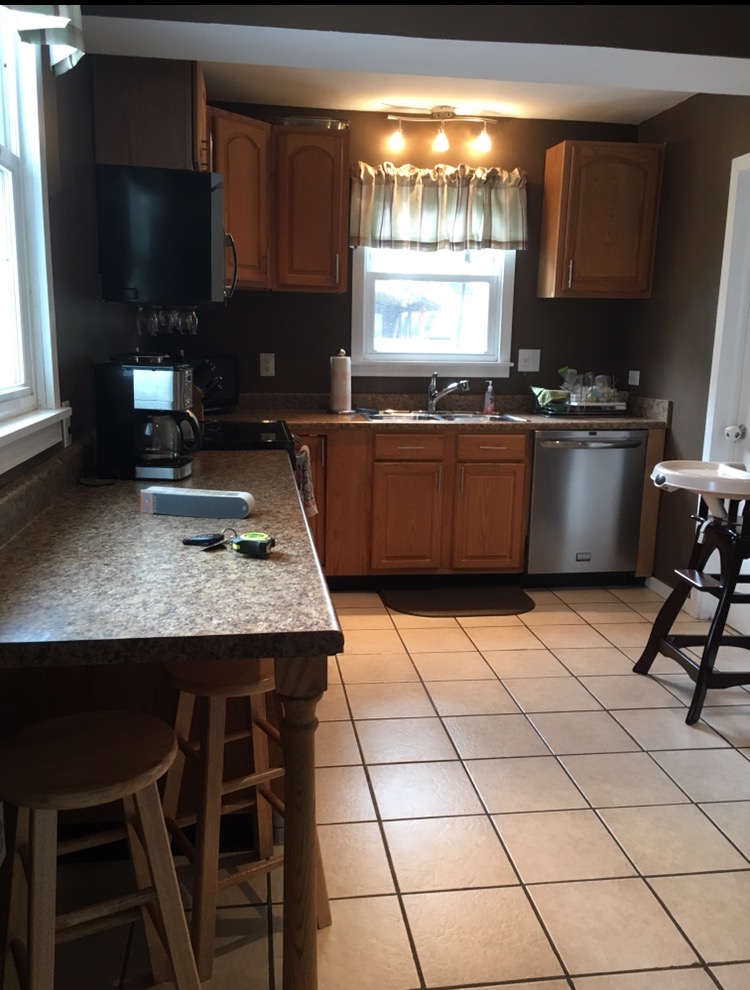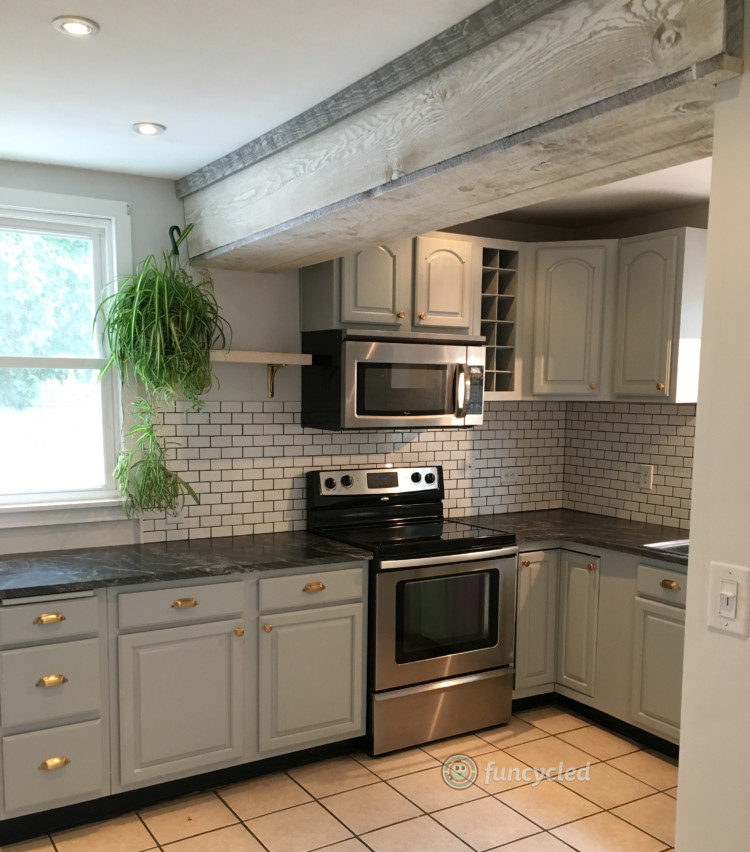 Would you like help transforming your kitchen? Use our Contact Us form to request a quote. We would need a picture of your kitchen, a list of how many doors and drawers are in the kitchen, and your location. Then we can send over an estimate for you!
I'll be sharing more kitchen info over the next couple of weeks so stay tuned friends!
In the mean time, check out other new furniture for sale on our website here or let us know if you could use some help with decorating. Please use our Contact Us form or stop by our store at 272 River Street, Troy, NY. I also added quite a few other new pieces to the store!
There is a box at the top right of this page to enter your email address to receive notifications by email when I post something new on this blog. Please sign up today!
Happy FunCycling Friends,
Sarah ;)
If you like what you see, please like FunCycled's Facebook page to keep up to date on the newest finds, vote on colors and give your input on our creativity. Last but not least, let us customize a furniture piece for you. We create custom furniture and will deliver for customers in upstate NY and also ship throughout the US. Send us a note with what you would like using our contact page. Or buy something that we've already designed from our furniture for sale page.