I'm beyond excited to FINALLY announce that FunCycled is now a local retailer (the only one in upstate NY), that is offering RePurpose ReColor's Chroma Color DIY paint line!! What does that mean exactly? Available starting August 27th, you can stop by our store at 272 River Street in Troy, NY and buy some amazing DIY paint.
Let me give you a little information about the products straight from the RePurpose shop:
Chroma•Color is Repurpose Recolor's line of premium, water-based, all-purpose paint. It sticks to just about any surface — wood, concrete, metal, laminate, veneer and much more. It dries very quickly so you can start enjoying your Re•Colored furniture, walls and floors straightaway!
• Priced significantly lower than the competitors
• Paint and primer in one! With Chroma•Color paint there is no need for any prep work — no sanding or priming.
• Gorgeous buttery satin finish, great coverage and ease of use make Chroma•Color a snap to use.
It comes in 16 Different Colors!
Purchase 1 Quart for $32 Or a Try It Size (which should be enough to paint a small end stand or chair) for $10.




RePurpose Tinted•Tincture Stain
Tinted•Tincture Stain — is your wood treatment solution! It is an easy-to-use wood stain designed to preserve and enhance all wooden surfaces. With ultra-low odor and soap-and-water clean-up, your projects will be a breeze!
• Modernizes and transforms any wooden surface while preserving the original beauty of the woodgrain.
• Currently offered in beautiful 12 colors
• Extremely versatile — great on furniture, cabinets, doors, shelves, trim work, walls, floors or any wood surface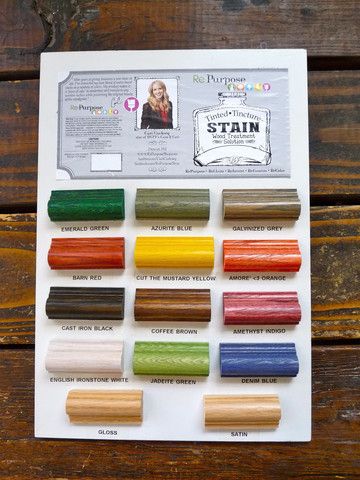 So stop by our store during our regular business hours or use our Contact Us form to place a larger order.
Thanks so much!