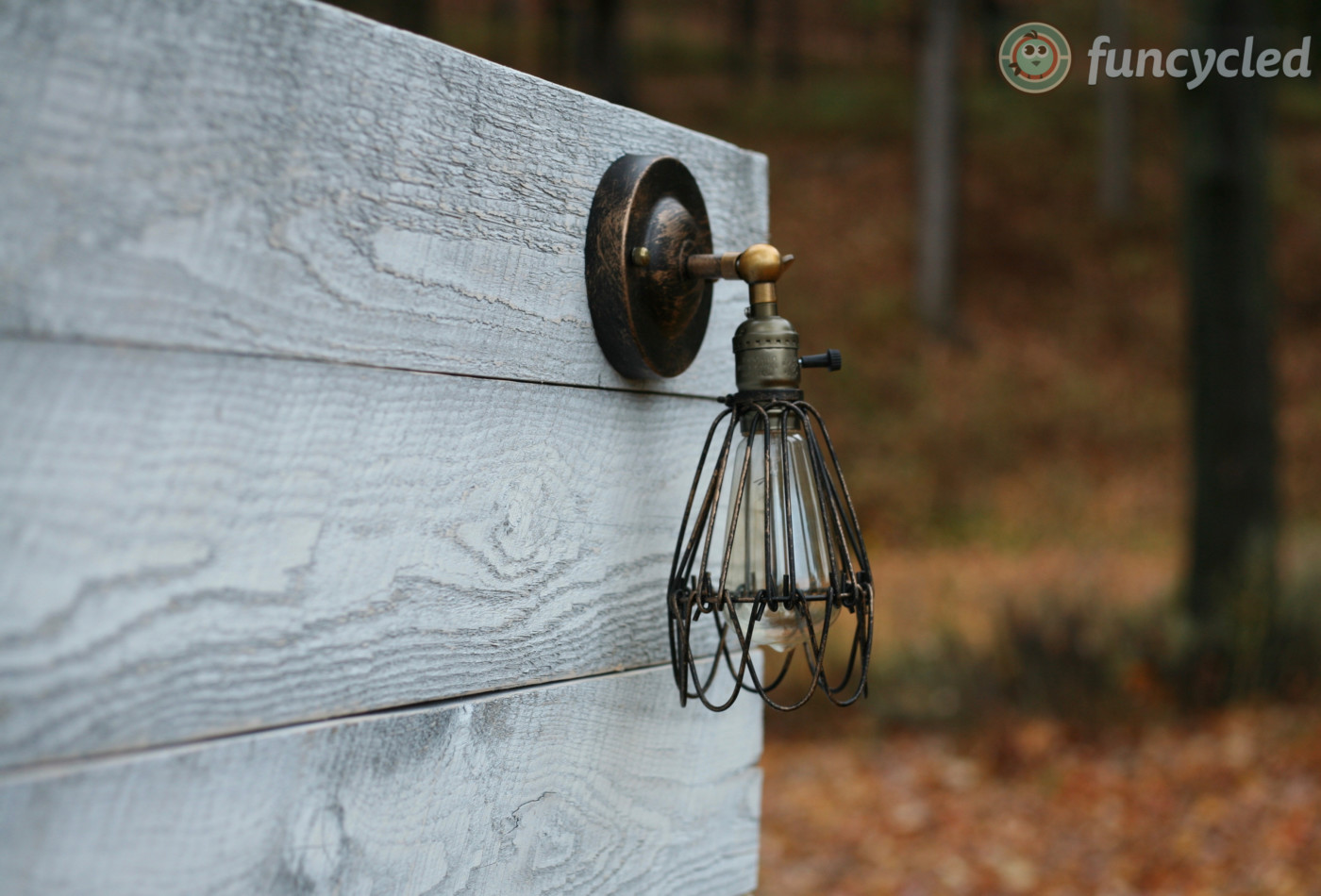 Hi Friends!
How was your weekend? I hope it was restful and fun! I can't wait to share today's story with you because stories like this don't happen every day in my profession.
Michael emailed me asking to set up a time to go over some furniture he'd like to order. We met and he explained how he would love to surprise his wife, Amy, with a bedroom set for Christmas. They had miss matched furniture and he wanted something really special – picked by him and designed by me. Amy has ordered furniture from us in the past so I knew her and what she might like. He told me about items he had noticed her liking in the past and asked if I could make a set which would reflect the style she likes and make it all blend while not all exactly matching.
We picked out a dresser I had in stock. This one in fact.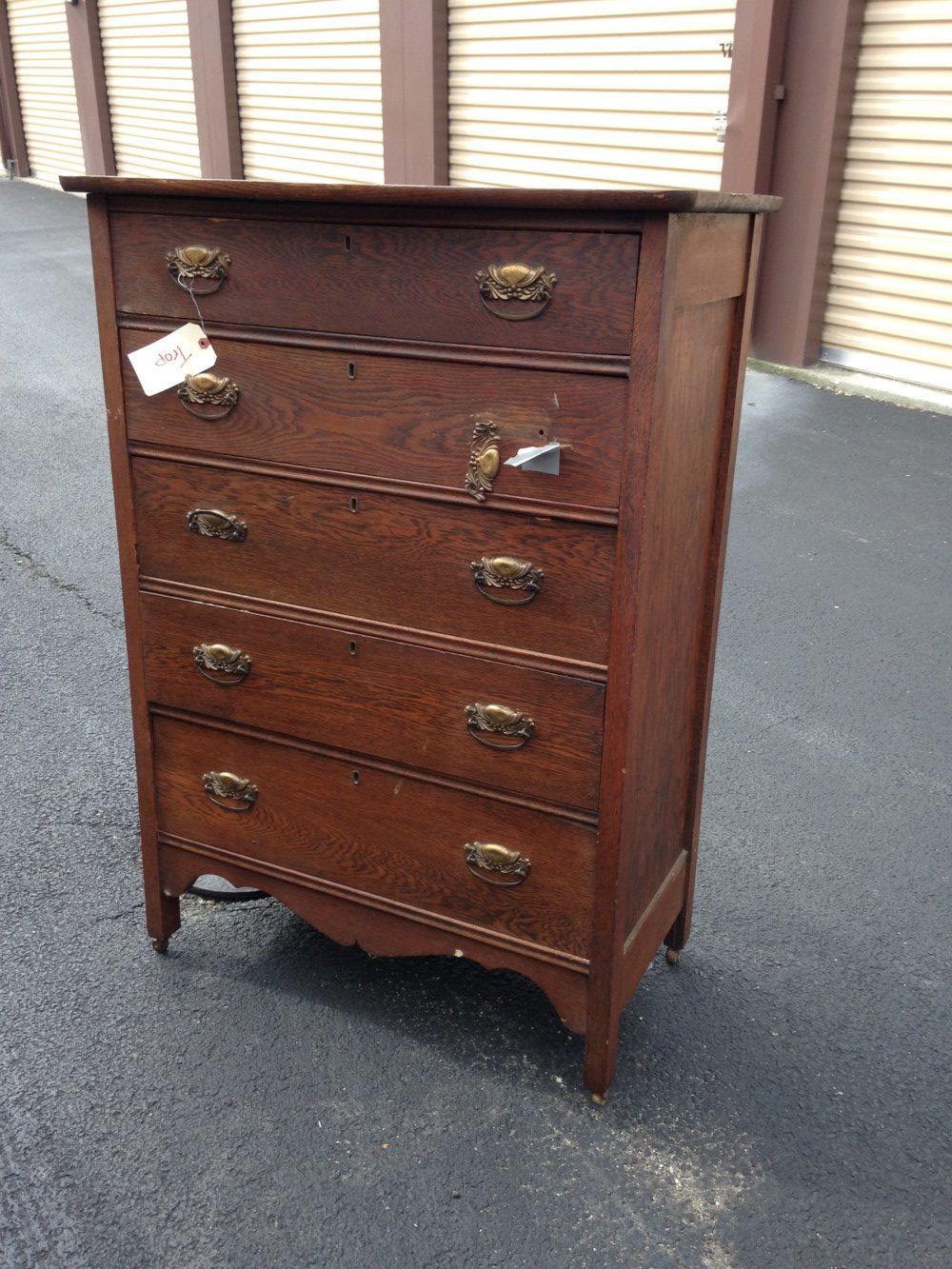 They owned another dresser he said that he'd love to have repurposed: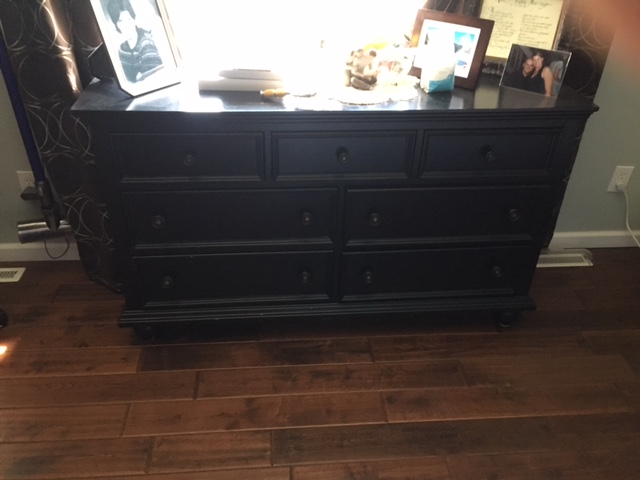 He also needed end stands and we thought these could work with the design.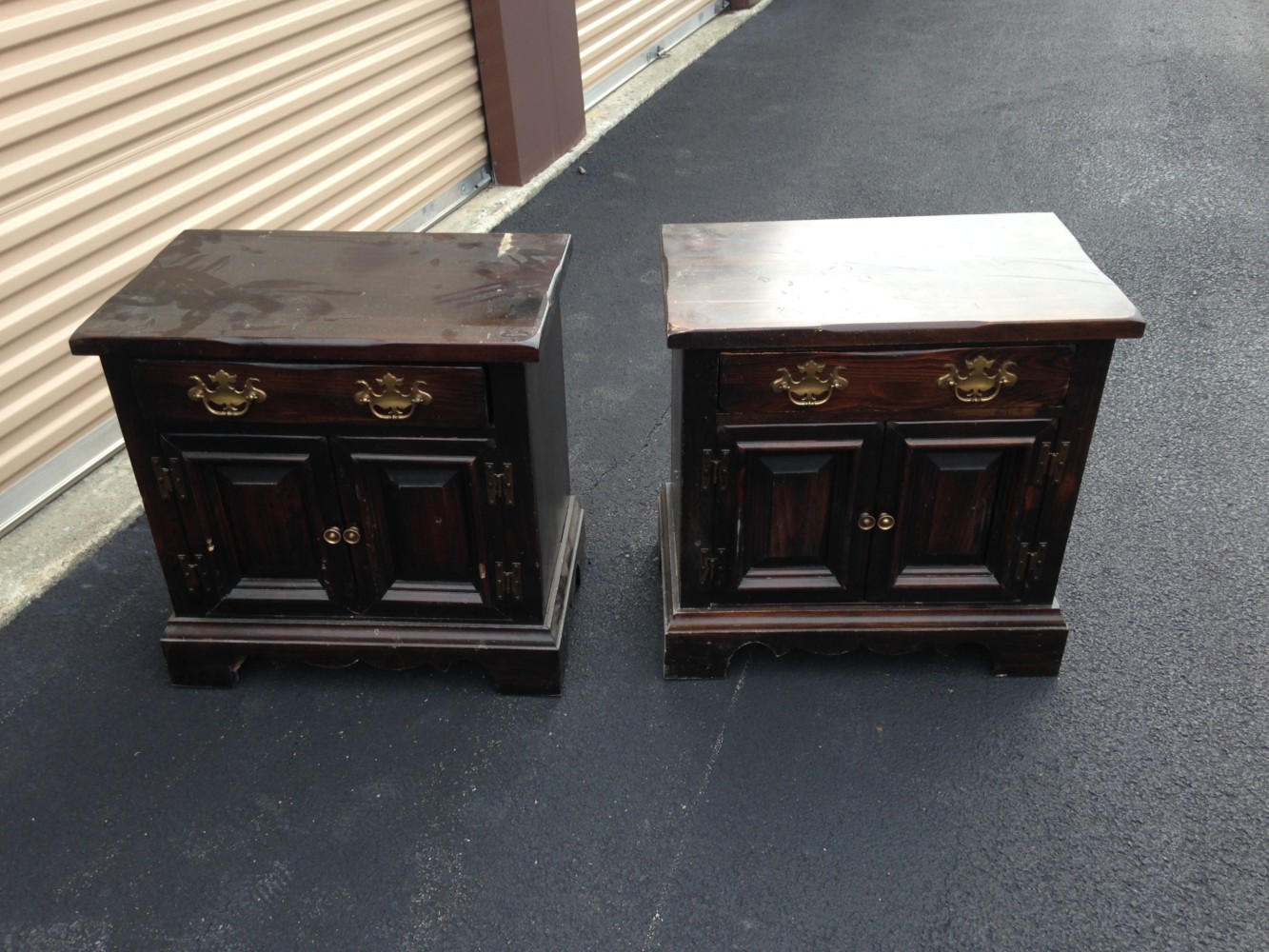 They have a king sized bed with no headboard so he asked if we could build one. We went back and forth on ideas, he wanted the texture of raw wood but a light color because the headboard wall is a dark brown.
So we started with the tall oak dresser and added an ombre distressed finish. Look closely, we start with white and go down do a chalky black on the drawers, then heavily distressed everything. The outside of the dresser is painted with Benjamin Moore's color Simply White. If you want to see how we paint furniture, check out our How to Paint Furniture post. Ready for the after?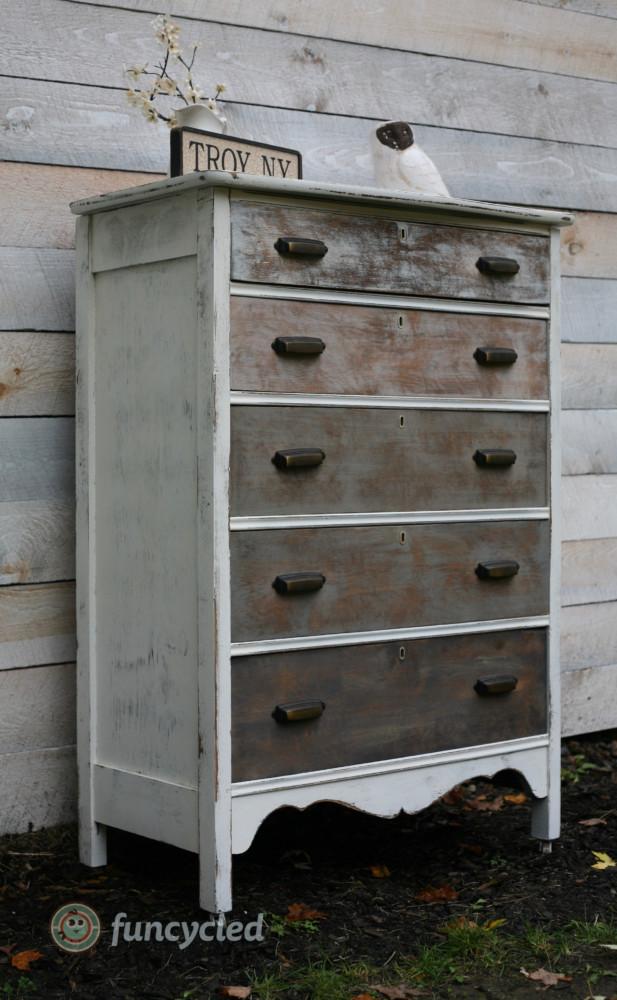 He also wanted a place to store electronics so we made the top drawer hinge down in order to use the cable box or DVD player.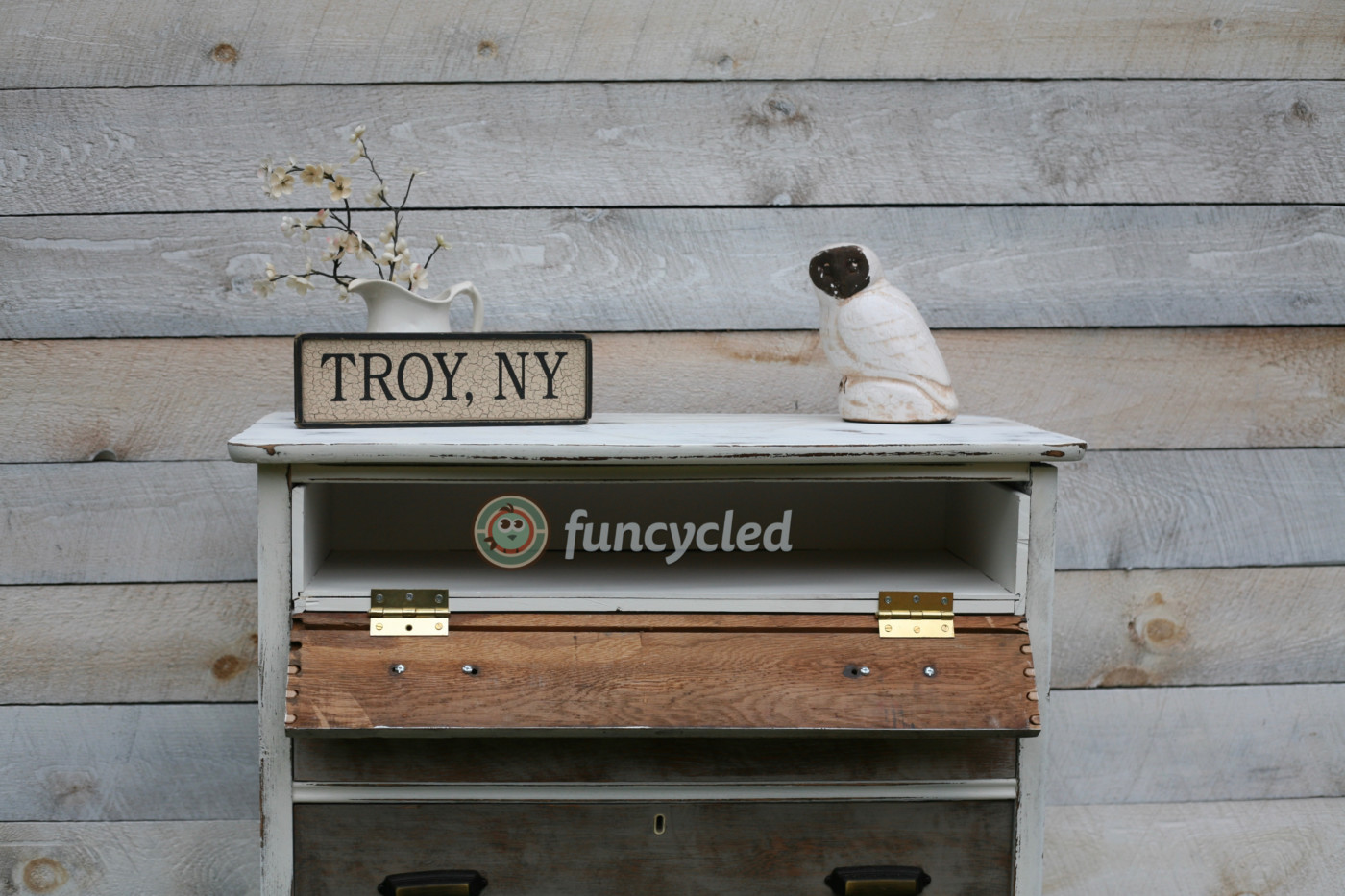 We then took the dresser that they already  owned and removed the trim on the fronts so we could add barn board to the drawer fronts.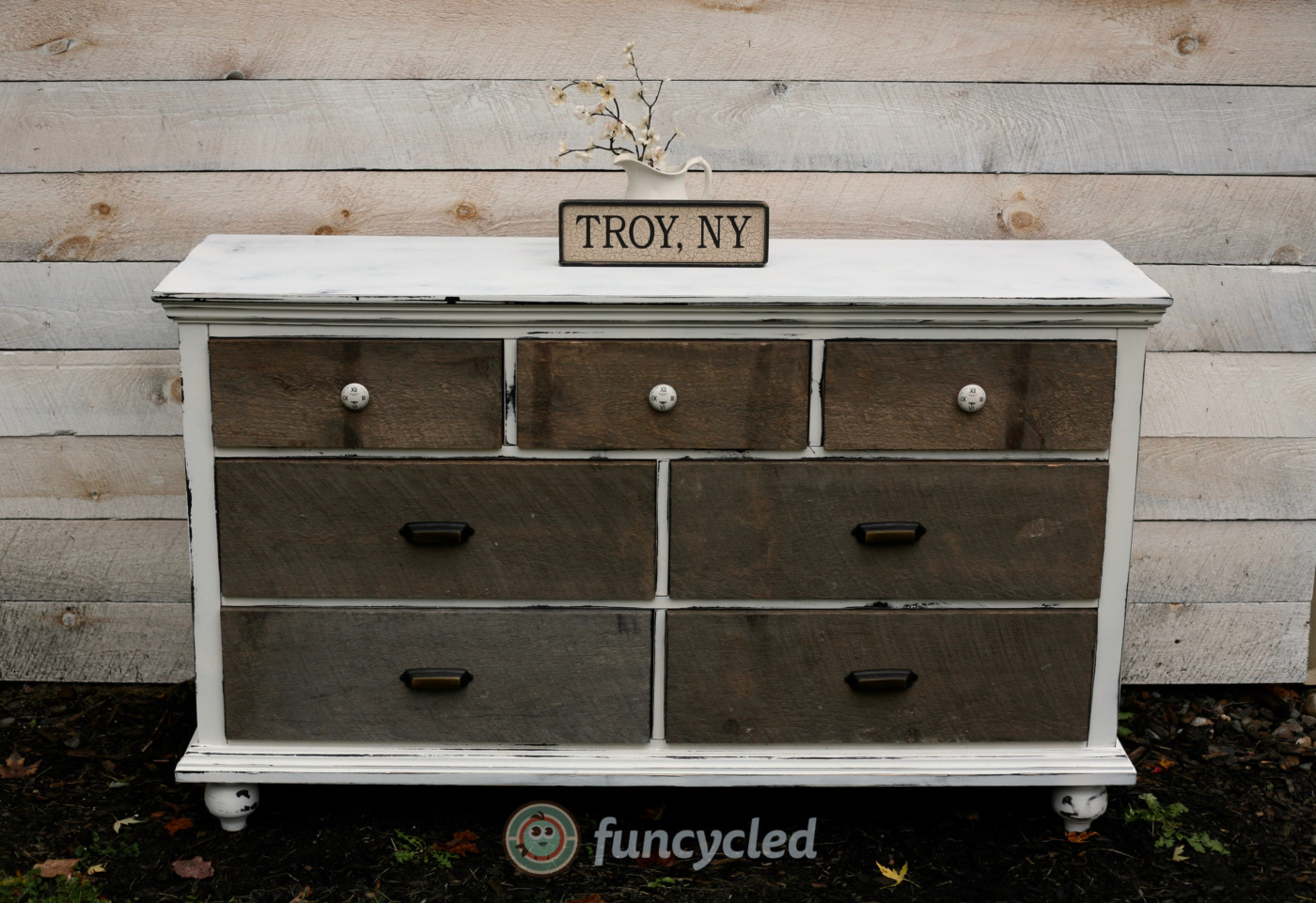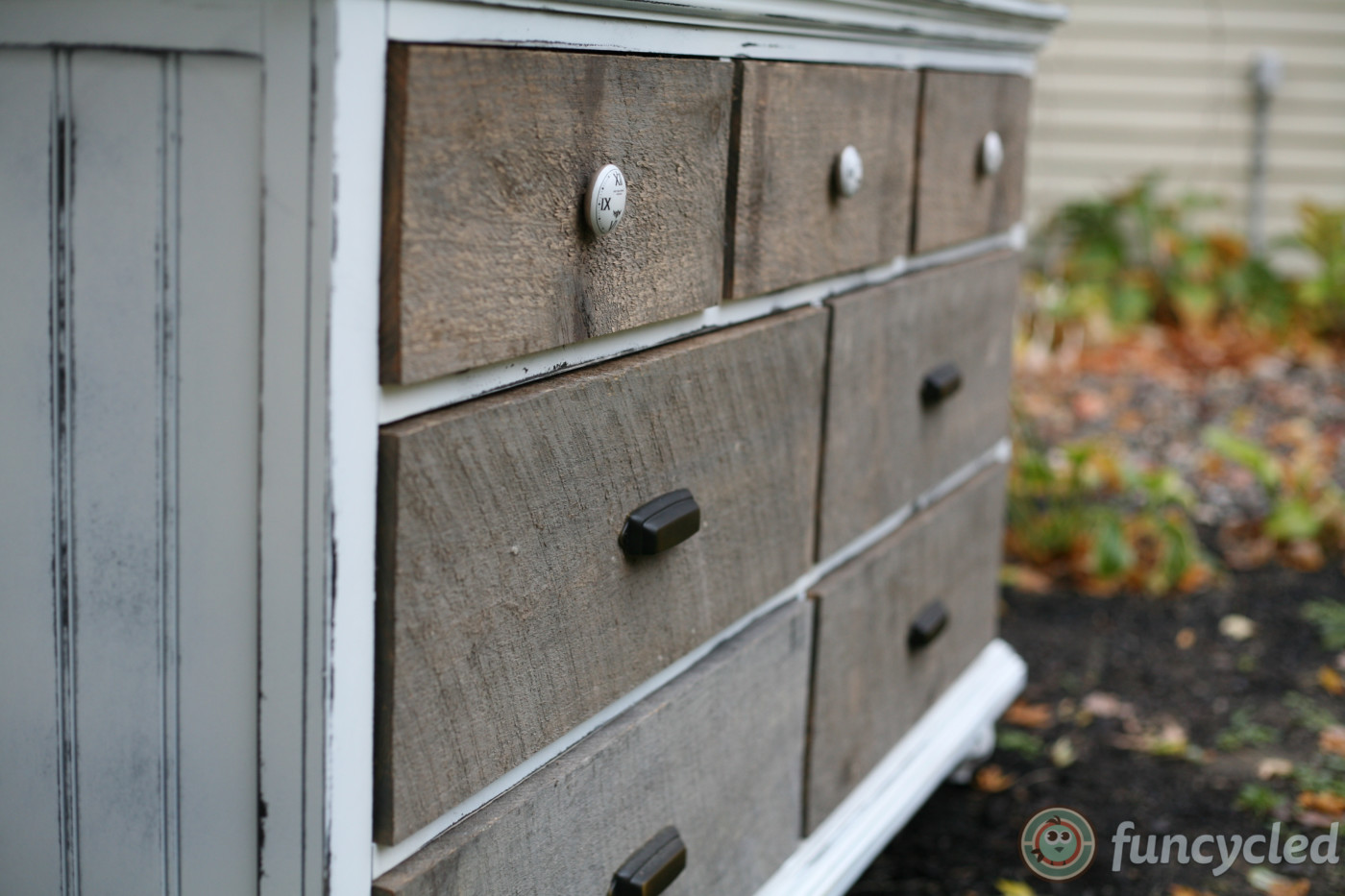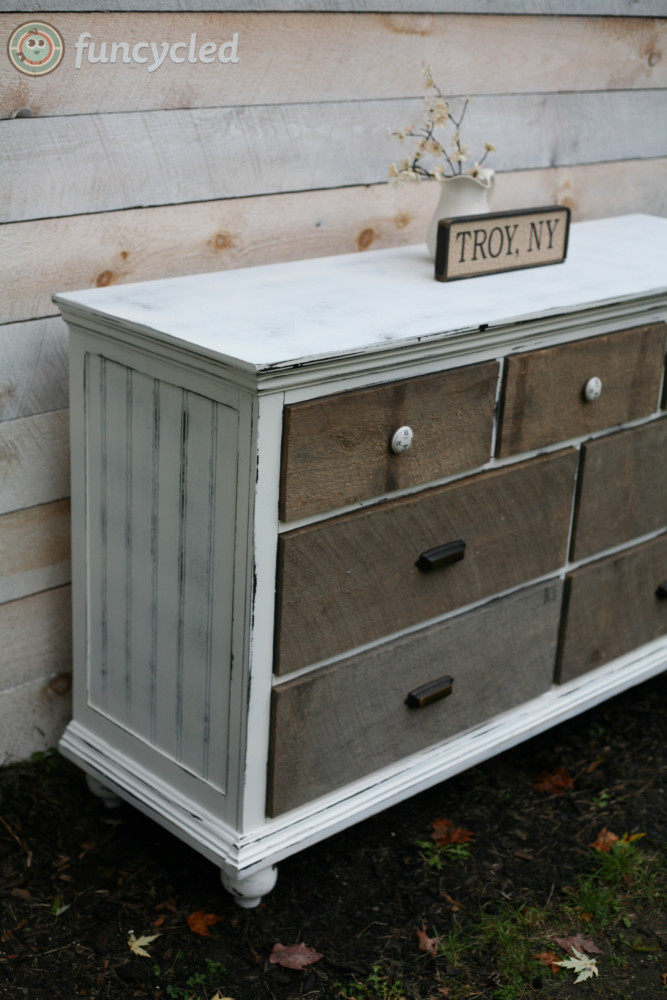 Then we kept the end stands simple with painting them Simply White as well and heavily distressing them.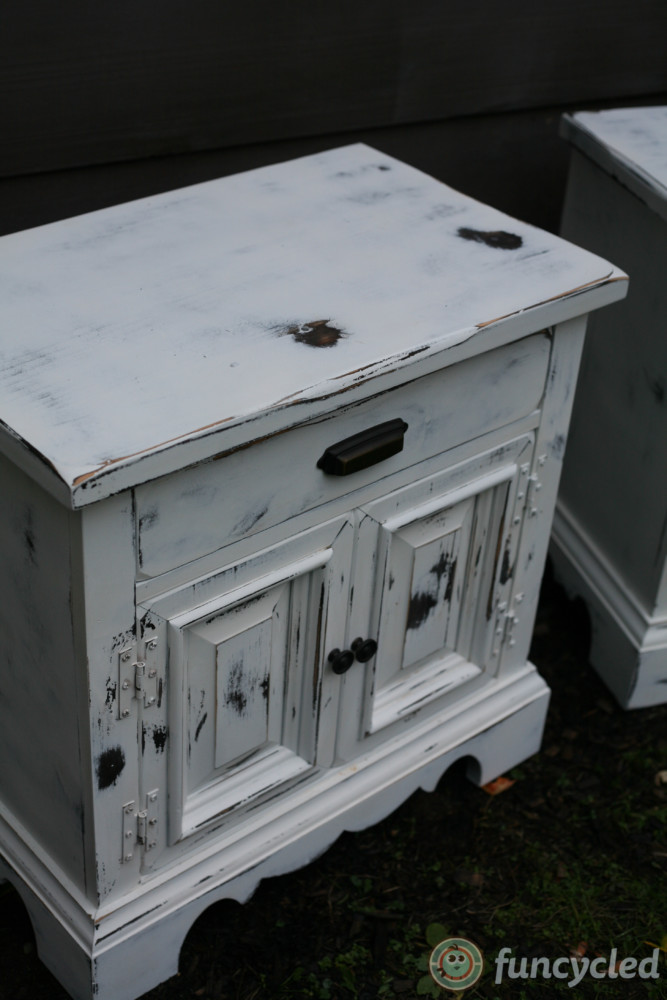 Last but definitely not least, we custom built a king sized headboard and installed lights as well!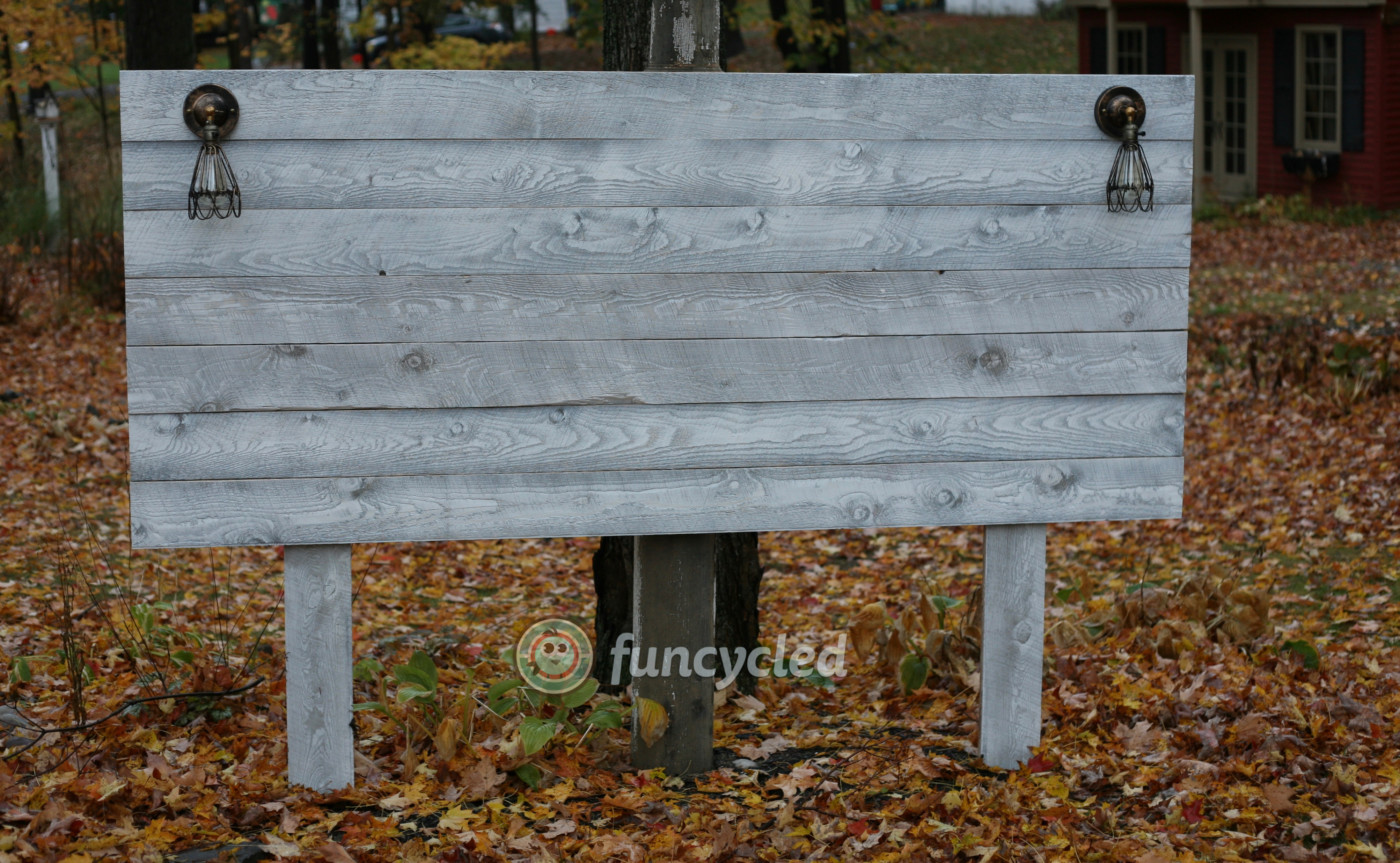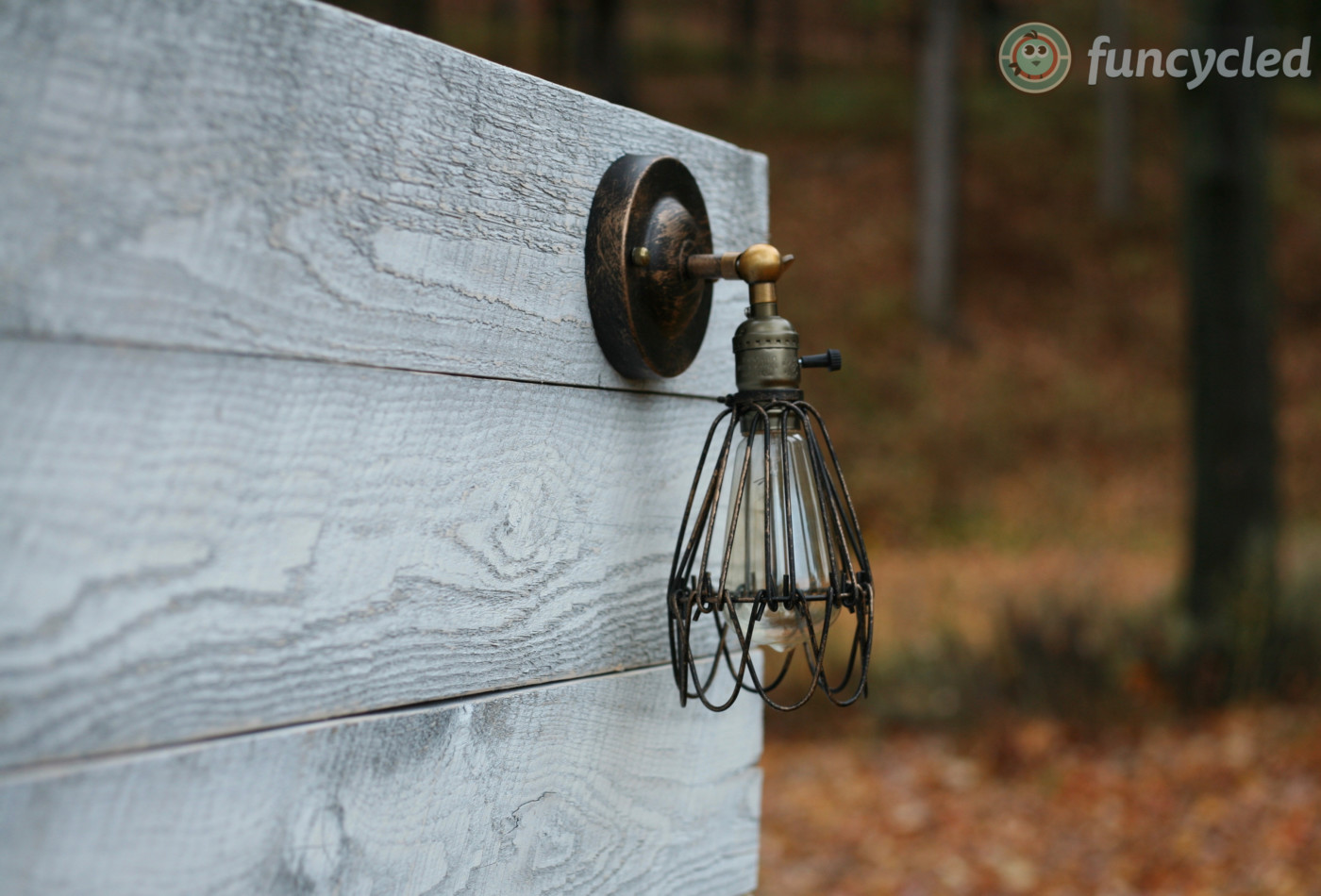 One of my favorite parts of this story is that Michael asked me if he should completely surprise Amy or ask her if she'd like to provide input. I thought allowing her to offer input might be nice so he told Amy. Her reply was the best… I trust you, surprise me. This level of love and trust is a rare treat in my line of work and everything about it made my heart happy.
So let me end by saying – thank you Michael for being so in love with your wife, for working hard to think of something special to give her, for trying to surprise her, and for giving me complete creative freedom. Amy, thank you for being the kind of wife that is trusting and kind. You did what most wouldn't by trusting and I hope it paid off!!
If you'd like to order a custom headboard or furniture, please use our Contact Us form or stop by our store at 272 River Street, Troy, NY. I also added quite a few other new pieces to the store!
There is a box at the top right of this page to enter your email address to receive notifications by email when I post something new on this blog. Please sign up today!
Happy FunCycling Friends,
Sarah ;)
If you like what you see, please like FunCycled's Facebook page to keep up to date on the newest finds, vote on colors and give your input on our creativity. Last but not least, let us customize a furniture piece for you. We create custom furniture and will deliver for customers in upstate NY and also ship throughout the US. Send us a note with what you would like using our contact page. Or buy something that we've already designed from our furniture for sale page.