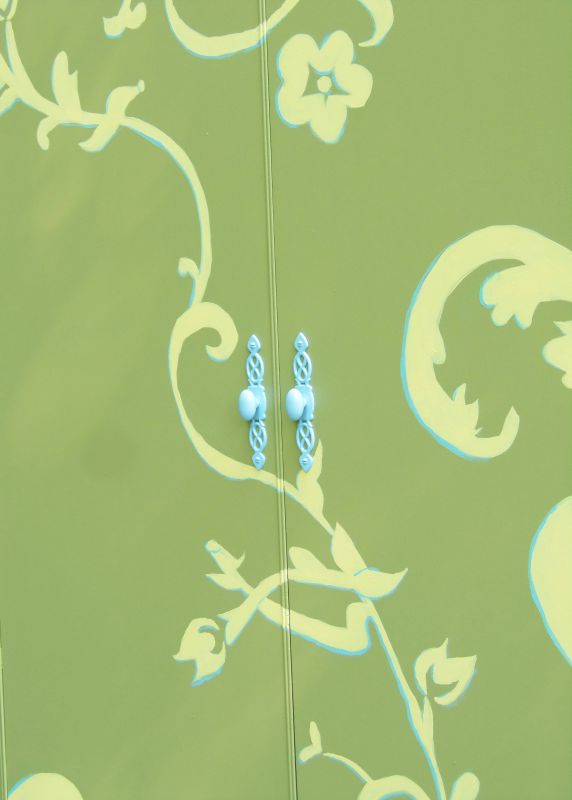 Happy Tuesday's Treasures! I hope you had a great week. We enjoyed a beautiful week at the ocean since last Tuesday's Treasures.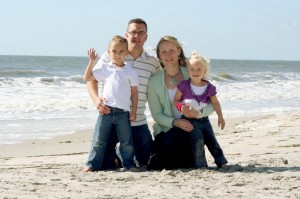 There is nothing like a week at the shore to rejuvenate the soul, but now I am eager to get back to the work I love. This weeks piece is an old cedar armoire. It was a nice big BEAST, but it needed some… how you say BEAUTY. So, let's call this one beauty in the beast. Ha ha… I crack myself up.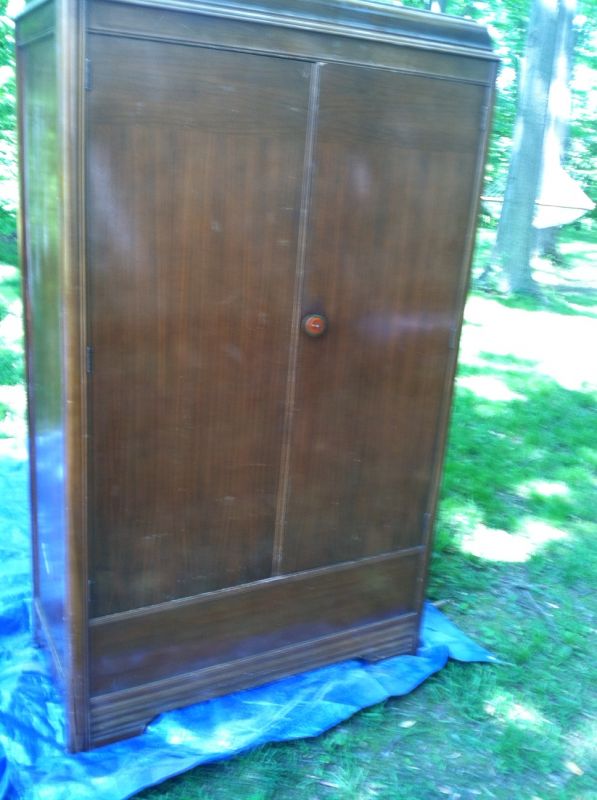 A customer came to me wanting more storage in her living room for clothes because her downtown Troy apartment has no closets. Troy has some beautiful architecture and great rehabbed apartments but if you've lived in downtown Troy like I have, you understand how very annoying it is to have limited to no closet space.
When Britta came to me, she said that she loved our work and I could do anything I wanted to it. I fished for what color and style she would prefer, but she was a very trusting customer and she let me do whatever I wanted. All she said was that she liked color and she likes green and yellow. She wasn't afraid of adding more colors, too!
So, I searched some general styles that I liked and then wanted to find just the right colors together. I went with Glidden's Spanish Olive Green and Haystack Yellow. If you want to see how we paint furniture check out this link.
I've had people ask me what stencil I used for this piece, but I didn't use a stencil. I hand drew the flowers in pencil and then I painted all of the flowers yellow (4 coats of yellow). I was thinking I may stop there, but once I finished I felt like it needed more color.  Britta is a really a fun, modern lady who deserved that much in a piece. So, I added aqua shadowing and two stripes down the sides. Are you ready for the after pictures?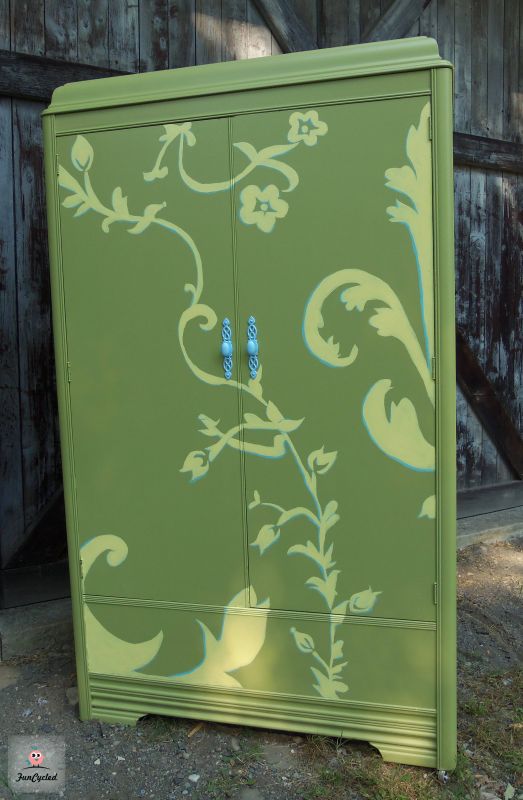 We delivered it to Britta's apartment and her neighbor walked by and said did you tell them you live on the 2nd floor yet?? I'm not sure if you can tell, but this beast is almost 6 feet tall. As we got to the steps she said oh and there's a corner at the top. Lol! Thankfully we made it up without any problems and it's now happily living in her apartment holding all sorts of stylish clothes, I'm sure!
Until Next Time,
Sarah
Remember… If you like what we're doing, please like us on Facebook at: www.facebook.com/funcycled or share this on Pinterest! Also, you can now get each of our new projects emailed to you when you enter your email address in the box at the top right side of this page.