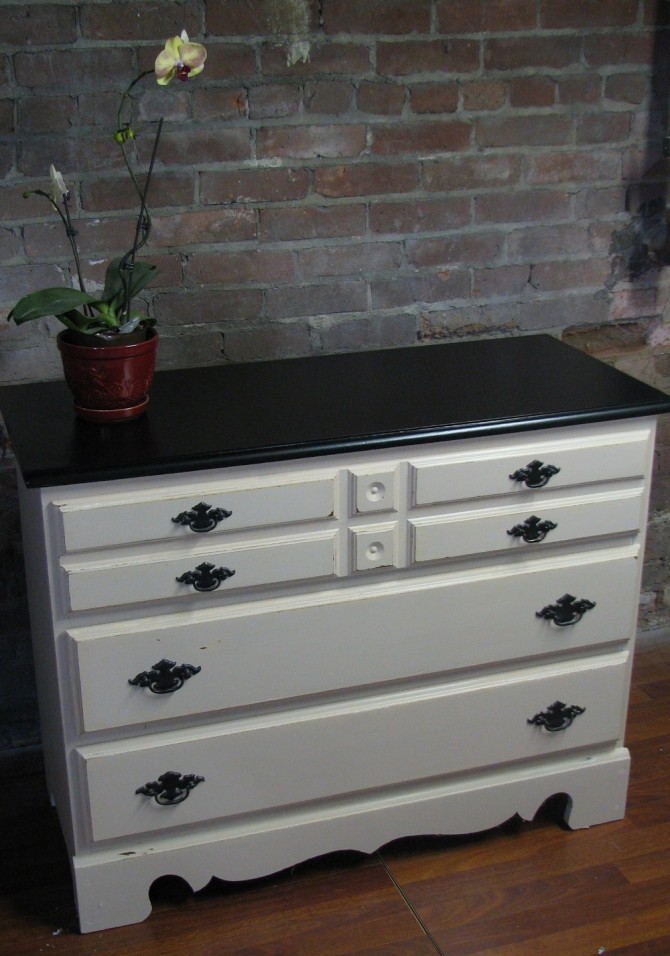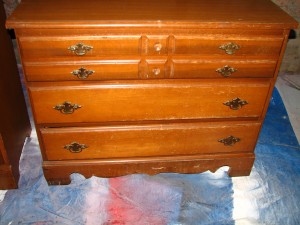 I bought this dresser at the same time as the Grey Dresser with Black Glaze. She had quite a few scratches, but I knew she could become a beauty in no time at all.
First, we filled in all the scratches with putty  but you could use wood filler, too.Then we sanded those spots down lightly. I primed it using the air sprayer because I was already priming other things. Then I painted it with tan satin Behr paint that I had bought. It came out a little too much like a flesh color so I mixed it with a white/grey that I had and repainted it. Since we wanted to paint this two different colors, I used a foam roller brush to paint it.
While that was drying, I spray painted all of the handles using black satin spray paint. Remember to use tooth picks in the side of each handle to keep them handles up.
After the bottom was painted two times and dried, I tried using a black paint I already had for the top, but it came out grey and I didn't like the look at all.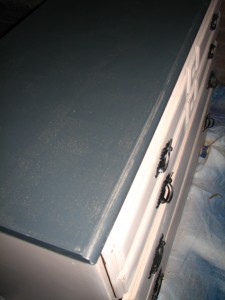 So, I decided to try a new paint that I had read a lot about online. It's Benjamin Moore Low Luster Enamel. It's pricey, but I would definitely say it's worth the money. It's the best black paint I've used so far!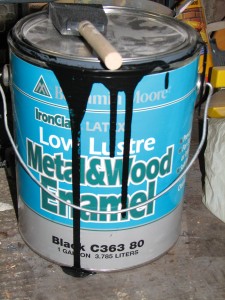 Buying this paint was a funny story. For some stupid reason, I thought that Sherman Williams sold Benjamin Moore paint. Who would have thought that Sherman Williams sells Sherman Williams paint? lol  I walked into Sherman Williams and couldn't find anyone who worked there. I walked all around and noticed one customer who was standing in the back so I asked him where the Benjamin Moore Paint was. Blonde moment! He laughed at me and said, they carry that at Benjamin Moore stores. Duh!! I just laughed at myself and headed off to our local Benjamin Moore store. They were very helpful and even gave me 10%; now I like that!! :)
One nice thing is that this paint is self priming. It has a glowing hunter green look when you first apply it. Don't worry, it will turn black, I promise! :) I had to paint three thick coats using a foam brush for the edges and a foam roller for the top. Then, I applied a coat of Polyacrylic sealer just to make sure it would be well protected. We also used a 150 grit sanding block to rough up the edges of the drawers giving this dresser a Pottery Barn-like look.
Here's the before and after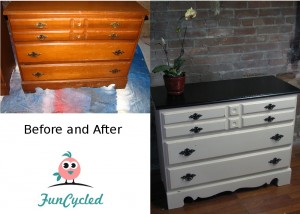 If you like what we're doing, please like us on Facebook at: www.facebook.com/funcycled or share this on Pinterest!
Happy Redesigns!
Sarah