Good morning everyone! On this weeks Tuesday's Treasures, I wanted to share two pieces that I am totally in love with. No, no, it's not Christmas in October even though they are red and green pieces, but they both show how much fun you can have with color.
First, this Empire Dresser was a custom order that Nancy and Steve asked me if we could make into an entertainment center for their house. It had been sitting in their basement for years and years and was going to go into the trash when they moved. Then she found our site online and realized how beautiful it could become with a little love.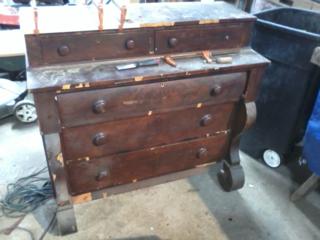 This dresser was in ROUGH shape!  The veneer was broken all over it, the top left side was broken off (oven though you can't see that well in this picture). I love working on pieces like this because I feel like it really went from something worthy of the trash to something priceless. Nancy and Steve wanted something that they could put their audio equipment in and make it into a living room entertainment center. We went over a couple ideas and then took some measurements. It ended up working so that all the equipment would fit in the top drawer.
We used the space that was the top drawer to create the box for the equipment. In this case, we were able to pull the front off of the top drawer and use the rest of it to box in that section. Then we drilled holes in the back for all of the cords for the equipment. John did all the repair work… he's amazing for sure. ;) He repaired the top by reattaching the original nails, using wood glue to give it extra support and then filled any cracks with Bondo. We broke off the rest of the broken veneer and used Bondo for that as well. It took about a week for him to do all the repairs. This is not something you would be able to do quickly or easily. It was well worth the work!! Oh, and we found a newspaper under one of the drawers from the 1940's. I love when we find hidden treasures in a piece. Here's a picture to show you some more of the veneer repair.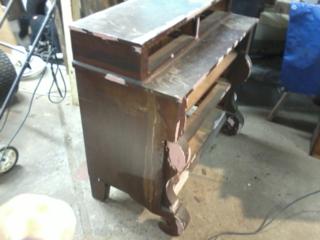 After all the repair was done and the box was made, I used Behr Antique Red and made my own chalk paint. I painted the piece twice by brushing it on and then glazed it using Valspar dark glaze. To finish it off, I waxed the whole piece. Oh, and replaced the knobs with these beauties!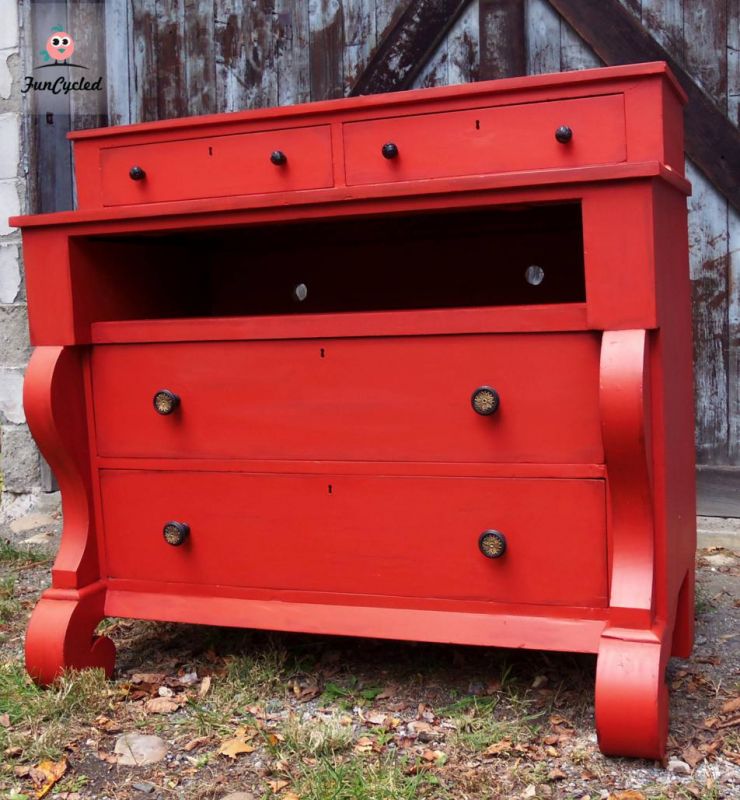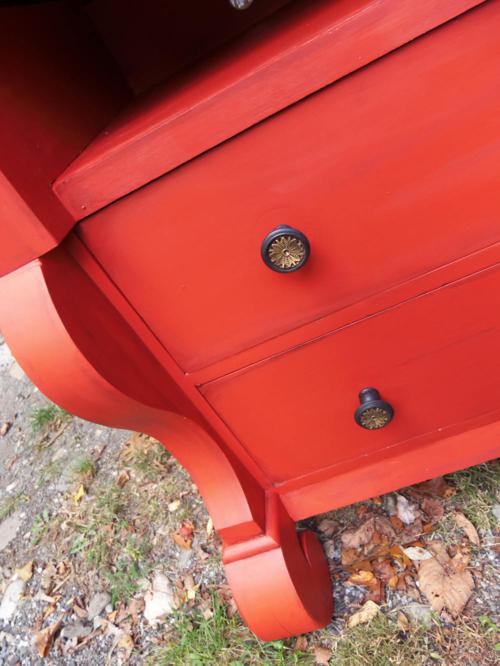 Love, love, love it. Oh, and they both have been wonderful to work with!! They are Krista and Keith's competition with how many custom pieces they are ordering. ;) Nancy has been so sweet to us (even though she'll laugh because when I thanked her for being so nice to work with, she said, "I read your blog, you say that about everyone"). lol! It's really true though! She has been great.
Up next, we're on to a little fun project of my own. Every once and a while I need to use my creative energy on something not ordered by someone else. I've been wanting to paint something in Kelly green for a long time. I went to Home Depot one day and just had to buy the paint. John thought I was a crazy lunatic for buying that color green. I tried to assure him it would be beautiful… but to no avail. lol
I loved this dresser because of all the detailing and thought it would be perfect for the green.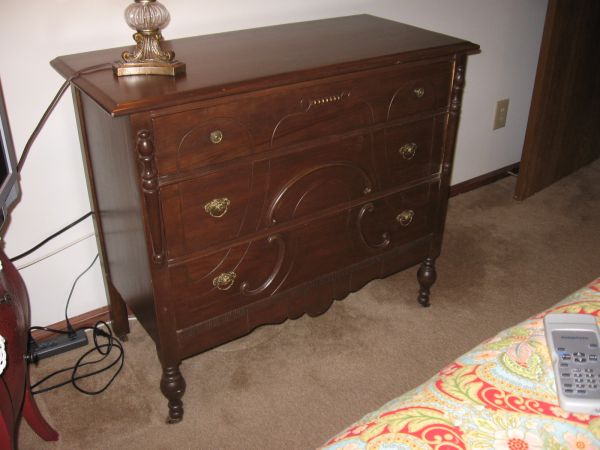 I used the Kelly  Green paint and made it into my own chalk paint. then I brushed it with two coats. The 2nd step was my favorite part though. I finally was able to get my hands on Annie Sloan's dark wax.


It was amazing to work with… went on like butter and gave the piece a glazed look while sealing it at the same time. I absolutely love it and the best part is… John likes it, too! Gasp! :)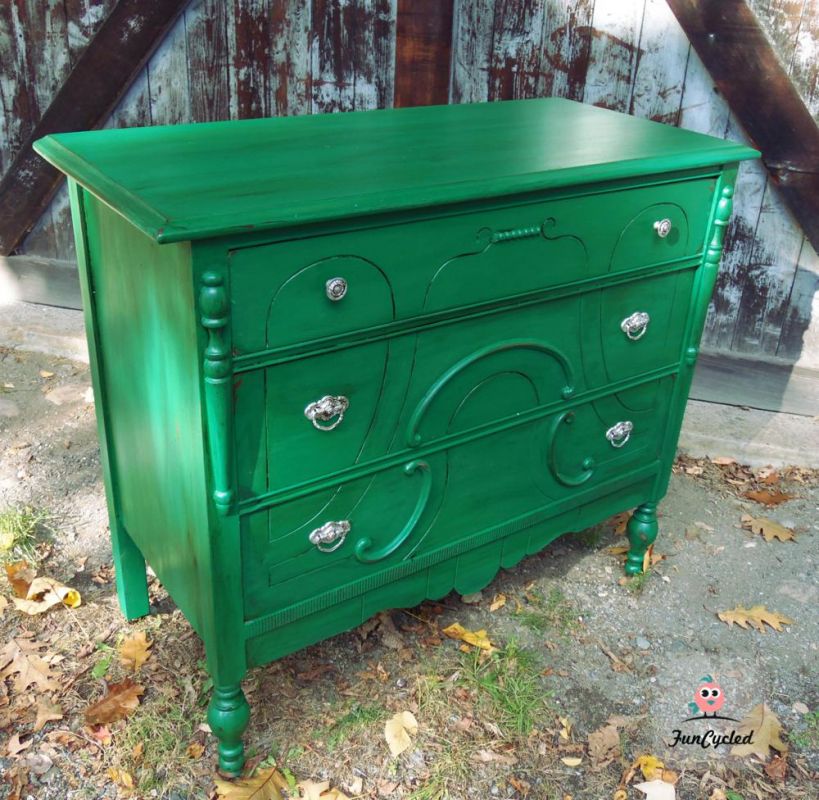 This piece is for sale and you can see the dimensions on our for sale page: http://funcycled.com/furnitureforsale/
I hope you like these as much as I do!
Have a great week and happy redesigns,
Sarah
PS- If you want to stay "in the know" please like our Facebook page: https://www.facebook.com/funcycled You'll see designs from the people who inspire me, be the first to know when new pieces are available, and just enjoy life with us! Get each of our new projects emailed to you when you enter your email address in the box at the top right side of this page.
"Trust in the LORD with all your heart, And lean not on your own understanding; In all your ways acknowledge Him, And He shall direct your paths." (Proverbs 3:5-6)