To purchase use our
Contact Us
form or call 518-629-5386.
We can deliver any item in within 30 minutes of Troy, NY for $50 and anywhere within 60 miles from Albany, NY area for $100. Regular delivery days are Tuesdays or Wednesdays 9am-2pm. If you would like something shipped, please contact us and we can connect you with movers at great rates. We ship out of state all of the time to happy customers. We accept cash, paypal or credit card payment.
---
$795  Black Mid-Century Credenza
Size: 72 inches wide x 18 inches deep x 31 inches tall
This stunning mid century credenza has been painted black, very lightly distressed on the edges, and the inside drawers and legs have been refinished! It's a one of a kind piece that would work well as a dresser, buffet or even entertainment center.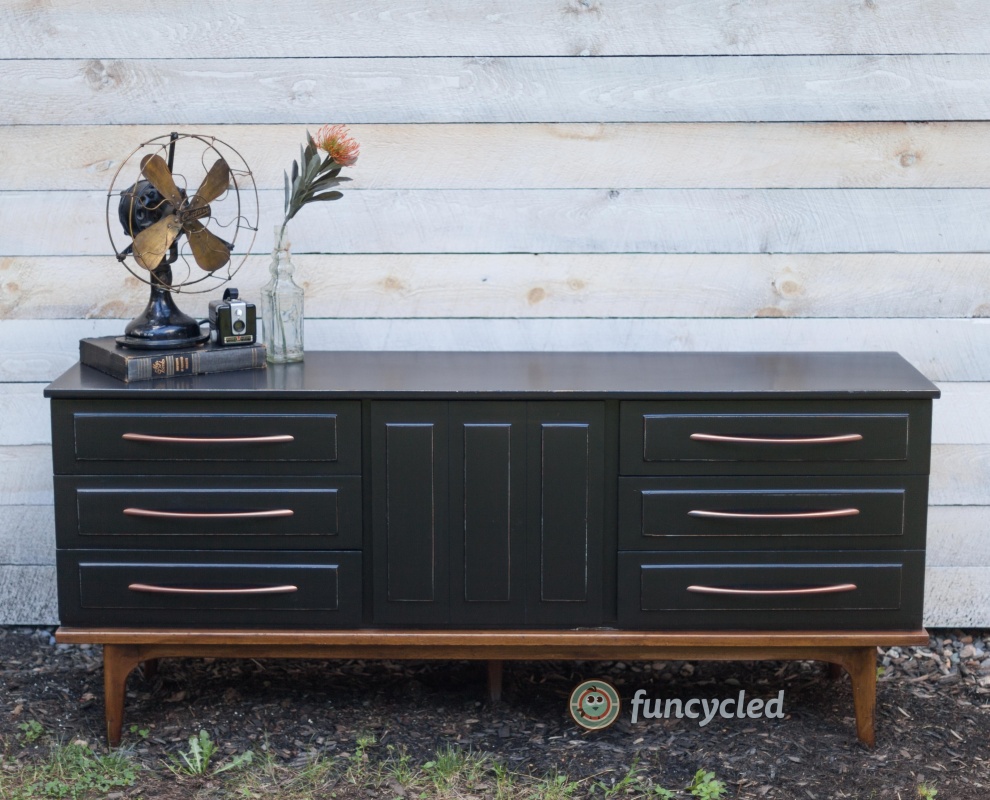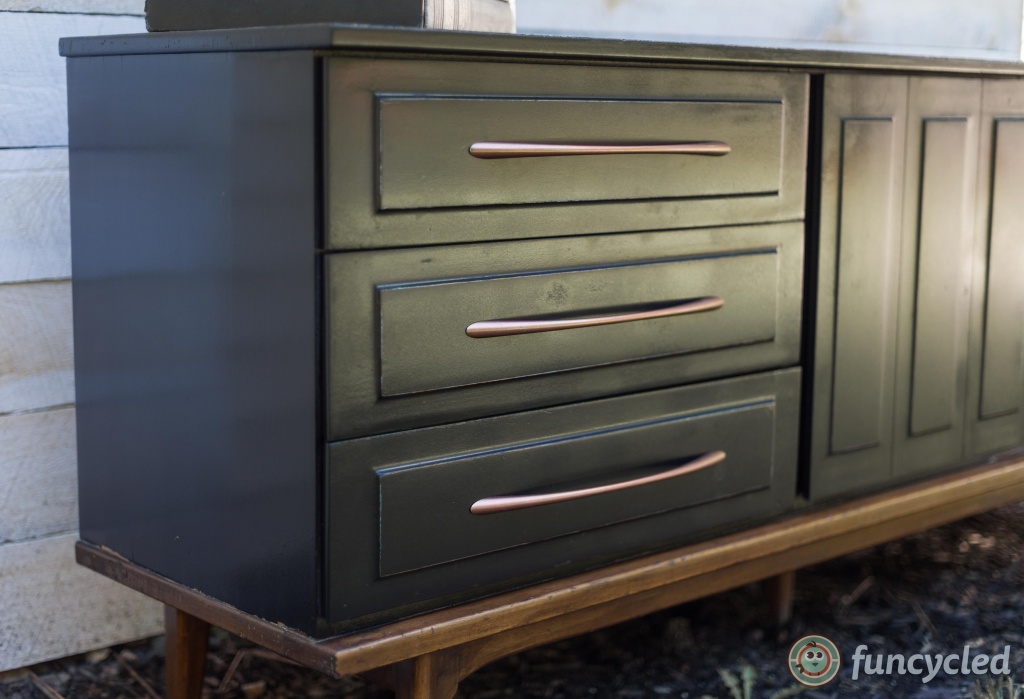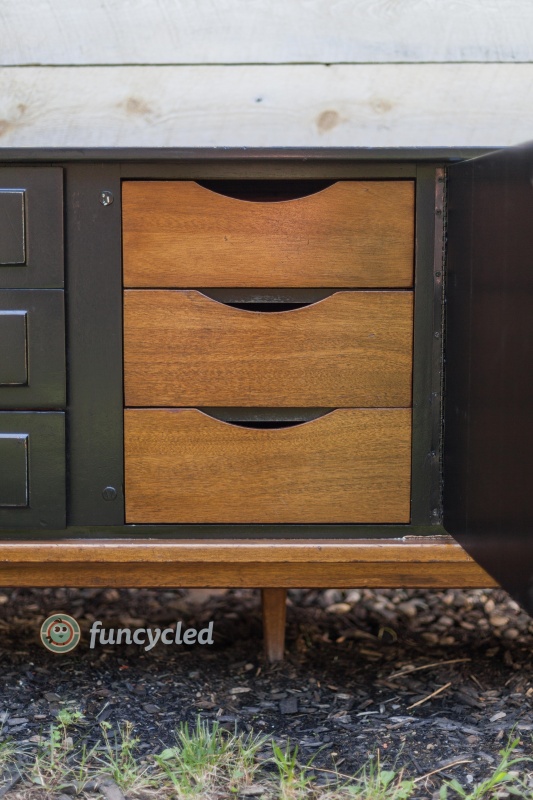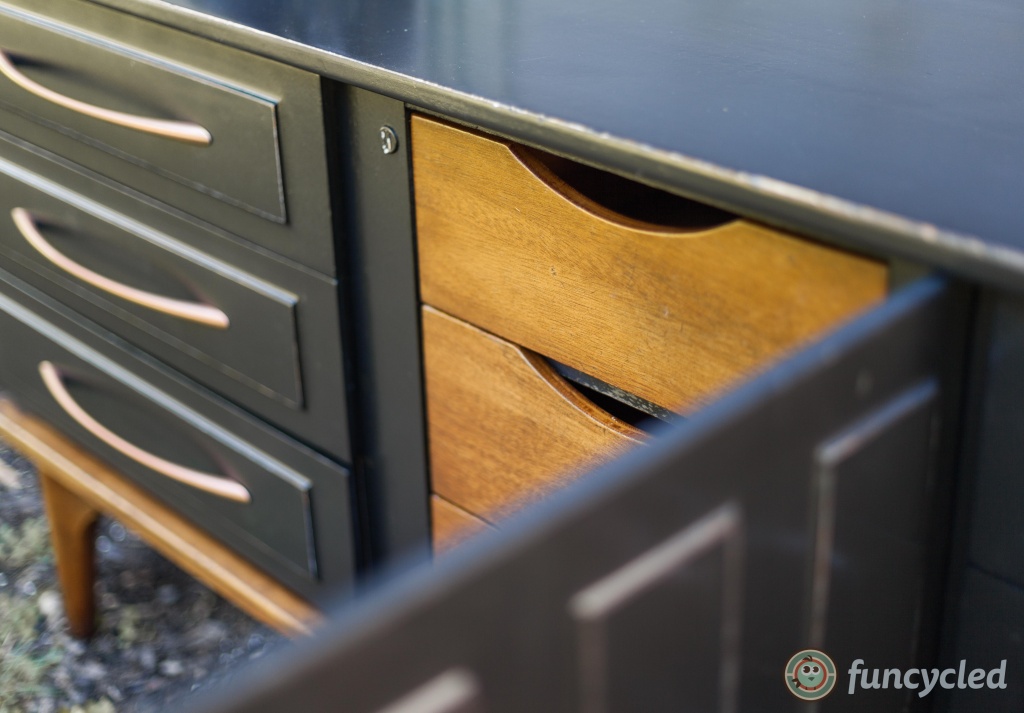 ---
$999 Gray and Wood Top Table With Four White Upholstered Chairs 
Size: 54 inches wide (butterfly leaf adds 12 inches) x 38 inches deep x 30 inches tall
This stunning table and chair set is perfect for a tight spot but can also be easily expanded with the butterfly leaf that tucks up inside. The chairs are solid and sturdy; they've been painted white and distressed with new upholstery. All 5 pieces included for $999!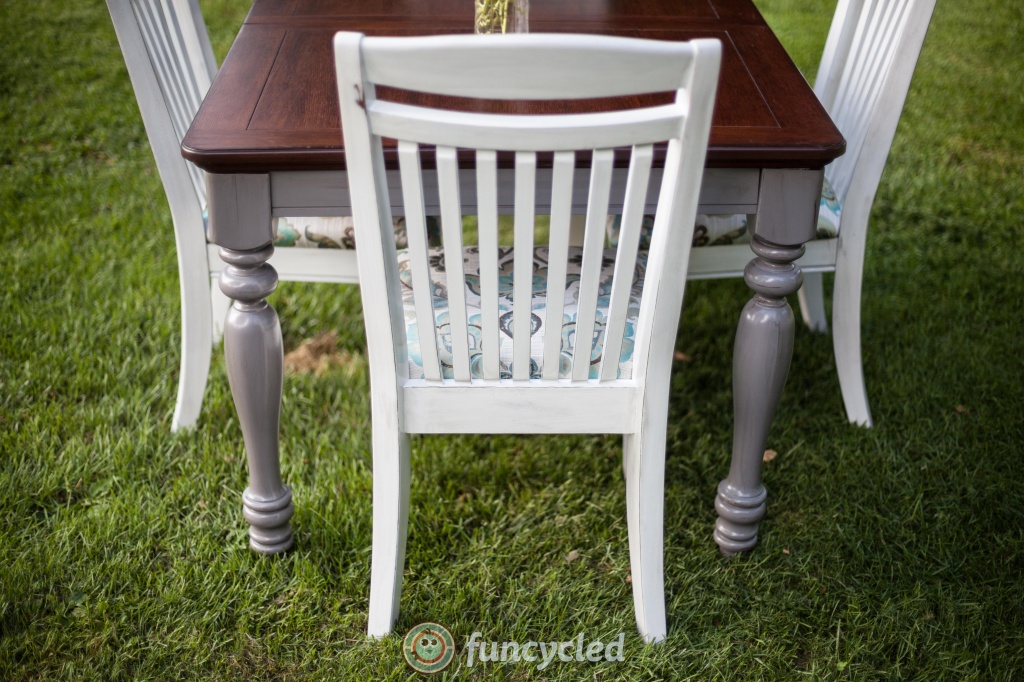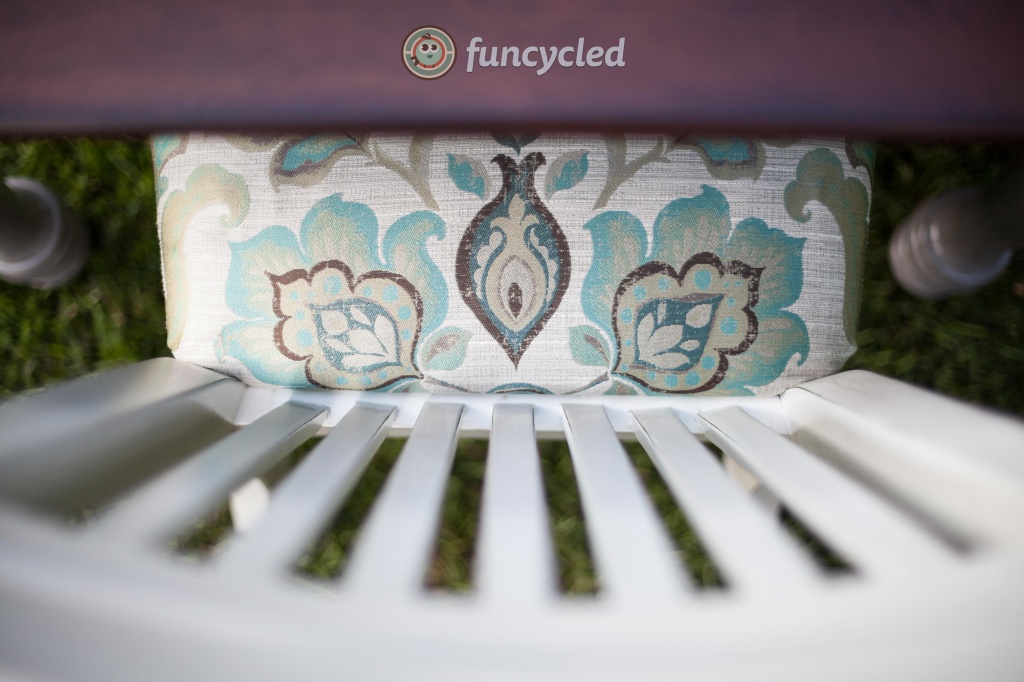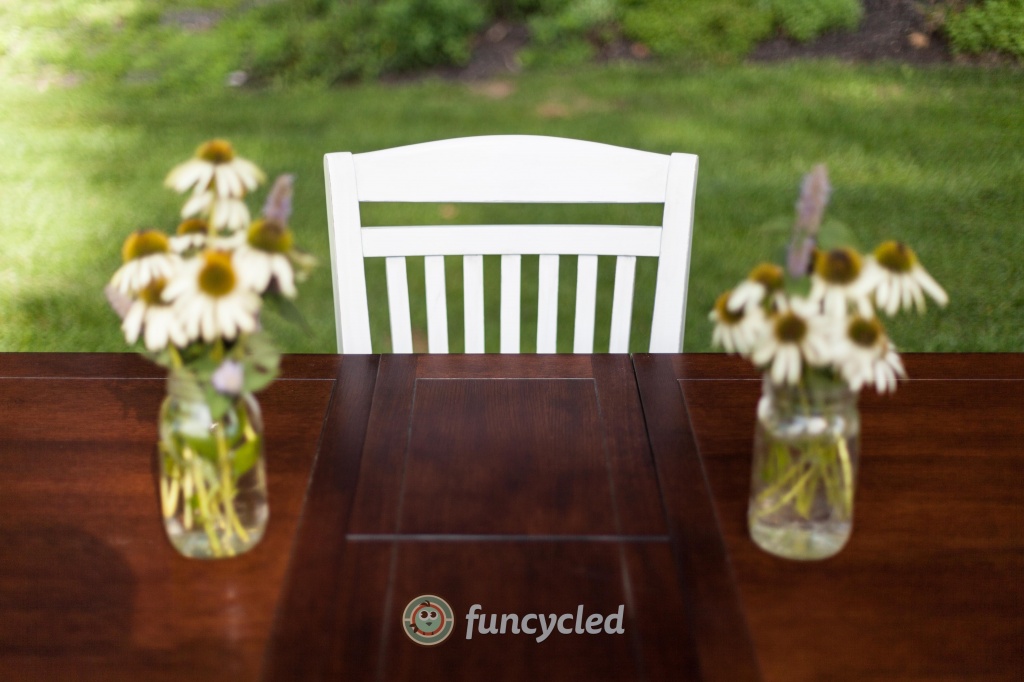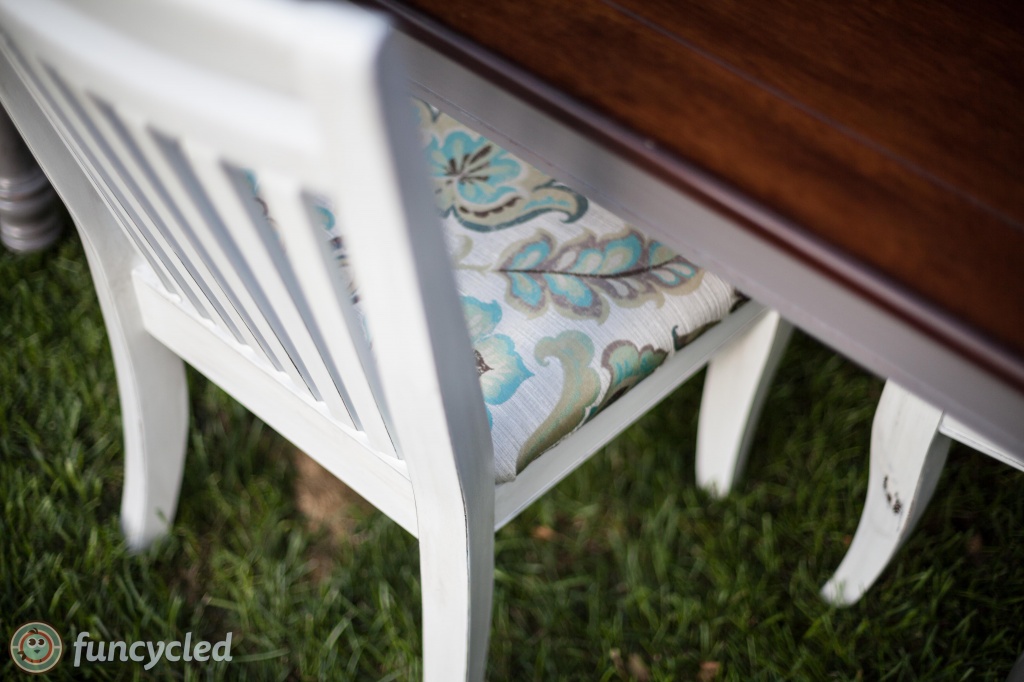 ---
$695 – Thomasville Teal Buffet  
Size: 54 inches wide x 20 1/4 inches deep x 32 1/2 inches tall
This stunning vintage buffet has dovetail drawers and is all wood! Made to last and completely modernized with a pop of teal paint, glazing, and all new hardware. Sprayed with a protective clear coat as well! Perfect in a bedroom, as an entertainment center, in a dining room or even entry way!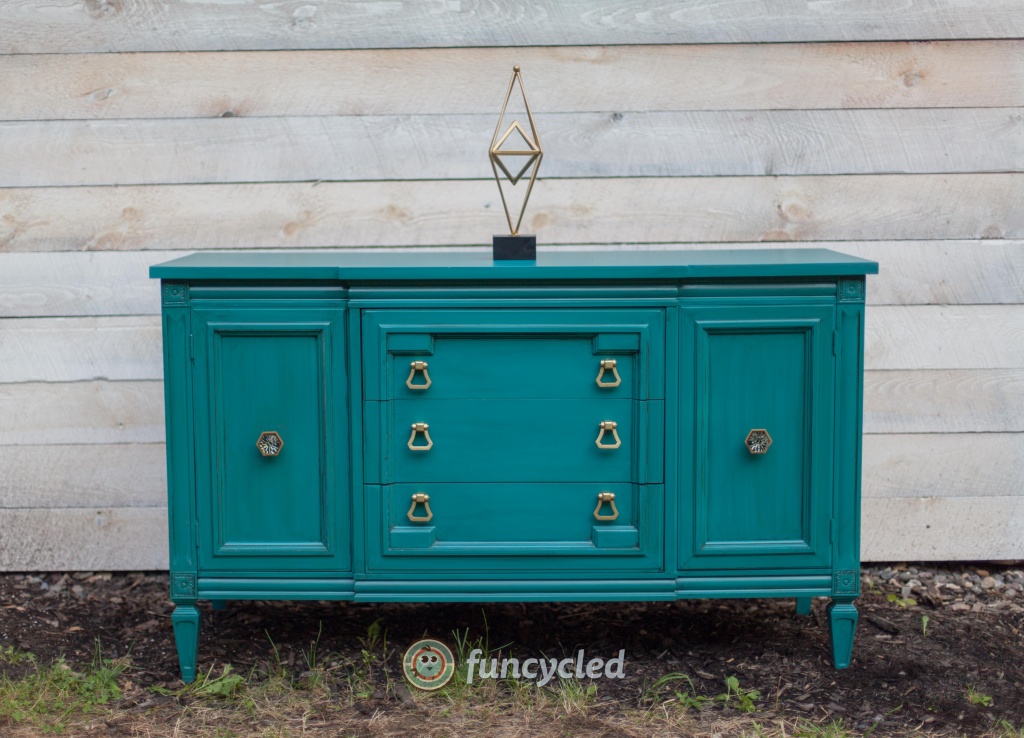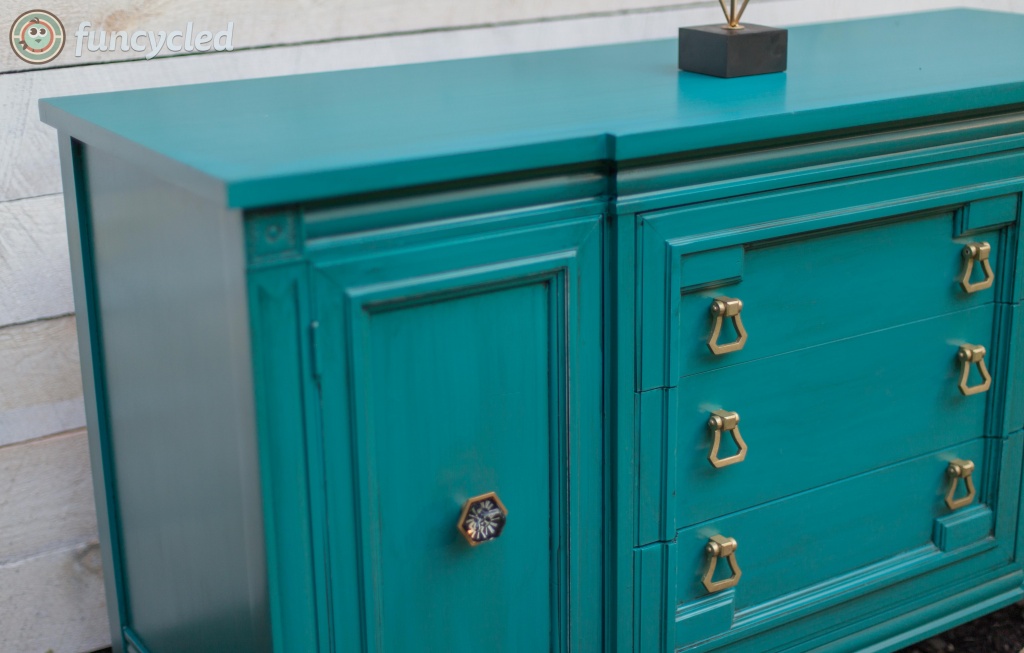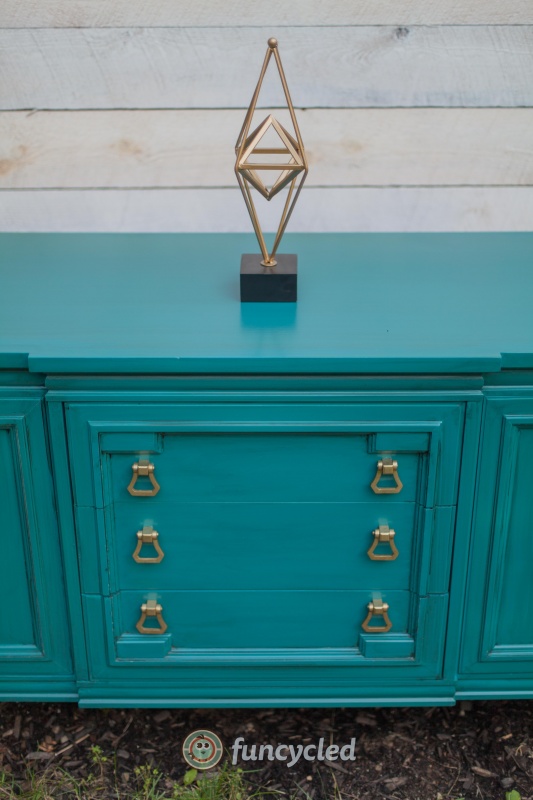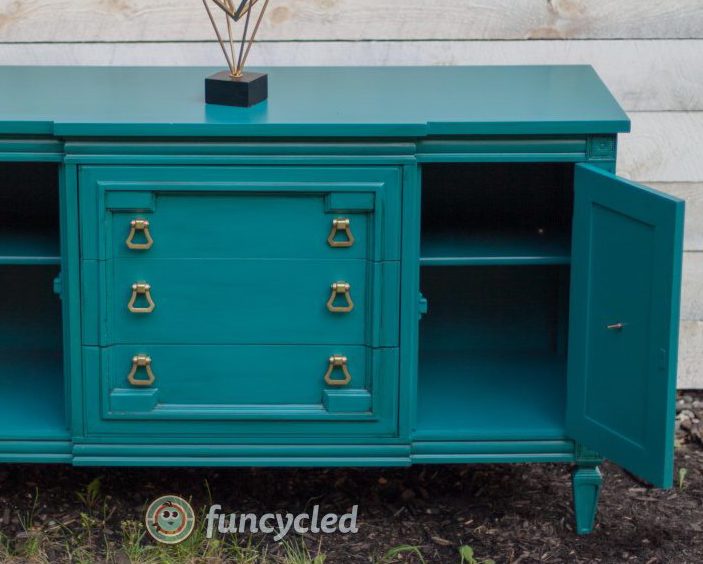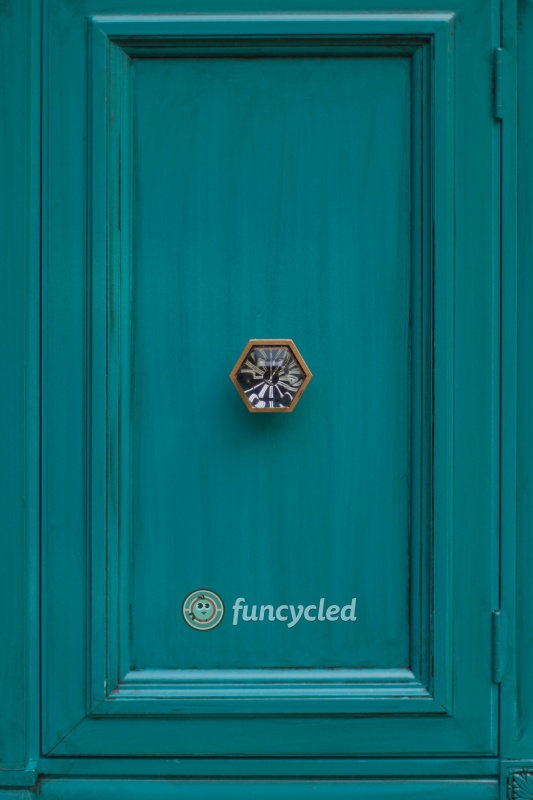 ---
$1,075 – Black and White Hutch
Size: 63 1/2 inches wide x 19 inches deep x 78 inches tall
This classic design would be a wonderful accent to so many spaces in your home! The inside has been painted white and the outside is black with all new hardware. Tons of storage and display space for all of your goodies.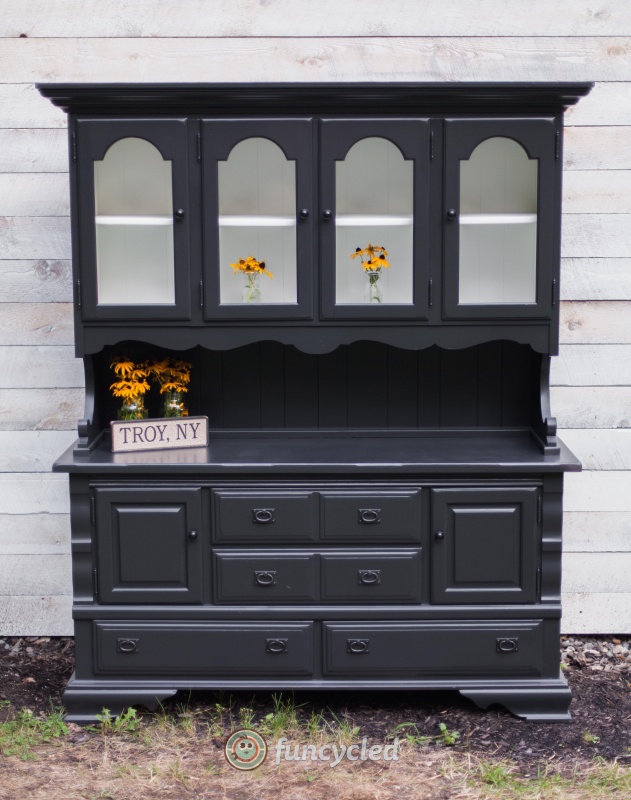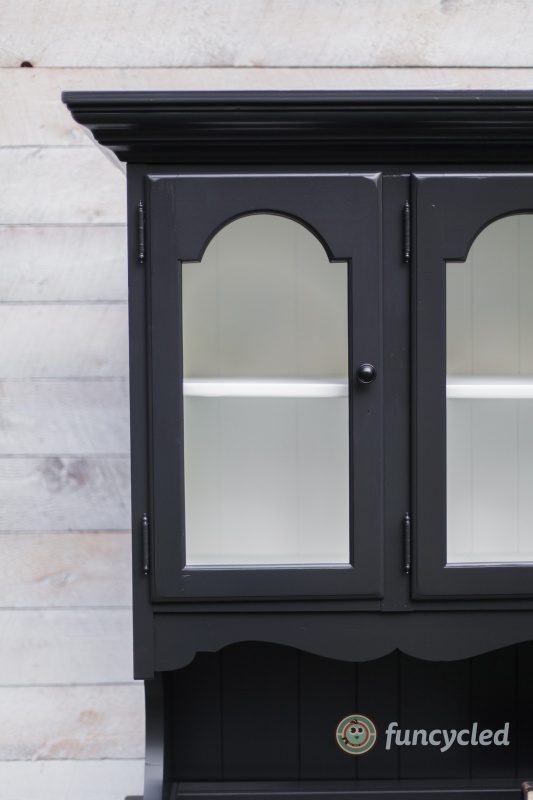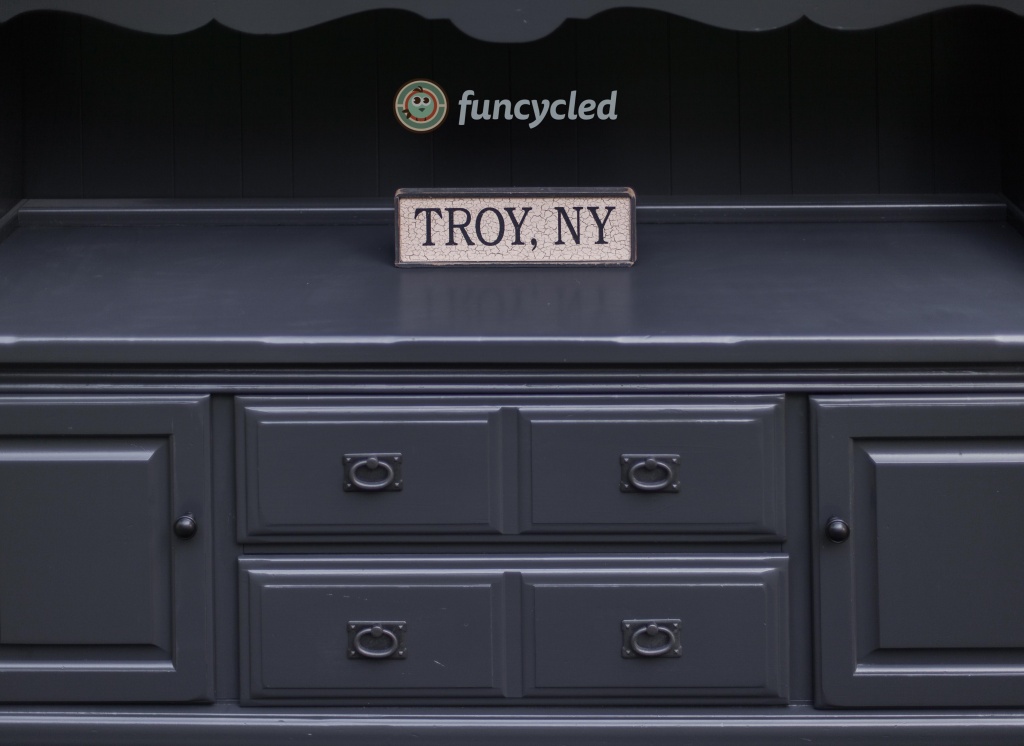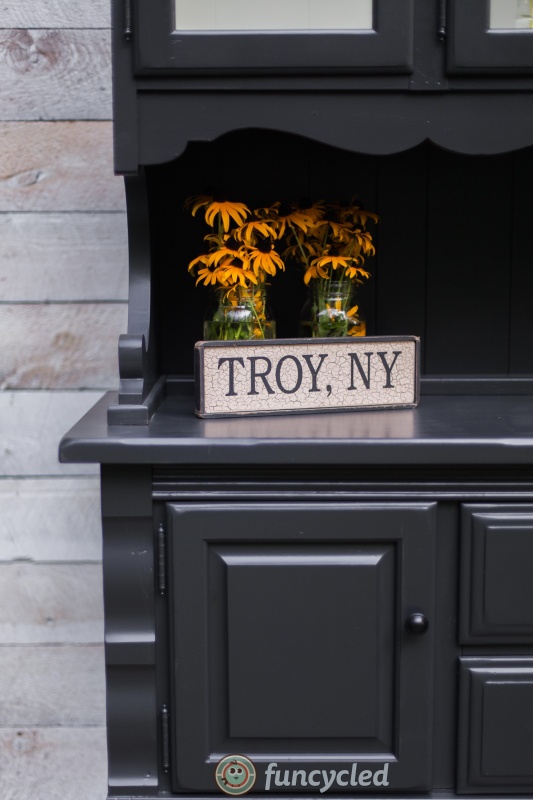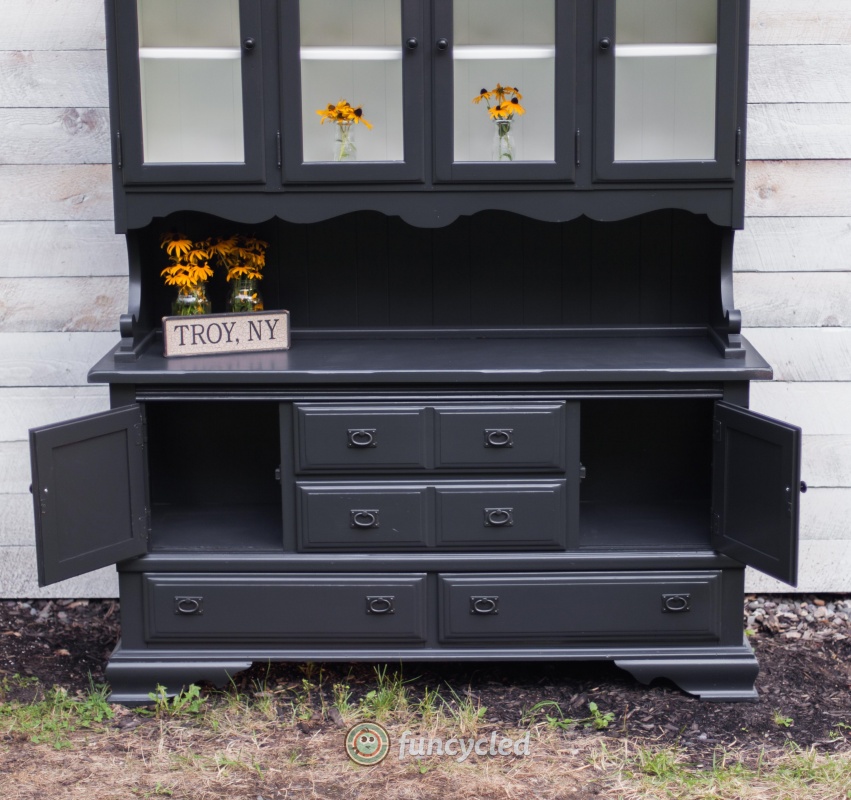 ---
$999 Rustic Farmhouse Style Coffee Table/Cart 
Size: 50 1/2 inches wide x 39 inches deep x 20 1/2 inches tall
This stunning cart is one of a kind. We used antique wheels and built a top out of thick hemlock! Then we whitewashed the top to give it a fresh look. Very heavy, solid piece.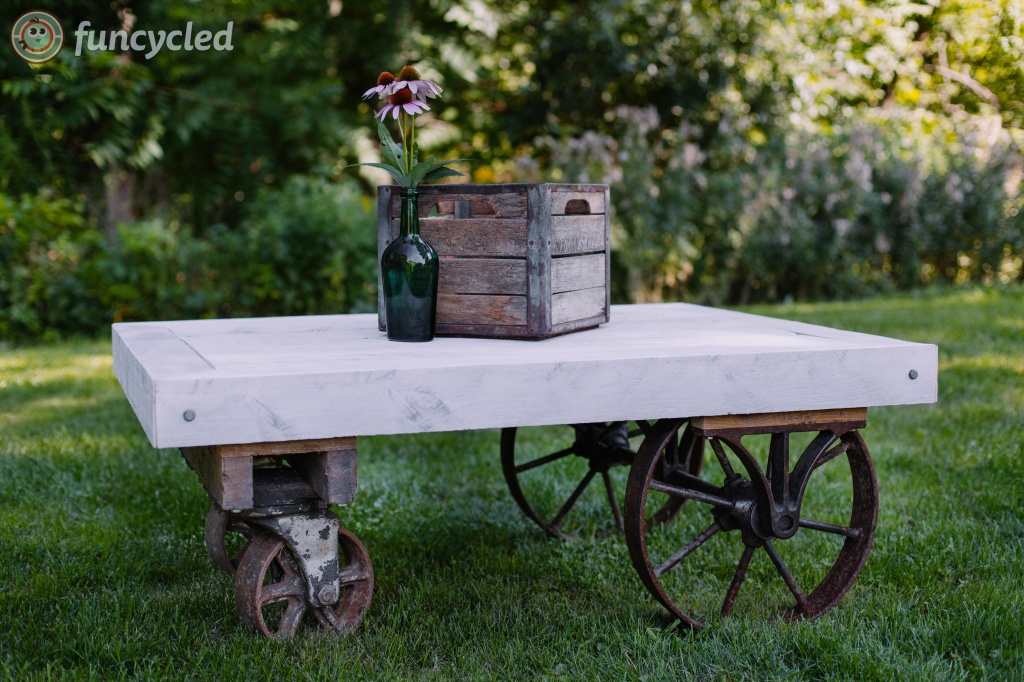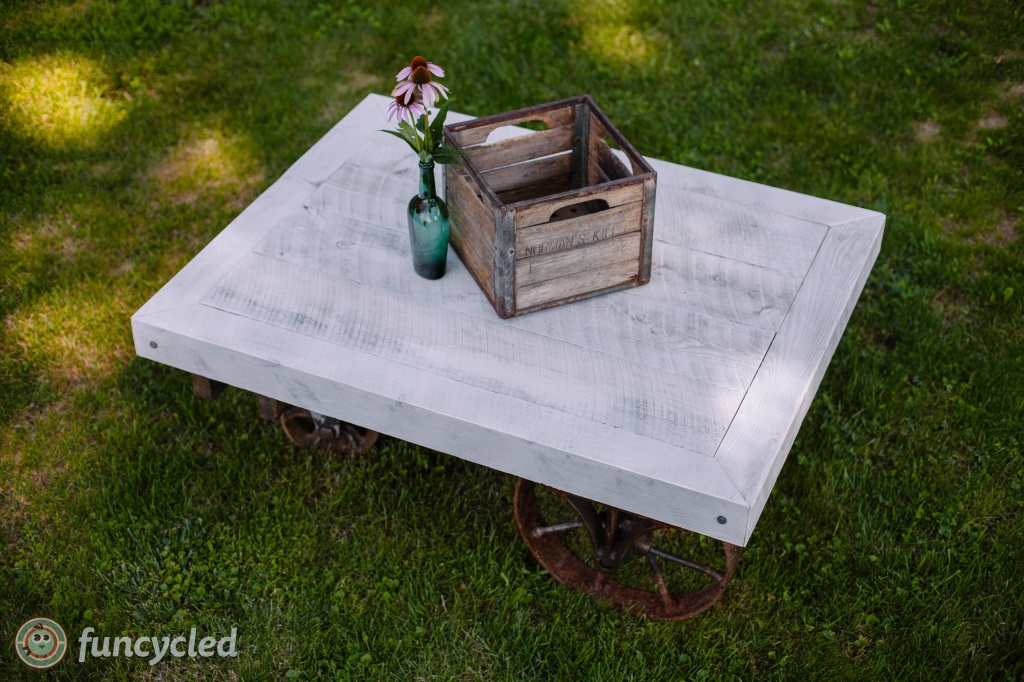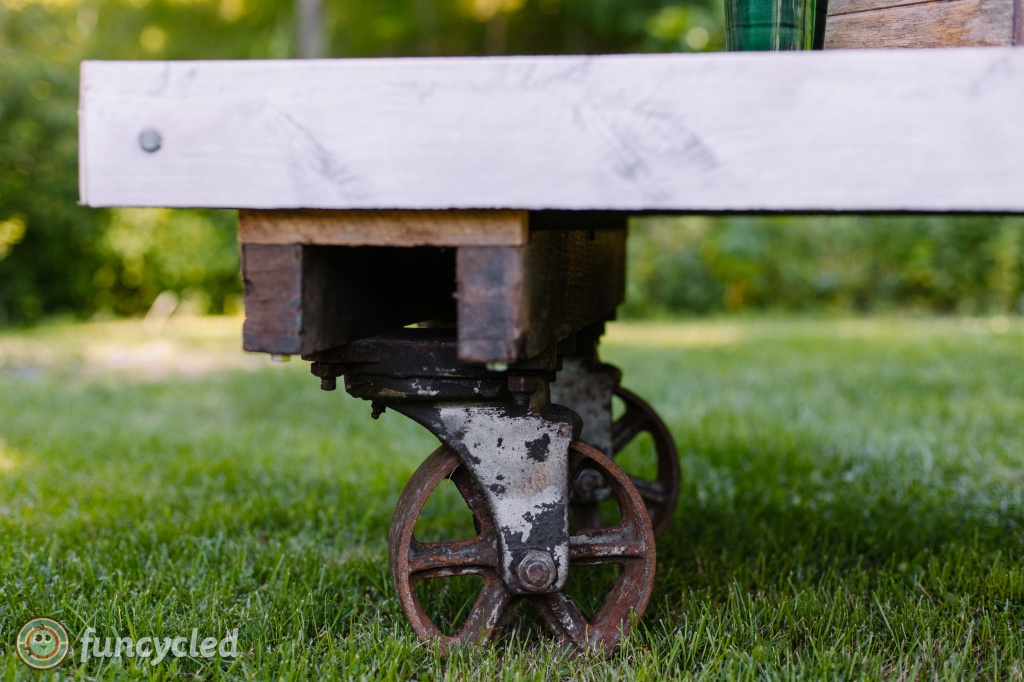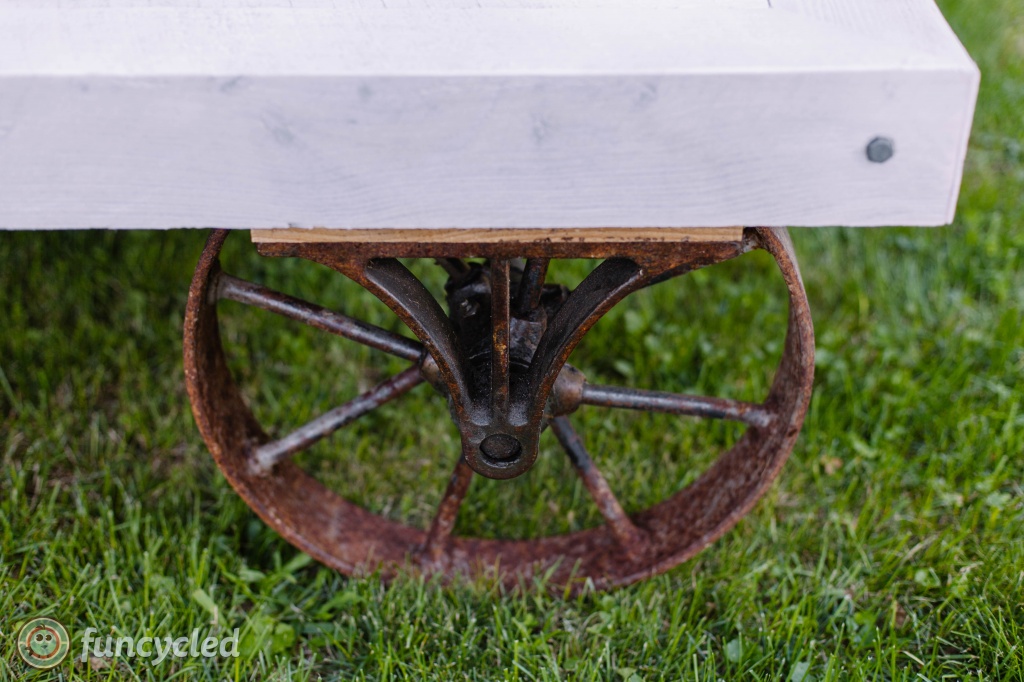 ---
$495 Black with Ombre Stained Oak Dresser
Size: 34 inches wide x 17 1/2 inches deep x 50 inches tall
This old beauty has been given an updated look with the front stained as a gradient, new hardware and a heavily distressed black box. It has dovetail drawers, is solid oak, and should be snatched up quickly!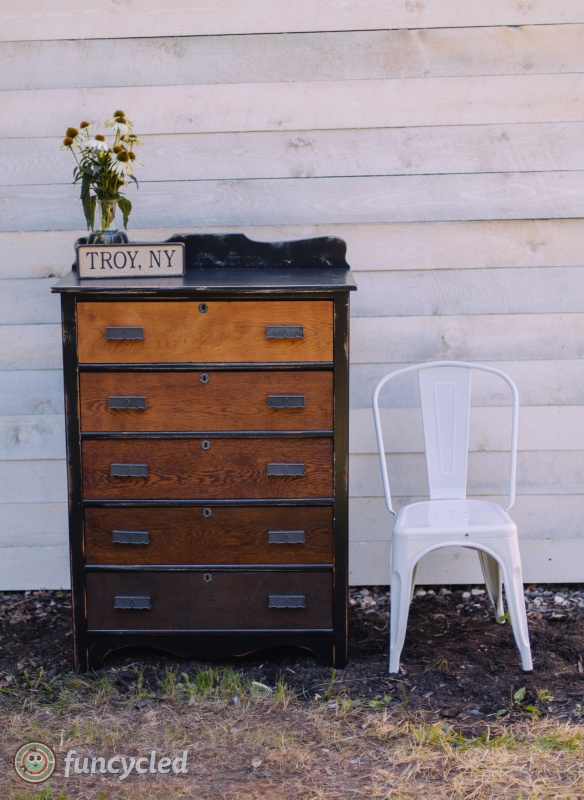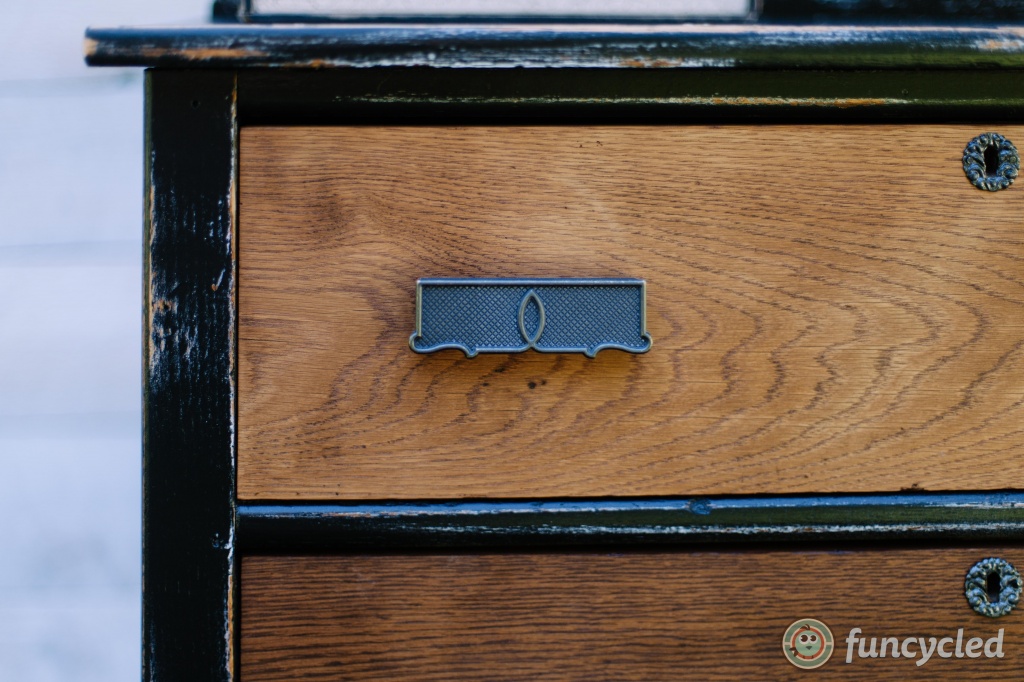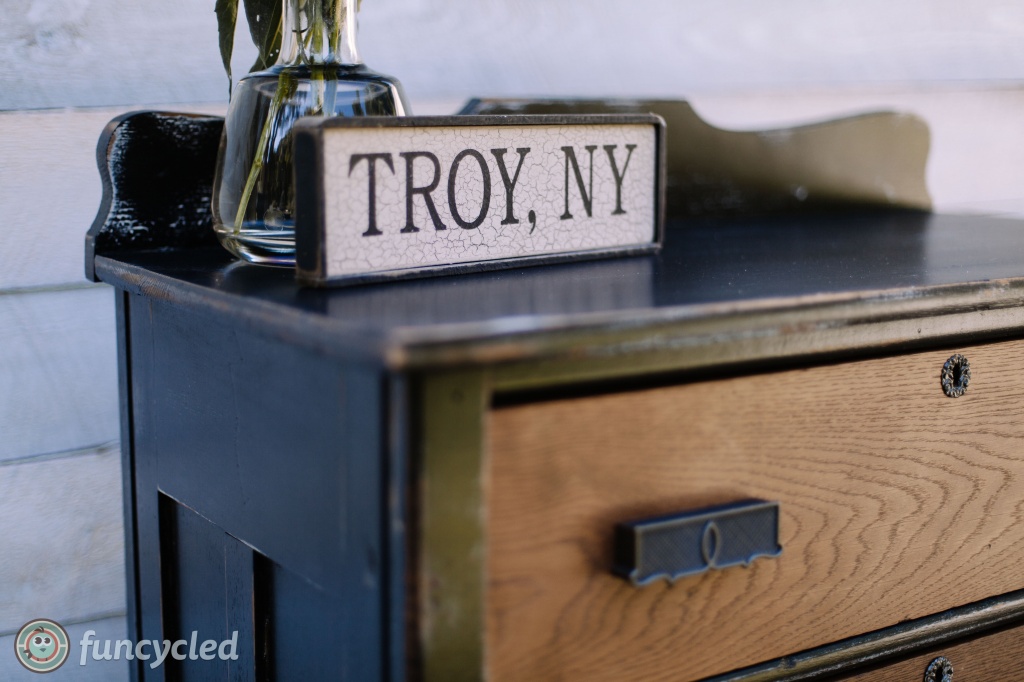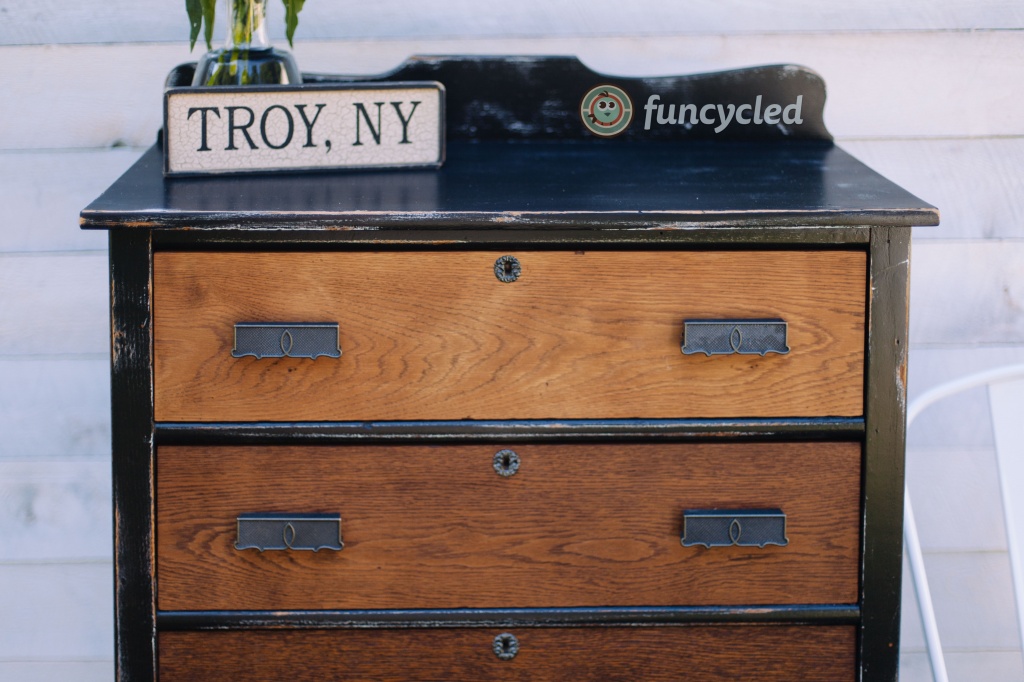 ---
$799 Queen Ann's High Boy 
Size: 39 inches wide x 17 1/2 inches deep x 79 inches tall
This is a huge, high end dresser. Made of solid maple with dovetail drawers. In excellent condition!! They are hard to come by and definitely worth snatching up!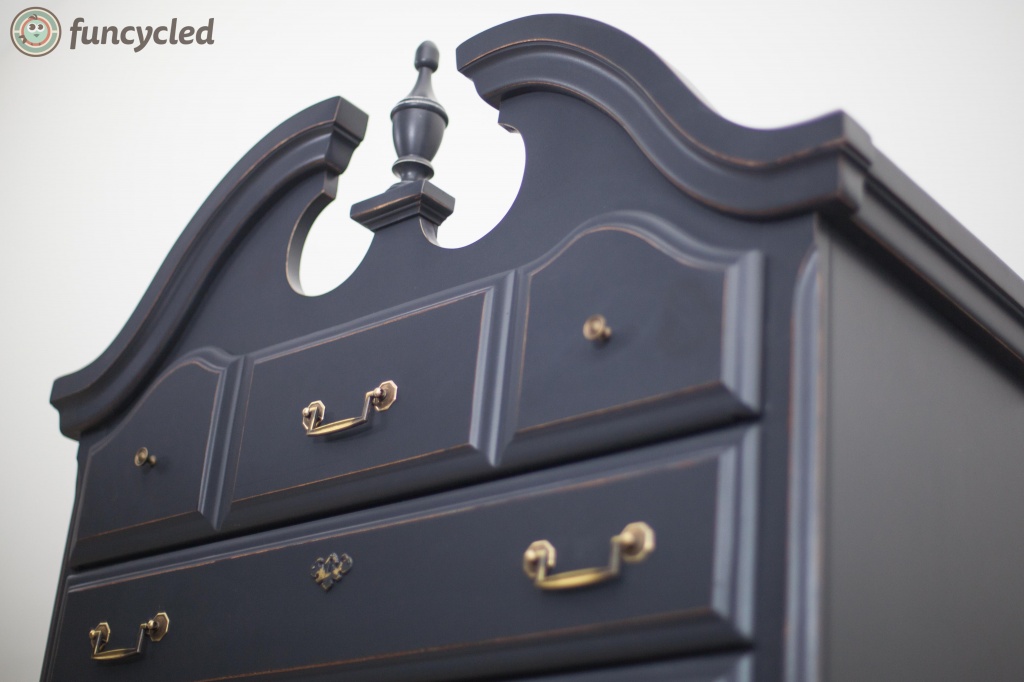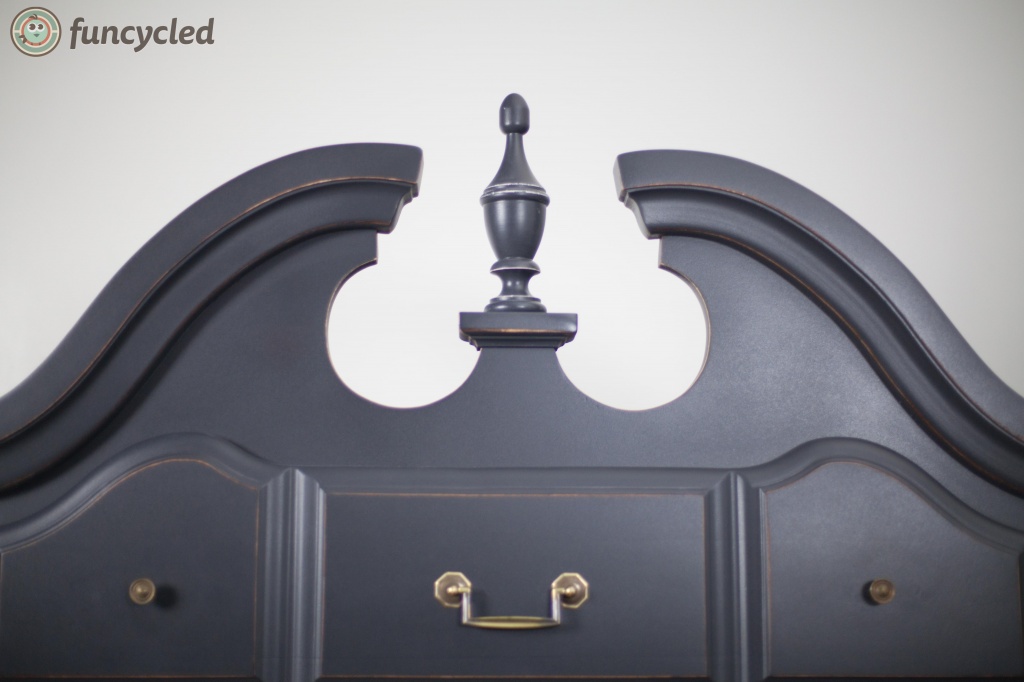 ---
$525 White Midcentury Buffet
Size: 48 inches wide x 17 1/2 inches deep x 33 inches tall
This vintage piece would be perfect for so many spaces, It has a large open space on the bottom, great to store dishes, drinks, or even electronics. Painted white with the top drawers stained. It has dovetail drawers and a protective clear coat, too!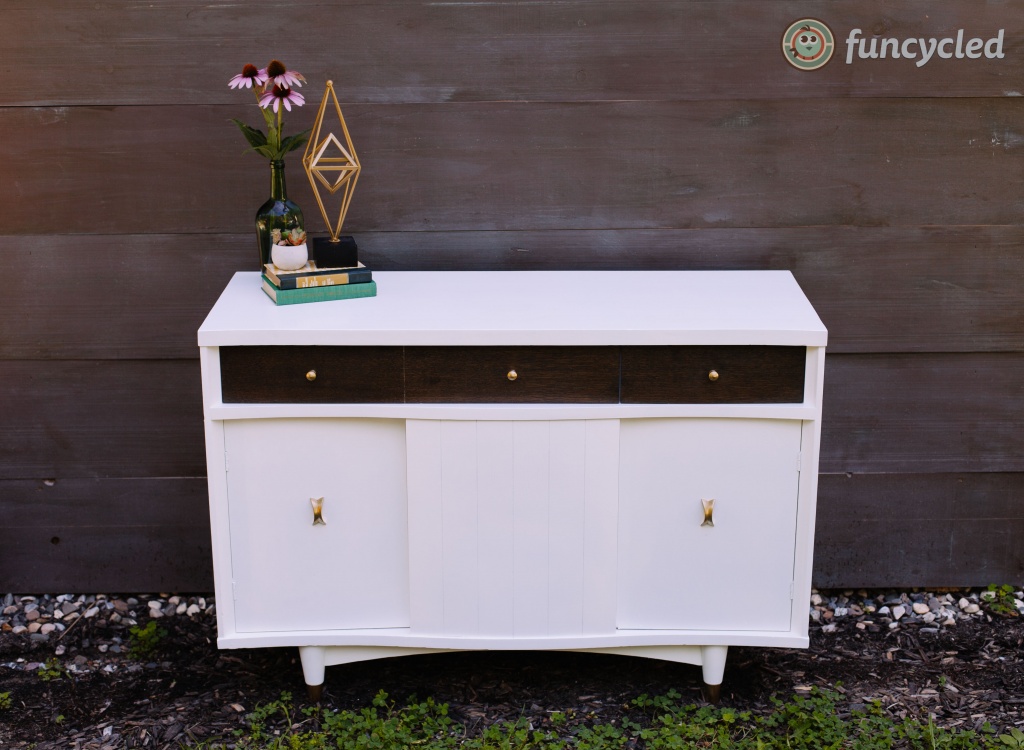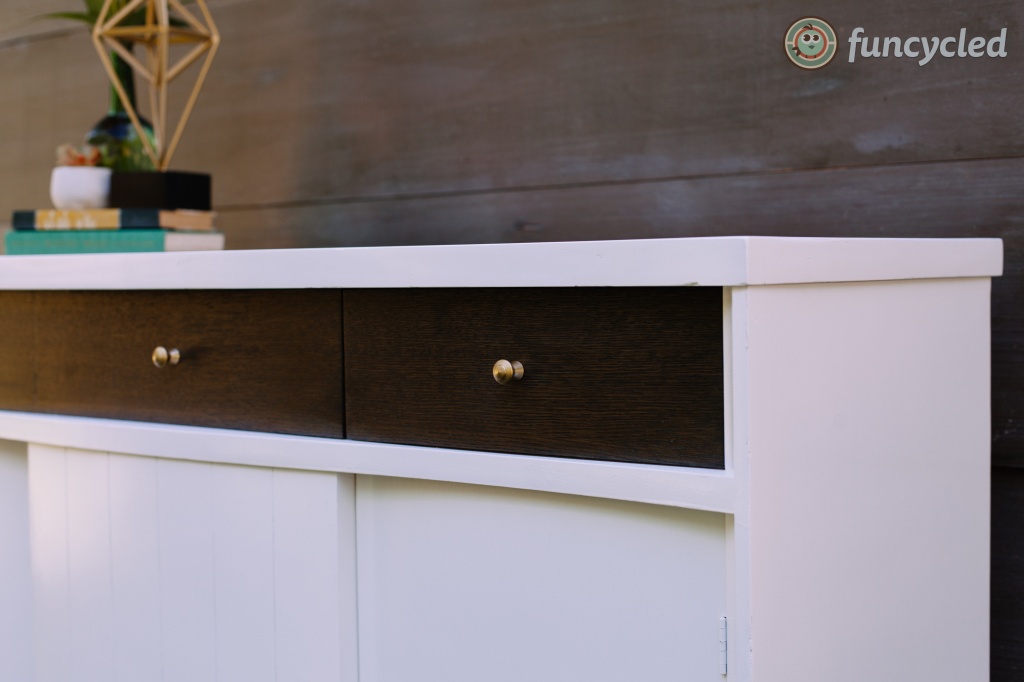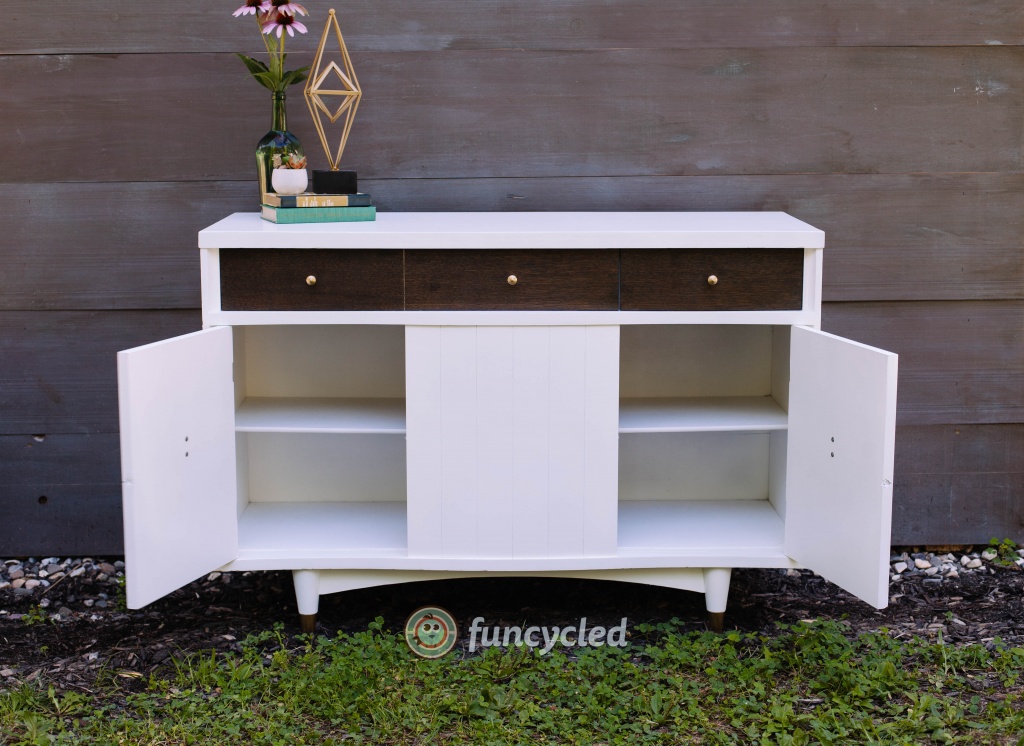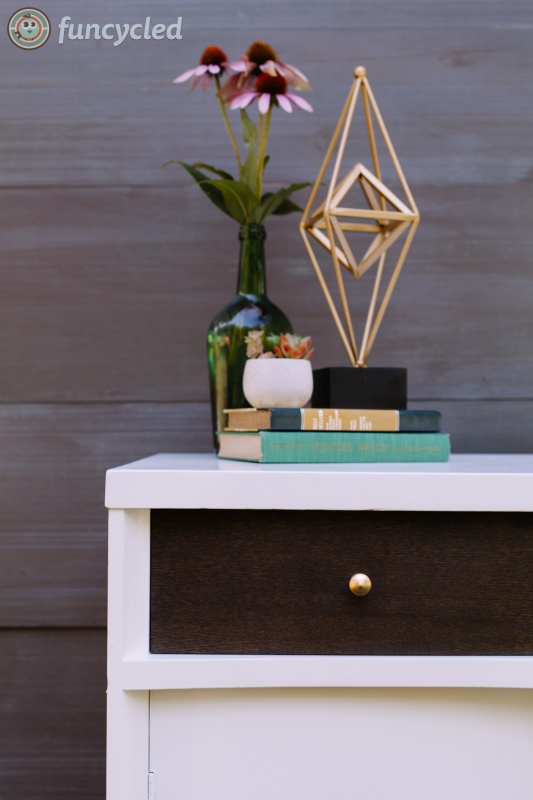 ---
$295 Blue Mid Century Bookcase  
Size:33 inches wide x 12 1/4 inches deep x 38 3/4 inches tall
This bookcase has glass fronts that slide to help keep the dust away!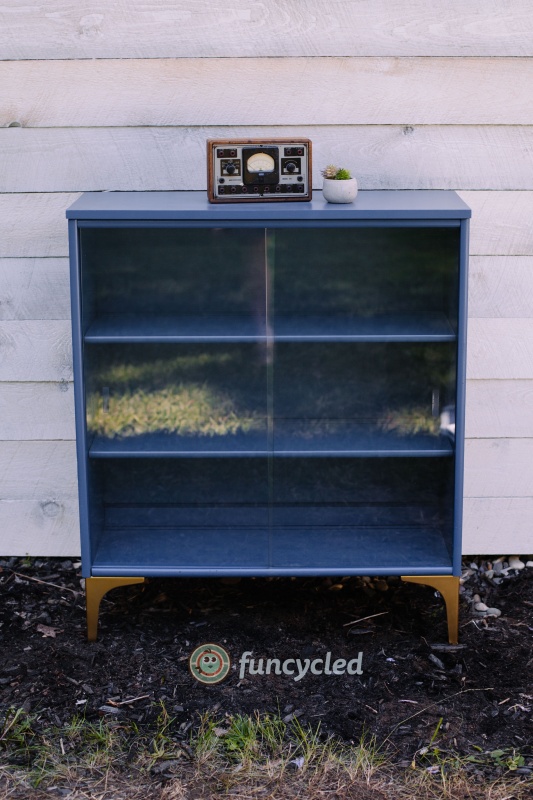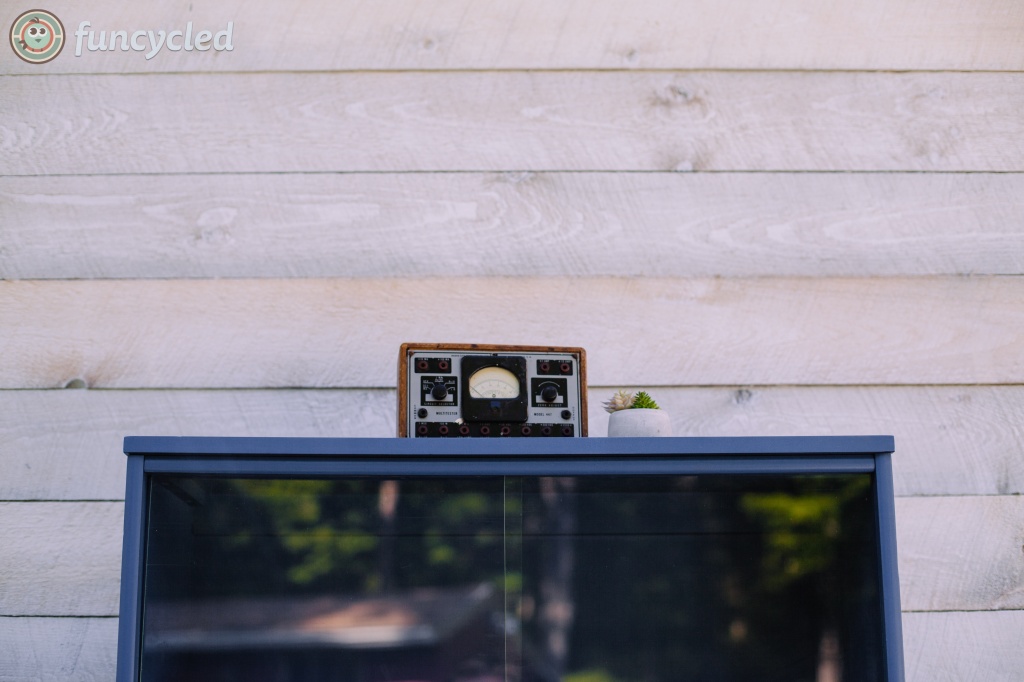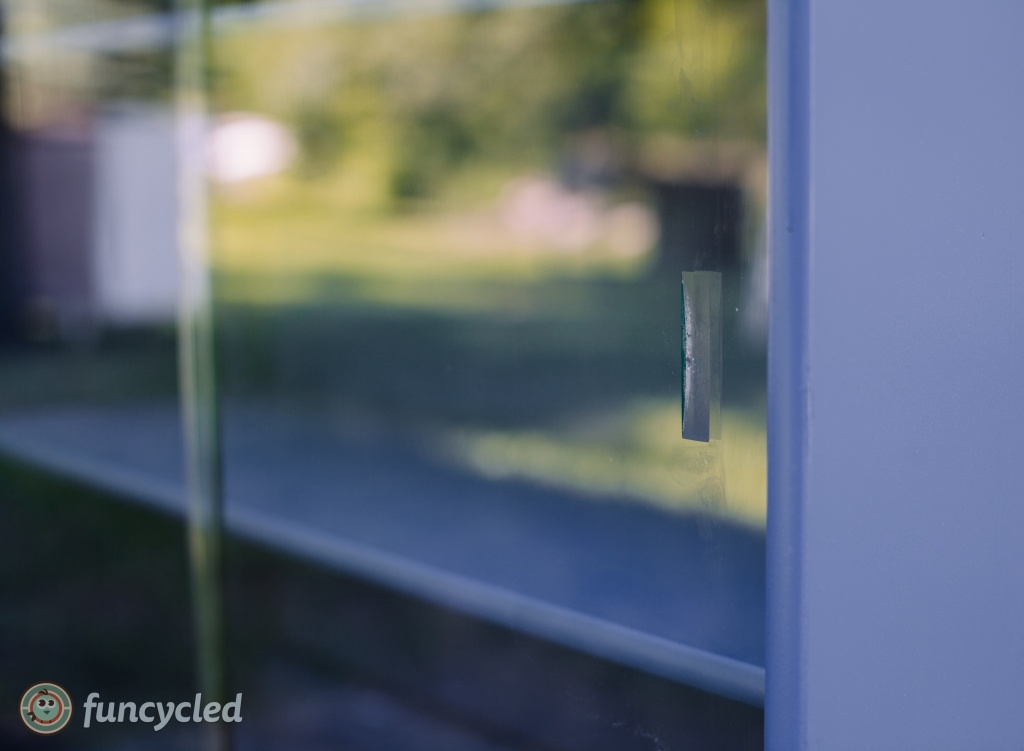 ---
$375 Mid Century Small White Dresser
Size: 34 inches wide x 18 inches deep x 30 1/2 inches tall
This adorable dresser is just the right size for a tight spot! All white with gold original hardware.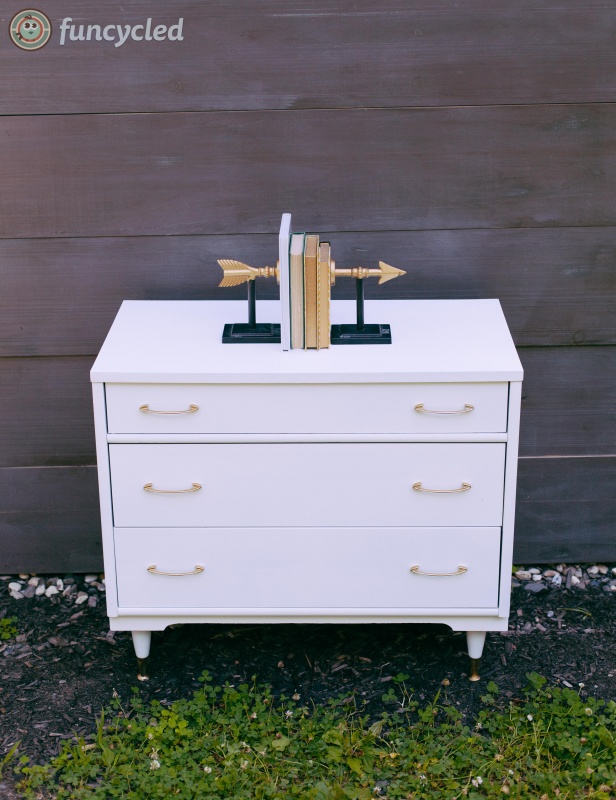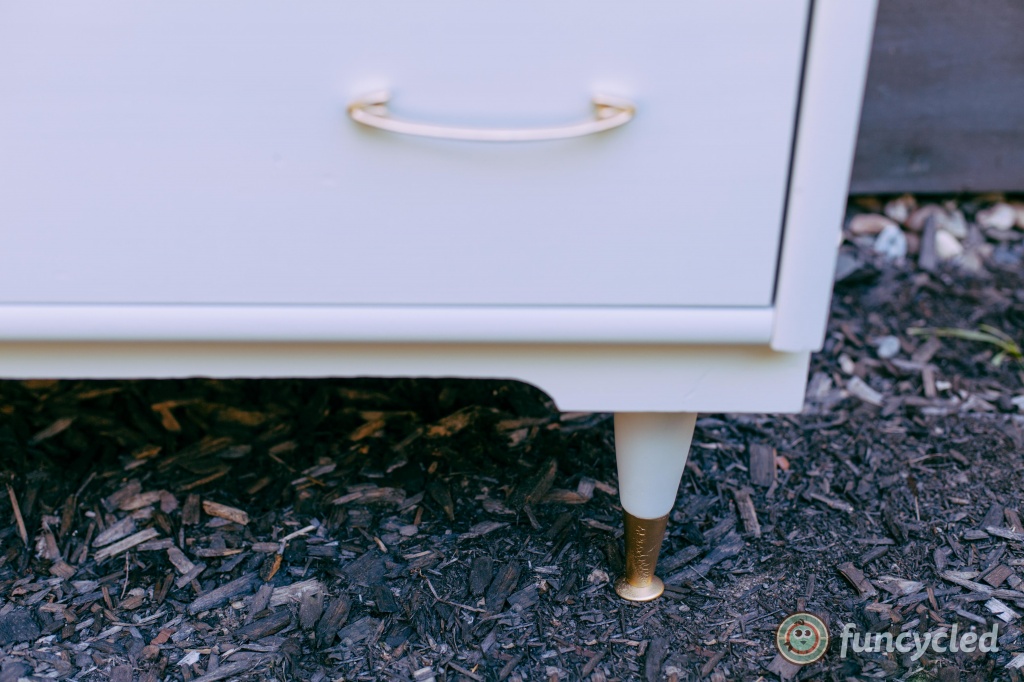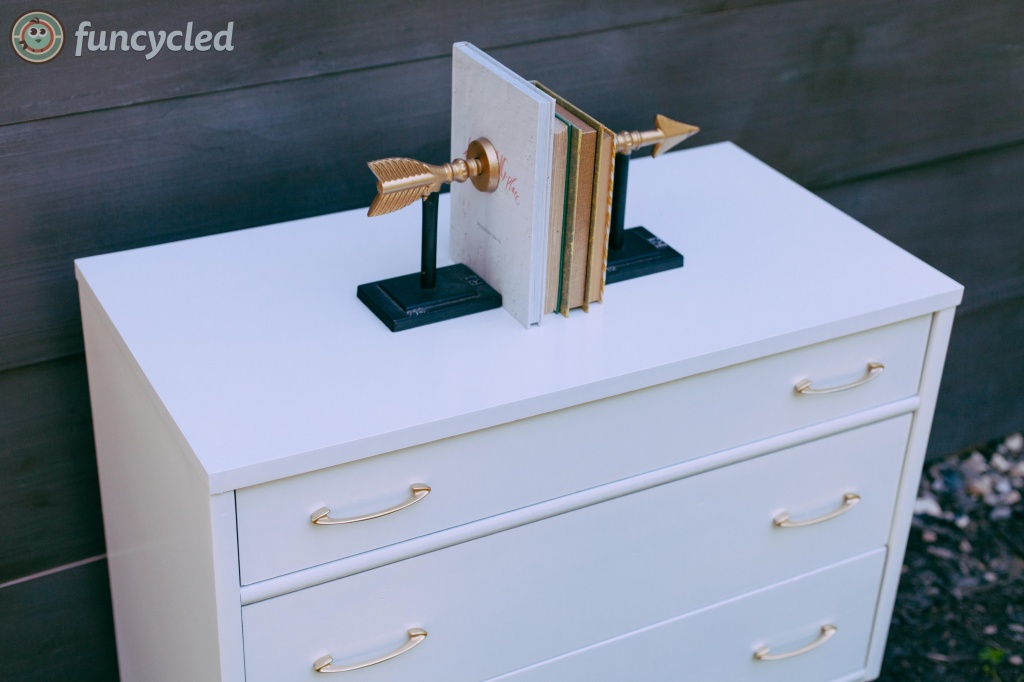 ---
$695 Antique Red Desk and Chair Set Desk
Size: 42 1/2 Inches wide x 20 Inches deep x 33 inches tall
This beautiful antique has only been made more beautiful with a deep red paint job, heavy distressing, glazing, and new knobs. It comes with this vintage teal chair!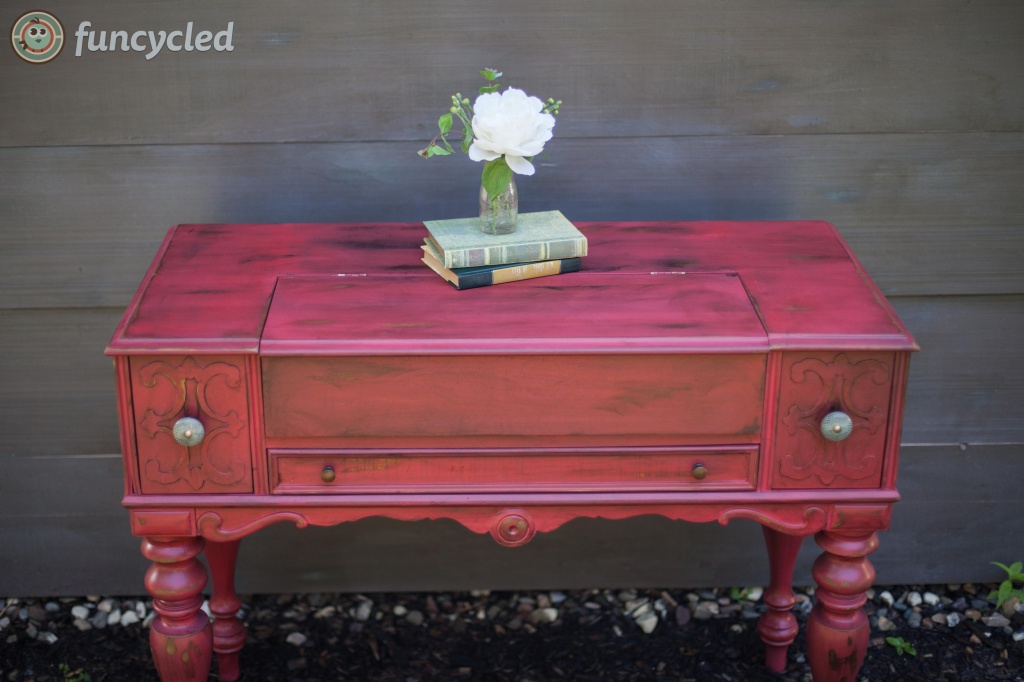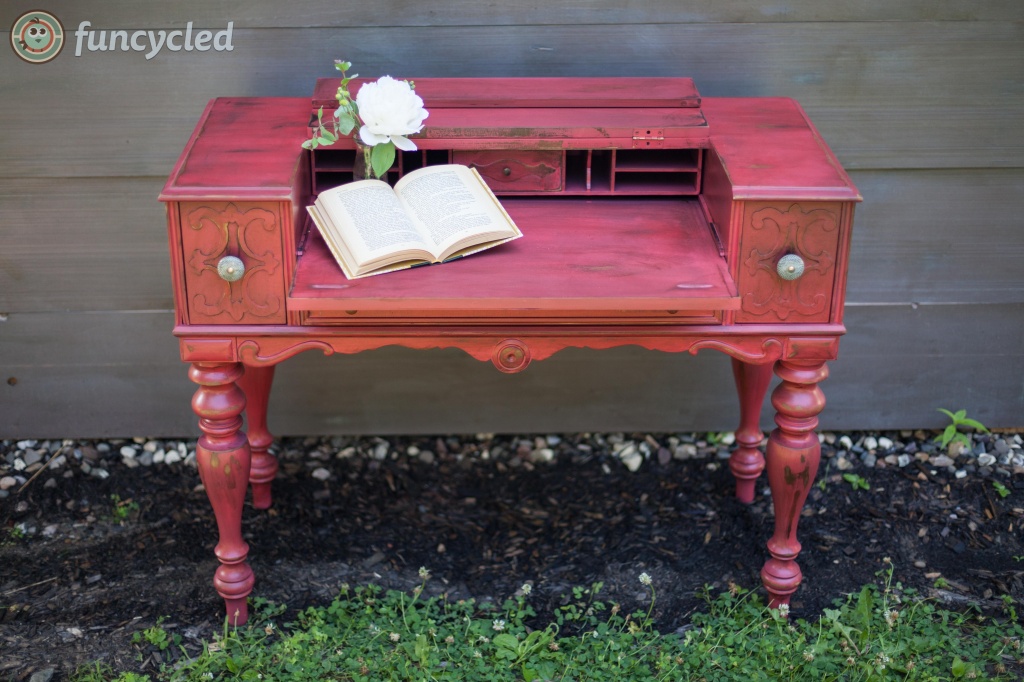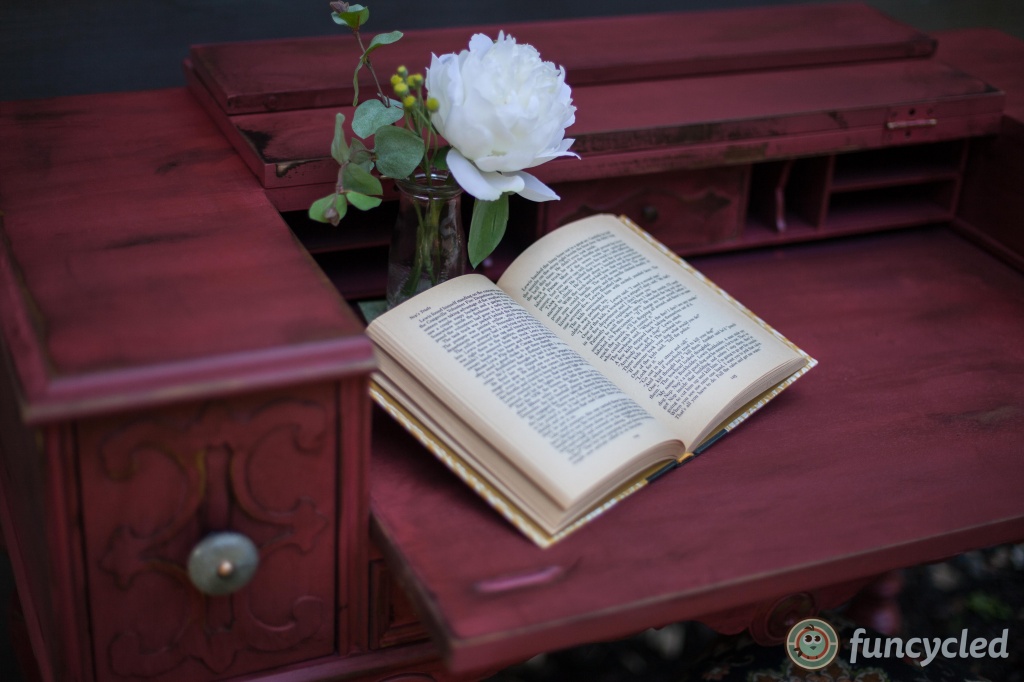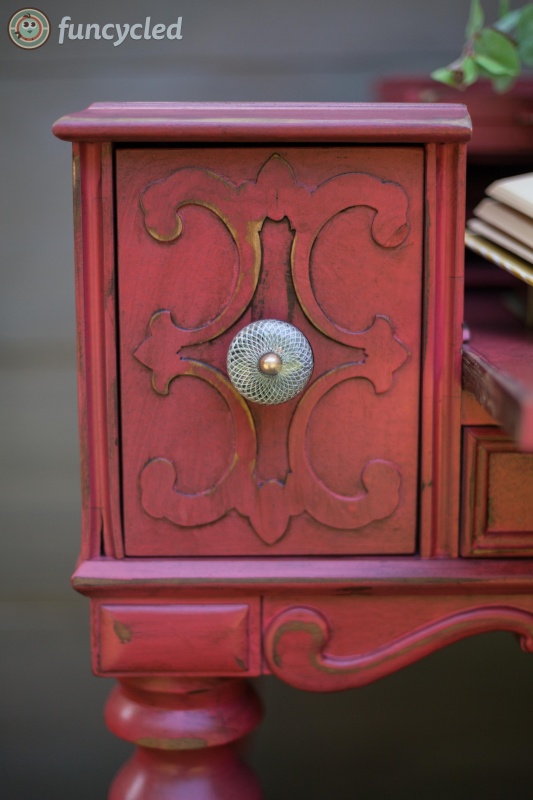 ---
$295 Light Sage Green Maple Dresser 
Size: 38 Inches wide x 16 1/4 Inches deep x 31 inches tall
This little dresser is made of maple and priced just right! It has been painted, lightly distressed and glazed.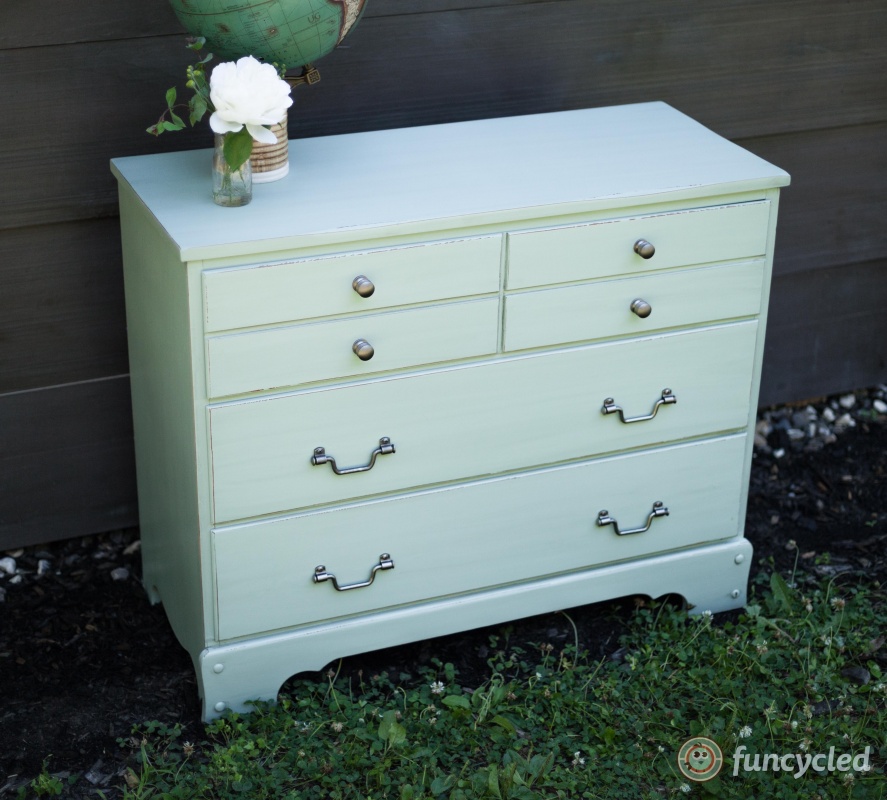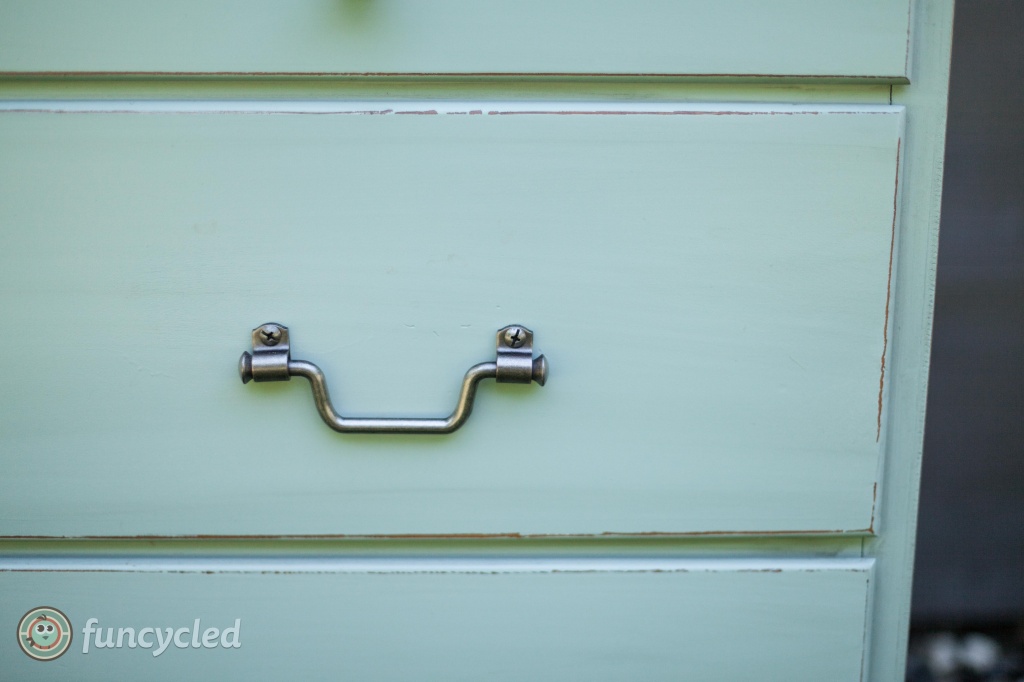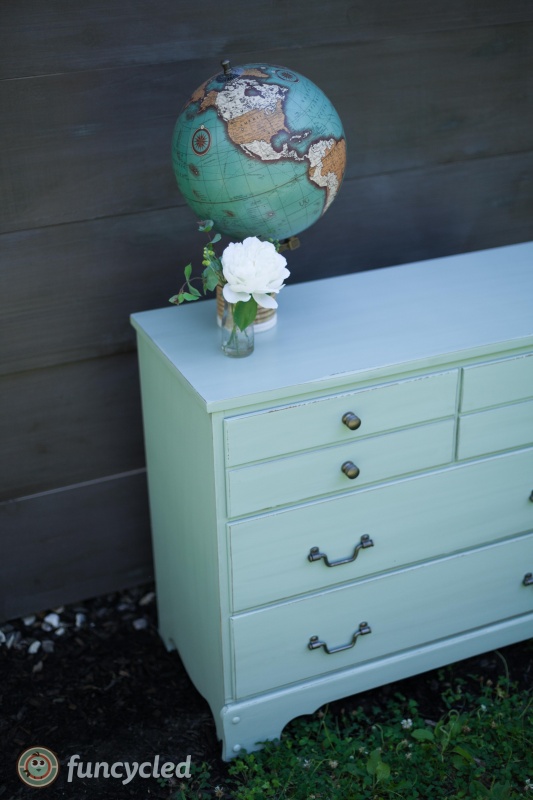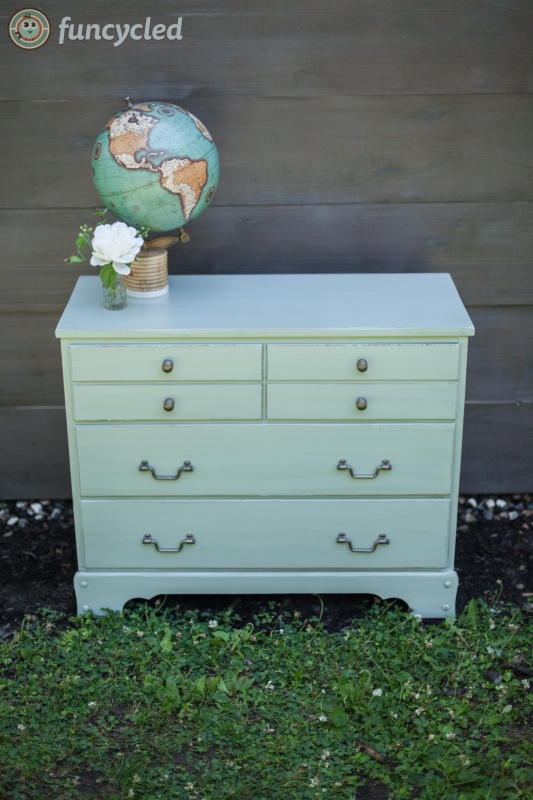 ---
$999 Distressed Teal Hutch 
Size: 52 inches wide x 16 inches deep x 76 1/2 inches tall
We took two pieces and combined them to make this stunning hutch. Heavily distressed, glazed and of course new hardware! We also added fabric to the back which can be easily removed if you would prefer it to be all teal. Snatch this eye catcher up before it's gone!! The most accurate color is in the last picture.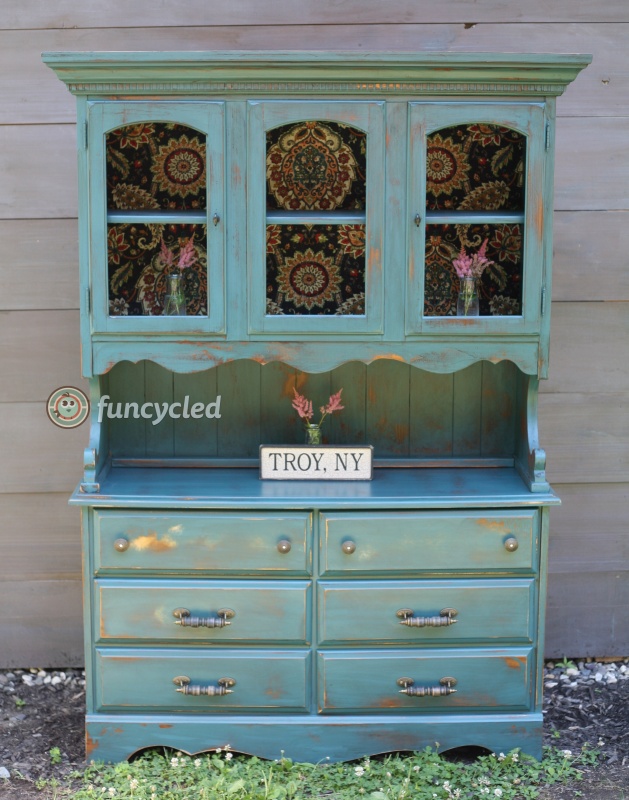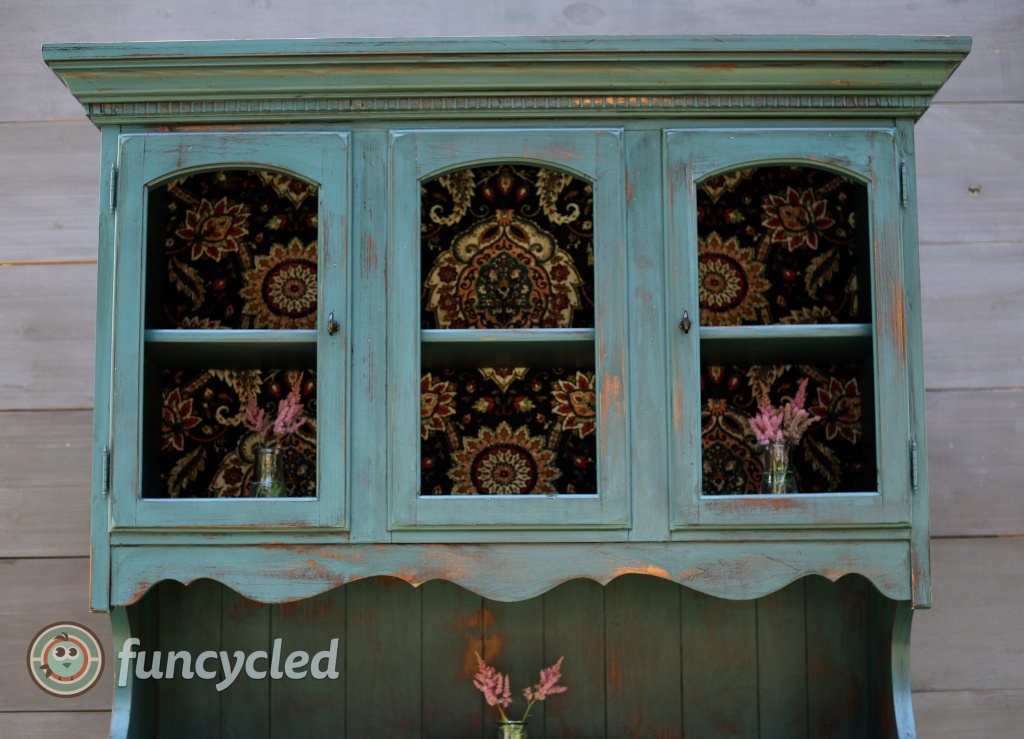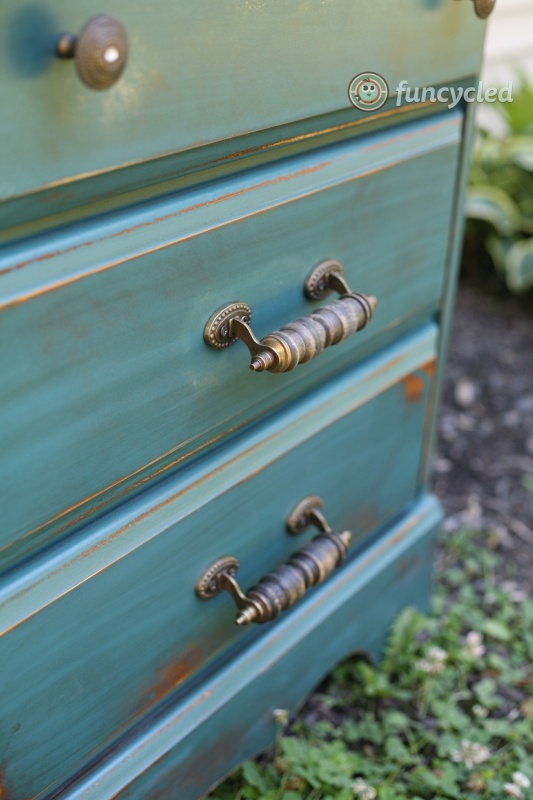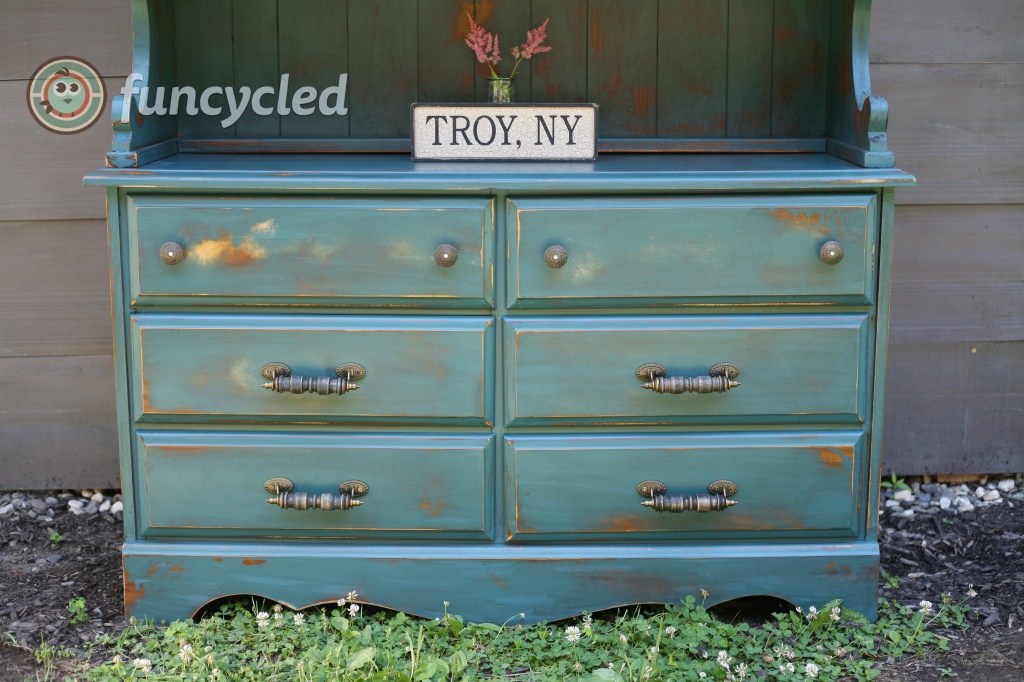 ---
$795 Light Gray Antique Empire Dresser
Size: 54 inches wide x 24 inches deep x 73 inches tall
Empire dressers are hard to come by and this one is a jaw dropper! Mahogany under the paint and solid as can be with dovetail joints. Price includes the mirror. Mirror has one small scuff mark (see pic).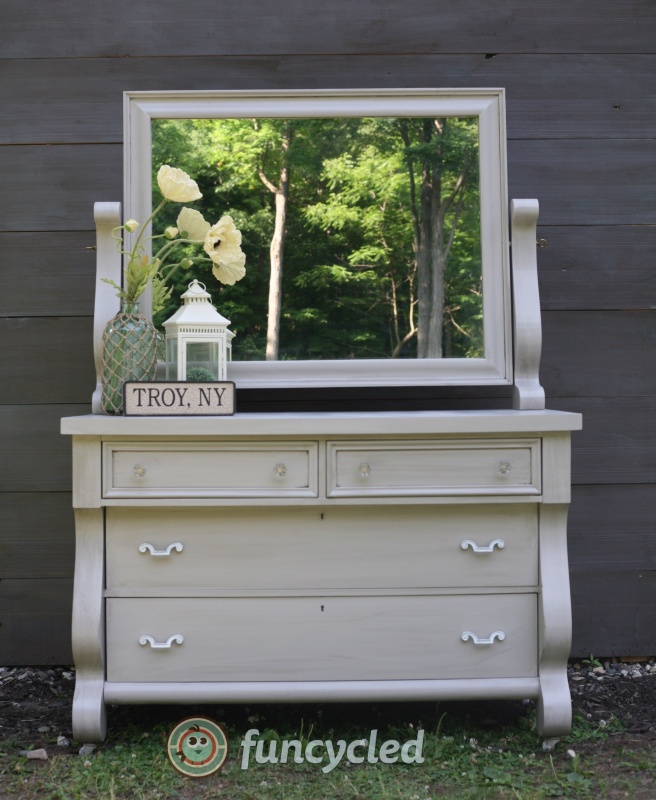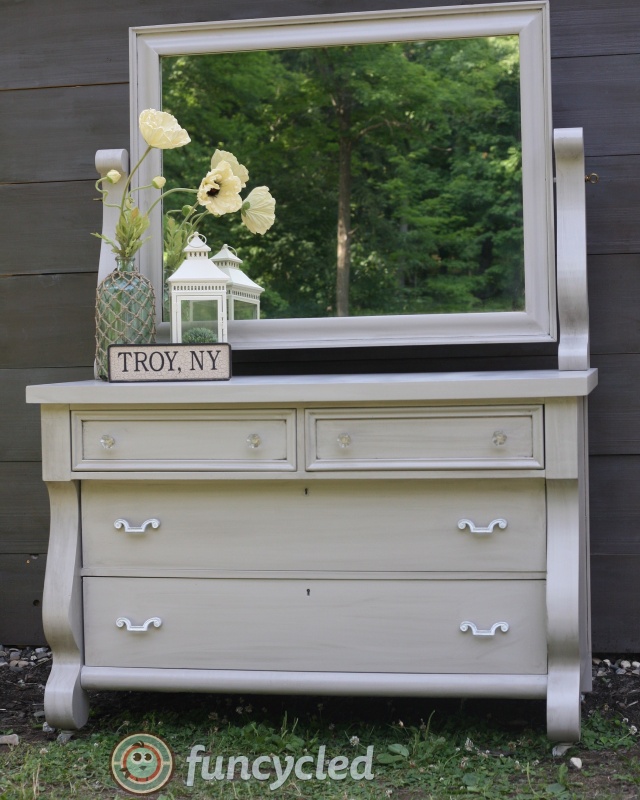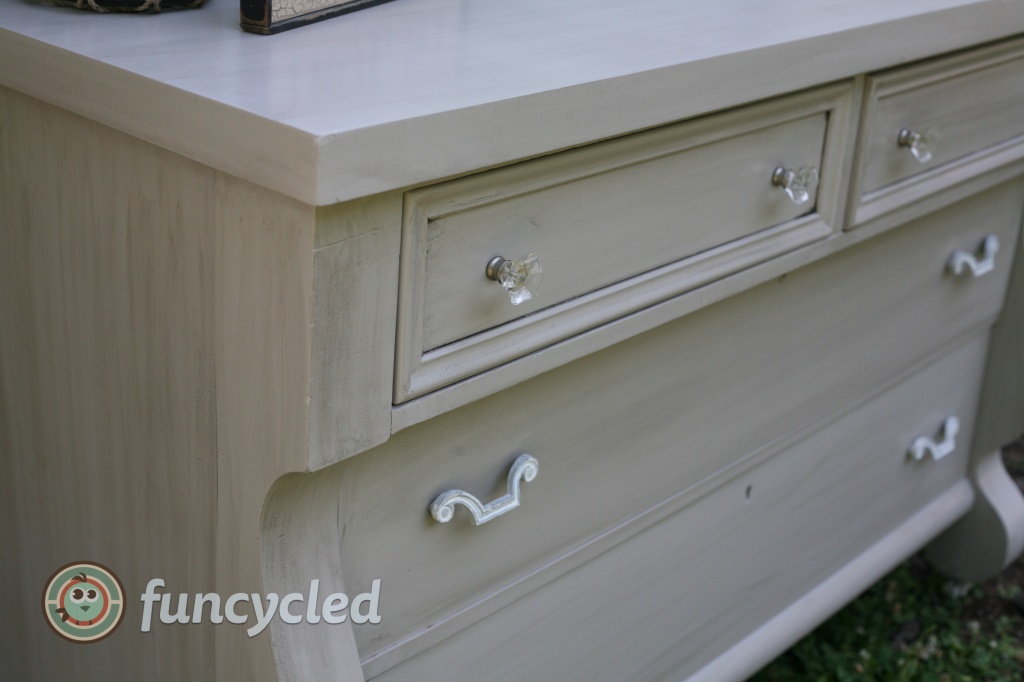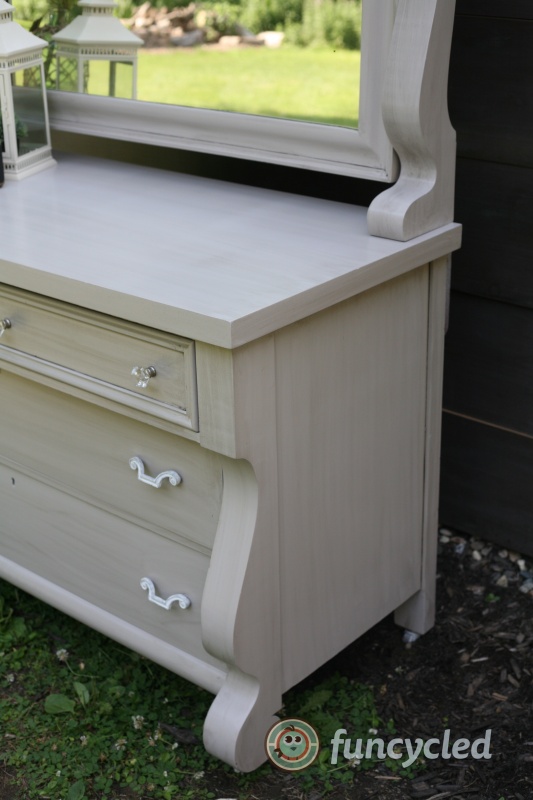 ---
$999 Antique Mahogany Claw and Ball Buffet
Size: 69 1/2 inches wide x 22 inches deep x 37 inches tall
This gorgeous server has been given new life! We painted the outside with Amherst Gray by Benjamin Moore and glazed it to bring out the details and deepen the color (it's a little darker in person than in the pictures). Given the style, we believe it was made in the 1900-1950's time frame. Very rare style and finish.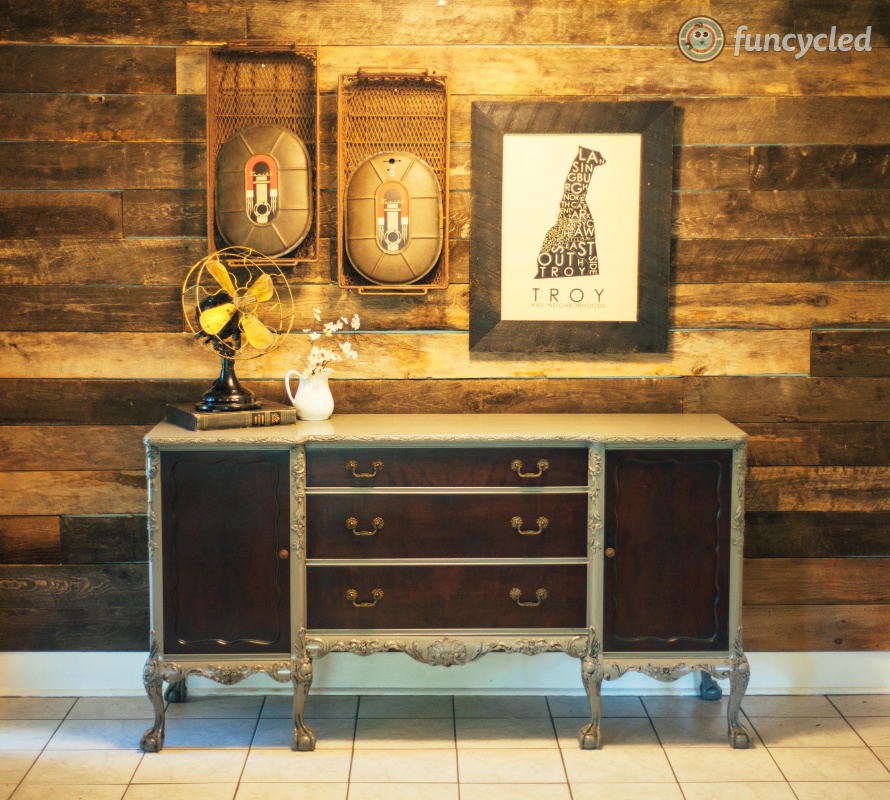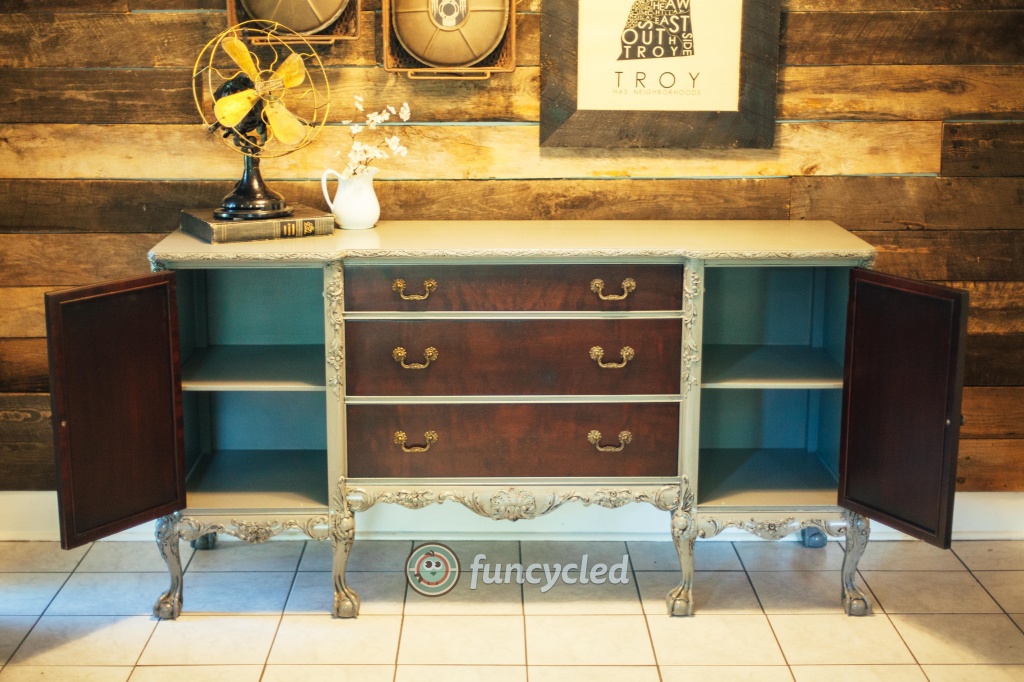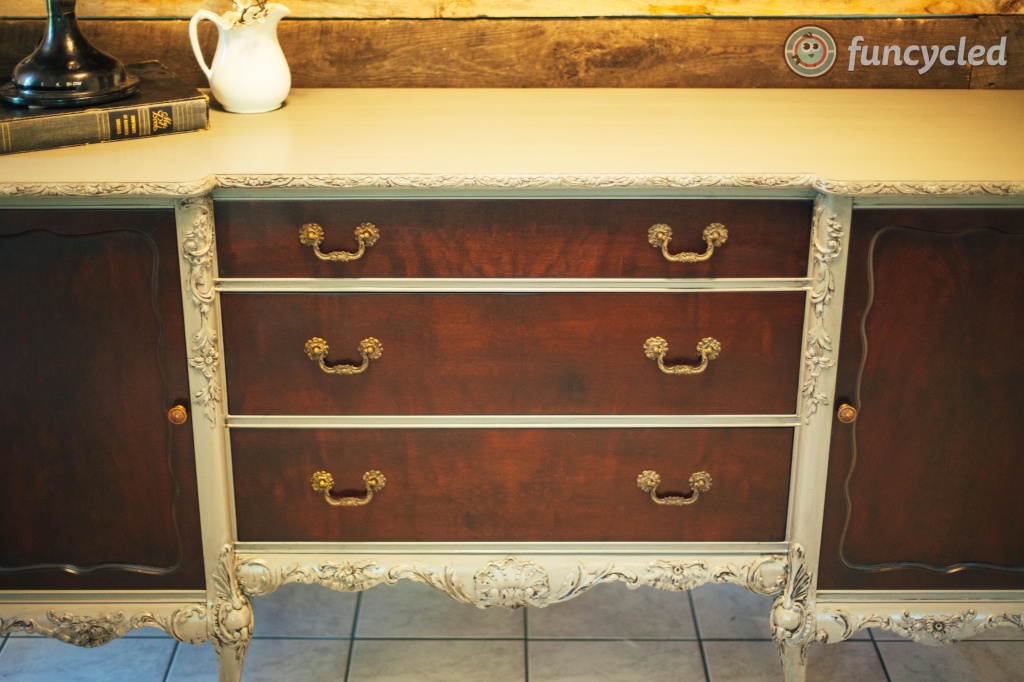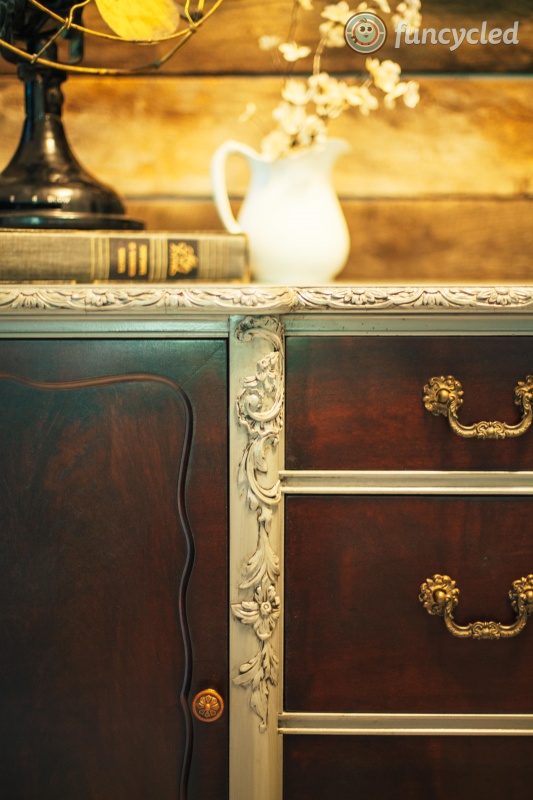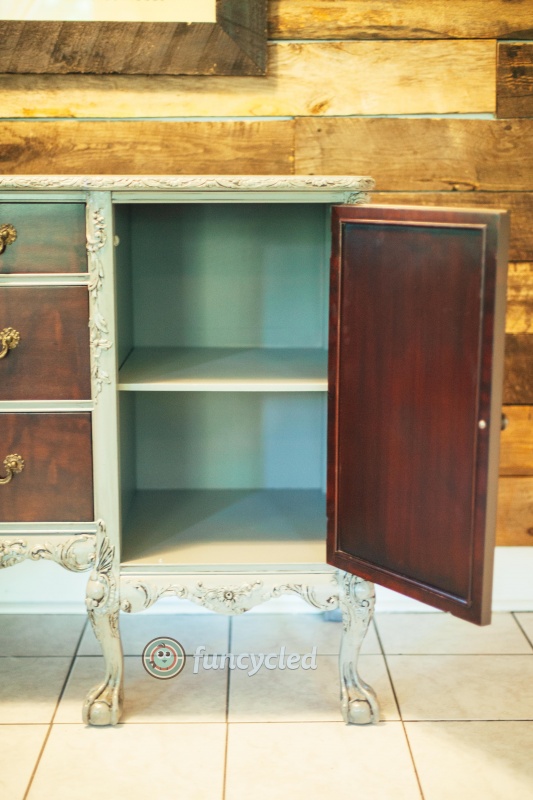 ---
$595 Retro Chess Pieces Armoire 
Size: 50 1/2 inches tall x 36 inches wide x 31 inches deep
Have a chess player in your house? Well, then you might want to snatch this up! We repurposed old chess pieces by turning them into drawer pulls. We refinished the outside of the armoire and painted the drawer fronts a light blue!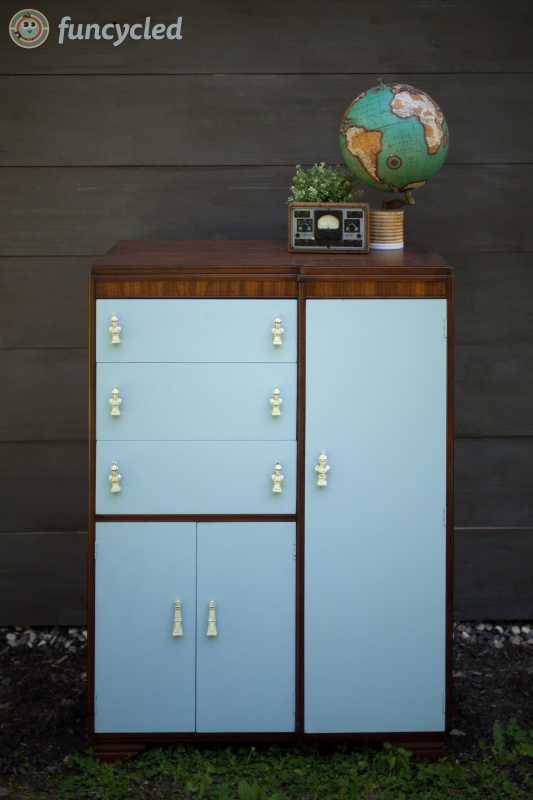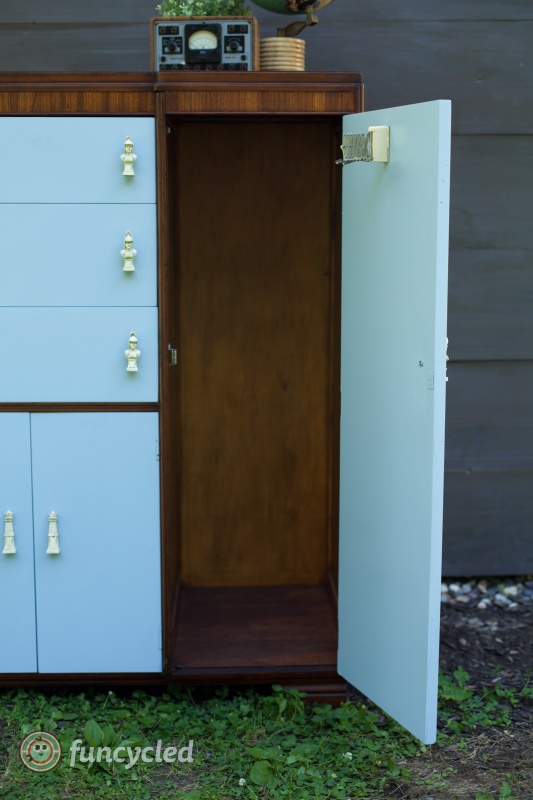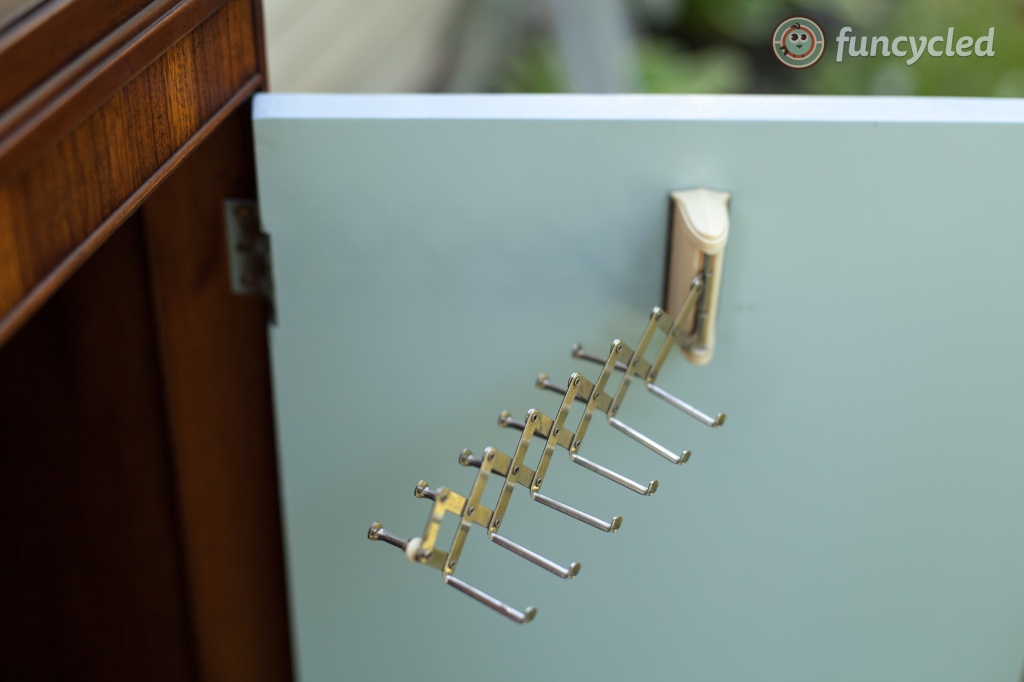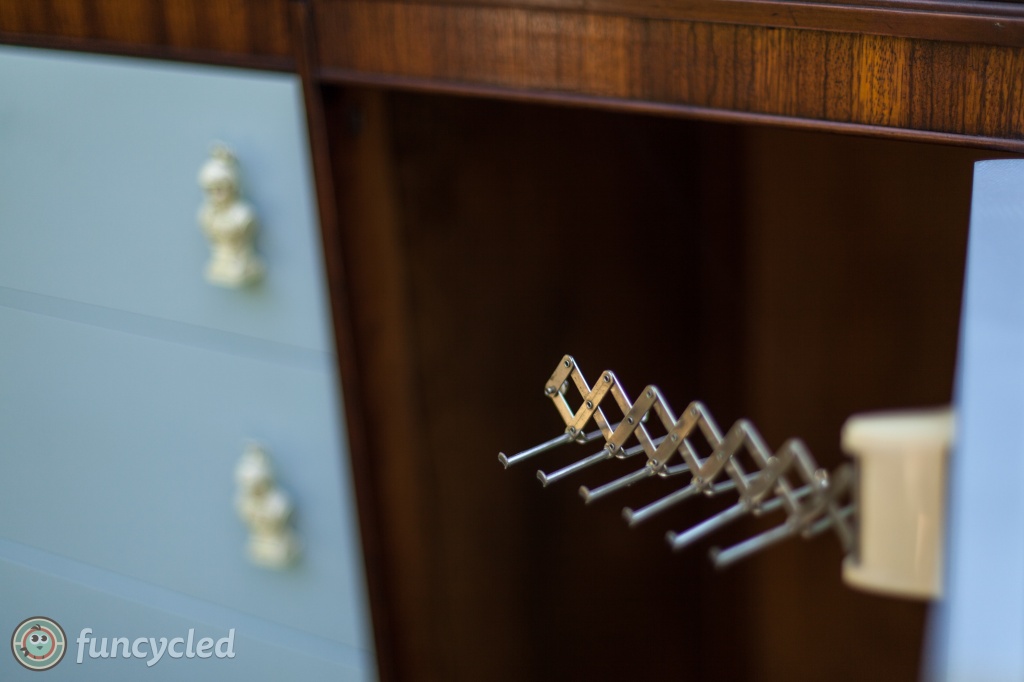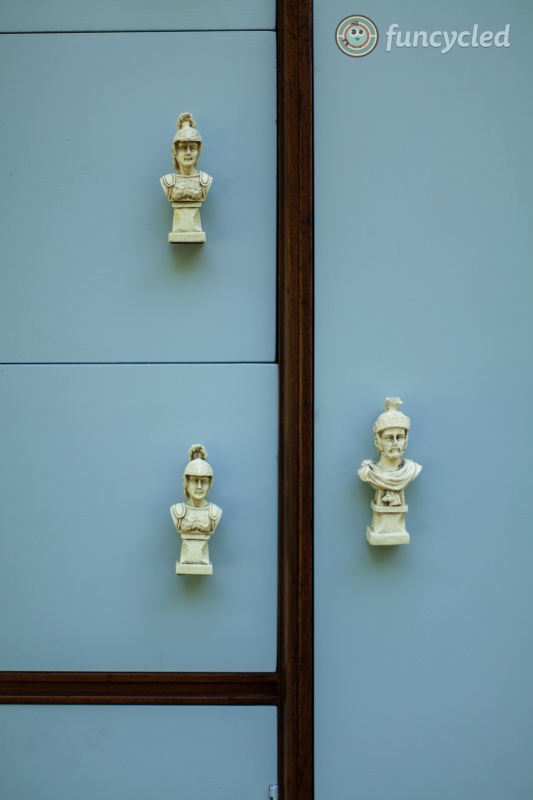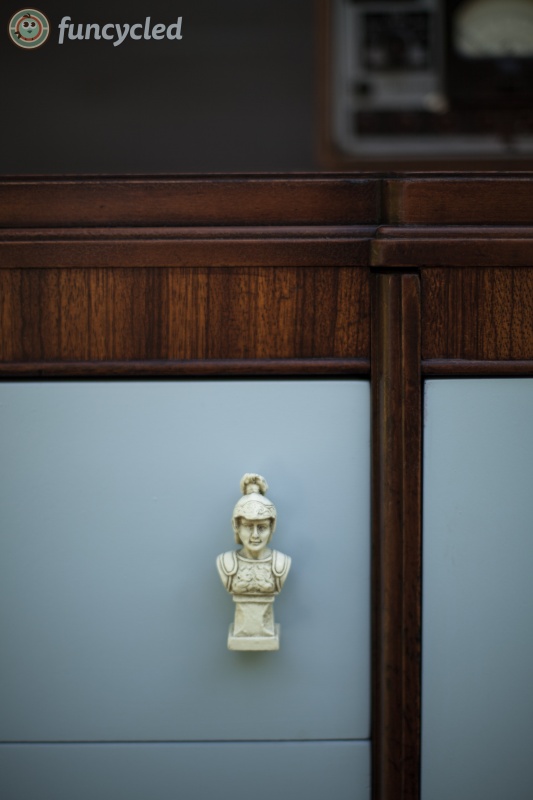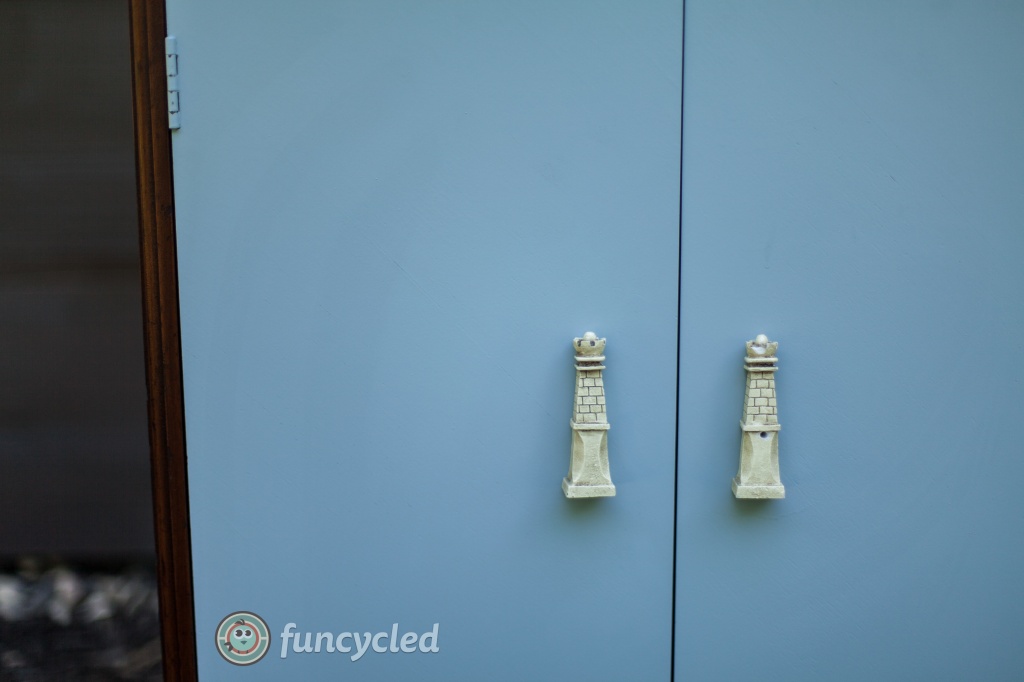 ---
$495 Retro Vanity with Agate Knobs
Size: 65 inches tall x 44 inches wide x 18 inches deep
We took this old beauty and added some fun character with a beige finish, a gold and wood stripe, and lightly distressing the whole thing. The fun agate knobs and funky fabric make this vanity and bench combo one of a kind!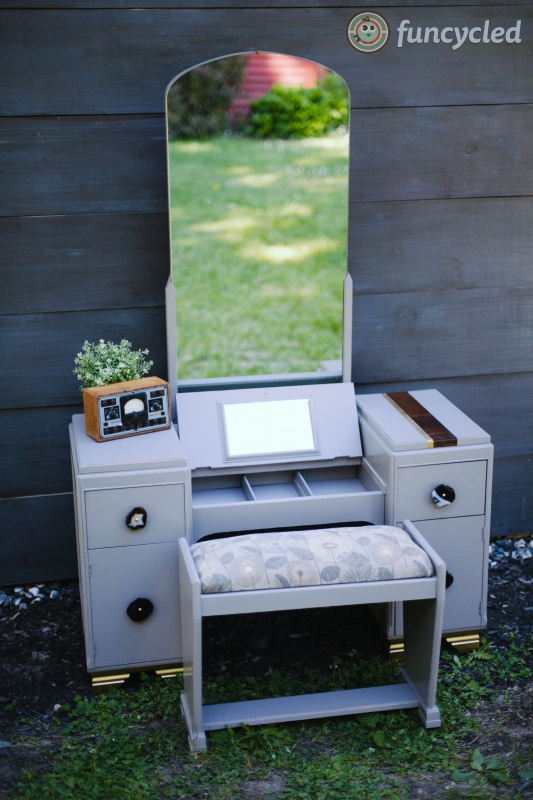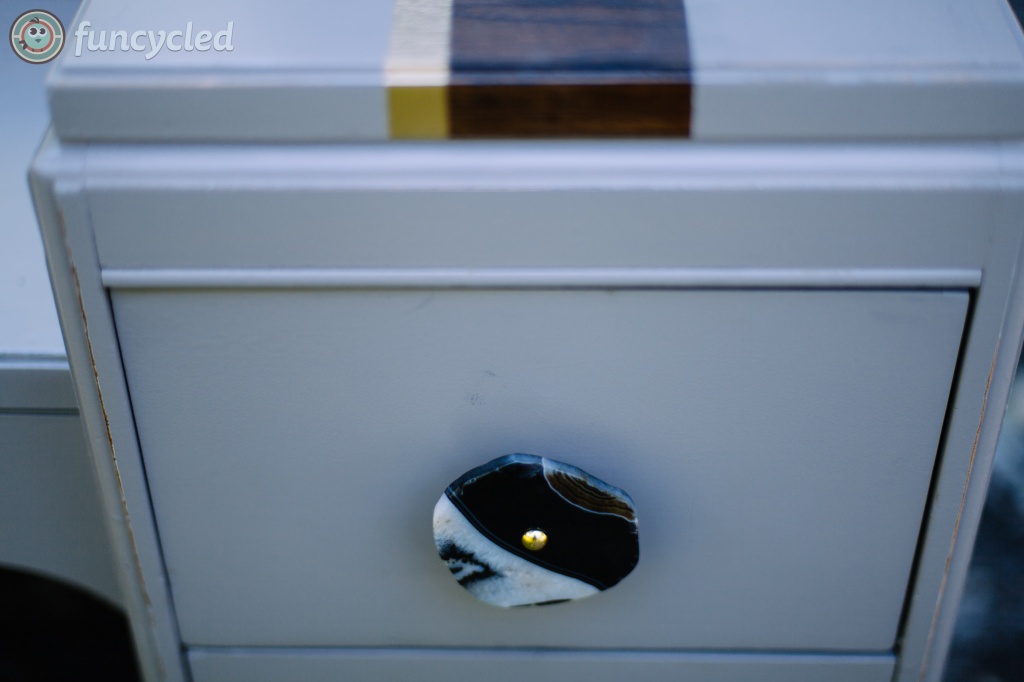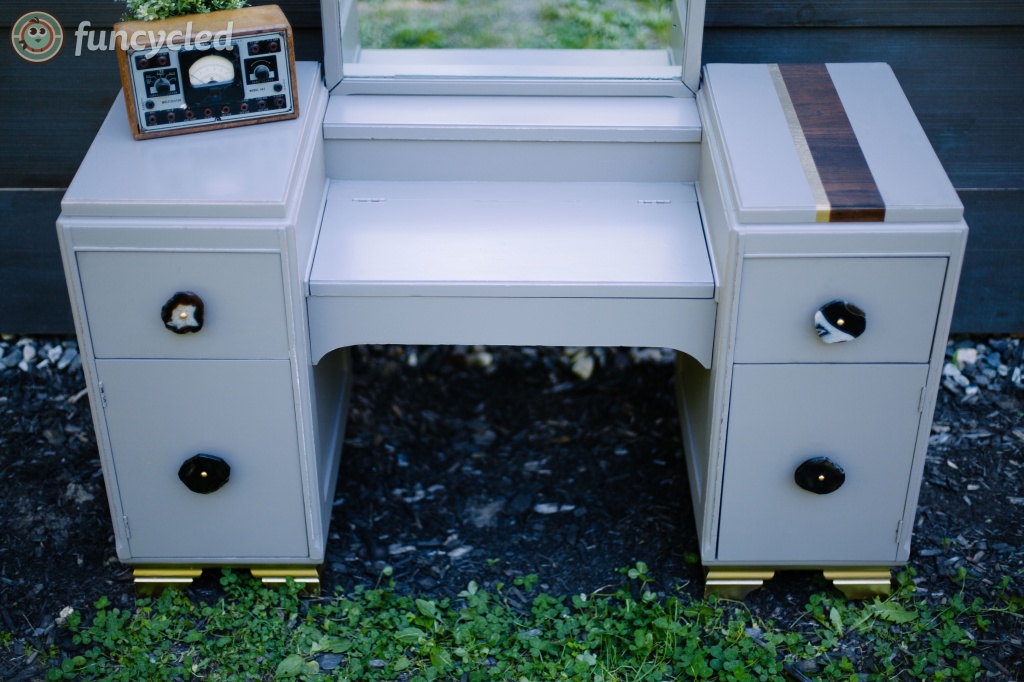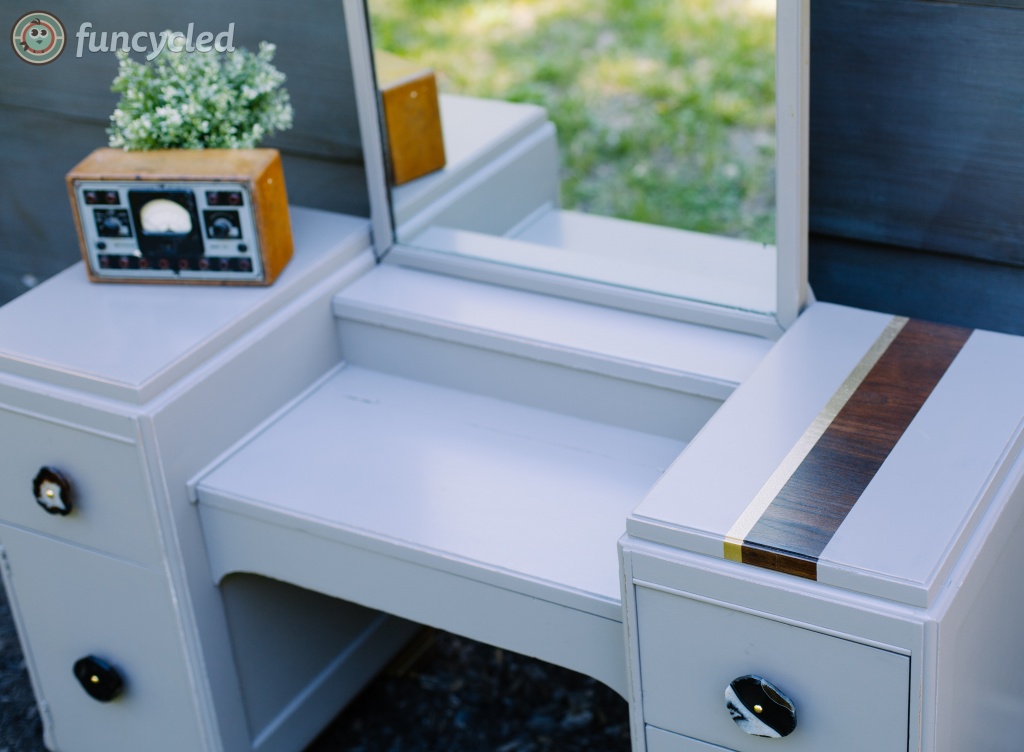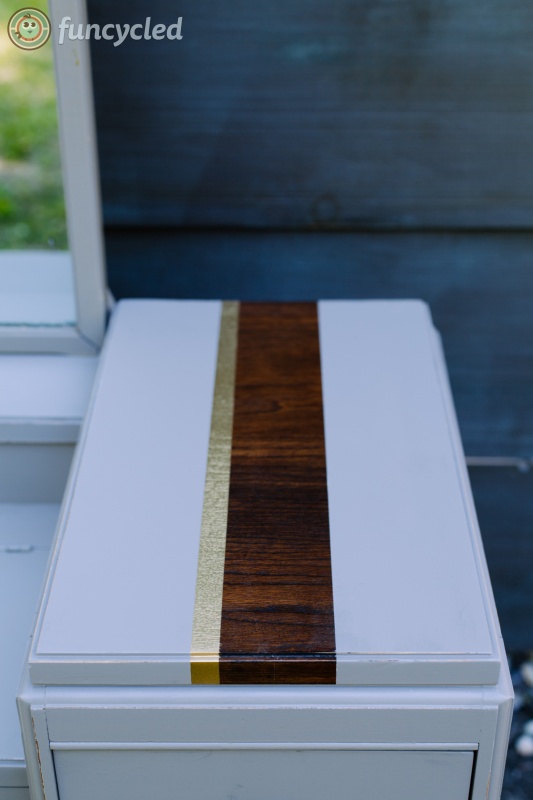 ---
$475 White Shabby Chic Vanity 
Size: 68 inches tall x 41 1/2 inches long x 20 inches deep
We took an old dove tail drawer desk and added an antique mirror to make this beautiful vanity! Perfect to blend with your decor with a soft white finish and hammered bronze hardware.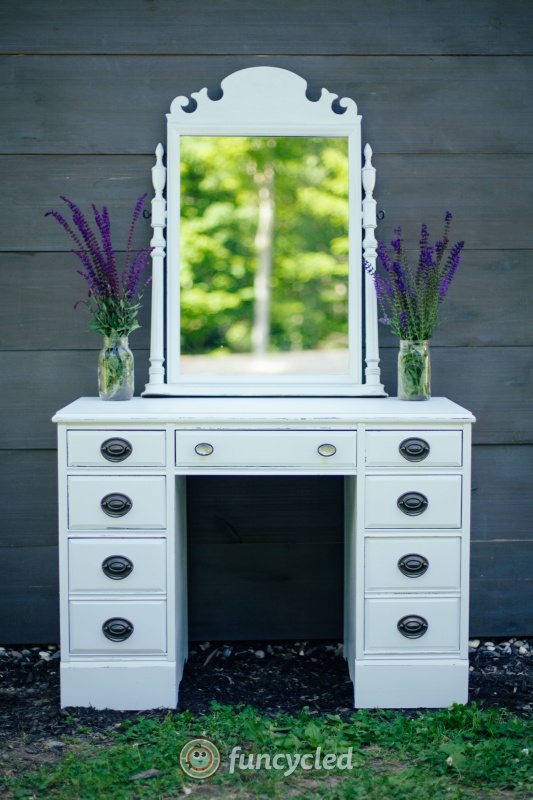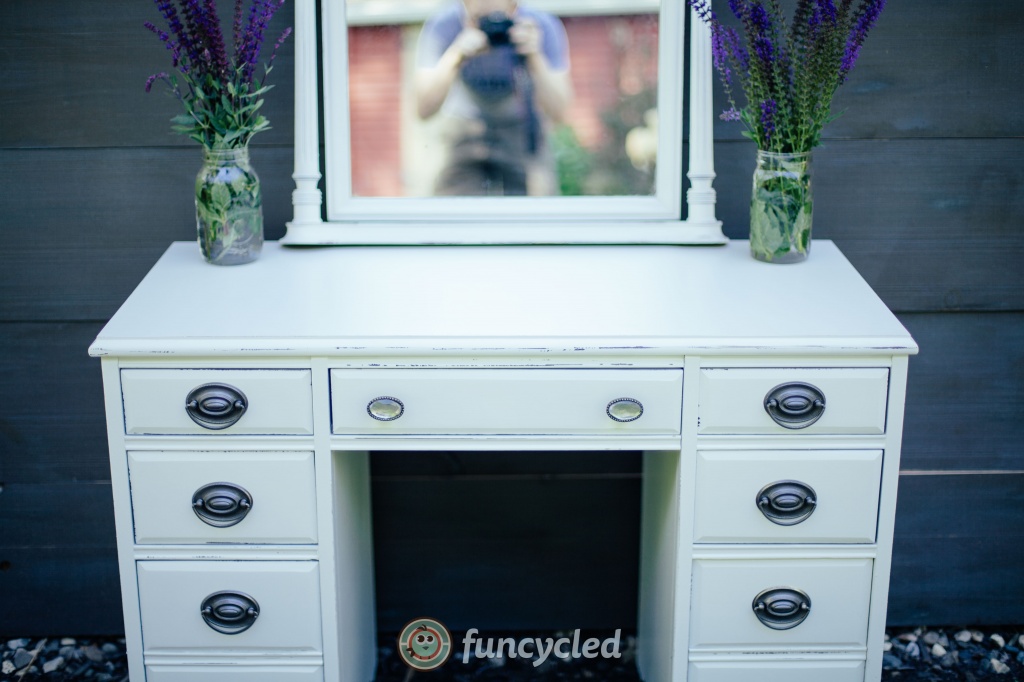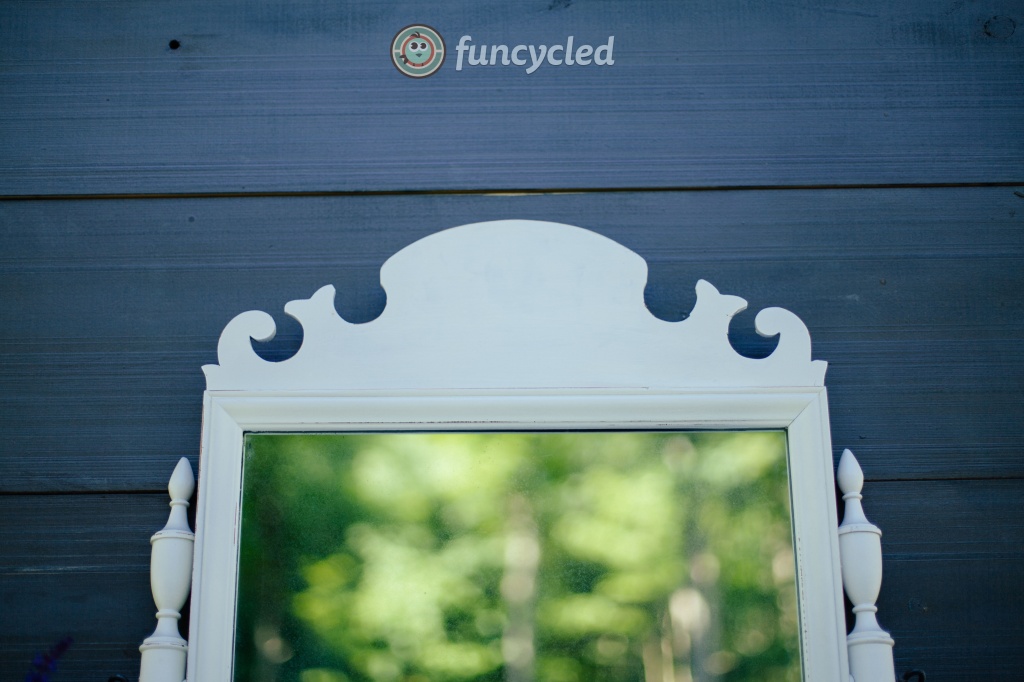 ---
$95 White Wicker Twin Headboard 
---
$325 Turquoise Campaign Cabinet
Size: 30 1/8 inches wide x 18 inches deep x 29 1/2 inches tall
Made by Bernhardt this is a vintage campaign cabinet. Hard to find and a one of a kind look! Painted with Benjamin Moore's color Tropical Turquoise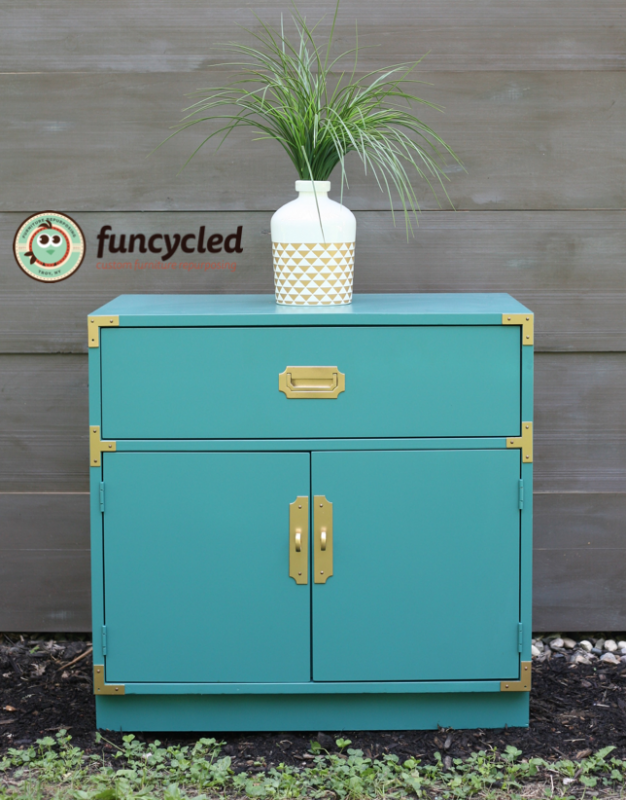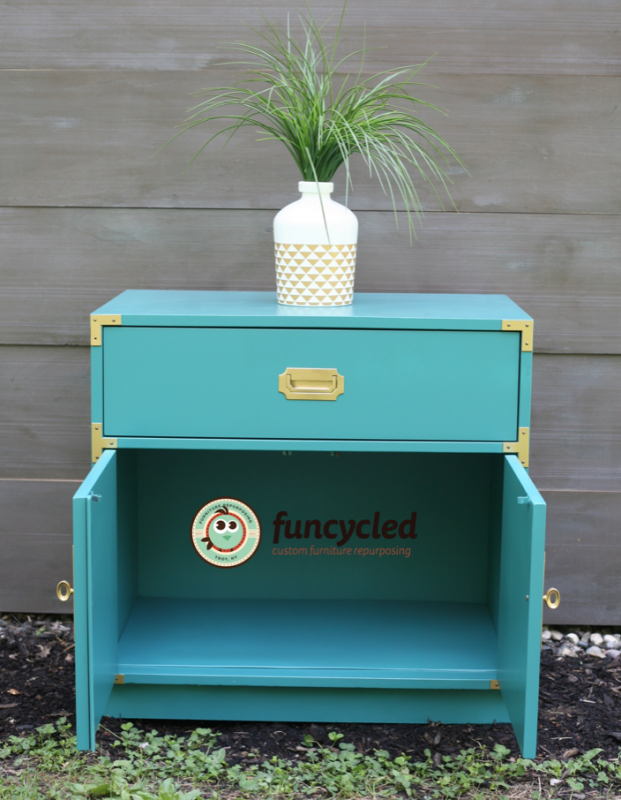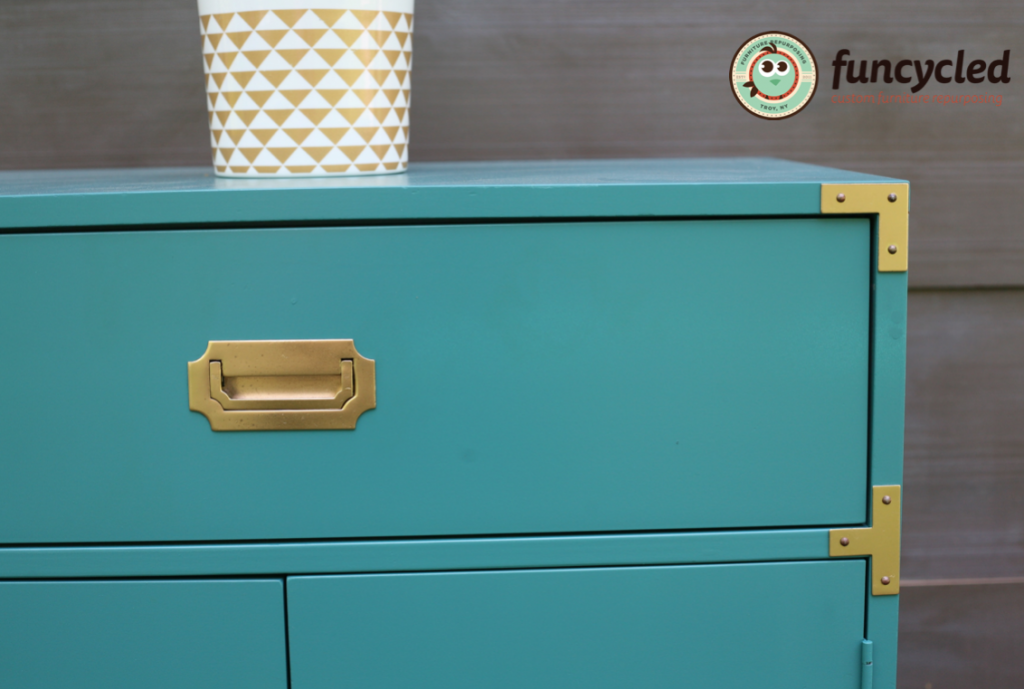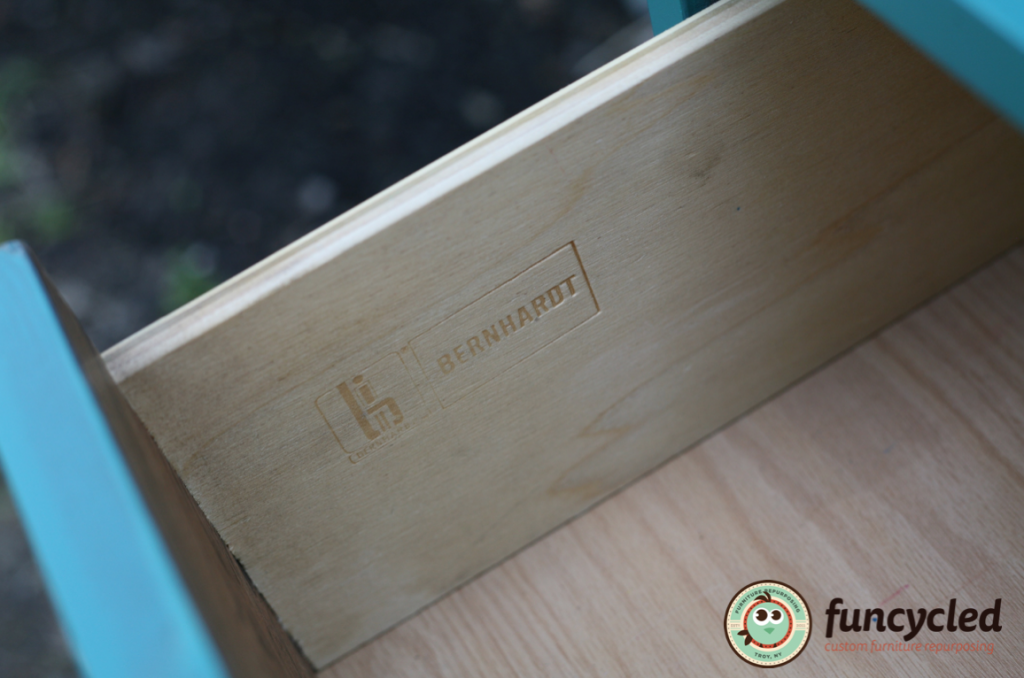 ---
$395 Cream and Wood Front Solid Maple Dresser
Size: 18 1/4 inches deep x 32 1/2 inches wide x 42 inches tall
This antique has been given a fresh new start with a new back, refinished drawers and bright creamy white paint. Solid maple piece with dovetail drawers! An adorable must see!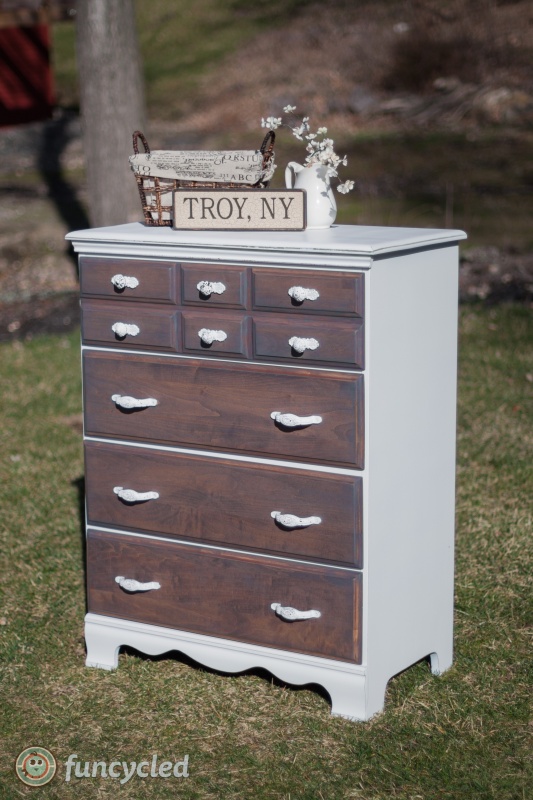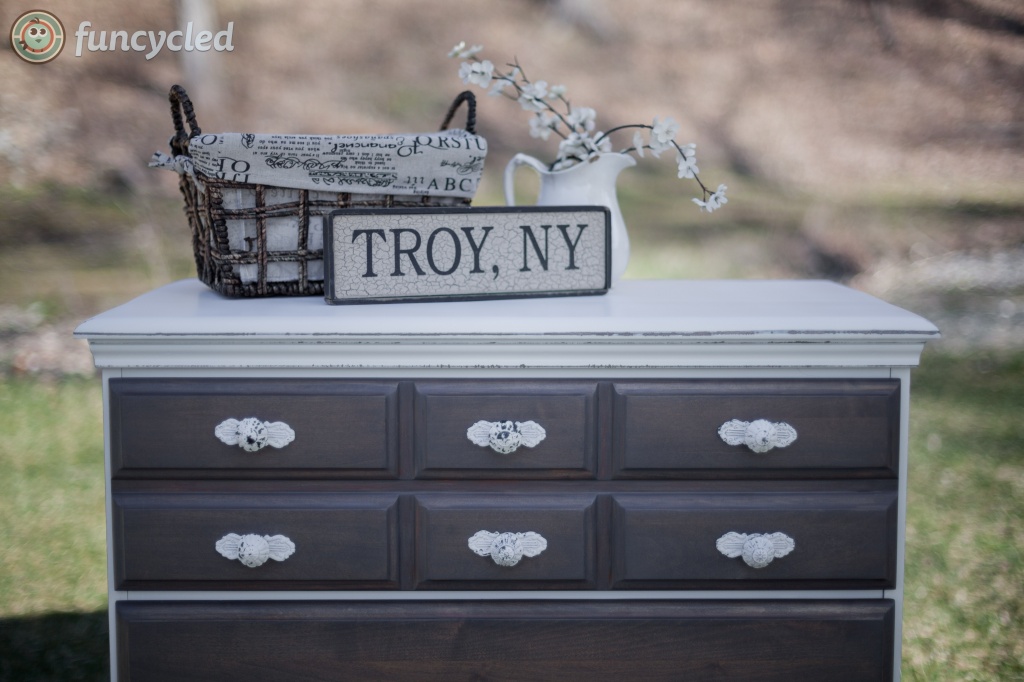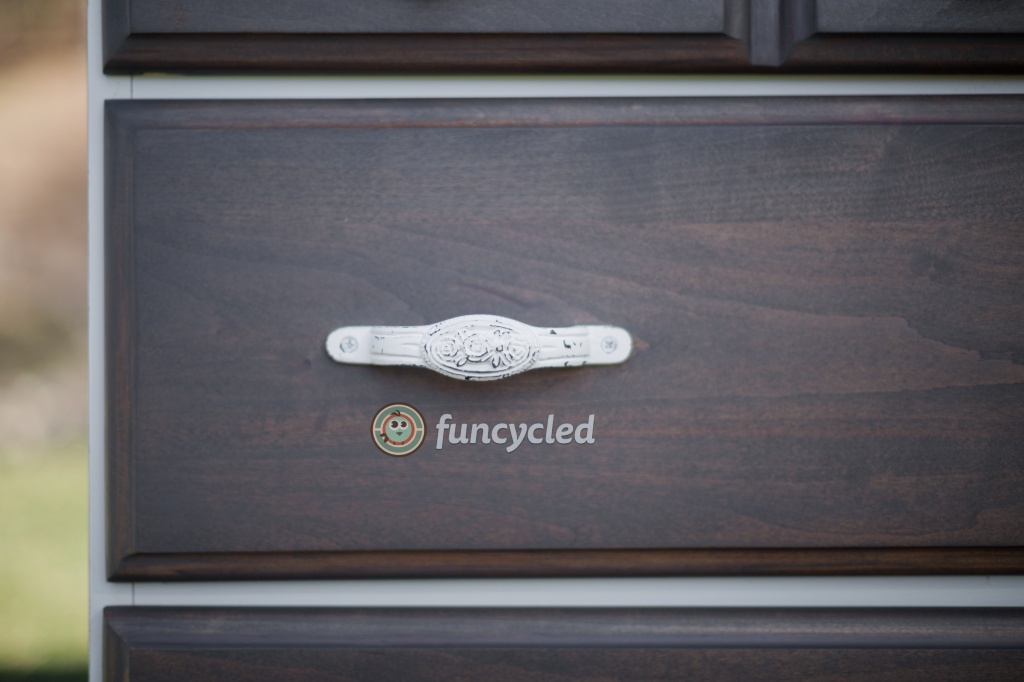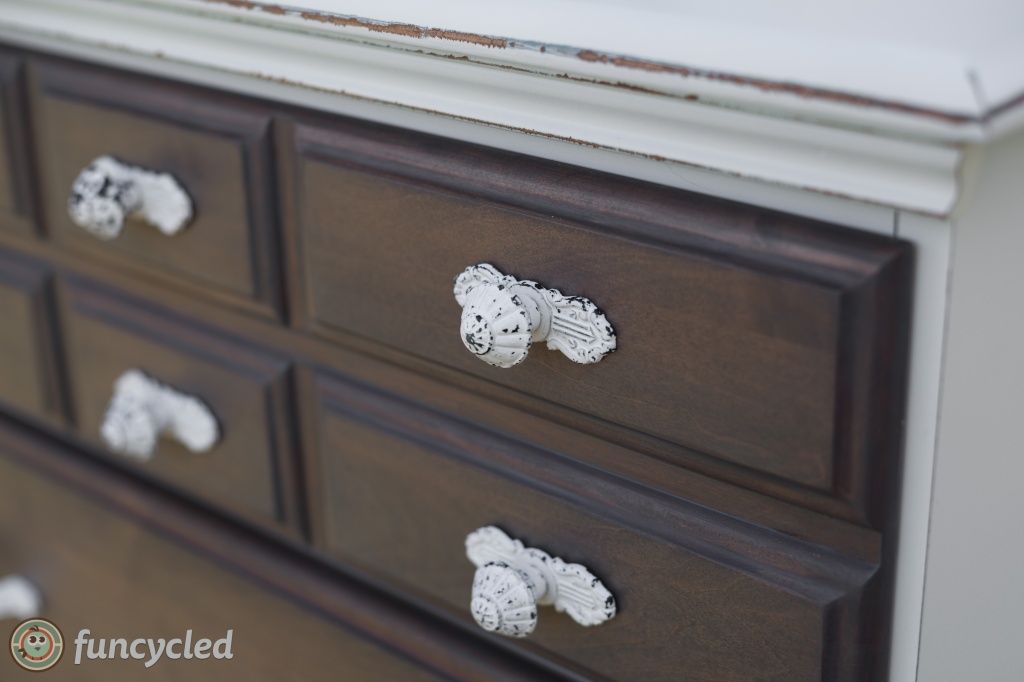 Our pieces are vintage, hand made, or custom painted, therefore we cannot accept any returns for any reason. We will be happy to give you as many details, information and pictures before your purchase to ensure you are happy with your piece. Small dings and dents are normal for vintage pieces and may be visible depending on the piece. 
No furniture pieces can be held without a deposit. We can accept Paypal deposits to hold your piece for up to 3 days from the time that the deposit is received. All pieces must be picked up within 3 days of purchase date due to limited space.
---
Custom Built Furniture is also available. You can view some of our past projects and request quotes for your custom piece here.
---
 Don't see quite what you're looking for?
Let us customize a furniture piece for you! If you're looking for a furniture piece that you don't see on our Upcoming Projects page or Furniture For  Sale page, please use our Furniture Wish List form to request specific pieces. We'll help you find just what you're looking for!  We create custom furniture and will deliver for customers in upstate NY and shipping is available throughout the US.  Send us a note with what you would like using our contact page.If you want to know when something is for sale before it even hits the website, please like our face book page to keep up to date on the newest finds, vote on colors and give input on our creativity. There is a box at the top right of this page to enter your email address in to receive notifications by email when I post something new on this blog. Please sign up today!