To purchase use our
Contact Us
form or call 518-629-5386.
We can deliver any item in within 30 minutes of Troy, NY for $50 and anywhere within 60 miles from Albany, NY area for $100. Regular delivery days are Monday and Tuesday 9am-2pm. If you would like something shipped, please contact us and we can connect you with movers at great rates. We ship out of state all of the time to happy customers. We accept cash, paypal or credit card payments.
$1,200 Gray Hutch with bright modern turquoise, red, purple, and chartreuse paisley Size: 87 inches high x 68 inches wide x 16 inches deep
This  hutch has glass shelves and glass for all of the doors (they were taken out for better photos). The bottom left and right section has a shelf as well. All of the interior lights up (even the bottom section).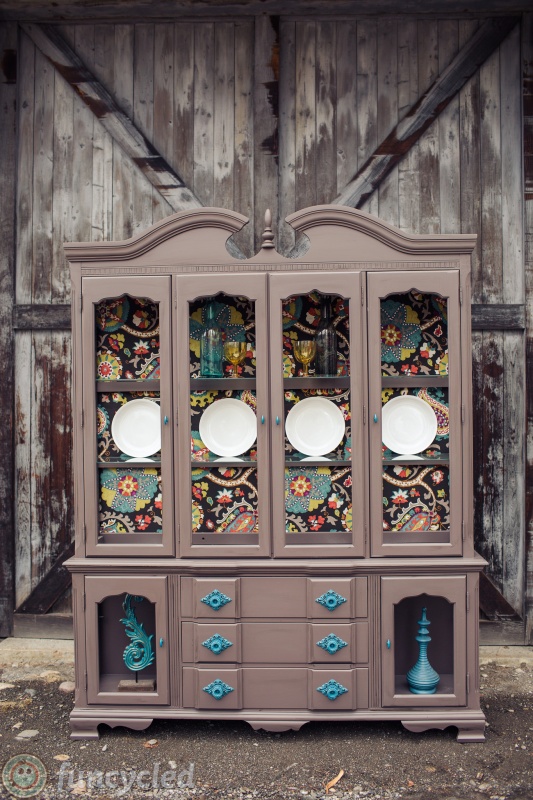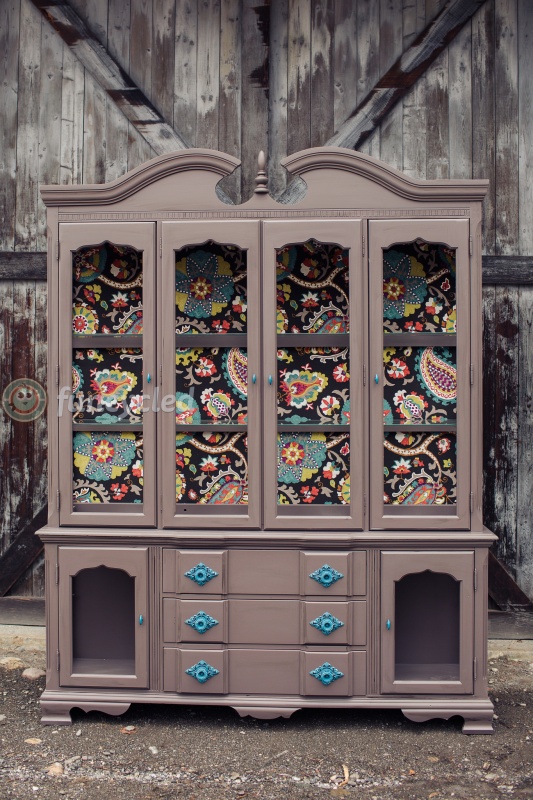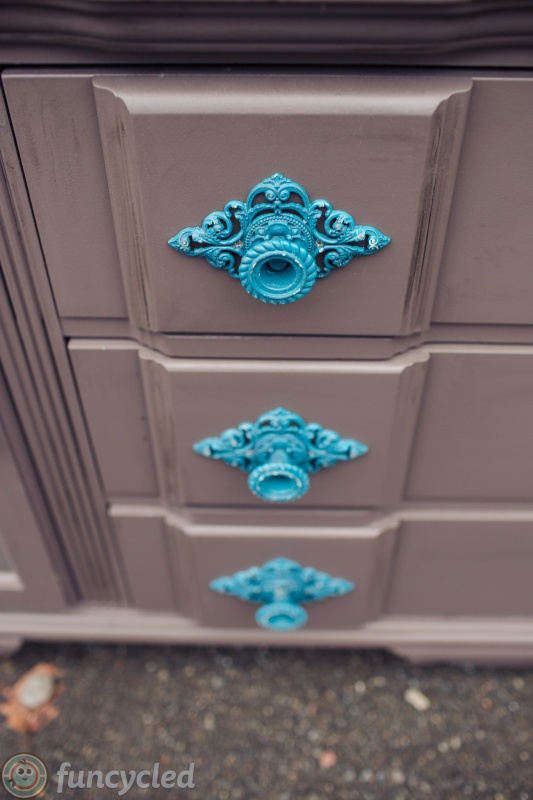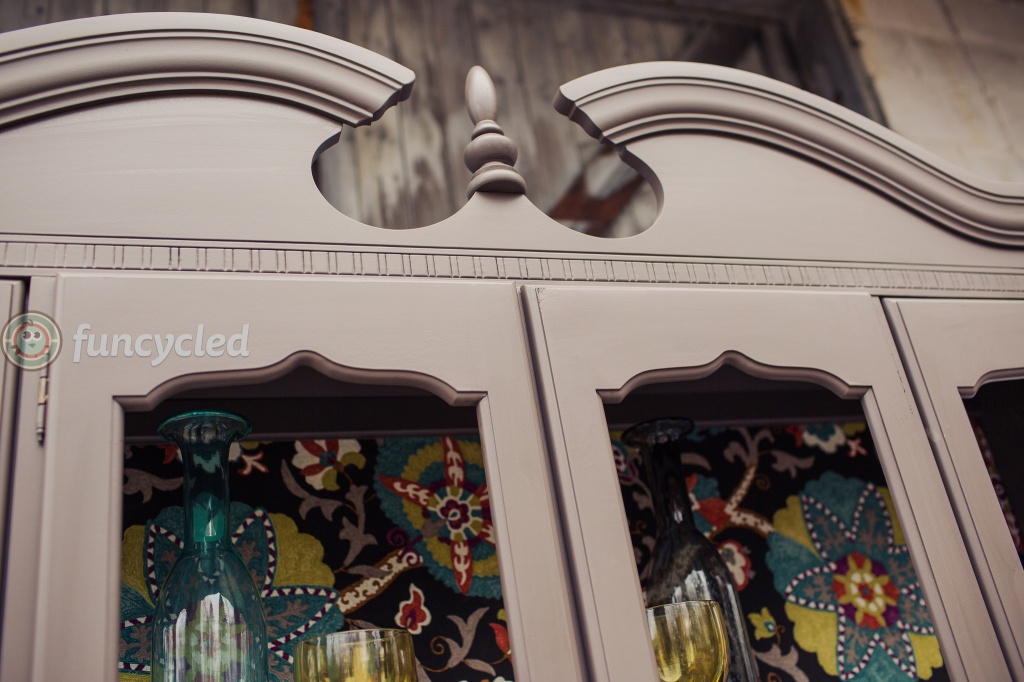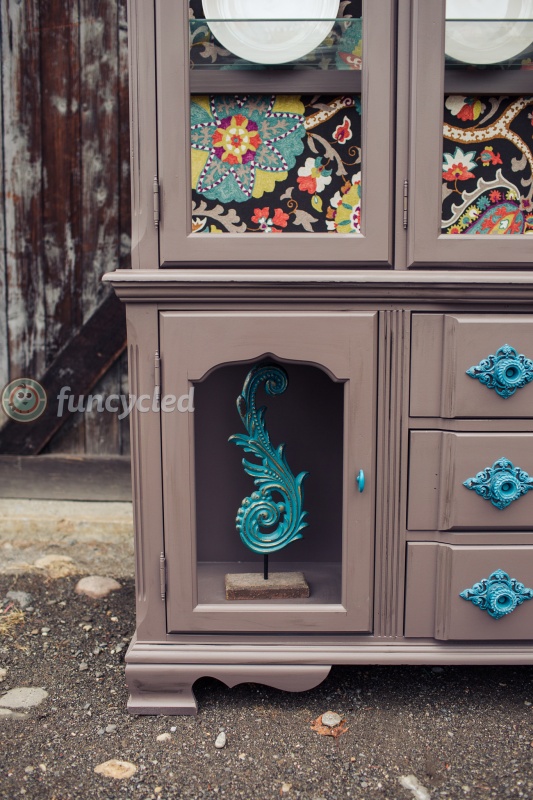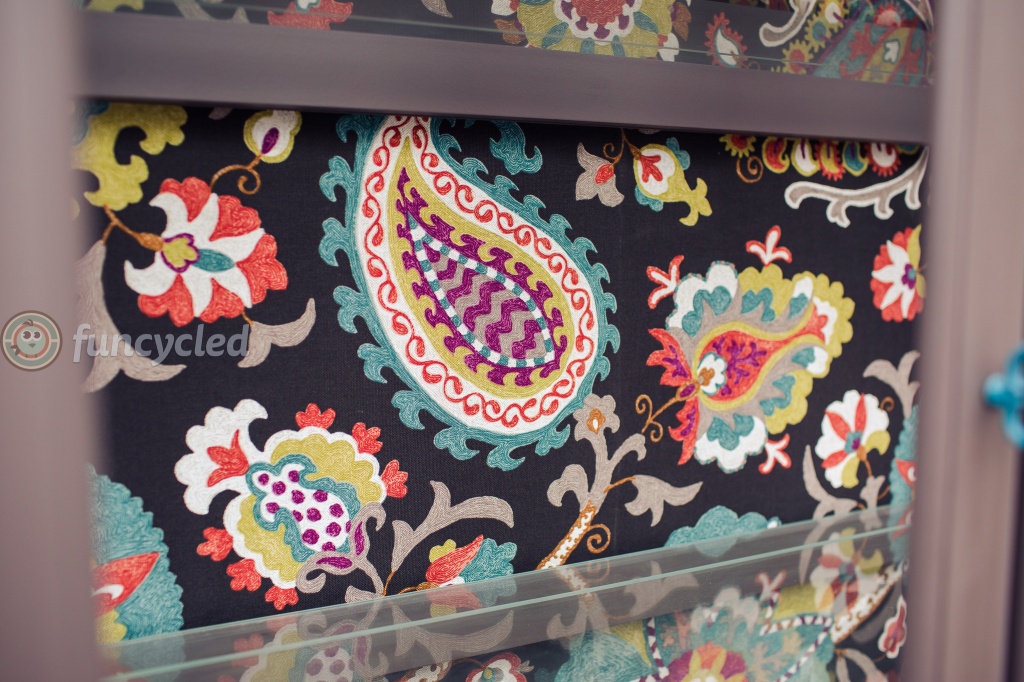 $650 Black Ethan Allen buffet with dovetail joints Size: 65 inches wide x 19 1/4 inches deep x 40 inches high
This buffet has been given a vintage feel with a modern cream and wood stripe on the top right and vintage hardware. It would be perfect as a buffet, entertainment center or even as a dresser.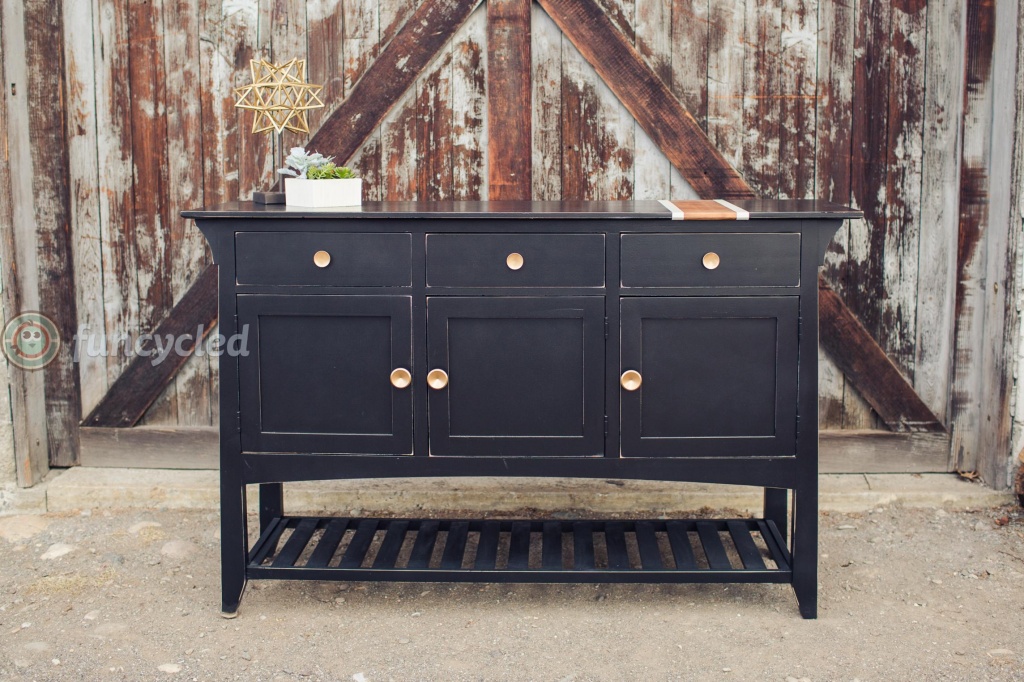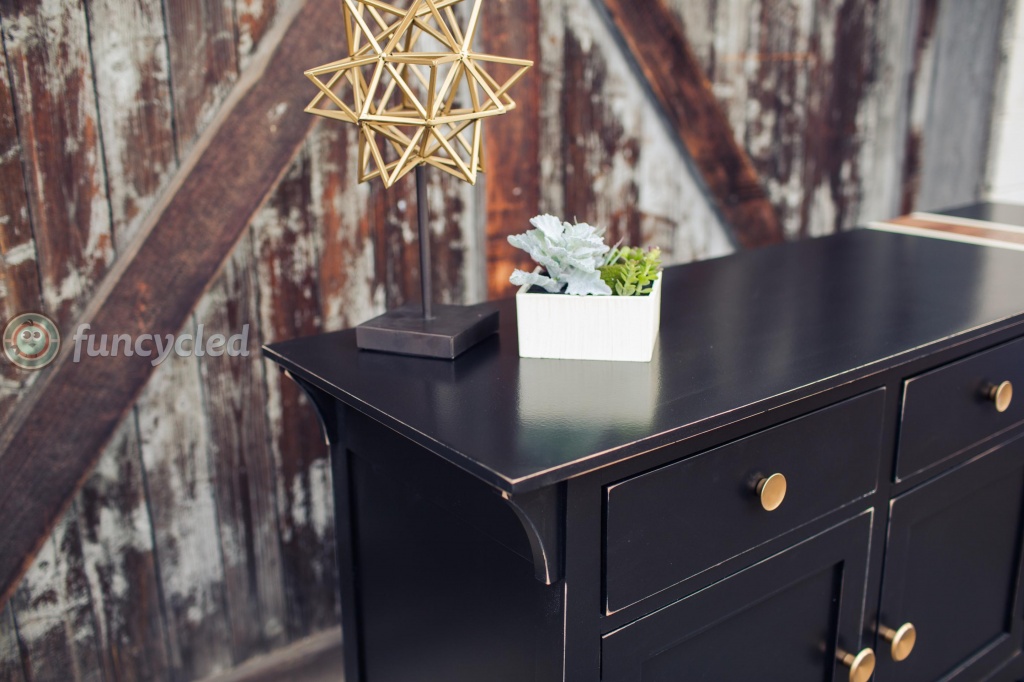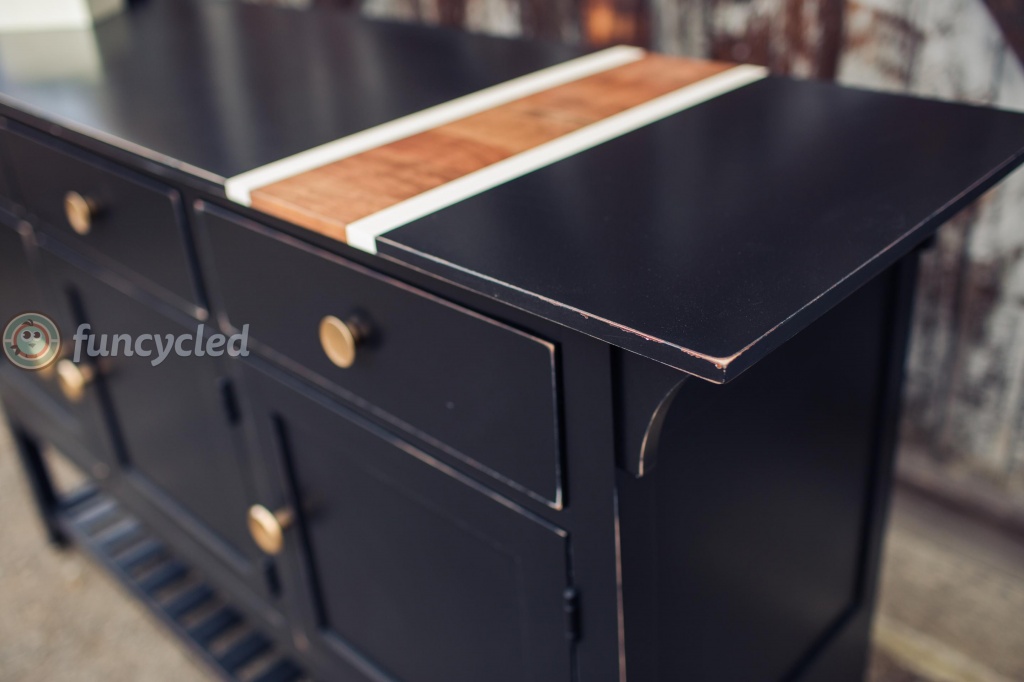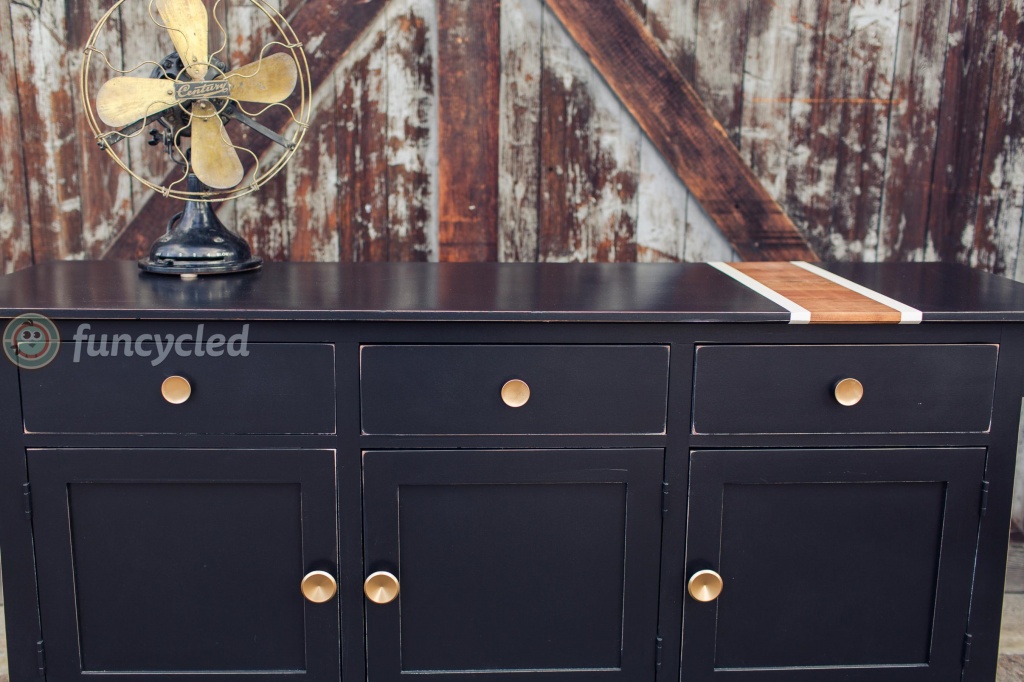 ---
$595  Vintage Metal Library Card File Holder Size: 30 1/2 inches wide x 13 1/2 inches deep x 45 1/2 inches high
We painted this beauty white and added mid century style hairpin legs to make this a perfect blend of vintage modern.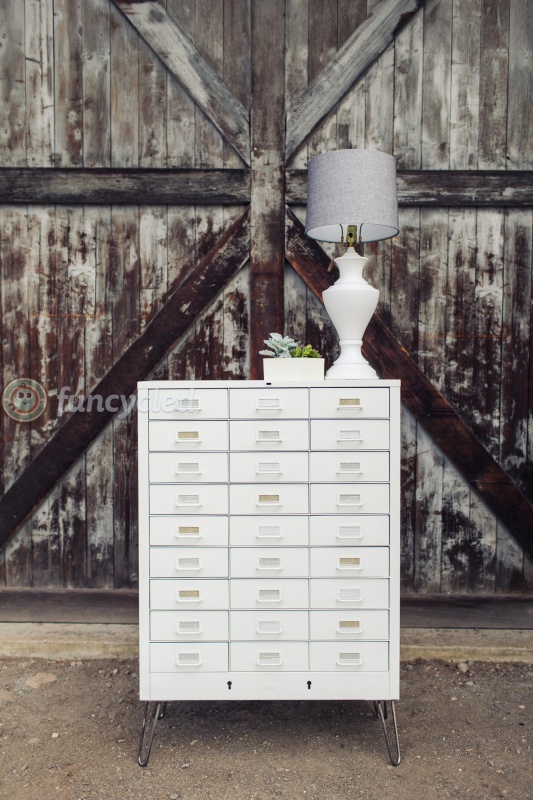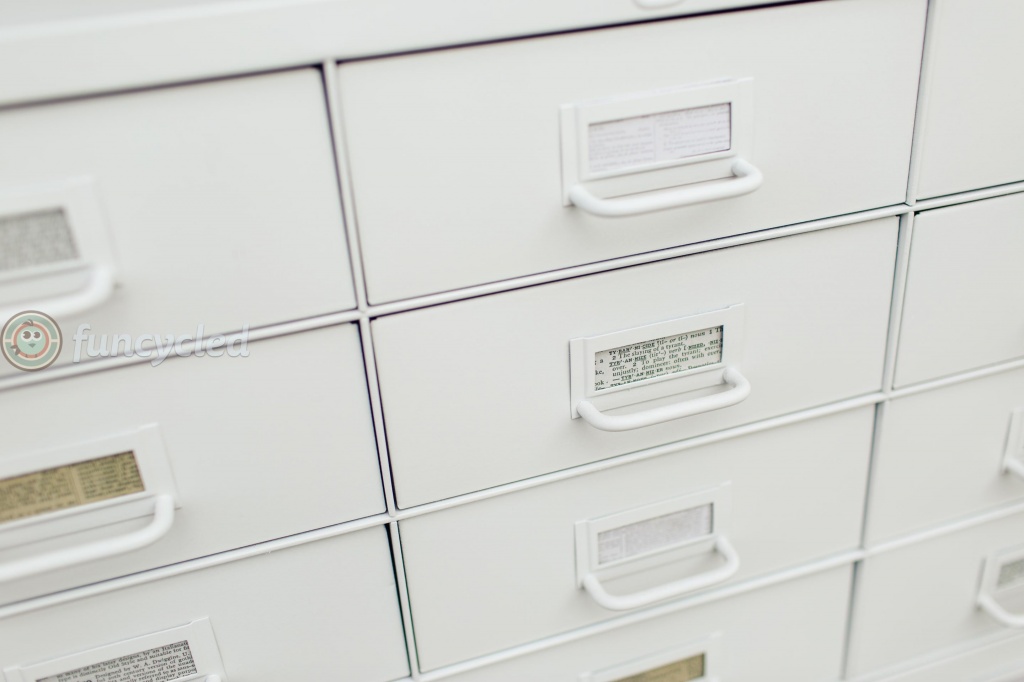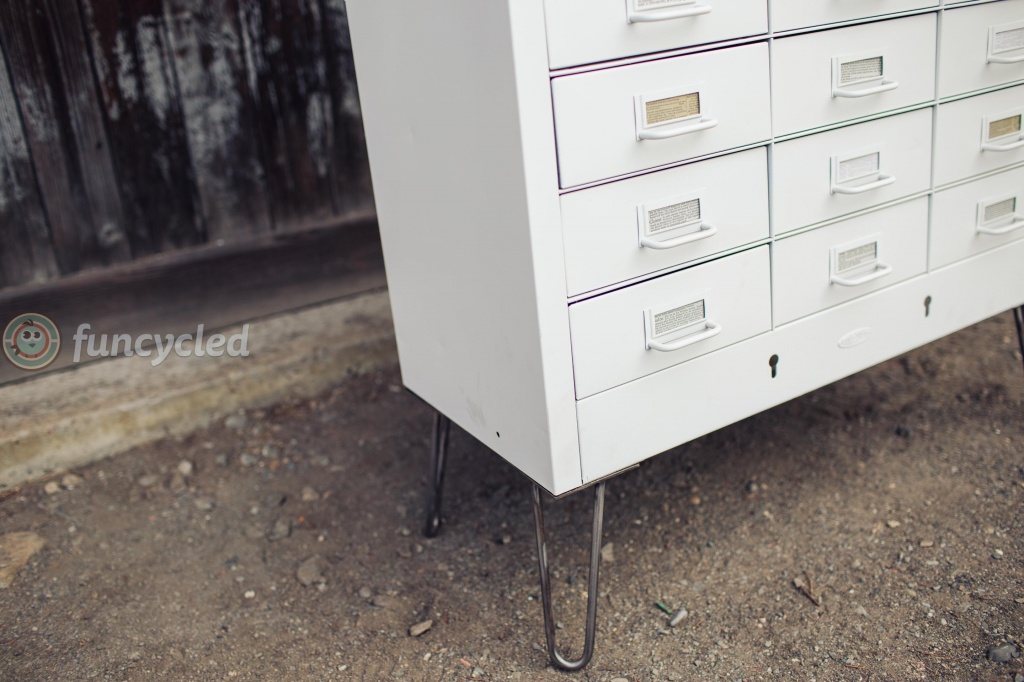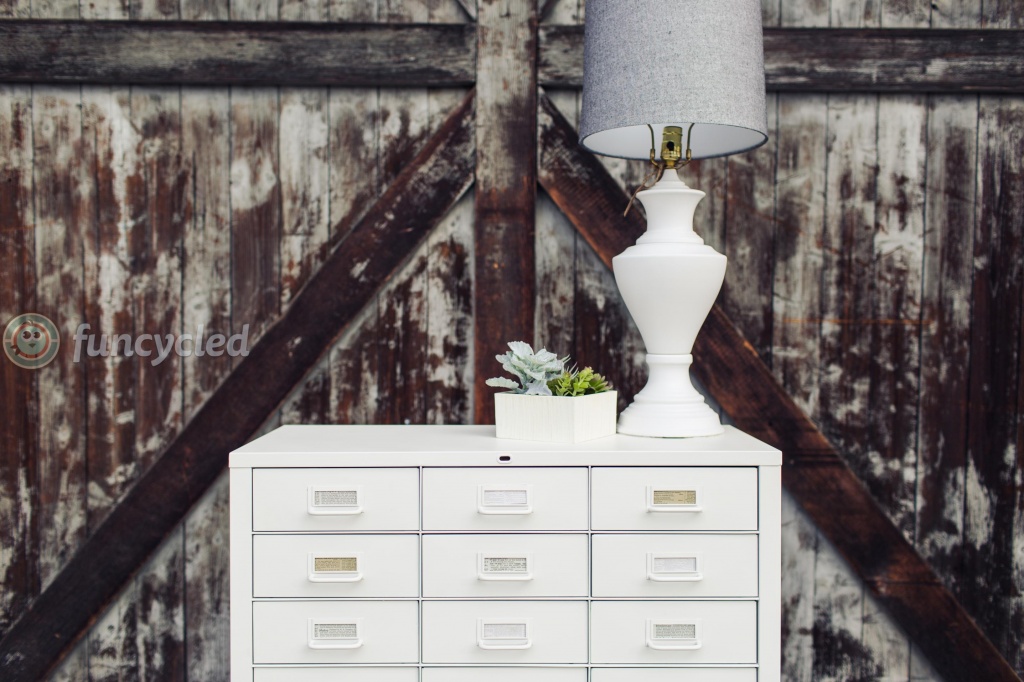 ---
$525 Rustic Coffee Table made from reclaimed wood Size: 4 feet long x 3 feet wide x 19 inches high
The legs of this table are made from 135 year old wood from the foundation of an old home.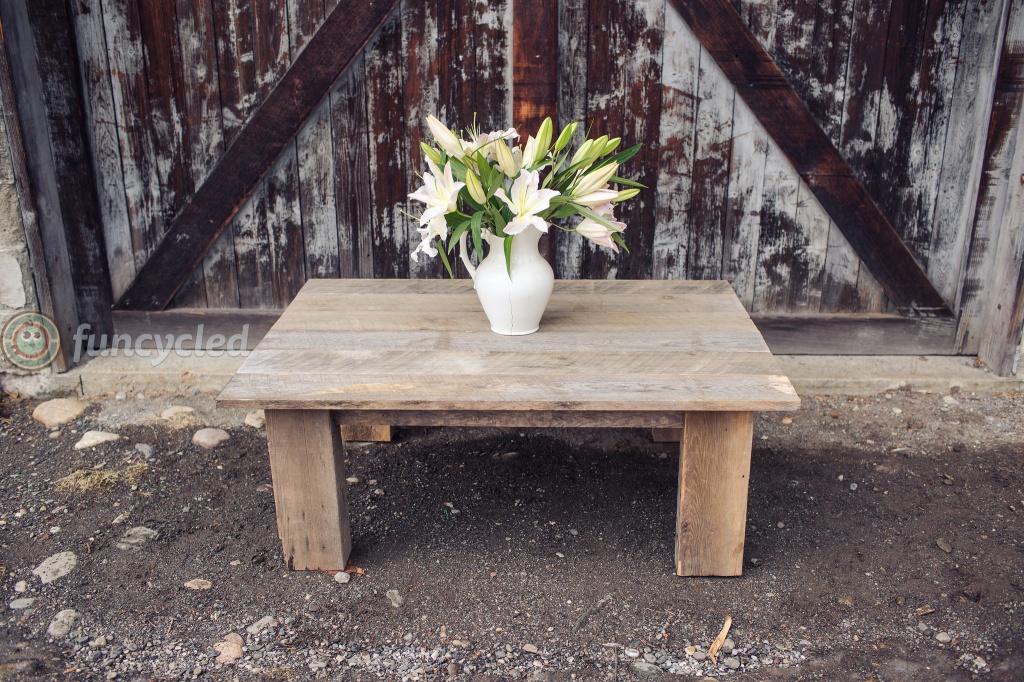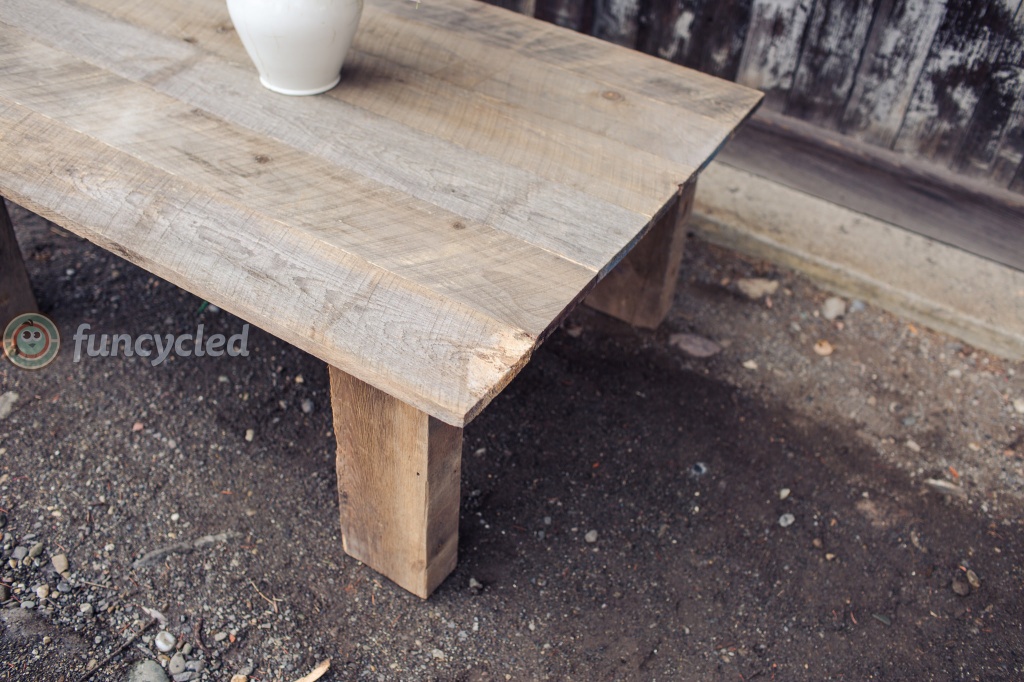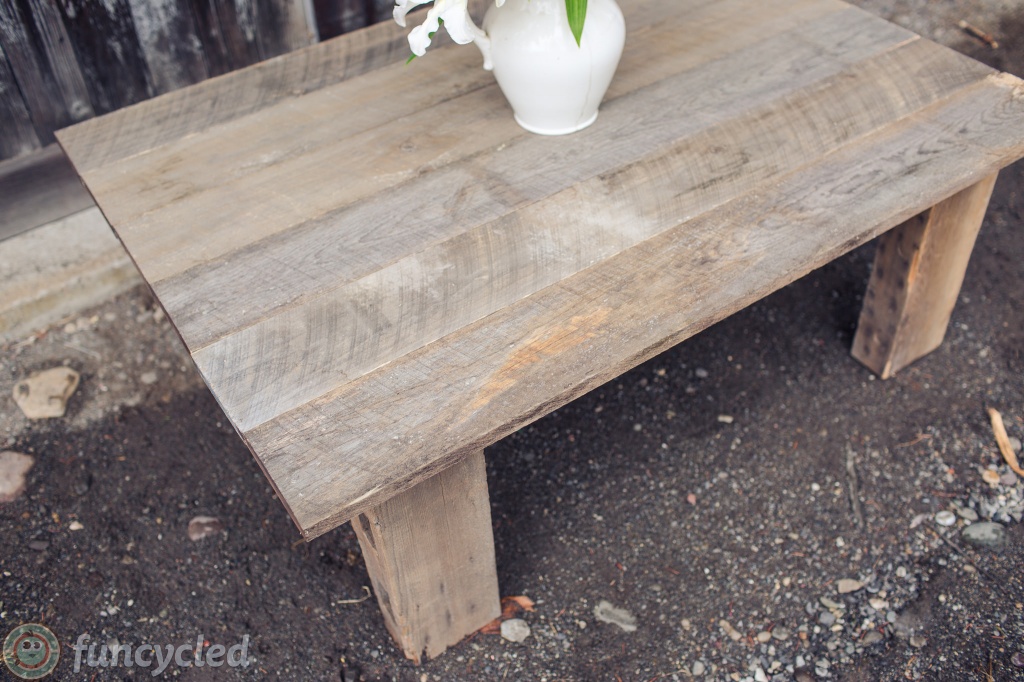 ---
$695 Stunning Grey Dresser with Mirror Size: 64 inches wide x 20 inches deep x 33 inches high (without the mirror) 78 inches high with the mirror 
This dresser has been painted using Benjamin Moore's Dragon's Breath which is a brown friendly grey. It would work well with wood tone or with most colors because of the different undertones. It's been lightly distressed to give it an beautiful antique design. The small top drawers have marble tops as well.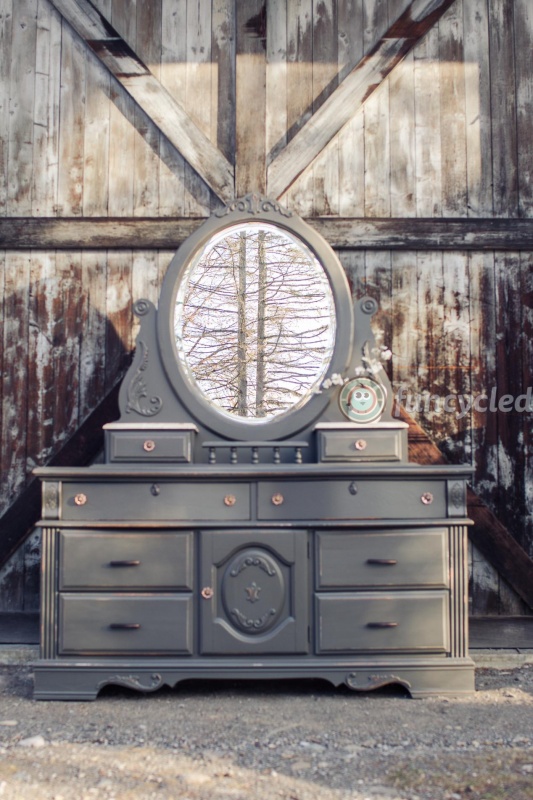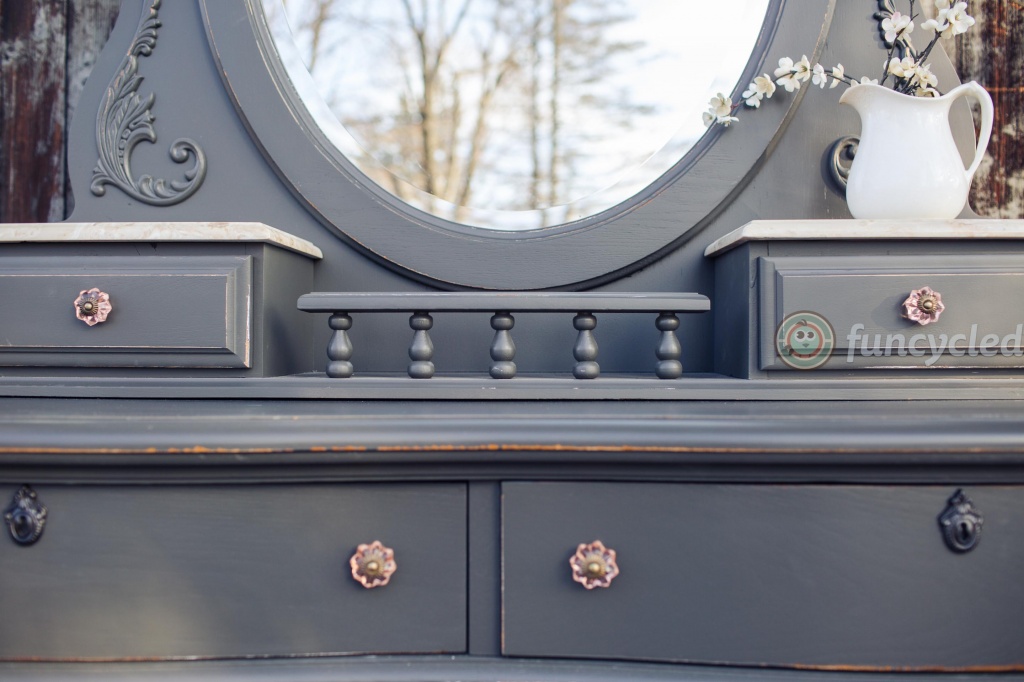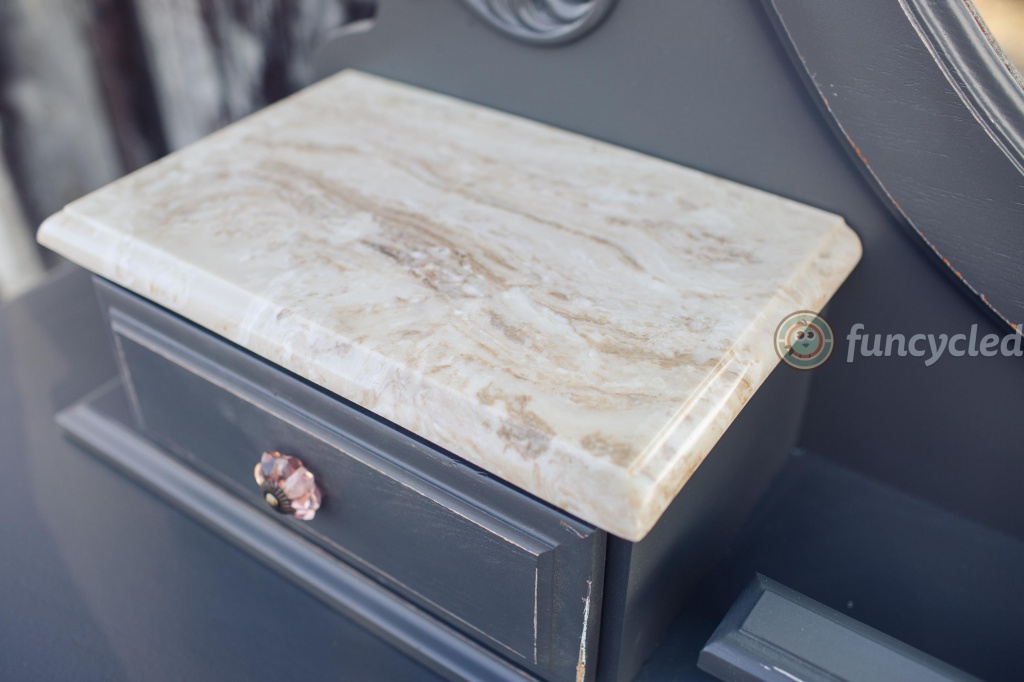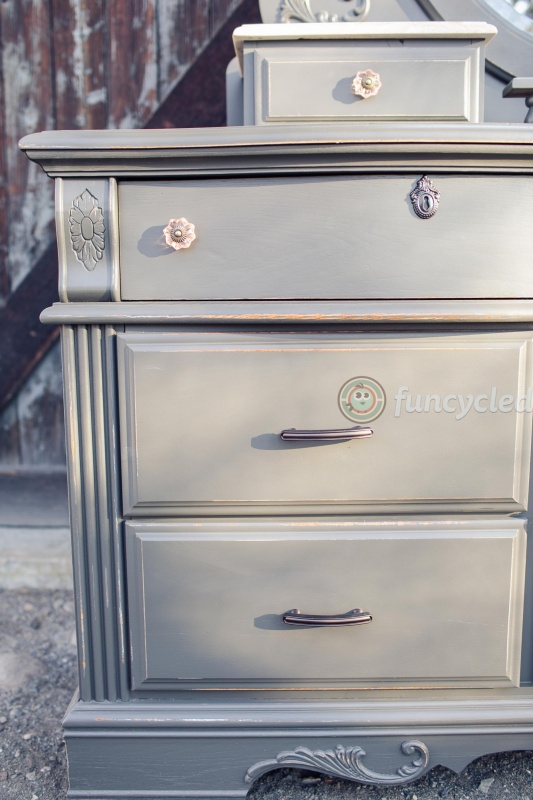 ---
 $395 Mid Century Vintage Teal China Cabinet Size: 15 inches deep x 32 1/4 wide x 61 inches high
Painted a vintage teal, lightly distresed and glazed, this hutch has the perfect blend of modern and vintage.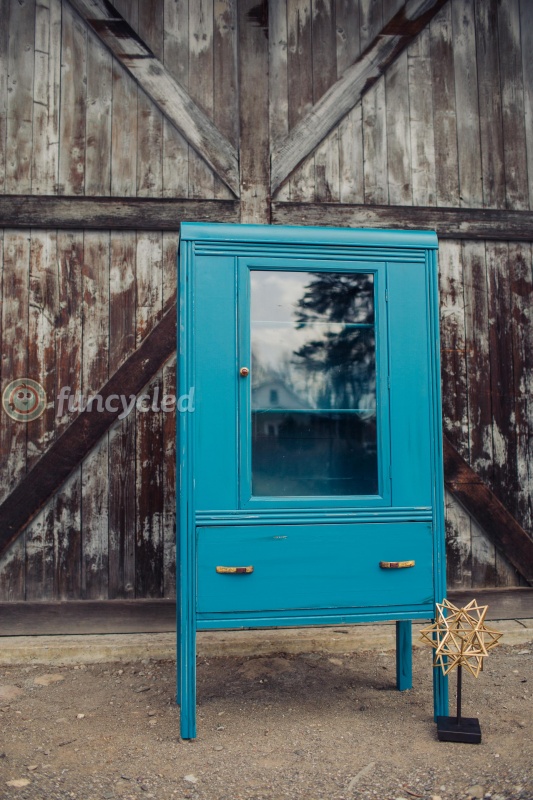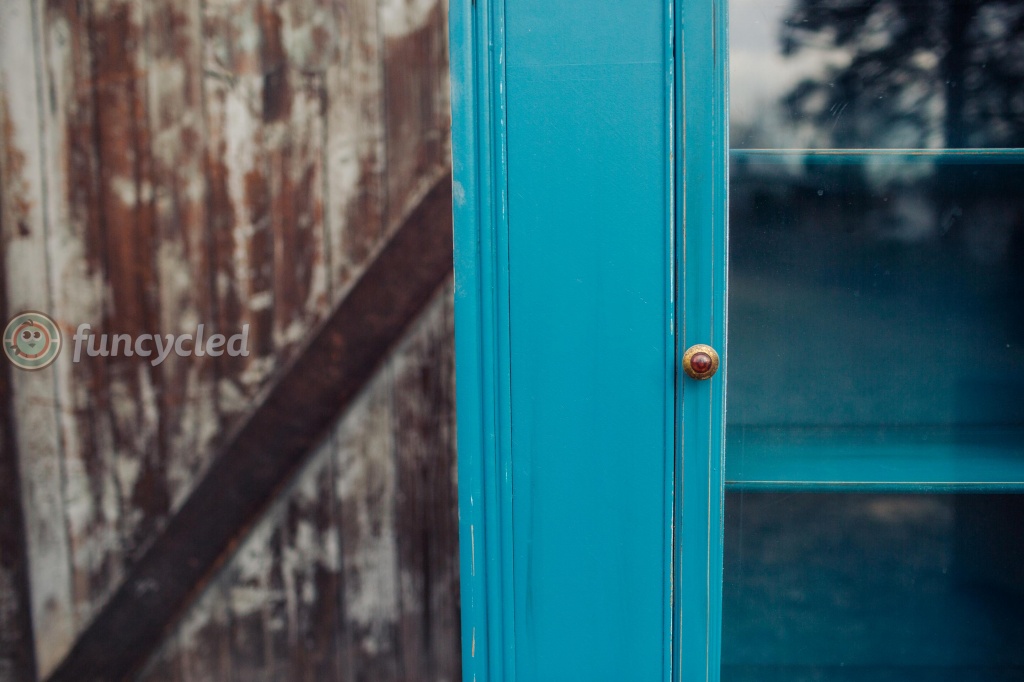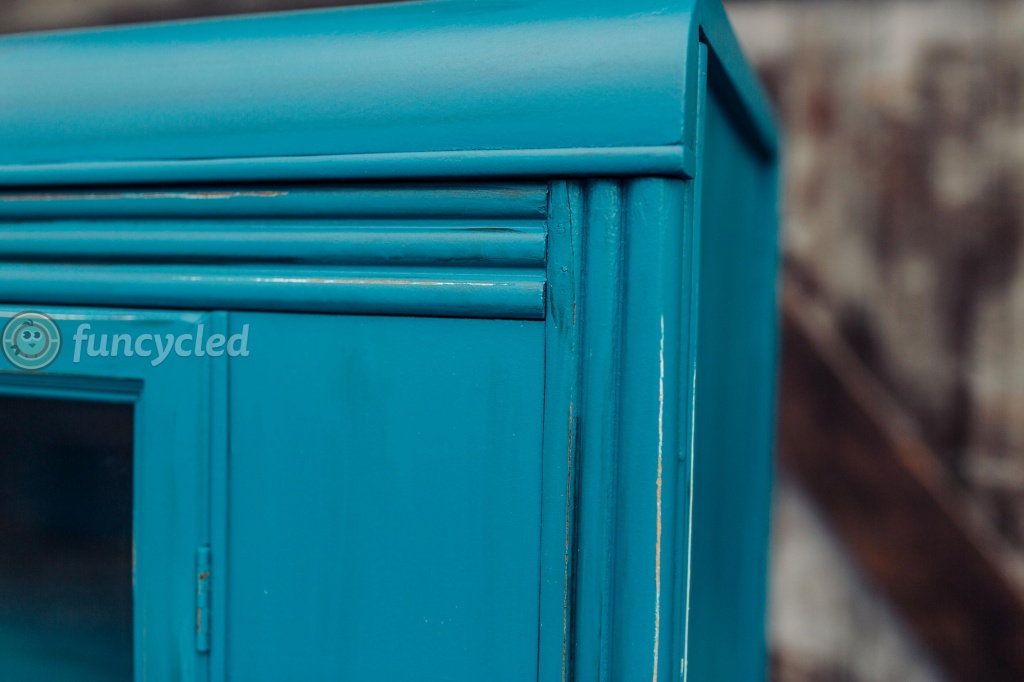 ---
$475 Star Wars Inspired Dresser  Size: 50 1/4″ wide x 19″ deep x 31″ high
This mid century  Basset Dresser with dovetail drawers and all wood construction has been designed for the Star Wars lover in your life. It has been painted Navy and would coordinate well with Pottery Barn's Star Wars bedding.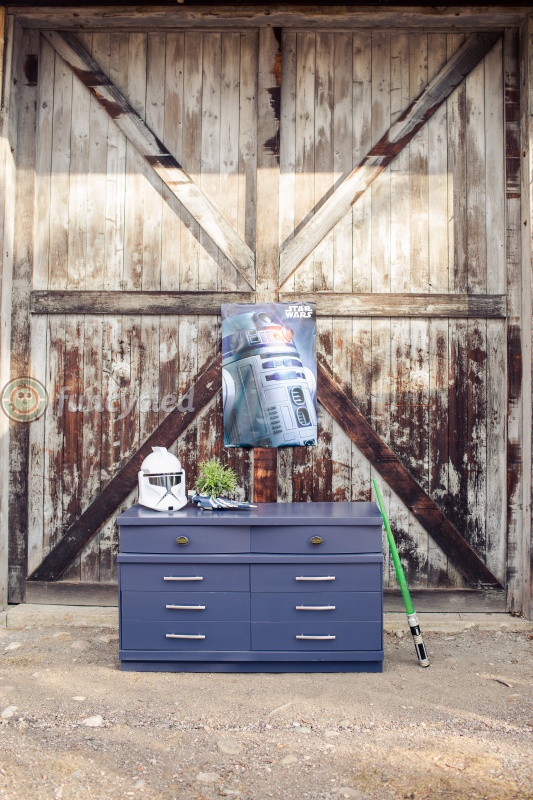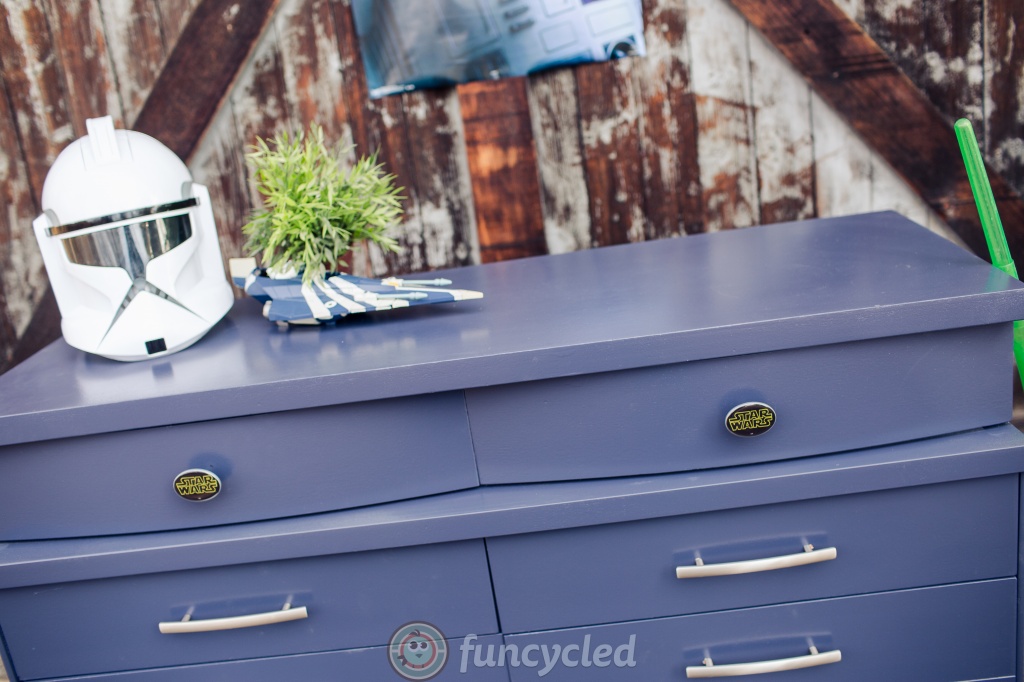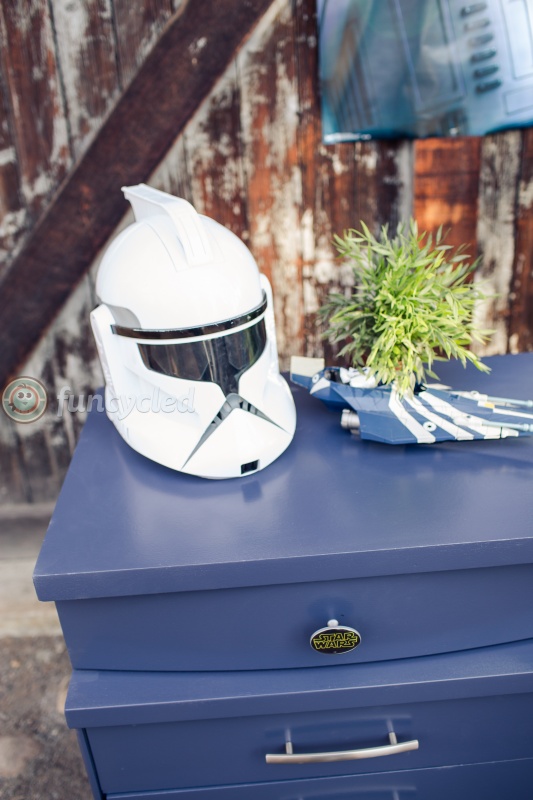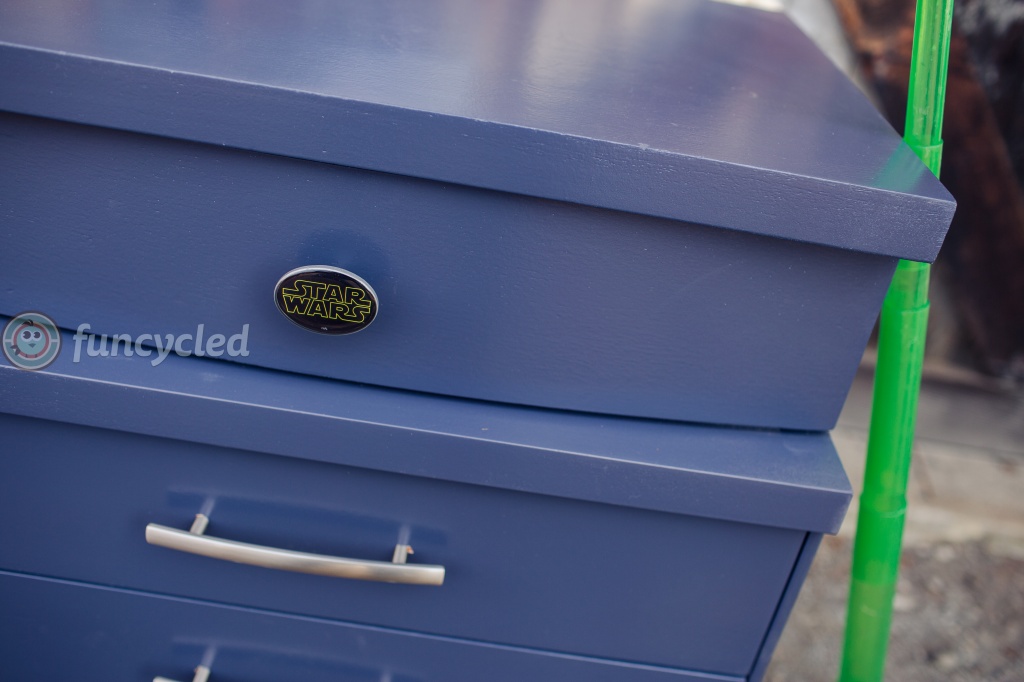 ---
$450 Dark Teal Mid Century Patchwork Dresser Size: 18 1/4 inches deep x 50 1/4 inches wide x 32 inches high
This solid wood mid century piece was brought back to life with a vintage teal box and mutli colored drawer fronts and brass colored hardware. A classic piece to add sooo much fun to your home.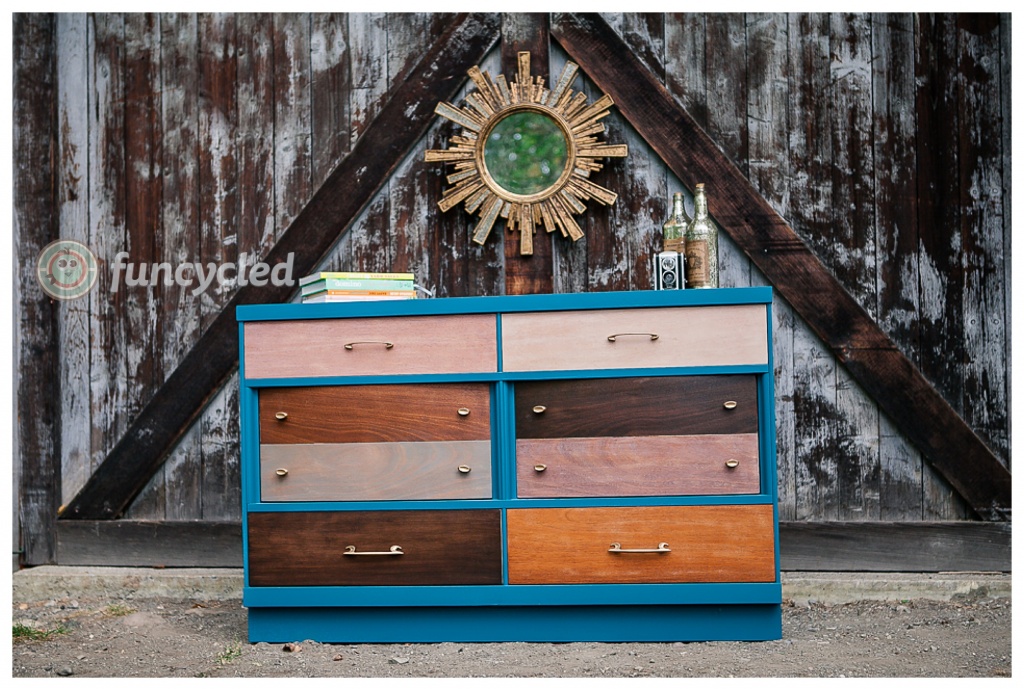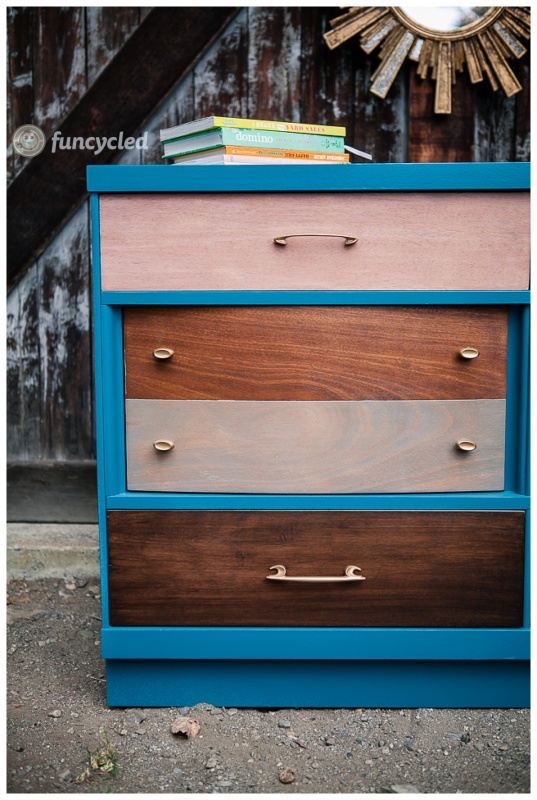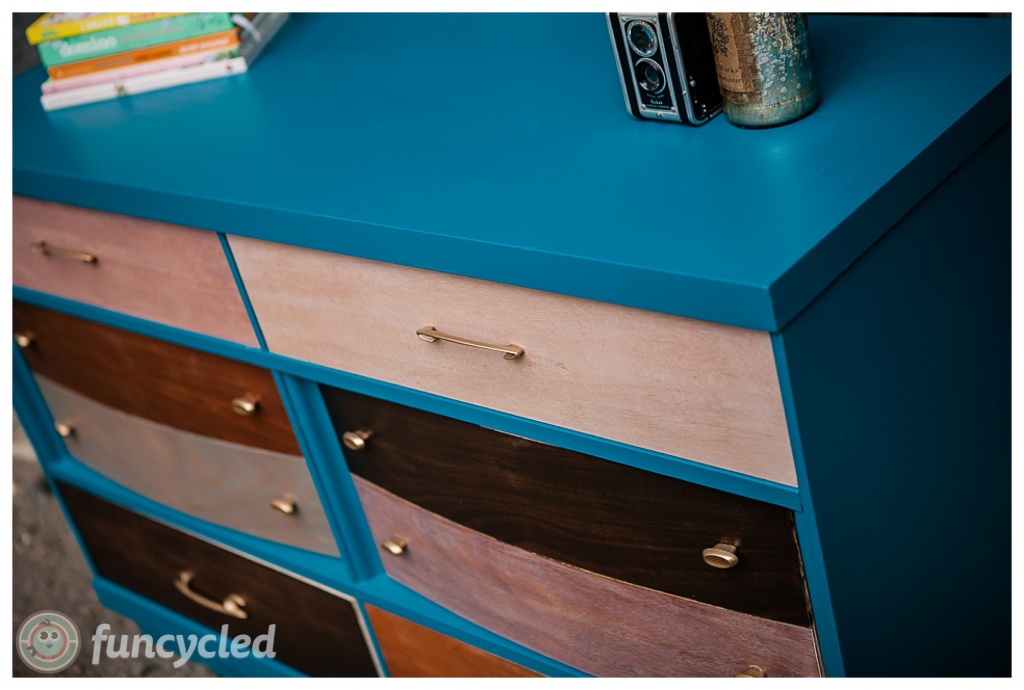 ---
$105 Rectangle Pedestal Table Size: 27 1/4 inches high x 22 inches wide x 16 inches deep
---
$115 Mid Century End Stand Size: 15 inches deep x 22 inches wide x 23 inches high
---
$525 Antique Red and Wood Top Buffet Size: 66 inches wide x 20 inches deep x 39 inches high
This antique buffet has a beautiful wood top that has been sanding down, stained and given a protective clear coat. We painted it red, lightly distressed and glazed it.
---
$595 Antique White Sideboard Buffet Size: 66 inches wide x  21 inches deep x 36 inches high (add about 2 inches for the back piece)
Jaw dropping sideboard buffet in bright white that has been lightly distressed. It has all dovetail drawers and the original key to lock both side doors. Perfect to store all of your cold, hard cash. ;)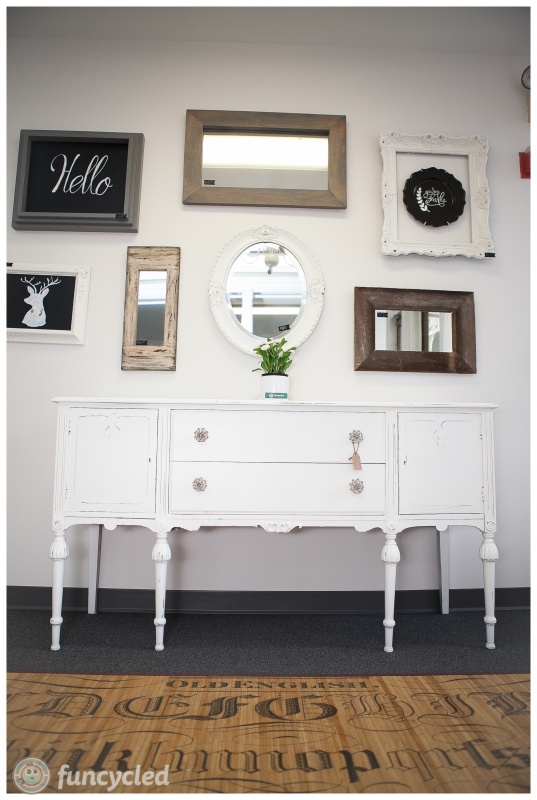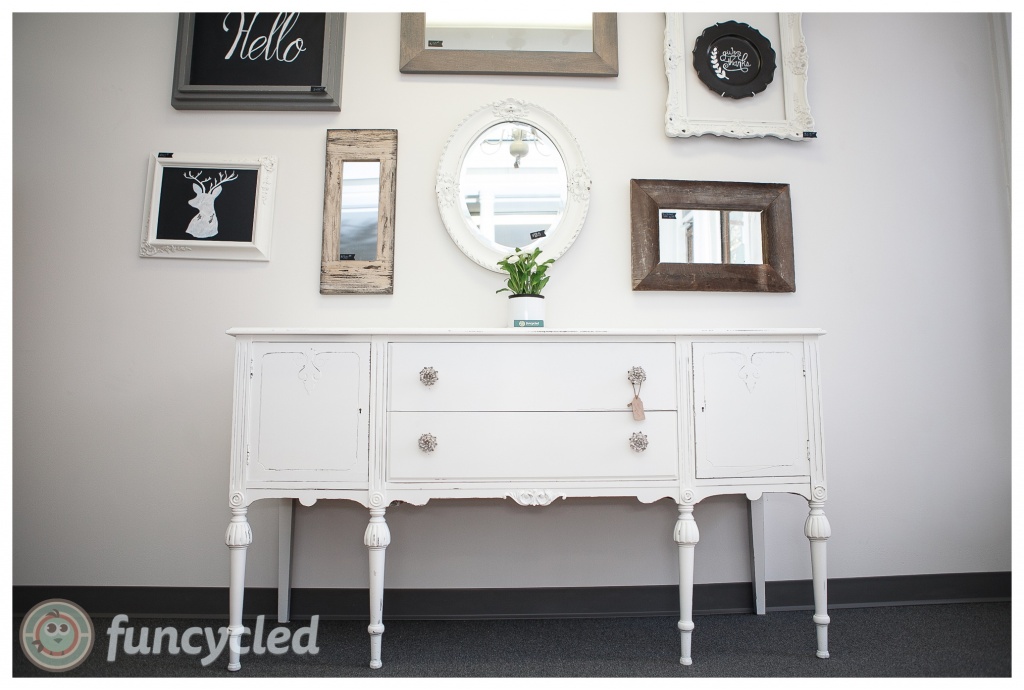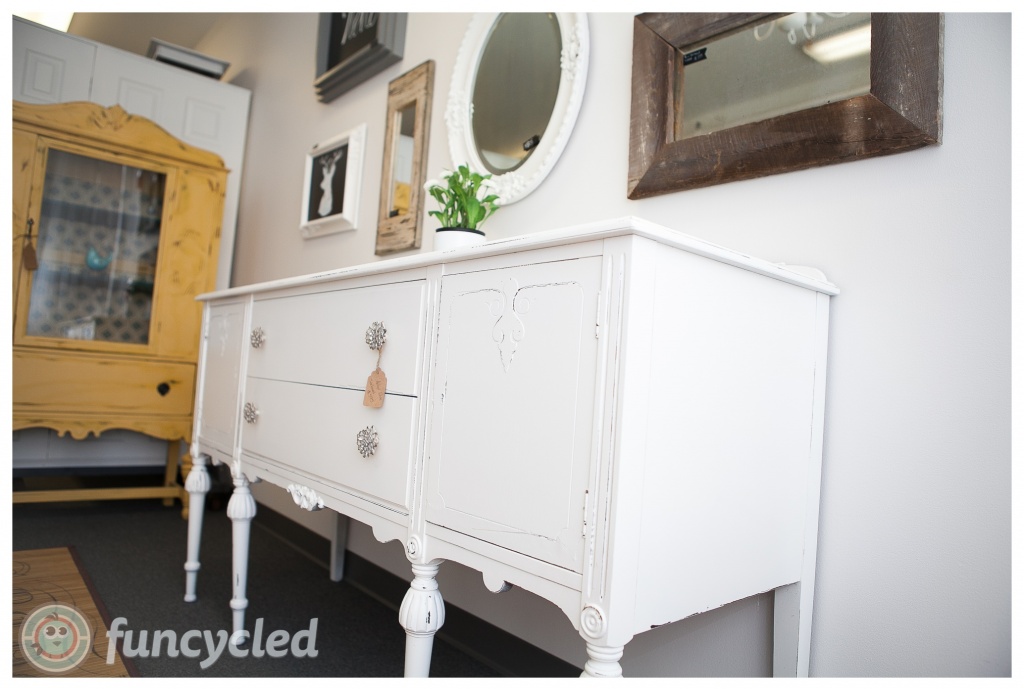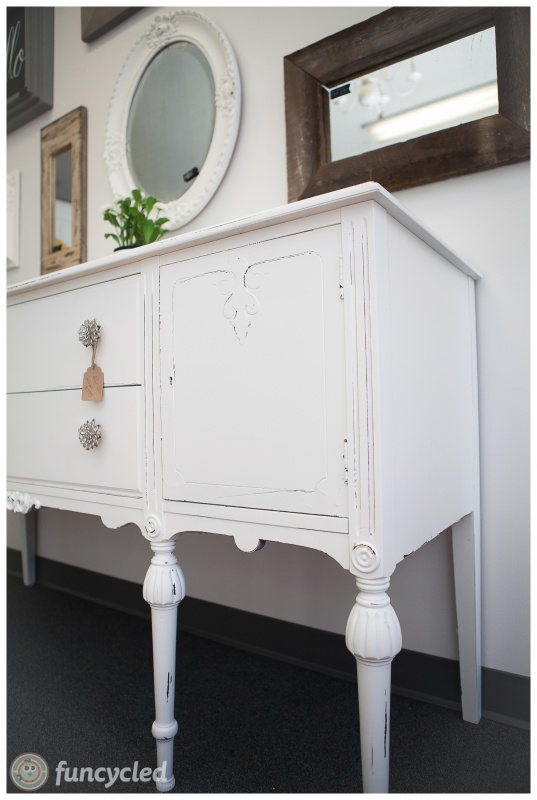 ---
$495 Mid Century Dresser painted white with ombre stained drawers Size: 54 inches long x 19 inches deep x 32 1/4 inches high
This dresser has dovetail drawers and an all wood construction.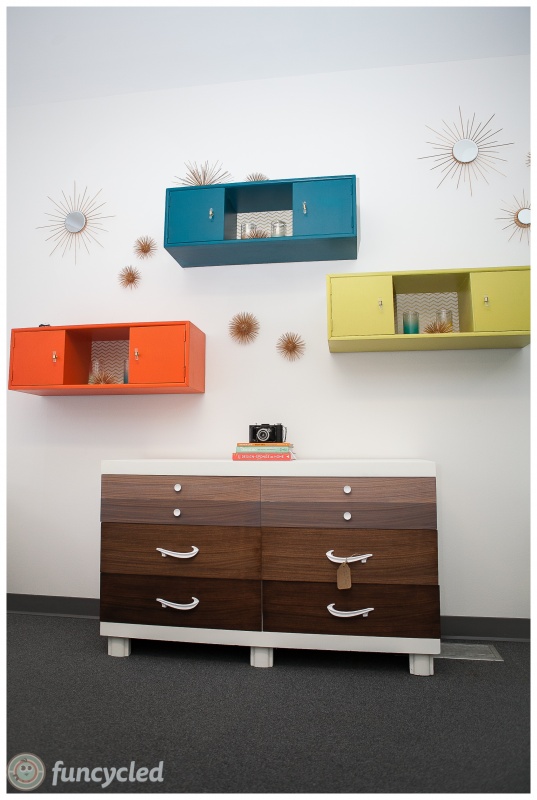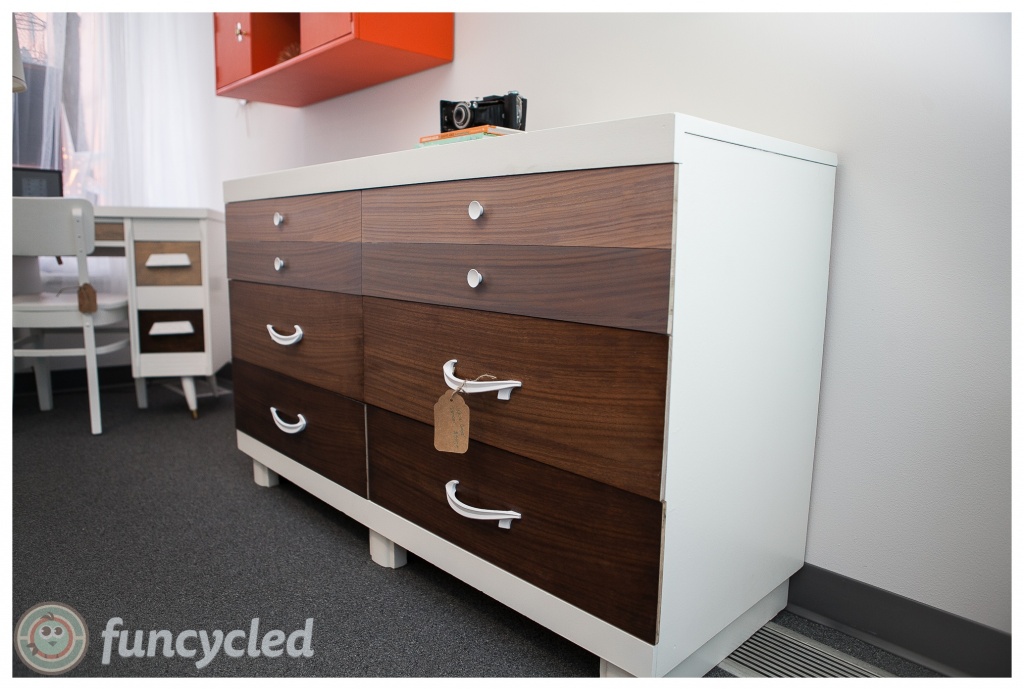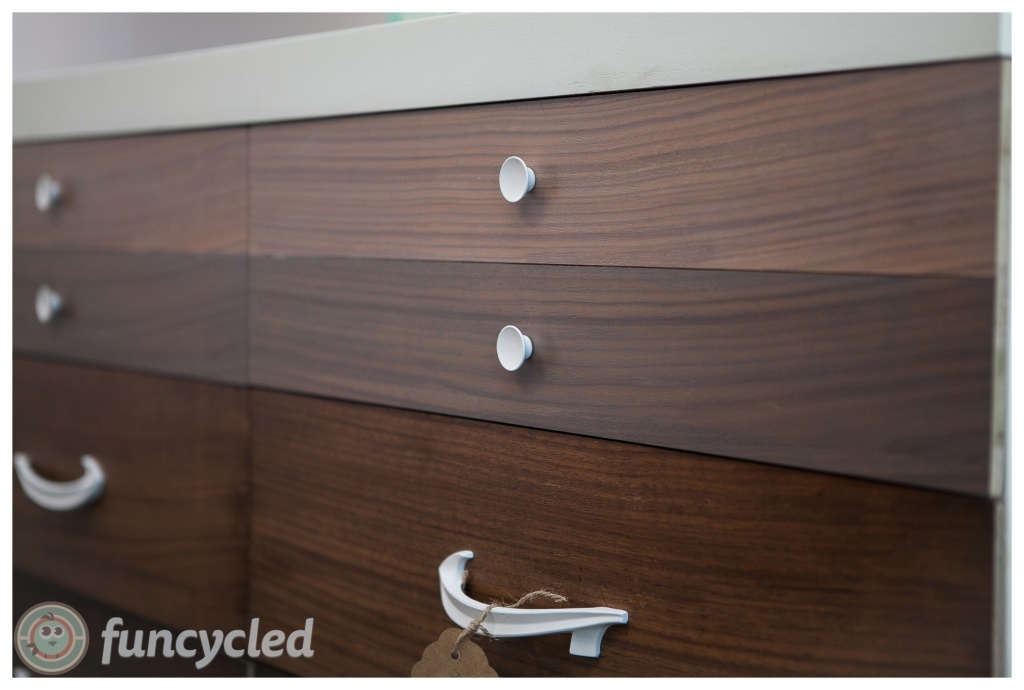 ---
$275 Creamy White Coffee Table Size: 58 inches long x 28 inches wide x 19 inches deep
This adorable coffee table has been painted a creamy white and is lightly distressed. It's larger than it looks in pictures so you might want to double check the measurements in your space.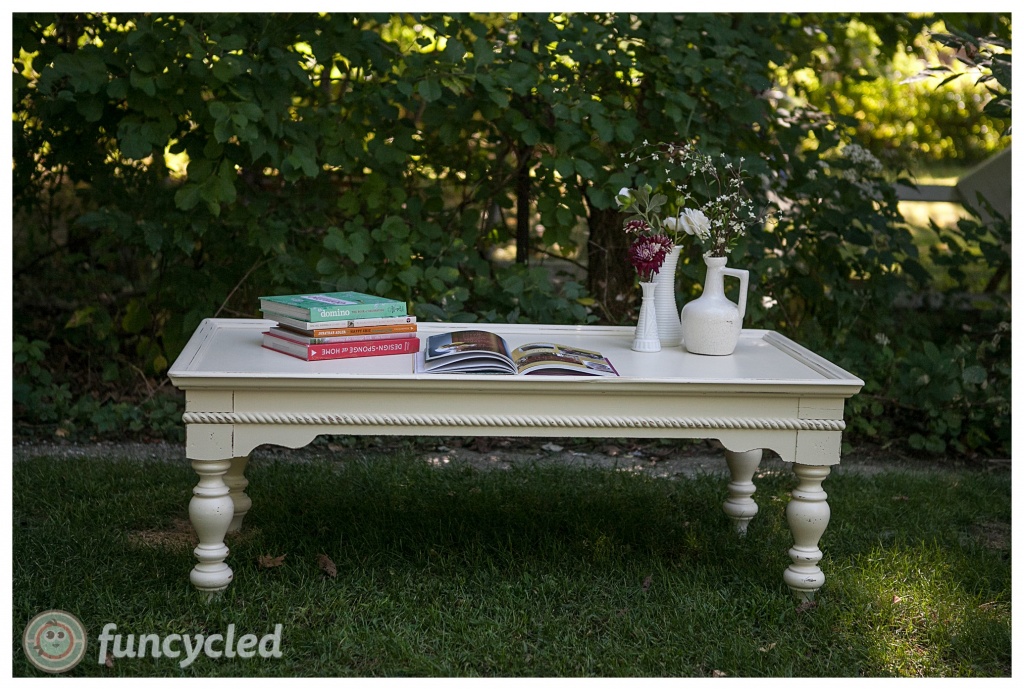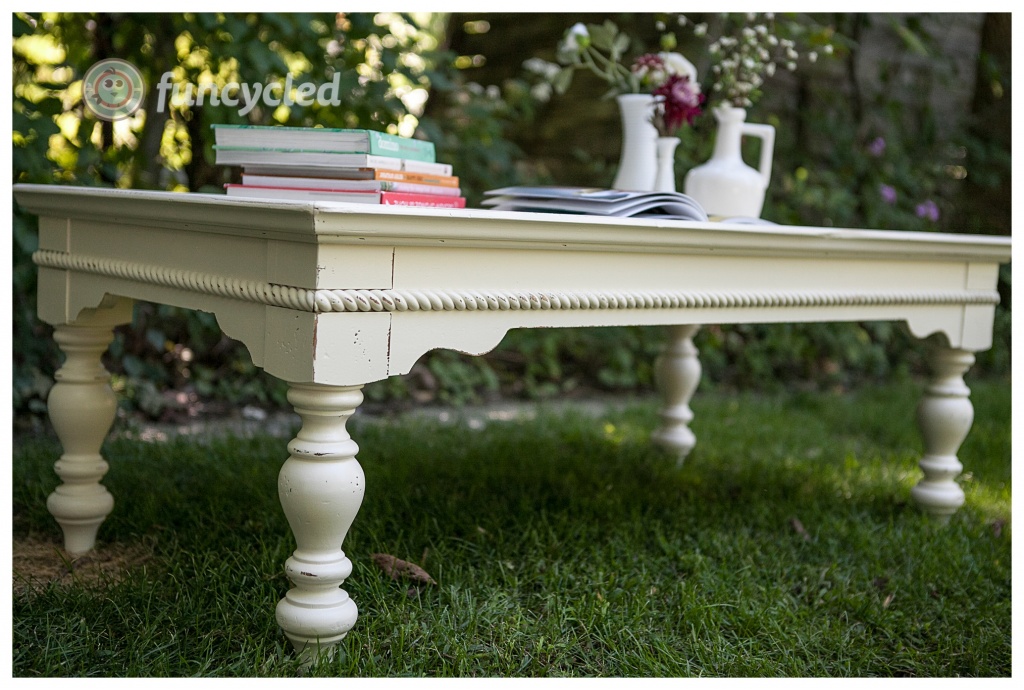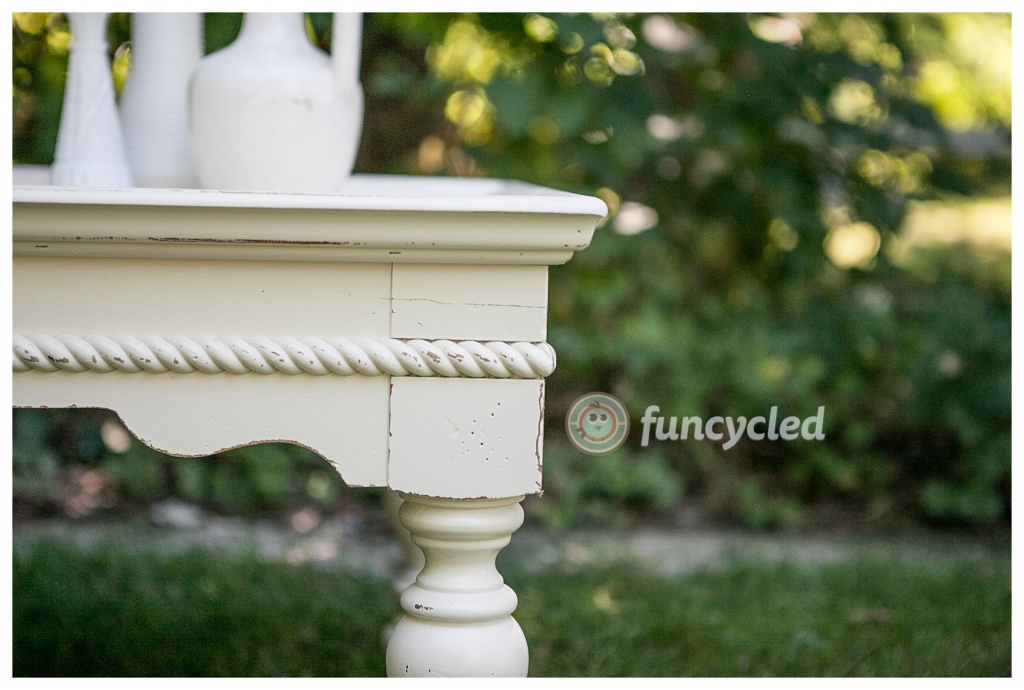 ---
$375 Vintage Oak Grey and Red Desk with matching chair Size 30 inches deep x 42 inches wide x 30 1/2 inches high This desk is a rustic fun piece that would look great in an office, bedroom or any room! It has dovetail drawers and made of oak.
---
$425 Wicker Love Seat painted light grey with all new upholstry in a warm turquiose velvet Size: 58 inches wide x 35 inches deep x 30 inches tall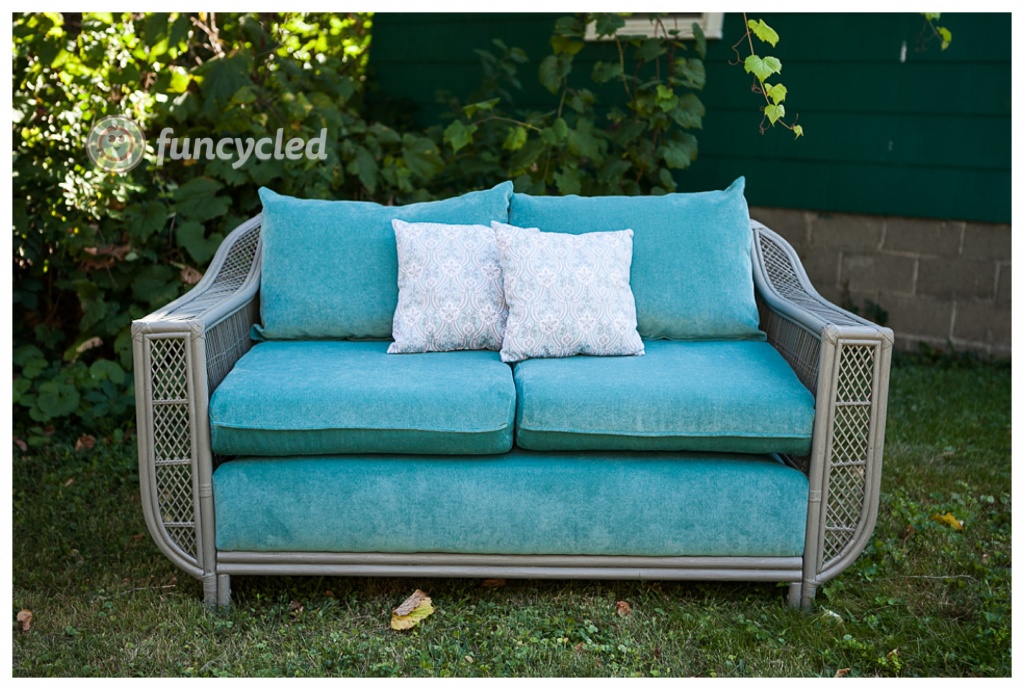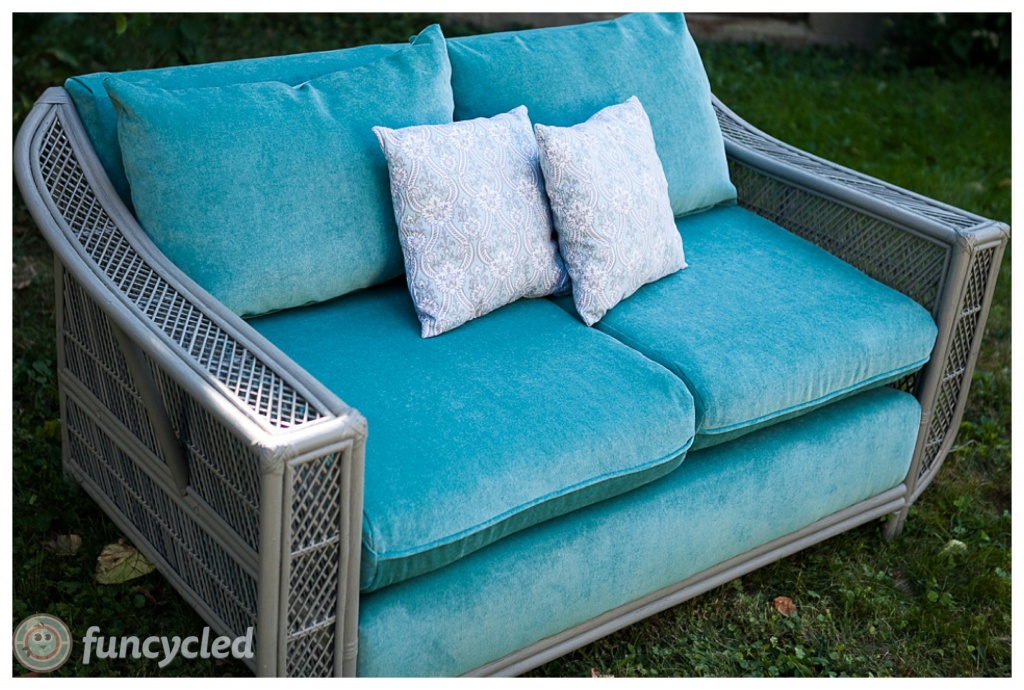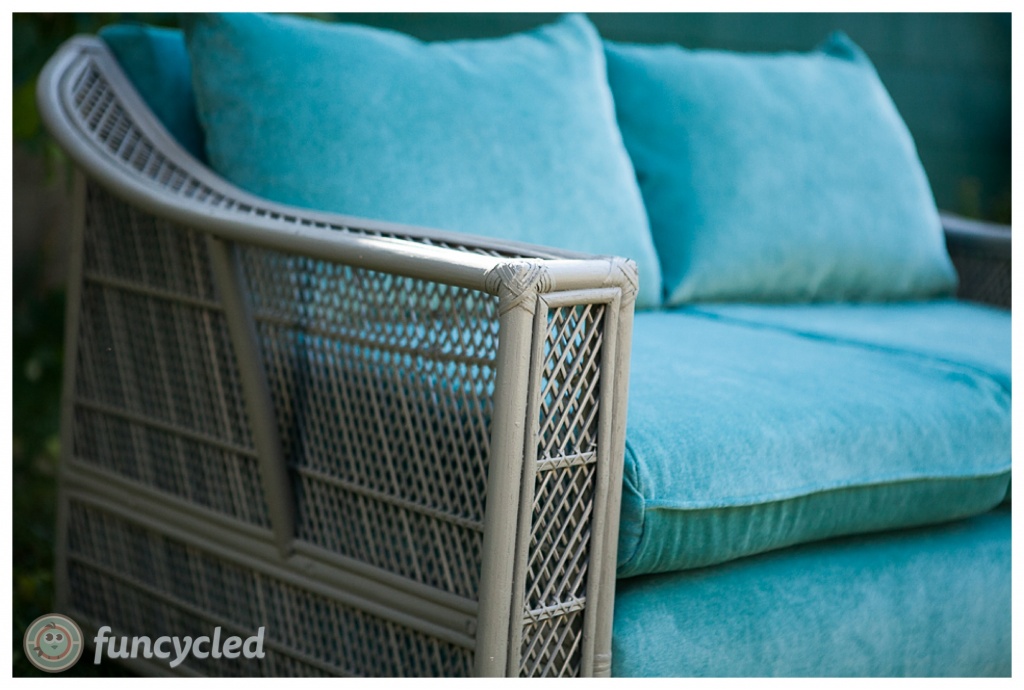 ---
$225 each – Mid Century Chair Set painted grey with white dipped legs. The fabric is chartreuse, white and grey.
---
Custom Built Furniture is also available. You can view some of our past projects and request quotes for your custom piece here.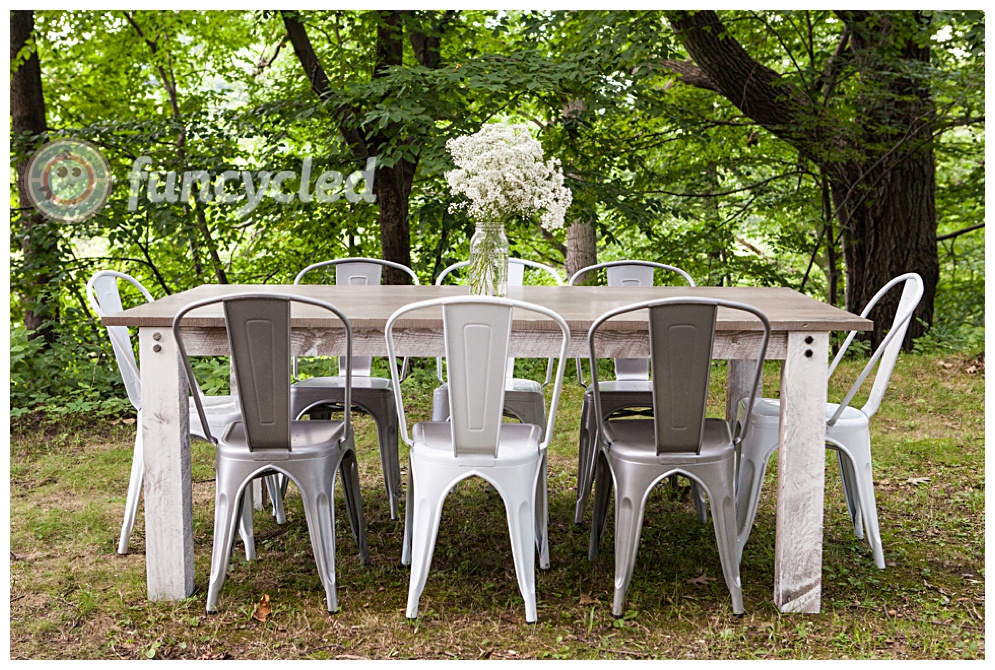 ---
 Don't see quite what you're looking for?
Let us customize a furniture piece for you! If you're looking for a furniture piece that you don't see on our Upcoming Projects page or Furniture For  Sale page, please use our Furniture Wish List form to request specific pieces. We'll help you find just what you're looking for!  We create custom furniture and will deliver for customers in upstate NY and shipping is available throughout the US.  Send us a note with what you would like using our contact page.If you want to know when something is for sale before it even hits the website, please like our face book page to keep up to date on the newest finds, vote on colors and give input on our creativity. There is a box at the top right of this page to enter your email address in to receive notifications by email when I post something new on this blog. Please sign up today! No furniture pieces can be held without a deposit. We can accept Paypal deposits to hold your piece for up to 3 days from the time that the deposit is received. All pieces must be picked up within 3 days of purchase date due to limited space.