To reserve or get a quote for any piece below, please us our 

Contact Us

 page!
We will custom paint any of the pieces below any color or style to fit into your home. You can email us at sarah@funcycled.com or call 518-629-5386 for more information and pricing.
If you're looking for a furniture piece that you don't see on our 

Upcoming Projects

 page or 

Furniture For Sale

 page, please use our 

Furniture Wish List

 form to request specific pieces. We'll help you find just what you're looking for! 
We can repurpose furniture you already own, too!
Two Matching End Stands Size: 24 1/2 inches wide x 16 inches deep x 23 1/4 inches high
High End Solid Wood High Boy Dresser Size: 18 1/4 inches deep x 39 1/2 inches wide x 59 inches high
Ornate Antique Cabinet/Hutch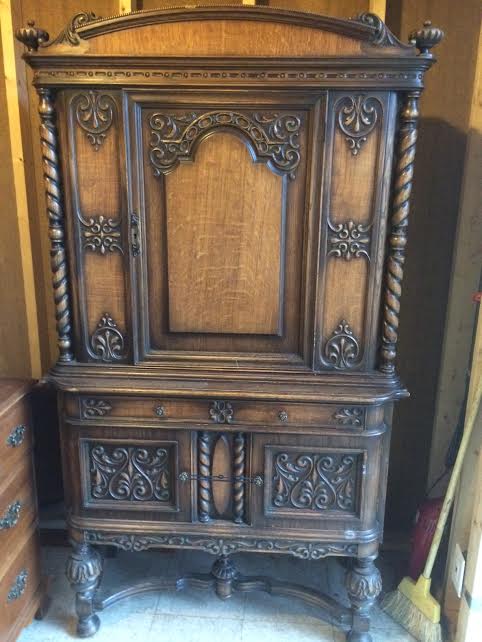 Matching Ornate Antique Buffet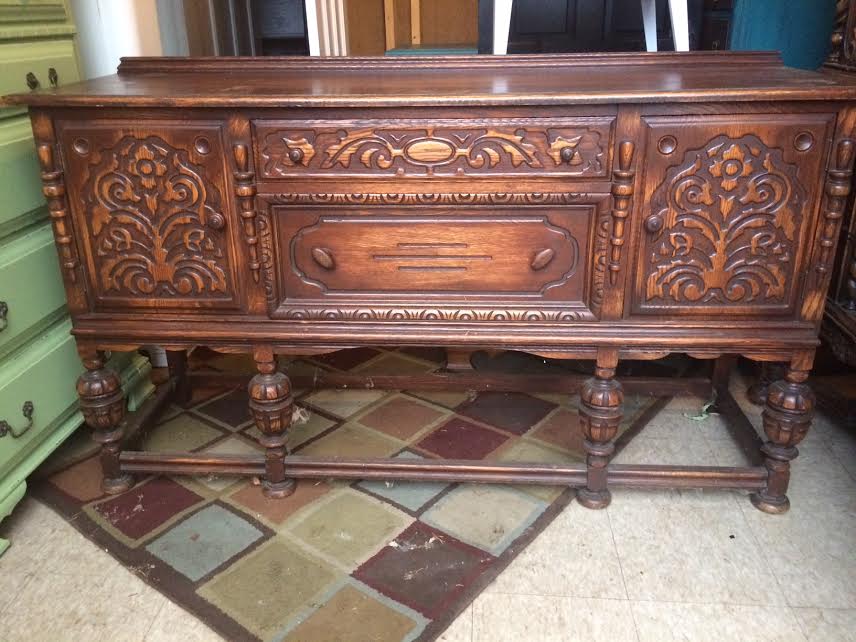 Large Mirrored Hutch (comes with glass doors on the top and bottom and glass shelving) It is also lighted on the top and bottom section. A beautiful statement piece for your dining room!
Antique Oak Desk Size: 42 inches wide x 21 3/4 inches wide x 29 inches high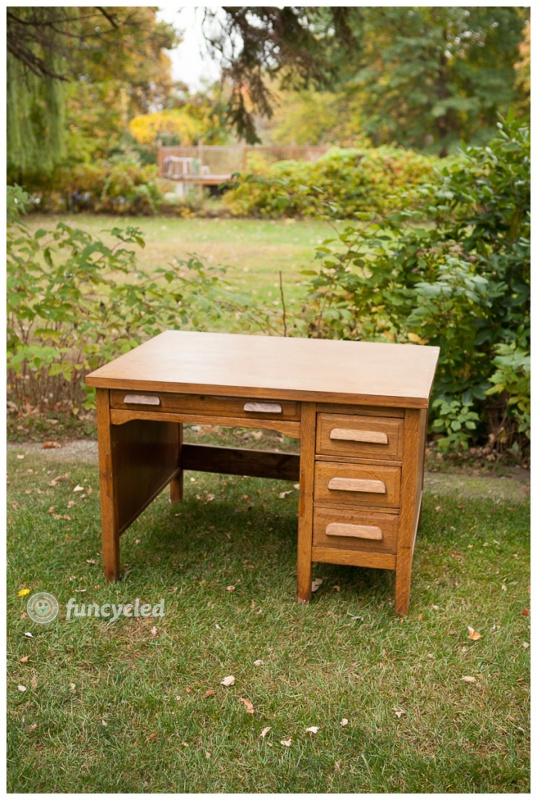 Mid Century Desk Size: 20 inches deep x 41 3/4 inches wide x 29 1/2 inches high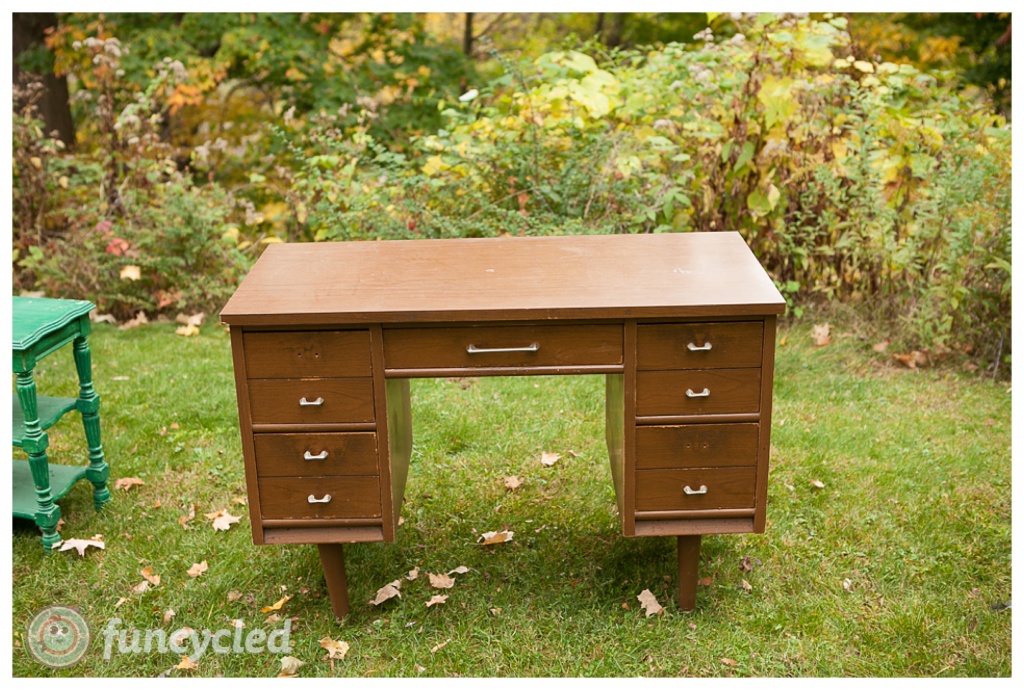 Ornate Antique Side Stand Size: 14 inches deep x 28 inches wide x 26 inches high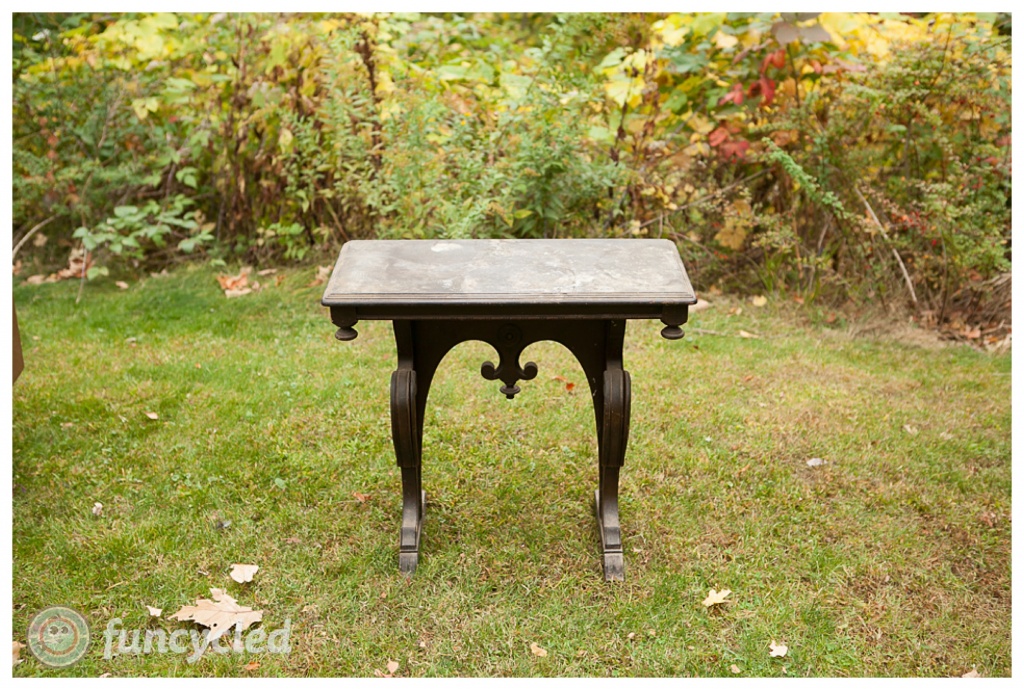 Antique Bamboo side table (needs a new top) Size 29 inches high x 14 inches wide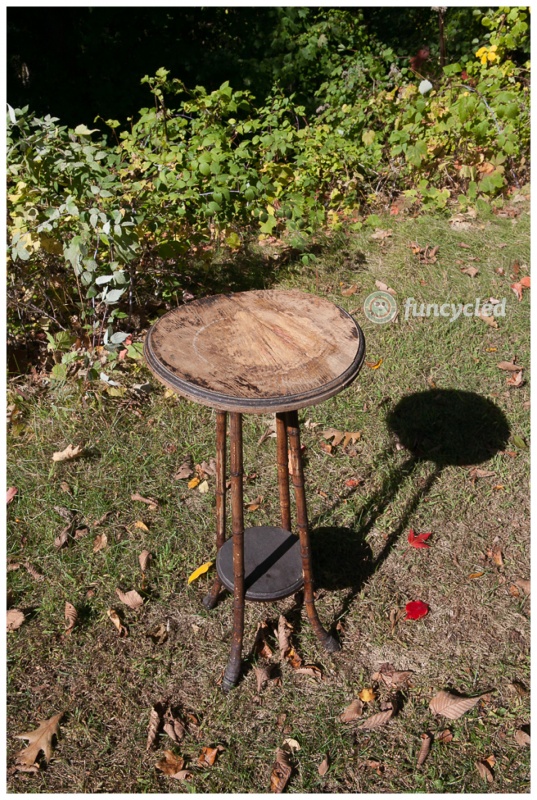 Antique 3 Tiered Crescent Table Size: 24 inches high x 22 1/2 inches wide x 12 inches deep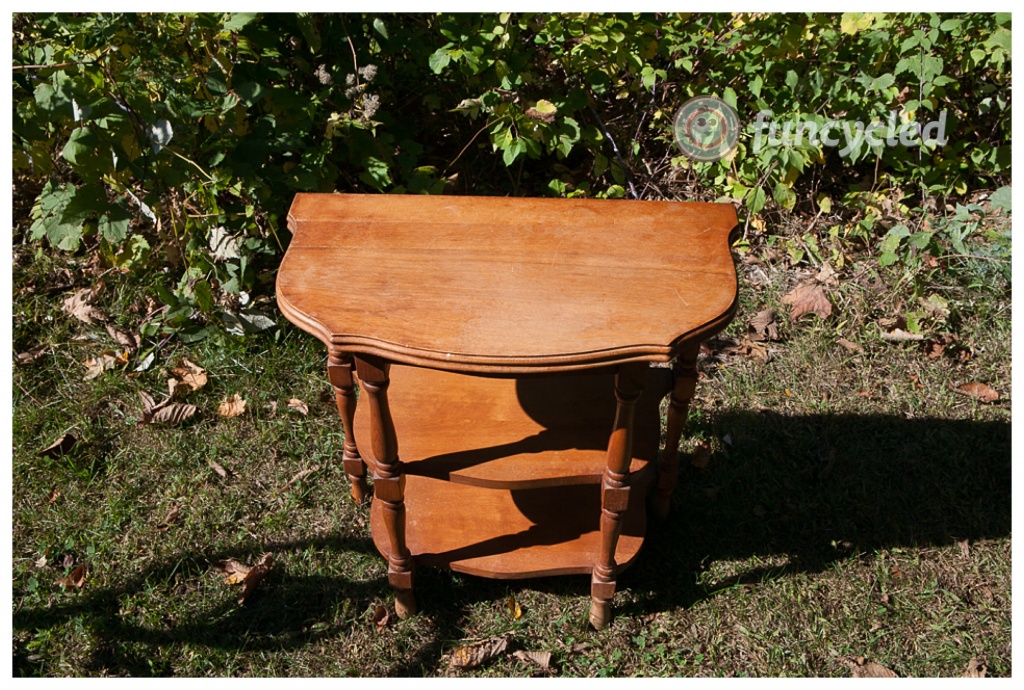 French Provincial Bedroom Set This set could be set up a couple of different ways, we could use the dresser with no legs and add legs to it to make it into to medium sized dressers or put the dresser with no legs on the other dresser and make it into a high boy. Would prefer to sell this as a complete set because it's very hard to find a matching complete antique bedroom set in this condition. Includes a stunning vanity and a full sized bed.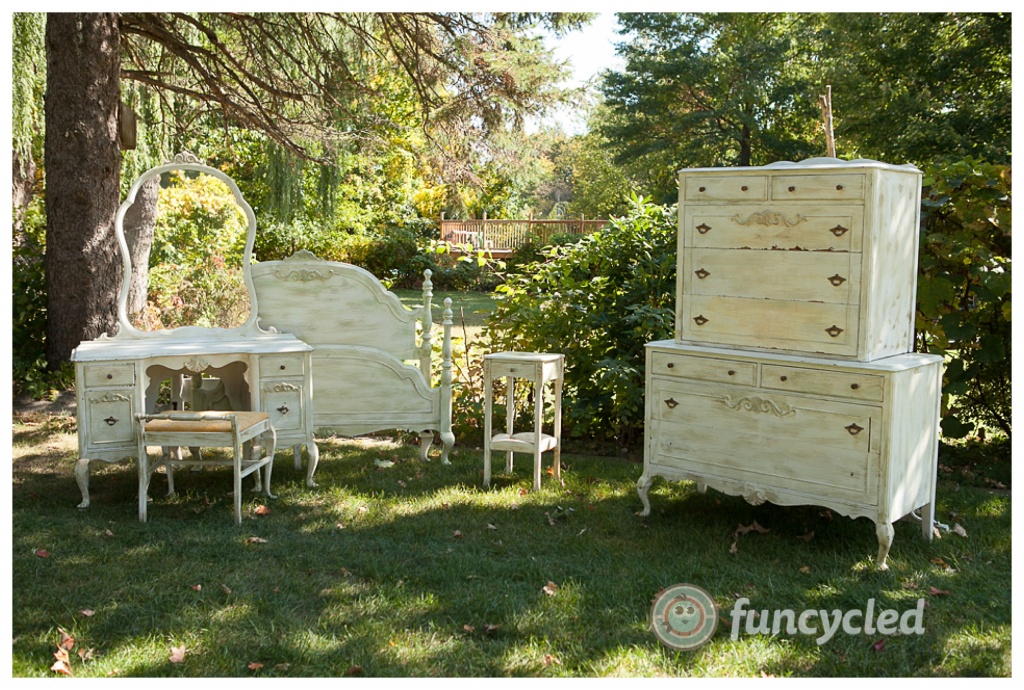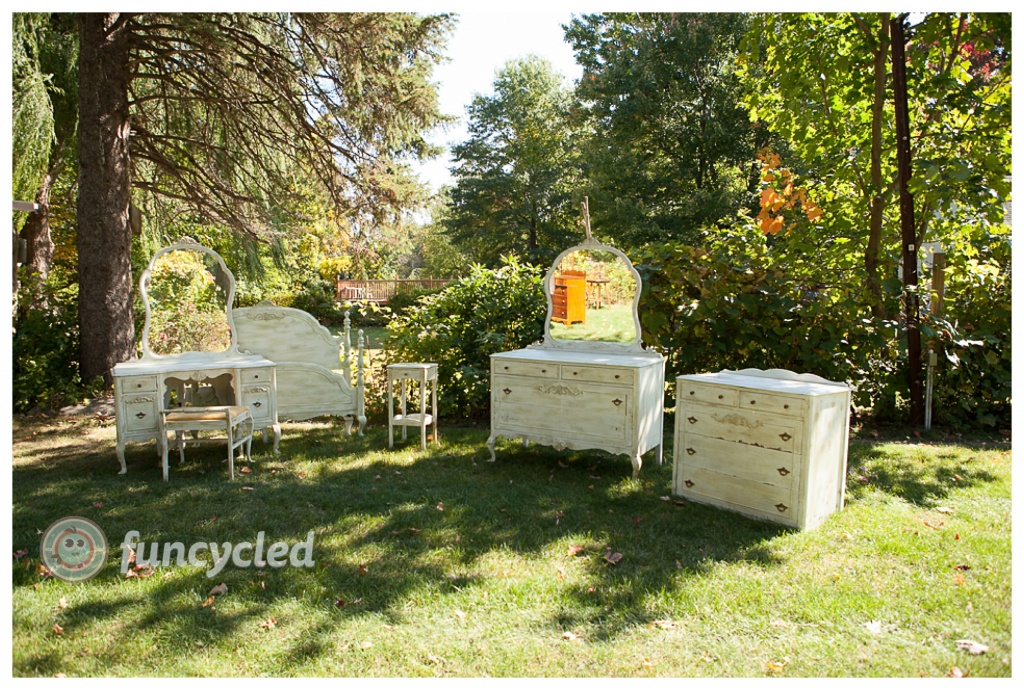 Small dresser with no legs (legs can be added) 31 3/4 inches high x 20 inches deep x 37 1/2 inches wide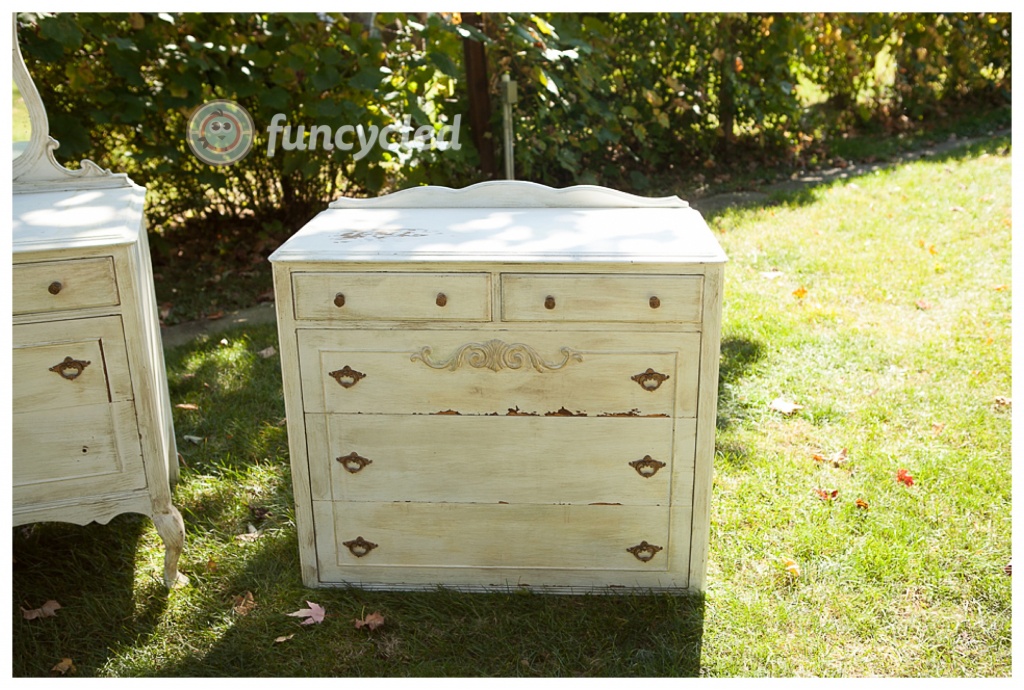 Antique Dresser with mirror Size: 34 inches high (not including mirror) x 22 inches deep x 48 1/4 inches wide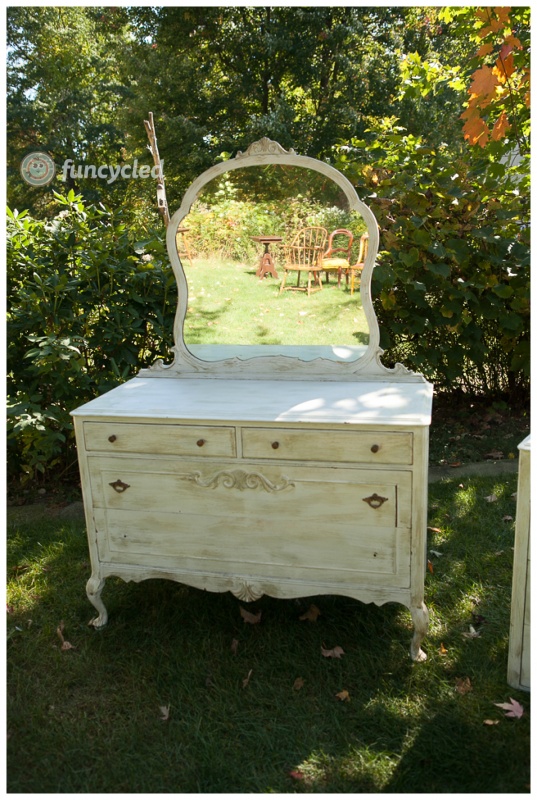 Matching side table with 1 drawer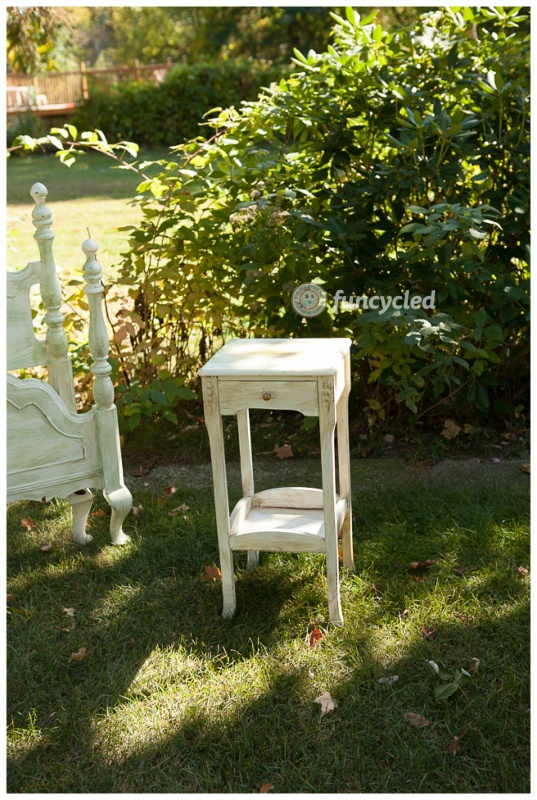 Antique Vanity with mirror and matching chair  Size: 29 3/4 inches high x 46 1/2 wide x 17 3/4 inches deep (mirror is 39 1/2 inches high)
Full Sized Headboard, Foot Board and Side rails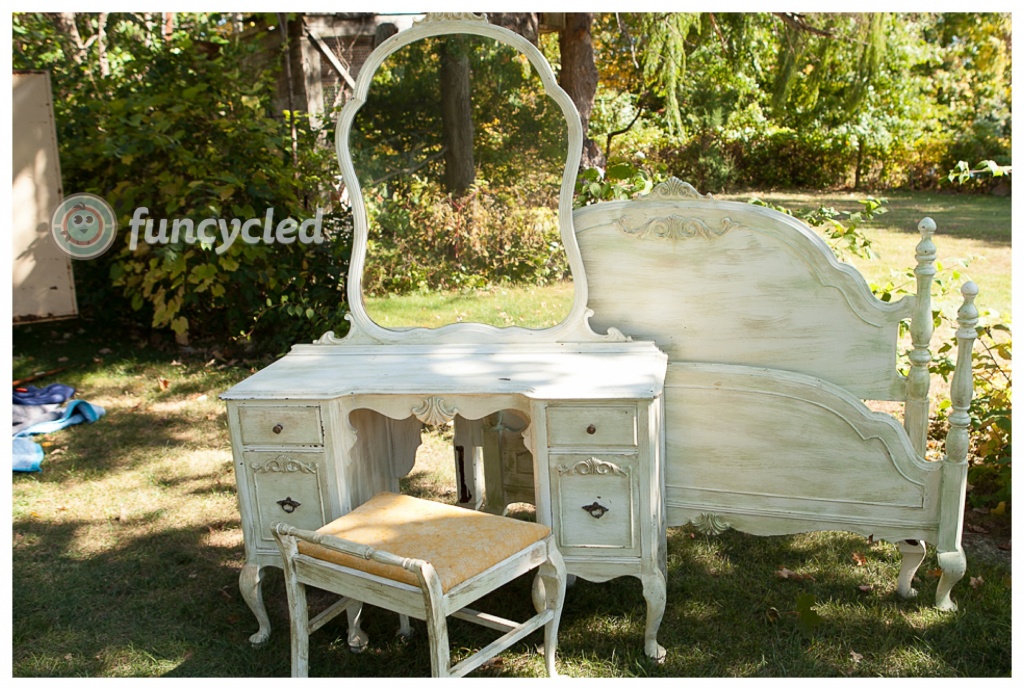 Or you can take the small dresser with no legs and put it on top of the other dresser and remove the mirror.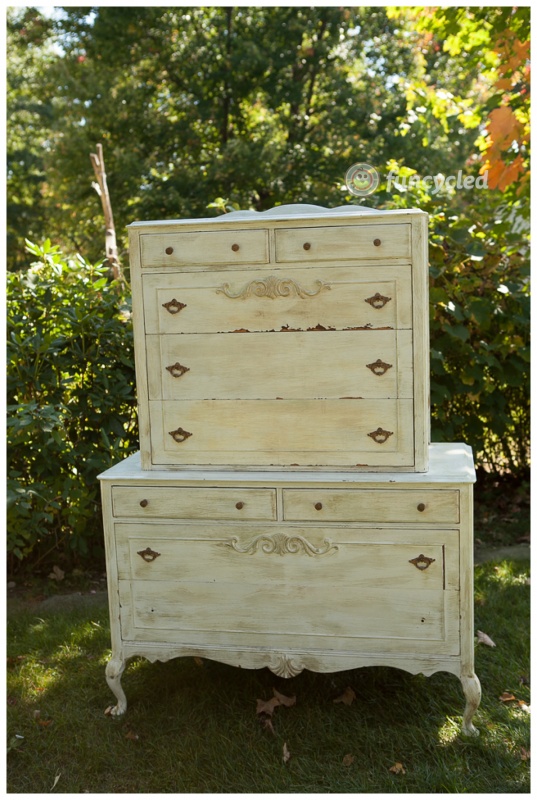 6 Mid Century Dining Room Chairs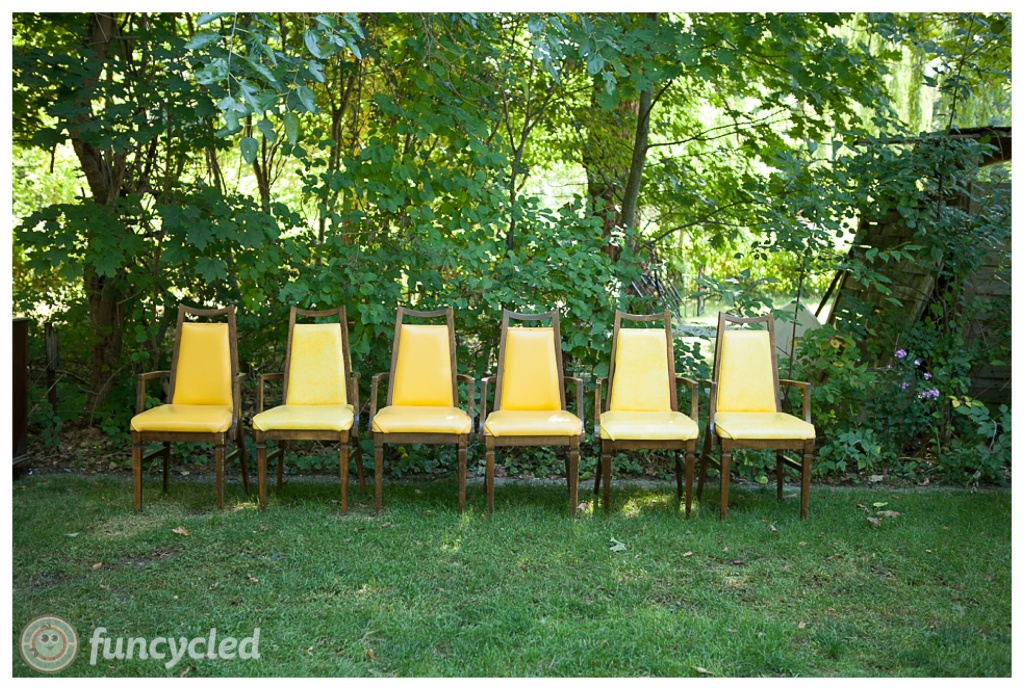 8 Drawer Mid Century Dresser made by Bassett furniture Size: 50 1/4 inches wide x 19 inches deep x 31 inches high All wood construction with dovetail joints.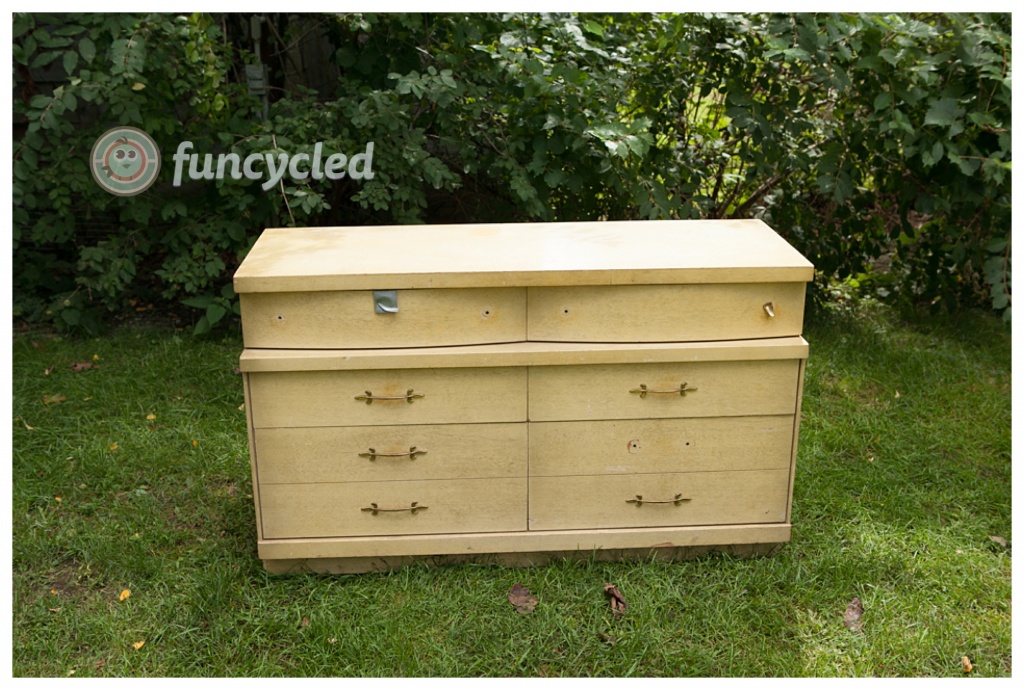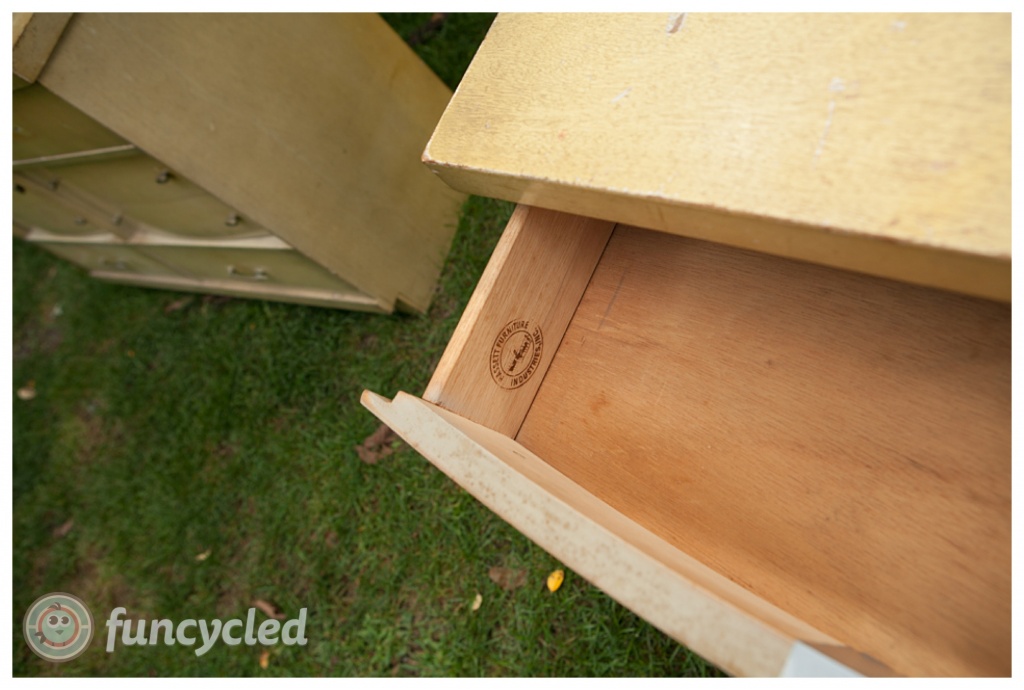 Petite Antique Mahogany Antique Hutch Size 12 1/2 inches deep x 71 inches high x 42 1/2 inches wide
Solid Wood Door with top opening Size: 32 inches wide x 78 1/2 high (perfect for a hall tree with a chalk board installed in the top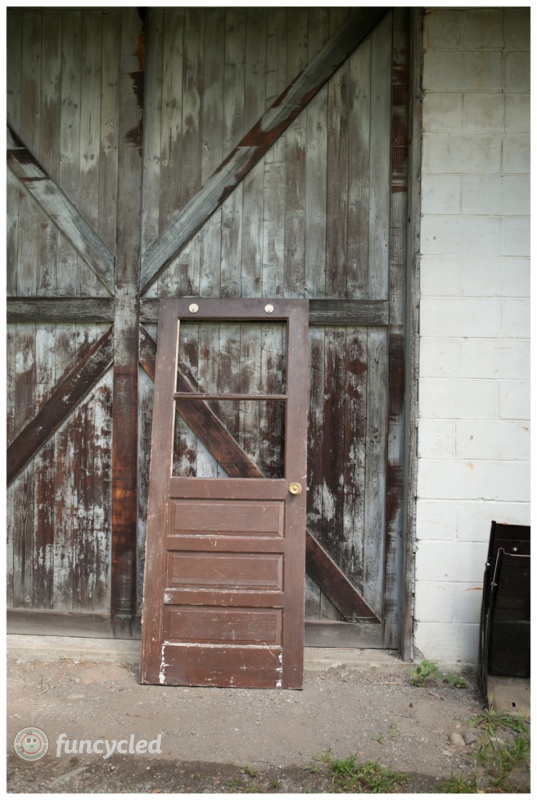 Large Solid Wood Dresser (Wood be perfect as a buffet, entertainment center or large dresser) Size: 68 1/2 inches wide x 18 inches deep x 34 inches high)
Butcher Block Top Counter High Tables Size: 25 inches wide x 72 inches long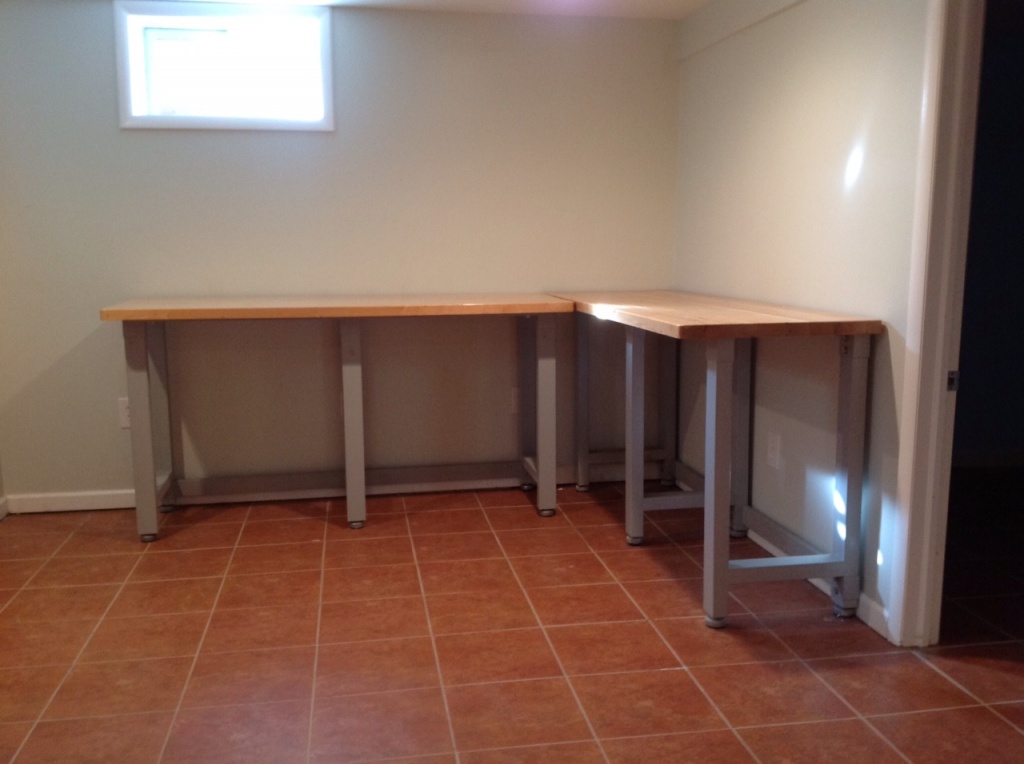 Antique Waterfall Dresser with dovetail drawers Size: 46 inches high x 16 inches deep x 31 inches wide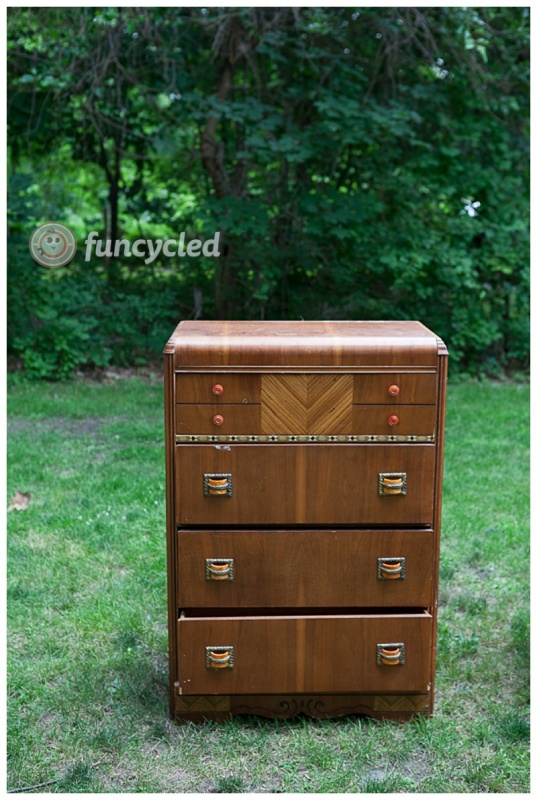 Vintage Dining Room Chair Set (2 arm chairs and 4 regular chairs)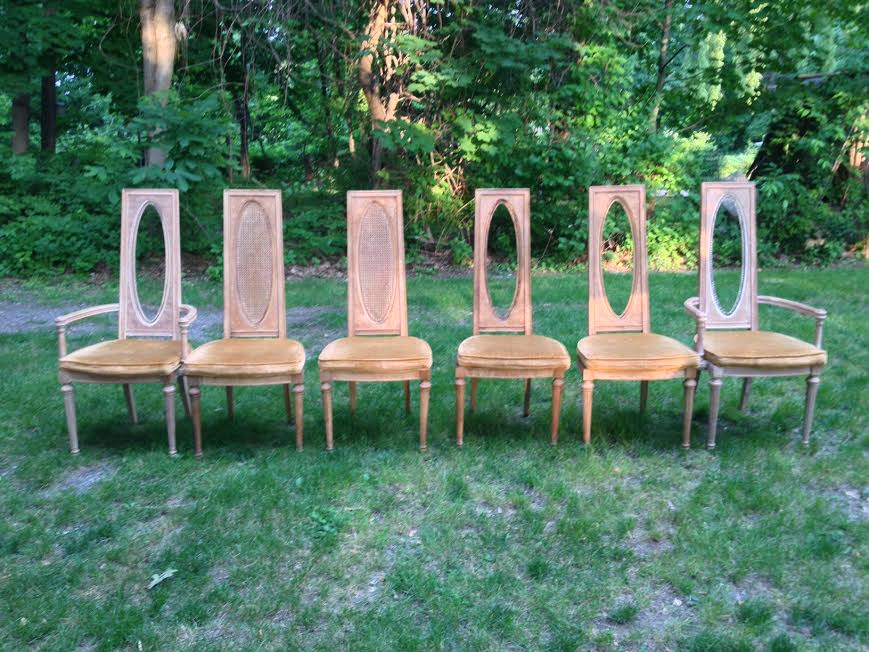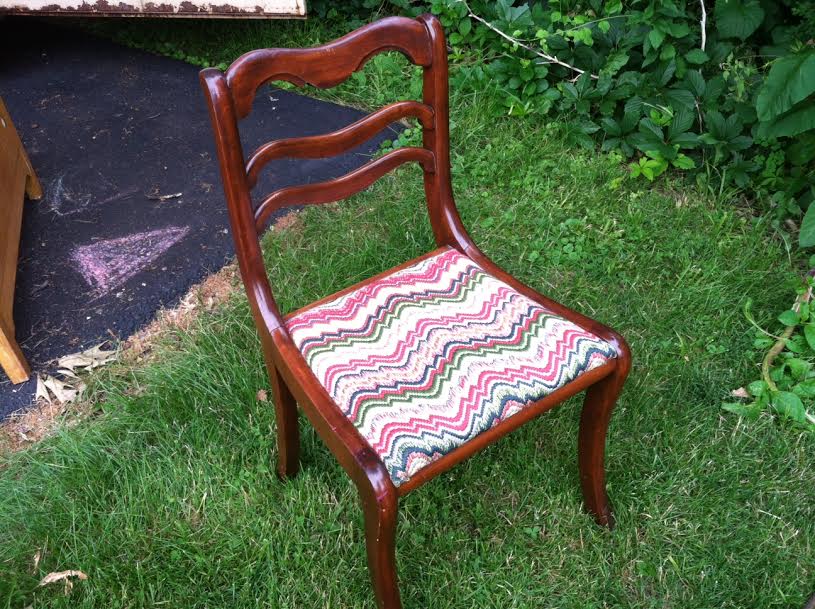 French Provincial Matching Twin beds Set includes two twin headboards and metal rails for box springs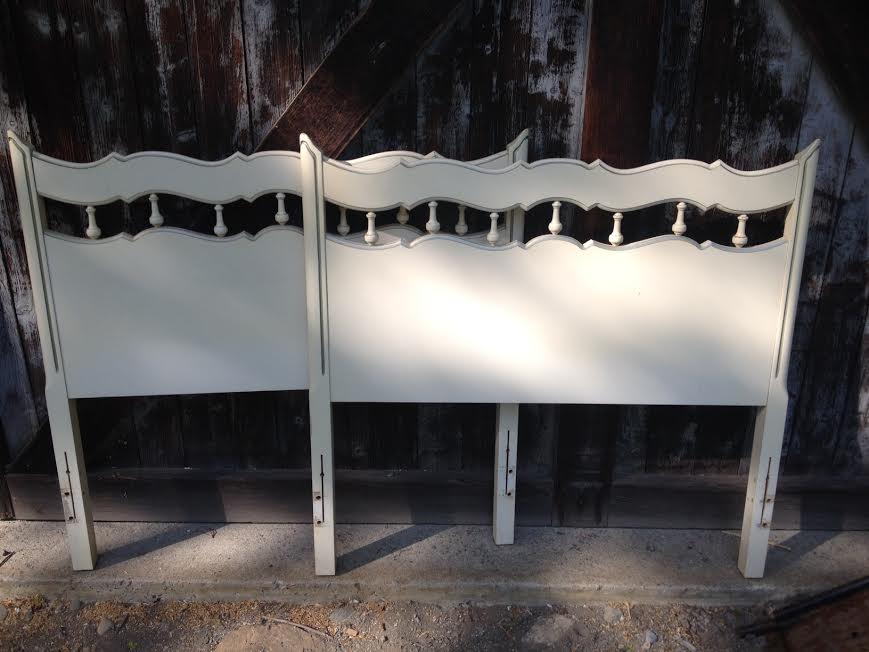 Full Sized Bed frame made by Mengel Furniture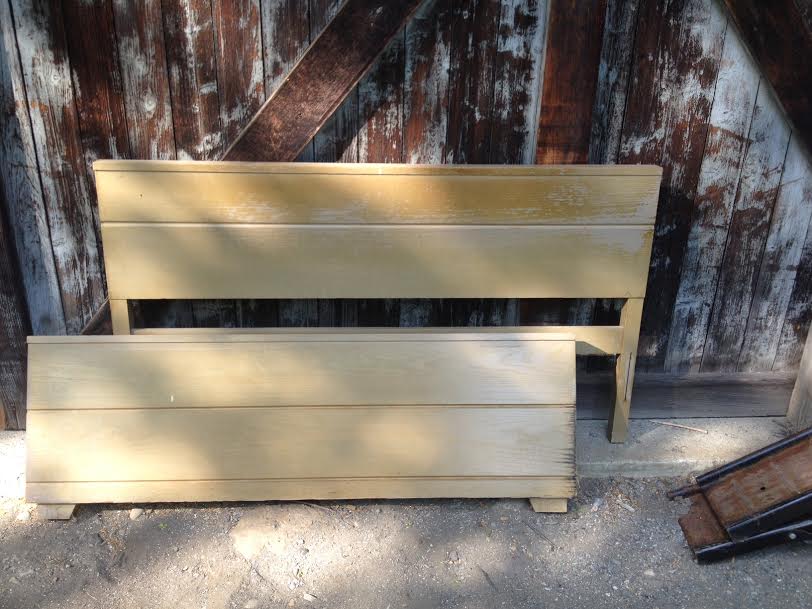 Small Side Table Size: 11 inches deep x 22 inches wide x 24 inches high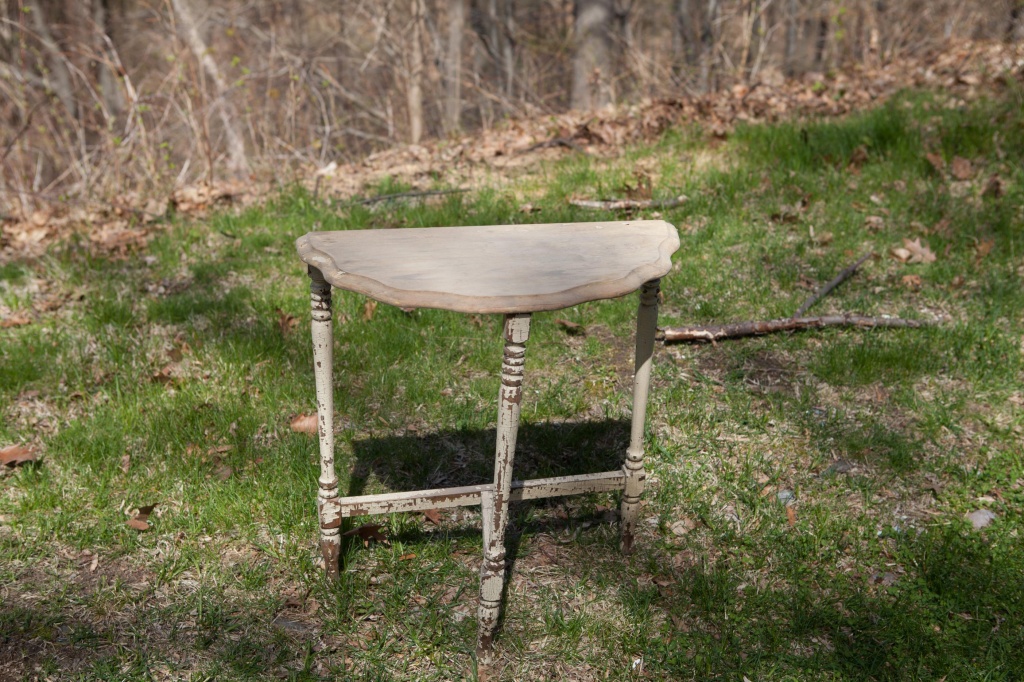 Desk 1 Size 19 inches deep x 36 inches wide x 31 inches high 
Door 1: Solid Wood Door Size: 30 inches wide x 83 inches high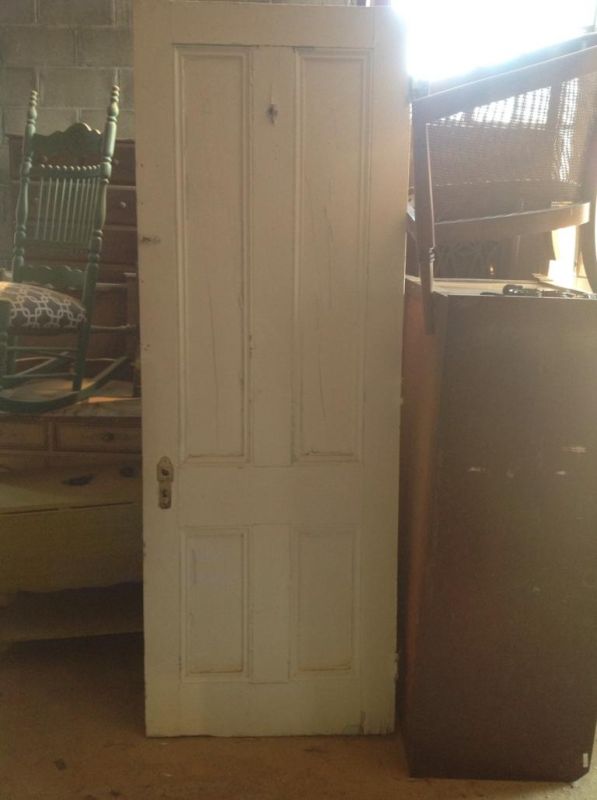 Door 5: Huge Old Solid Wood Sliding Door 36 1/4 inches wide x 91 3/4 inches high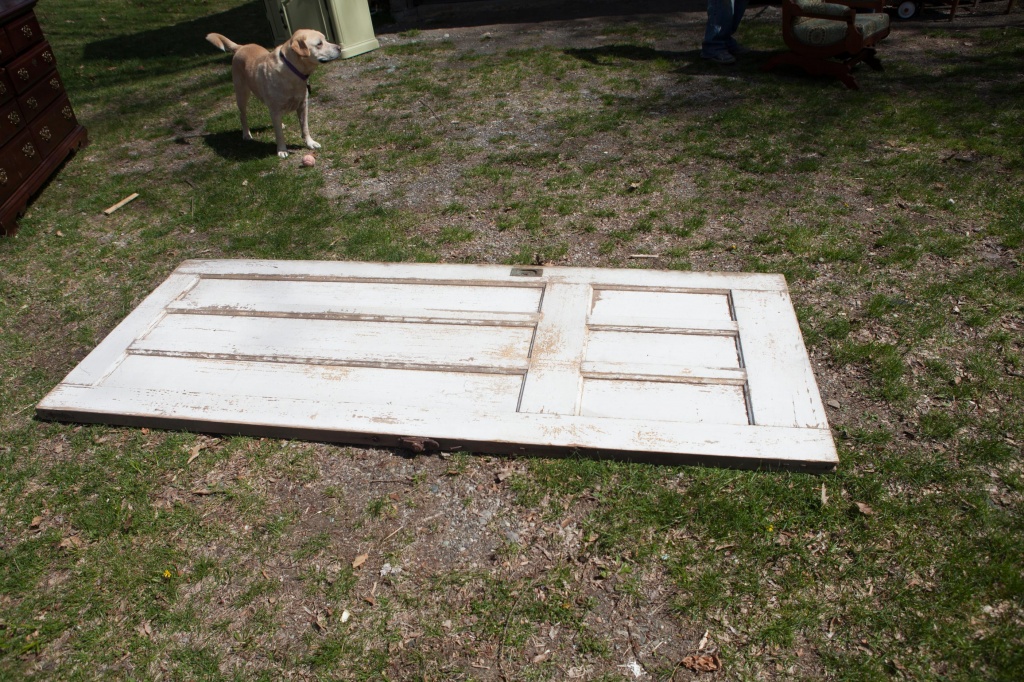 One of our past door projects: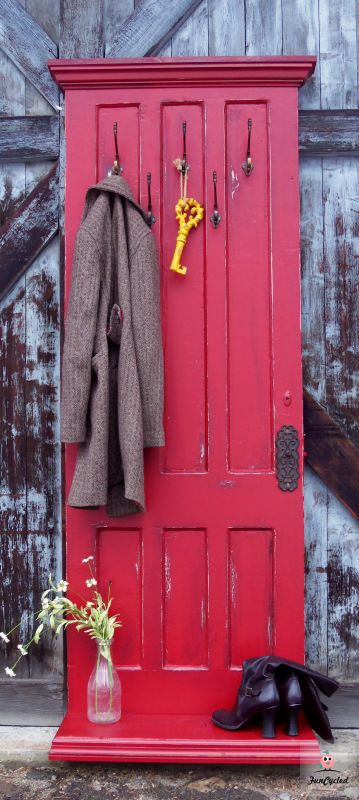 Large Coffee Table with 2 drawers Size: 40 inches wide and deep x 19 1/2 inches high
Antique Drop Leaf Table with extra leaf to seat from 2-6 comfortably
Cedar Chest with waterfall top Size: 46 inches long x 22 inches high x 18 deep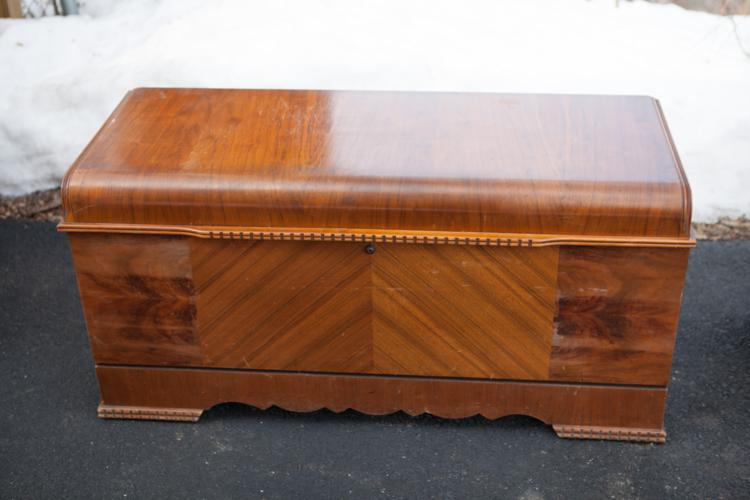 Antique Tufted Chair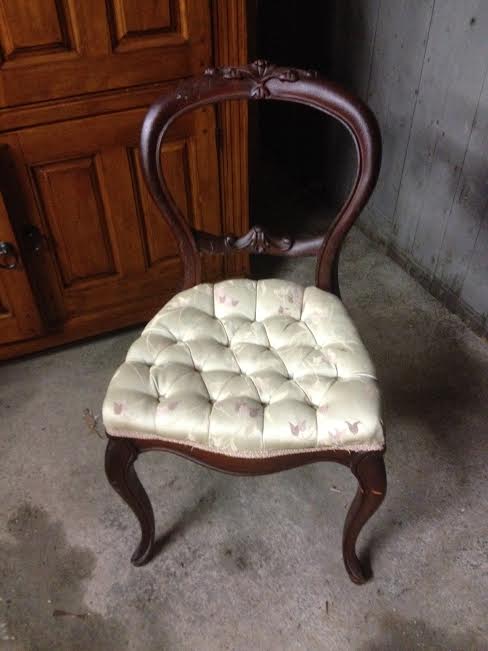 Small Side Table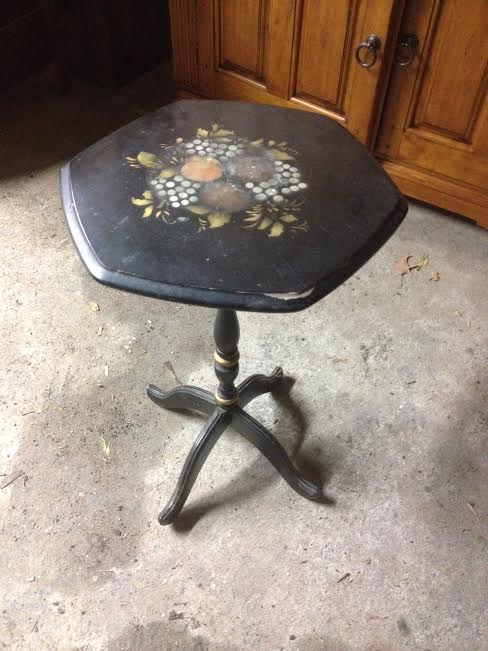 HUGE Armoire that can be used as an entertainment center, extra storage, a closet.  Size: 24 1/2 inches deep x 47 inches wide x 80 1/2 inches high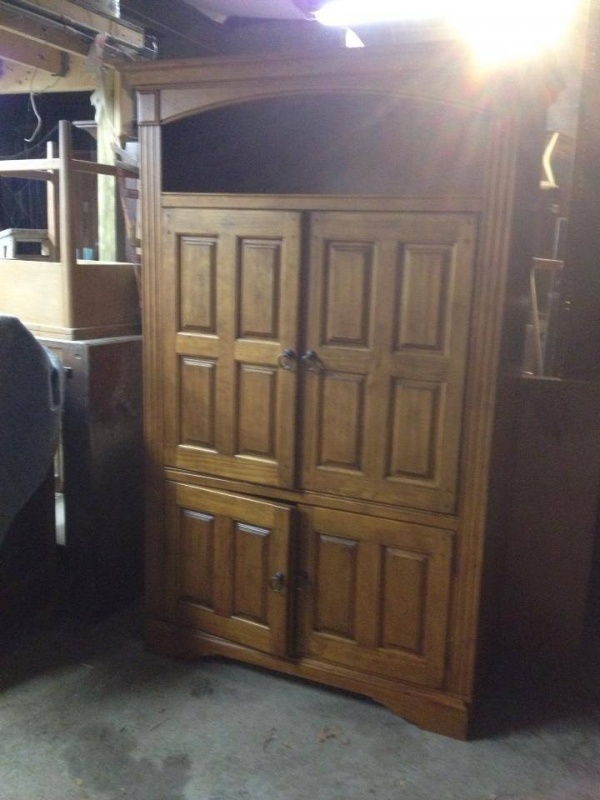 Antique Solid Wood Twin Bed You can buy just the headboard and foot board or we can build side rails for it. Please specify which you would prefer when requesting a quote.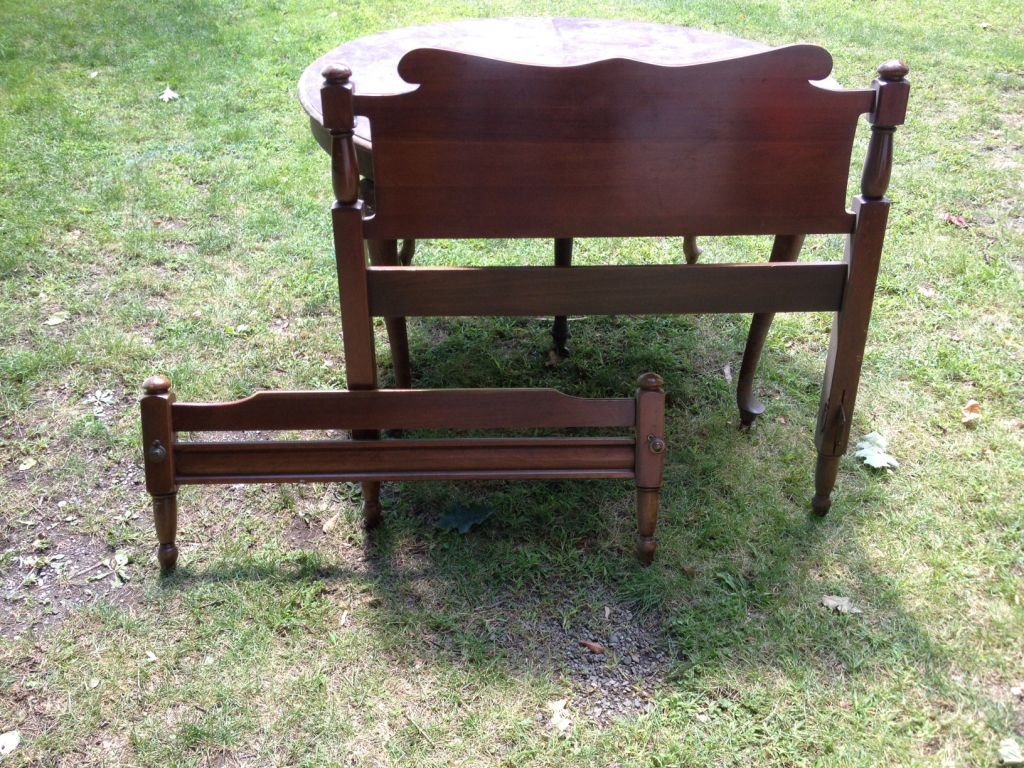 Antique Lion Head and Claw Foot Sideboard
This stunning lion and claw foot sideboard buffet is made of tiger oak and is very rare. We believe it was made between 1860-1880. It has some veneer damage on the middle drawer and a small piece on the left side. This piece could be sold as is or purchased as a custom paint job.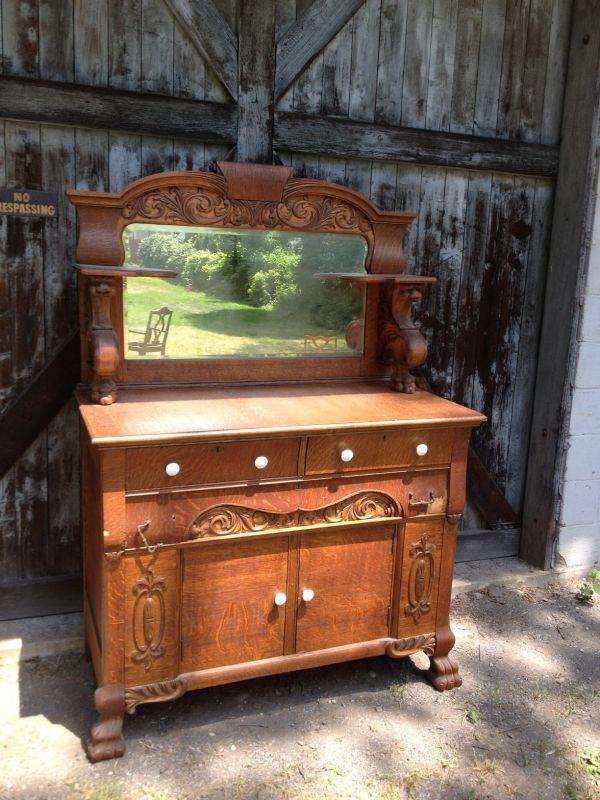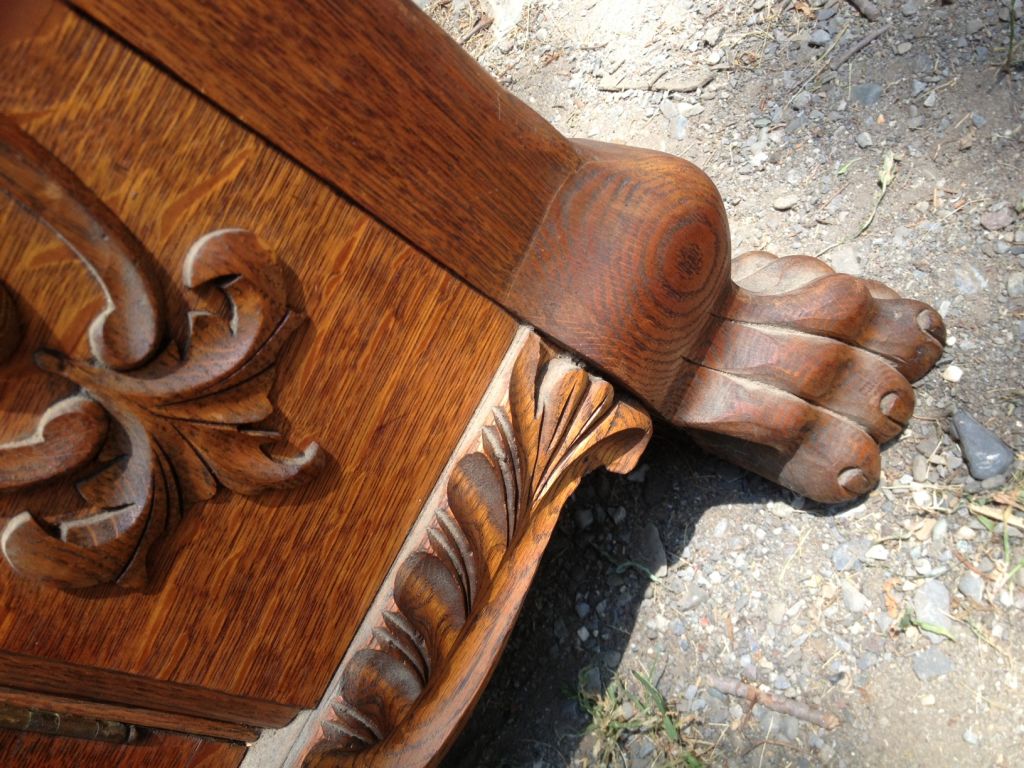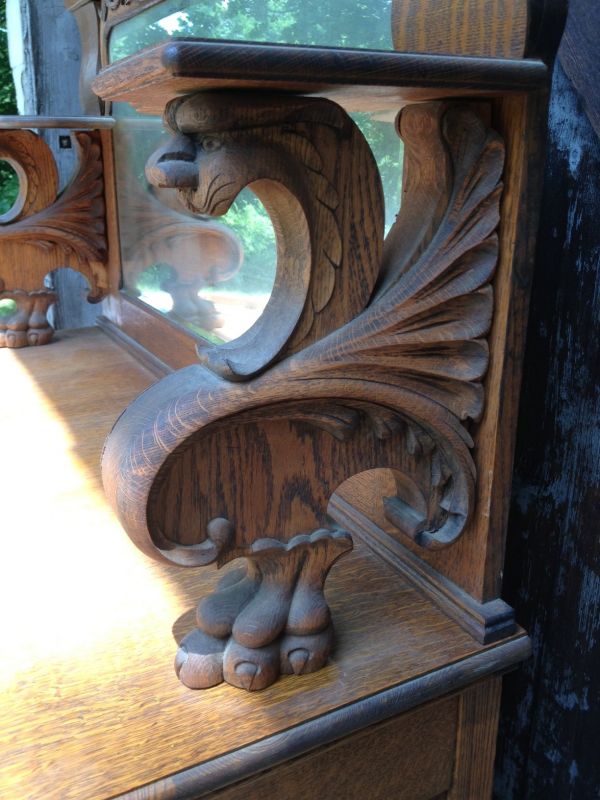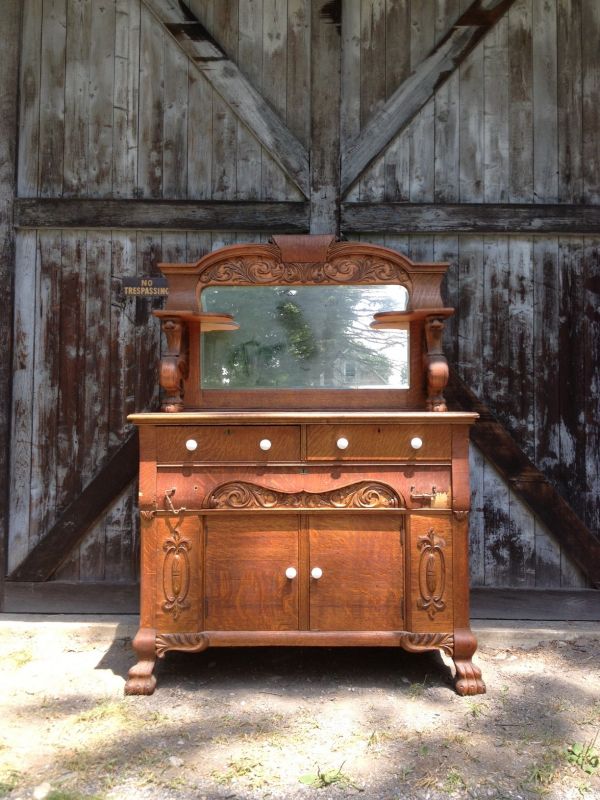 Matching Set of Three Legged End Stands Size: 1 foot square on top and  23 inches high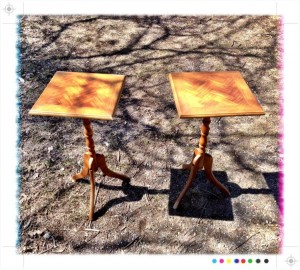 Ethan Allen Amoire  Top with Shelves Inside Size 47 inches high x 43 1/2 inches wide x 19 inches deep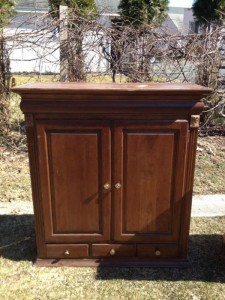 Chair 1: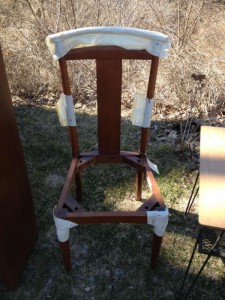 Chair 6: (2 available)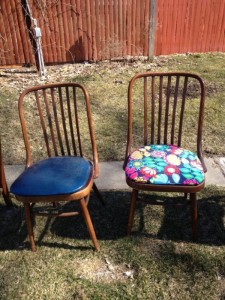 Chair 8: (1 arm chair available)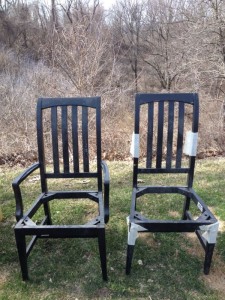 Chair 9: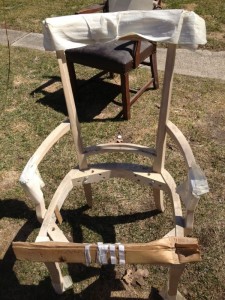 Chair 12: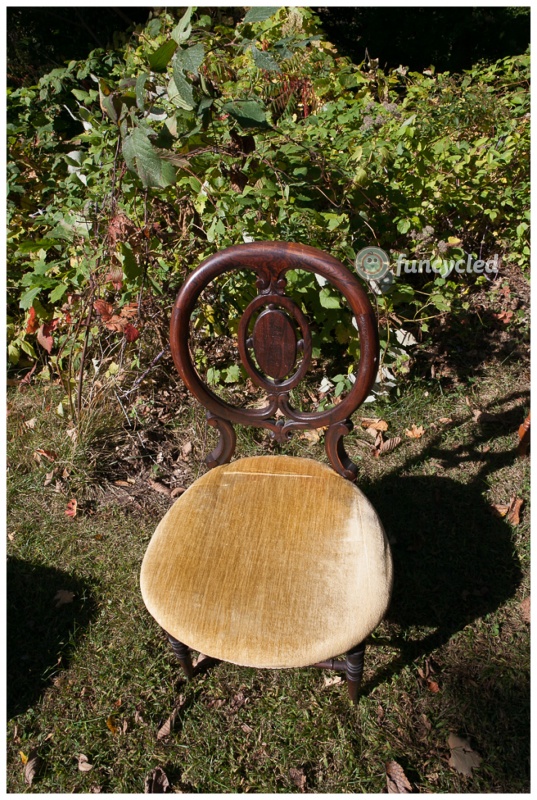 Chair 13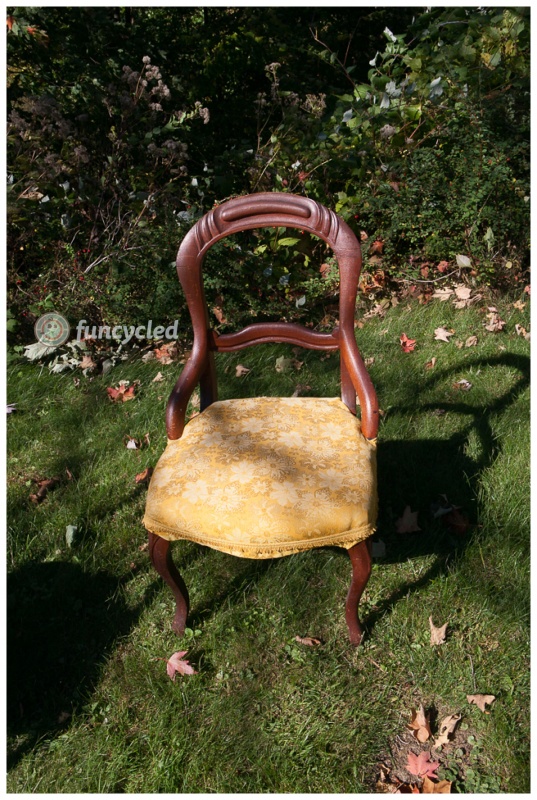 Chair 14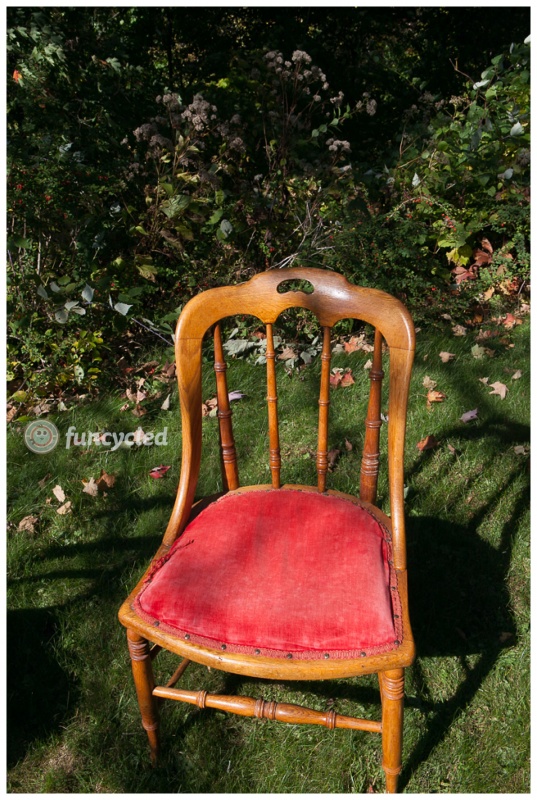 Chair 15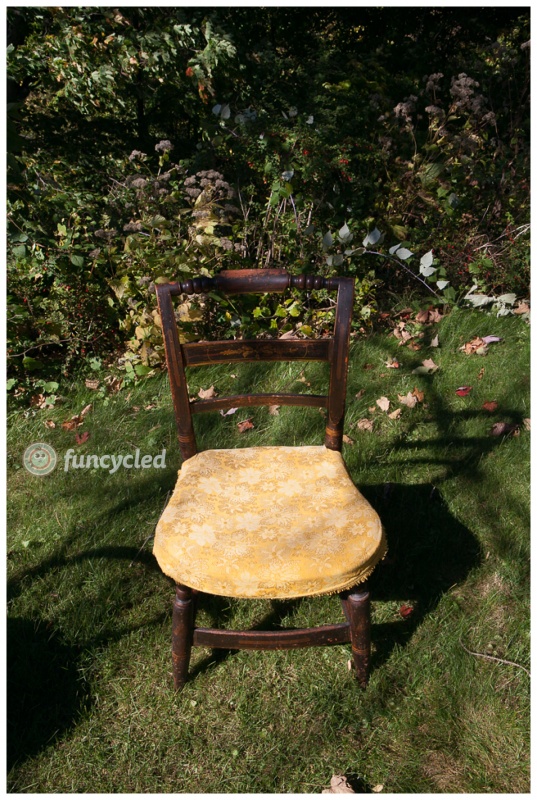 Chair 16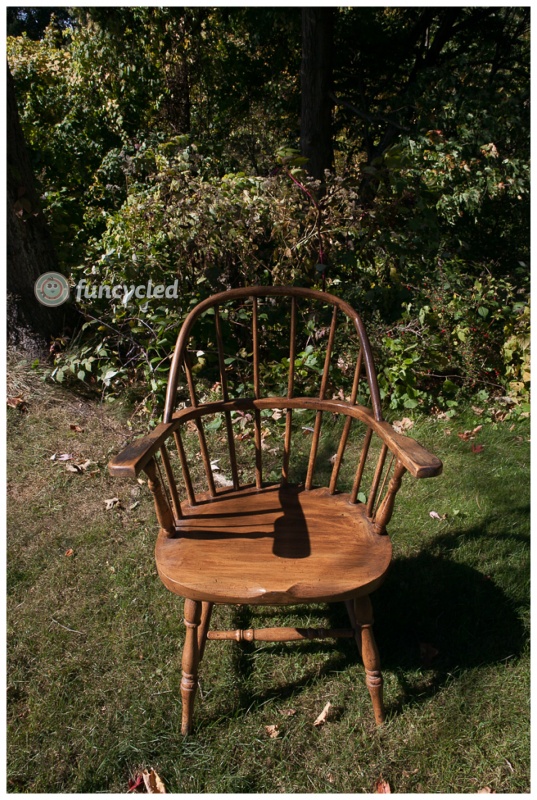 Chair 17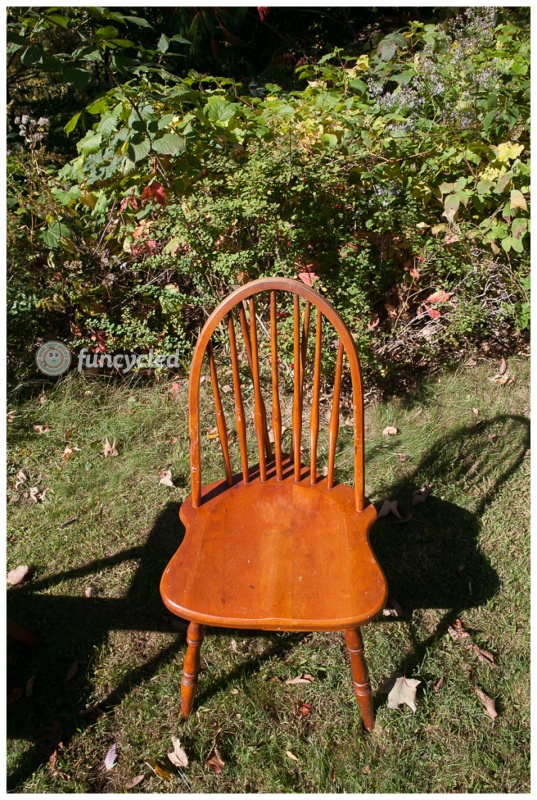 Chair 18: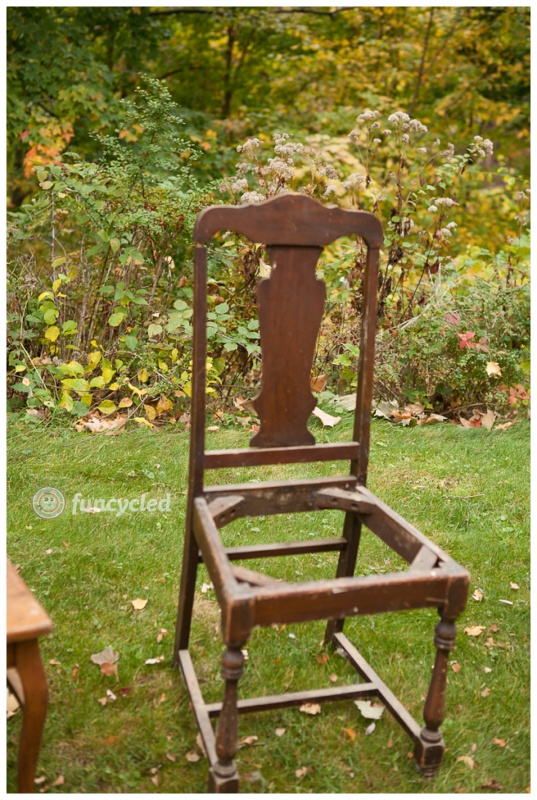 Antique Radio Size: 38 inches high x 25 inches wide x 14 inches deep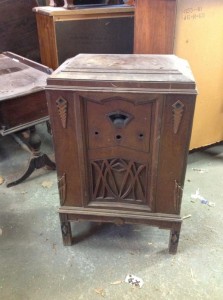 Microwave Stand, Baby Changing Station or Tv Stand? Size 28 1/2 wide x 38 inches high x 19 inches deep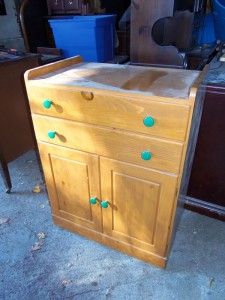 Sewing Table Size: 23 1/4 inches wide x 16 1/2 inches deep x 32 inches high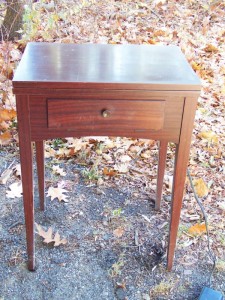 A set of glass and brass rose lamps. Can be repainted in any color.