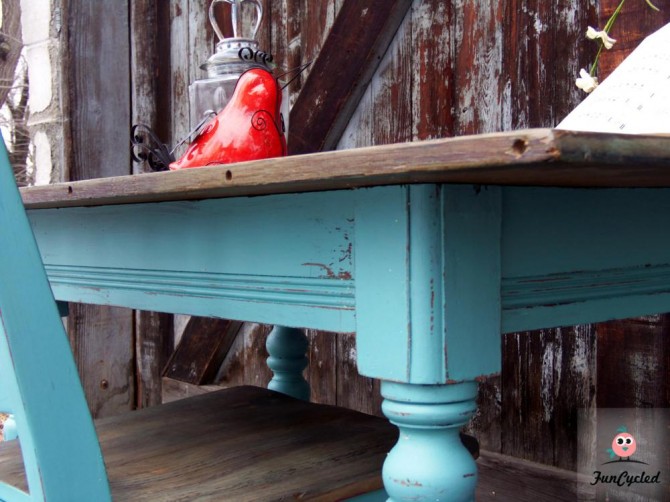 Happy Tuesday everyone! This Tuesday's Treasures is a piece that I would love to keep for myself, if I had room. Thankfully, I own a small house so I can't fit much more of anything in it. :) I just put it on our Furniture For Sale page so if you are interested- please check that page to see if it's still available.
I started with this table that I bought over the summer. The man we bought it from said that it was in his family for a long, long time. It was made from two leaves off of an old oak table. They attached it to a different base and his family used it for years. I loved the size of it and thought it would make a perfect kitchen table or desk.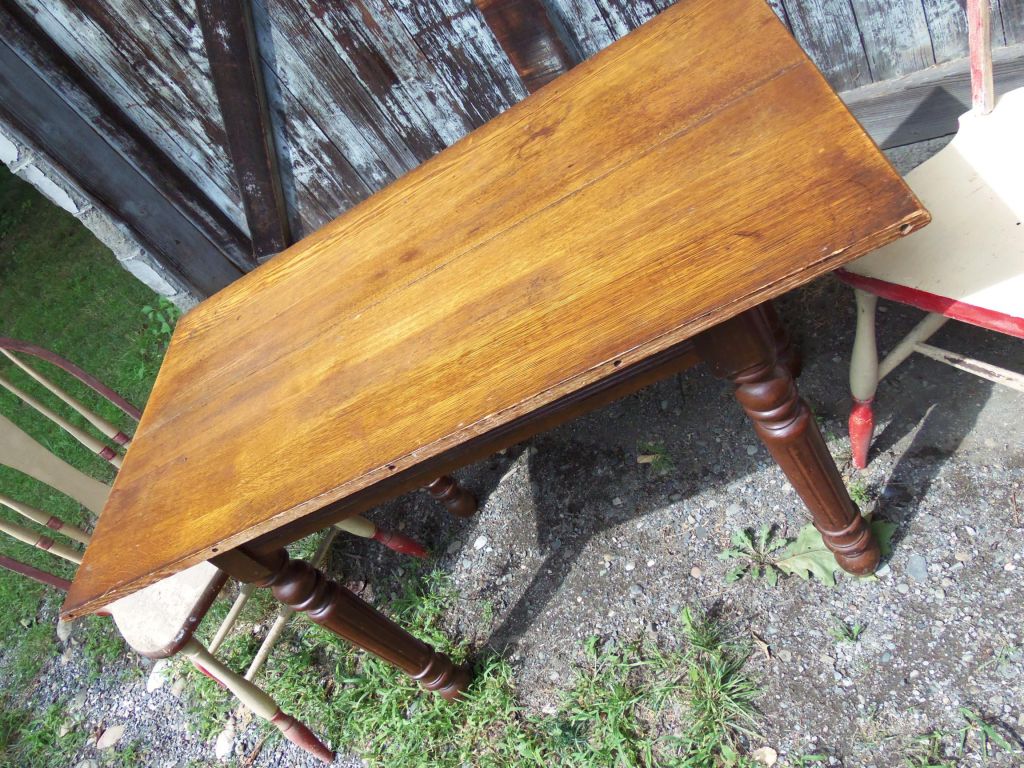 Jessica and Zach reached out to me to see if I would be interested in having this chair and giving it new life. But of course!! I loved the shape, but I didn't noticed until I was picking a chair to go with this table that the legs match almost perfectly.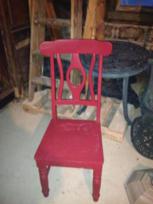 I've done some research and read online about different finishes for wood and haven't found anything unique to give it the aged look I wanted. I tried a couple things that didn't work, but then ended up sanding, distressing with a hammer and different tools that I had laying around. I then lightly sanded it again to smooth out anything that the distressing may have made rough. I did a blend of stain and paint wash and couldn't be happier with how it came out. It has a beautifully aged color with a hint of aqua on top.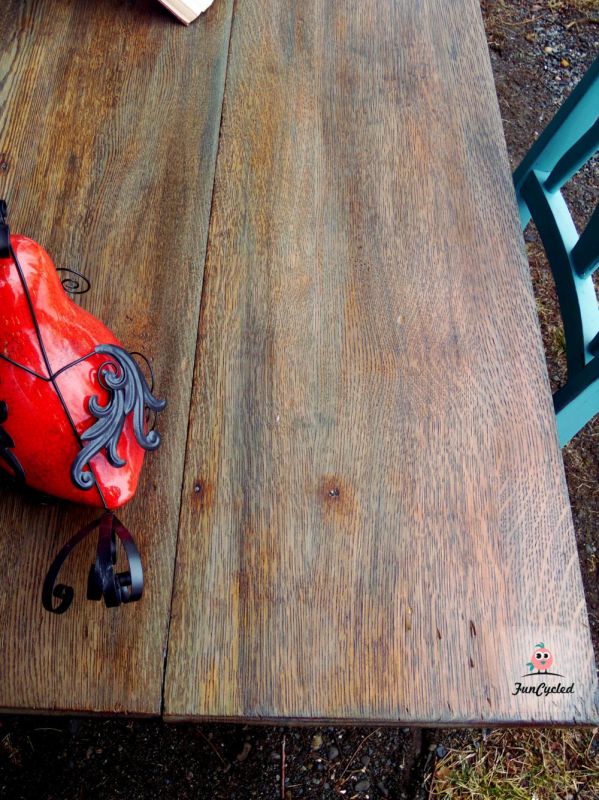 I painted the base with Benjamin Moore's Azure Water made into chalk paint and distressed it to show the wood through it.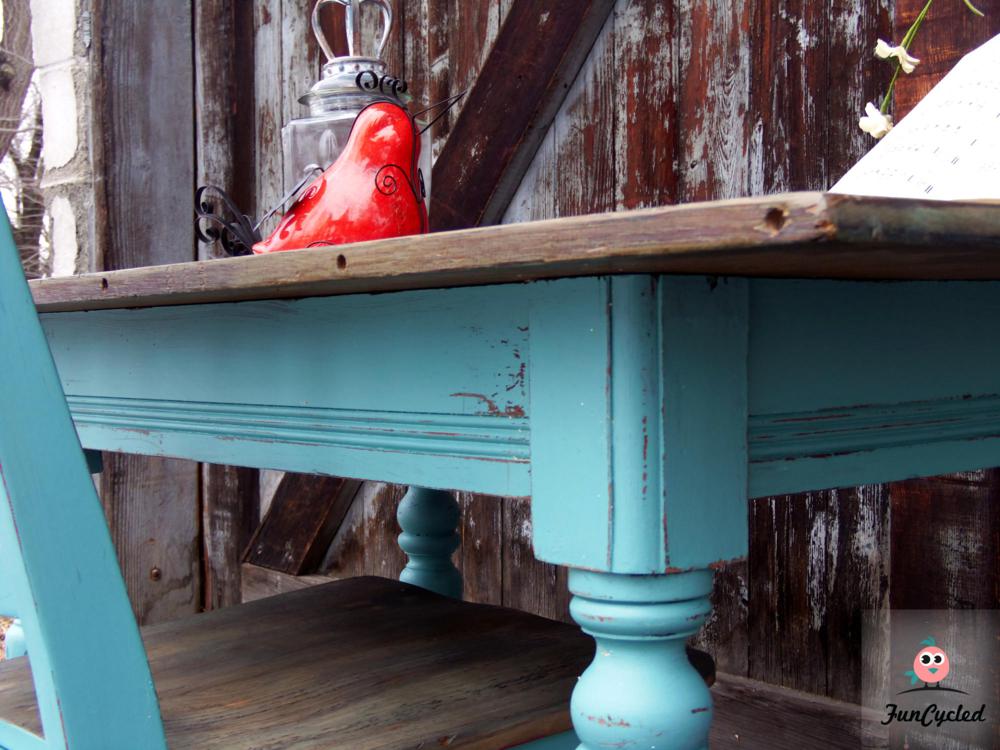 Oh… I'm melting over here. You know my love for aqua by now, right?? You add aqua with some rusticness… yum yum. :)
Remember that red chair, I sanded down the red to find some pretty wood and then I stained it the same way I did the top.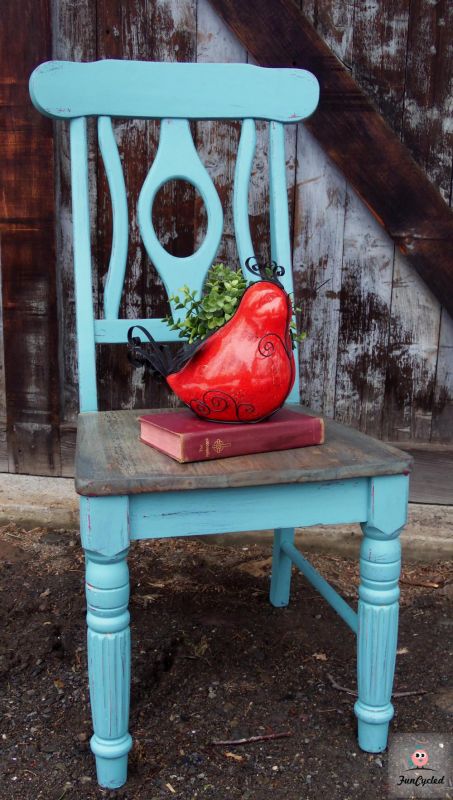 Are you ready for the whole thing together??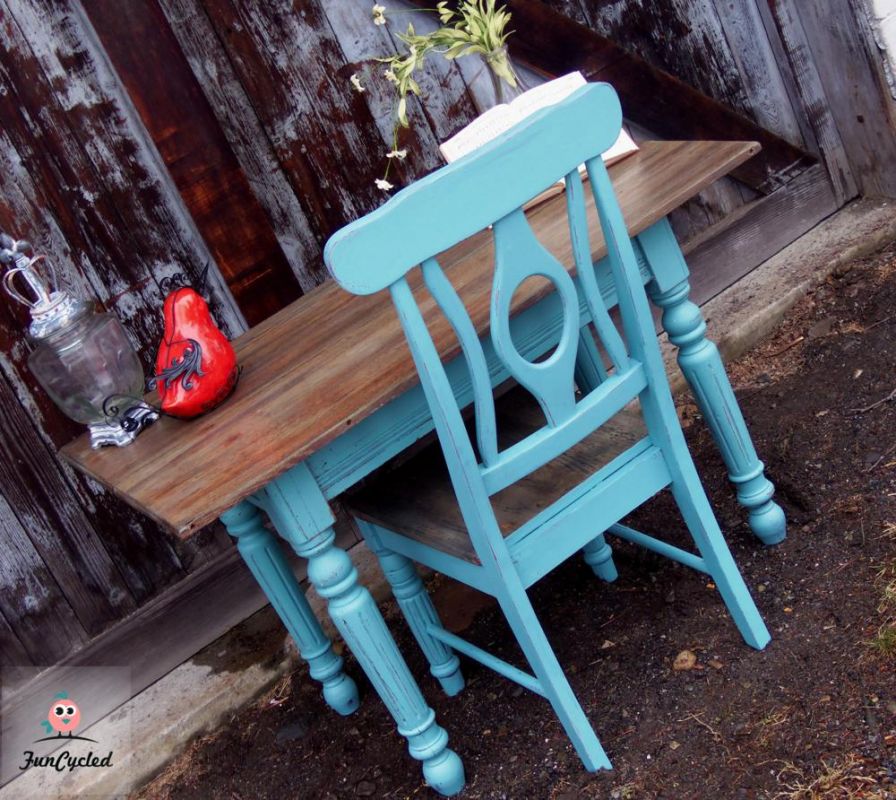 If I were you girls, I think I would be asking for this beauty for Valentine's Day. You won't love anything more… well maybe you would… maybe not. I'm sticking with not. ;)
Enjoy this week and as always, thanks for letting me live each day doing what I love. Happy redesigns.
Blessings,
Sarah
If you like what you see, please like our facebook page to keep up to date on the newest finds, vote on colors and give your input on our creativity.
There is a box at the top right of this page to enter your email address in to receive notifications by email when I post something new on this blog. Please sign up today!
Last but not least, let us customize a furniture piece for you. We create custom furniture for customers in upstate NY and ship throughout the US.  Send us a note with with you would like using our contact page. Or buy something that we've already designed from our furniture for sale page.