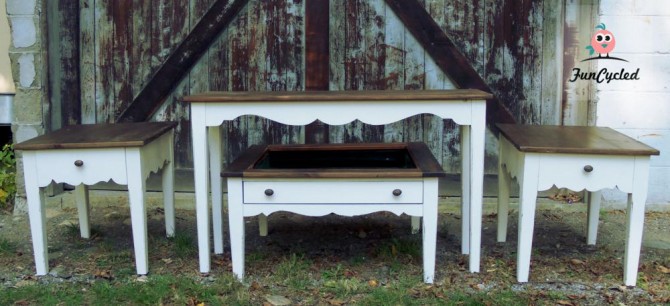 A HUGE thanks to all of you who stopped to see us at the Troy Victorian Stroll on December 2nd. It was so nice meeting you. This week I thought I would show you the before and after of a living room set that we revamped for Steve and Nancy. If you're keeping track, you can also check out their Red Empire Dresser turned into an entertainment center and there  White Mahogany Bedroom Set.
Here are some of the before pictures of the pieces. Forgive my messy barn. :)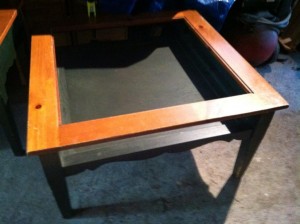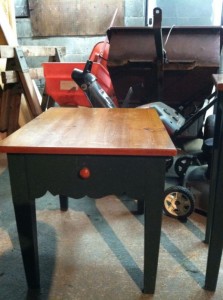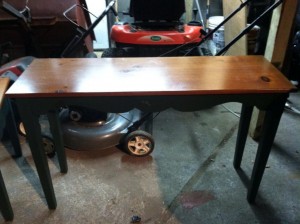 They weren't in bad shape structurally, just had scratches and were worn from years of use. Nancy liked the wood top look to keep it's country feel. We sanded each top and even though we thought it was solid pine, we found out that it was pine veneer. Sadly, I didn't even know there was such a thing as pine veneer. Why?? We sanded through the veneer in one small spot, but thankfully it wasn't noticeable.  After we sanded it, we stained it with, I believe, a dark walnut stain from Minwax. I did this project a long time ago so forgive me if that's the wrong color.
Then, the base was painted using home made chalk paint made from a cream Behr paint. After painting each piece, I slightly distressed it using medium grit sand paper. Then sealed all of the pieces with Minwax Polycrylic and added new knobs.
Here are the after pictures for you.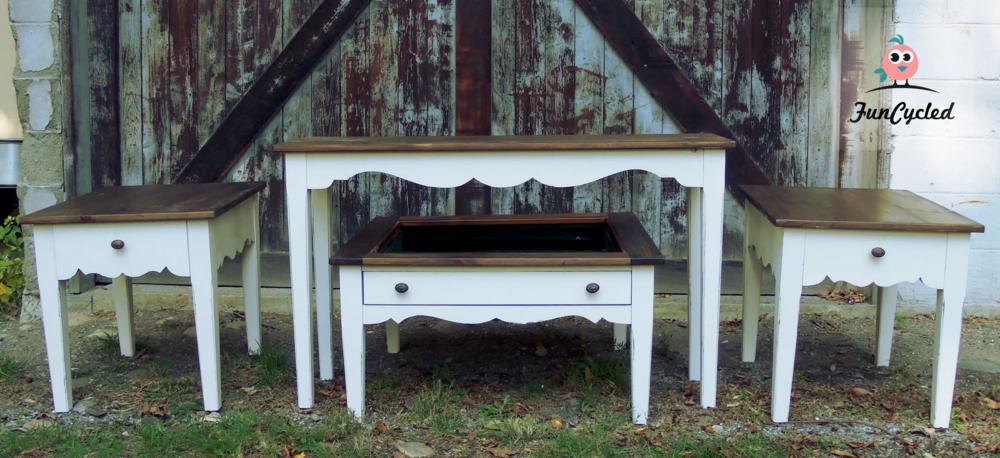 Oh and the small table has a glass top for the middle, but Nancy and Steve kept it at their house so I didn't have it for the pictures. :) Here is a close up of the top for good measure. :)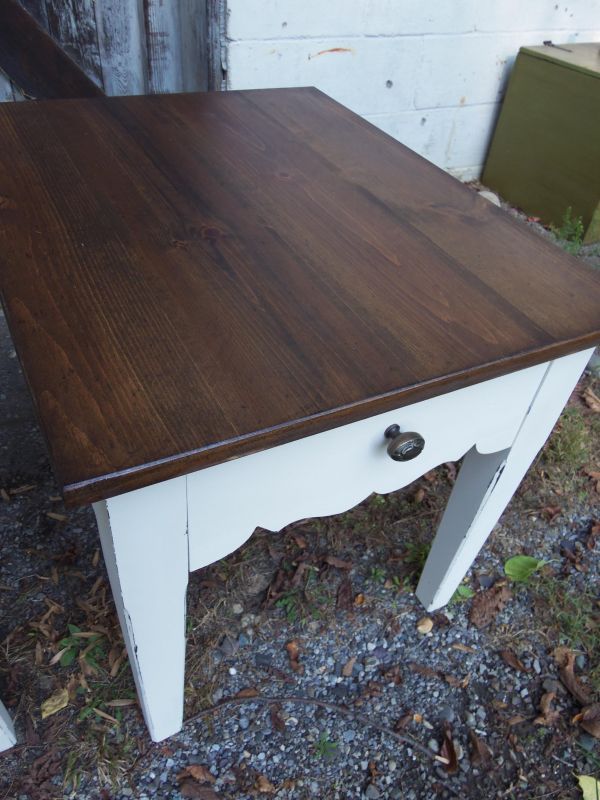 If you  haven't checked in since our last Tuesday's Treasures, be sure to check out the new pieces for sale that we brought to the Troy Victorian Stroll and the amazing Antique Windows for sale with photos from Sandy Pratt. You will love them!!
Have a great week and happy redesigns,
Sarah
PS- If you want to stay "in the know" please like our Facebook page: https://www.facebook.com/funcycled You'll see designs from the people who inspire me, be the first to know when new pieces are available, and just enjoy life with us! Get each of our new projects emailed to you when you enter your email address in the box at the top right side of this page.