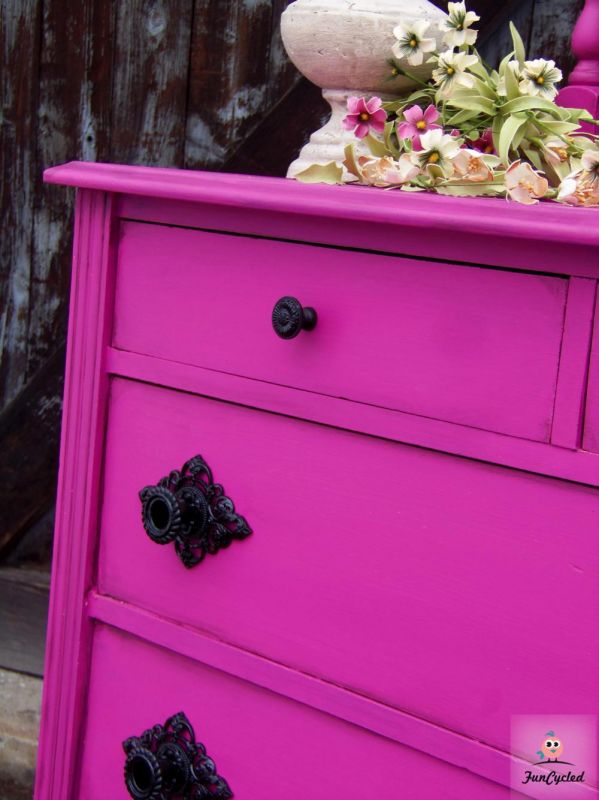 If you're a fan of FunCycled's Facebook page, I teased you with a sneak peak of this beautiful Fuchsia dresser that we delivered this weekend. I was going to make you wait until tomorrow for Tuesday's Treasures, but decided I just couldn't keep it to myself any longer!!!
This dresser was for our customer, Nancy, who was looking for something small and glorious for her guest bedroom. She found this dresser, I checked it out before she bought it to make sure there wouldn't be any surprises and then headed home with it. The funny part about this dresser was trying to pick a color. We were trying to match this bedding set that Nancy had already bought. It's Mariah by Steve Madden.
I wanted teal at first, but that's because I love teal. Then Nancy wanted more of a melon color. Even though you can't see it in this picture, there are little melon colored parts of the design. After we bought the paint, both of us just thought it wasn't right. I asked Nancy if she would trust me with pink… lol! She's the best and let me go ahead with a bold, fun fuchsia color. I could NOT be happier with how it turned out.
I forgot to take a before picture so here's the best that I have, I had slightly sanded it when I remembered that I needed a before picture.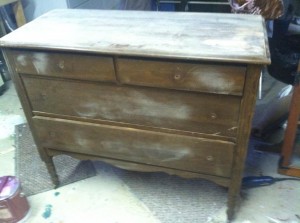 I used Benjamin Moore's Crushed Cranberries color and made it into my own chalk paint. Hand painted this beauty, then slightly glazed it and waxed it to seal it. I found the knobs at Hobby Lobby and literally gasped out loud in delight. It's sad that new knobs can make me this happy!
Are you as excited about the after pictures as I am??? I hope so. ;) Here we go!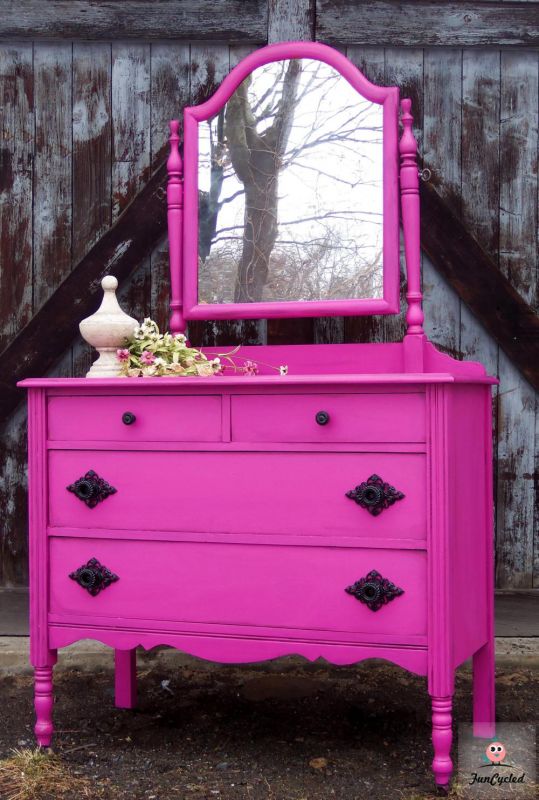 Ahhh… I could just look at it all day. Nothing like bold, beautiful color to make an old piece something priceless. The funniest part to me about this makeover is that when we starting redoing furniture for Nancy and Steve… over 20 pieces ago… I was talking to Nancy's husband, Steve, about what color we would be painting their Red Empire Dresser. I told him we were going with Fuchsia and he looked at me like I had three heads. Nancy quickly reassured him that it was going to be red and not to worry. Now… so many pieces later, she let me go with Fuchsia. What have I done to them?? lol! I love it and hope you do, too. Remember to post this on Pinterest and share it on Facebook if you like it. Have a great day!!!
Blessings,
Sarah
If you like what you see, please like our facebook page to keep up to date on the newest finds, vote on colors and give your input on our creativity.
Last but not least, let us customize a furniture piece for you. We create custom furniture for customers in upstate NY and ship throughout the US.  Send us a note with with you would like using our contact page. Or buy something that we've already designed from our furniture for sale page.