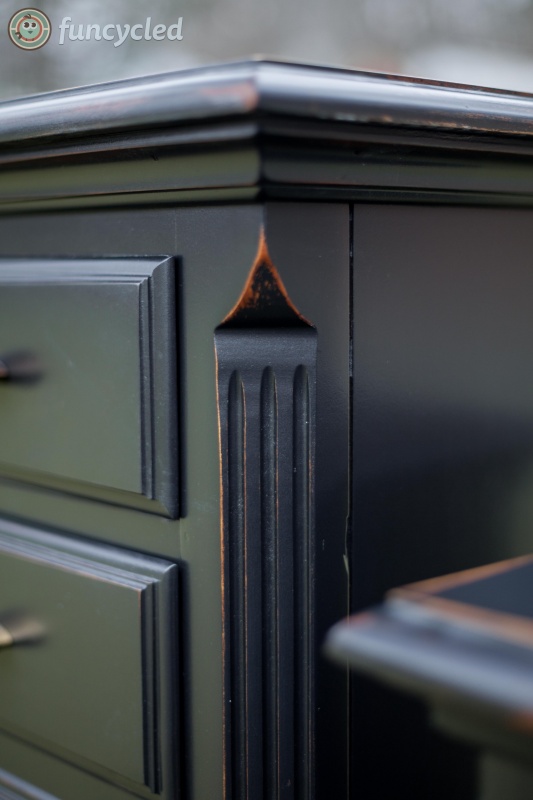 Hi Friends!!
How was your week? I was talking to a friend today who was sad about the cold temperatures in the northeast this week. Are you feeling the same way? Just remember it's mid-March! That means we're almost done with the cold weather. April should be warm more often then it is cold and then comes the green grass and flowers. Speaking of flowers, we went to the HVCC flower show this weekend and it was breath taking. Here was one of my favorite arrangements: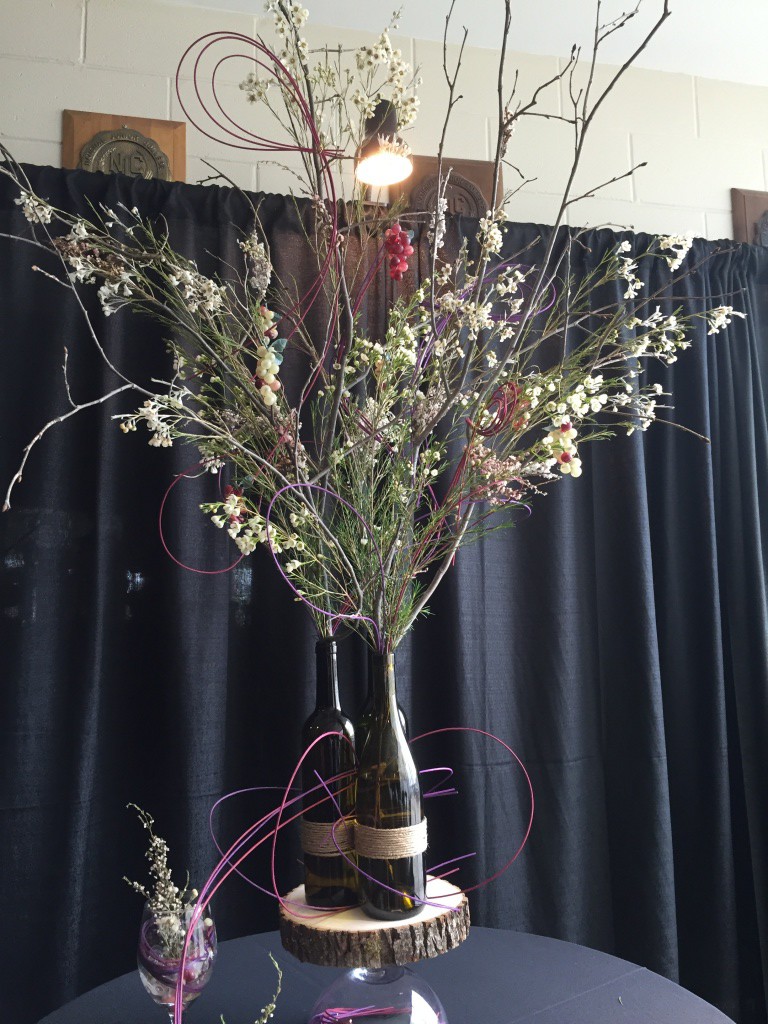 Here were my kid's favorites (wonder woman and spiderman):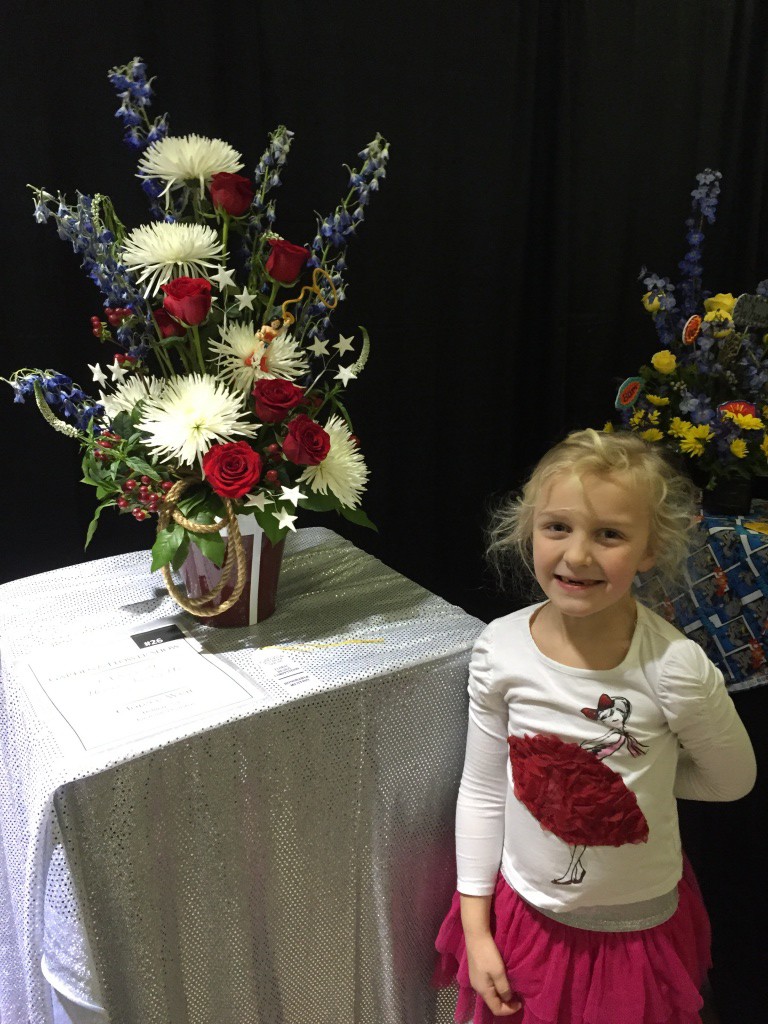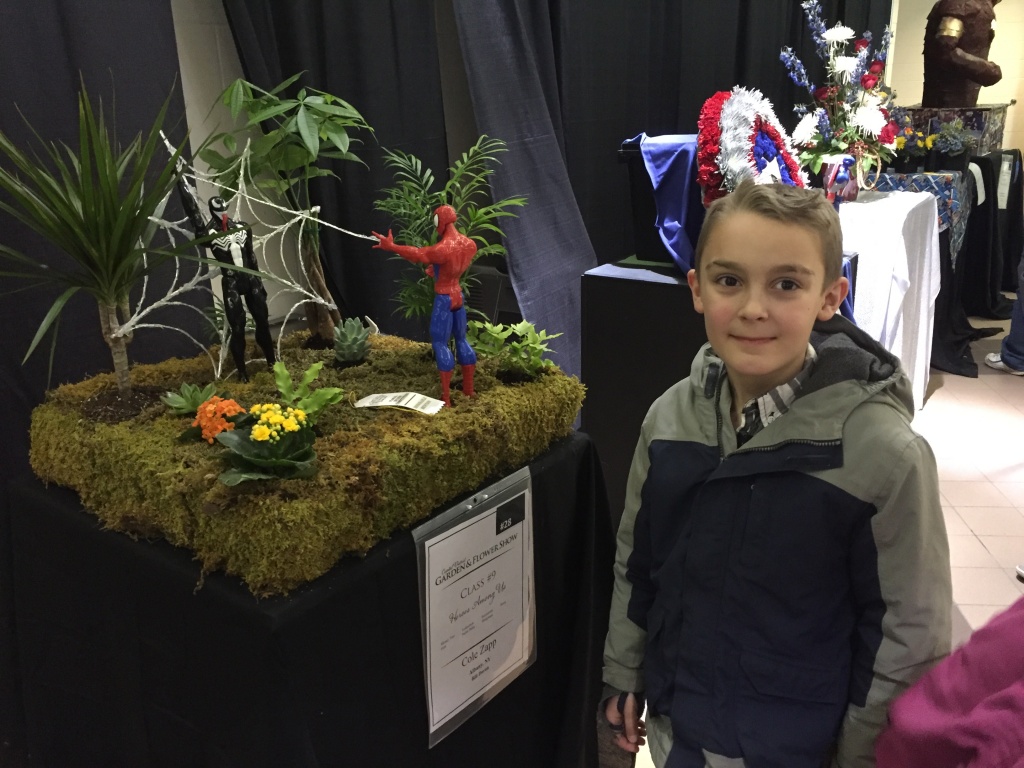 John's birthday was this weekend so we took off from work on Saturday and enjoyed a day trip to NYC with our friends, the Fishers. We went to see the aircraft carrier, the Intrepid. It was SO MUCH FUN! The kids had a blast and it was a treasured time with our family. With working 6 days a week, time flies by a little too quickly around here.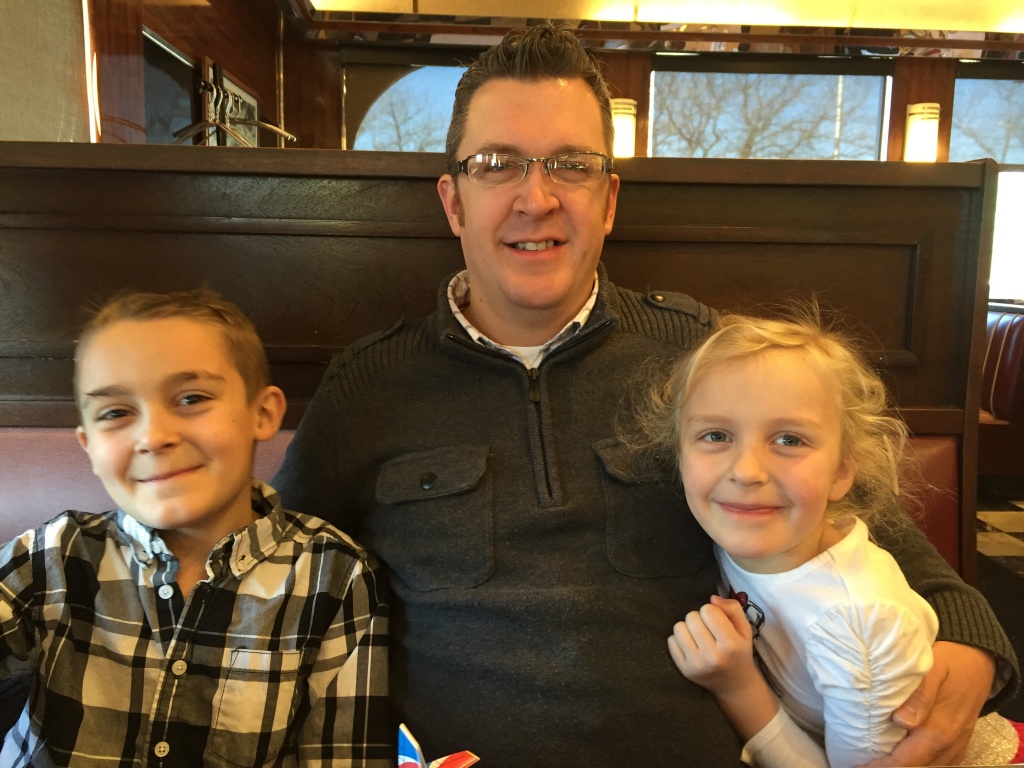 Oh those three are just too cute!!!
You're probably here to see more about restoration hardware than to see about my little family, right?
Have you seen this finish by Restoration Hardware?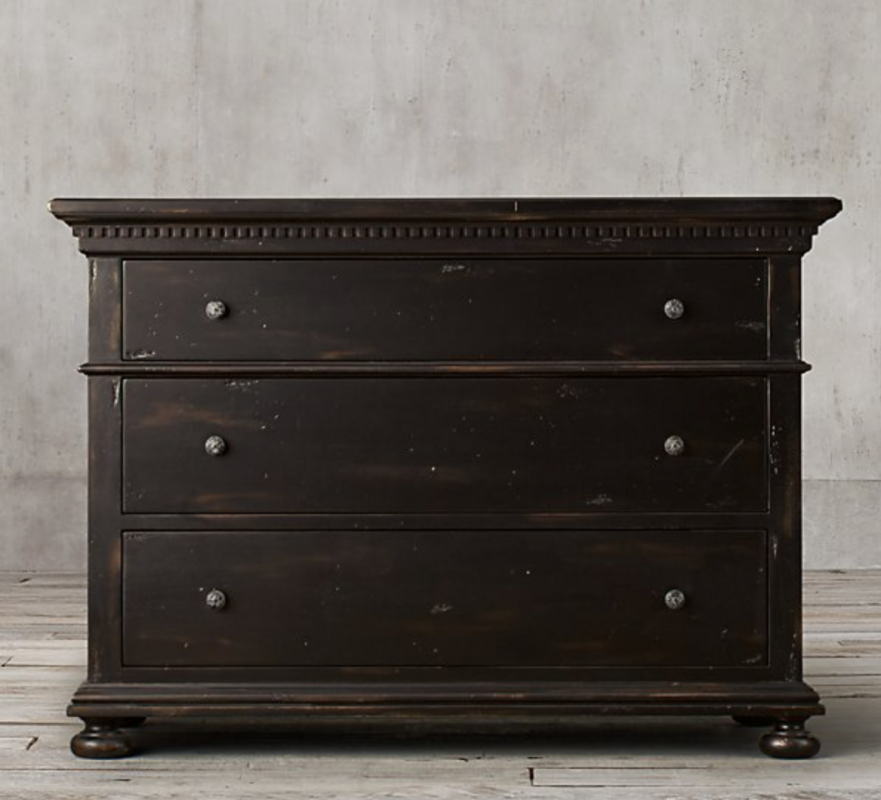 One of our clients loved this finish, and wanted us to try to create something similar with a dresser set that he already owned so he was reusing instead of buying new. Gotta love that, right? Here's the set before: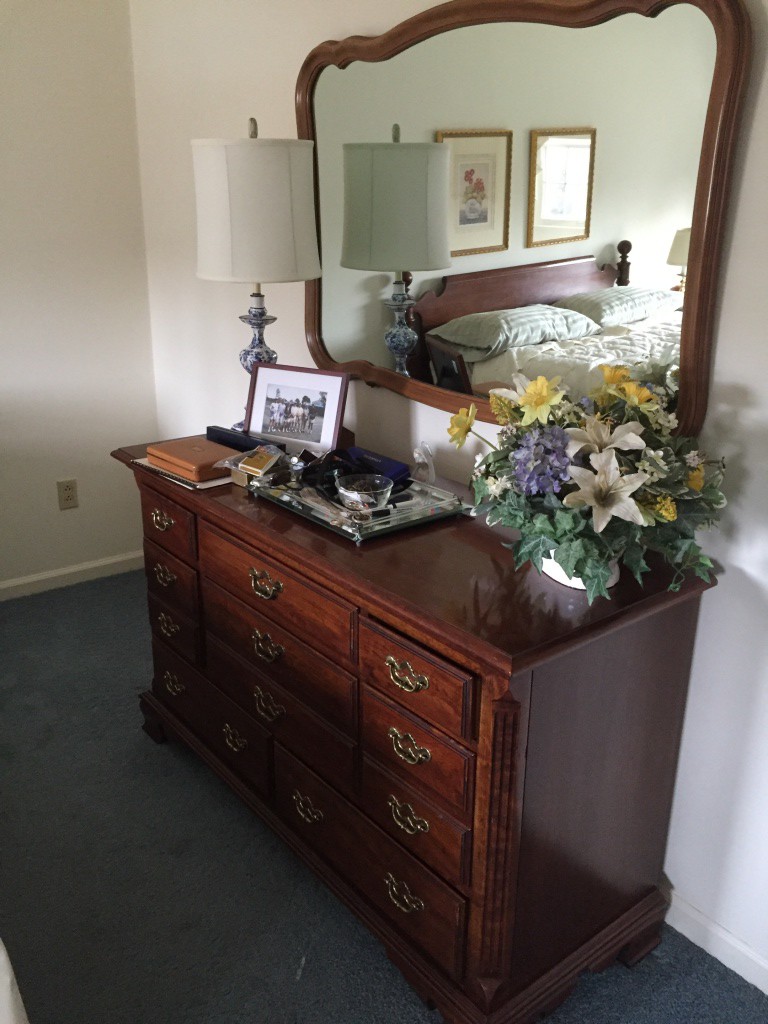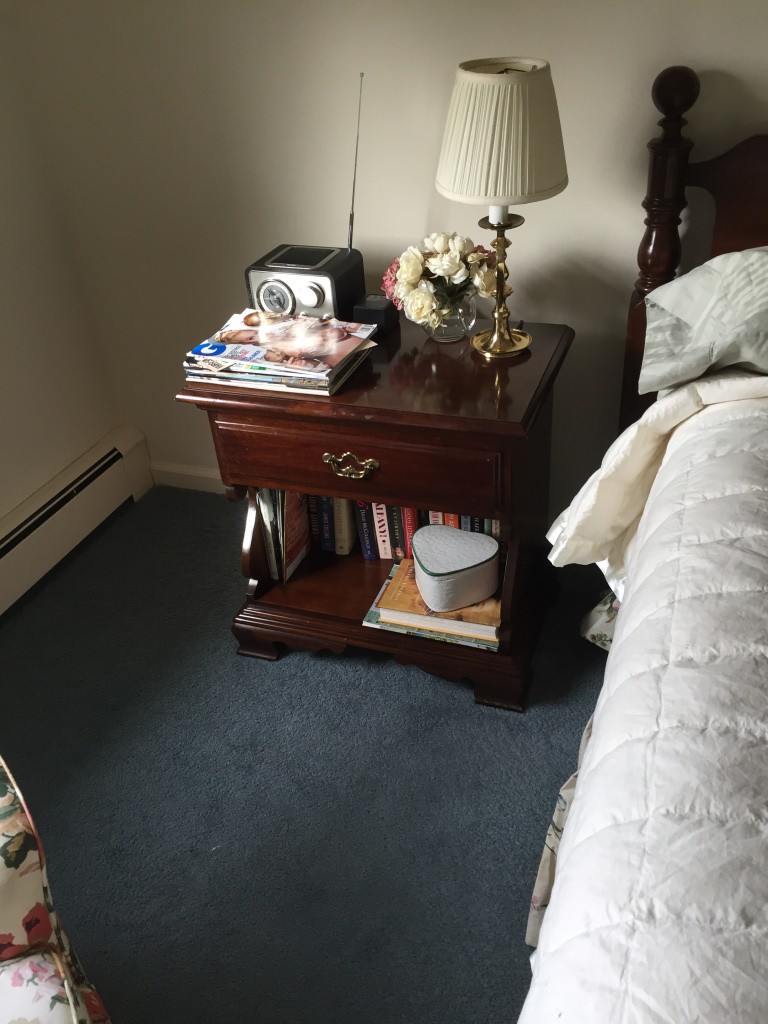 The tricky part about getting this finish is that you can't prime before you paint because if you do prime, once you sand it, the white primer will show through and it won't look right at all. A lot of this finish is in the prep work. You'll need to start with a  good sanding (150 grit sander). Then, you'll want to paint it with a black enamel paint. Most brands will do just fine if you do the right amount of sanding prep work before hand.
Often times wood can "bleed through" which means it can change the color of the new paint due to the original wood colors or oils underneath. Usually you can combat that with a good primer to seal in the wood stain or colors. In this case since you can't use a primer, you'll want to paint the first coat and see if there is any bleed through. If you want to see how we paint furniture, check out our How to Paint Furniture post. If there is bleed through, do a protective clear coat over it and a second coat of black enamel.
Up next you'll want to use 220 grit sand paper and hand sand it to get a "rubbed through finish". Lower grit will make it look scratched off. This is the tedious part, but it's what helps give it the right look. I've also used denatured alcohol to rub off paint which has worked well in the past. In this case, the clear coat from the original finish left white blotches all over it once we used the denatured alcohol so we couldn't use that. We just hand sanded to make it looked rubbed through.
This is an important step! Clear coat the dresser with a Satin water based poly. It's going to look too shiny with the enamel and won't look good from the sanding if you don't clear coat it.
We also added new hardware to give it a more modern look!
Here's the afters for you!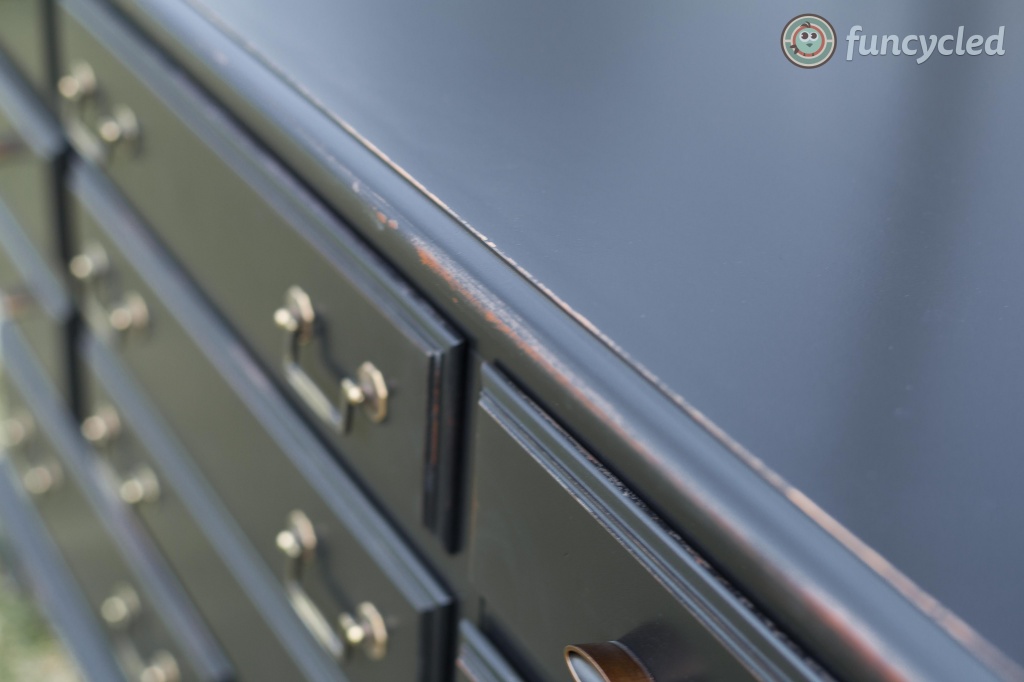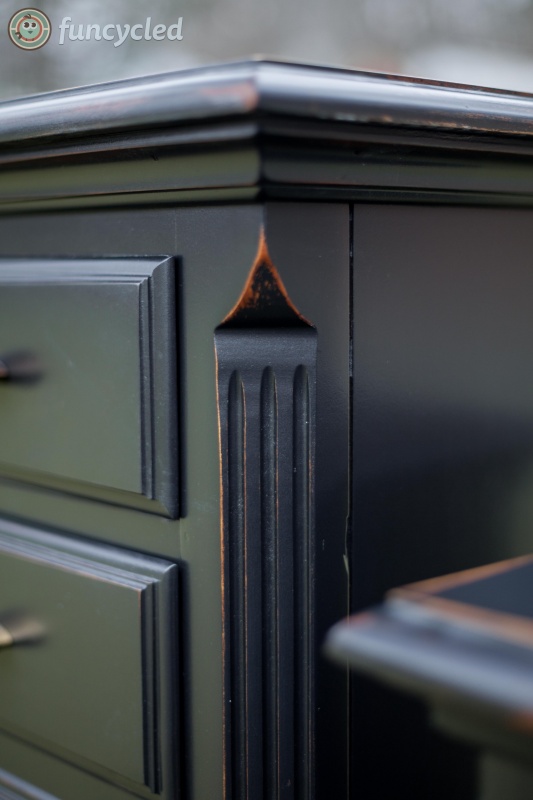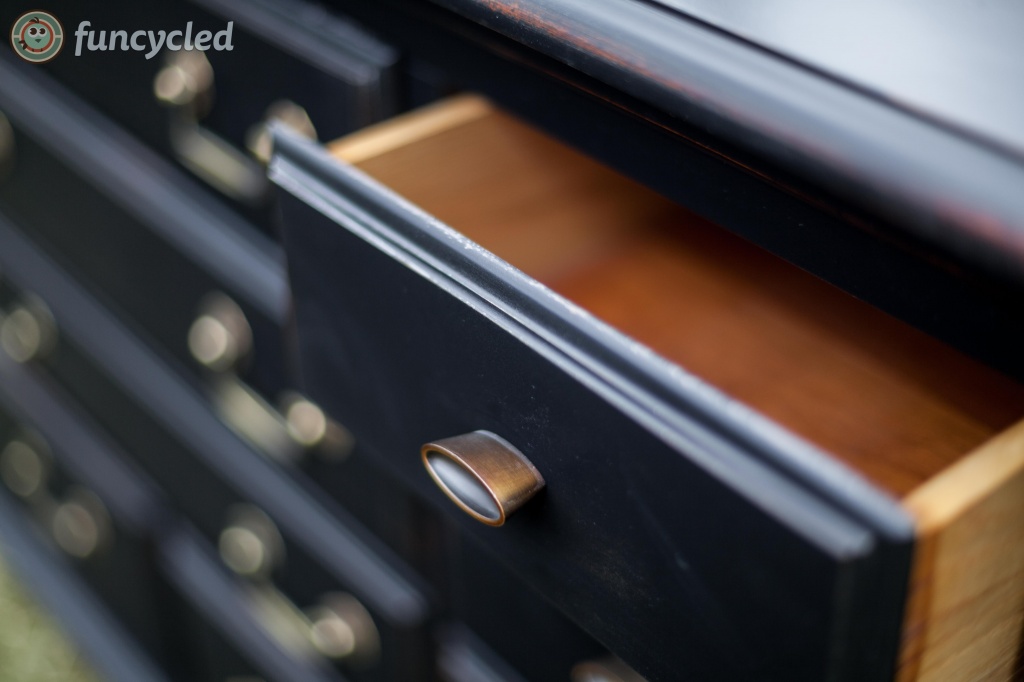 We can make your furniture look like this, too! You'll save tons of money, rescue an old piece of furniture and have a classic look in your home for years to come. If you're a DIYer, I hope this helps you save some money!
Here are a few other beauties that are for sale right now, too!
There is a box at the top right of this page to enter your email address to receive notifications by email when I post something new on this blog. Please sign up today!
Happy FunCycling Friends,
Sarah ;)
If you like what you see, please like FunCycled's Facebook page to keep up to date on the newest finds, vote on colors and give your input on our creativity. Last but not least, let us customize a furniture piece for you. We create custom furniture and will deliver for customers in upstate NY and also help you ship throughout the US. Send us a note with what you would like using our contact page. Or buy something that we've already designed from our furniture for sale page.