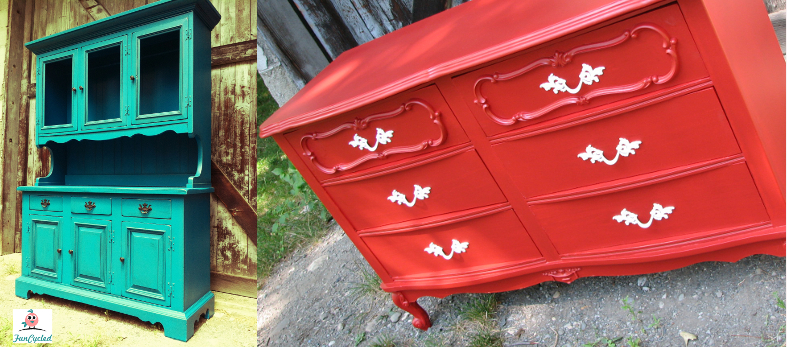 Hello Friends! This week's Tuesday's Treasures brings you another piece that went to my friend Tiffany… this baby was what started the entire process and led to Dining Room Chairs, that led to a Red Chandelier, that led to a vintage window turned photo frame, that led to an Eden Green Damask chair, that led to a Yellow Coffee Table.
Here's the before and after for you.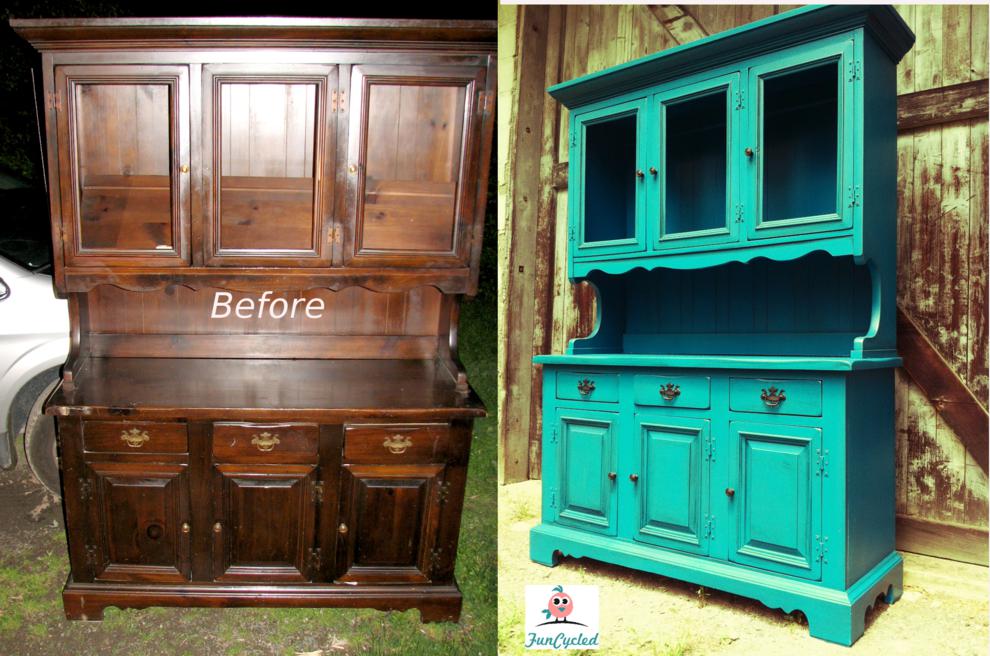 I primed this hutch and painted it using Valspar's Vintage Teal in satin. Please see our post on How To Paint Furniture for step by step instruction on how we paint. Tiffany and I went back and forth about different color teals, but finally landed on this one. I really, really, really love it!!! This is another piece I would have kept if I could. After I painted it (which took almost an entire gallon!!), I glazed it using Ebony stain by Minwax. I used all of the original hardware and spray painted it with primer and then painted it using a Rustoleum black spray paint. The finished product was simply breath taking….one more time, shall we?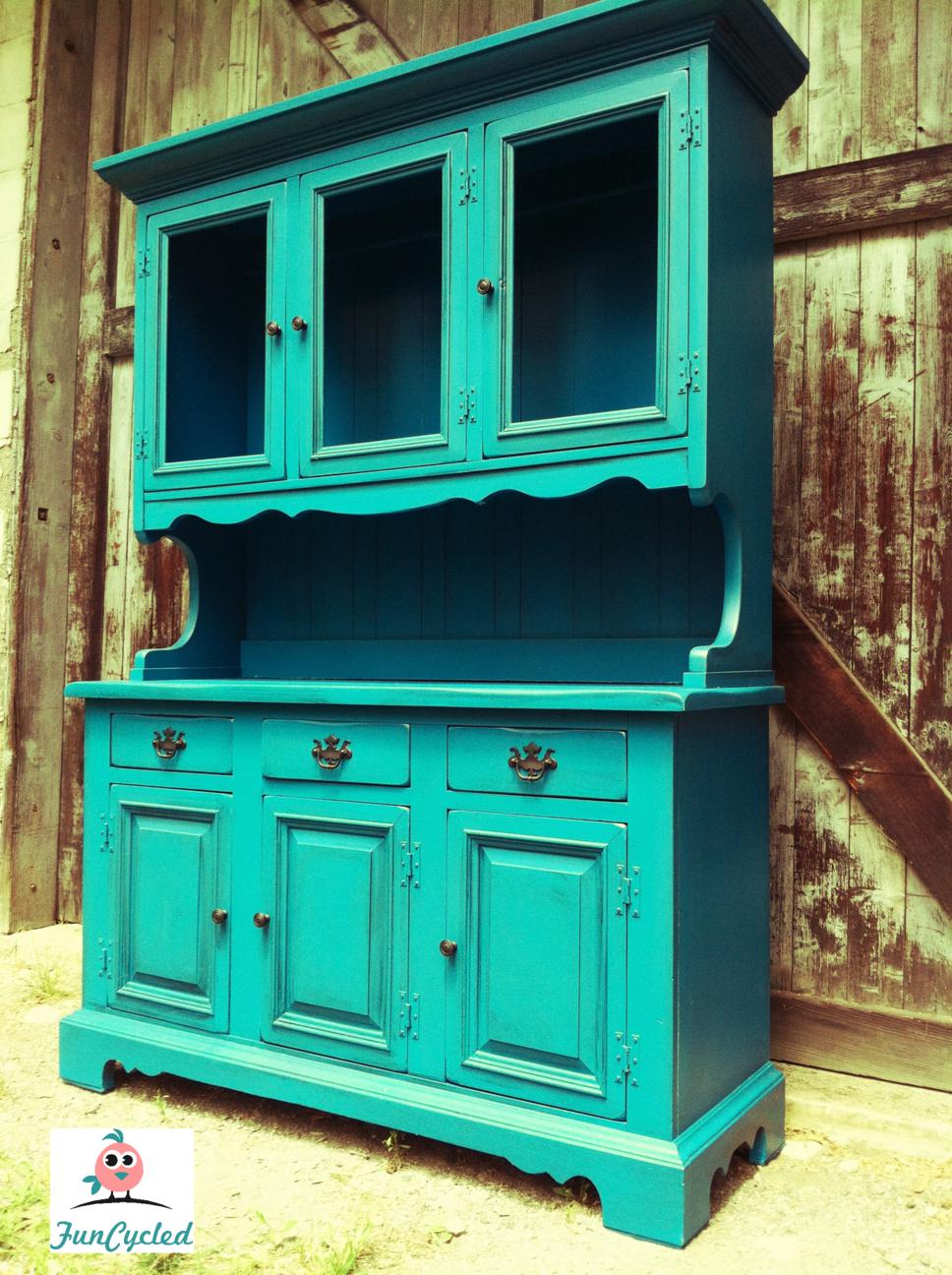 Do you have an old hutch in your house (or garage) that's making your space look dated or boring? We can custom paint it for you to make it the focal point of your room!! Remember my California Poppy Red Hutch?? It's almost always the first thing people comment on when they walk into my house. I'm in LOVE with painted hutches.
One more quick look at another piece that went to Tiffany… this french provincial style dresser.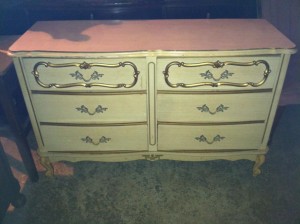 I know, it's a horrible picture. ;) The top, like many of the french provincial style dressers, is a plastic material. I was leery of painting the top, but it came out surprisingly well.   Instead of just priming it with latex primer like I normally do, I spray painted the top with a primer that sticks to plastic. Then I primed it again with the a latex primer. I used the original drawer handles because I love their style, so I  just painted them white using white spray paint.
Here's the after picture!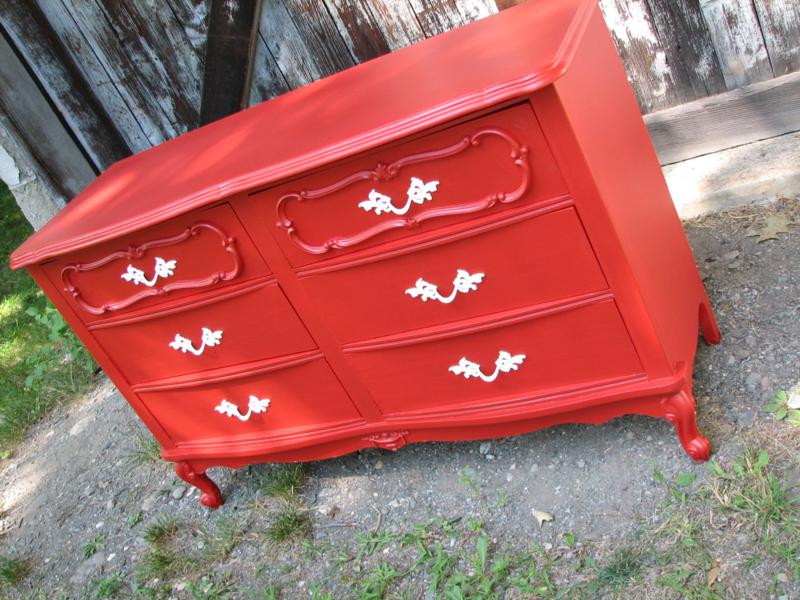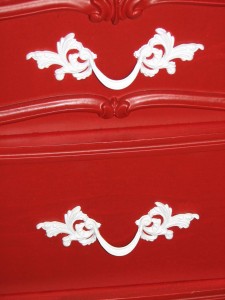 The only two things I want to bring to your attention about painting a dresser like this. It look about 4 coats of red to cover it properly. Also, because it's a plastic material, it was very, very drip happy. I ended up getting a couple drips that I didn't even see until I got it out to take pictures.  I'm the drip-watching queen so that made me a bit annoyed. Anyway… I still definitely like the look. Just a heads up for you if you try it yourself. :)
Have a great week and happy redesigns,
Sarah
Remember… If you like what we're doing, please like us on Facebook at: www.facebook.com/funcycled or share this on Pinterest! Also, you can now get each of our new projects emailed to you when you enter your email address in the box at the top right side of this page.