To continue with my month of love and celebrating the reds and pinks, I'd like to share another red hutch makeover. We seem to be all about hutches this month with three hutch orders to finish. If you're a fan of our facebook page, you already know how much I love red hutches. I own this California Poppy Red Hutch and have redone many a red hutch, but for some reason, I never stop loving red hutches. At the end of each project, they always take my breath away. Maybe it's just me, but I couldn't help but share my love for red hutches with you.
This was a custom order for Nicole and she was more than kind and gave me more than I asked for it when she came to pick it up. I can't say anything but thank you, thank you, Nicole! Not to mention, I pretty much want to look as cute as she does after 6 kids! Adorableness for sure!
So, she found this piece on craigslist and brought it to me to add some love and color.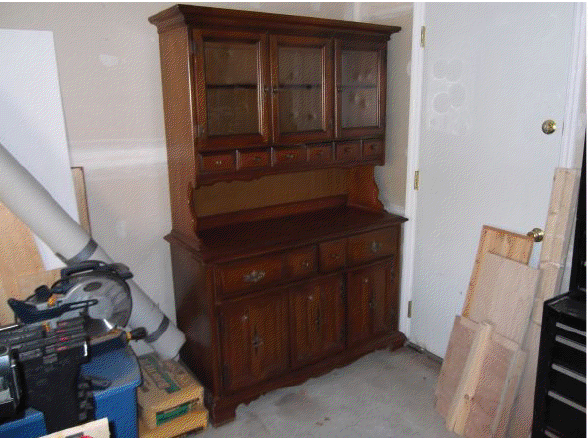 Let me forewarn you that repainting a hutch is well worth the time that it takes to redo it, but it is ALOT of work to do right. I don't recommend this project for the faint of heart or beginner DIYer. :) First, you'll need to sand everything, tape off the glass, take off all the hardware, prime and paint it and then seal the whole piece. If you want to see step by step instructions on how we repaint furniture, you can see our post How To Paint Furniture.
I painted it with my new favorite Benjamin's Moore's red painted called Caliente AF-290. I'm in love with this red. So amazing!! Then we glazed it and sealed for protection. Here's the after for you.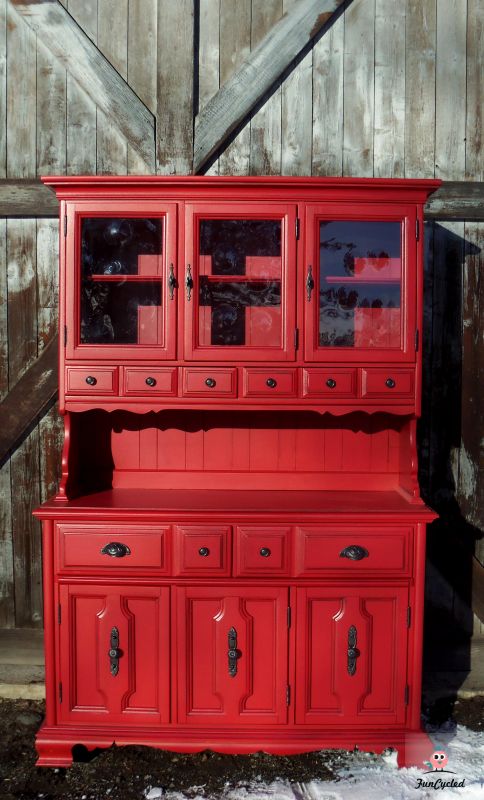 If you'd like one of these beautiful red hutches with some of your tax return, use our contact page form and ask me to find one to redo for you or even turn that ugly old thing weighing down your dining room into a stunning focal point in your room.
Happy Redesigns Everyone,
Sarah
If you like what you see, please like our face book page to keep up to date on the newest finds, vote on colors and give your input on our creativity.
There is a box at the top right of this page to enter your email address in to receive notifications by email when I post something new on this blog. Please sign up today!
Last but not least, let us customize a furniture piece for you. We create custom furniture for customers in upstate NY and ship throughout the US.  Send us a note with with you would like using our contact page. Or buy something that we've already designed from our furniture for sale page.