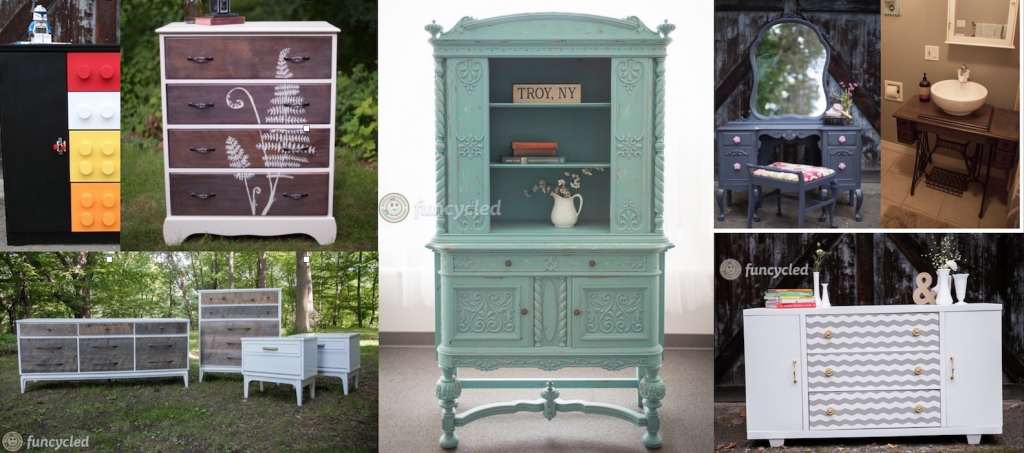 Hi Friends!
If you  missed last week's post about 2015 Most Popular Furniture Makeovers, it's definitely worth checking out! I promised in that post that I would also share some of my favorite furniture projects this year. Some may be the same but many are different. I like to start with the my favorite and go down from there. A little anticlimactic as one friend pointed out last week, but it's how my brain works to I'm going to roll with it! Hope you don't mind. ?
I also realized after I looked back over the year, I didn't blog about some of my favorites so I can only show you the after's.
My favorite design of the year was figuring out how we could add barn board to the front of a dresser. I'm sure it's been done elsewhere, but I had never seen it. That makes this design feel more like my "baby" because it was created in my mind alone. Sometimes that's risky and often scary. It worked out great!!!


2) Duck Egg Blue China Cabinet
I never blogged about this transformation, but it has a funny story. We redid it and on the way into the store, the door swung open and broke off. The funny part is that I liked it even more without the front door! Then we took off the door and turned into a wall hanger. We sold both pieces quickly!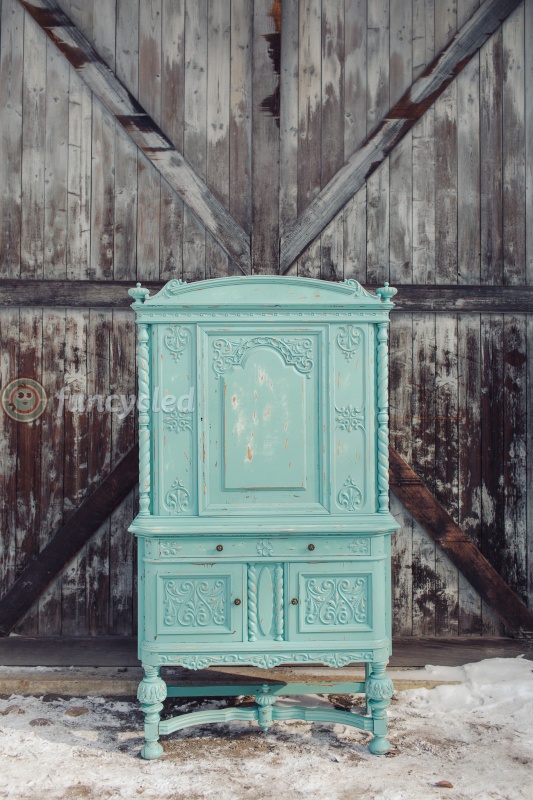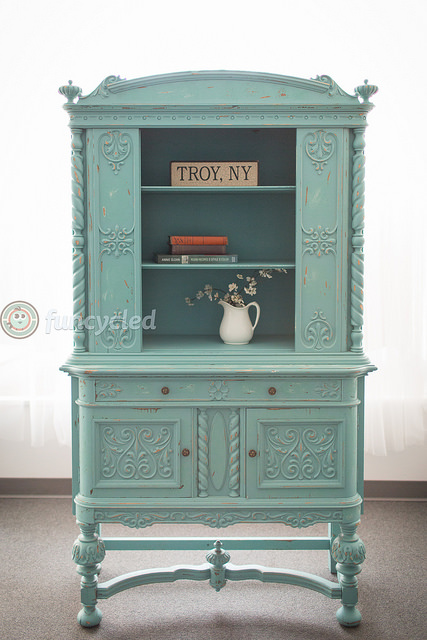 Building this Lego cabinet was the best! I think because we are geeks, love Star Wars, and my son, Josh, just may live for Legos. Working together with him on this project was fun! He made the knobs out of Lego parts and John built all the drawers. We decided to keep this cabinet and Josh uses it every day to store his ridiculous amounts of Legos.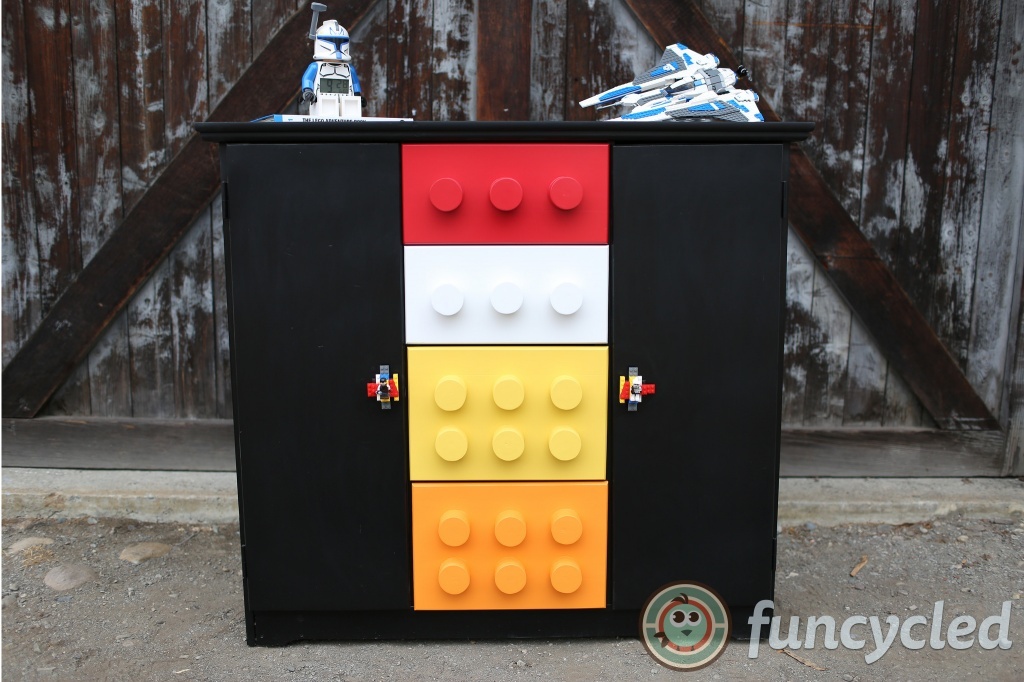 4) Bathroom Vanity from an Old Sewing Machine
This is another project I haven't blogged about, but it was one of my favorites. I had been wanting to change out my pedestal sink in the bathroom. John took this sewing machine and made it into a vanity by installing the vessel sink. It was my mother's day gift and one of my favorite gifts from him. We sold the house a couple of  months after and the woman who bought the house was a seamstress and really wanted the sink as part of the sale of the house. Sad day… but it I hope she enjoys it for years to come like I would have!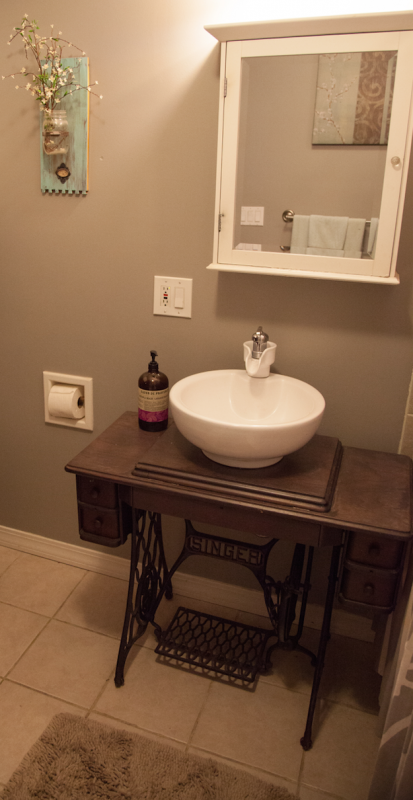 This hutch was a little different than most for me and redoing it for a fun, a trusting customer was like icing on the cake. I loved the fabric on the back, it was my first time trying the color Urban Bronze by Benjamin Moore and I loved it. I don't often leave the shelves wood, but I really enjoyed the contrast on this hutch.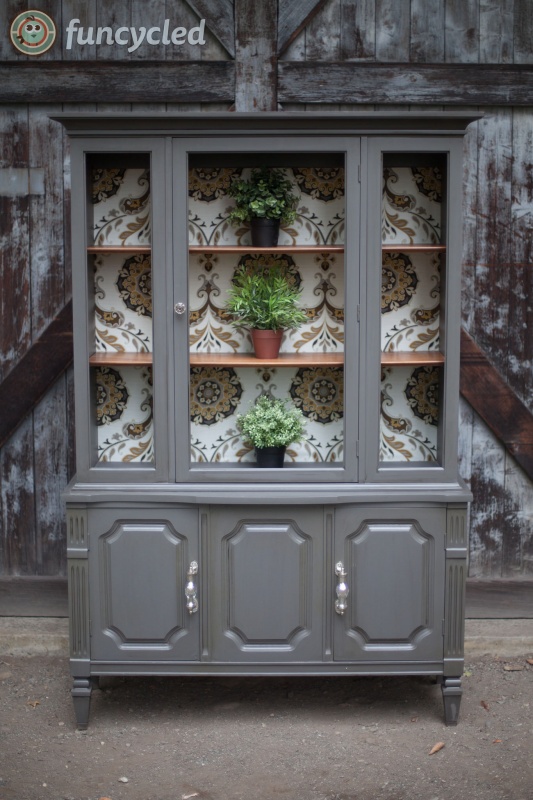 This was the most viewed post for 2015 and I definitely can see why! It's one of my favorite designs this year, too. I loved working with this mid century piece, painting the box a crisp color and staining the drawer fronts. I'm thrilled you liked it, too!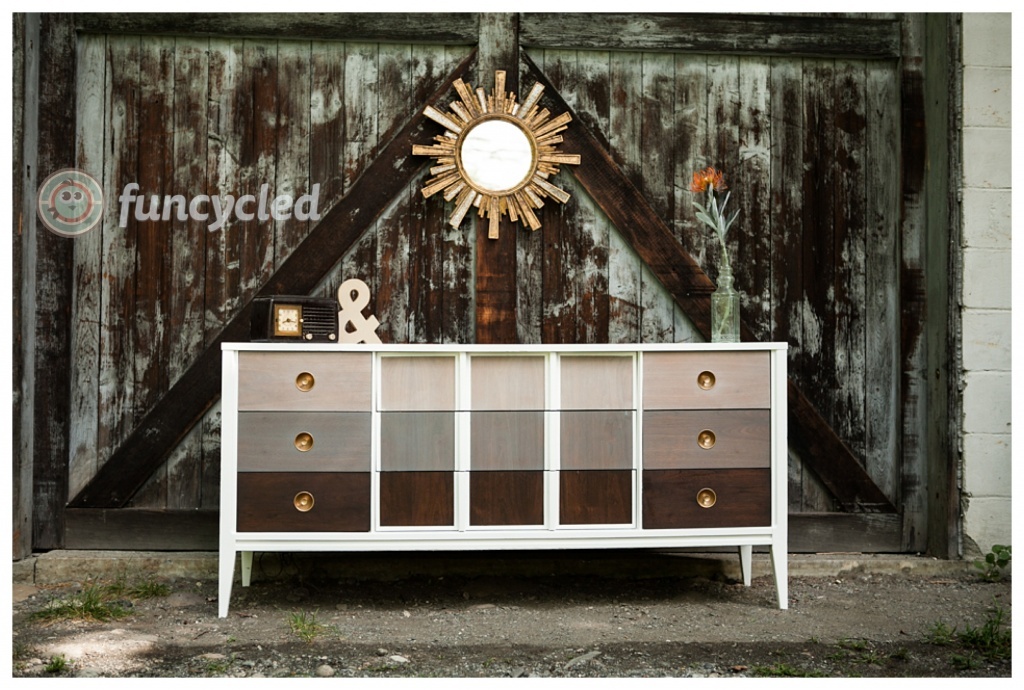 I love love love love… you get the idea, this sideboard.

It wouldn't be a good representation of me in a year if I didn't show a chevron piece. So this year's chevron piece came in the way of a nursery dresser.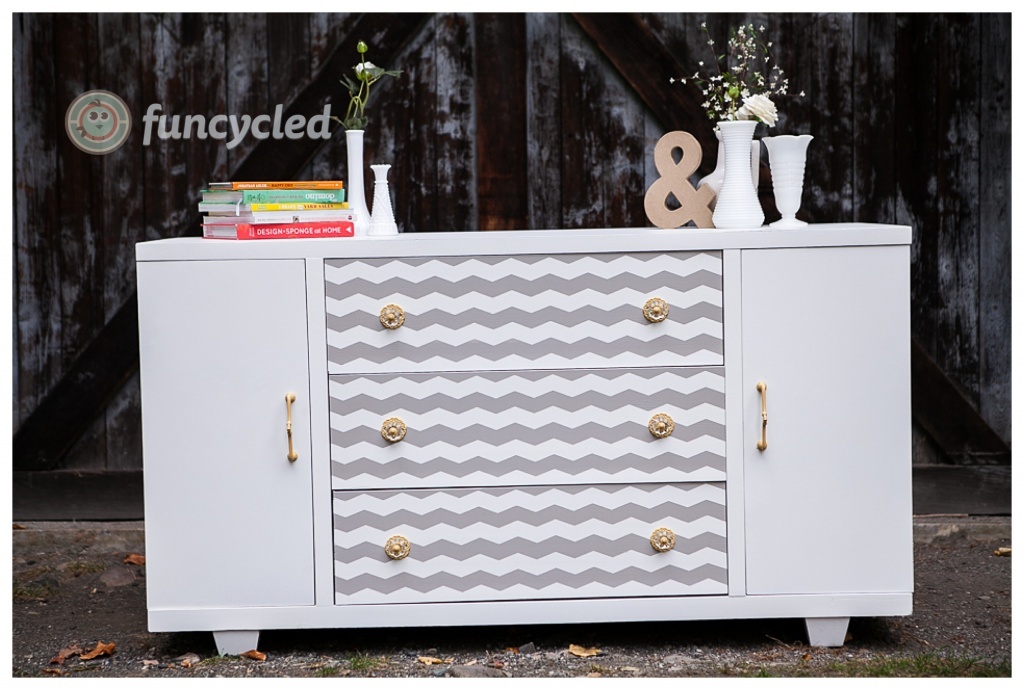 9) Hand Painted Designs 
I'm lumping three dressers into one for this, because it shows how I've free handed designs. The artist in me craves drawing on furniture sometimes. And thankfully, sometimes customers are brave enough to let me free hand one for them.
10) Custom Built Dining Tables 
Last but definitely not least, we so enjoyed all of the custom built tables that we were able to make this year. From mid century to rustic and everything in between. This most recent farm table was probably one of my favorites. If you'd like to see some of the many tables we've made this year, check out our Custom Built Furniture page.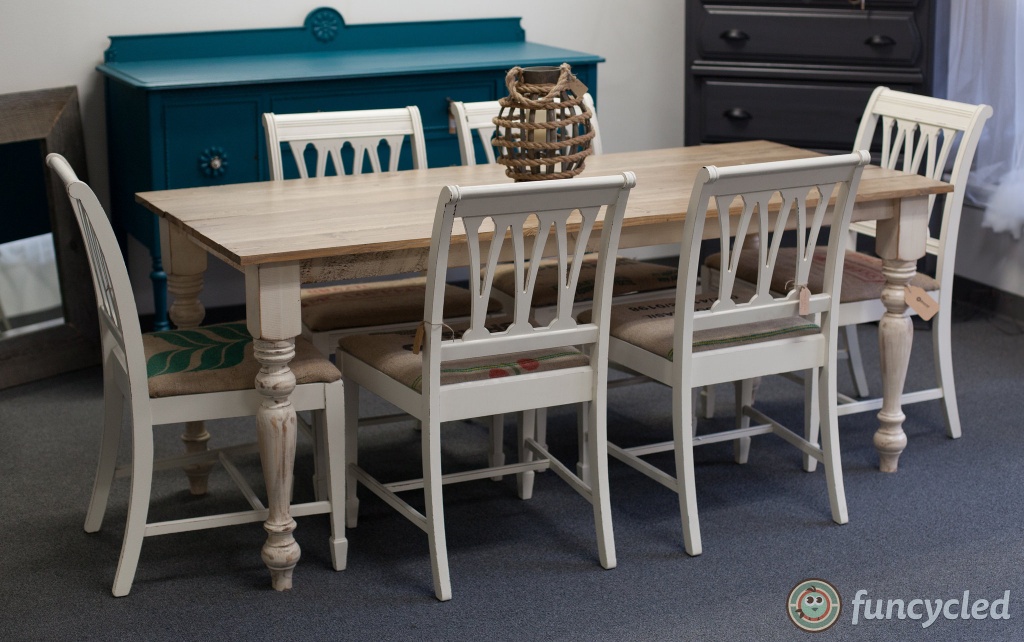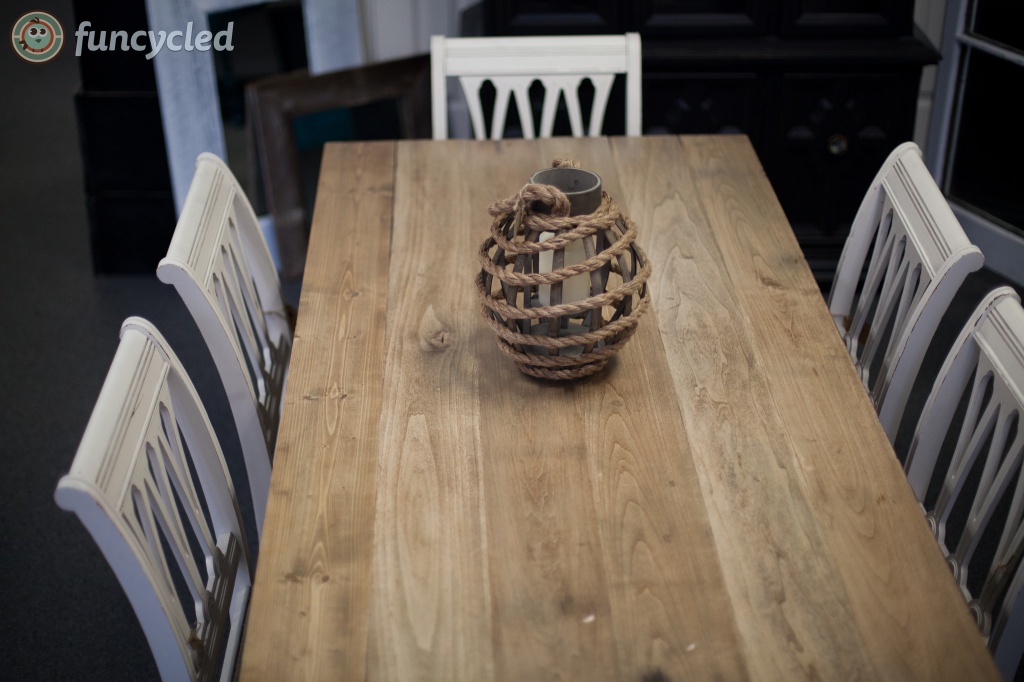 Let's finish this post with answers to some frequently asked questions
Yes, we can definitely paint furniture you already own! 
Yes, we can change the color of pieces on our Furniture For Sale page for a fee! 
Yes, we custom build tables, bars, headboards, and buffets! 
Yes, we can deliver locally for a fee or you can ship it anywhere using ship.com!
So many yeses, so many reason to upcycle, so many reasons to relove your furniture, and so many reasons to enjoy the process of ordering custom furniture. Use our Contact Us Form to make a request today.
Also, if you or someone you know are in a hard place and would love a special piece of furniture redone, but don't have the resources to do so, please tell them about our From Broken to Beautiful project. We'll be redoing 6 furniture pieces in 2016 for FREE. That's right. No strings attached.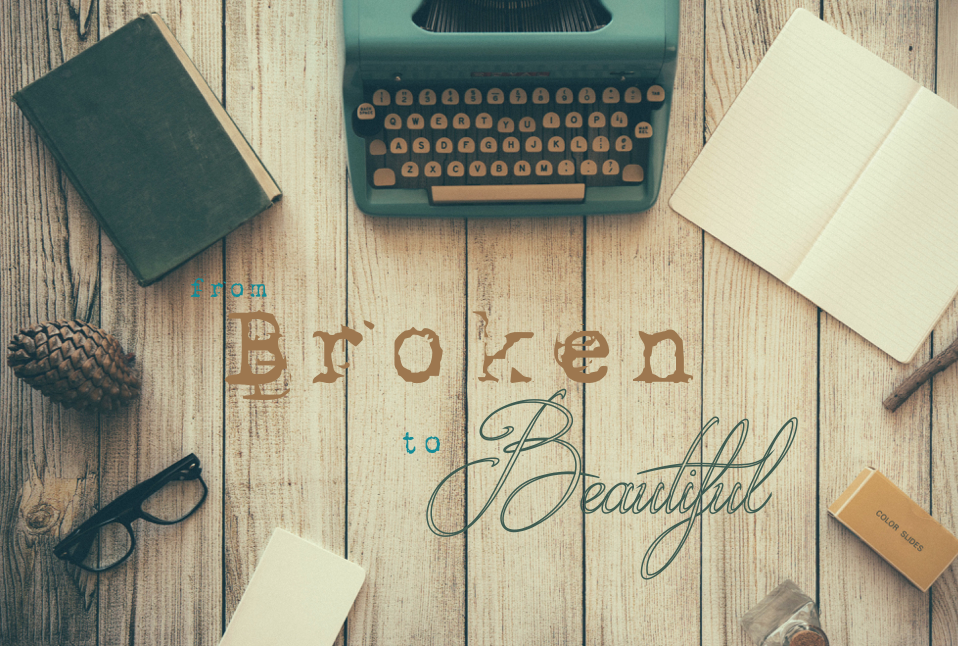 From our family of four to yours… we thank you. From the bottom of our hearts, we are humbled by your loyalty, we are encouraged by the kindness by so many, and we are elated by how much you love what we are blessed to do every day. Thank you from the Trop's! ?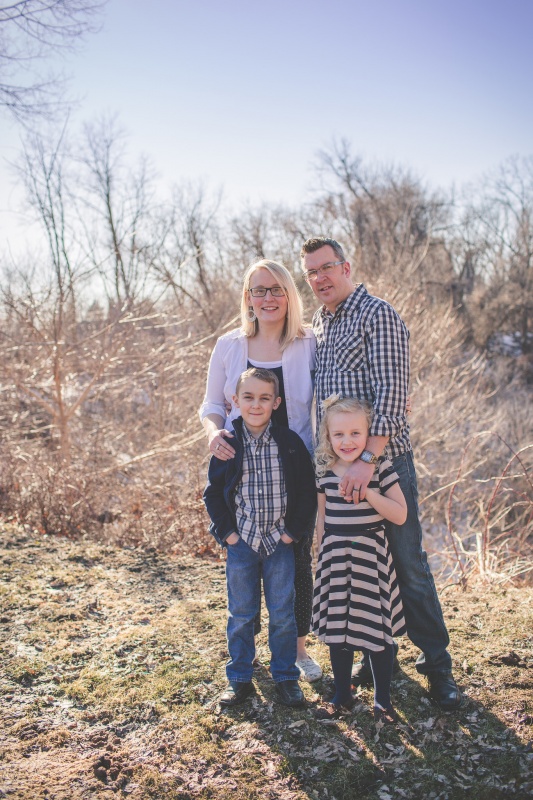 There is a box at the top right of this page to enter your email address to receive notifications by email when I post something new on this blog. Please sign up today!
Happy FunCycling Friends,
Sarah ;)
If you like what you see, please like FunCycled's Facebook page to keep up to date on the newest finds, vote on colors and give your input on our creativity. Last but not least, let us customize a furniture piece for you. We create custom furniture and will deliver for customers in upstate NY and also ship throughout the US. Send us a note with what you would like using our contact page. Or buy something that we've already designed from our furniture for sale page.